The Build 2018
The Gathering of The Goblins at Dunsfold Top Gear Track
8th July 2018
It was the hottest day of the year but that didn't stop the almighty GreenPower Team from being ready to compete at the Gathering of the Goblins at the famous Top Gear track at Dunsfold. The temperature was steadily rising as was the competition.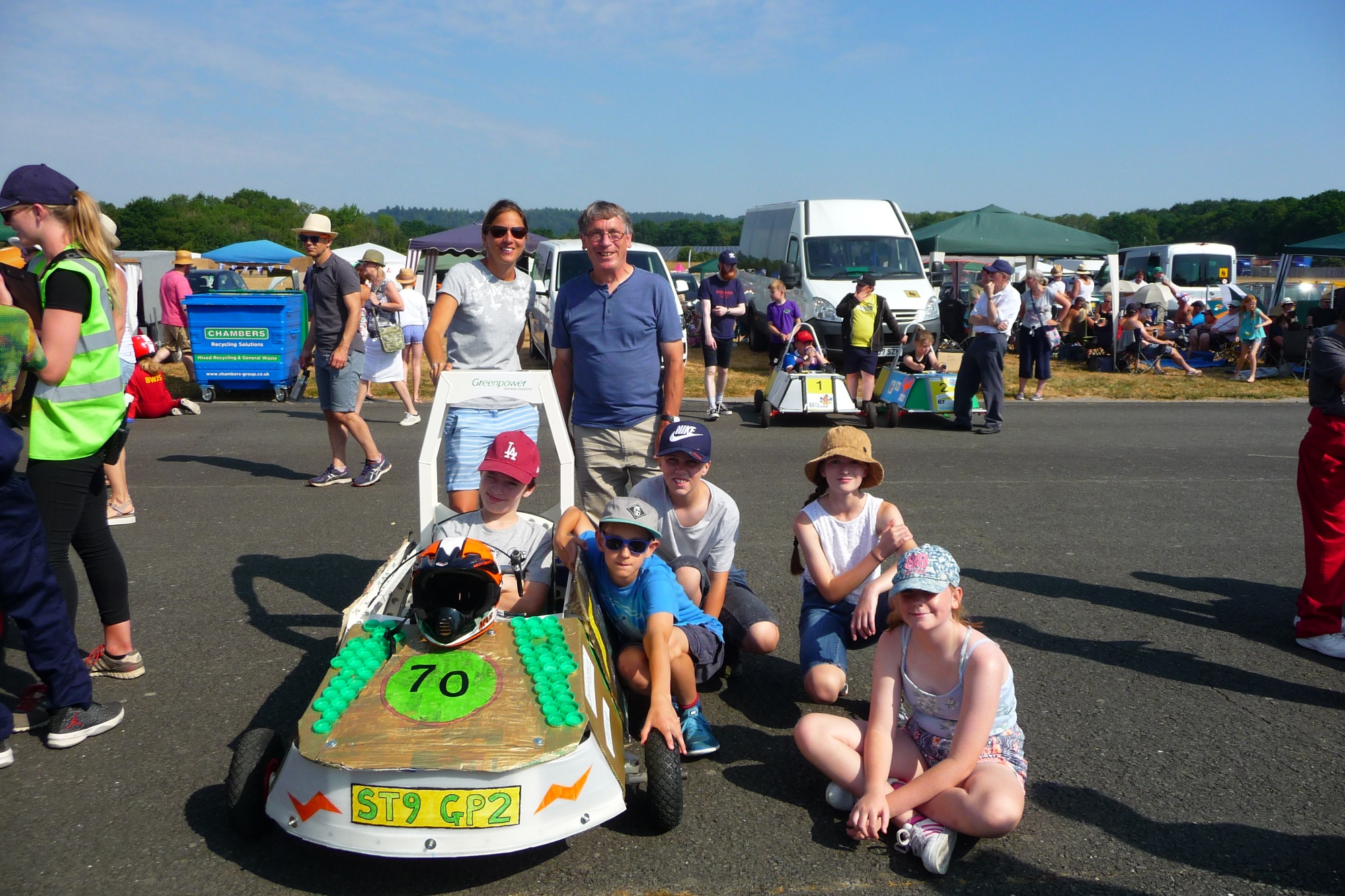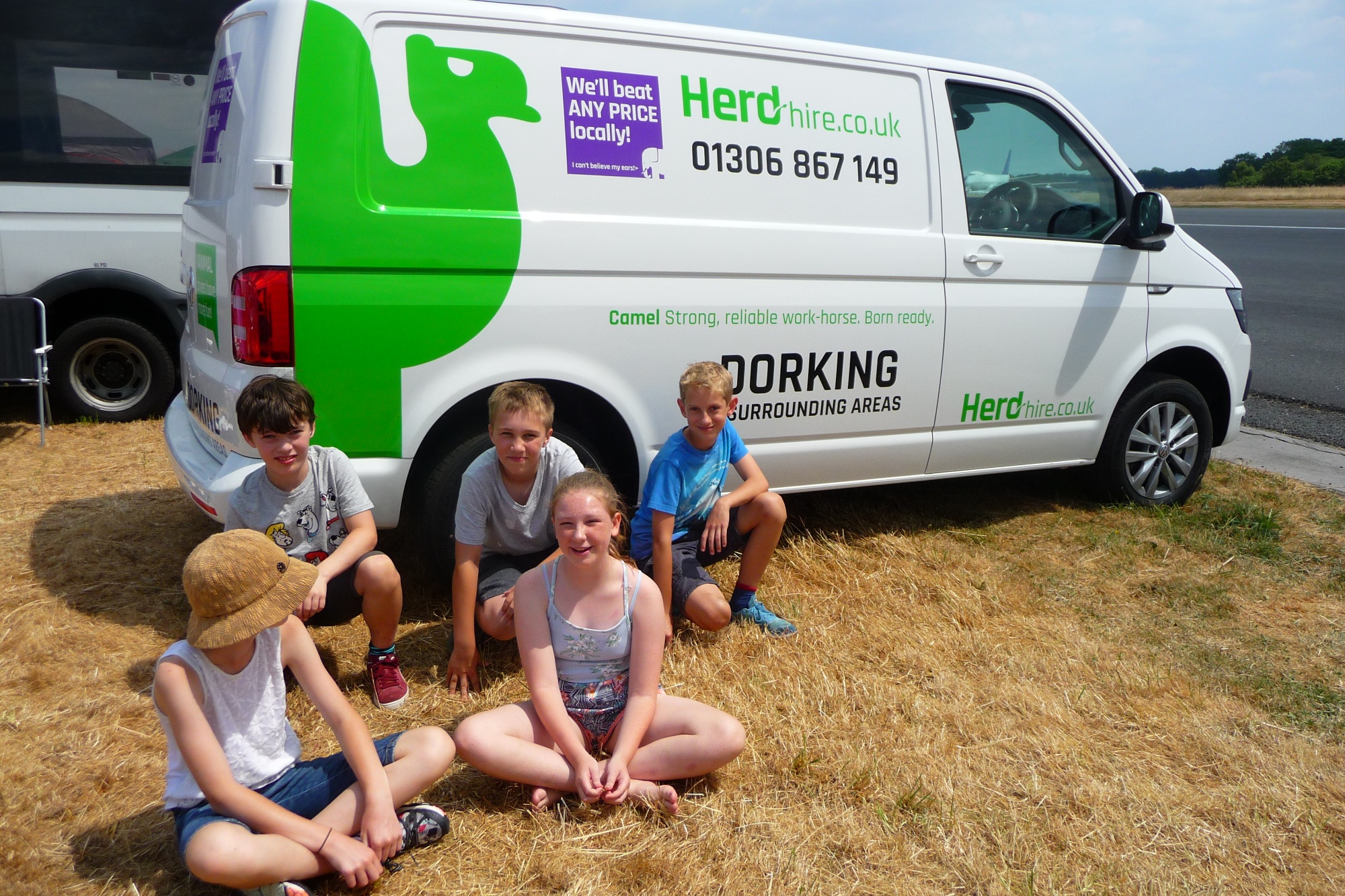 Our first competition was the Slalom, which saw our team wiz around a slalom track in less that 10 seconds.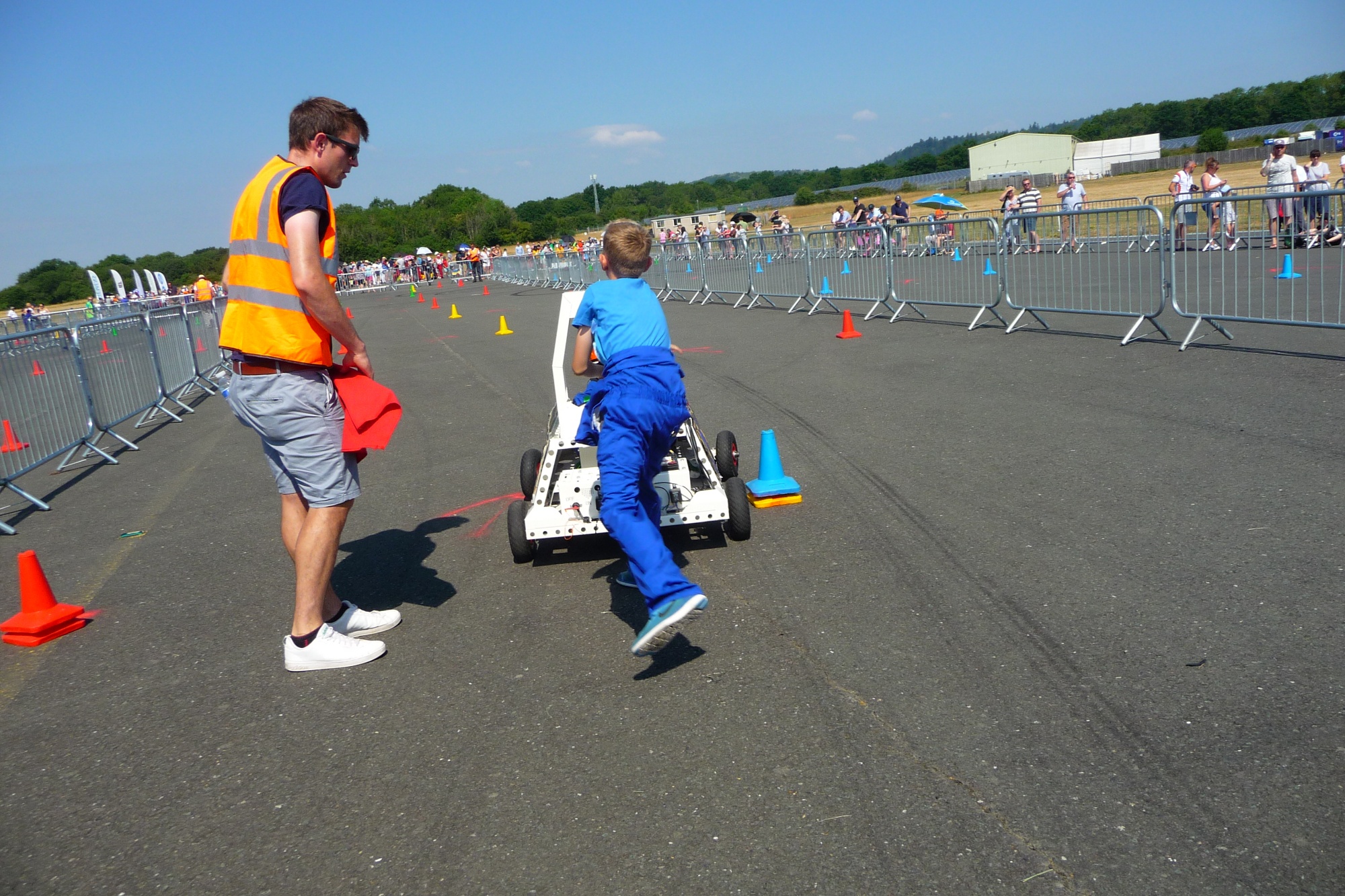 We then went straight onto the drag race – a fast a furious head to head against 3 other cars. We completed this in less than 7 seconds from start to finish.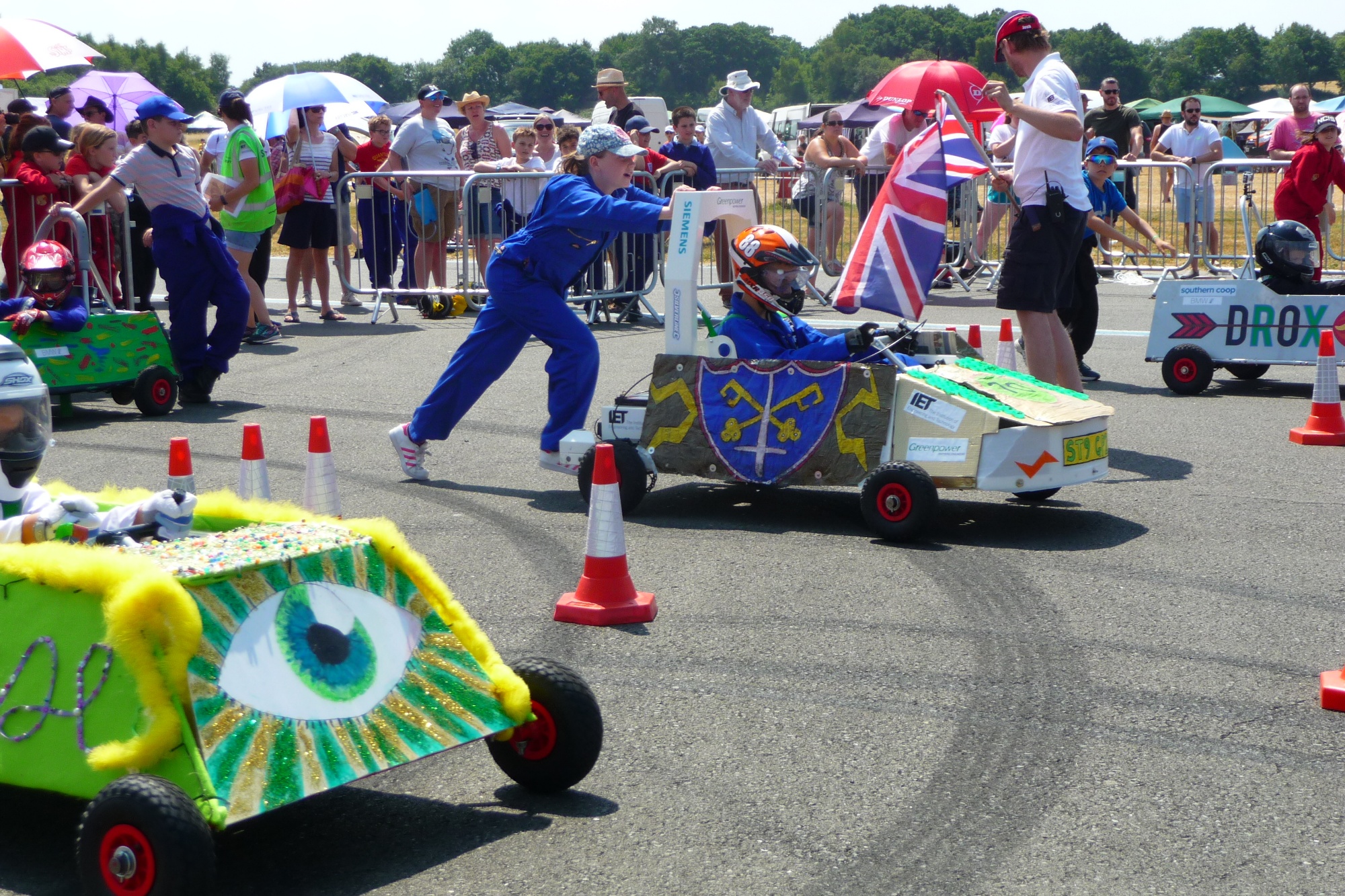 Our next race was a new race called the chicane where there was a straight, followed by a tight corner and then a straight again. We had to ensure that the car stopped before the cones, otherwise we would incur a 2 second penalty.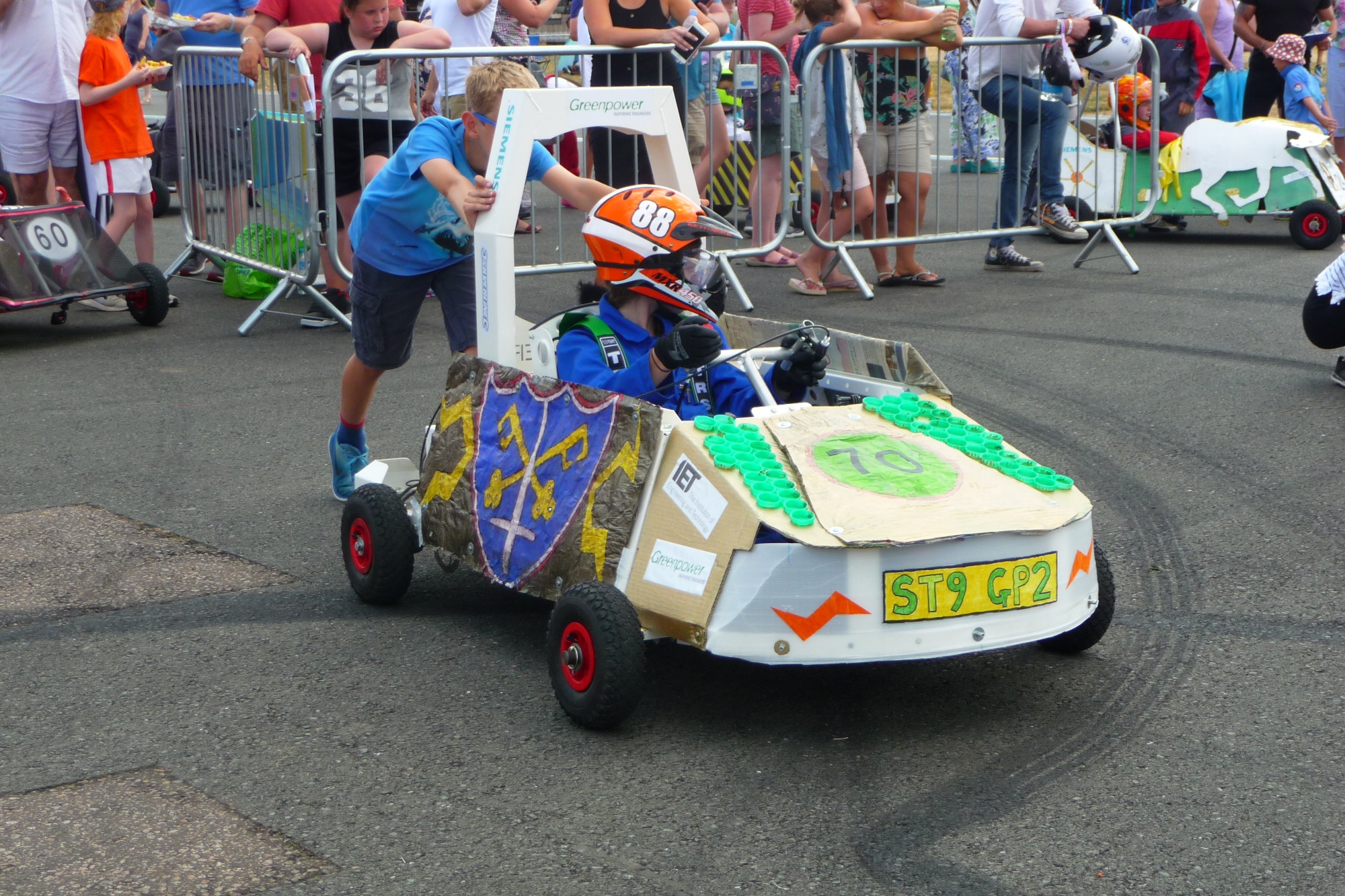 Next was the pit stop, where we had to work as a team to change all 4 tyres on the car. It was really technical.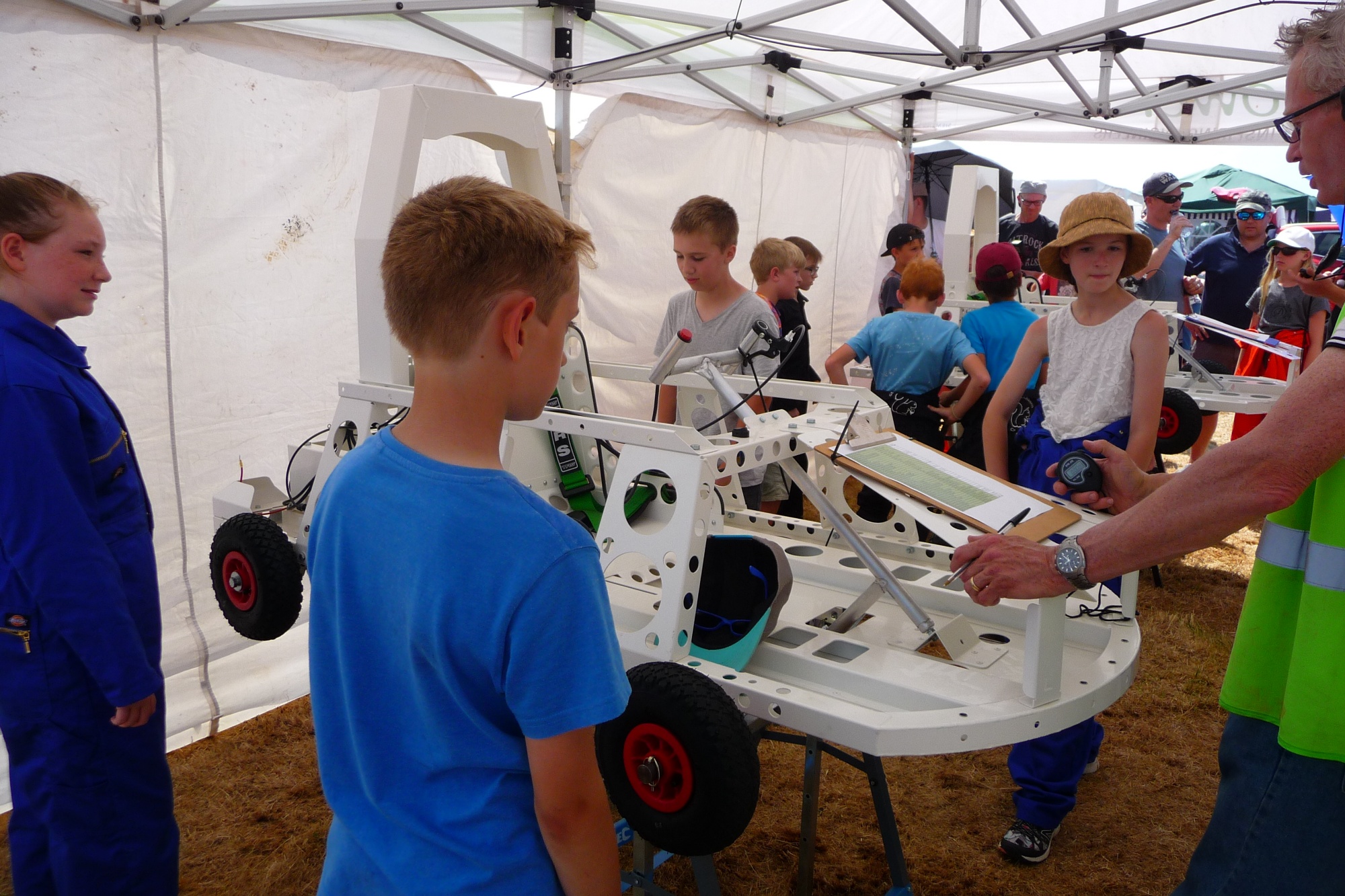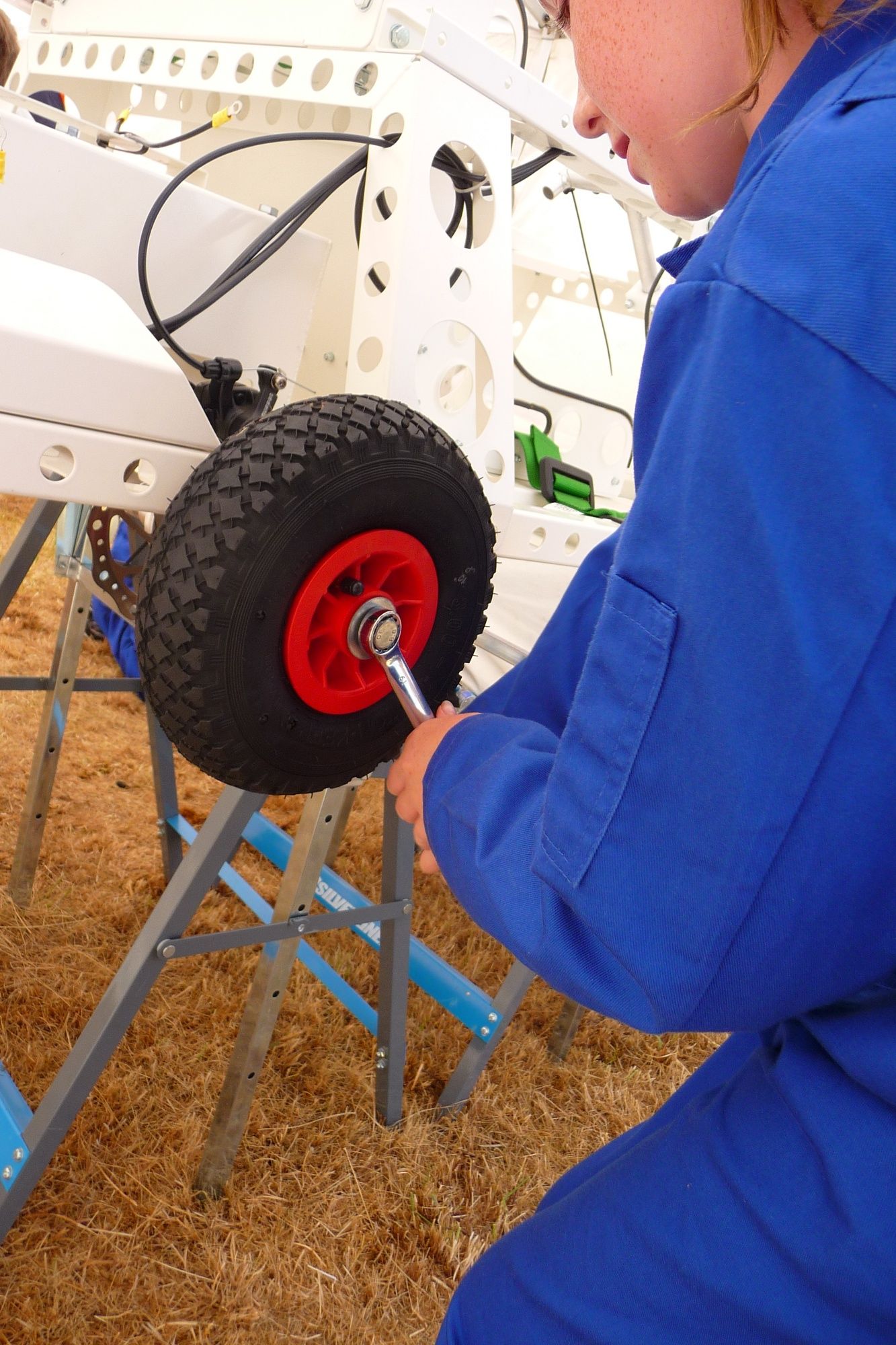 Maddie was our 'Stig' for the day, racing around the Top Gear track in 'The Lap of Champions'!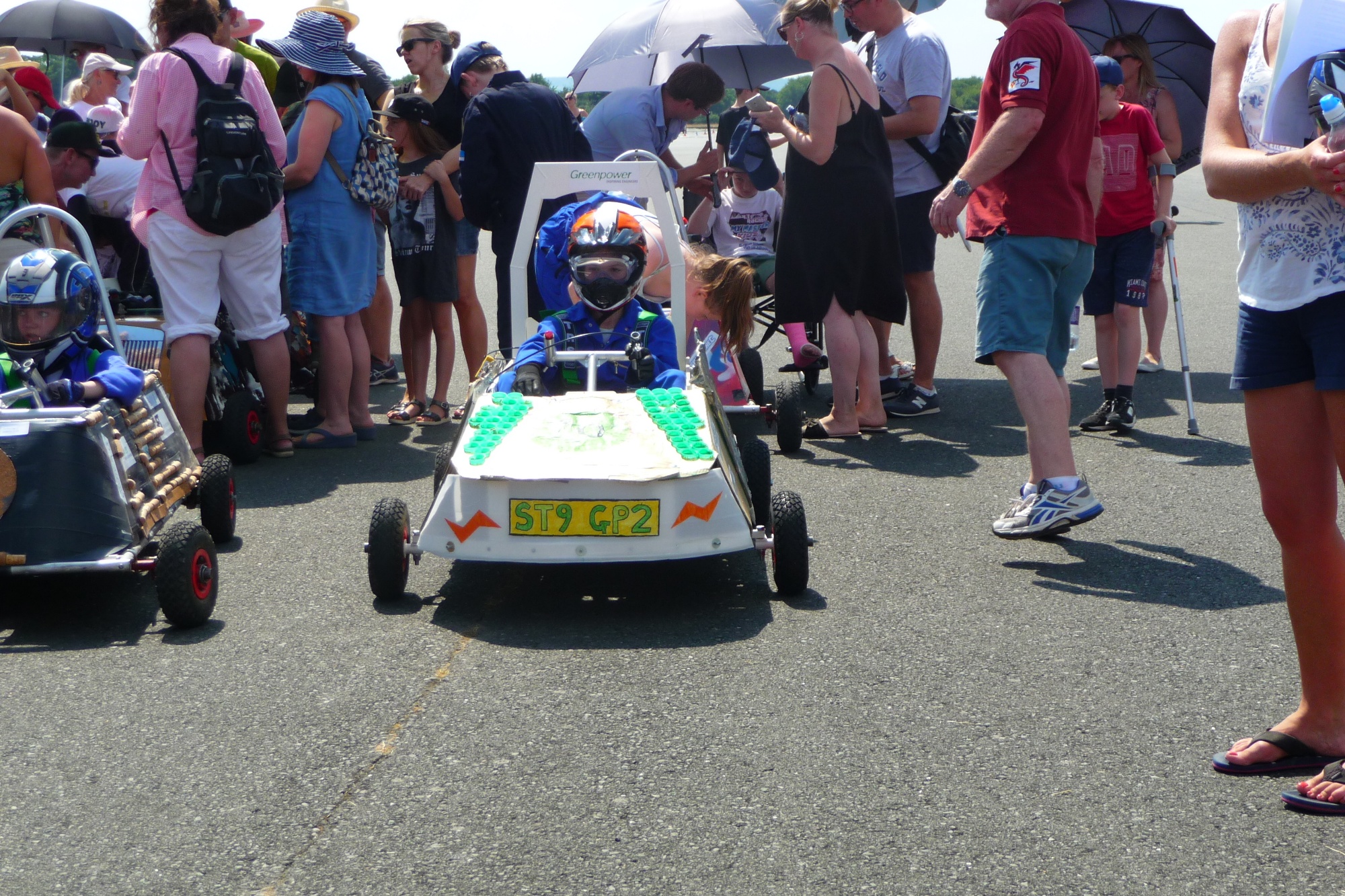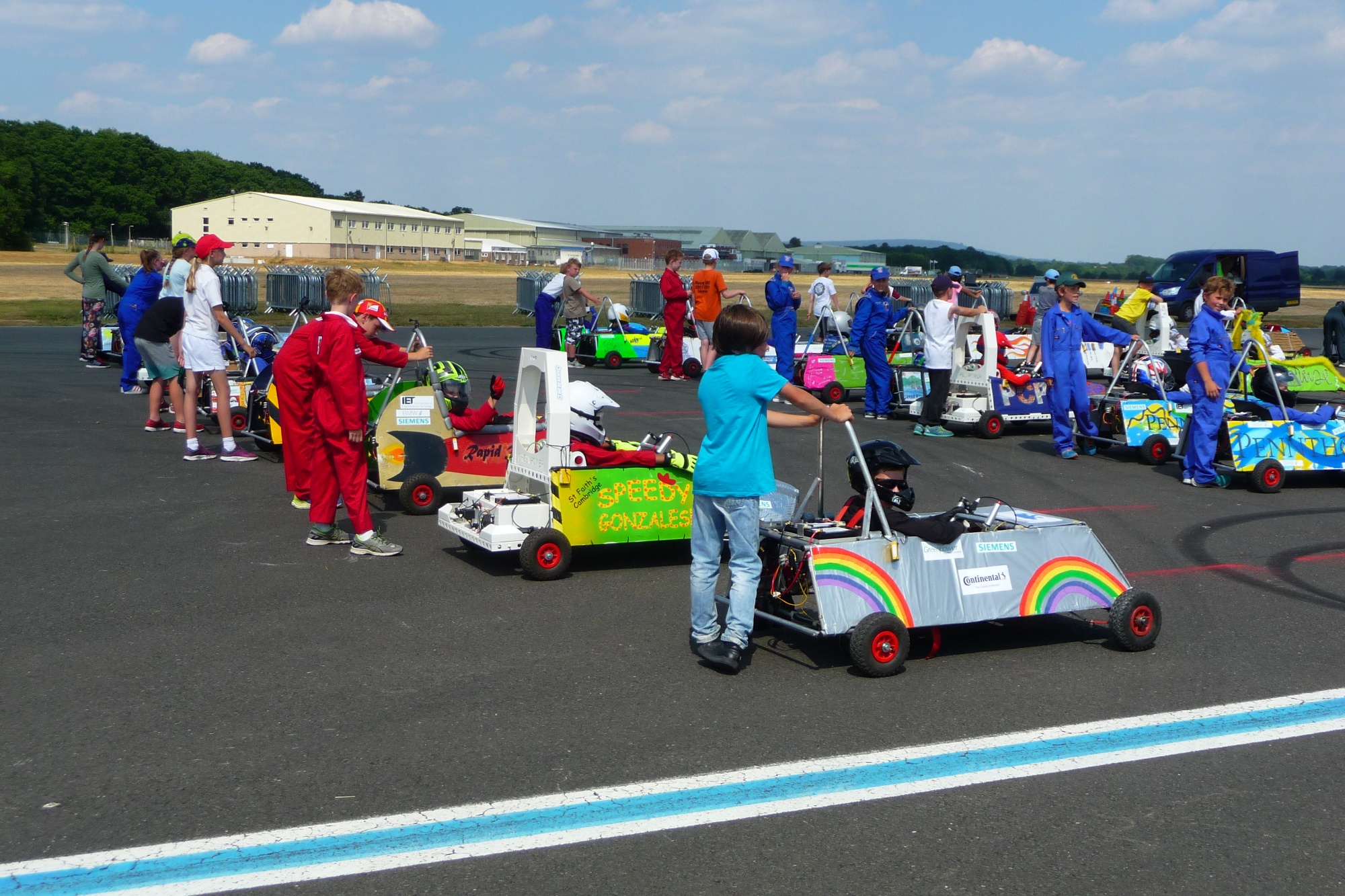 What a day!
Week 19: 5th July 2018
We came into school today with a spring in our step. Not only was it our last day before our big race at Dunsfold but it was also the first day of our school production 'The pirates of the Curry Bean!'
We set to work, practising our slalom racing and when we felt that we were as good as we could be, we went inside to work on our pit stops again. This week's fastest was 11 seconds. We were really happy!
DUNSFOLD HERE WE COME!!!!
Week 18: 29th June 2018
Today we set a goal to finish out front bumper panel and also to work on out pit stop tyre changes. Firstly, we worked together to design our front panel and came up with the idea to create a numberplate with some lightning bolts firing from it. We works out that we could not paint directly onto the plastic so we thought about using stickers. This idea worked well.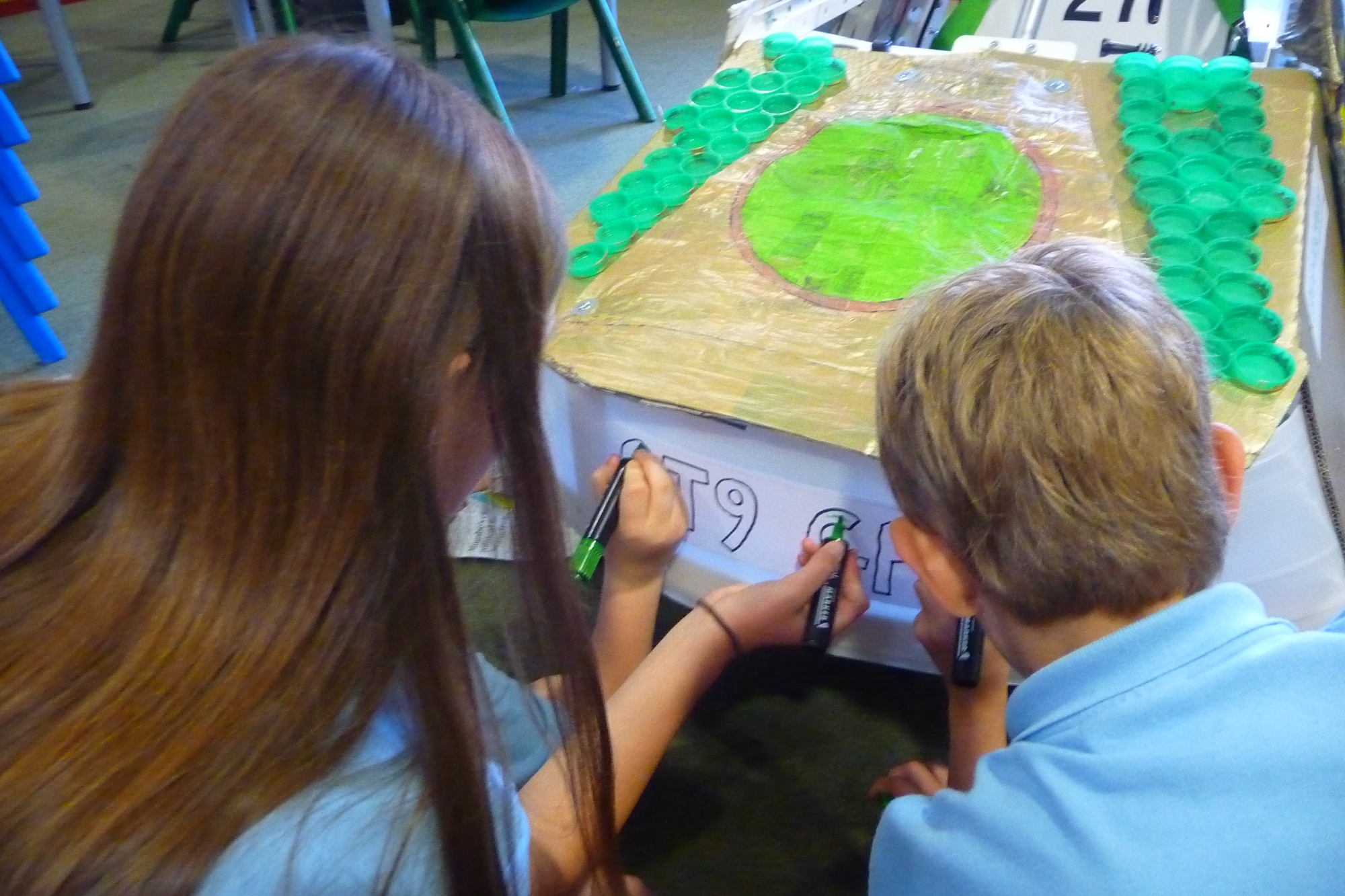 After completing the body work, we learnt how to do the pit stop wheel change. We put ourselves into pairs and we raced against each other to do a wheel change. We also made sure that we timed each other so we could all self improve. It was great fun but very fiddly and sometimes, the wheel bearings came out.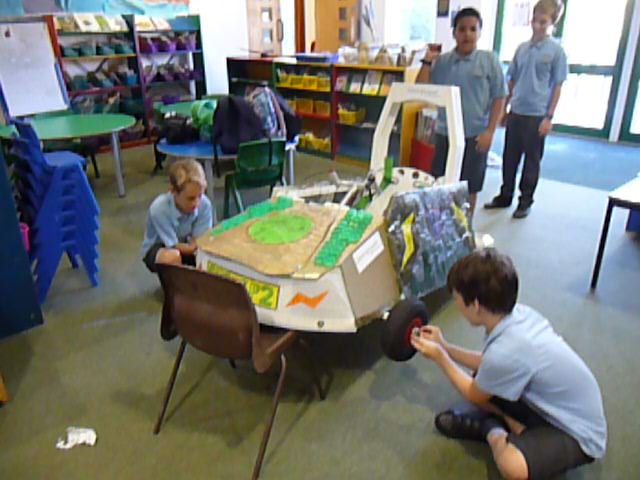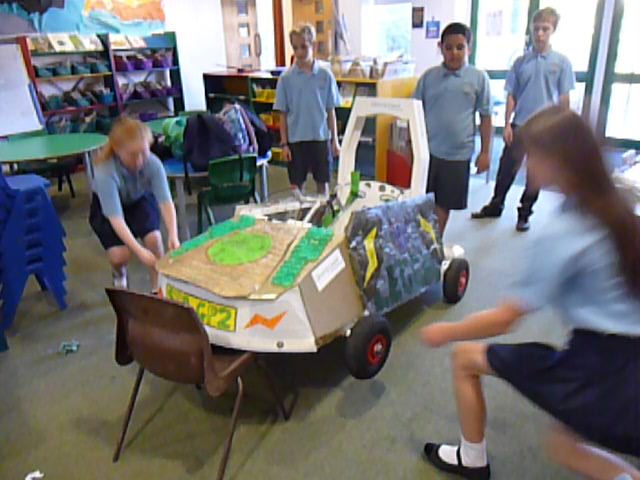 Check out how our pit stop training went in these videos below.
Week 17: 22nd June 2018
Due to our race coming up at Dunsfold, we needed to make sure that our car was looking in tip top condition so today we touched up the body work by painting over the panels and then adding a layer of glue to help it to be water resistant.
We also wanted to improve our front bumper so we used corruflute flute plastic as it is light weight and easy to manipulate. It was rather tricky as we had to attach it with bolts and screws. We were pretty proud of our efforts as we managed to get it all done!
Week 16: 15th June 2018
Today, we wanted to practise our driving skills so we created a track using cones. On side was concentrating on slalom type skills and the other side was concentrating on straight line speed as well as our finish braking. We took turns driving the car around the track, firstly concentrating on accuracy but then, when we got more confidence, we started to increase our speed. We tried to get some advice from those who were better drivers sop we were able to all improve by sharing knowledge. We realised that actually self belief was the main reason why some of us were unable to take the turns confidently so we worked on how we could make ourselves feel more confident. We cheered for each other and gave some ideas to each drive.
We really progressed well in our driving today!
Week 15: 8th June 2018
Today, we learnt how to pump up the tyre and measure the amount of pressure there is in each tyre. We wanted to make sure the pressure we had in the tyres while we were practising was less than when we were racing so our we could make sure our tyres stayed in good condition. One of us used the foot pump, while the other checked the pressure. Once completed, it was time to head out onto the playground for some more driving practise.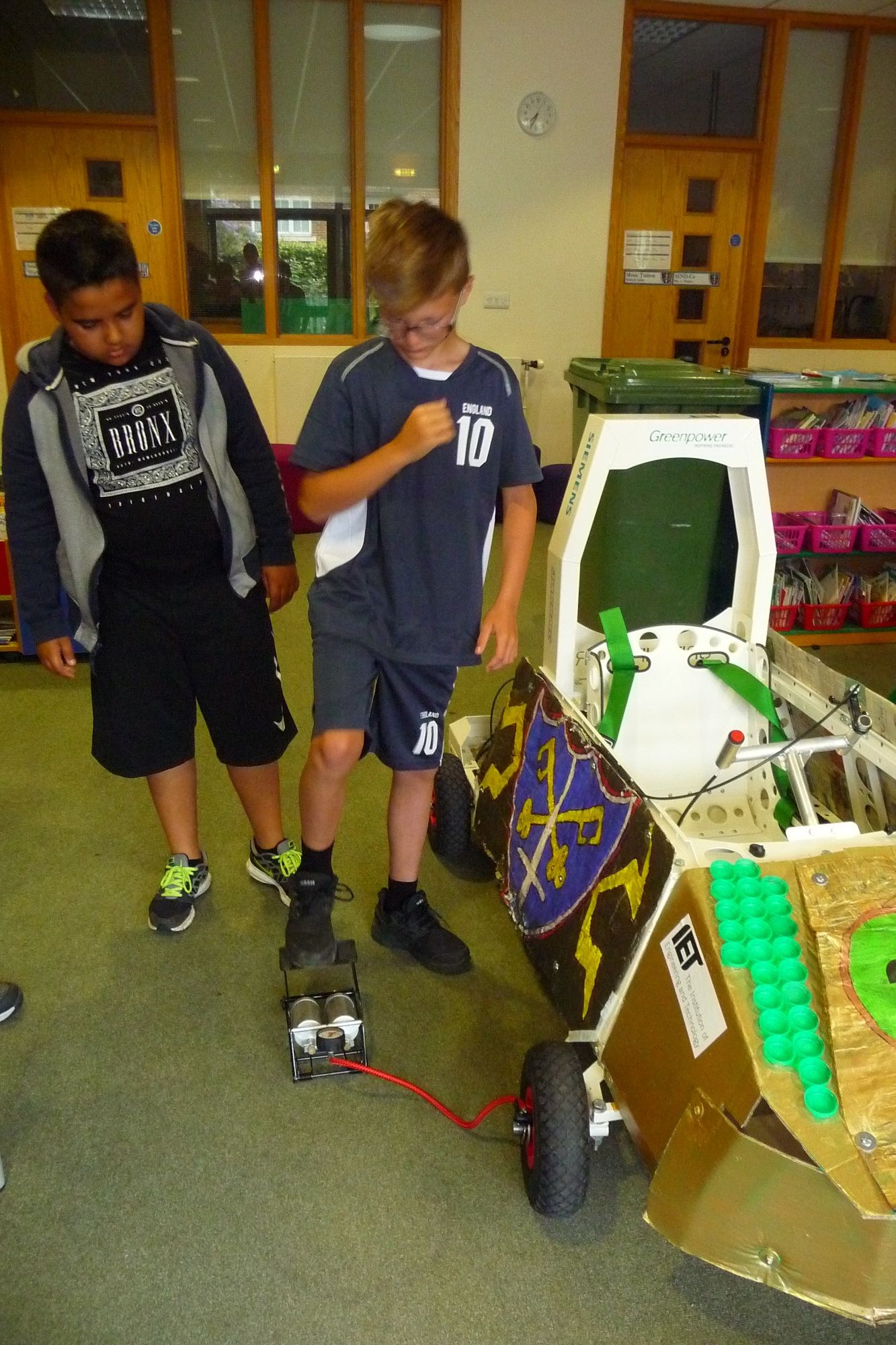 Each of us has 3 turns to drive and three turns to push on the Slalom. We ensured that we were making the course hard so we would be skilled up ready for our next race day in a few weeks. During the session we were thinking about how we could improve our stopping as we noticed that we were overshooting the finish on most occasions. We suddenly had an idea- we needed to change the position of the brake so that it was in the downwards position.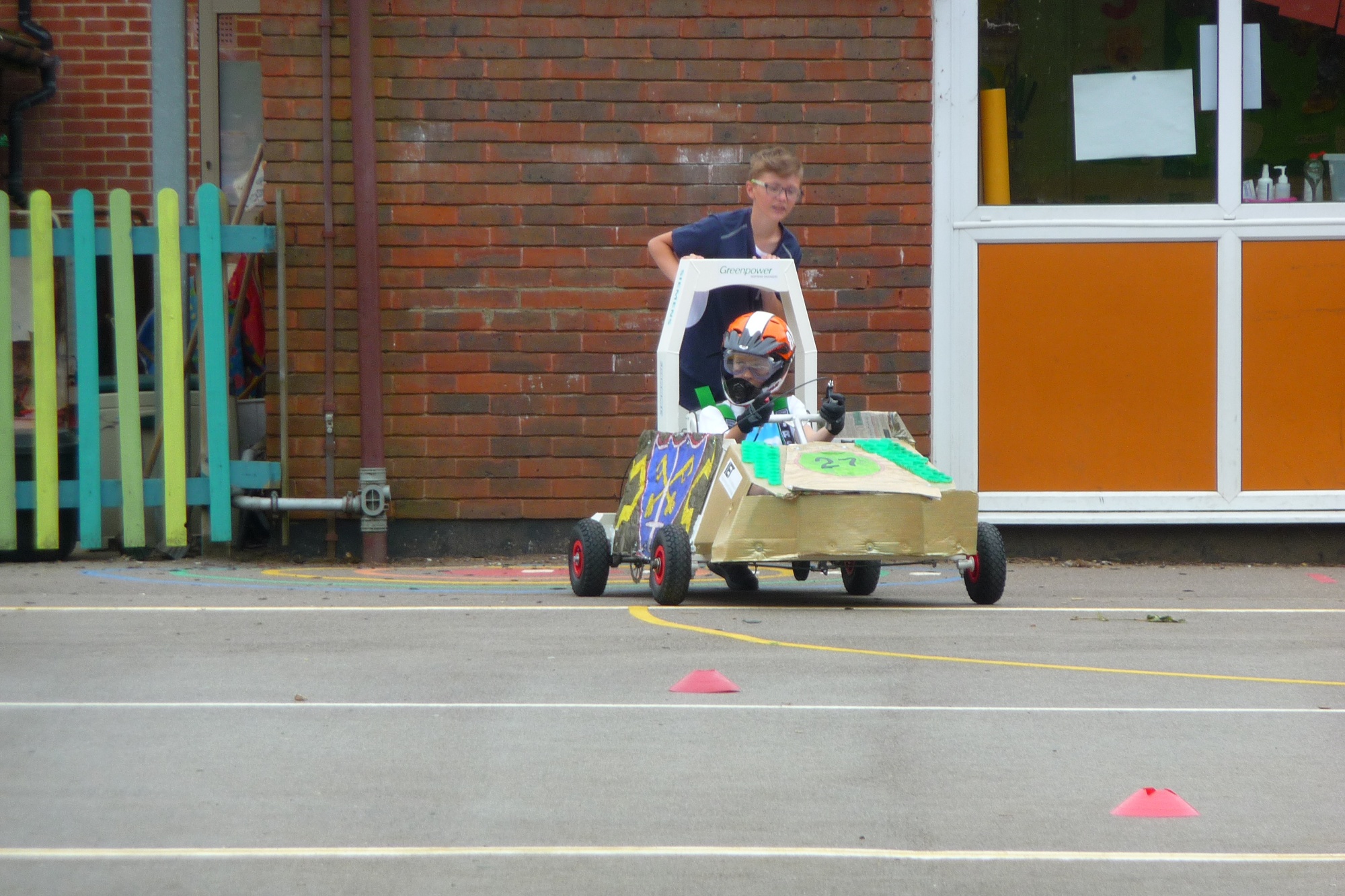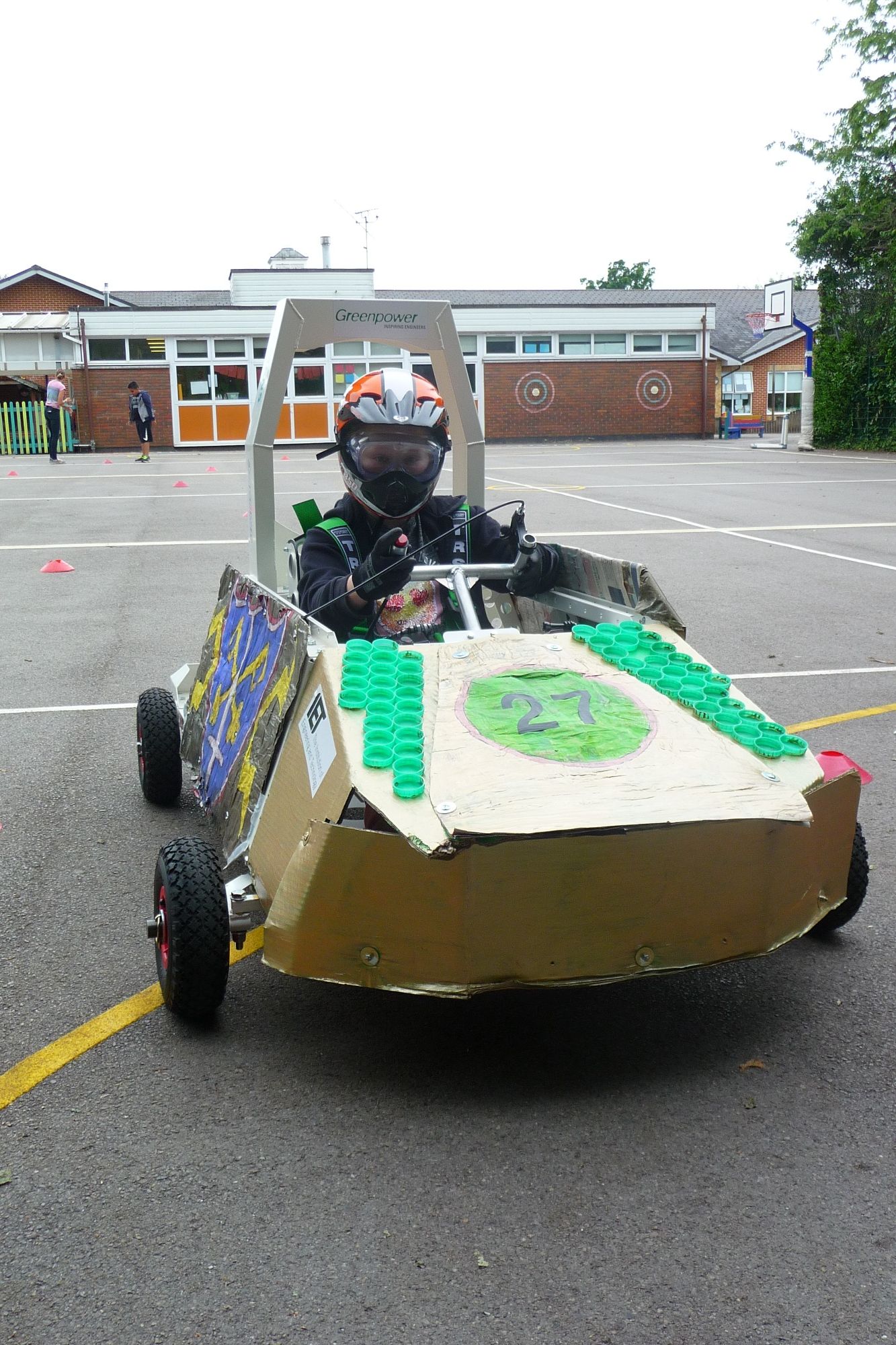 Once changing it, we found that our stopping was far better. We even managed to stop within the parking zone whilst practising the drag race too.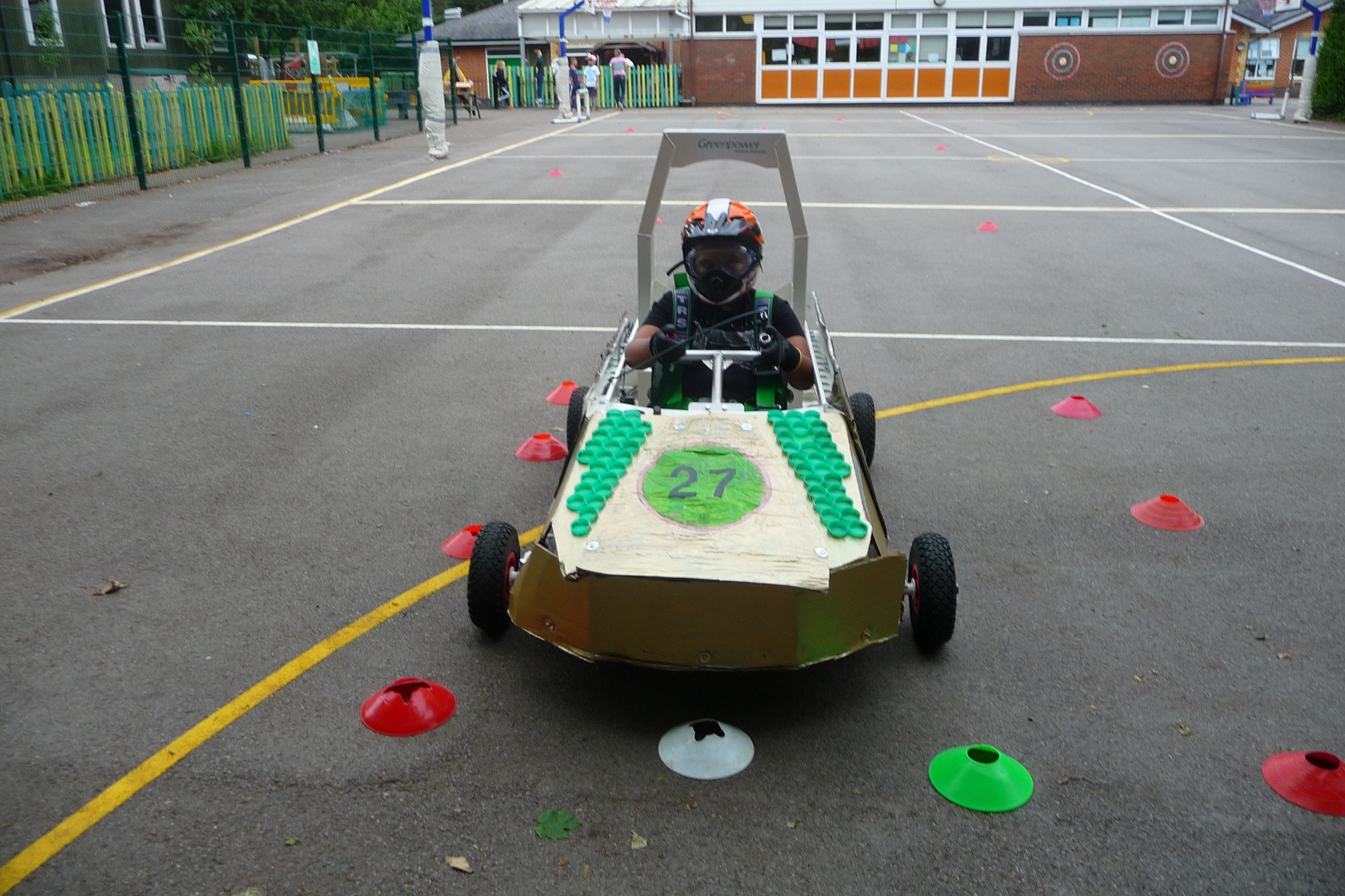 Seaford College 2nd June 2018
What a day! Today, was out first race event for the 2018 GreenPower team, which was held in Seaford College.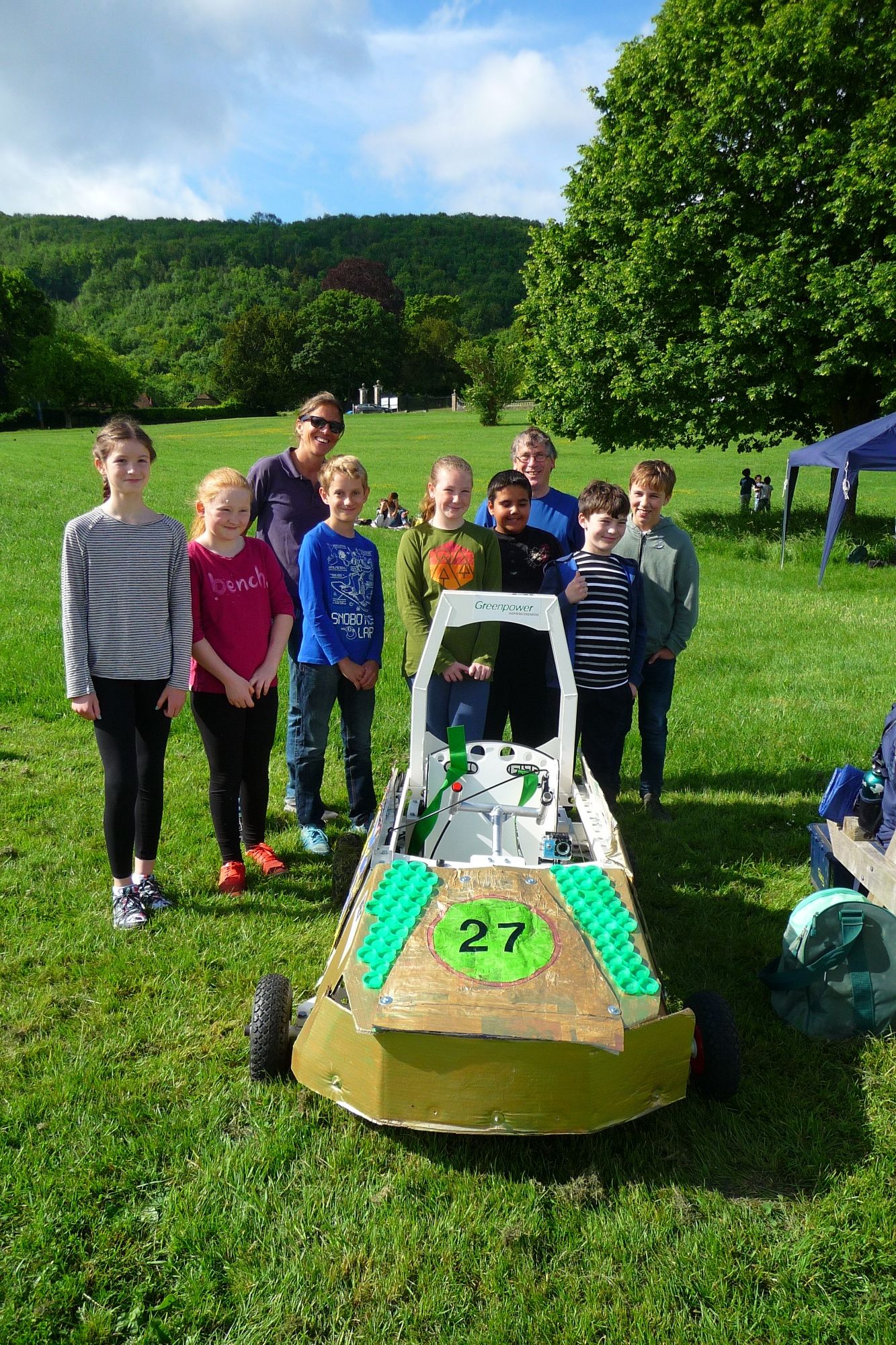 We all met, bright and early, ready for our car to be scrutinised. The brakes, engine, wheels, roll bar... everything was checked... it was nail biting stuff but we passed the test! We were given race number 27.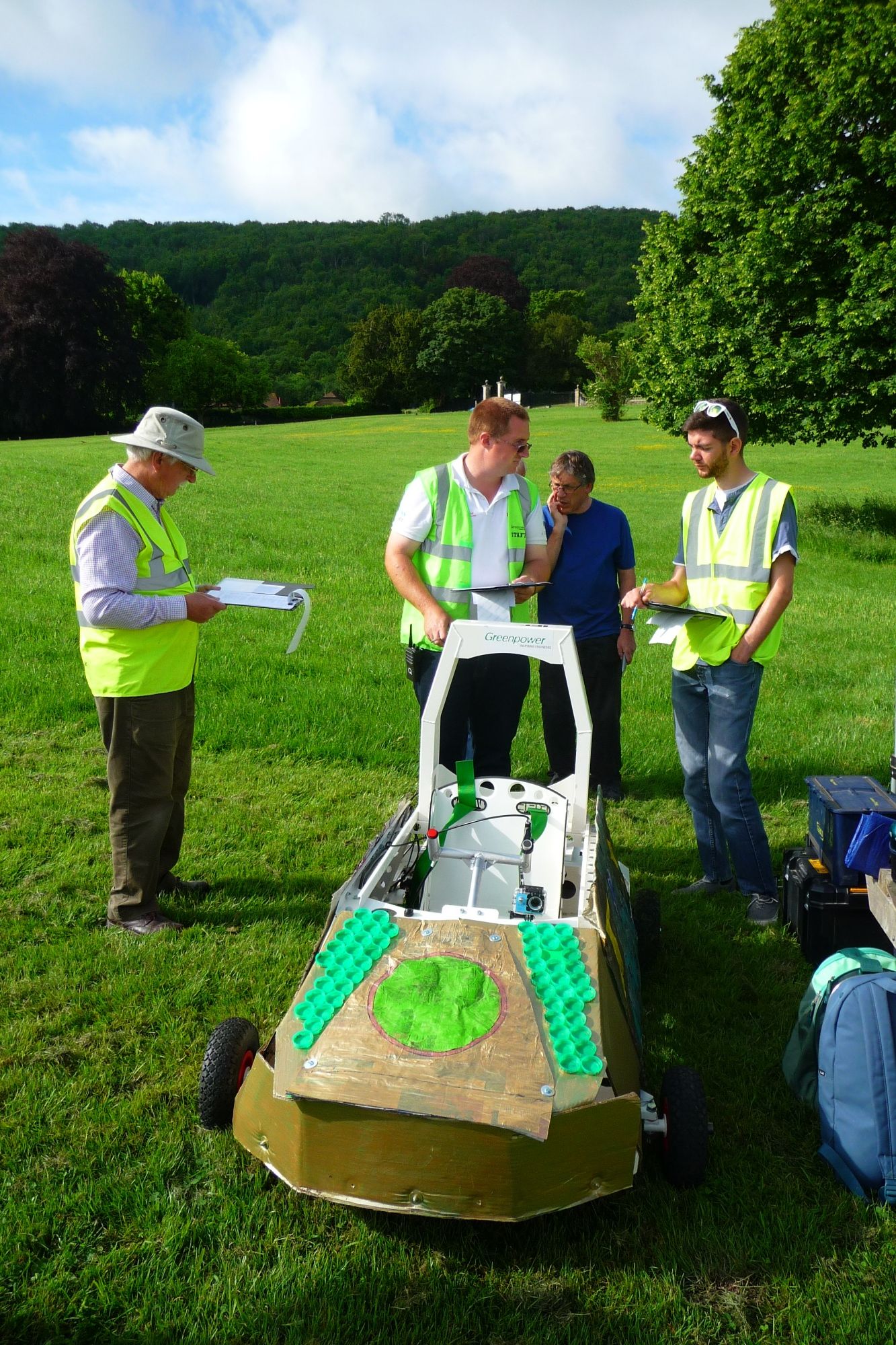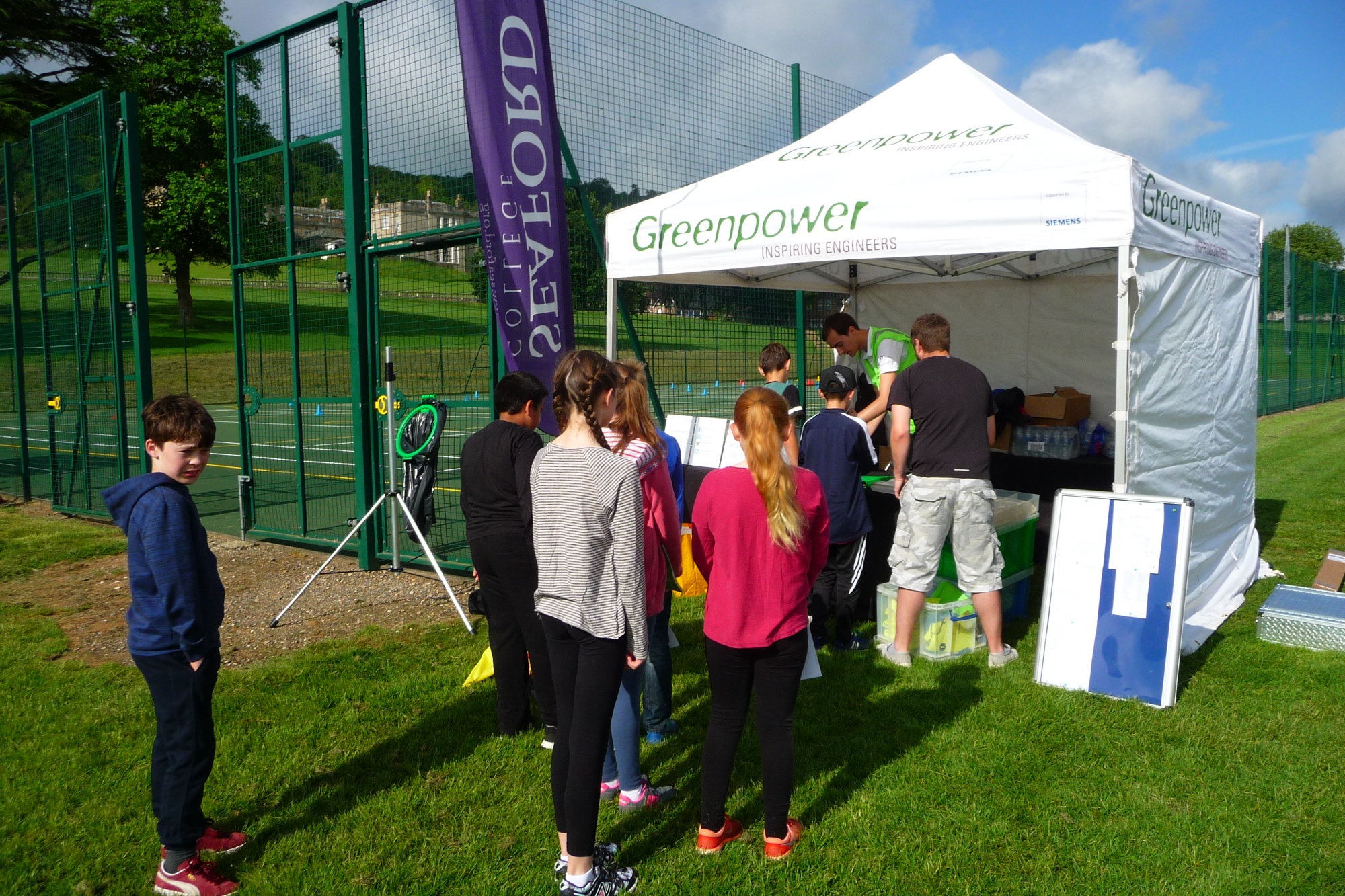 Next we had the car parade, which was our change to tell the organisers about all our hard work that we have put in writing our blog, building the car and designing and making the body work. We tried to remember all the important things about why we used the different types of materials etc.
It was time- the first races.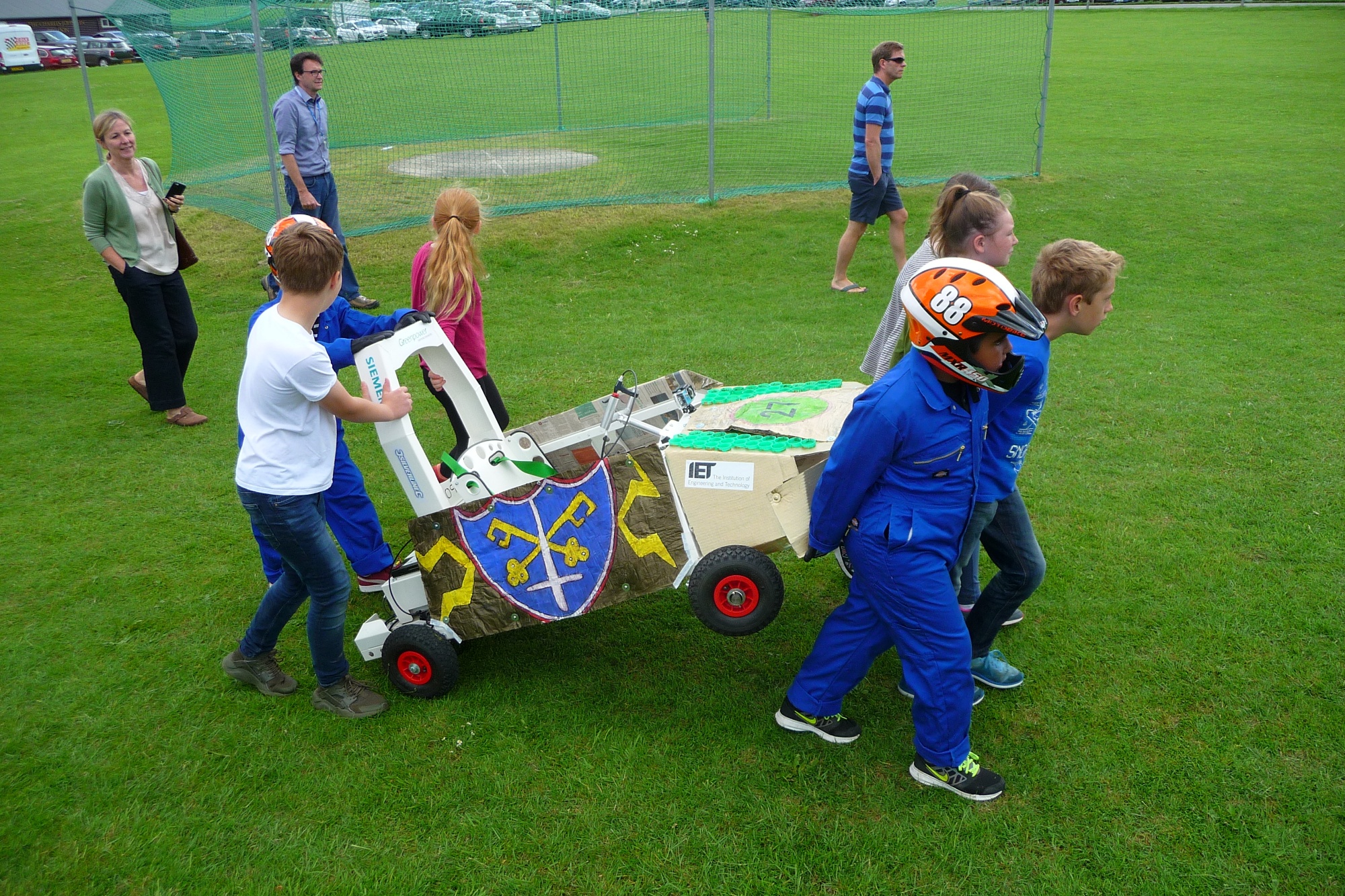 Because we were in the second half of the car numbers, we did the slalom first. We had six goes at it, each time with a pusher to help at the start. It was tricky as the bends were sharp and the stopping zone was tiny! Our best time of the day was 10:52.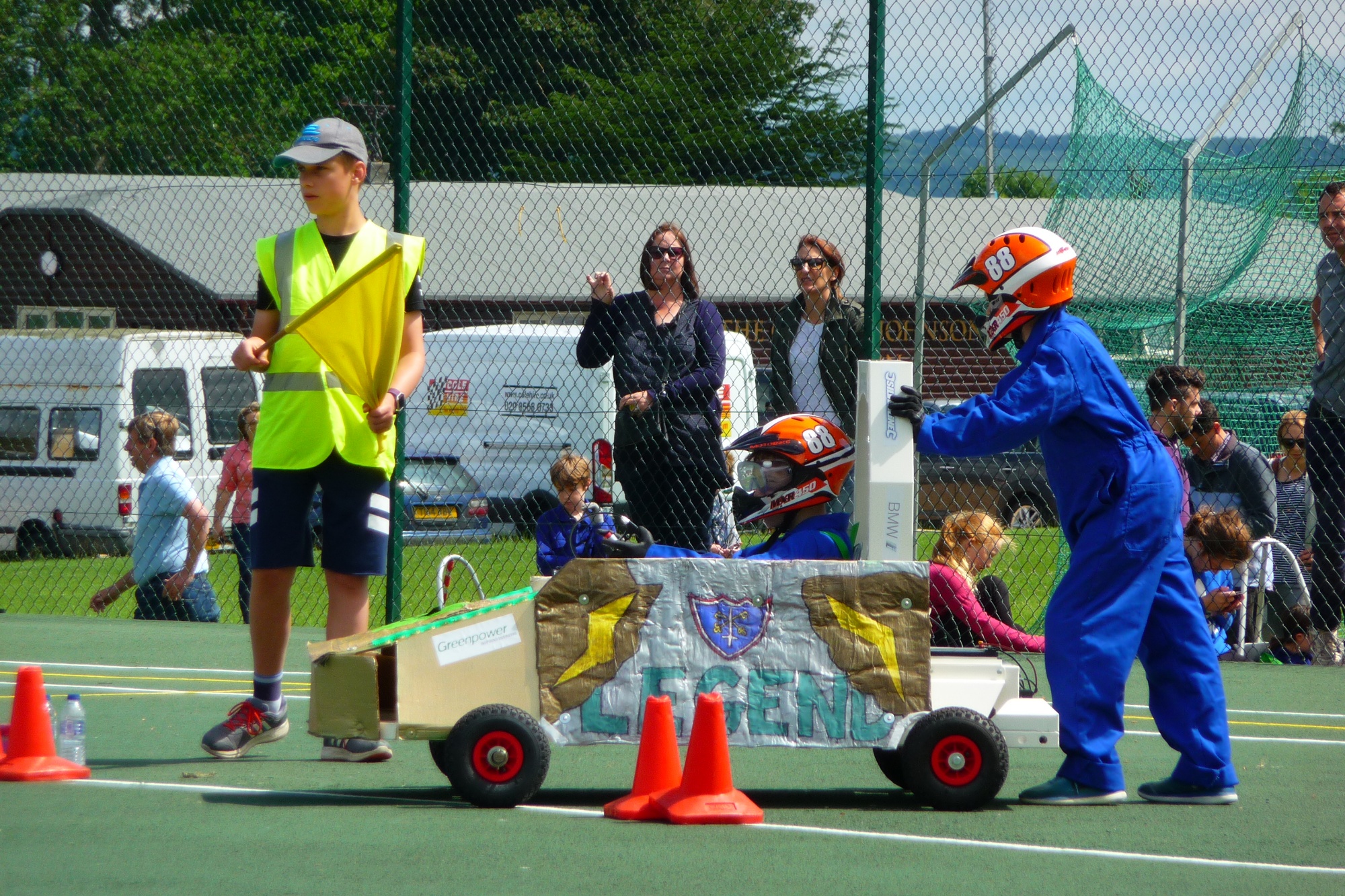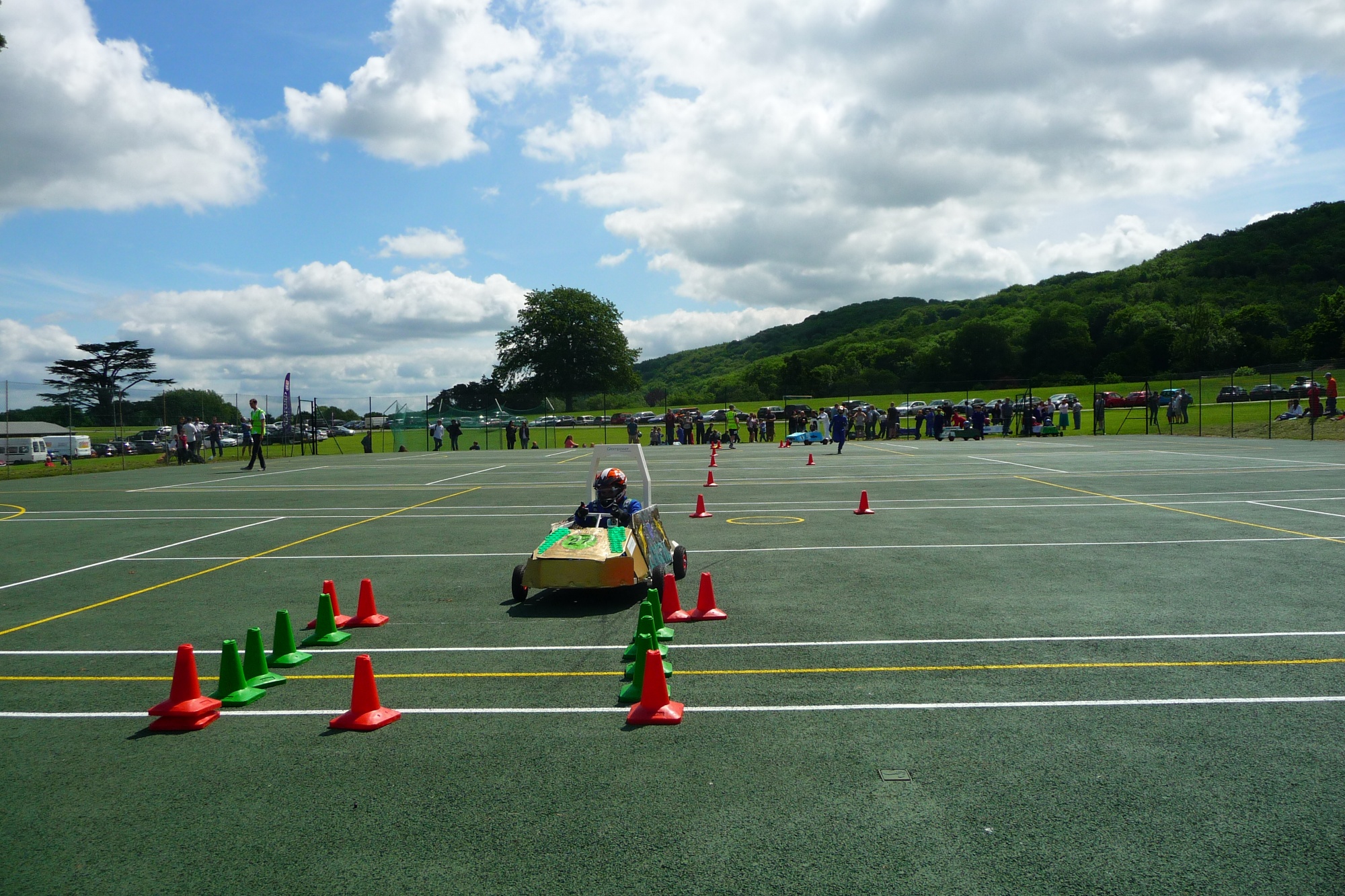 The next set of races were the drag races. Again, we had six attempts at this - and we flew down the track each time!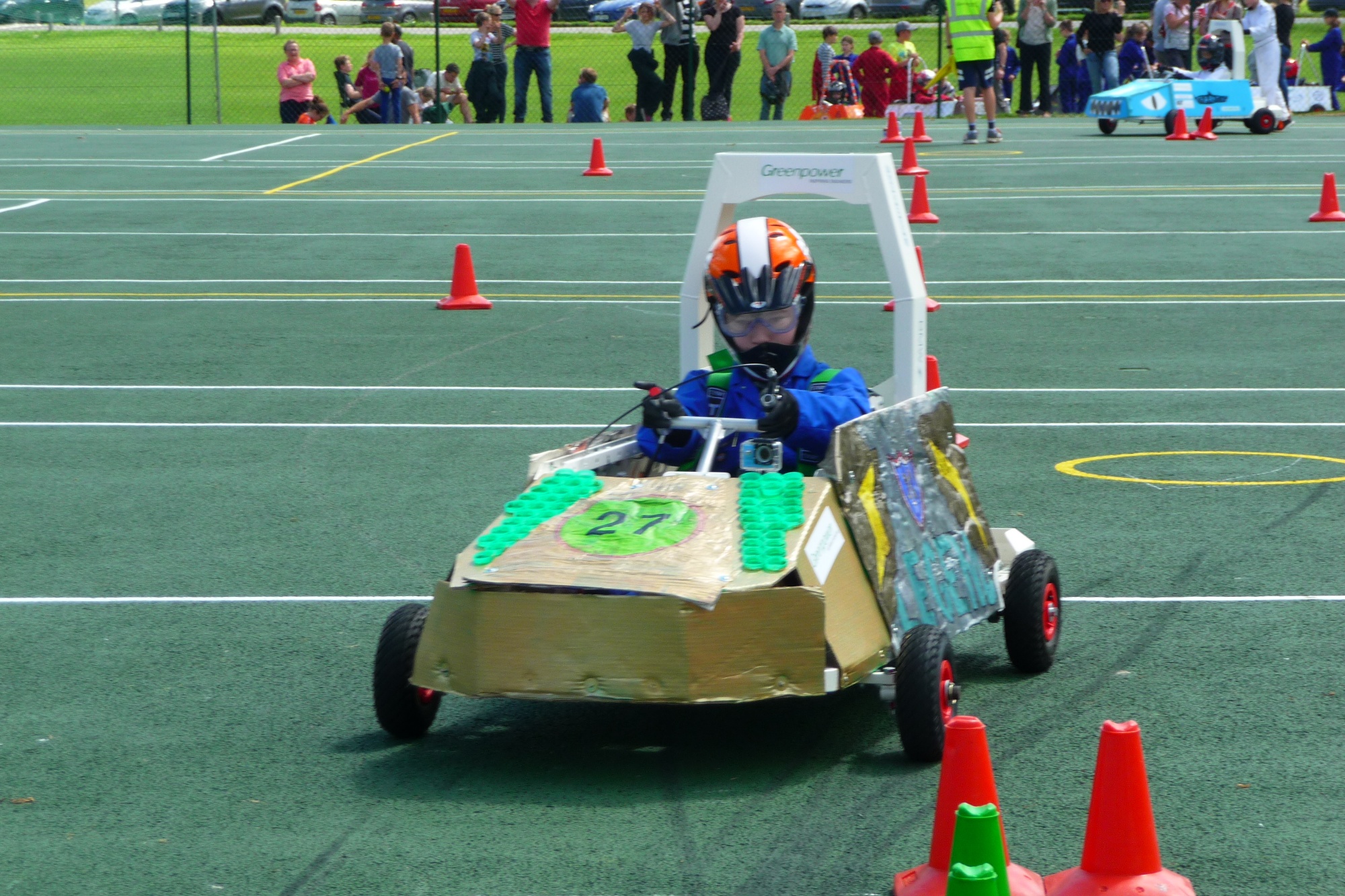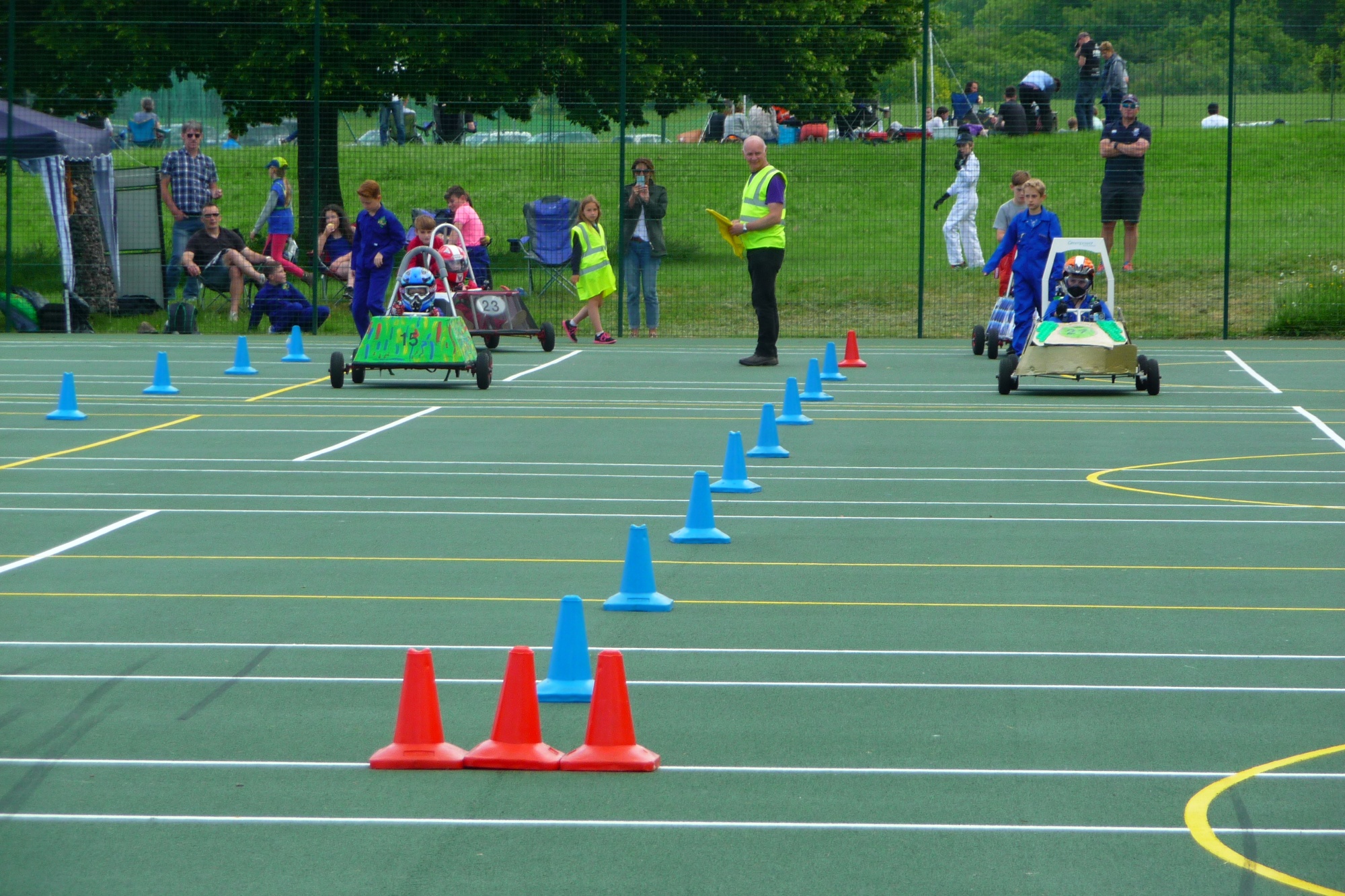 After lunch, we had the speed track races. We were put into heats (we were heat number 8) and we had 3 cars in the heat. Albie gave an almighty push which gave Tom a brilliant start. We were coming 2nd on the first straight but with Tom's amazing and very determined driving, he managed to gain the lead just before the end of the first lap. There were knocks and bangs but Tom kept his nerve and managed to finish first - we were into the semi-finals!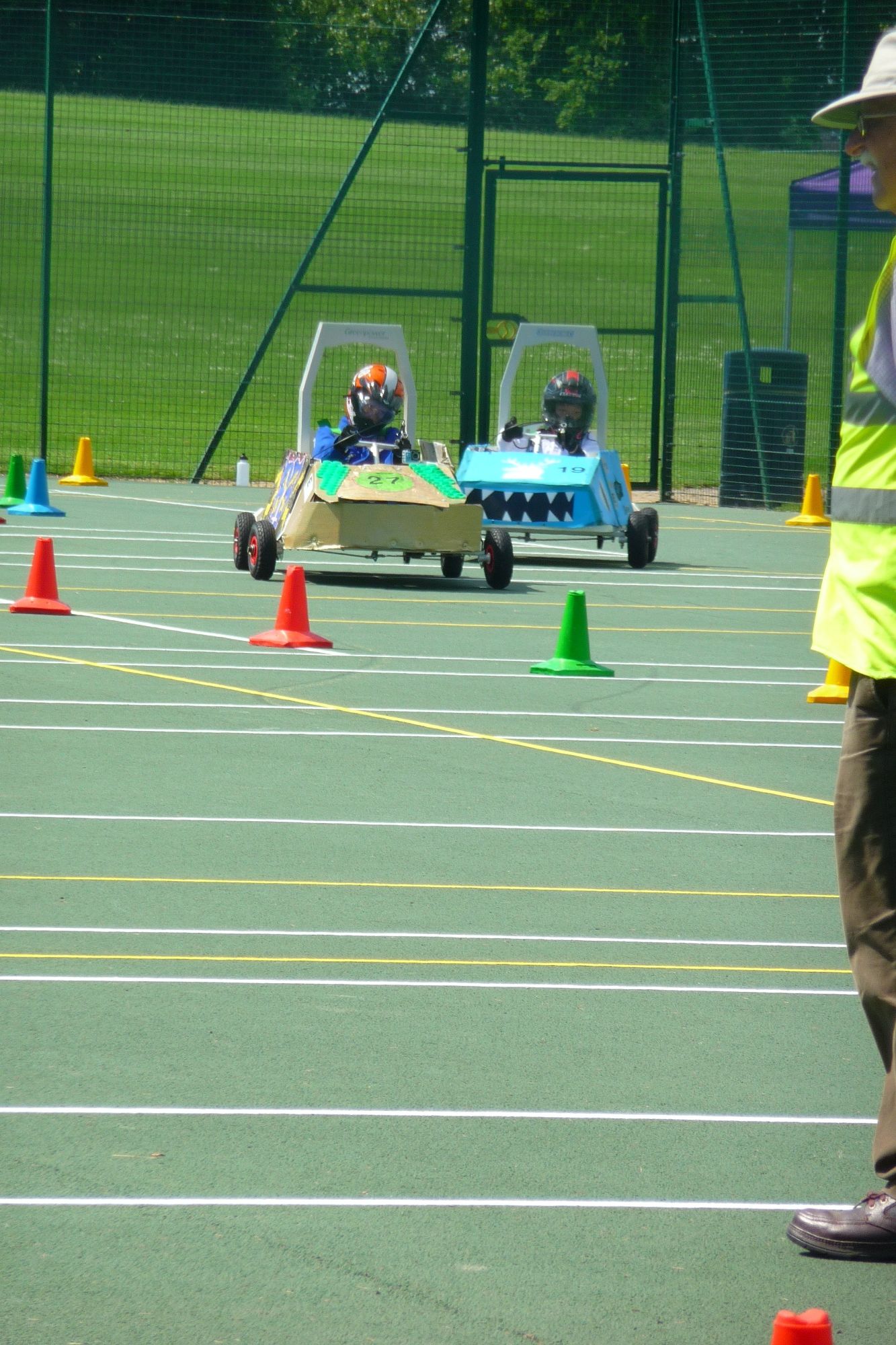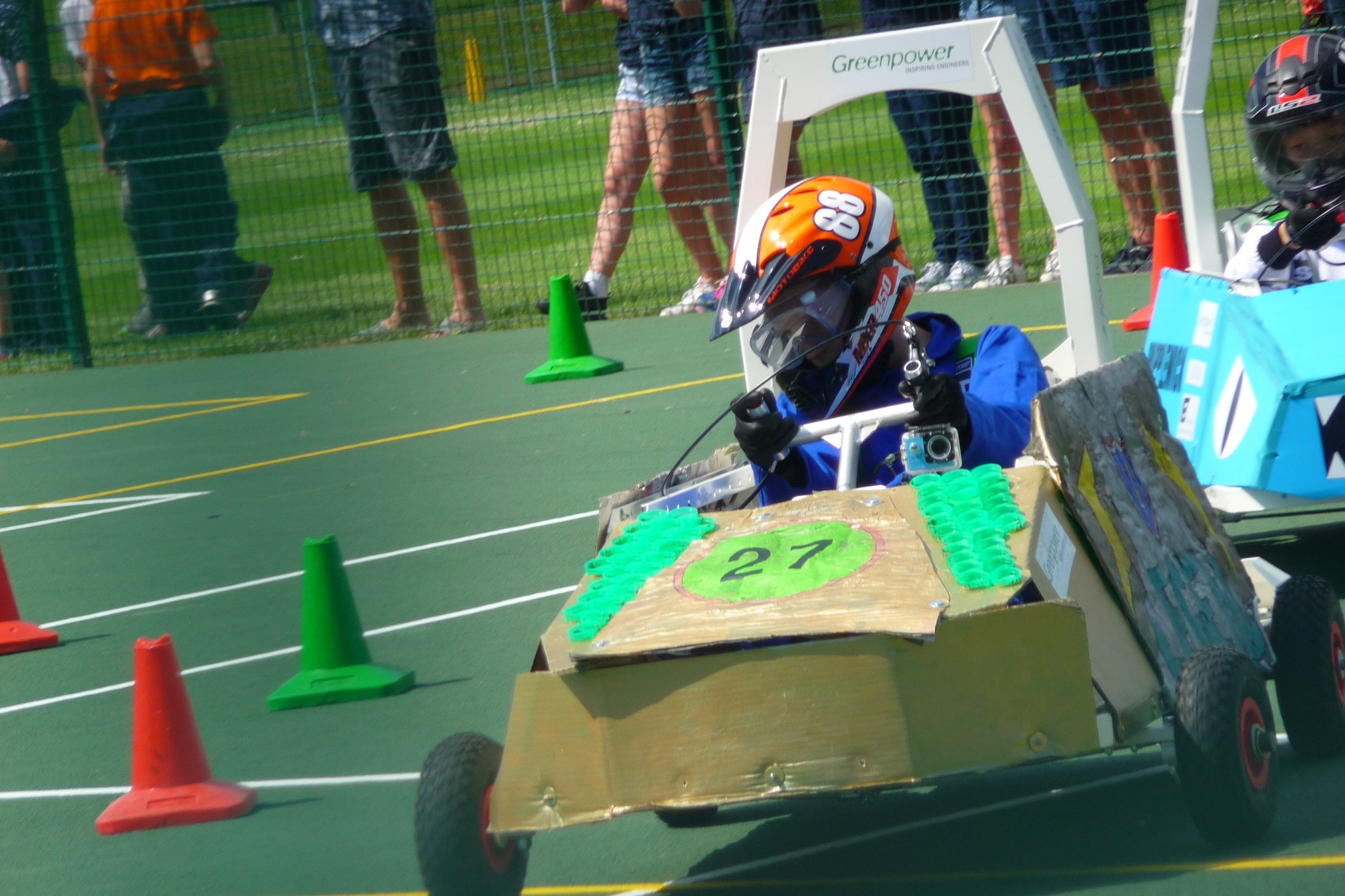 We didn't have long to wait but the car needed a few tweaks. We needed a new front wheel. We were ready just in time to get to our semis, this time with 4 cars. It was another race full of scrapes and crashes but once again, Tom held his nerve, managing to come 2nd.
It was an amazing day in Seaford, which will not be forgotten!
Week 14: 25th May 2018
After a week away from GreenPower because we were so busy sitting our SATS tests, we were ready to get to work this morning. Today, we thought about how we could make our car survive the British summer (we assume there may be some rain on some of our race days) so we problem solved how we could make our bodywork waterproof. We came up with the idea to cover our paint work with PVA glue and water to make a plastic type coating over it, creating a waterproof layer (and an added bonus is that it will be nice and shiny too!)
We reflected upon our weeks at GreenPower and discussed how our car has been made with the environment in mind. Firstly, it is an electric car so it has no emissions but secondly, we have thought very carefully about how our bodywork design has had minimal impact on the environment. We have used newspaper, which were recycled and created a composite material (paper mache) which is strong and sturdy.
Because this was our last session before our race at Seaford, we were eager to get our driving skills honed so we went out for another practise. We checked that we were safe at all times (this is the job of the pusher (and others in the group)). We also thought about our driving lines and how we have to be aware of the weather as this affects the stopping distance. If it is wet, the car slides on the ground a bit so it takes longer to stop.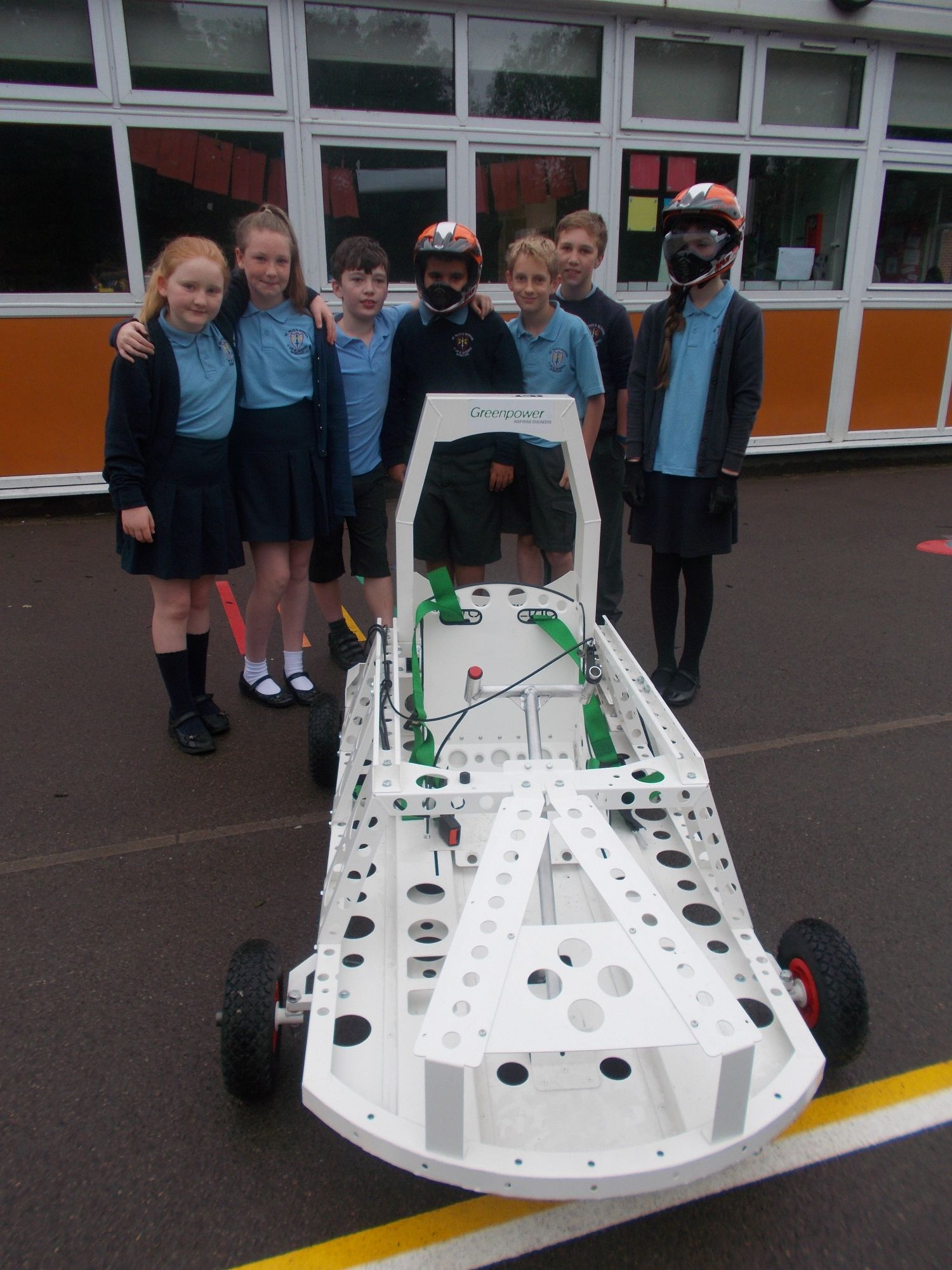 We are all very excited about our race on Saturday at Seaford!
Week 13: 11th May 2018
Today, we painted the St Paul's logo and some lightning bolts on the paper mache. Sadly, we did not get to ride the car but we did get a new GoPro which Miss George won and we got some new blue uniforms! A little later, we were supposed to get some bronze paint so we were able to touch up the painting we did last week . At the end of the day , everyone tided up and left to go to their classes.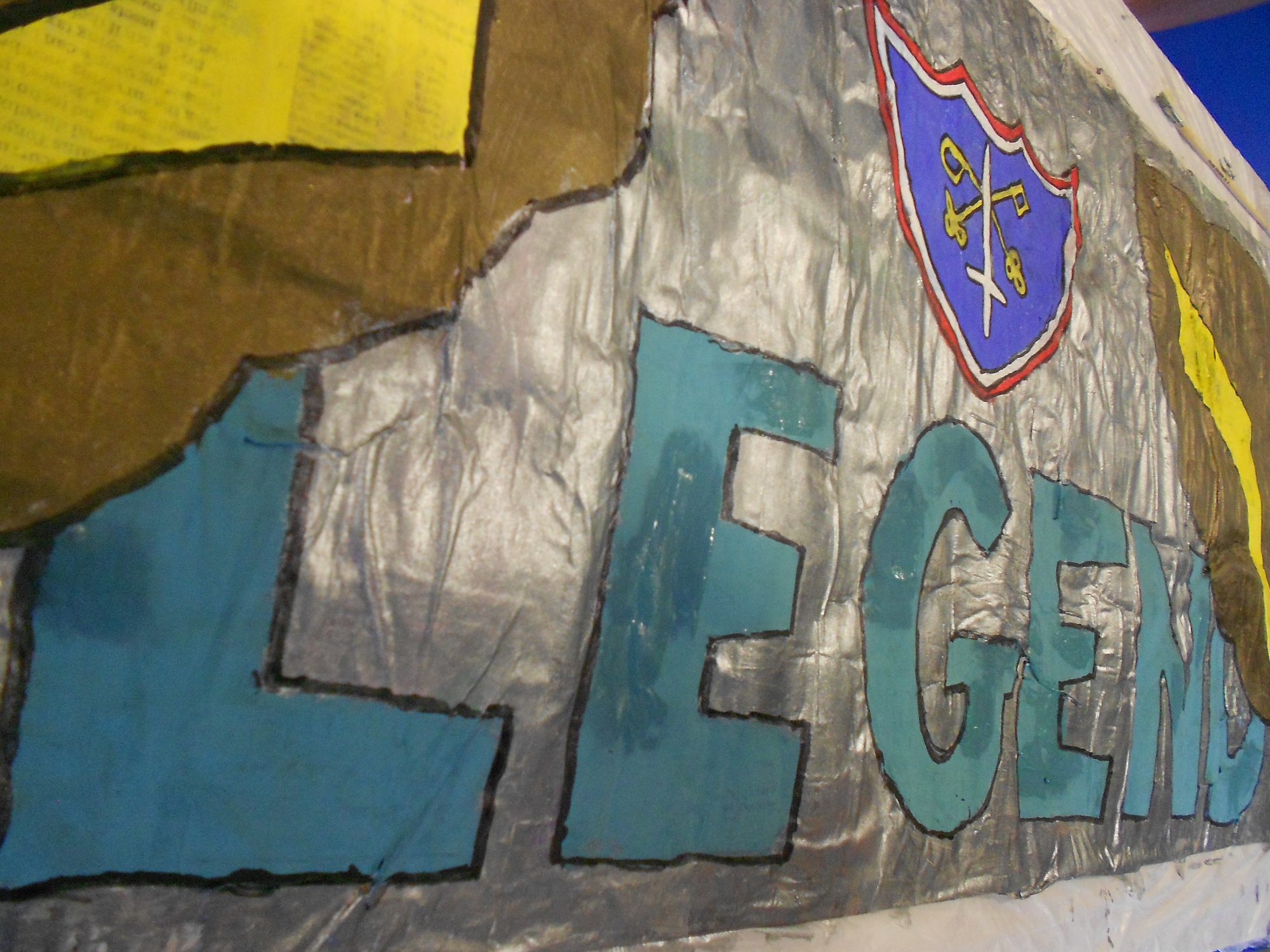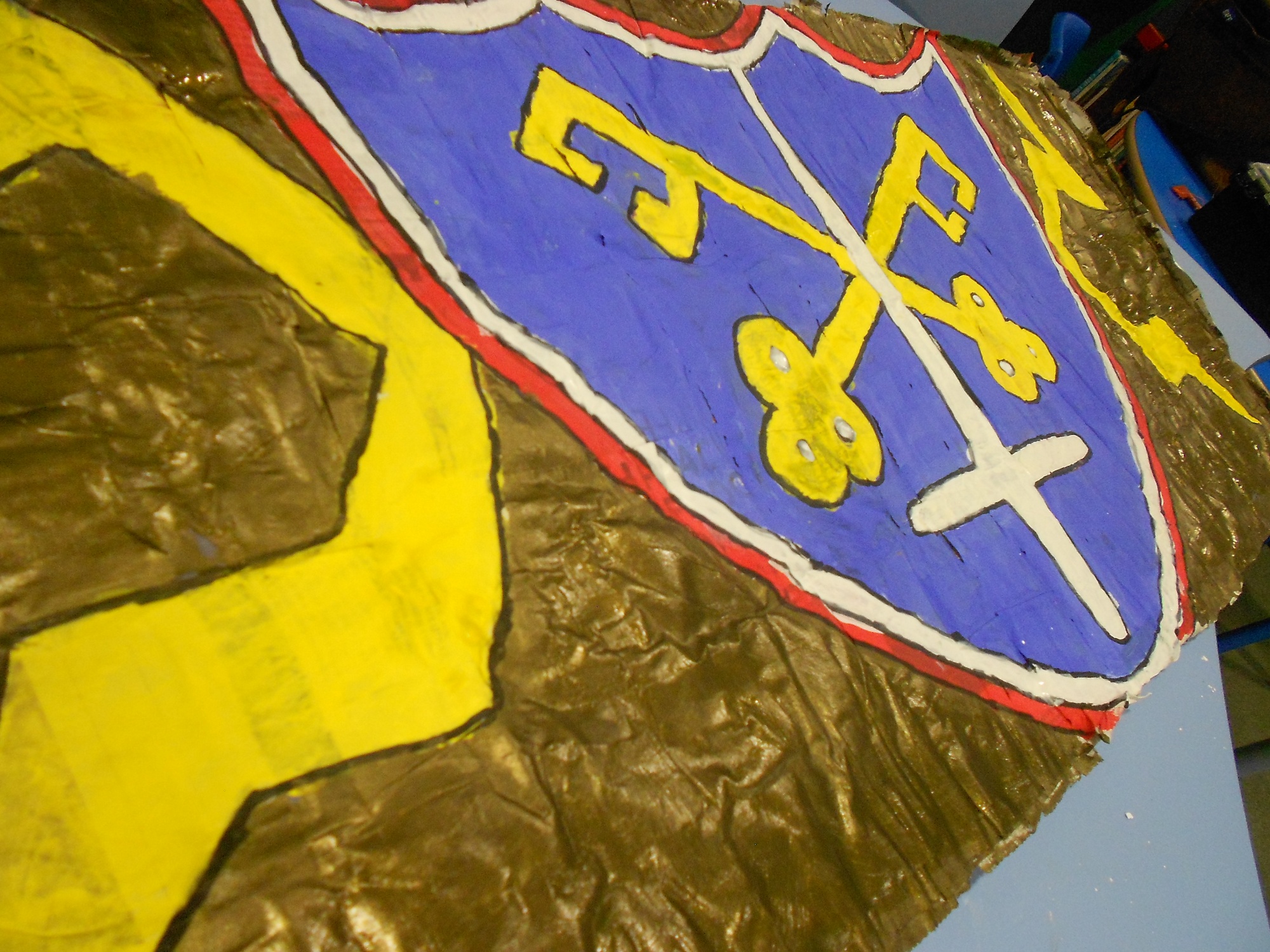 Written by Isobel and Beth
Week 12: 4th May 2018 (May the forth be with you!)
Today we were painting the newspaper to put on the side, back and front of the car. On the front, we had the name of the car in bold capital letters. (LEGEND).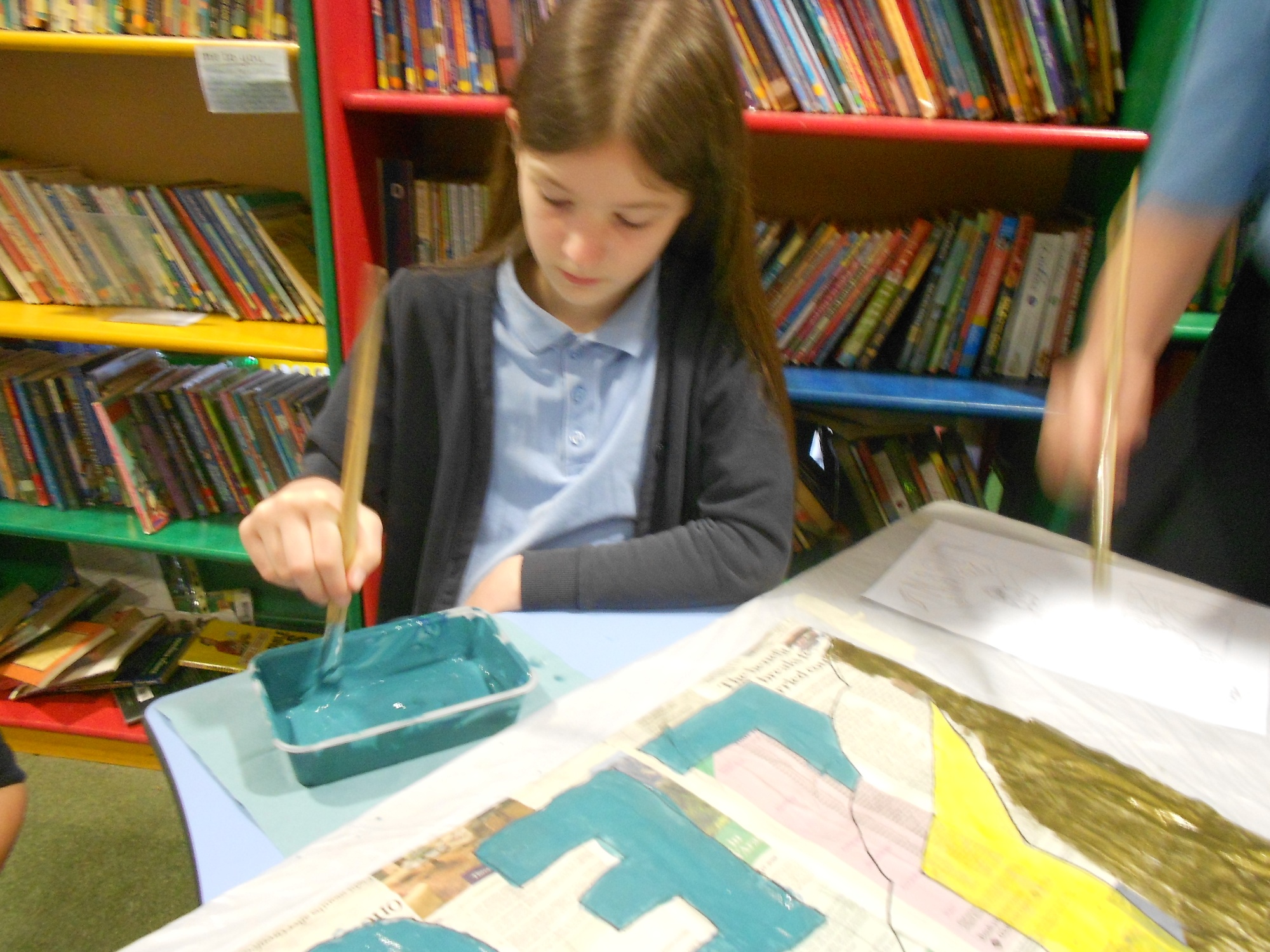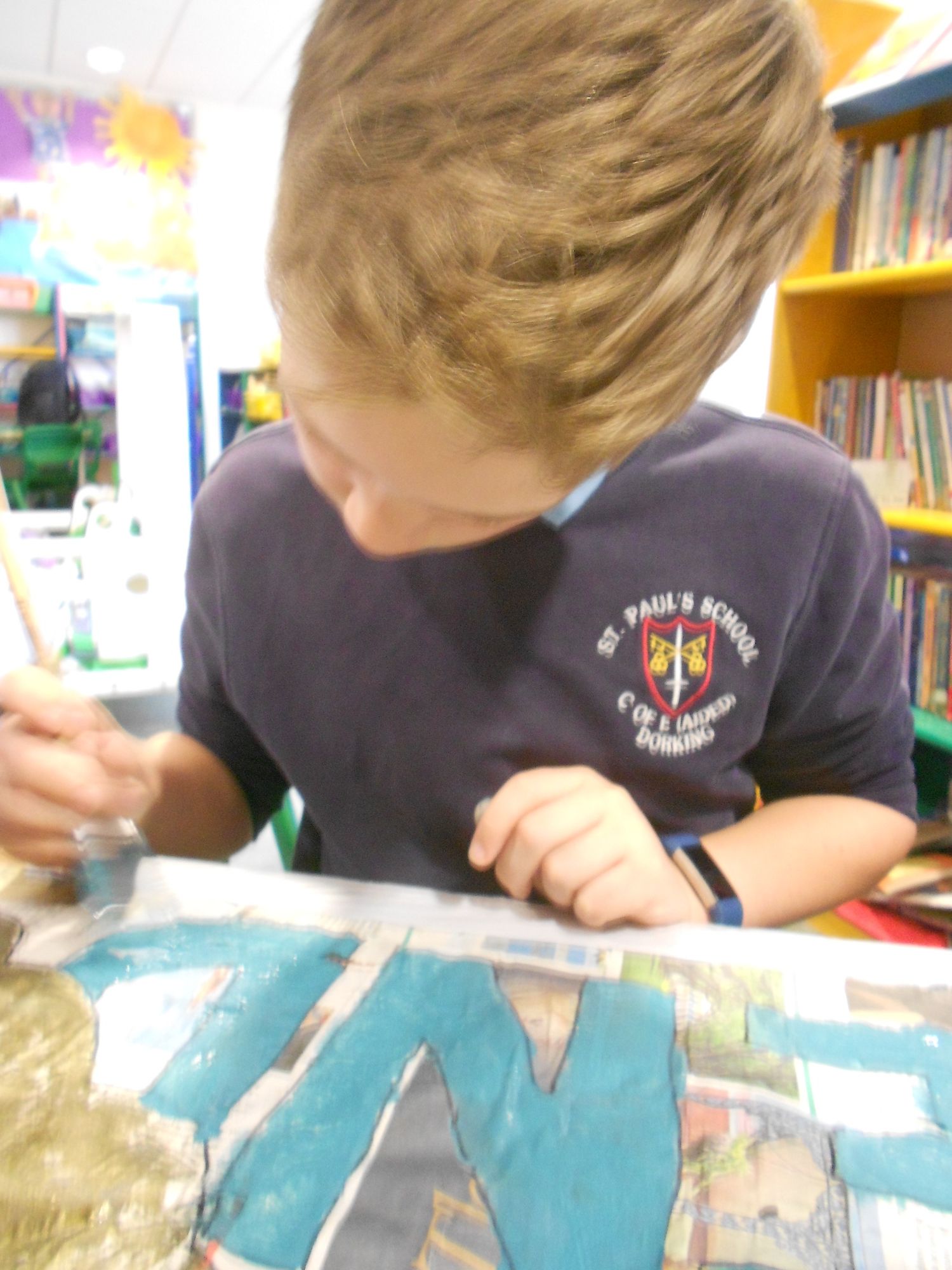 Above we painted a cloud on with a lightning bolt in it. On the side we decided to paint the St. Pauls logo with two lightning strikes going behind it with a bronze background.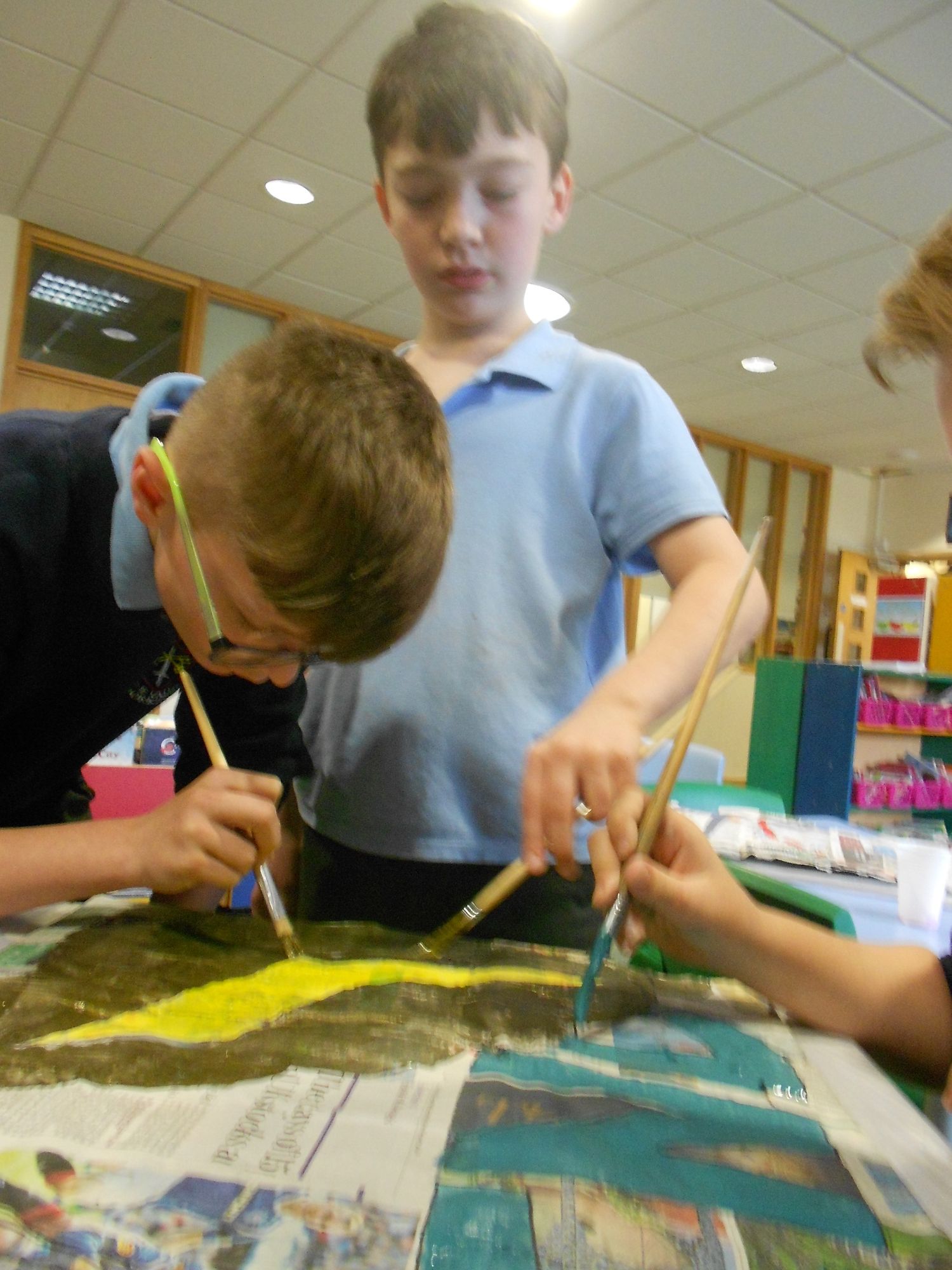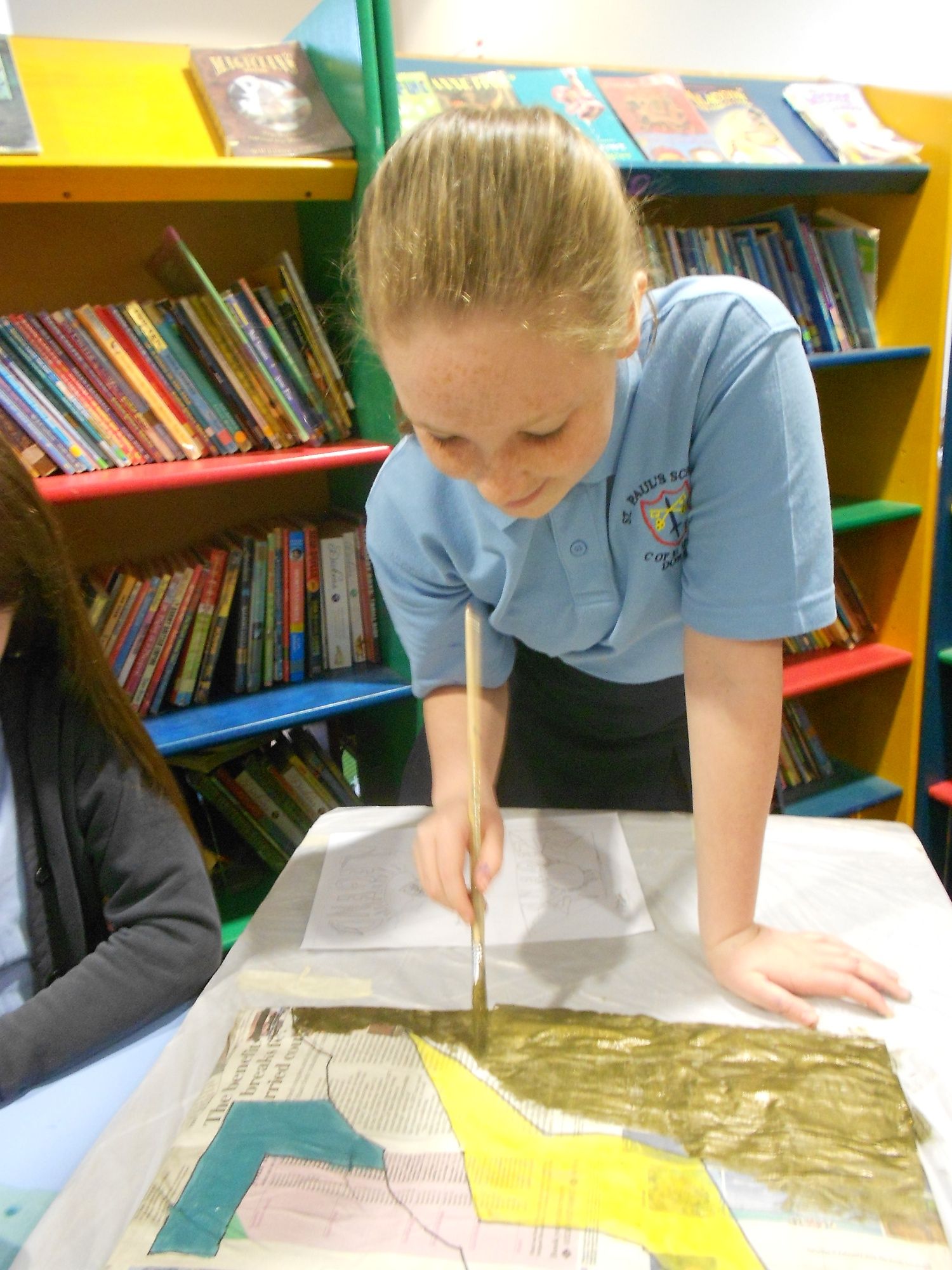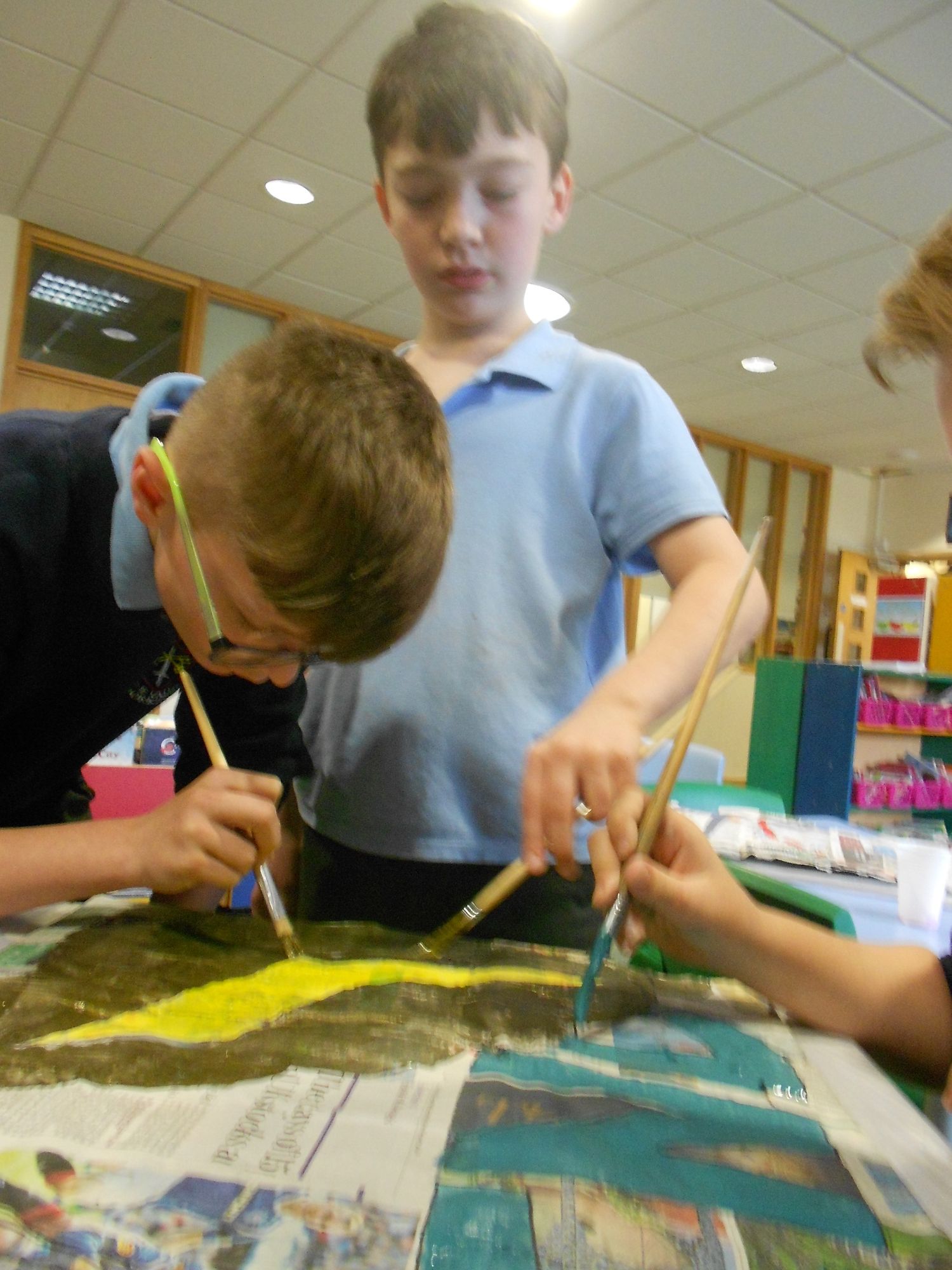 We started off with Miss George helping us to draw a black outline and worked up from that. It was hard as we had to work as a team to make sure we could get as much done as possible but also keep it neat.
Written by Albie
---
---
Week 11: 27th April 2018
Today, we finished the construction on the composite material for our body work. It was very fun. Everyone was cracking jokes and breaking the silence with discussion. Miss George's group (Albie, Maddie, Charlie and Beth) set to work neatening up the edges by adding yet more layers of paper mache. Meanwhile, Mr Tanton's group, started the front panel contruction.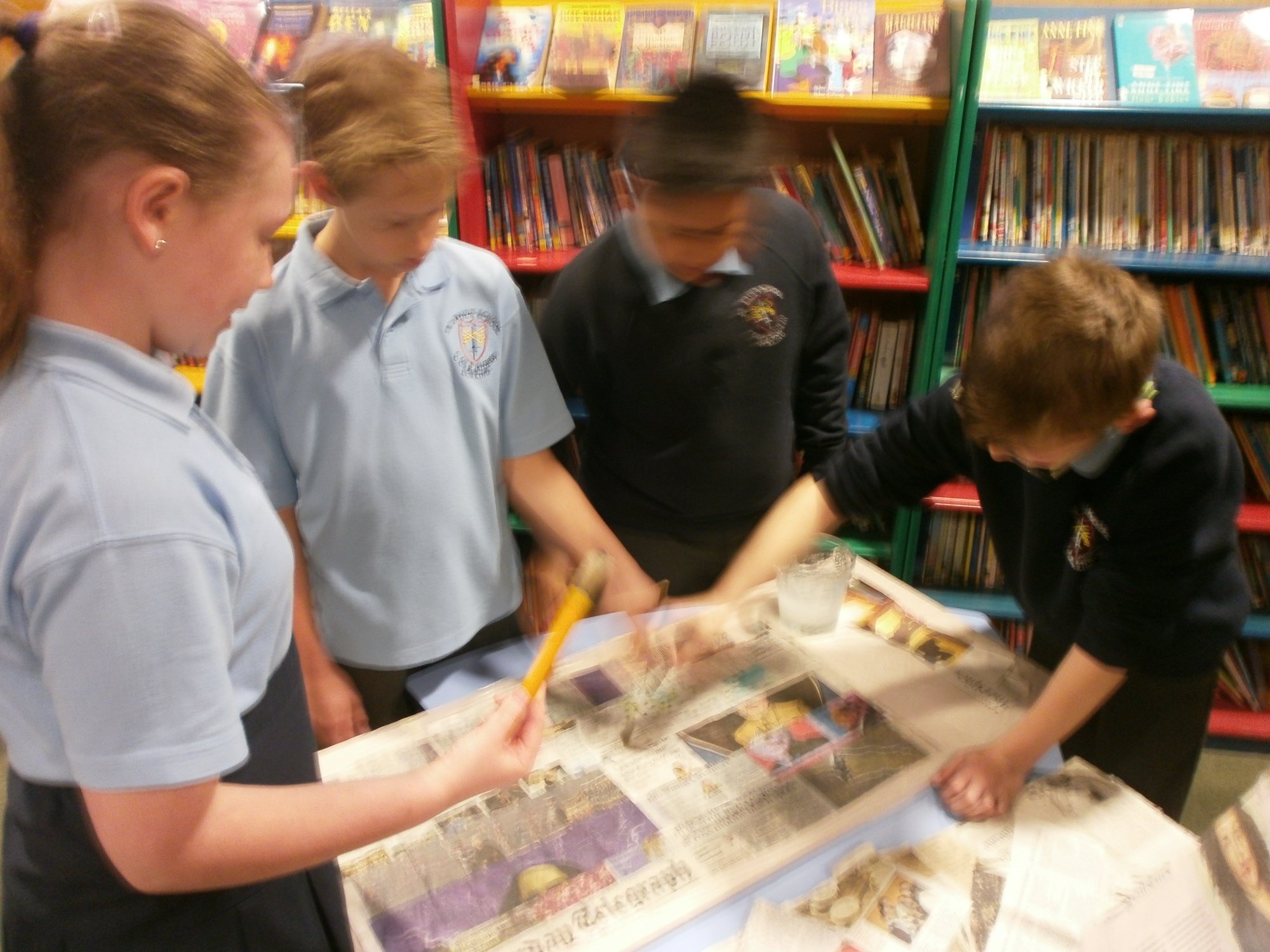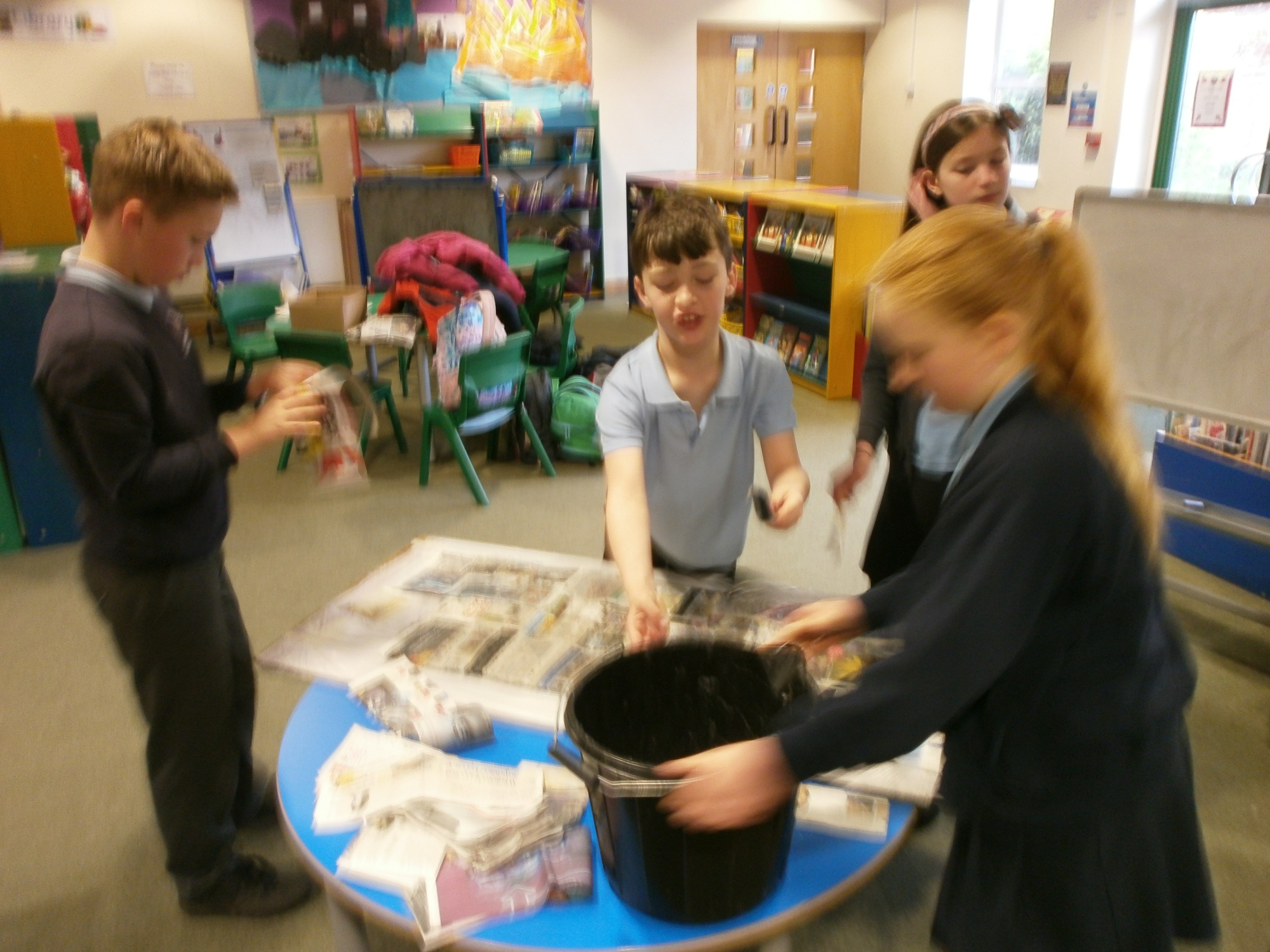 Such a lot to do. We hope it will all be dry, ready to start painting next week.
Week 10: 20th April 2018
Today was the day! We finally went full power today - wow, it was speedy!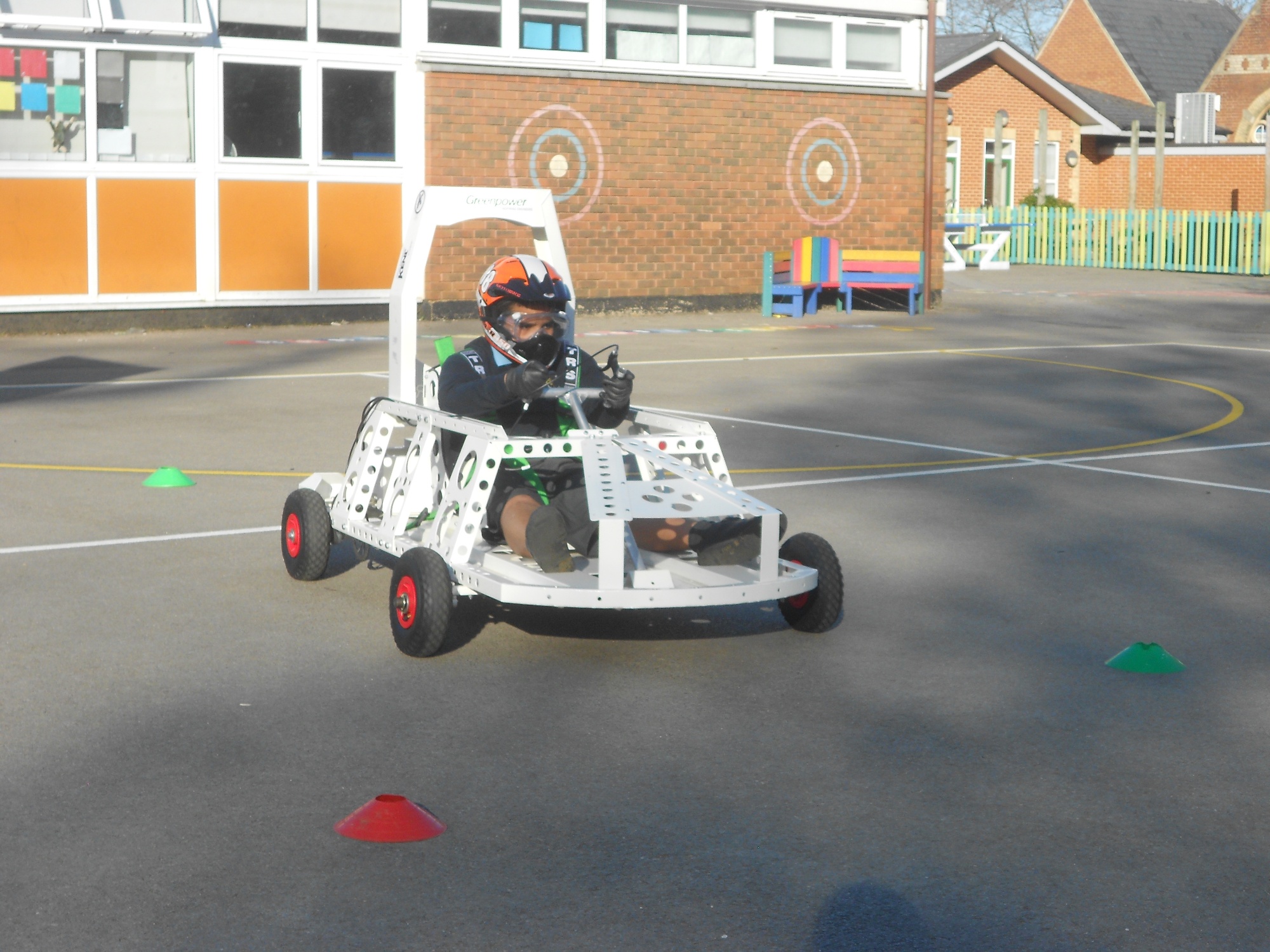 At the start of the seesion, we remembered all our safety rules and made sure that we had all the safety equipment necessary. We set out the slalom course and thought about how we would take the corners in order not to knock any of the cones and this would give us time penalties on race day. We realised that if we went towards the outside of the turns, we would beable to anticipate the next turn and still manage to get through cleanly.
It was great to get back into the car after the Easter break and we are now very excited about our confirmed entry into Seaford College on the 3rd June.
---
Week 9: 23rd March 2018
At the start of the day, whilst everyone was arriving, Isobel, Beth and Charlie began to finish the paper mache. Once everyone had arrived, we worked as a team to finish the paper mache.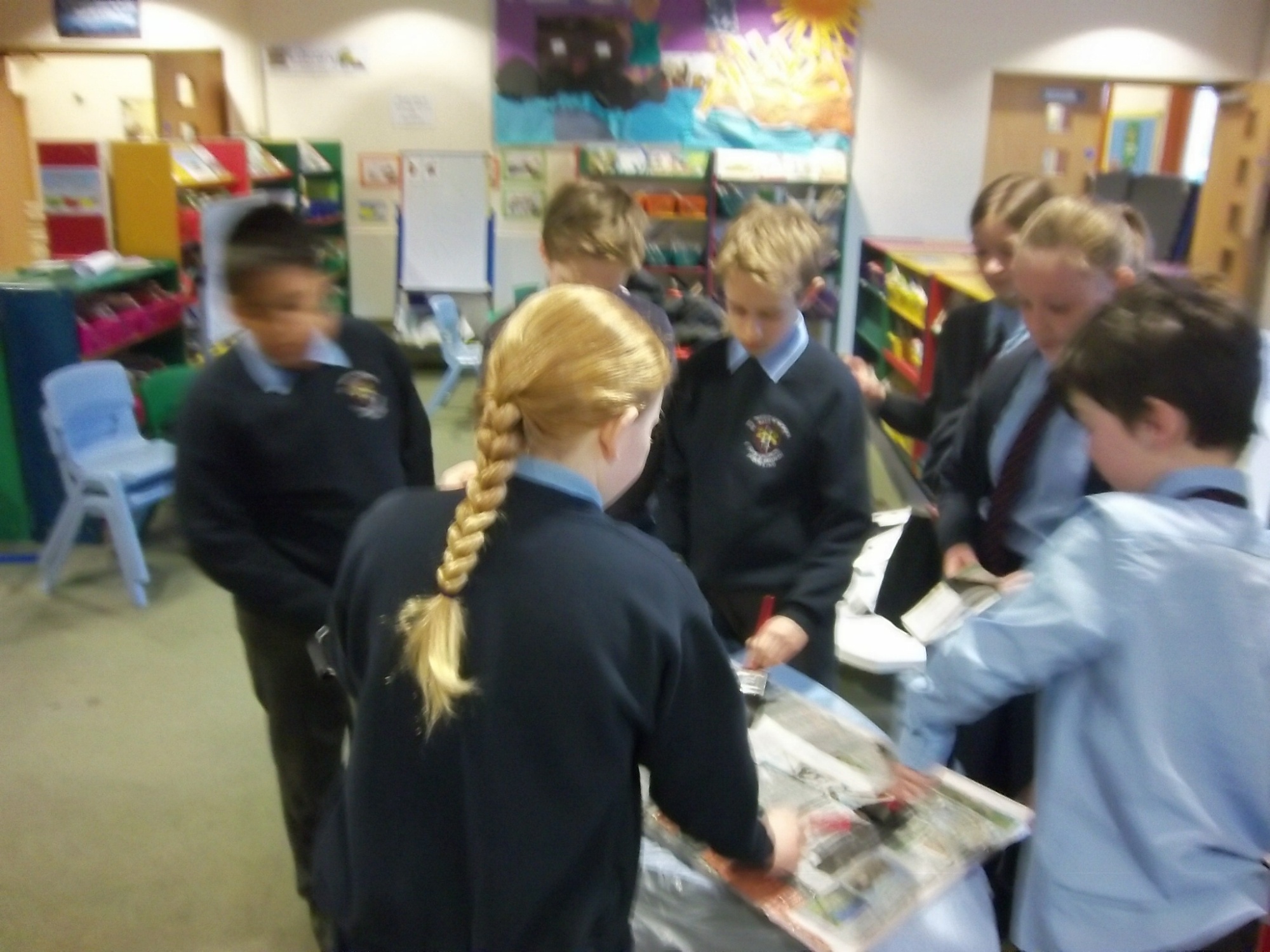 Later on in the session, we rolled out the car to drive it on a slalom course. We had to think about the best way to approach the turns so we did not knock into the cones. We also learnt how to park in a bay.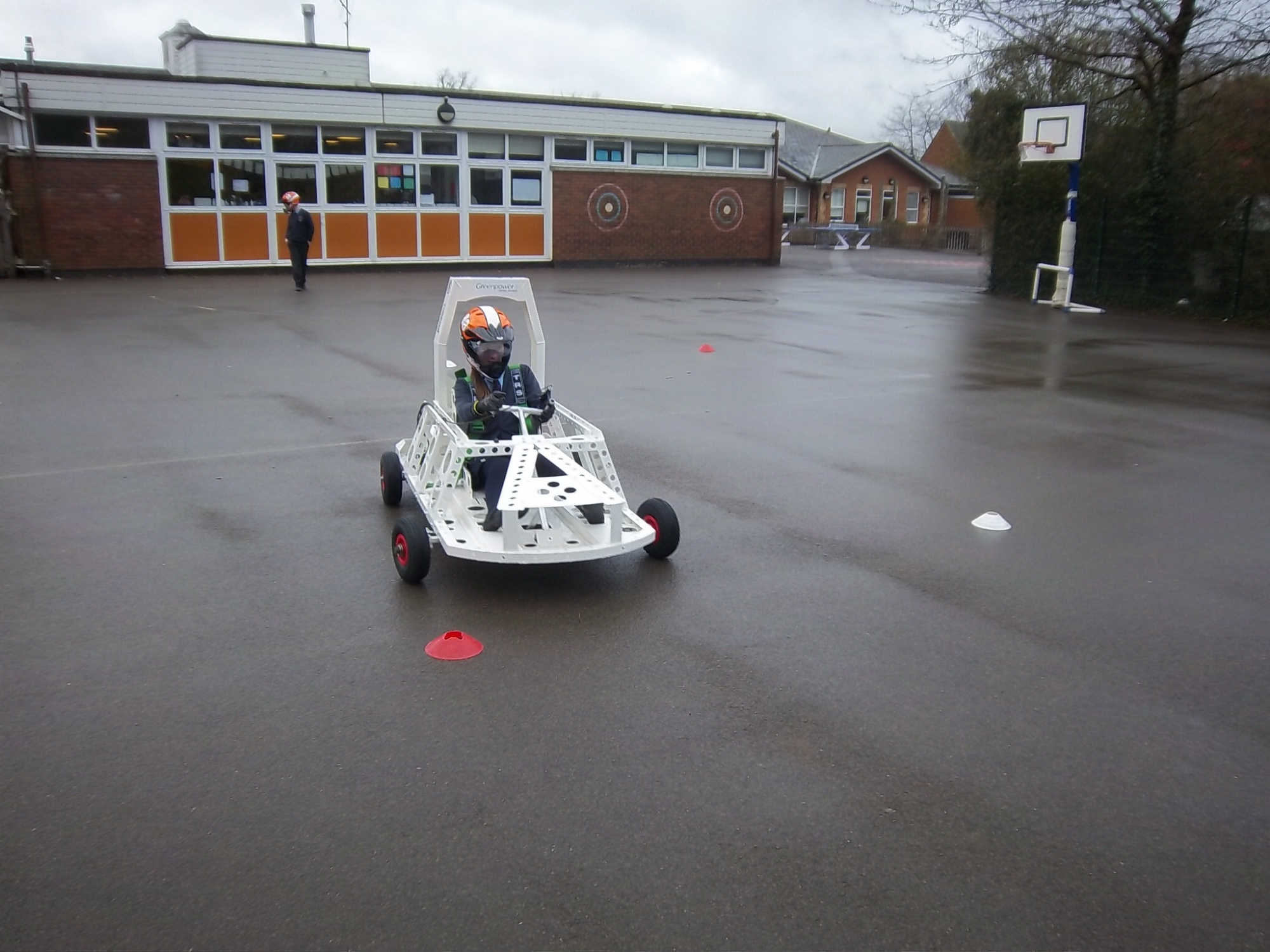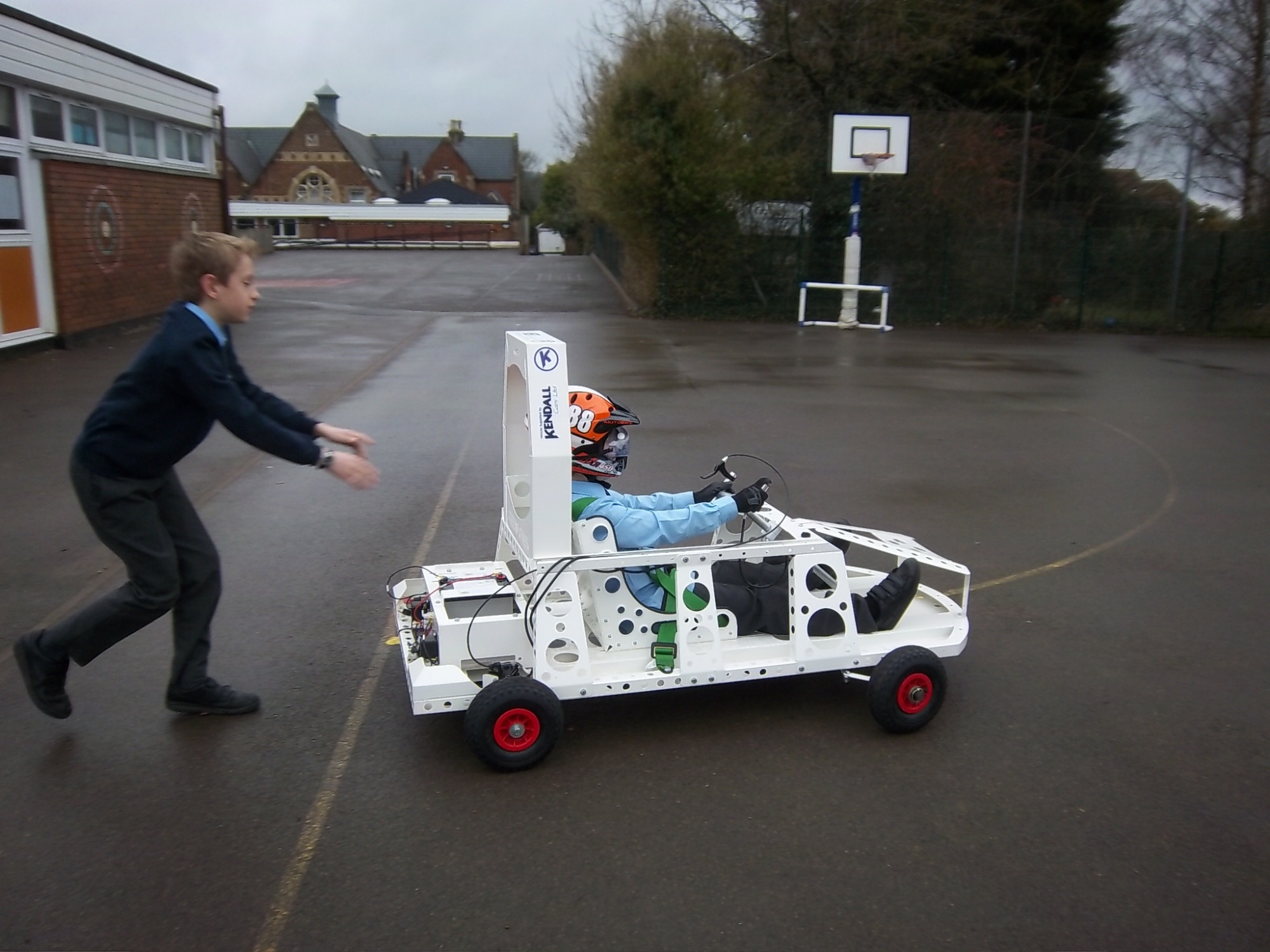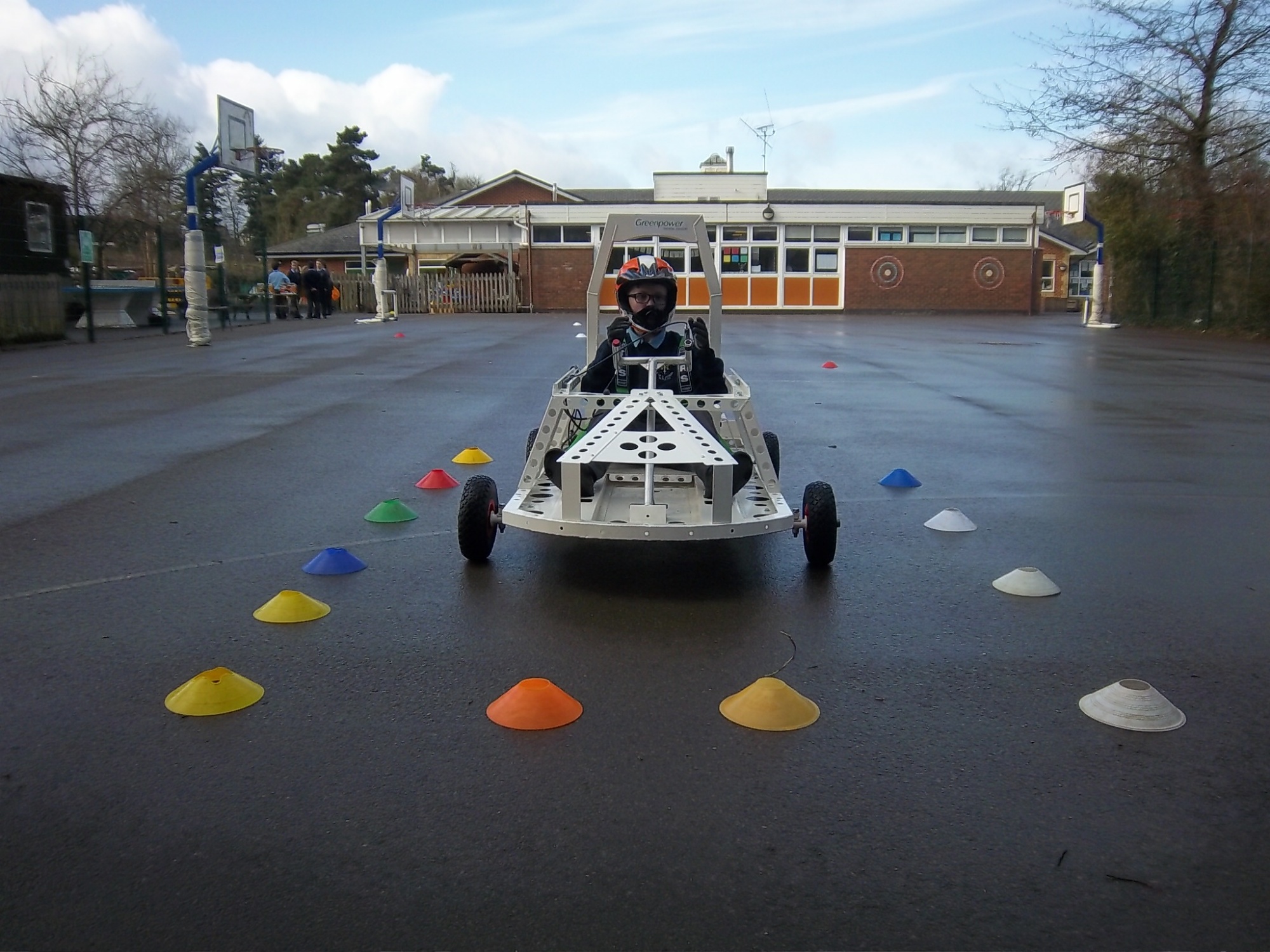 We also worked out that, to be fair, the pusher would be the next driver so it was easy to keep track on who had driven. When everyone had finished driving Isobel and Beth had the responsibility to carry the battery inside.
In the end, the team work helped us get to our classes 5 minutes quicker than normal and with huge smiles on our faces! We rate this session 9 out of 10 because it was successful and fun to do.
Written by Isobel and Beth
---
Week 8: 16th March 2018
This week, we continued with the paper mache bodywork, which we started last week. Once again, we had to use a lot of wall paper paste and newspaper to make many layers.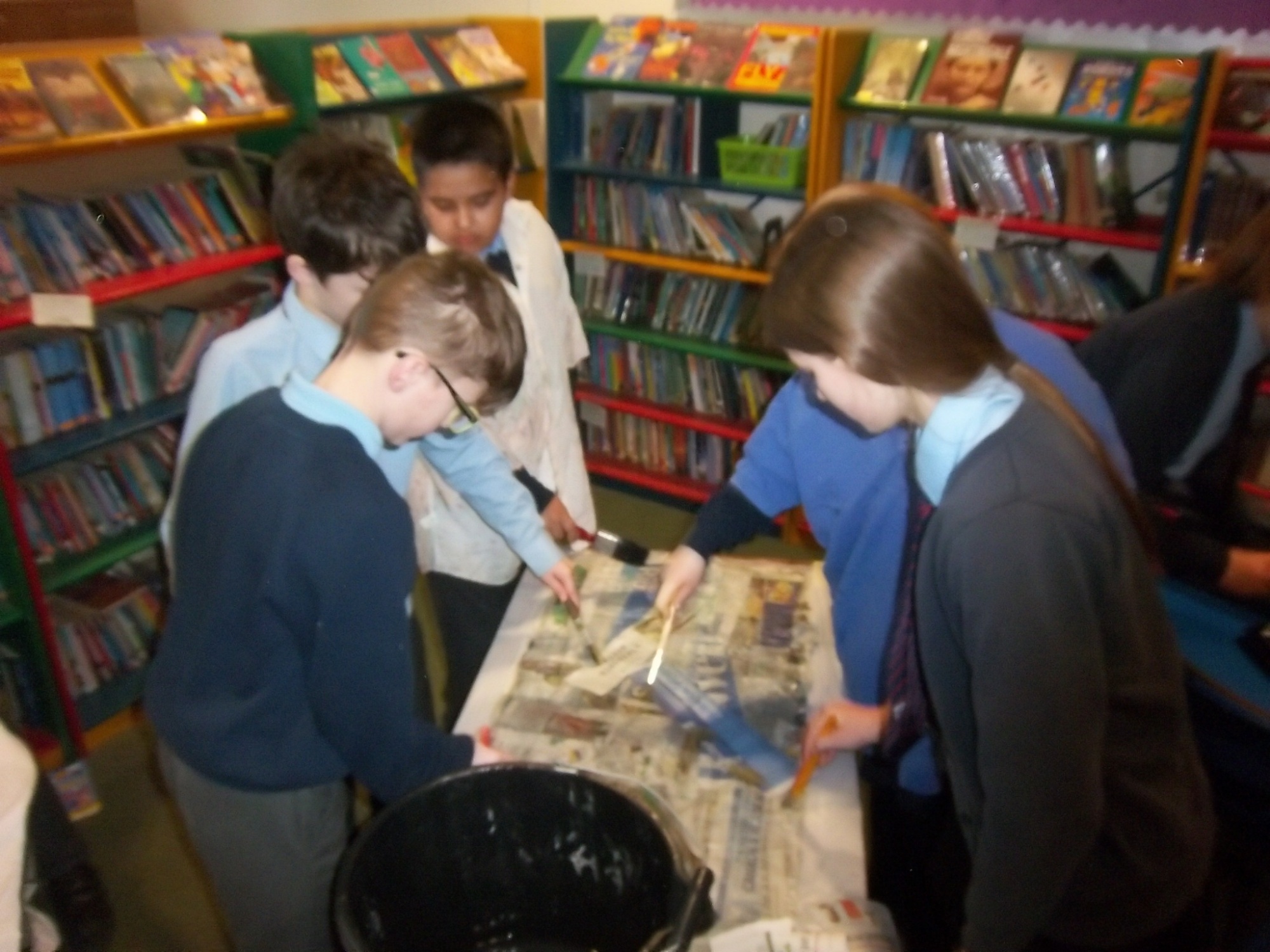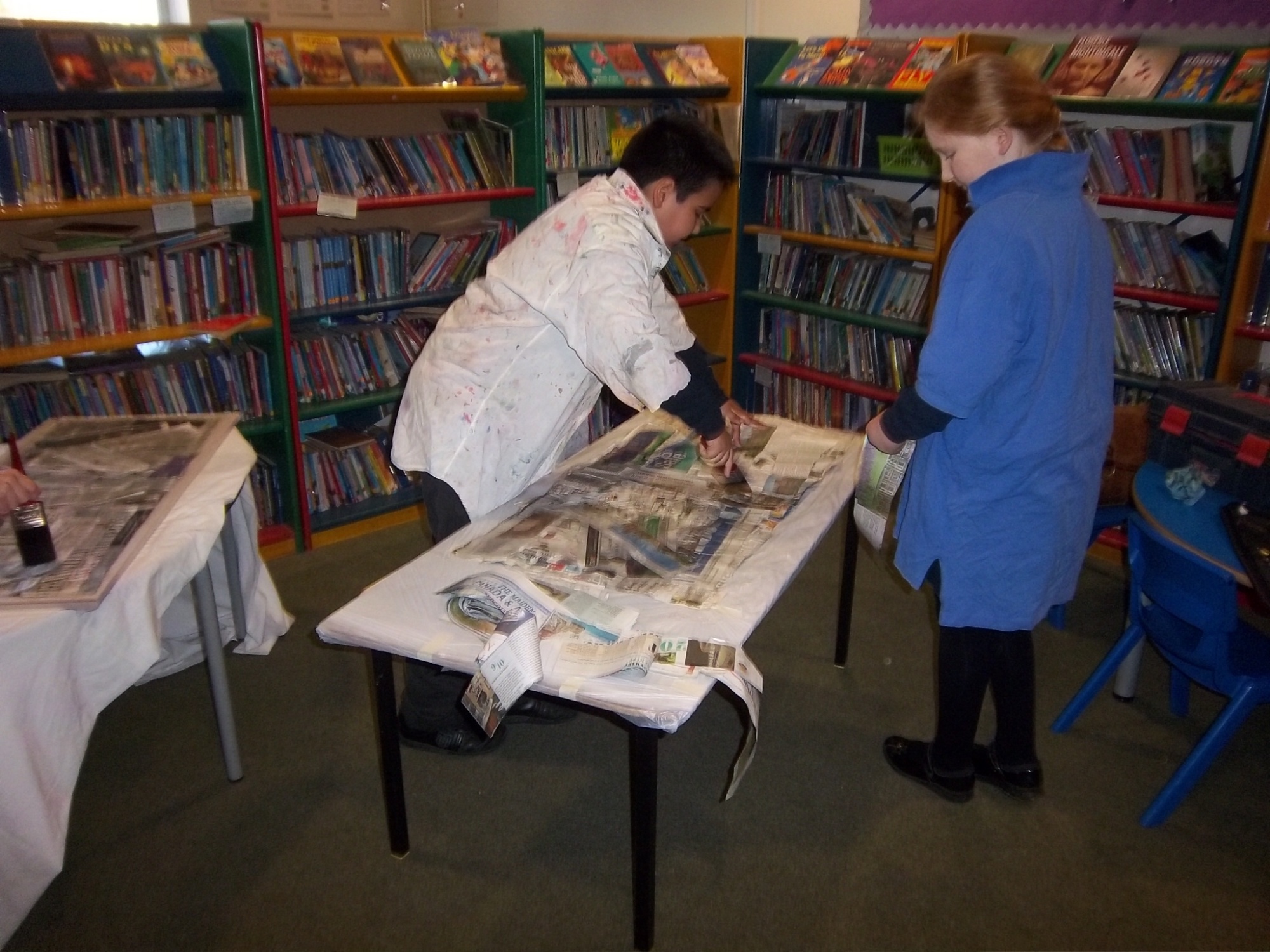 Once we had finished that, Maddie and Isobel attached one battery pack to the back of the car and secured it, so that we were able to test drive the car for the first time.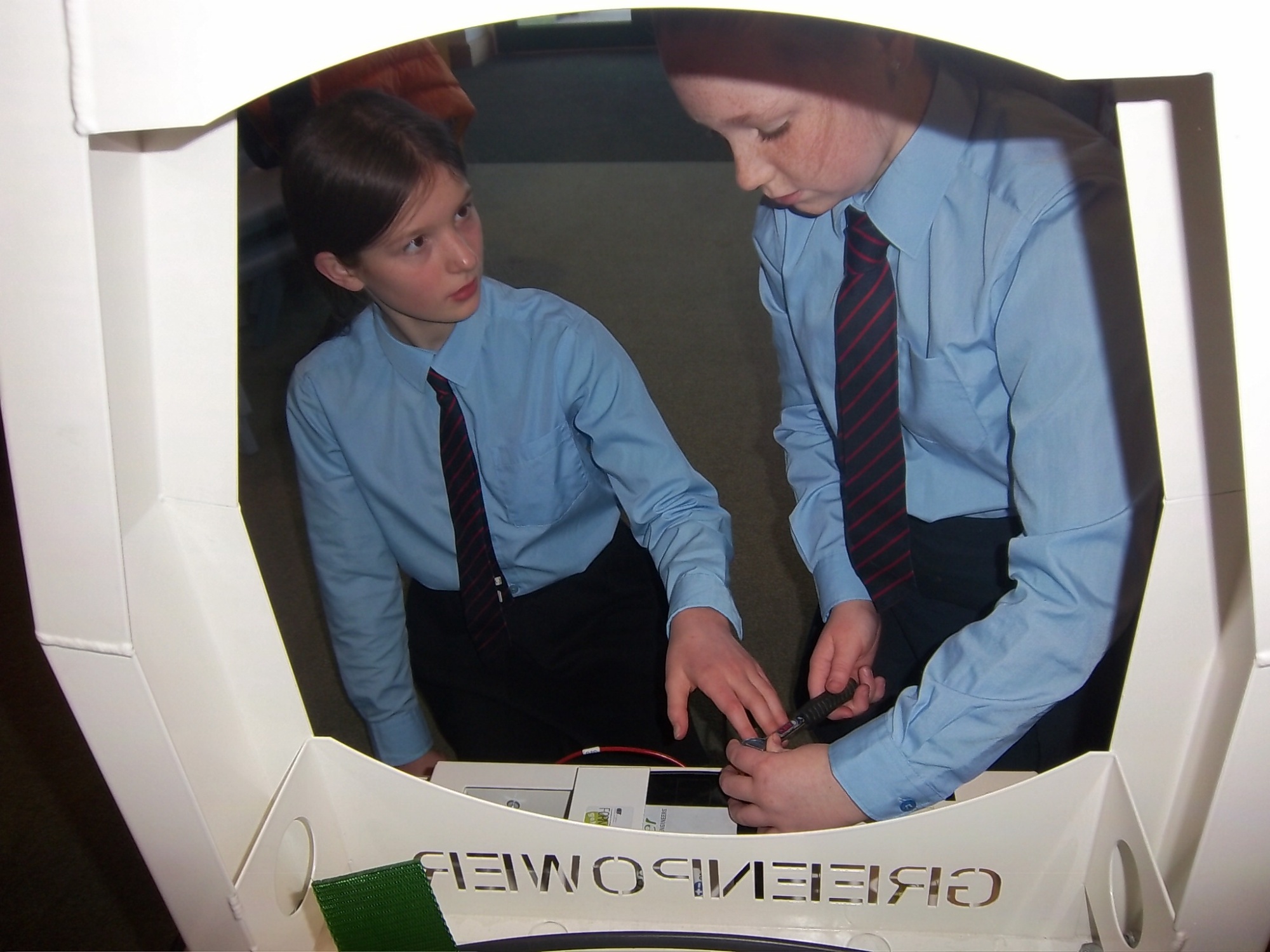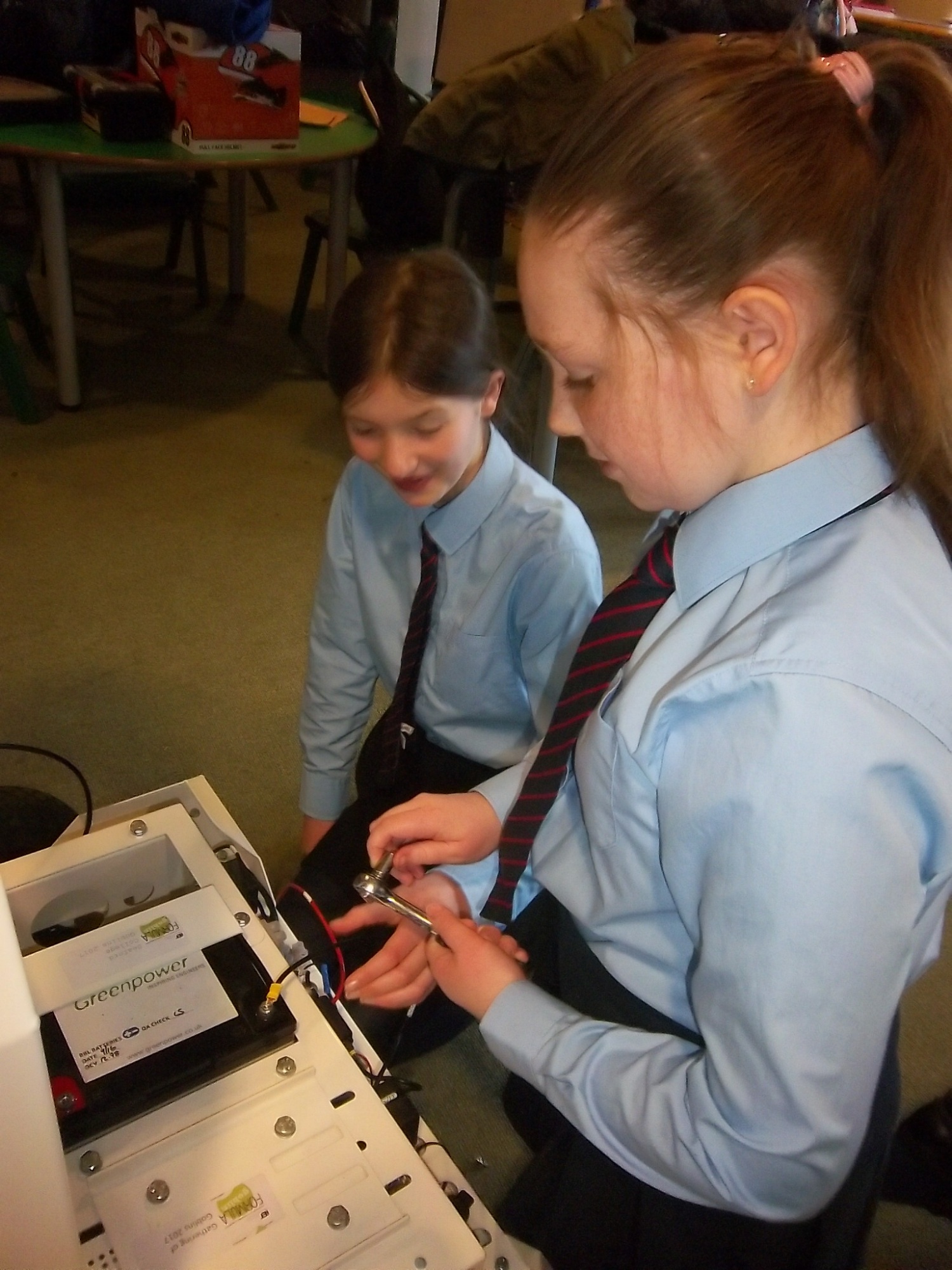 After the battery was secured, we took the car outside and had a safely talk. We learnt that we had to stay behind the car and make sure we wore safety equipment when driving: a helmet, overall, gloves and goggles.
We also learnt that in order for the driver to start, we use a pusher. This is someone who turns the safety key at the back to turn the electrics on and then push the car when the flag waves. The pusher has to push quite hard so that the car can have the best possible start.
Each of us had a go at driving and it was amazing!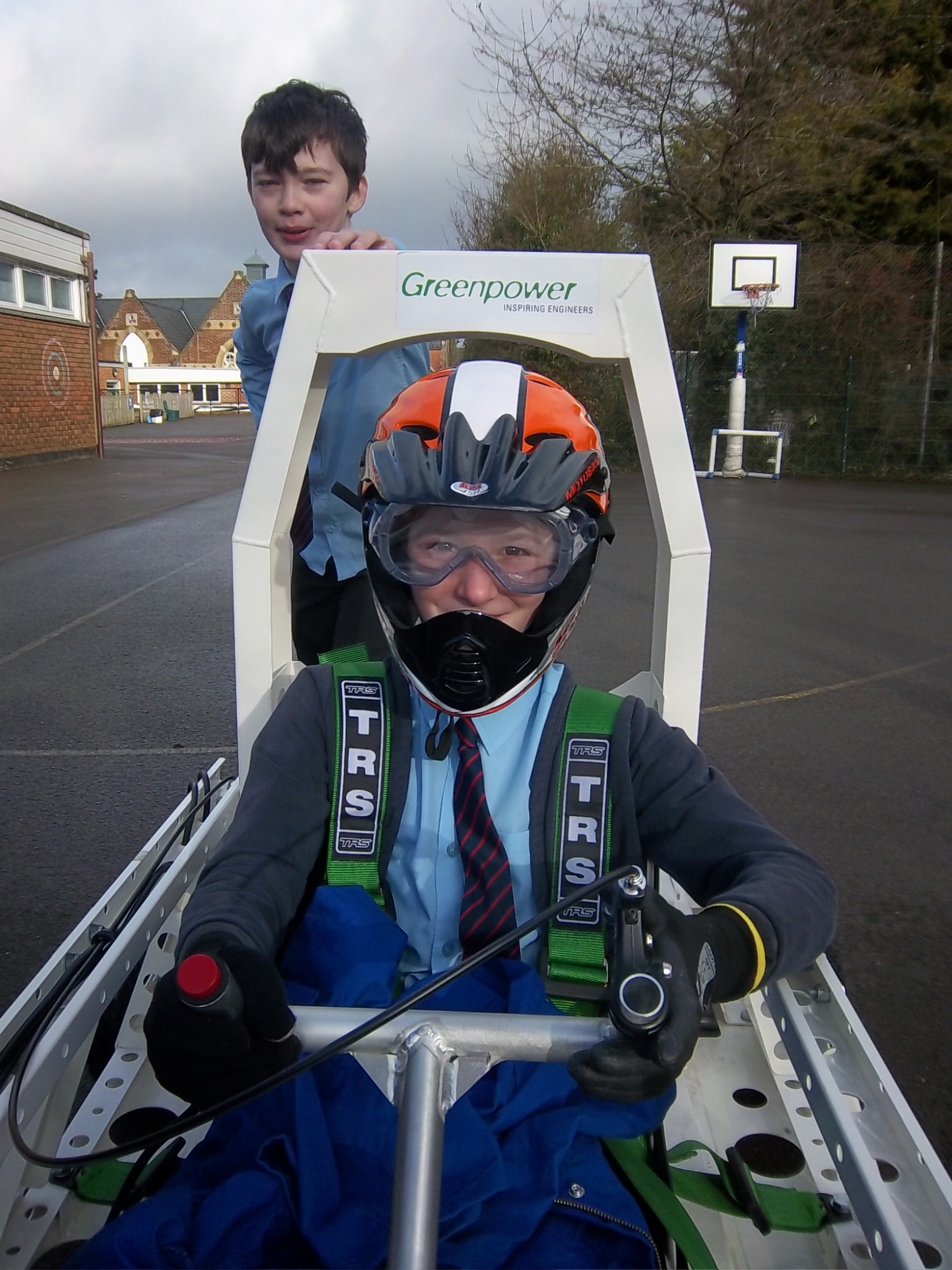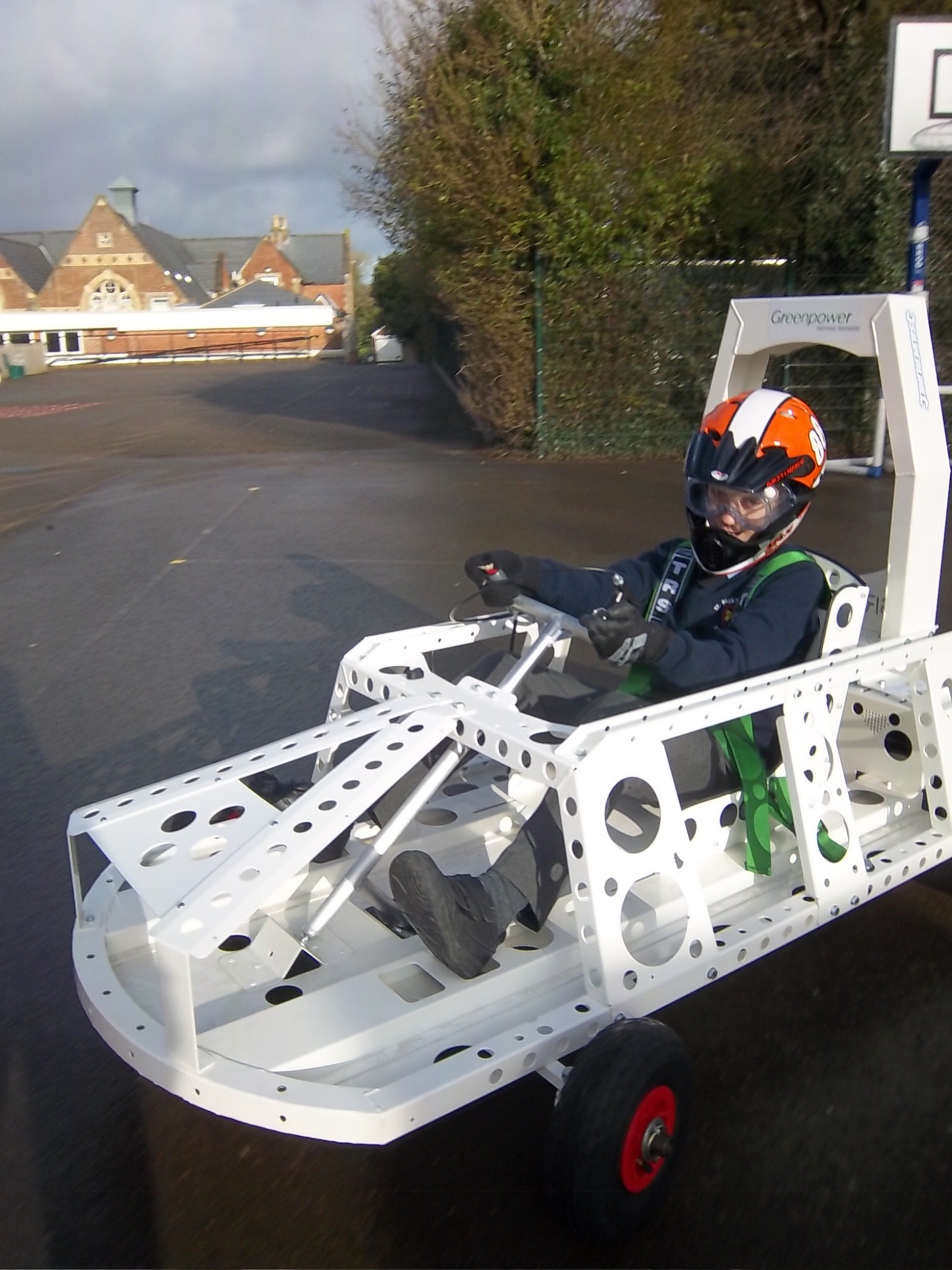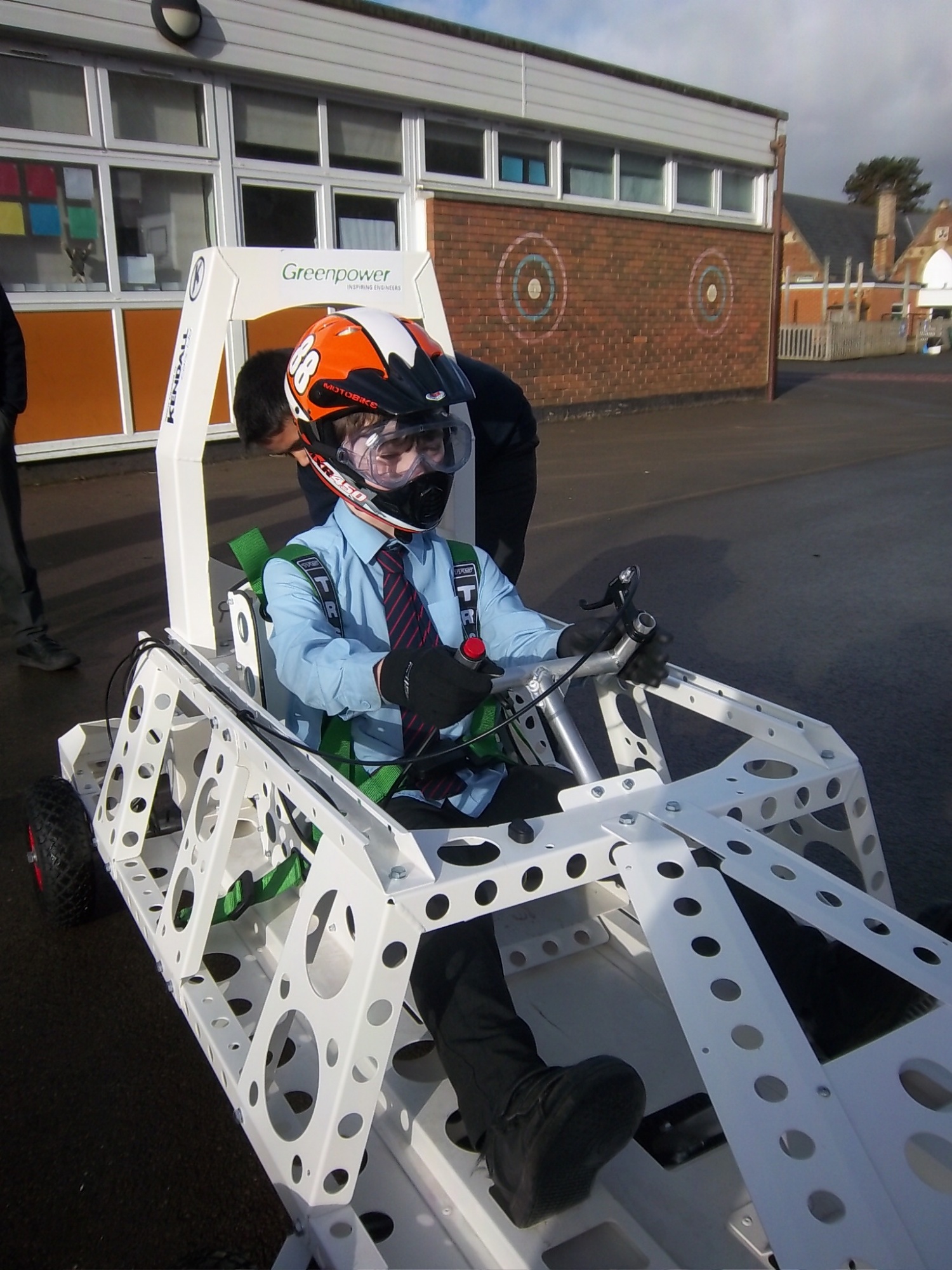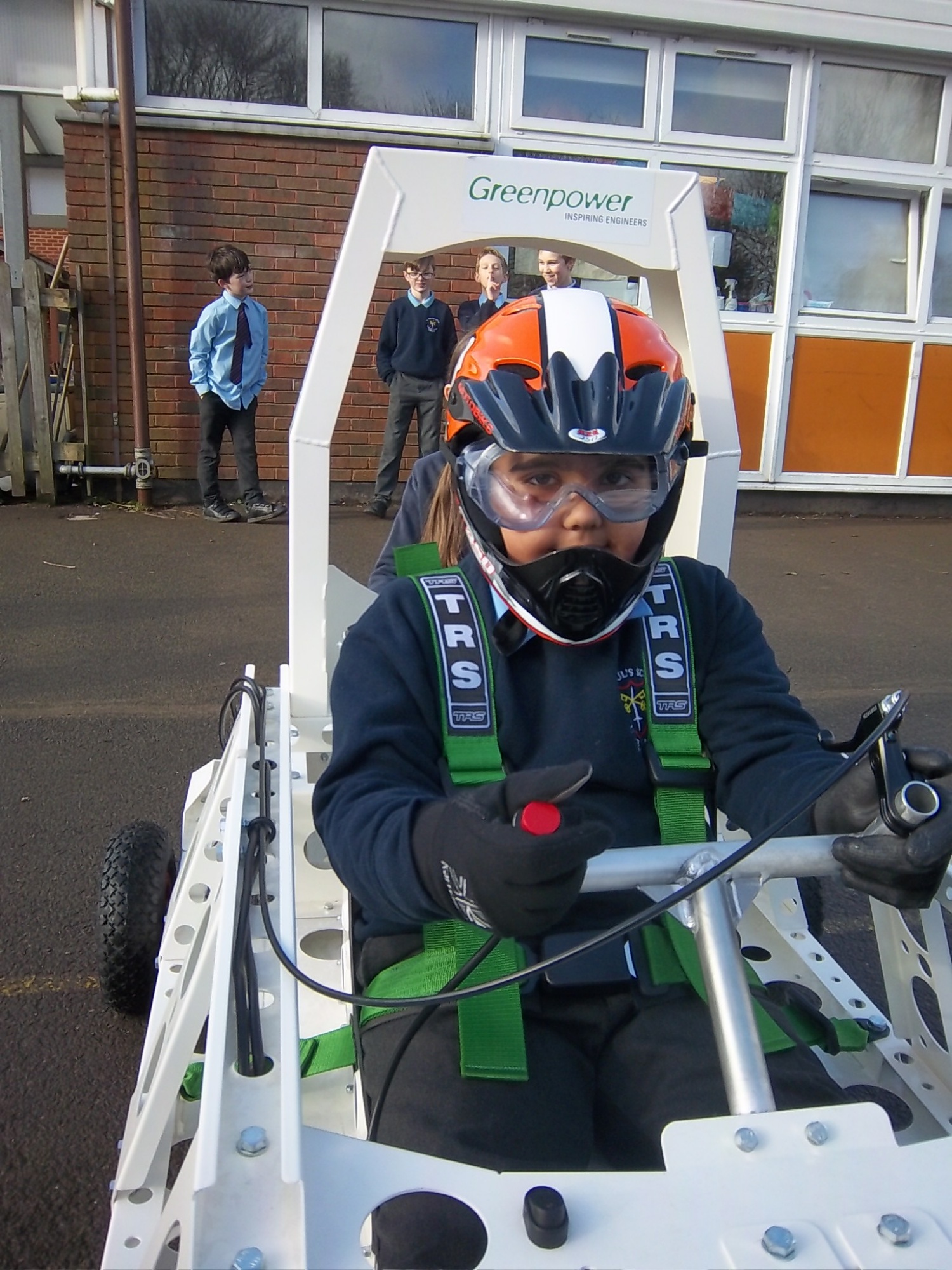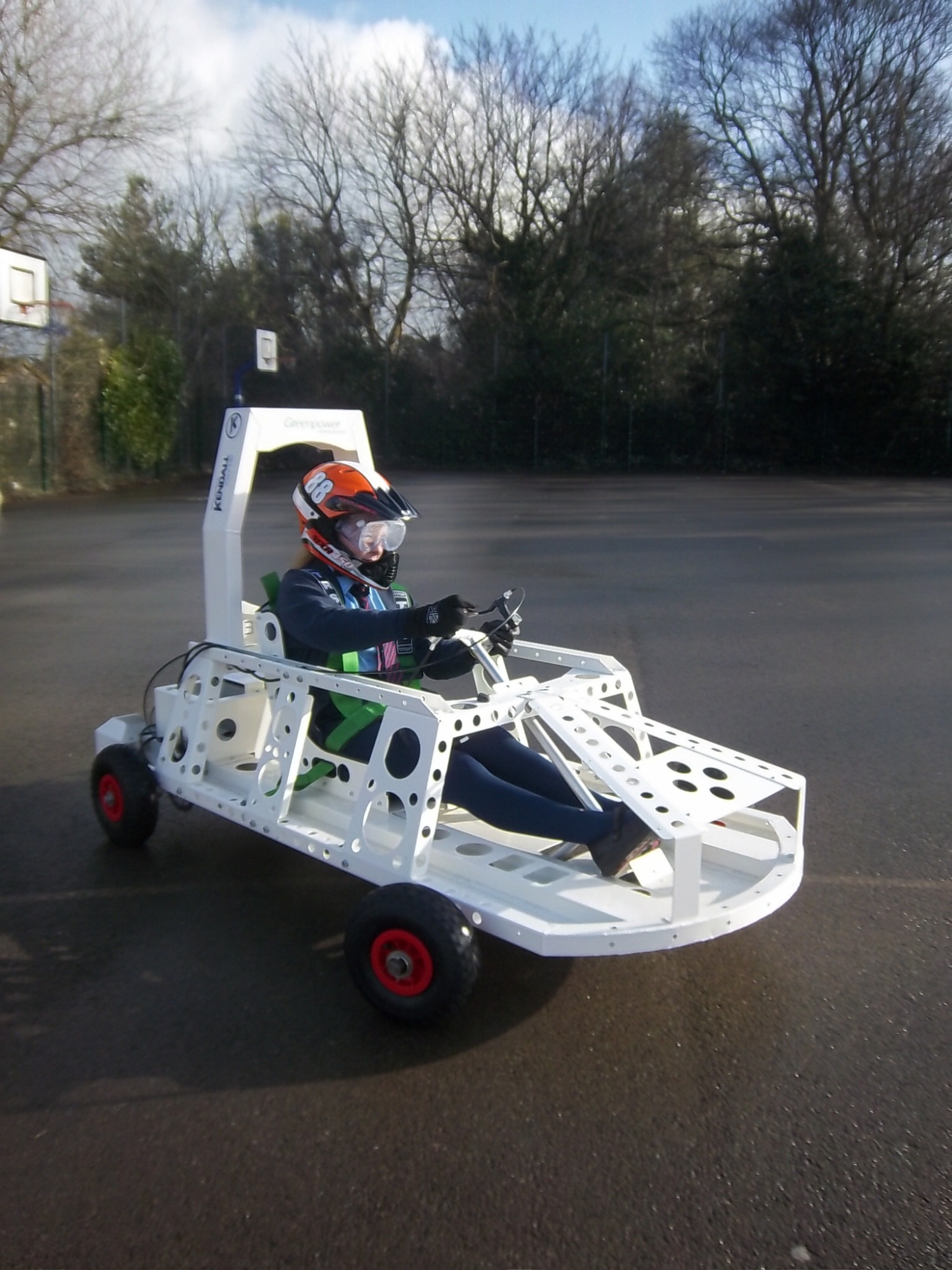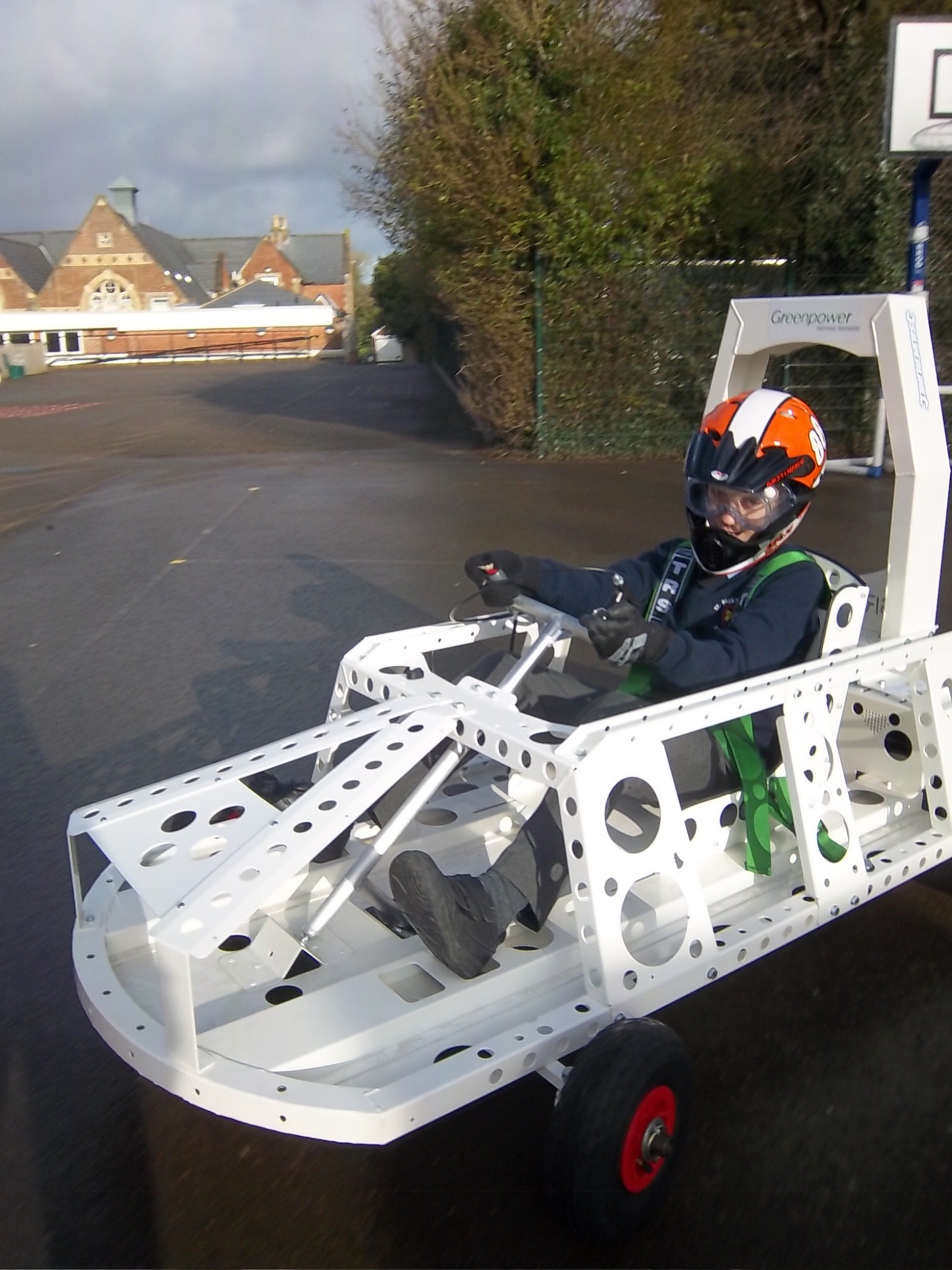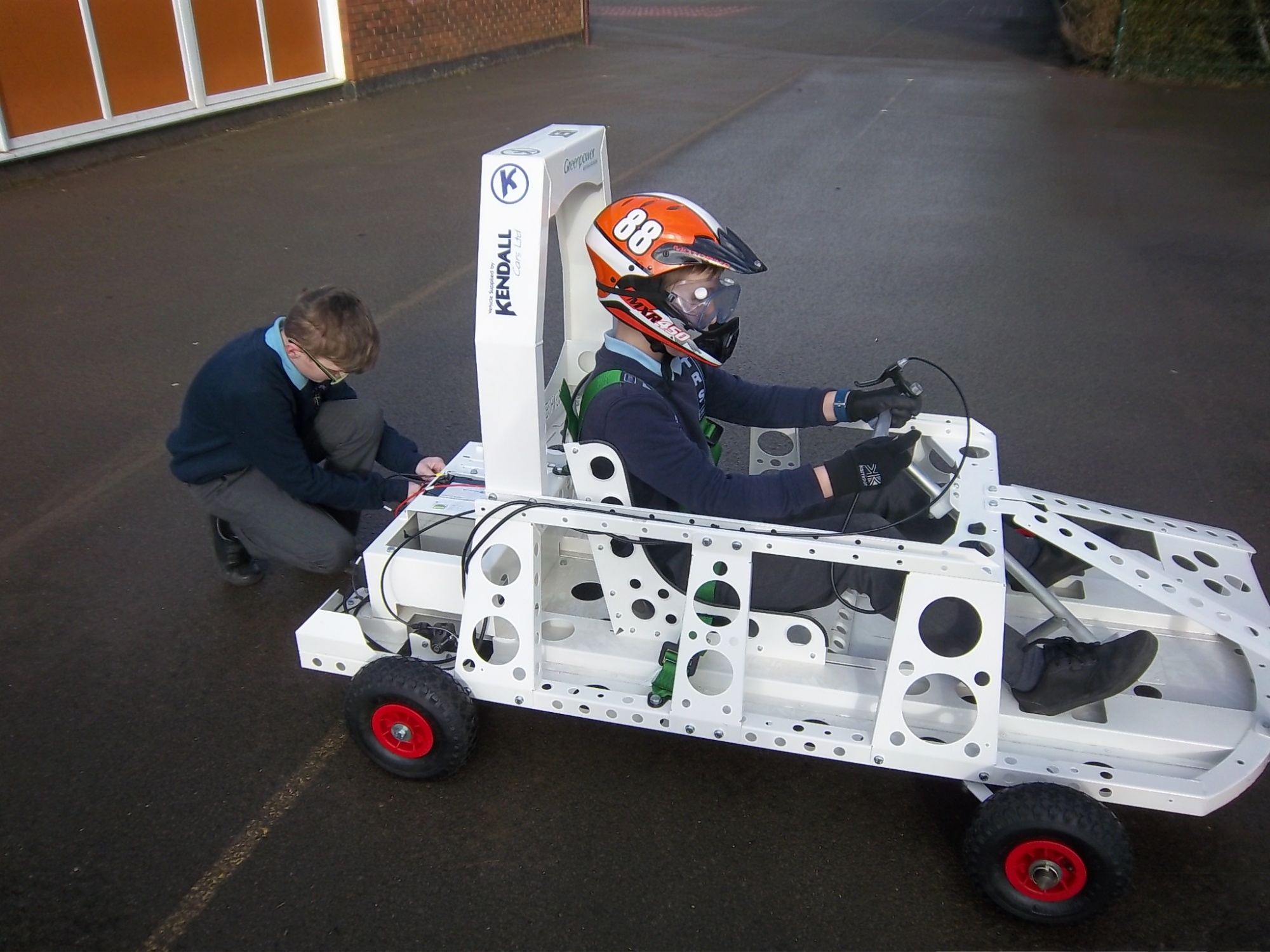 Written by Isobel, Charlie and Albie.
Week 7: 9th March 2018
Due to an unseasonable amount of snow last week, GreenPower was unable to take place so we had to work doubly hard this week!
This week, we focussed on the exterior design of the car. We learnt that some materials are composite materials, which means they are made of more than one material, and can often make the materials far stronger.
The first step was to discuss the designs of the car. We split the group in half, with one group concentrating on measuring and cutting out templates for the front, back and sides of the bodywork.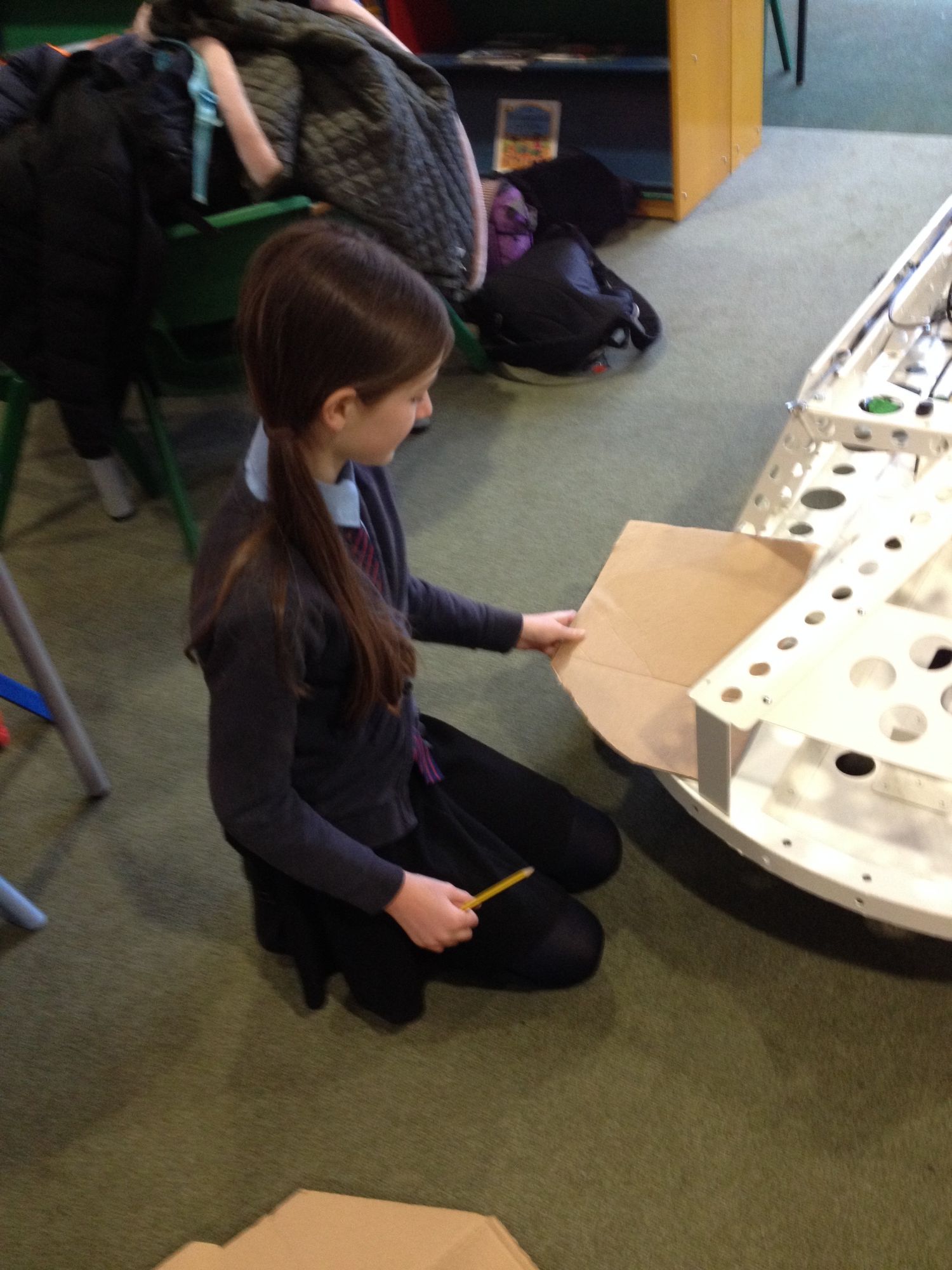 While this was going on, the other group mixed up wallpaper paste and started to create a paper mache side section. We used strips of newspaper and layered these up, in different orientations, using the wallpaper paste.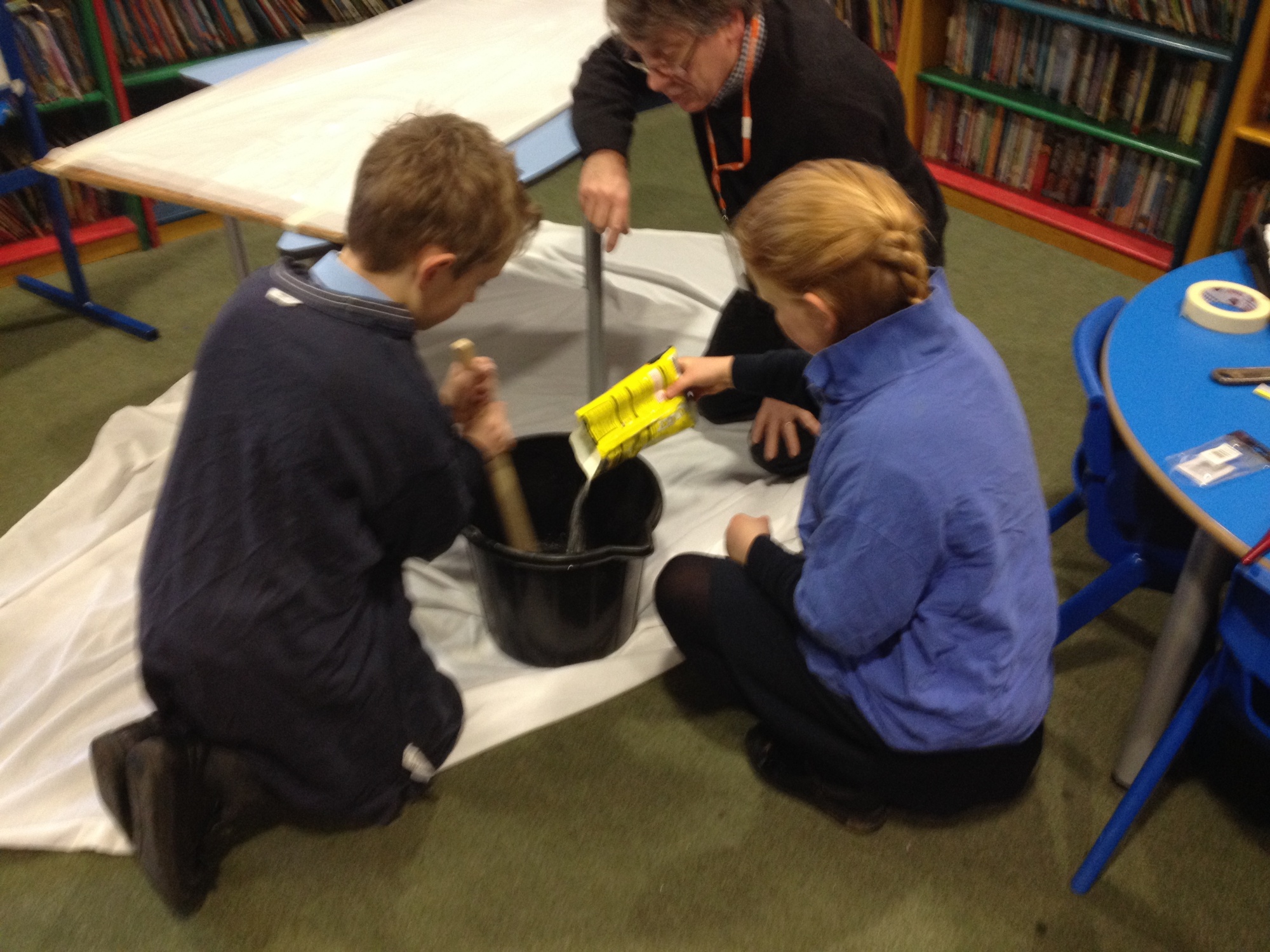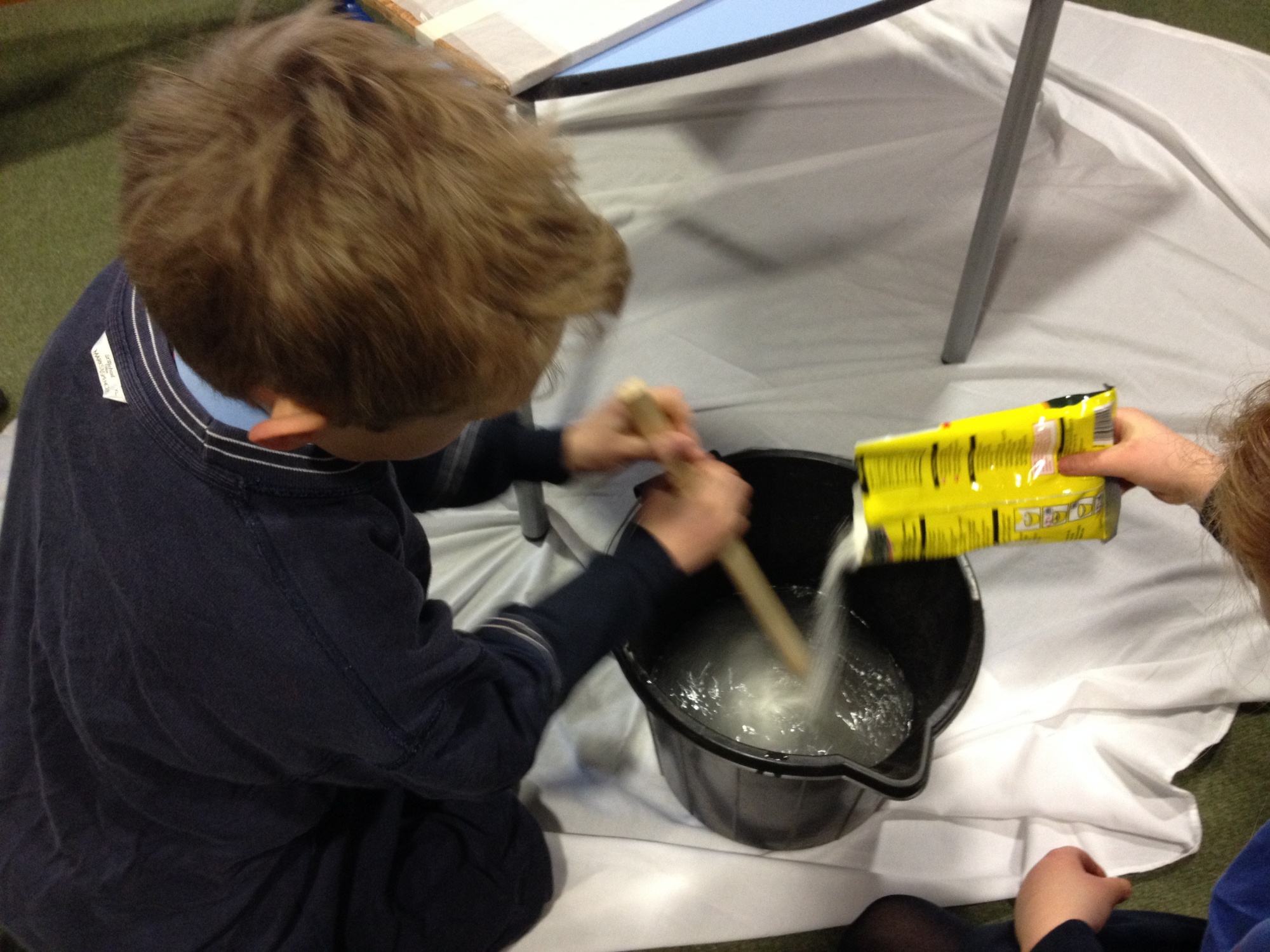 Overall, we stuck at least 9 layers of our panel (35inchs x 17inces in size).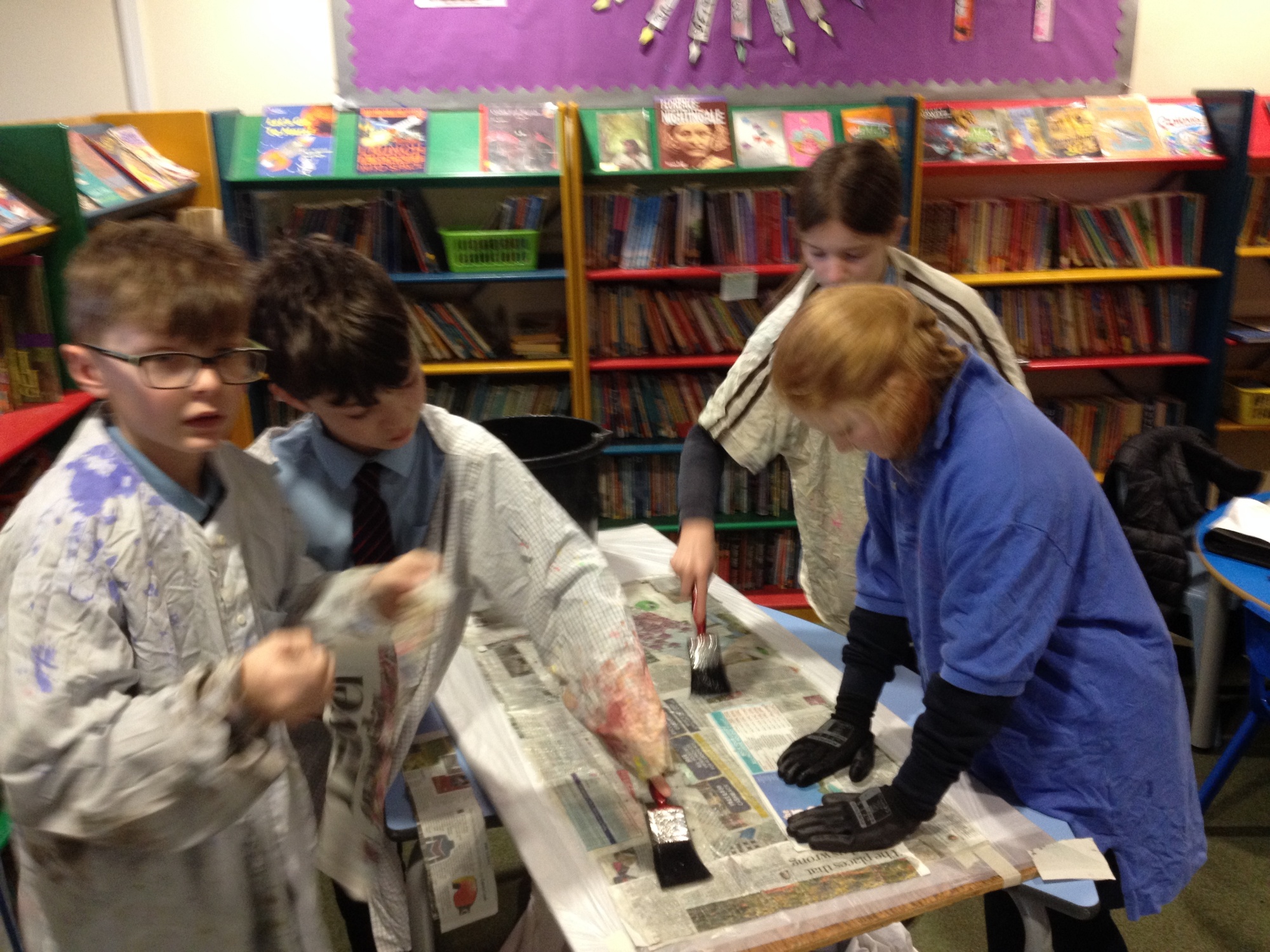 We also thought about how important it was to ensure all of us know about all parts of the build so we ensured that we swapped groups and helped in both activities.
As we are hoping to test drive the car next week, we also checked all the construction of the car to ensure that it is 100% safe.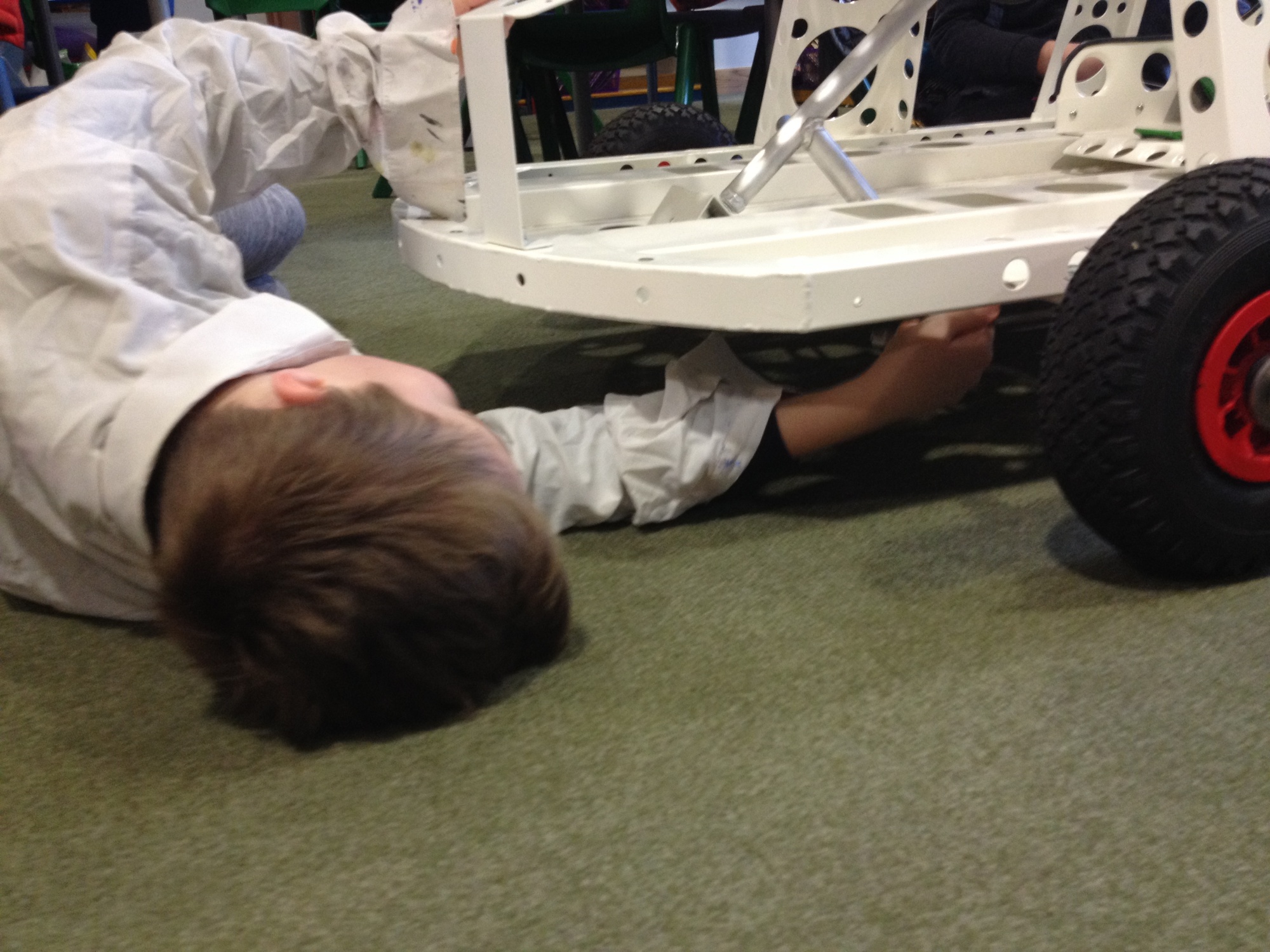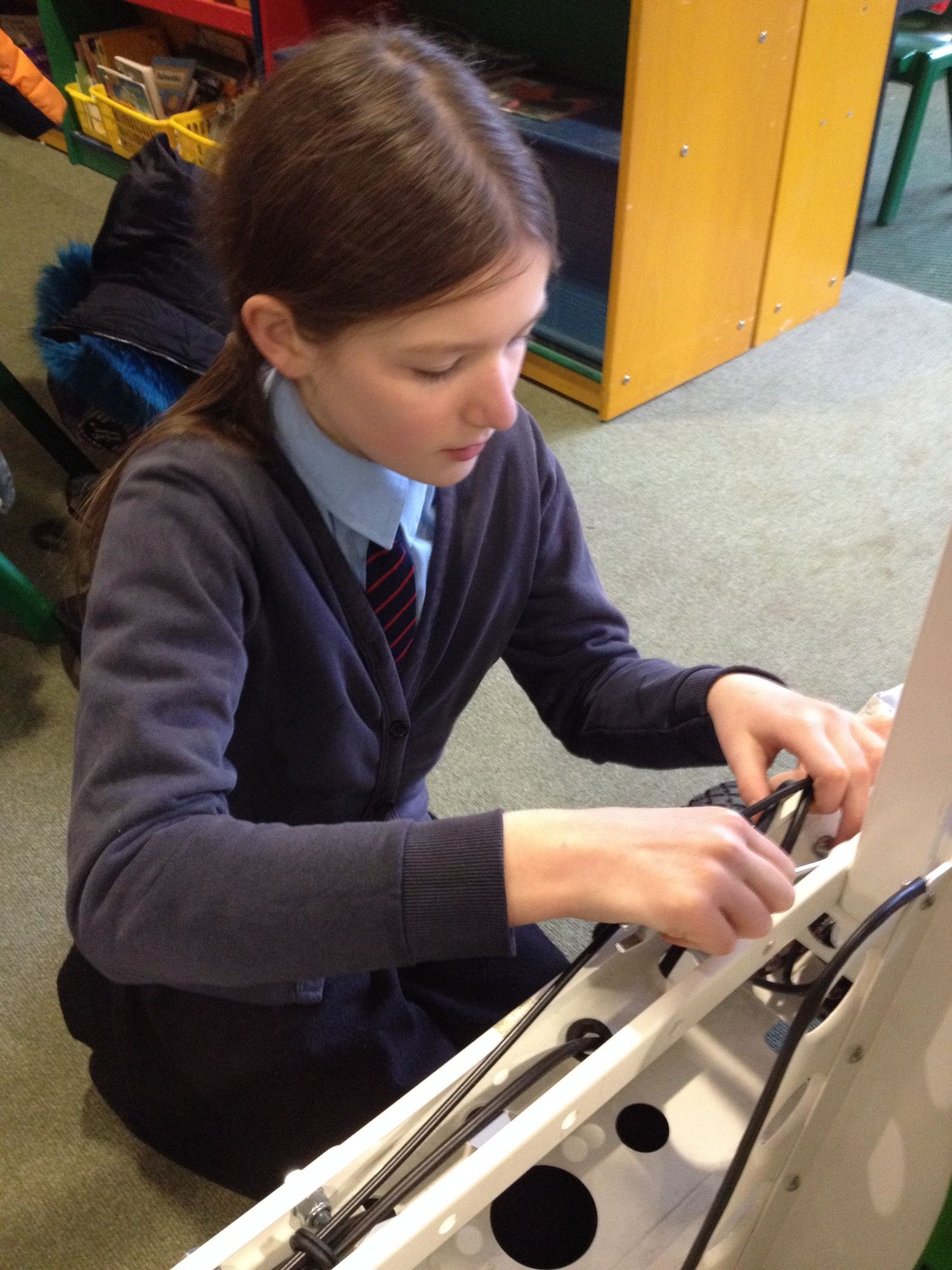 Written by Zain, Lennon and Thomas
---
Week 6: 23rd February 2018
This week, we achieve an enormous amount. These include: fuses, attached wires, batteries (positive and negative connections), electrical circuits and bolting in the seat belt.
First of all, we discovered the difficulties of attaching the seatbelt because the washers and nuts would not screw in easily; another complication was tightening the nuts and bolts due to the fact that the spanners did not slot into the slots in the frame.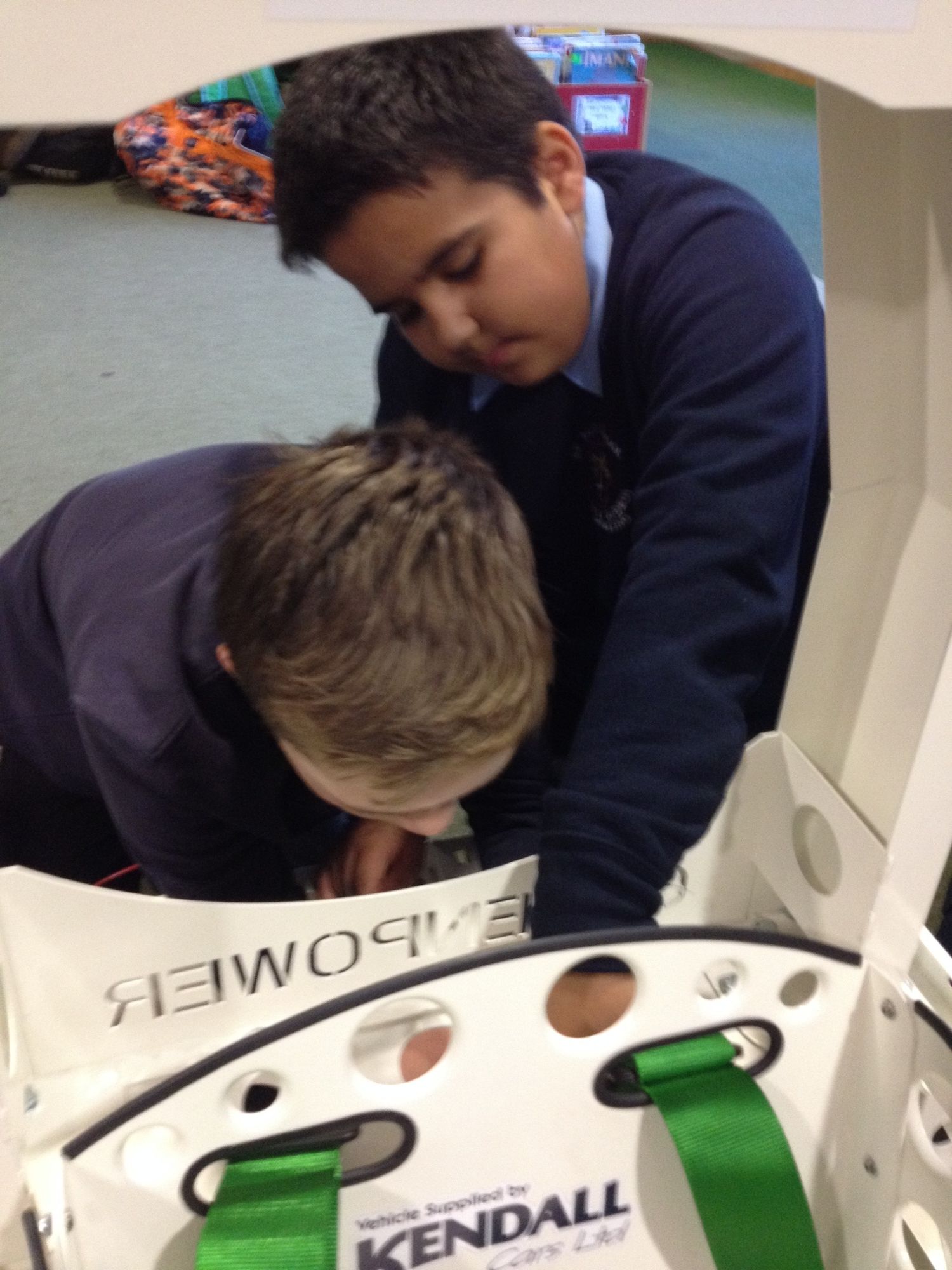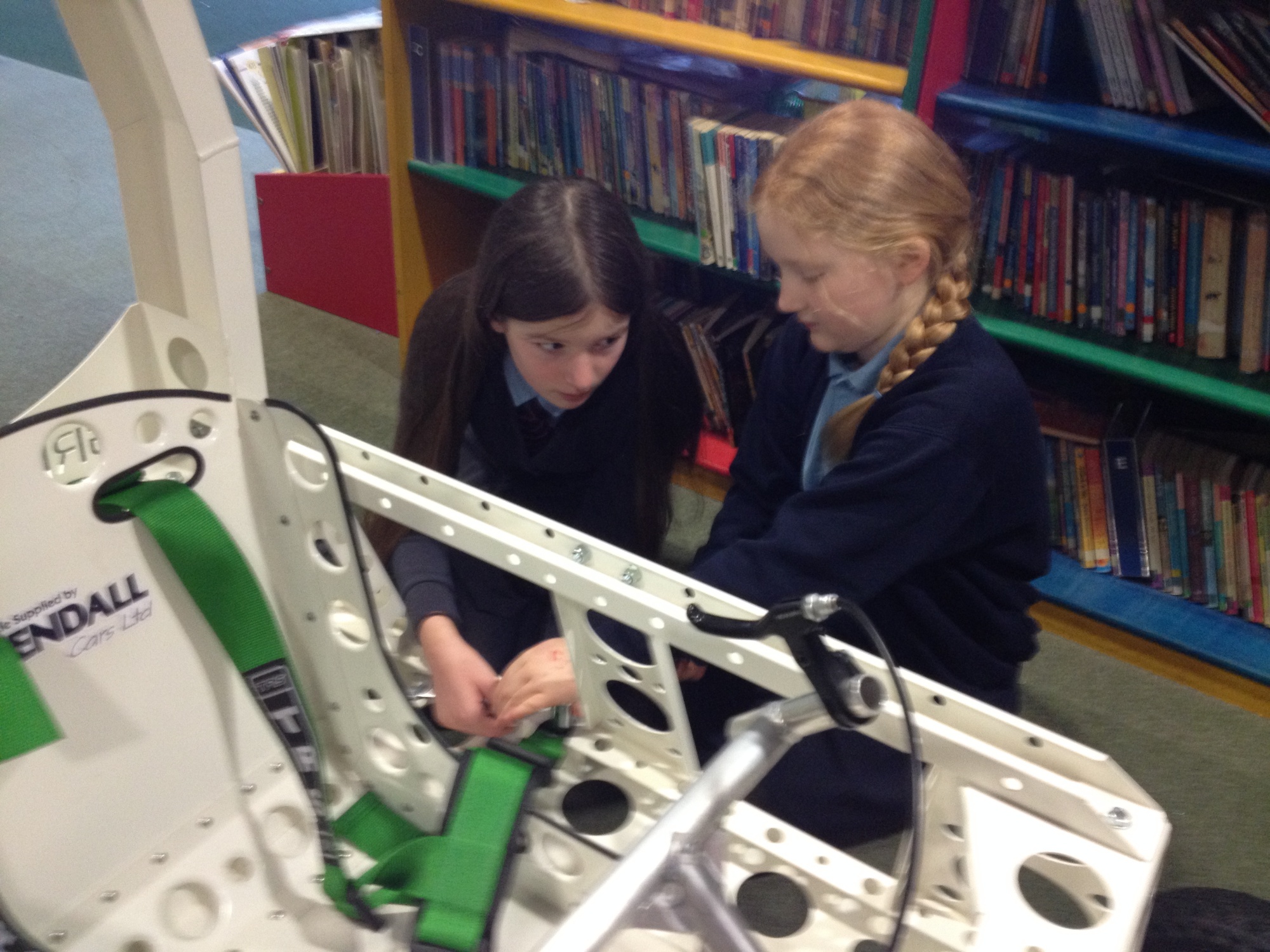 Secondly, we acquired the knowledge about the batteries and how every battery has a positive and negative end. We realised that if we swapped the positive and negative connections we could make the car reverse!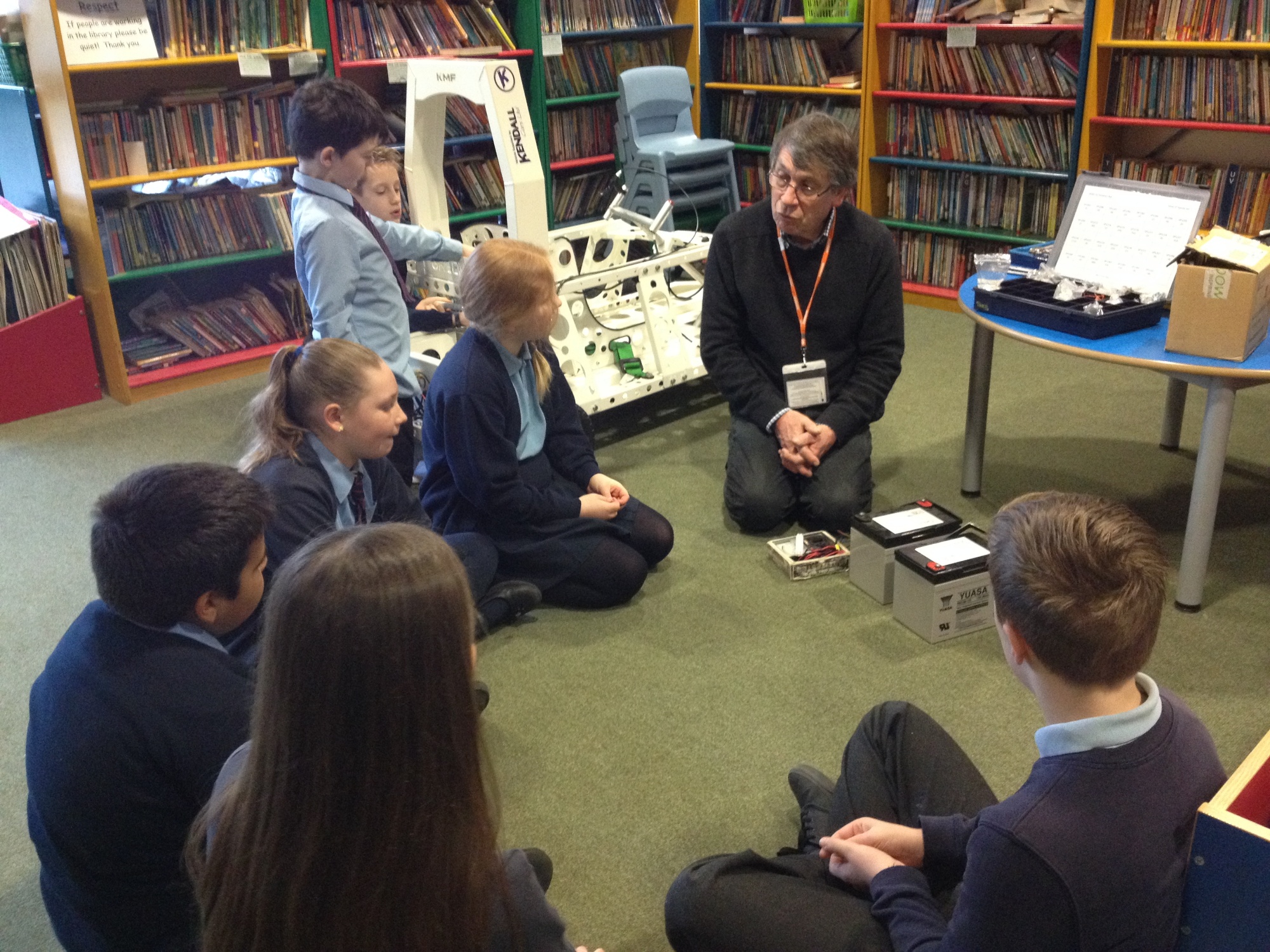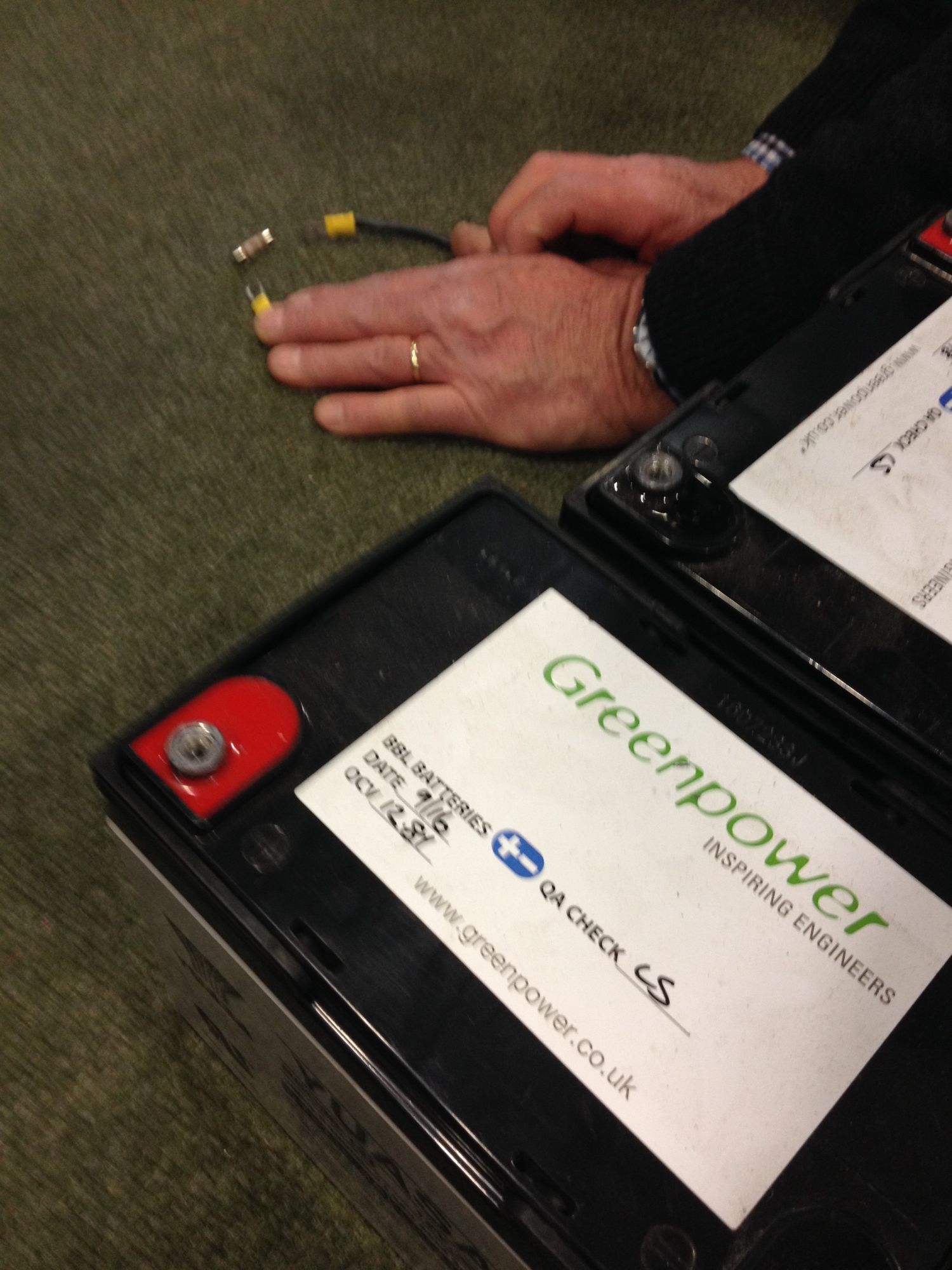 We realised that fuses are really important to keep us safe as they only allow a certain amount of electricity to flow through. If there is too much electricity in the circuit, the fuse breaks and the circuit is incomplete. Therefore, the car will stop, keeping us safe.
Wrtten by Maddie
Week 5: 9th February 2018
Today in Greenpower, we were attatching the steering column, so that, when the car is finished, we will be able to steer it. We also added the brakes. We had to take the steering column off a couple of times: once because we couldn't get a screw through to attatch the rods connected to the wheels.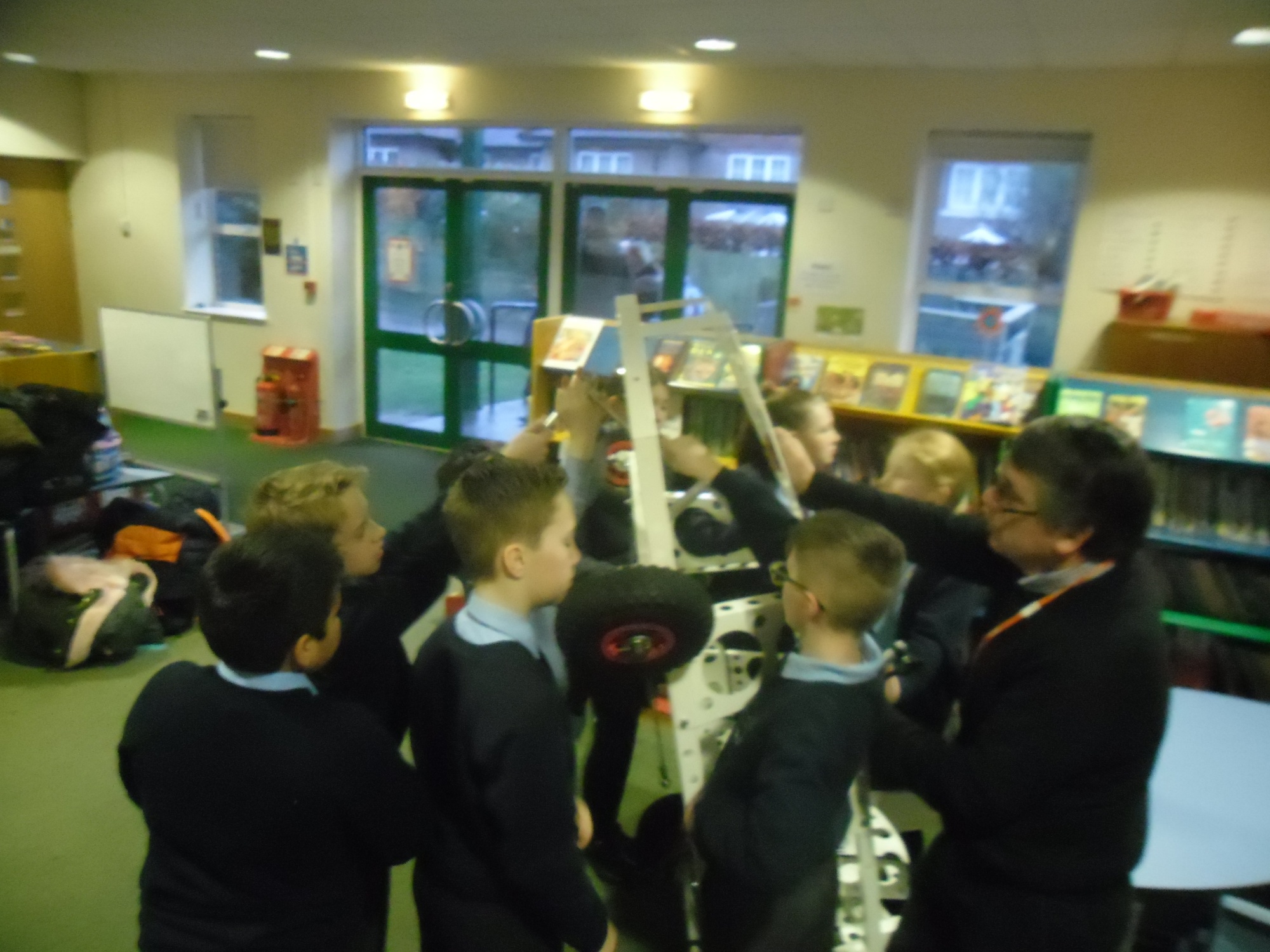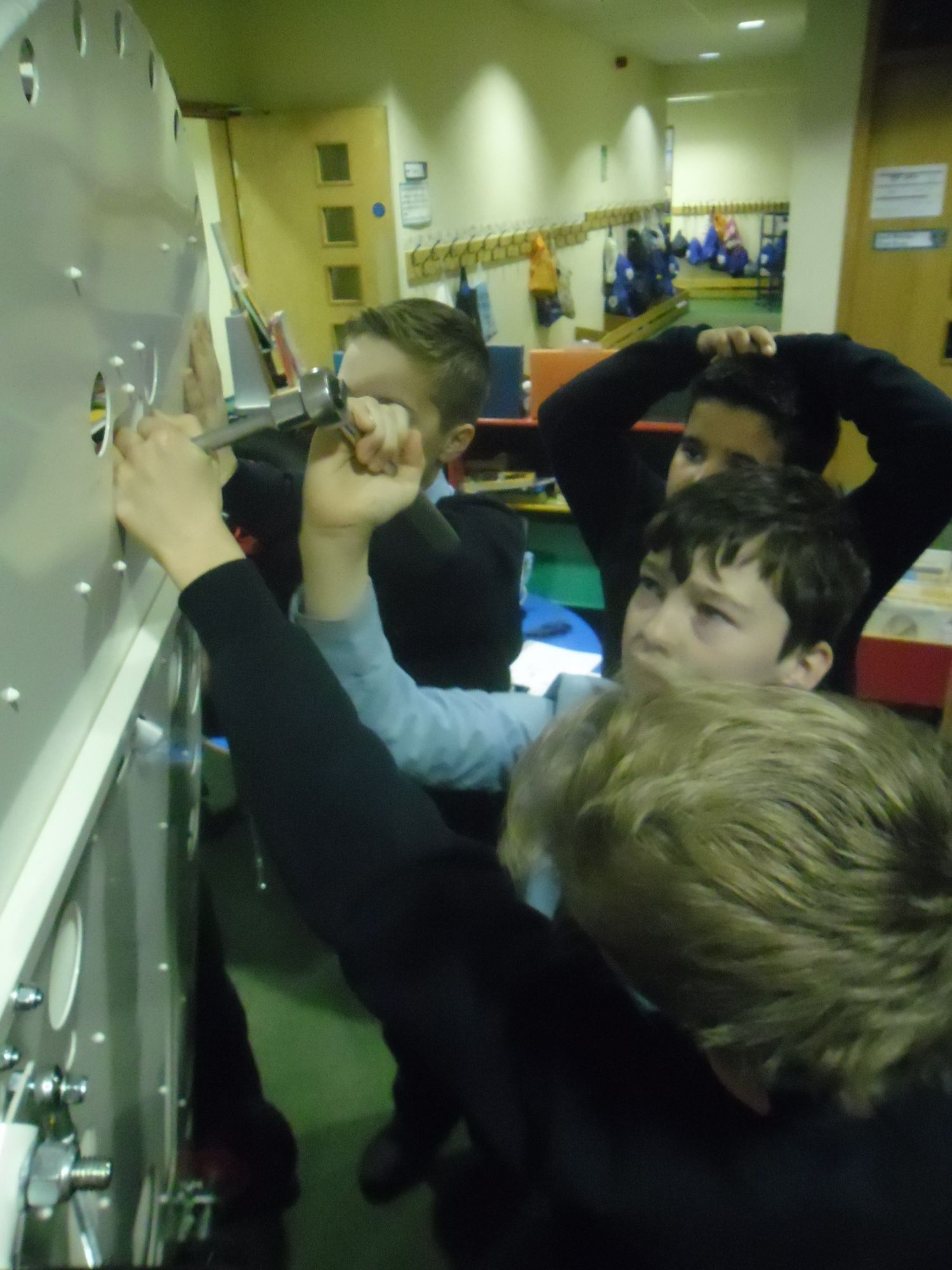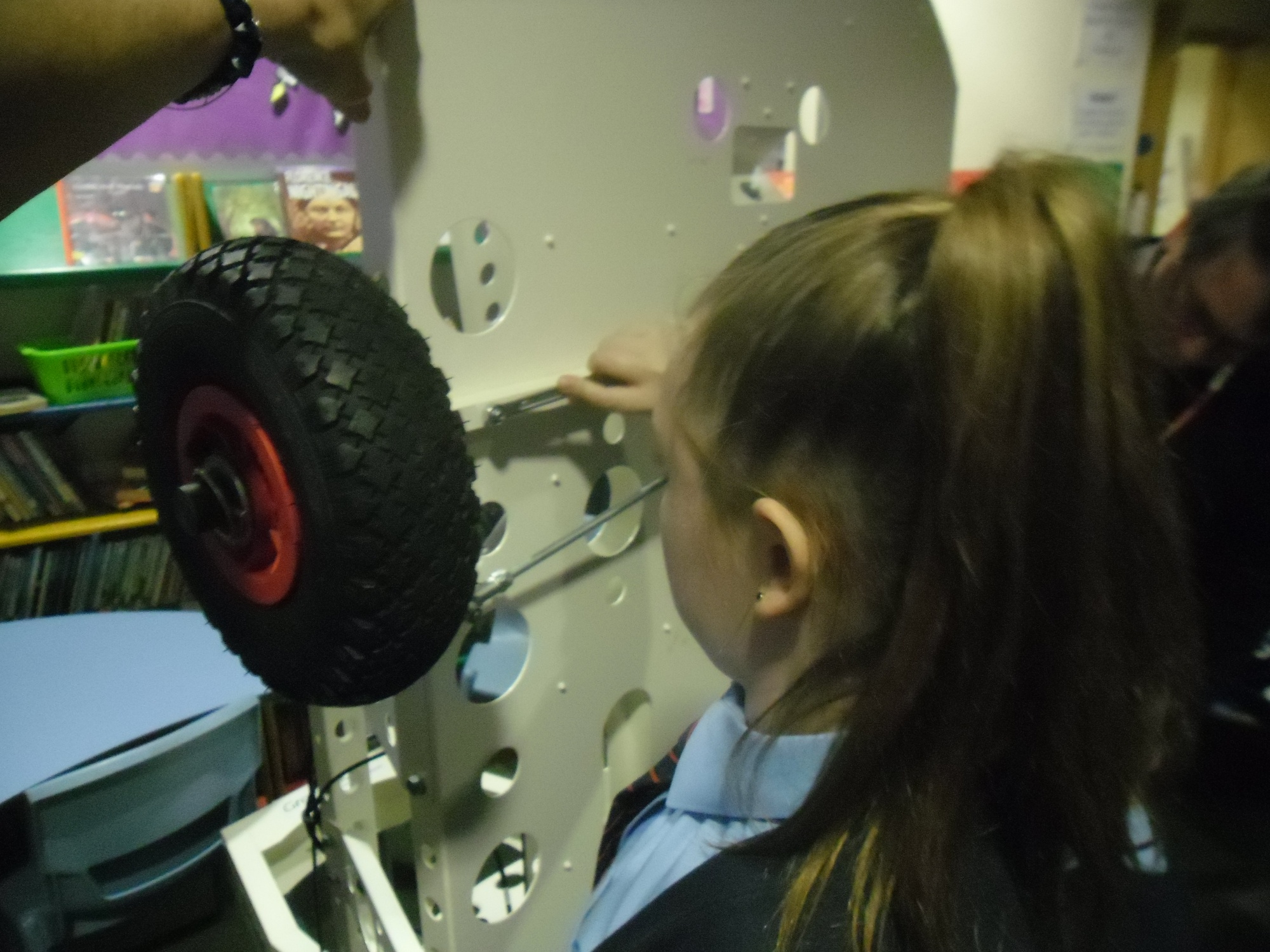 Mr Tanton showed us how the brakes work, and how fiddly they are! We have also been thinking of what we could put on the car's design. Next time, we will probably be adding the eletric parts to our car.
---
Week 4: 2nd February 2018
Another cracking week at the GreenPower Club.
This week, we have been eagerly awaiting replies from potential sponsors as the letters were sent out last week. Fingers crossed.
Today, we continued to construct the frame of the car, making sure that we tightened every bolt. We didn't just check twice - we checked three times.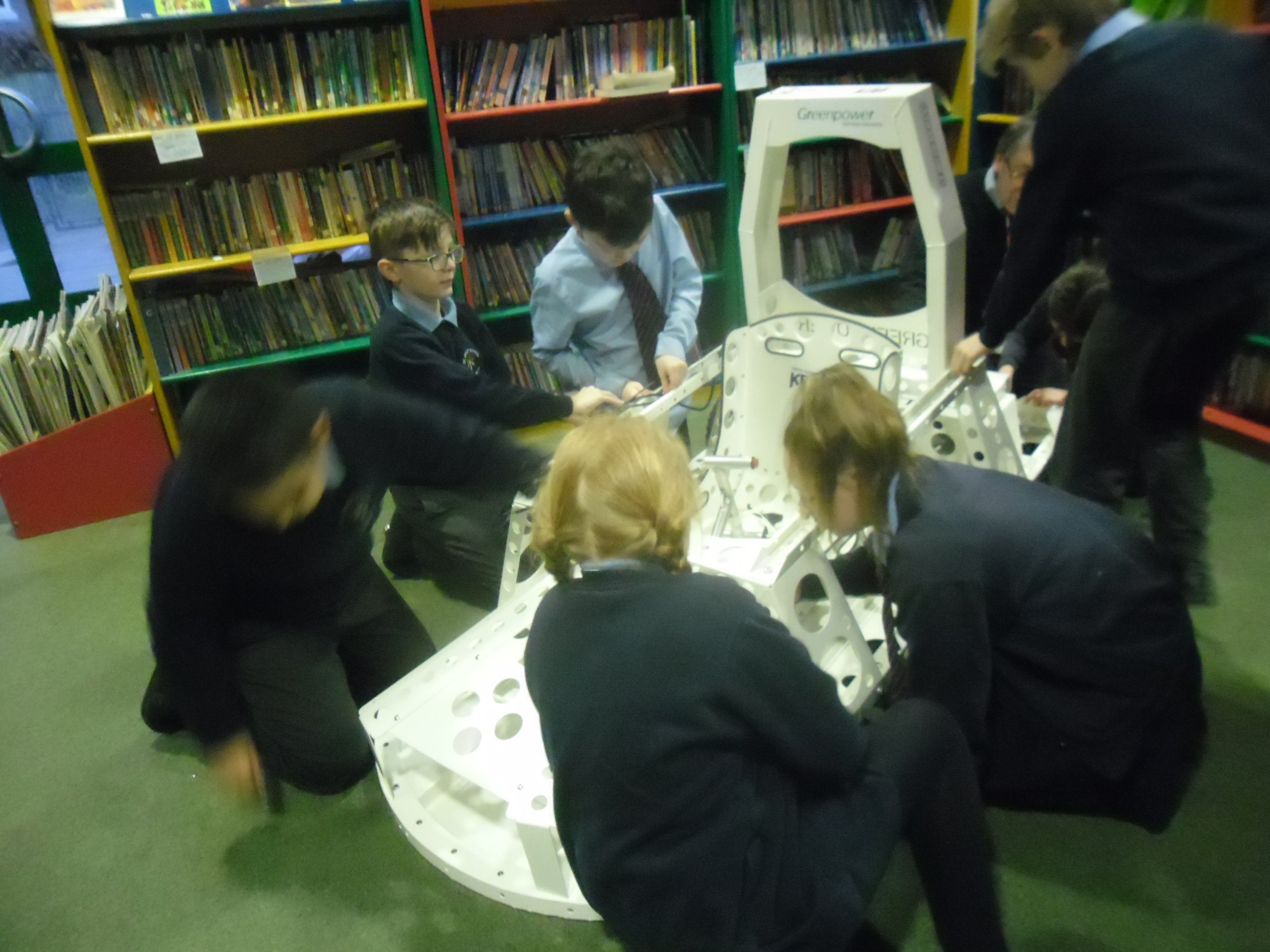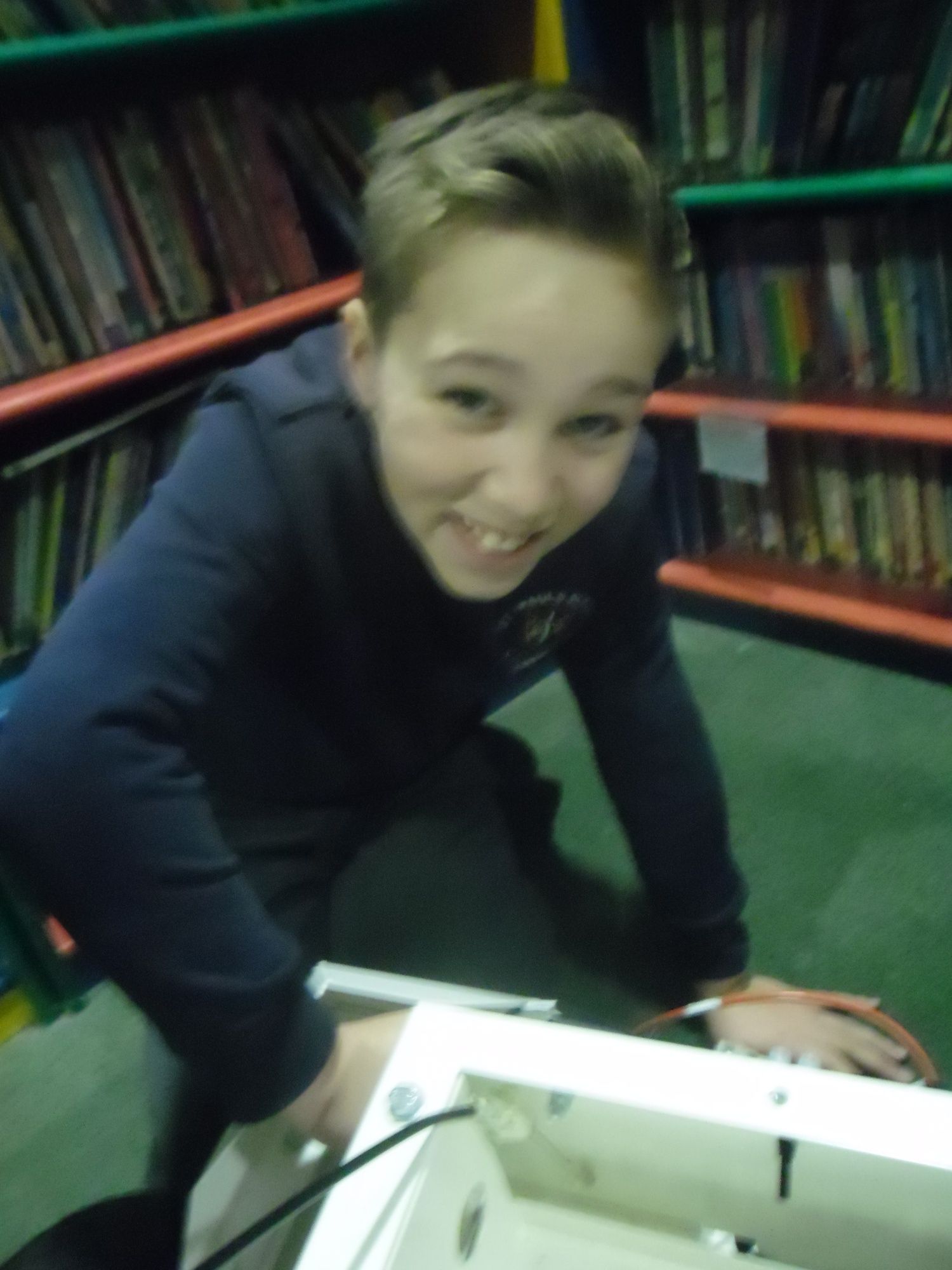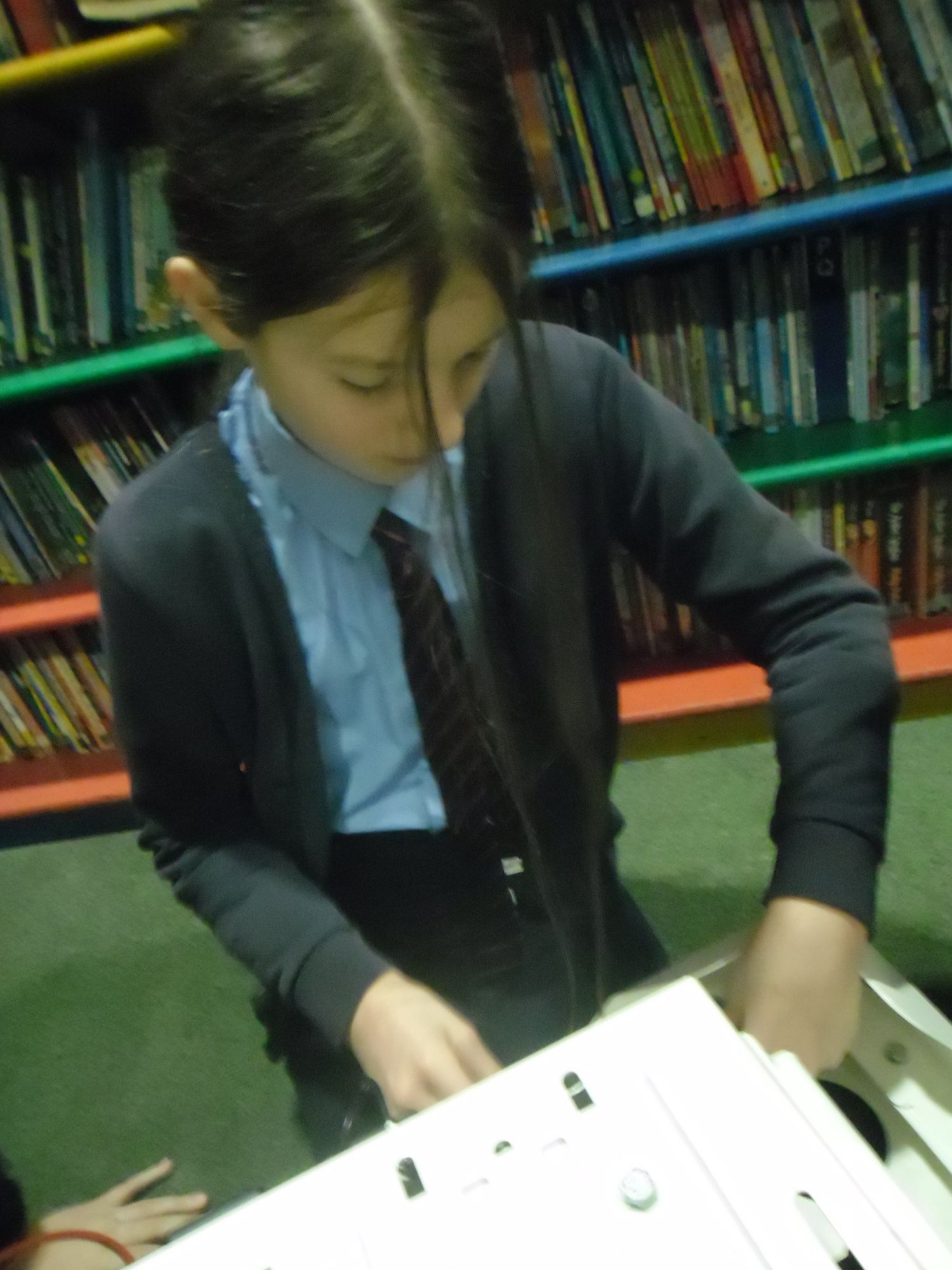 Once we were sure everything was fixed, we tightened the seat onto the frame and then got to work on the front axle. Now, that was tricky!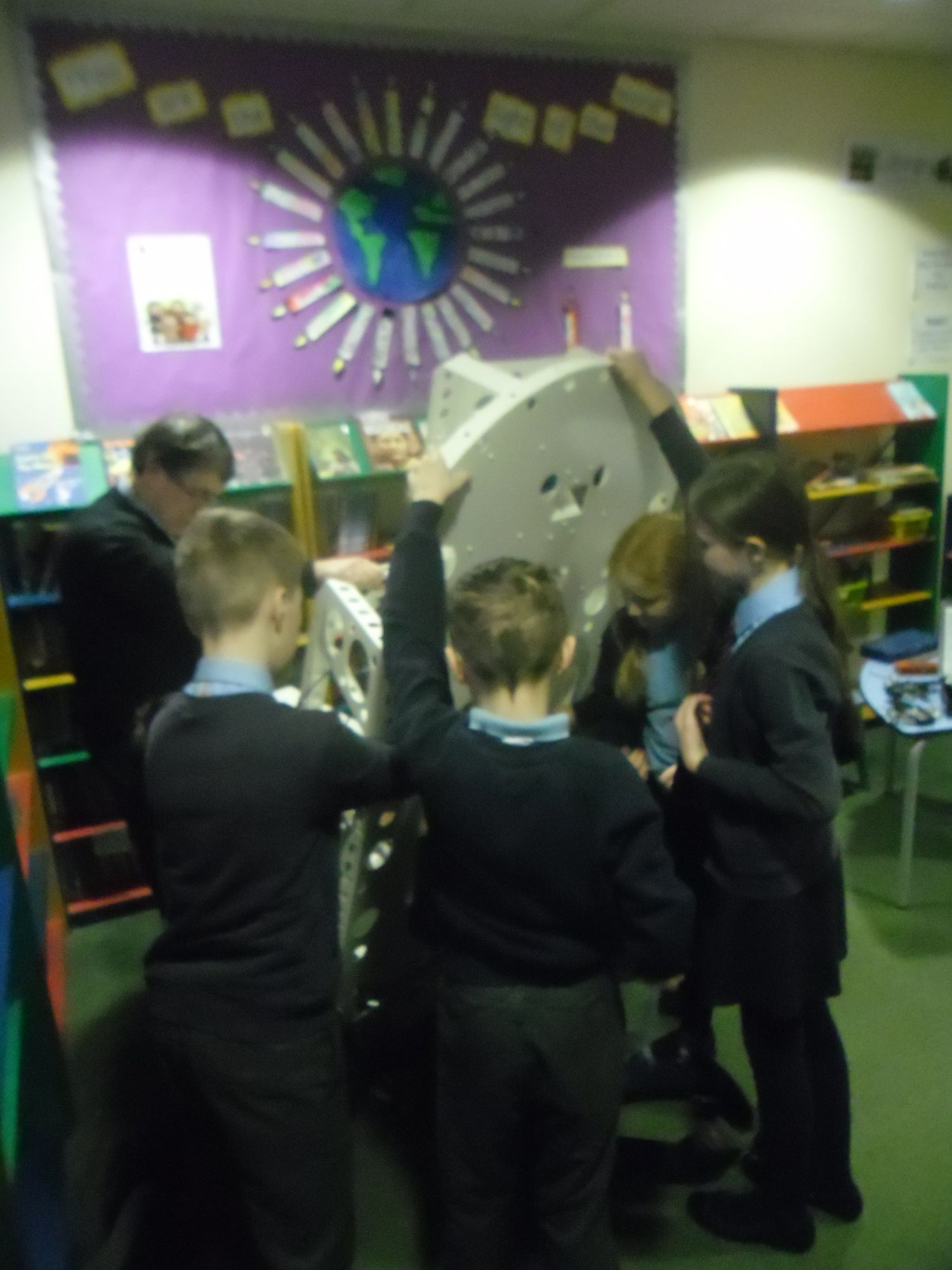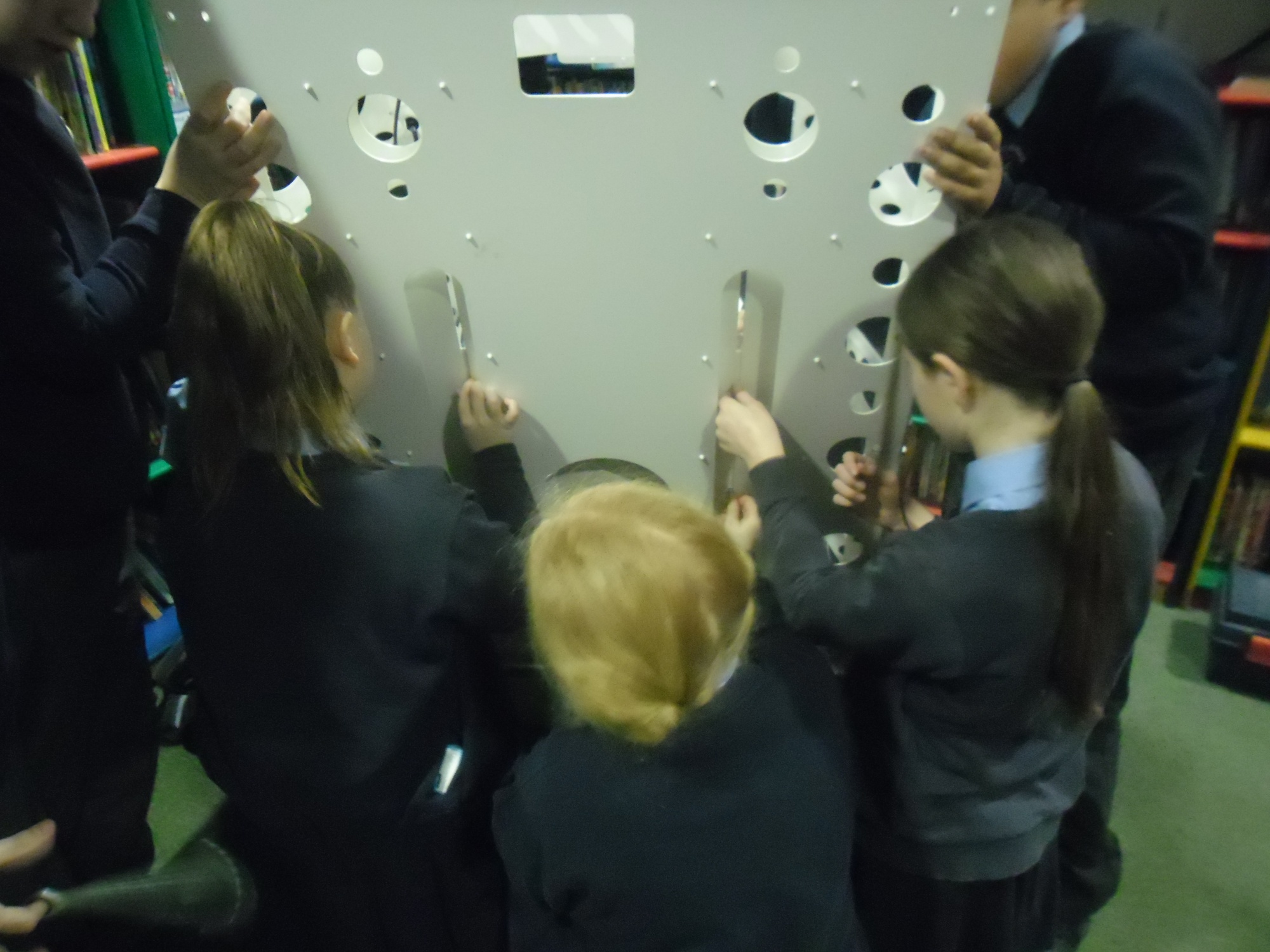 At first, we thought we could have a quick look at the manual and then remember all the things we needed to do but we soon realised that the manual was our best friend and we had to look carefully at it MANY times.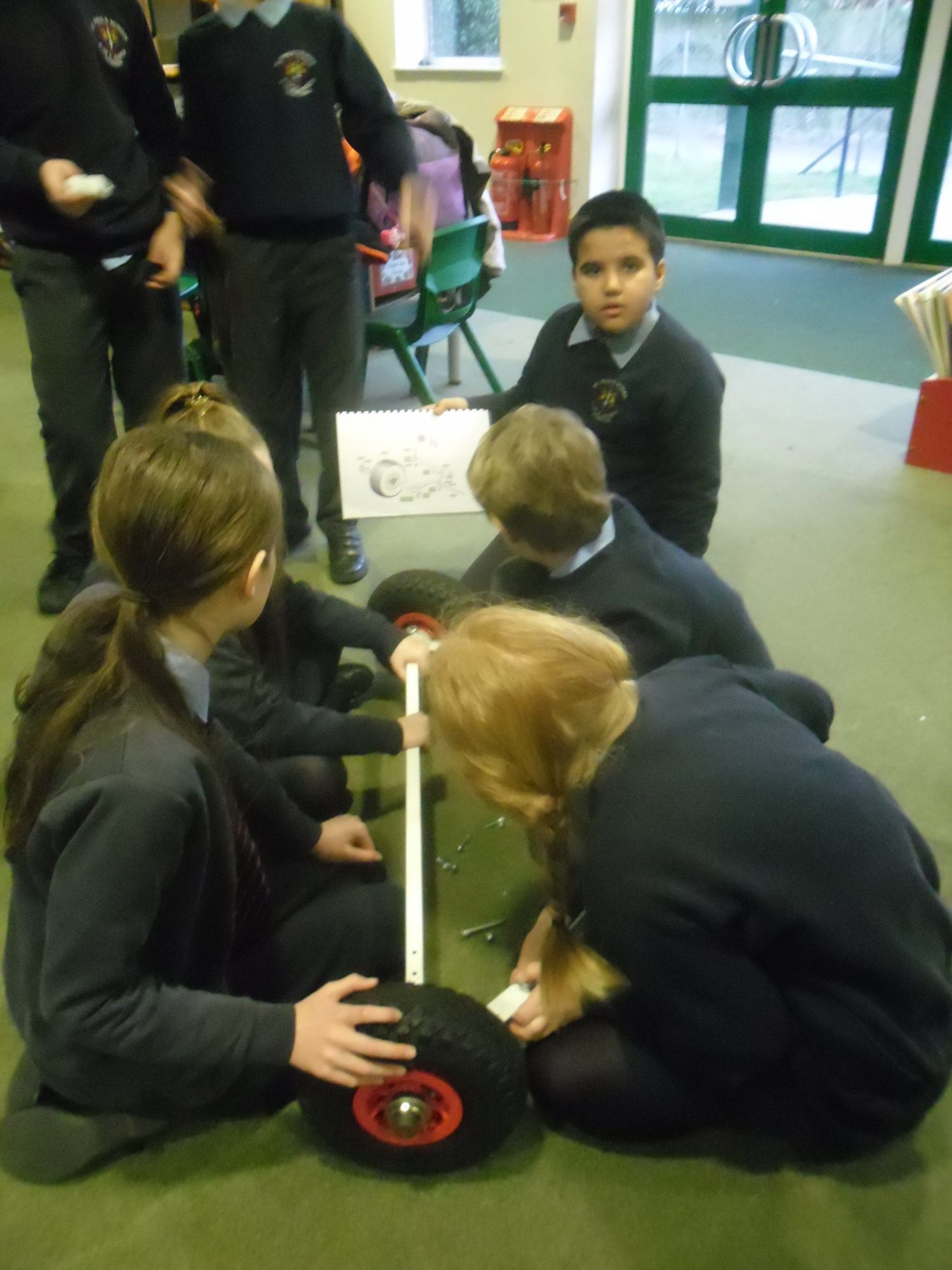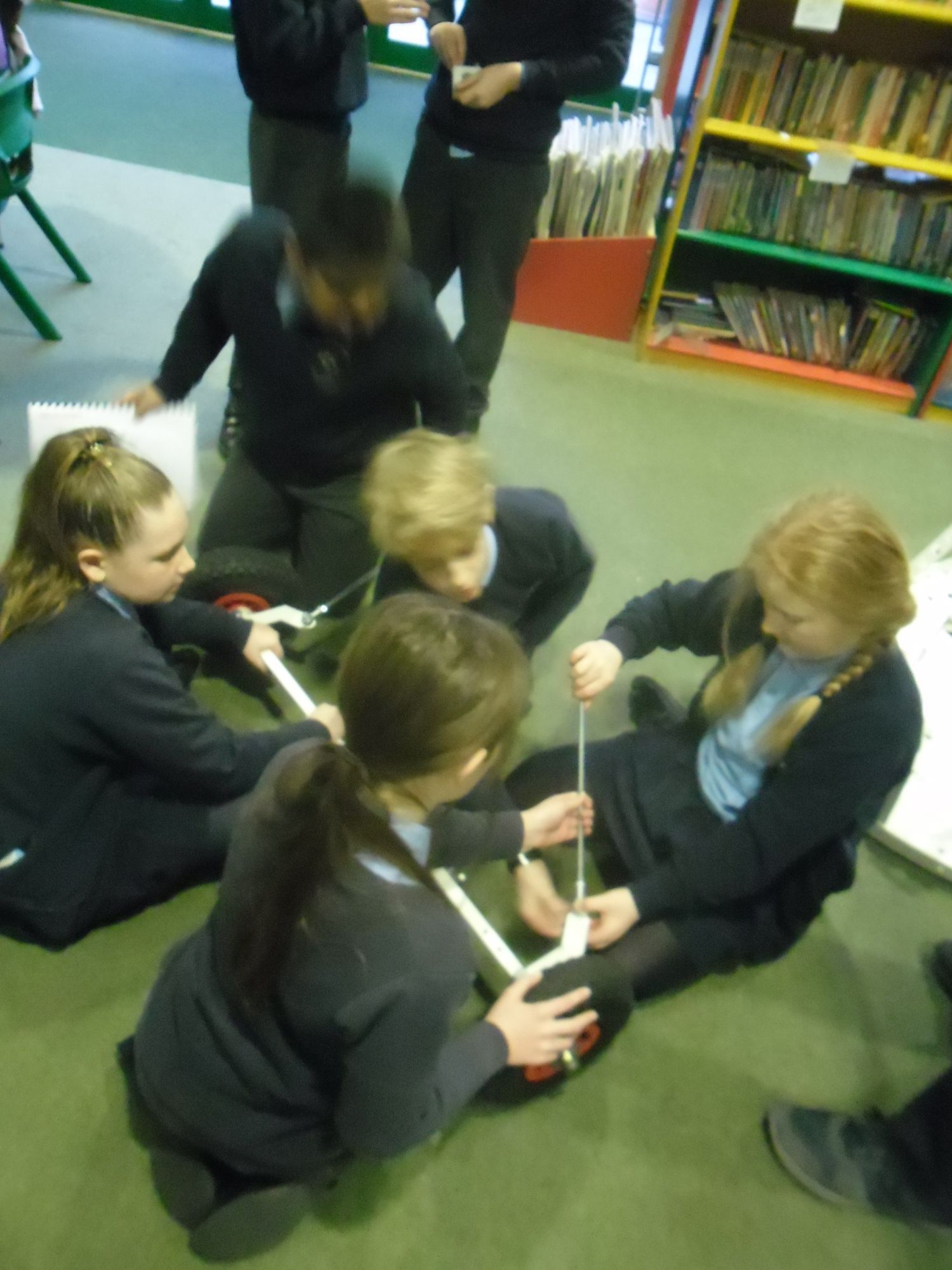 Eventually, we worked it out, making sure the components were all fixed in the right order!
---
Week 3: 26th January 2018
What a week! We started with lots of different components and finished with something that is almost resembling a car!
We are starting to get really good at reading the instruction manual and understanding the different codes for all the nuts and bolts, which is making the process far quicker.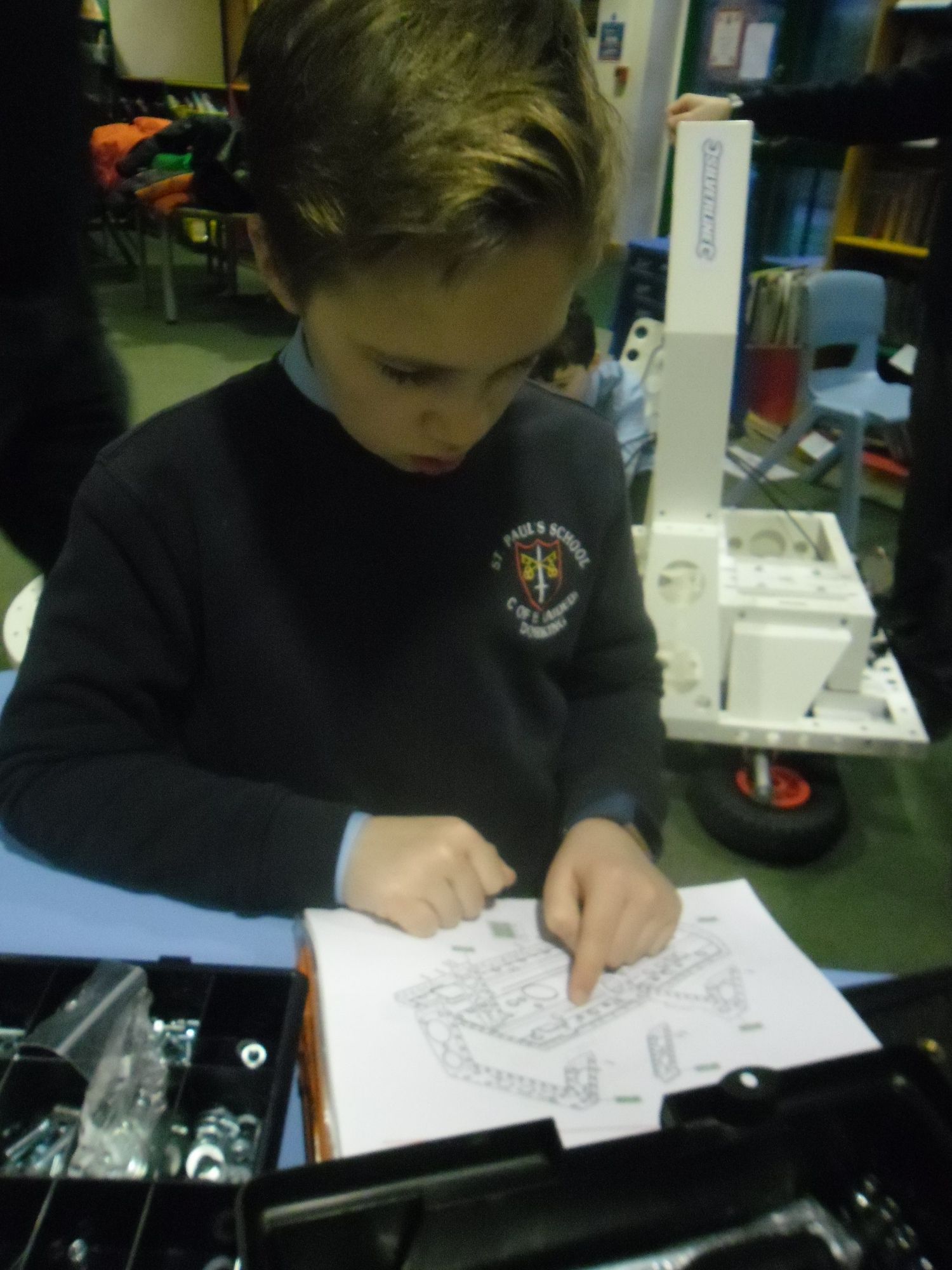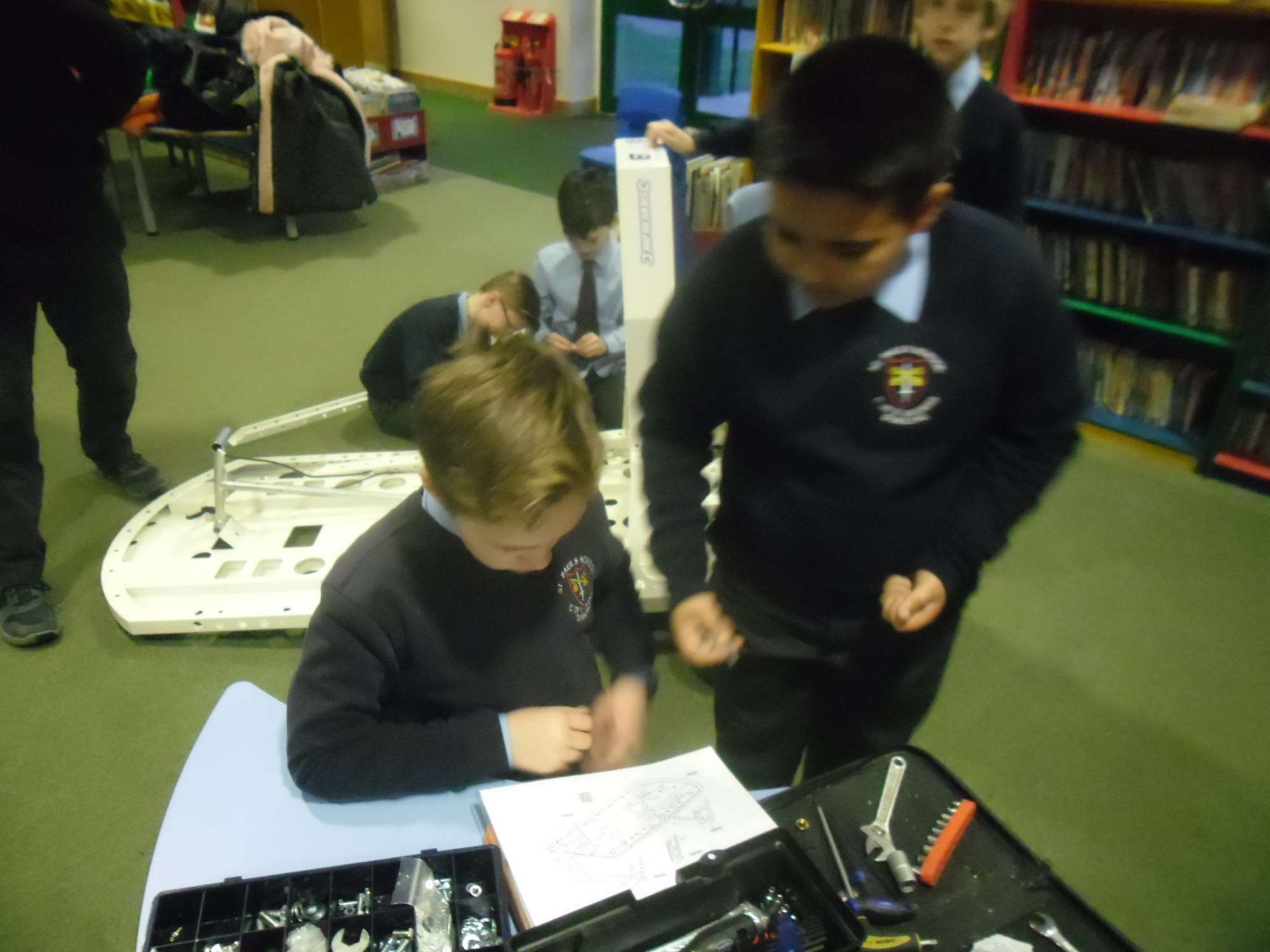 It is amazing how much we can get done when we work together. Sometimes we need 3 or 4 people to do one part – someone to hold the parts, someone to fix the bolts and someone to check.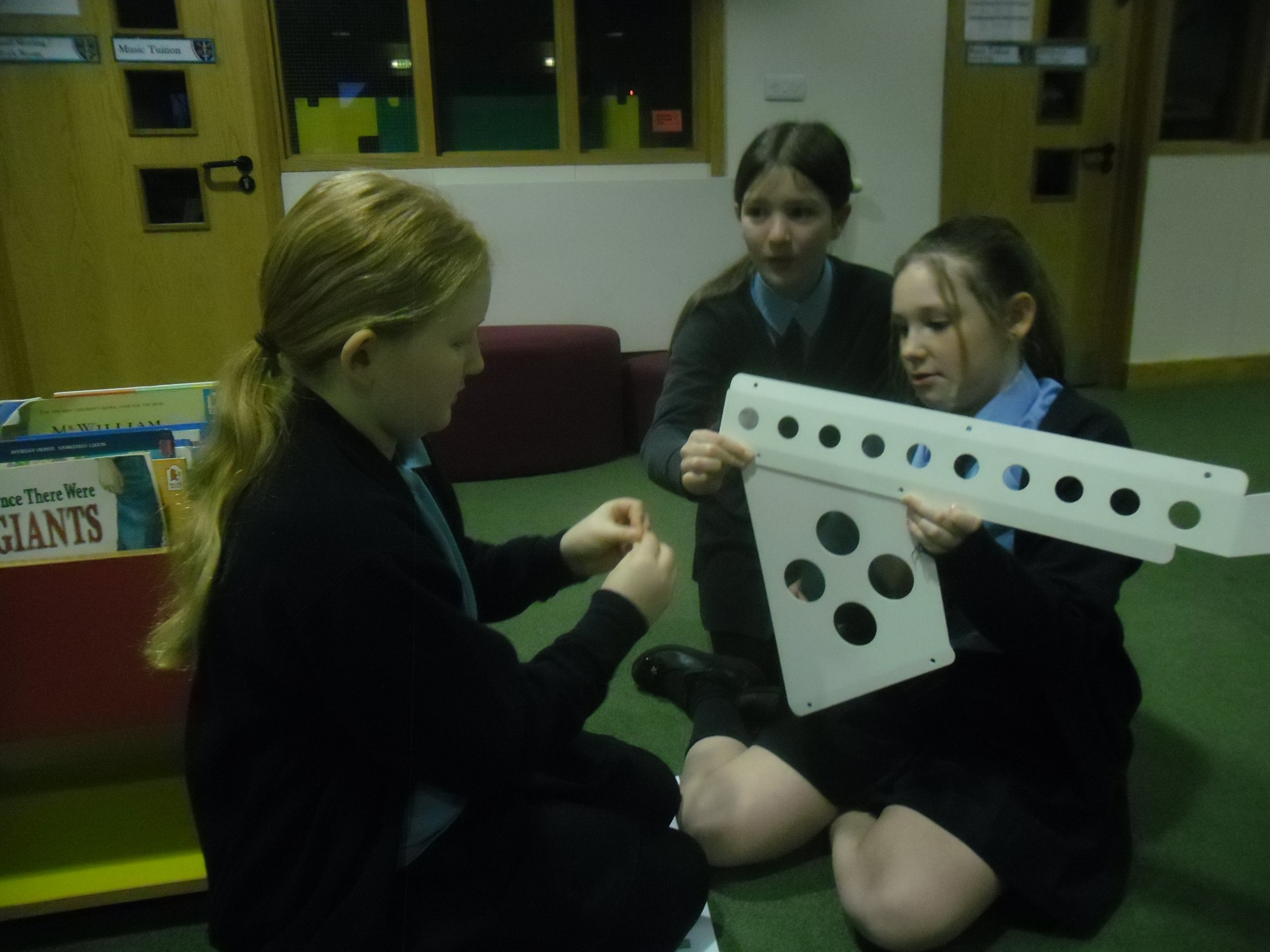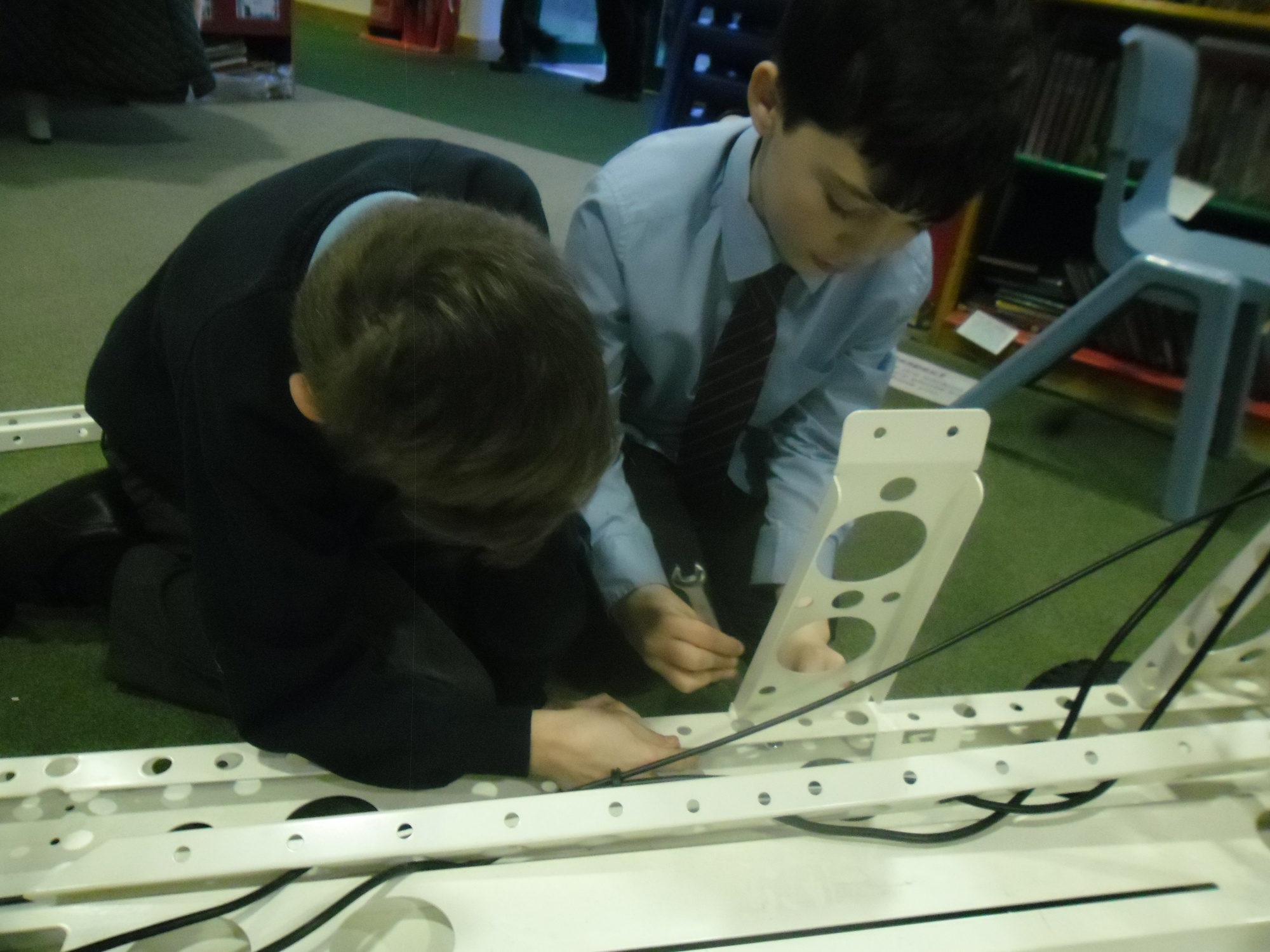 We have realised how important it is to check our work. After all, we wouldn't want to car to fall apart half way through racing would we!
The time whizzed by and, before we knew it, the session was finished. One of our GreenPower members was heard saying, "This is addictive! I could build all day!"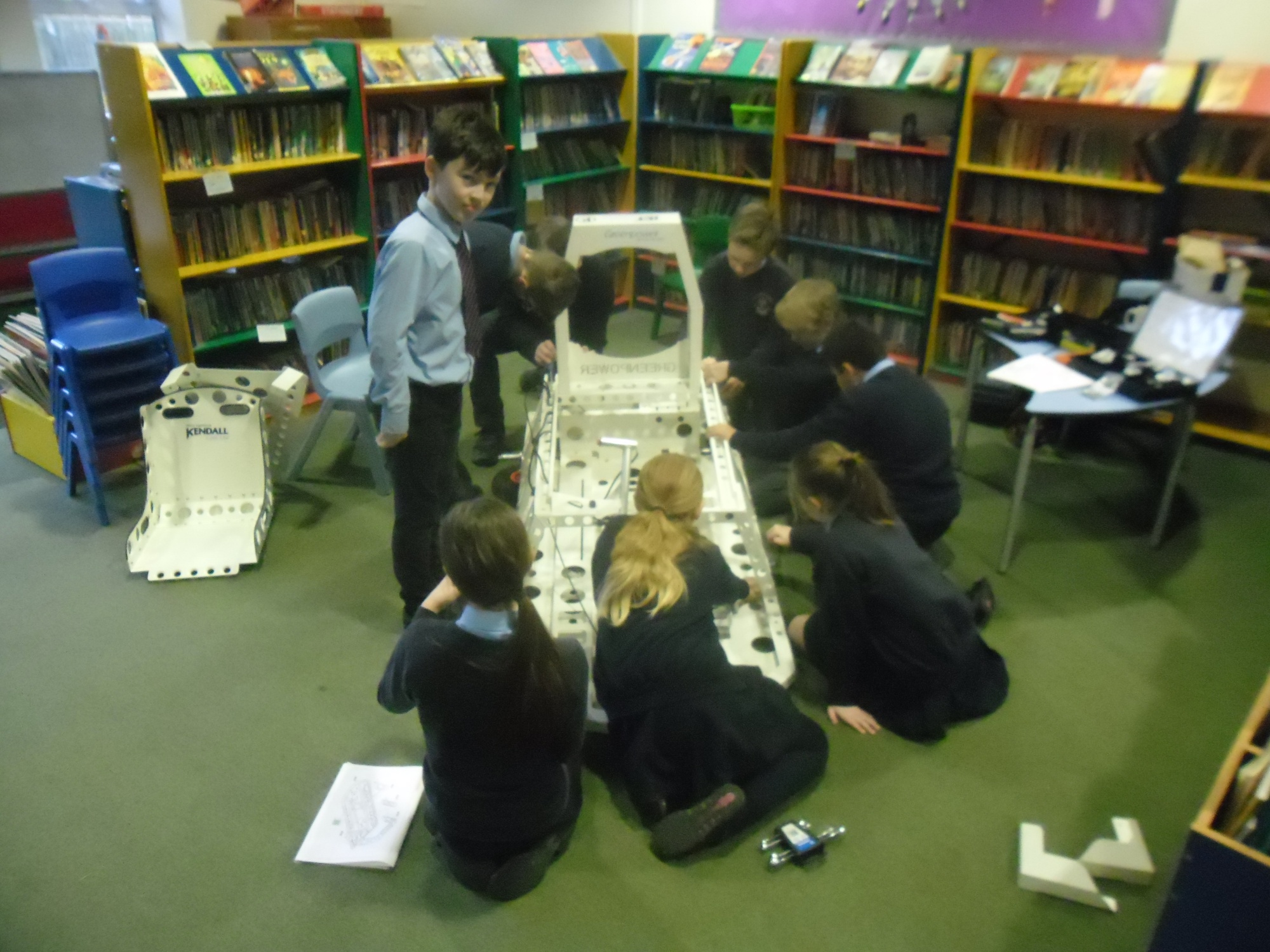 We reflected upon our day's work and could not believe the progress we made!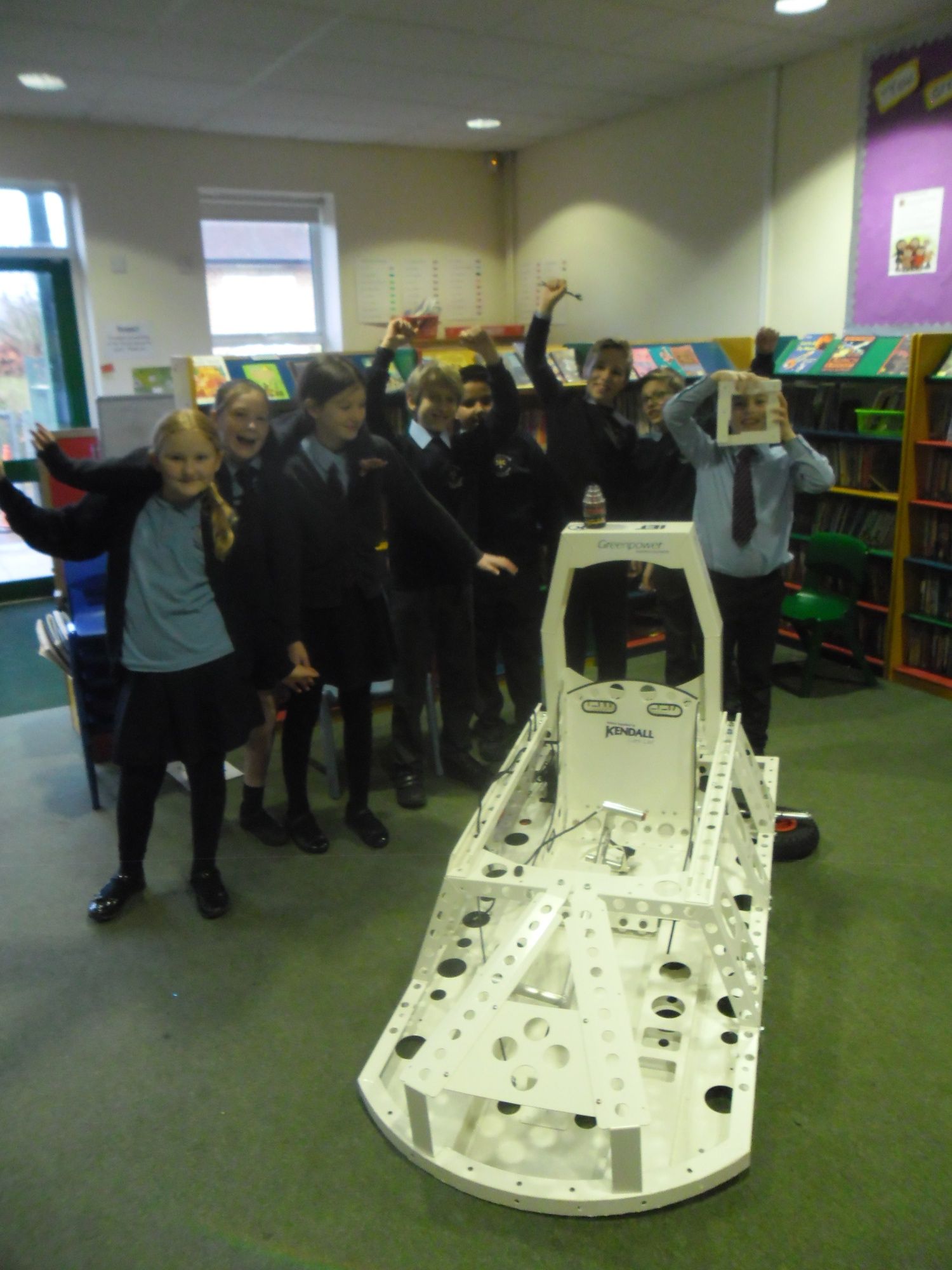 ---
Week 2: 19th January 2018
Another bright and early start, getting to school at 7:20am!
We knew what we had to do this week so we worked as a team to finish the construction of the seat! It was rather tricky as we had to use an Allen key at the same time as using a spanner in order to hold the bolt in place! We also had to remember which way we had to turn the spanner to tighten the bolts!
Lefty – loosey , righty – tighty!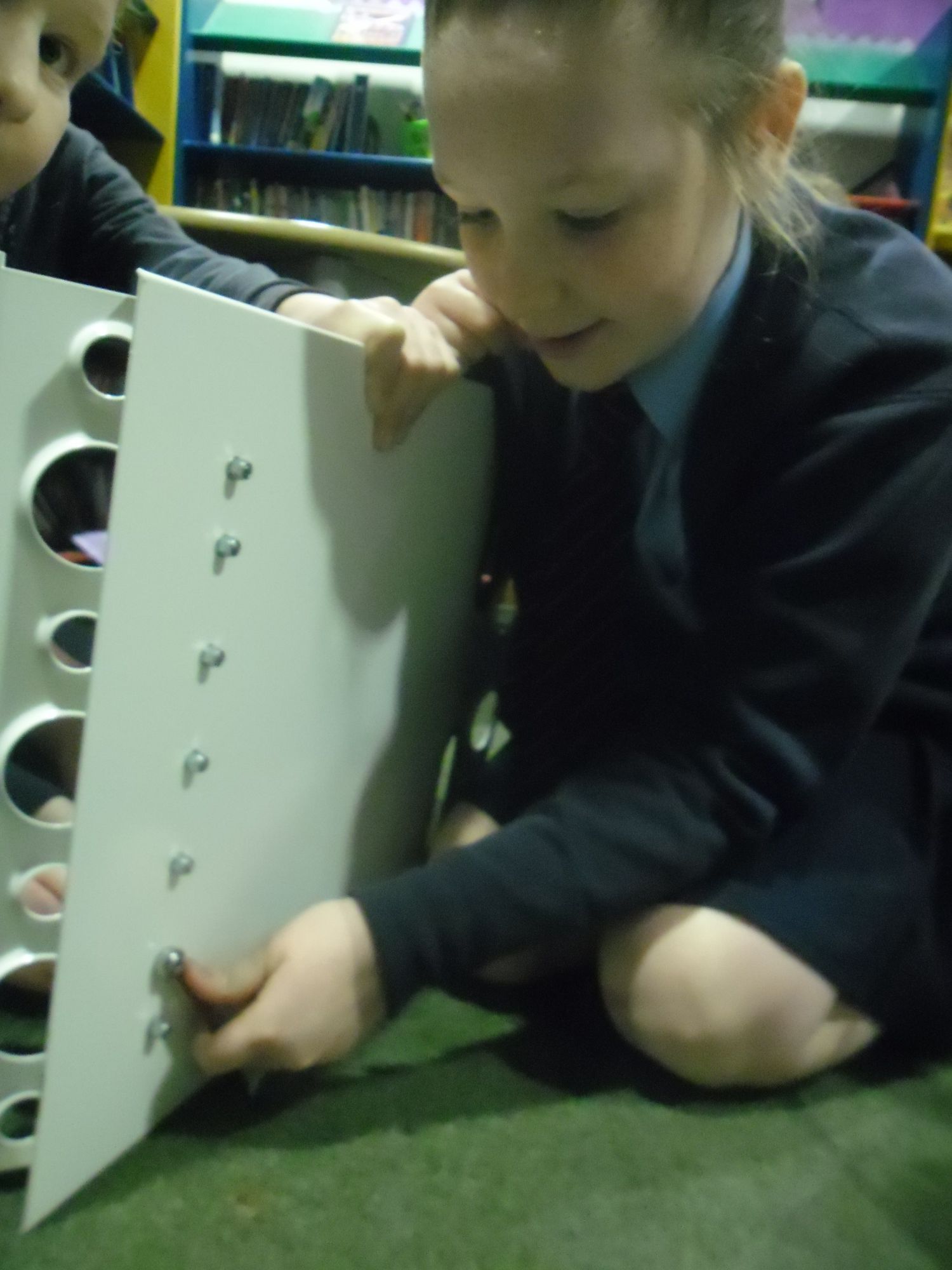 We were so efficient with the assembly of the seat (mainly due to our fantastic team work!) that we were able to then start on the roll bar. A roll bar is really important on a car as it keeps us safe and protects our heads if the car rolls over in a race. This was a rather tricky thing to start so we had to persevere.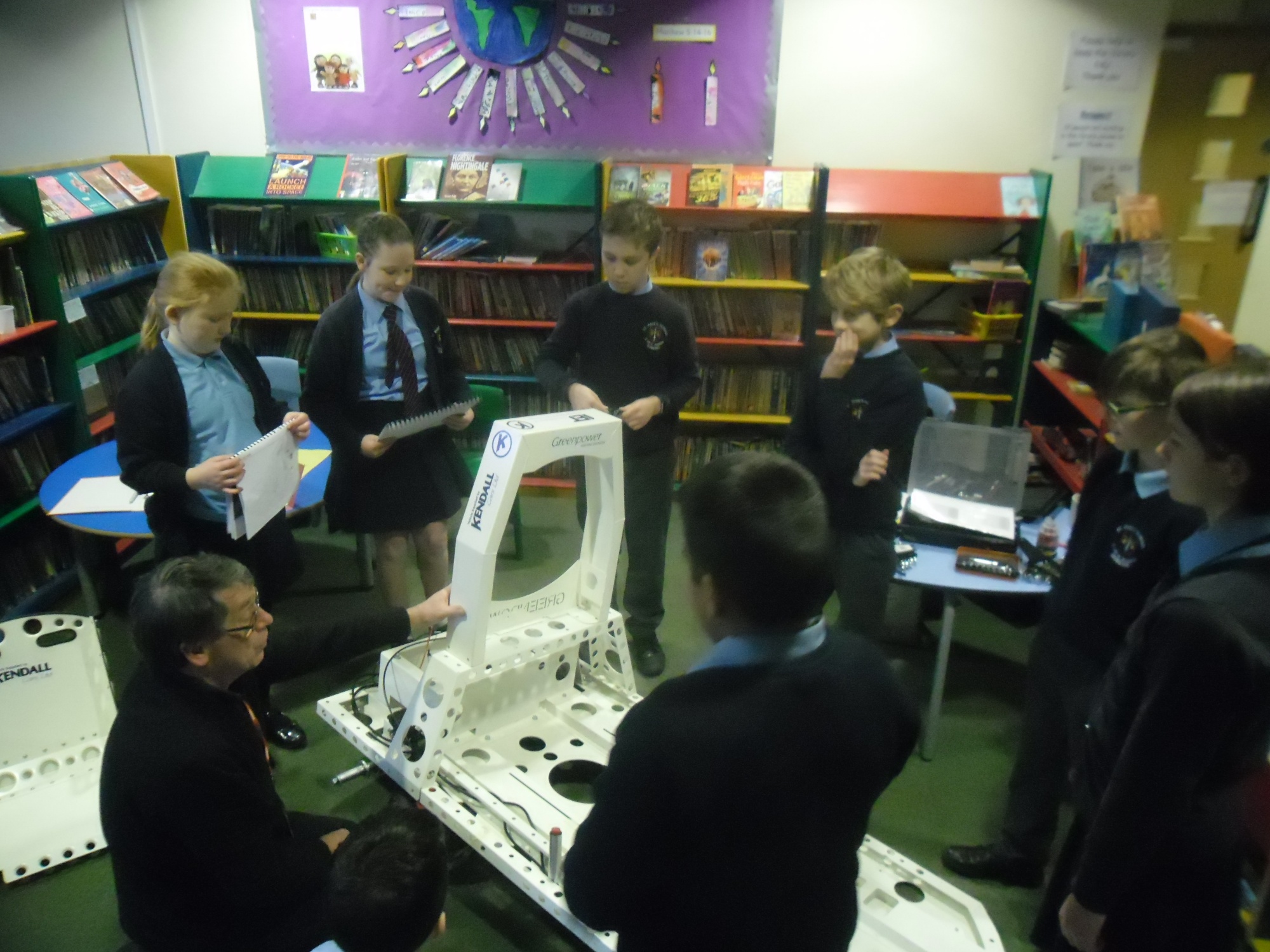 ---
Week 1: 12 January 2018
The day has finally come, GreenPower club has started!
It was a first for us to come to school in pitch black (7.30am) but it was all worthwhile! This year there are 8 of us in the club.
During the past few weeks, we were set the task to write persuasive letters in order to seek sponsorship from local companies.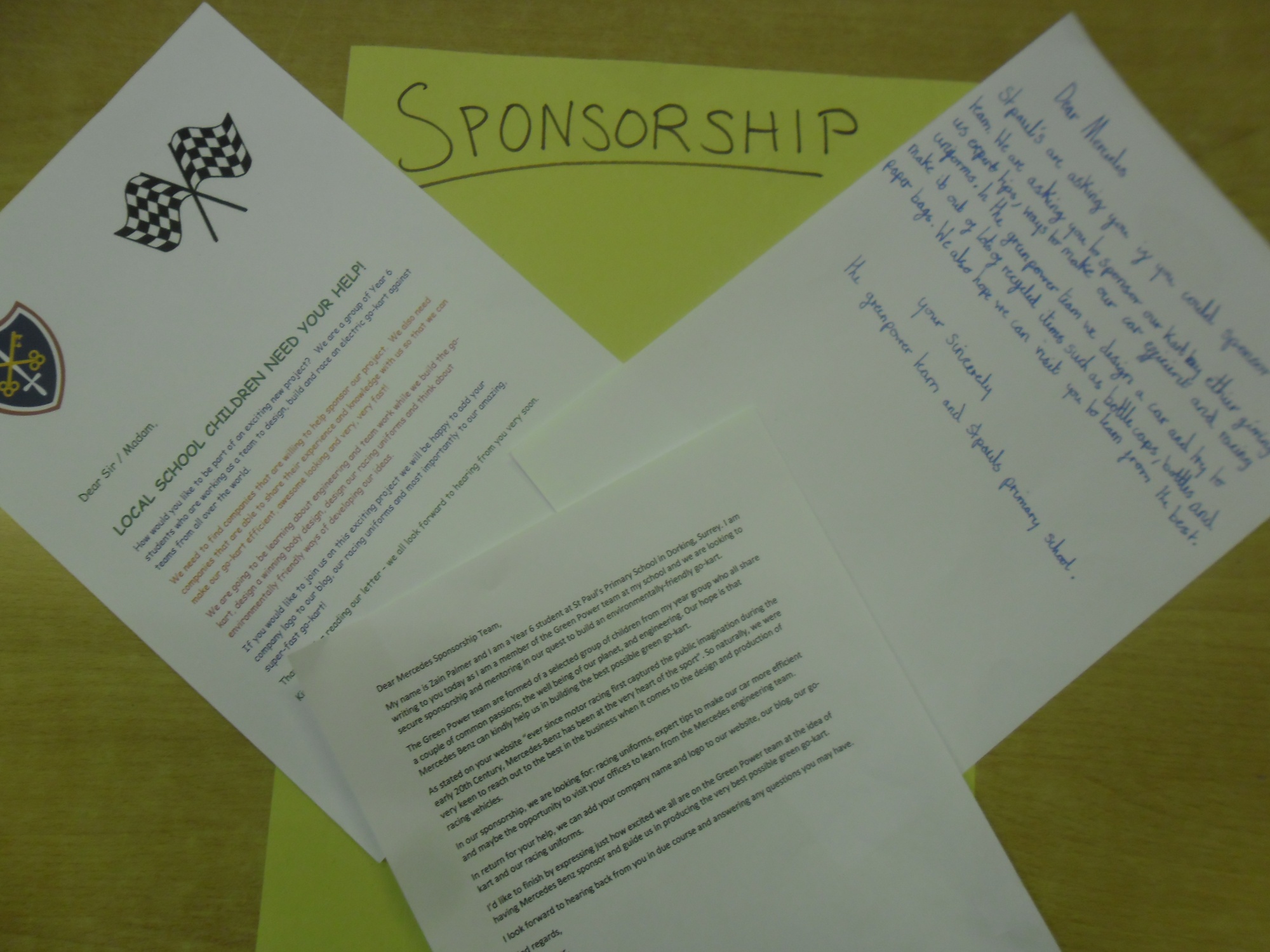 Fingers crossed we will have more information about whether we get some sponsorship from these letters in a few weeks!
Firstly, we thought about what we wanted to get out of the GreenPower club this year and understood the expectations and health and safety that we need to be aware of. After all, we are working with heavy equipment and tools!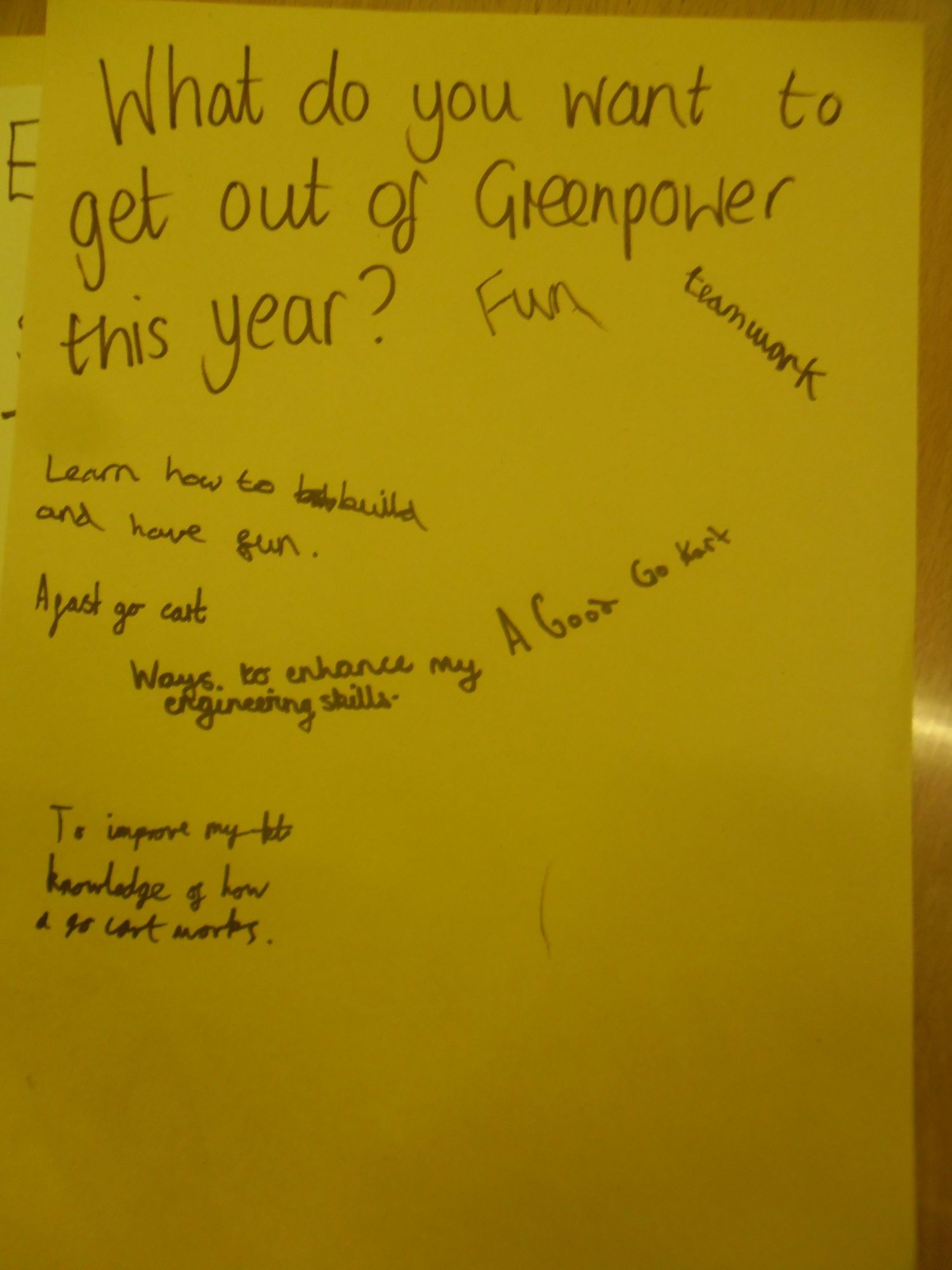 Following that, we looked at the building manuals and nuts and bolts (there are thousands of them!) The manual was a little bit like a grown-up Lego manual but we noticed that we will have to look very carefully at the detail so we don't make mistakes.
It was time to start the build!
We learnt about the different types of equipment: spanner (ring and open ended, adjustable and socket) as well as Allen keys.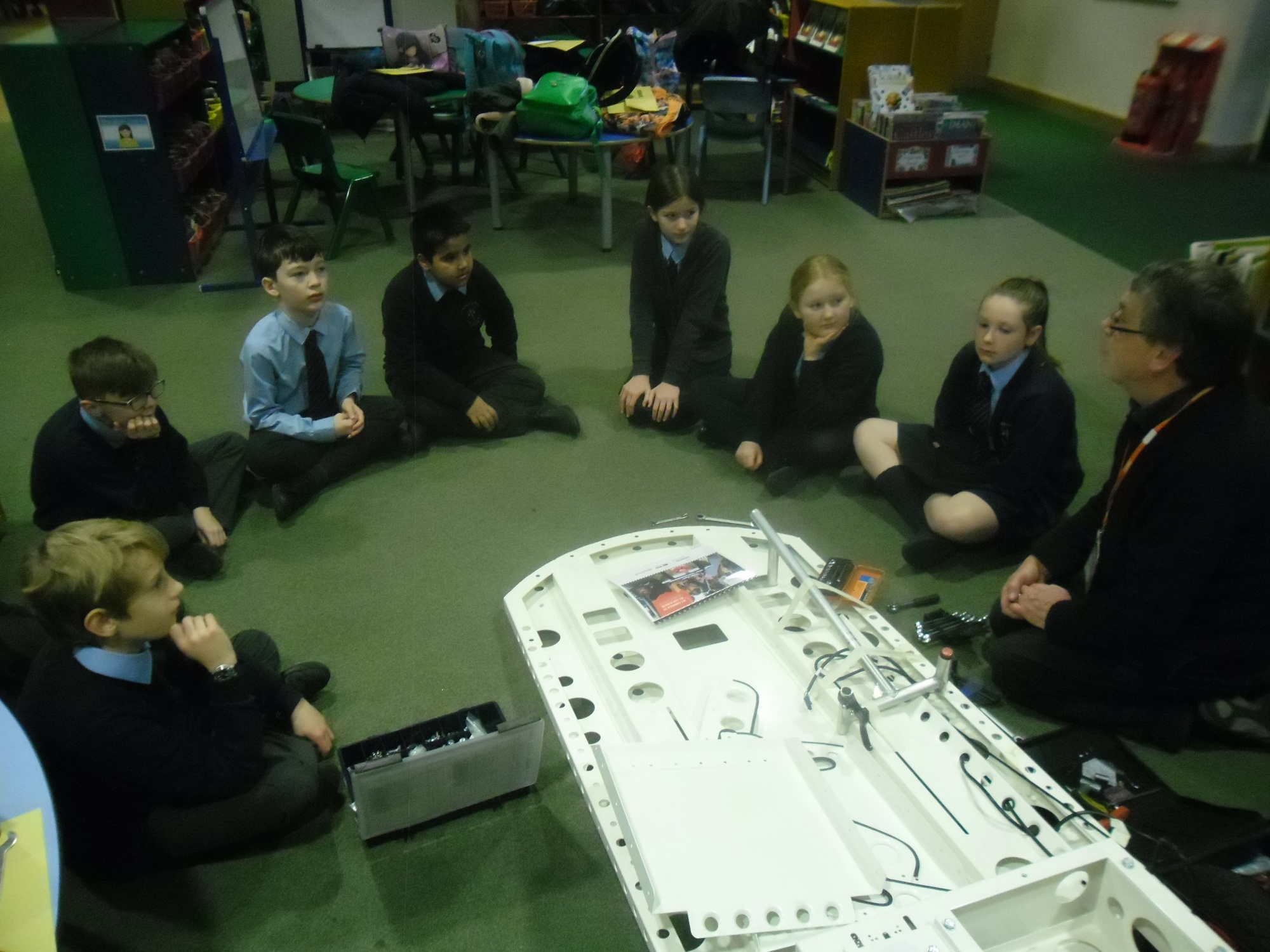 We started with the seat so we could get the hang of finding the right nuts, bolts and washers. It was a bit tricky but we managed to start it, ready to finish next week.