The Build 2017
Session 1: January 6th 2017
Today was our first GreenPower meeting, where we talked about the importance of health and safety, organisation and team work.
We got to know the kit and started to sort the components: nuts, bolts, screws and washers, so we were organised and ready to start construction next week.
We had to use team work to help identify different components and we all checked each other's work.
At the end of the session, we looked at the manual and tried to work out what parts we needed to start building our chassis ready for next week.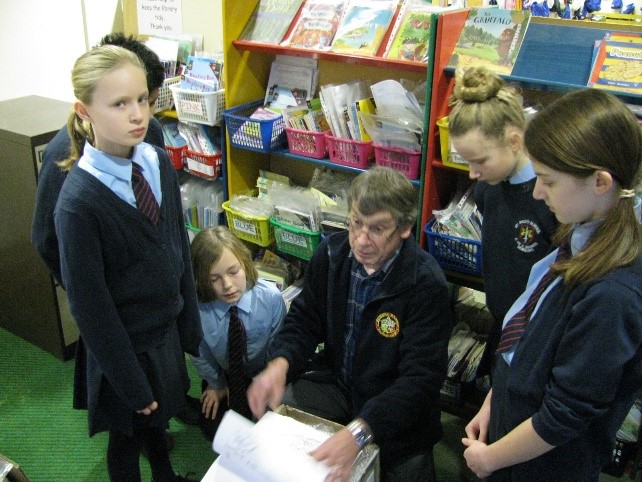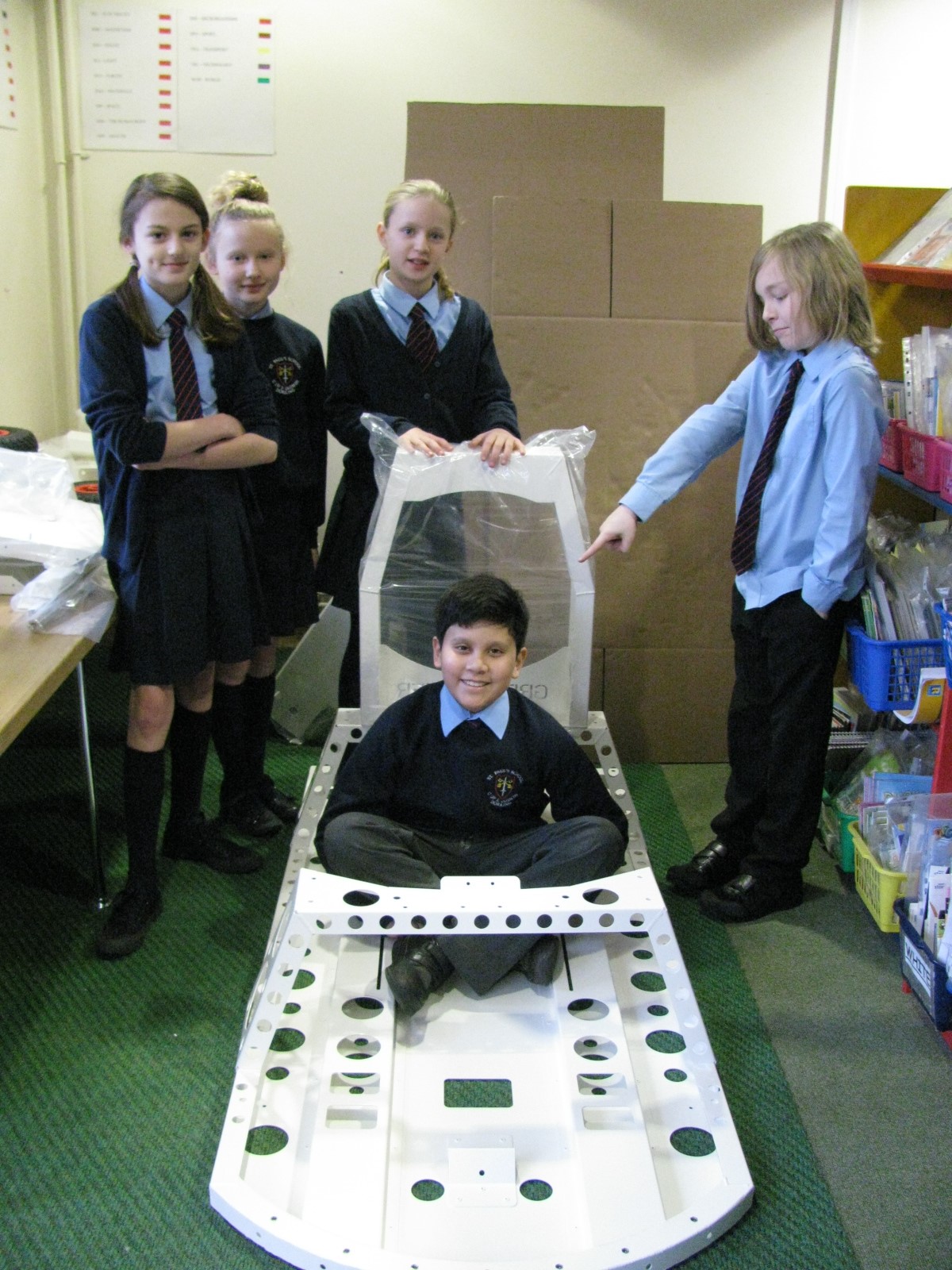 Session 2: January 13th 2017
This week, we started the construction of the chassis.
We learnt how to interpret the manual and used this to find the components needed to start the build. We found out that team work was very important: listening to each other, helping each other, talking to each other to explain what we needed to do and most importantly, checking our work.
We worked really well as a team and managed to get a lot of the chassis building completed.
A quote from the day:
'It was amazing how quickly we got the hang of using the open spanners and ring spanners to tighten the bolts. We couldn't have done it without team work!'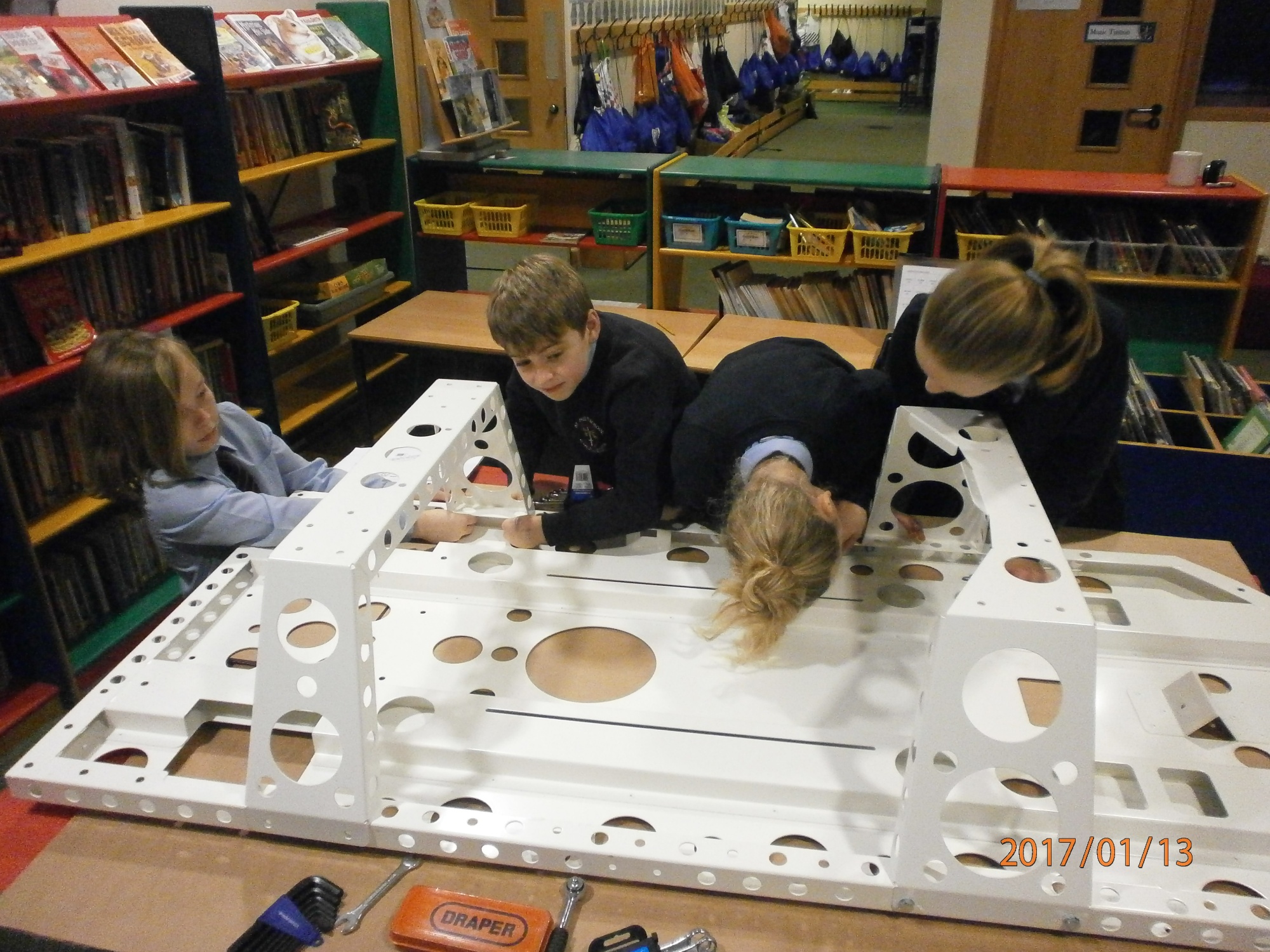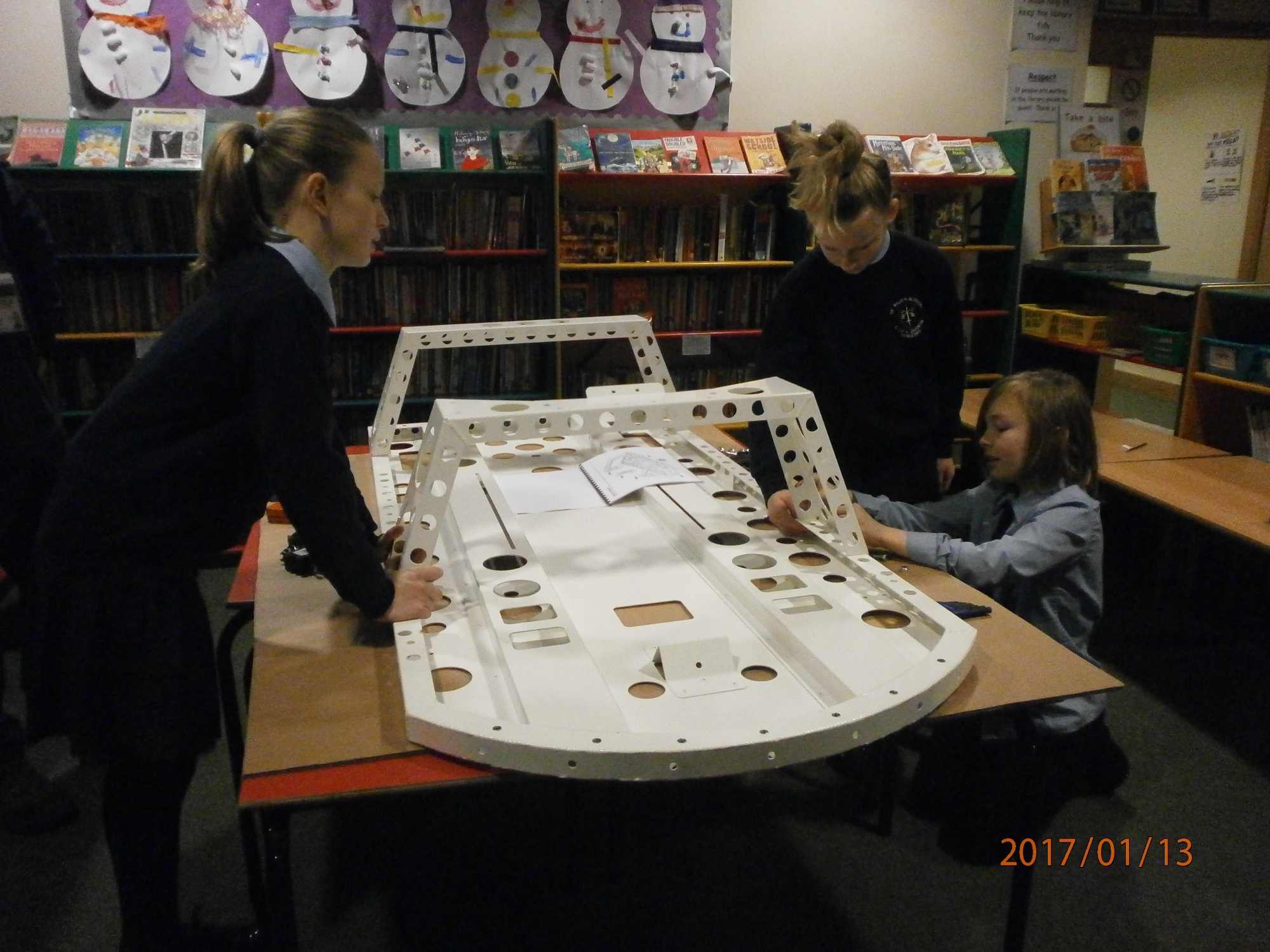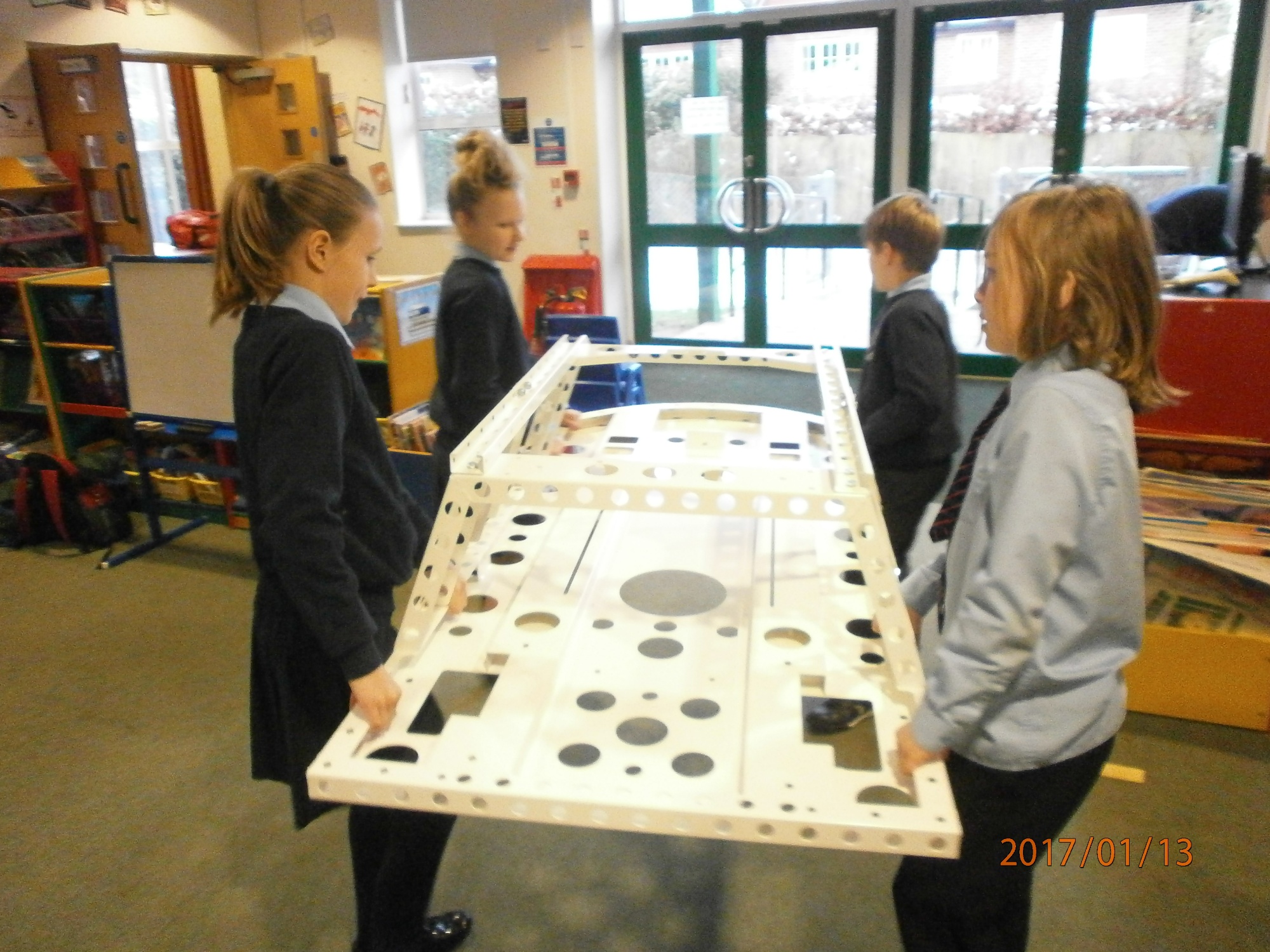 Session 3: 20th January 2017
Chassis and seat construction
This week, we used many different types of tools including: Allen keys, ratchet spanners, ring spanners and open spanners.
One team continued with the chassis building, whilst the other worked on the seat.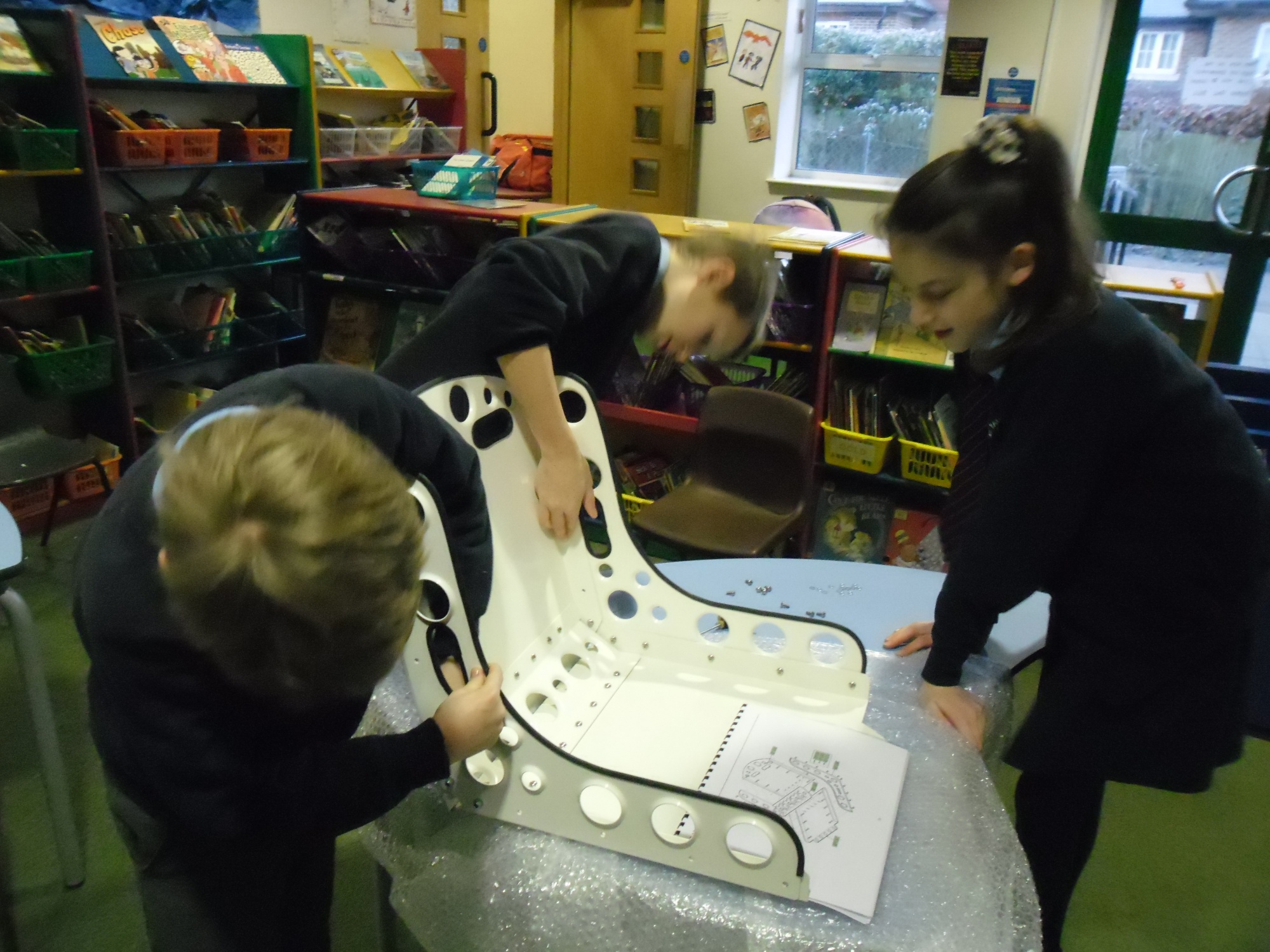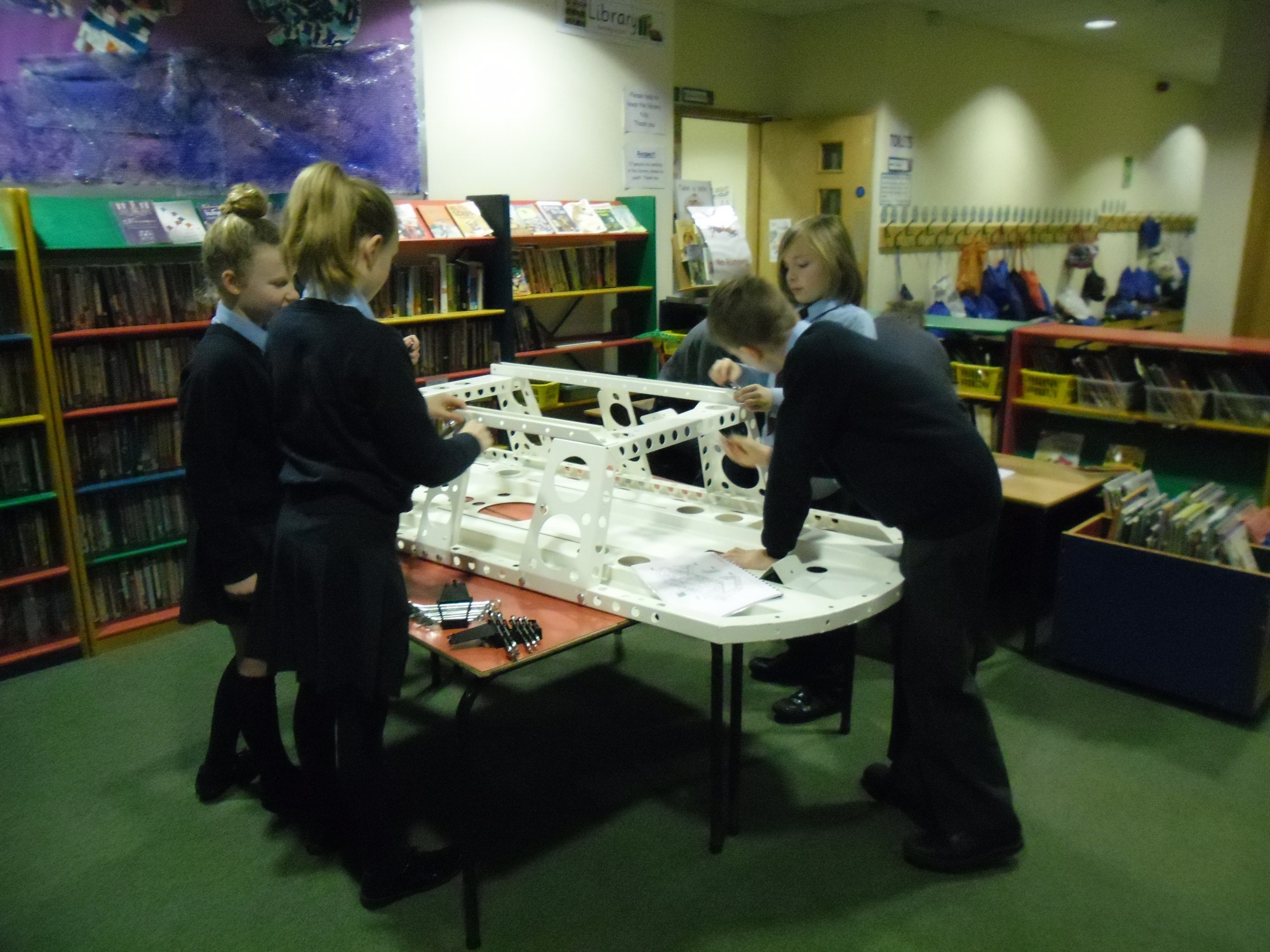 The go-kart is really starting to resemble a car!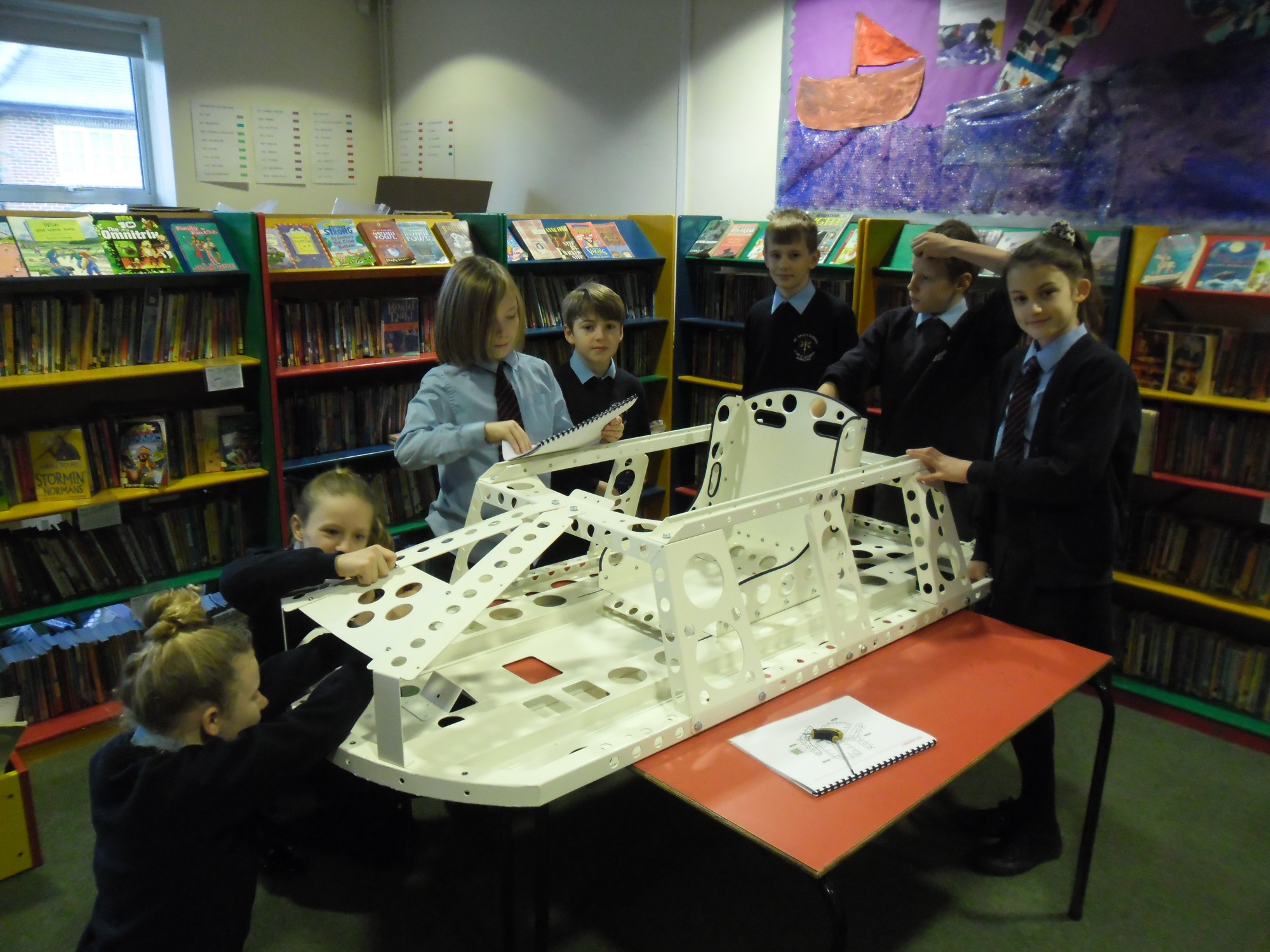 Watch our video below, showing a snippet of the construction process.
Session 4: 27th January 2017
This week, our build became more technical as we were constructing the front axle and the drive shaft.
There were times today when we had to undo what we had done as, when we were checking our work, some components were not in the correct places. We were so happy to have found these mistakes, as we have learnt a really valuable lesson. To take our time and ensure that we are working carefully and accurately.
Next week, we are going to start looking at the motor!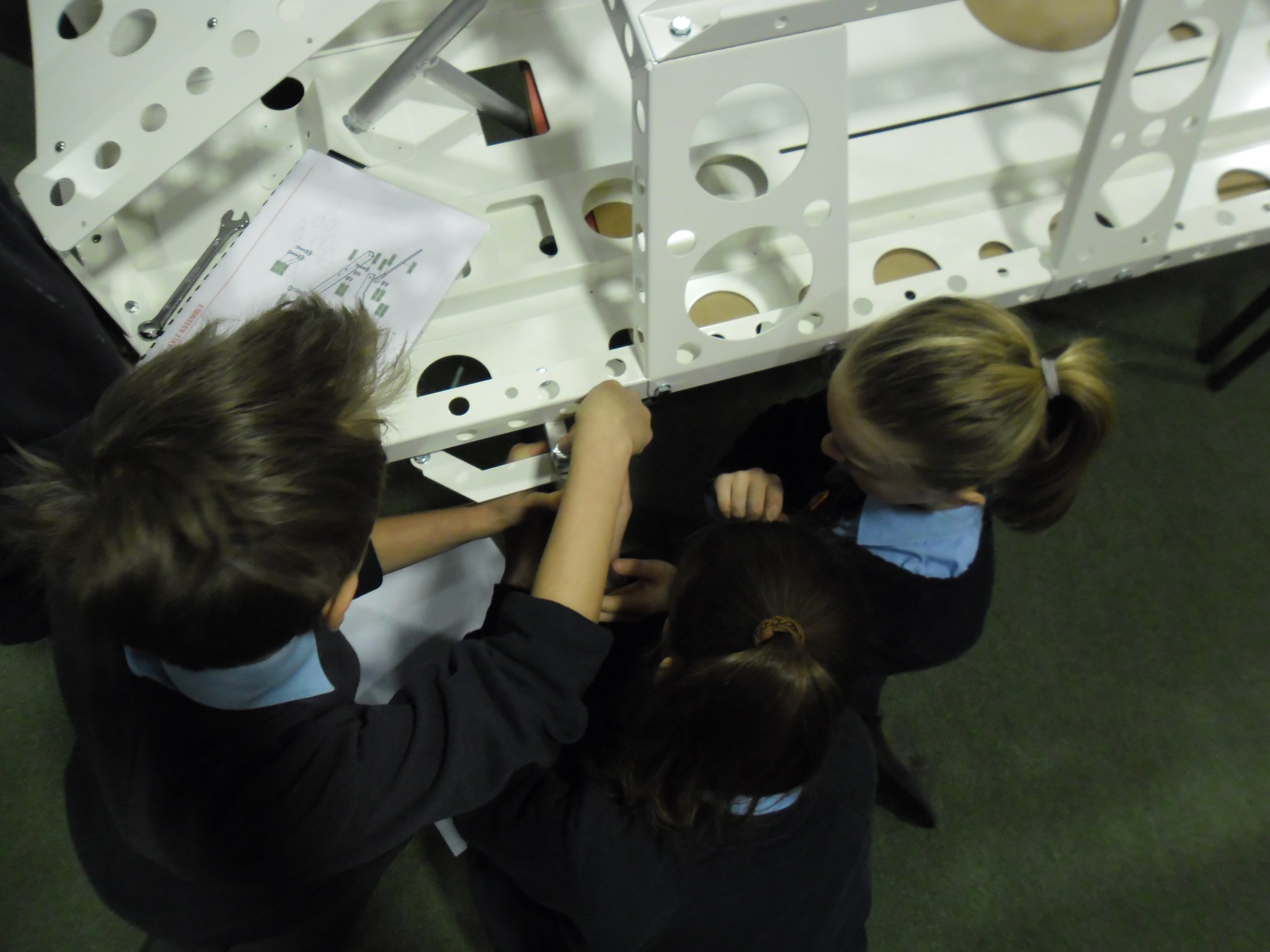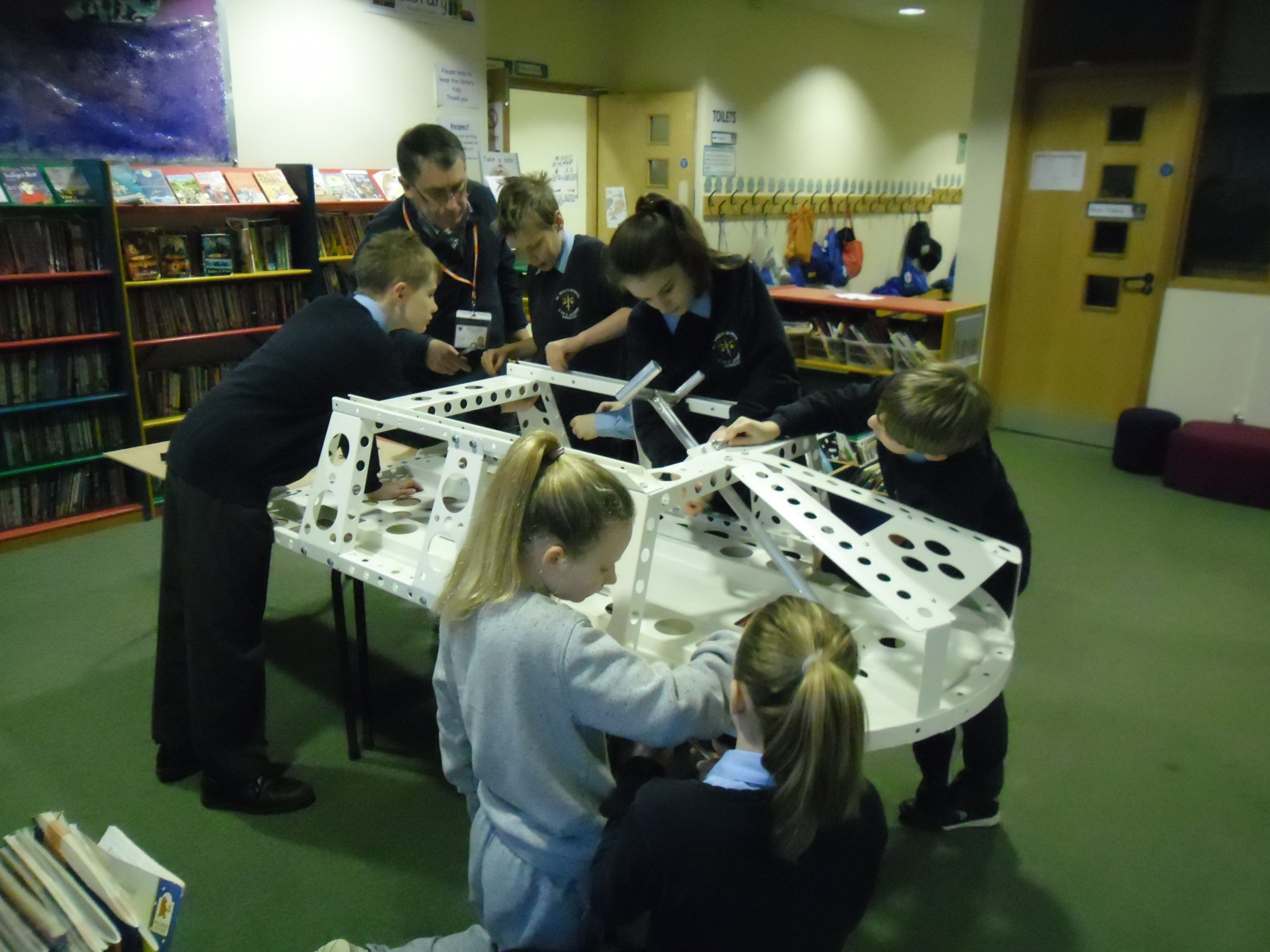 If you want to look at some of the different types of wrenches we are using, have a look at our notice board. There is an infomative leaflet on there, made by the GreenPower Team!
Session 5: 3rd February 2017
We learnt a lot during today's session as we were working on both the front and the back axles. There were many new components; we had to find out the use of each of them.
Can you work out what these are for?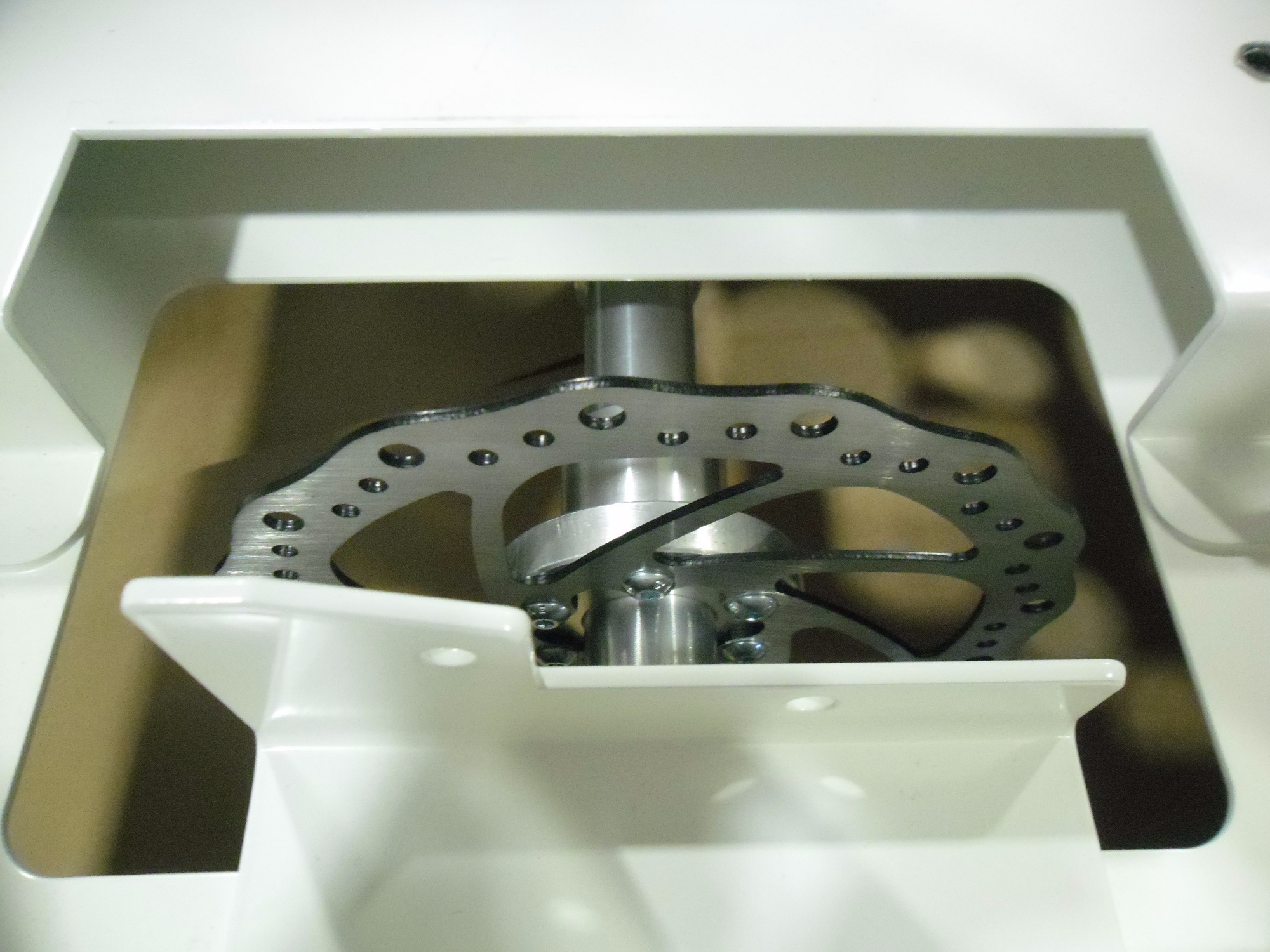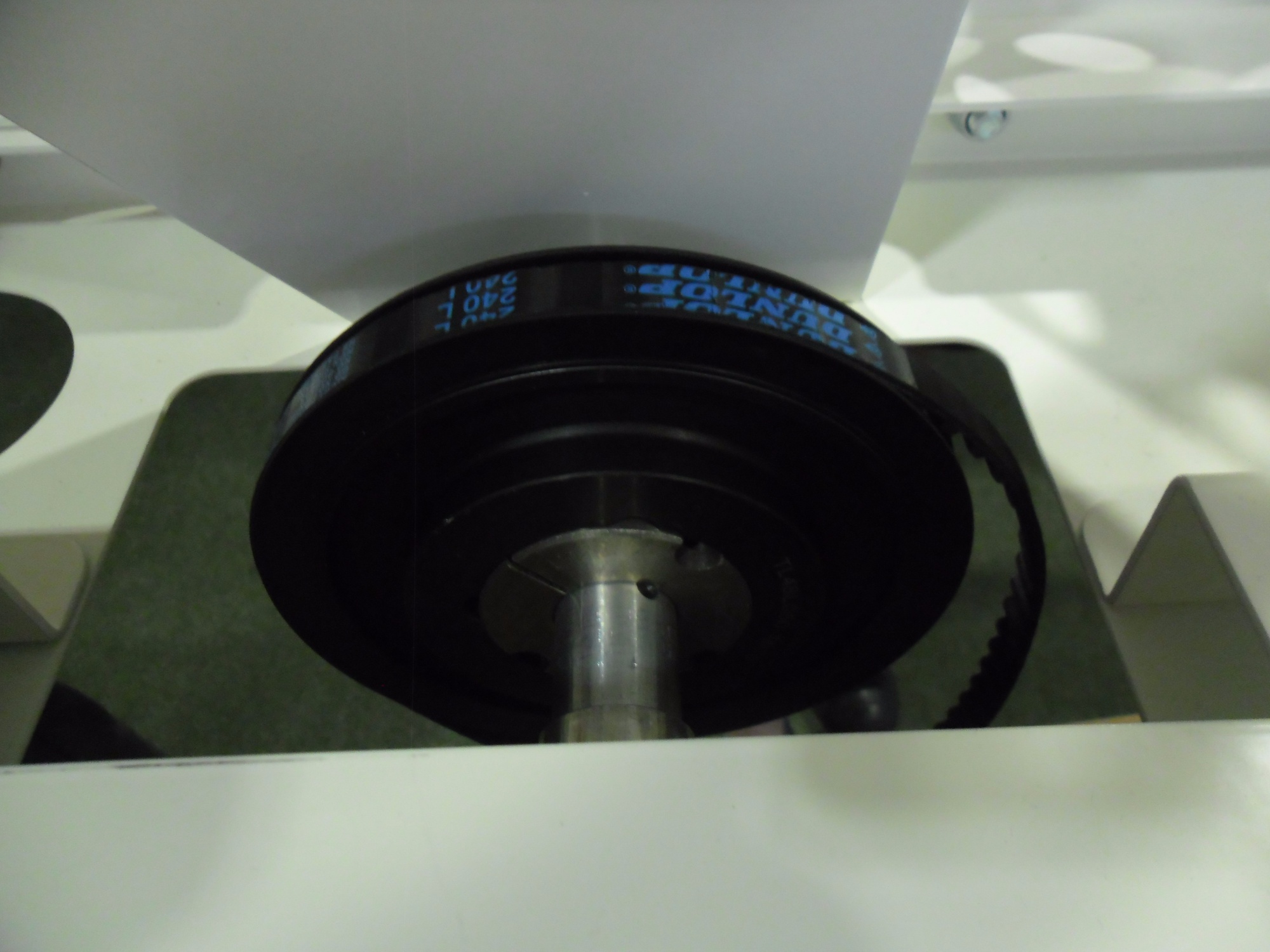 In fact, they are the brake and the toothed drive belt!
This week, we felt like our team really bonded, working together flawlessly. It is amazing what we can achieve as a team.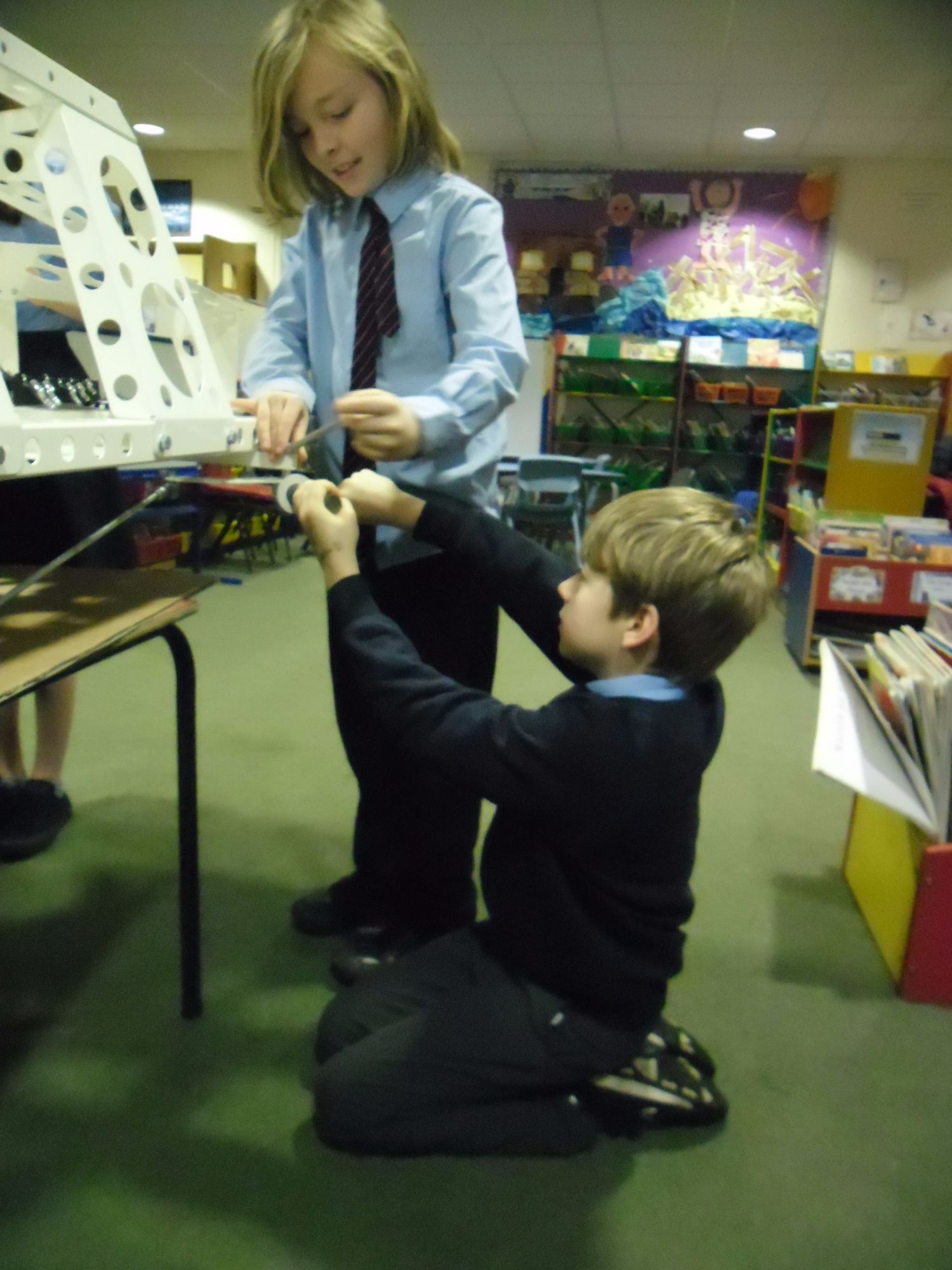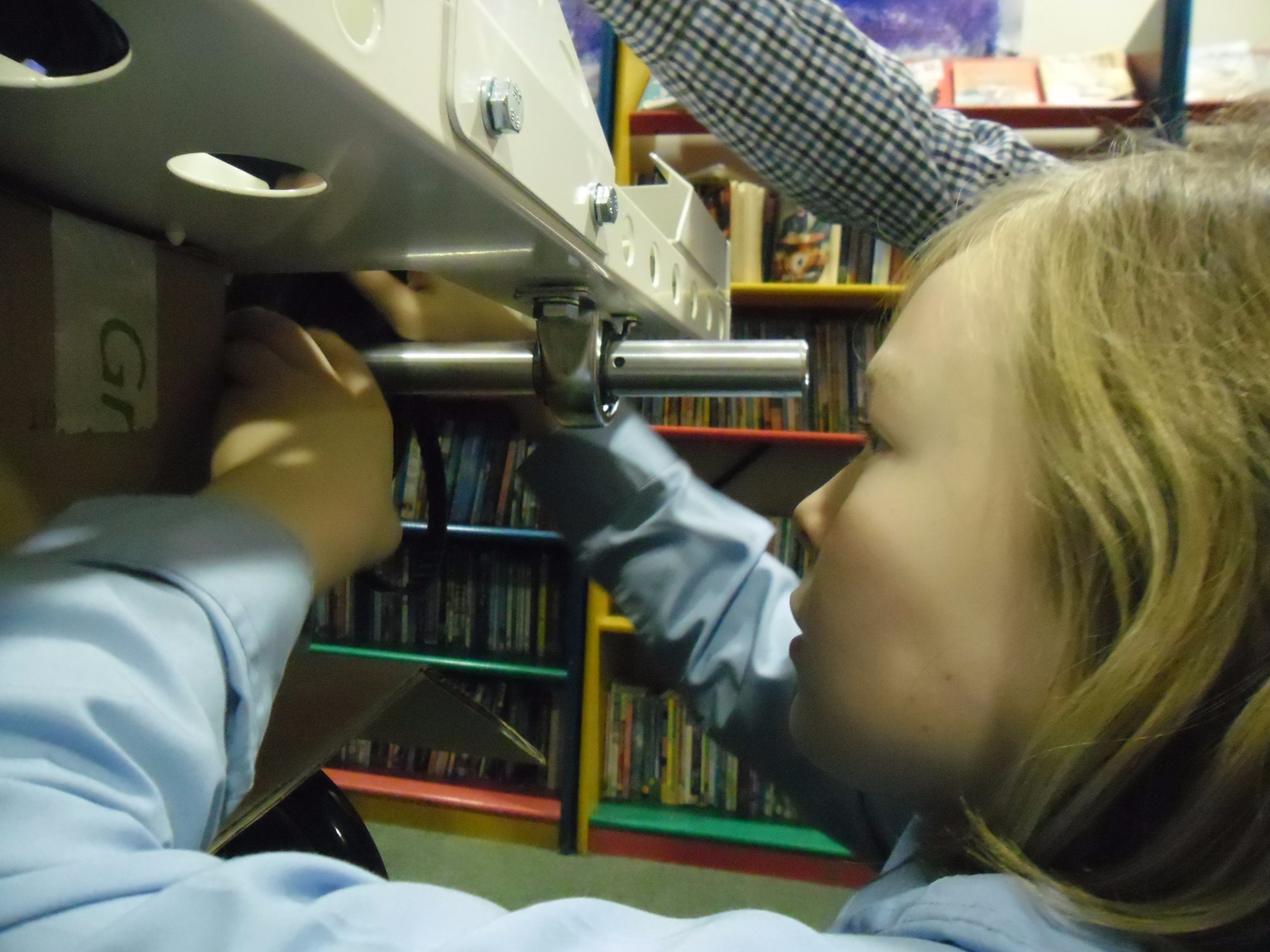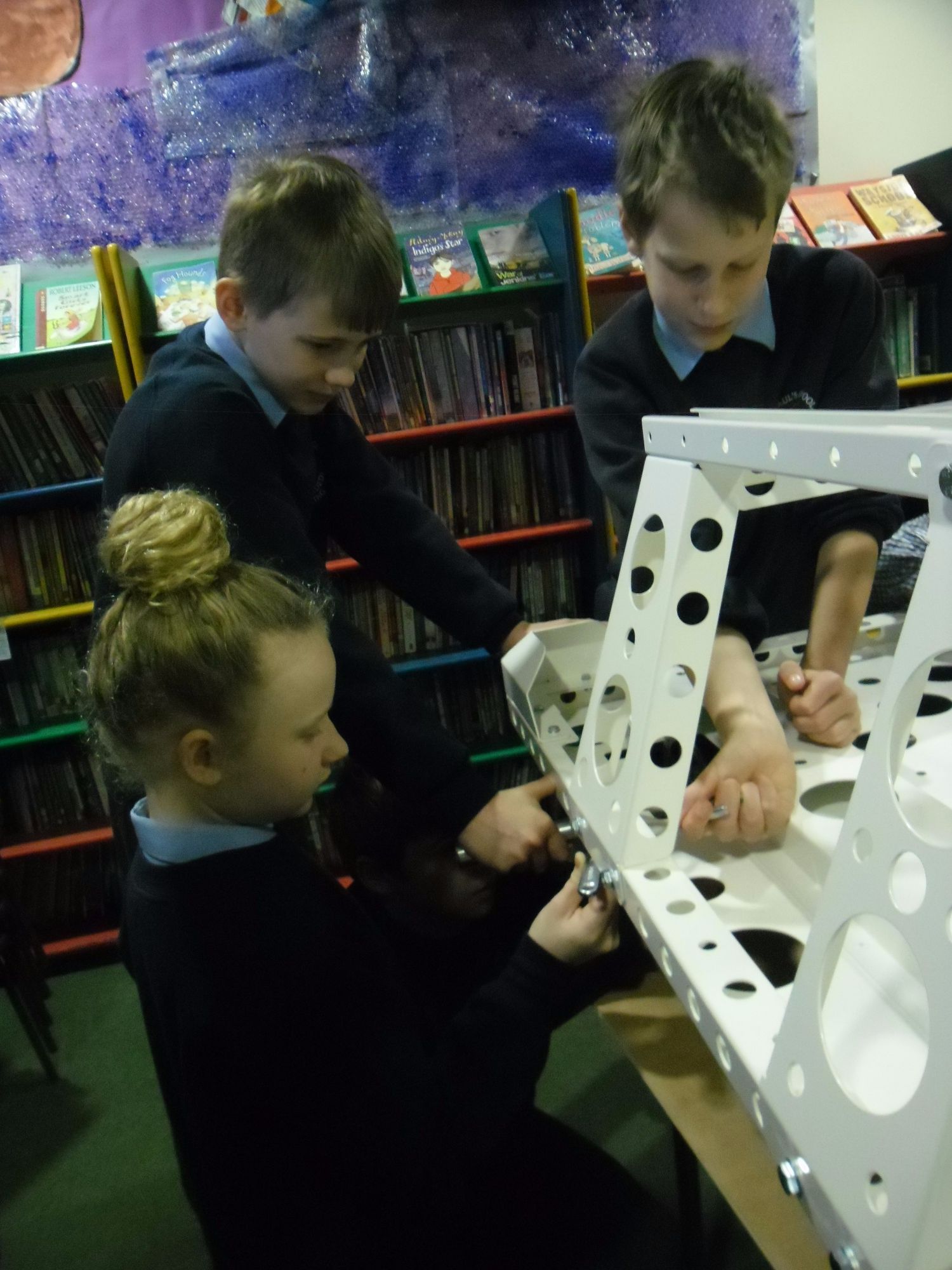 Session 6: 10th February 2017
Today was rather fiddly because we were starting to attach the wires, which was a delicate job. However, due to our ever-increasing ability to work as a team, this task became manageable.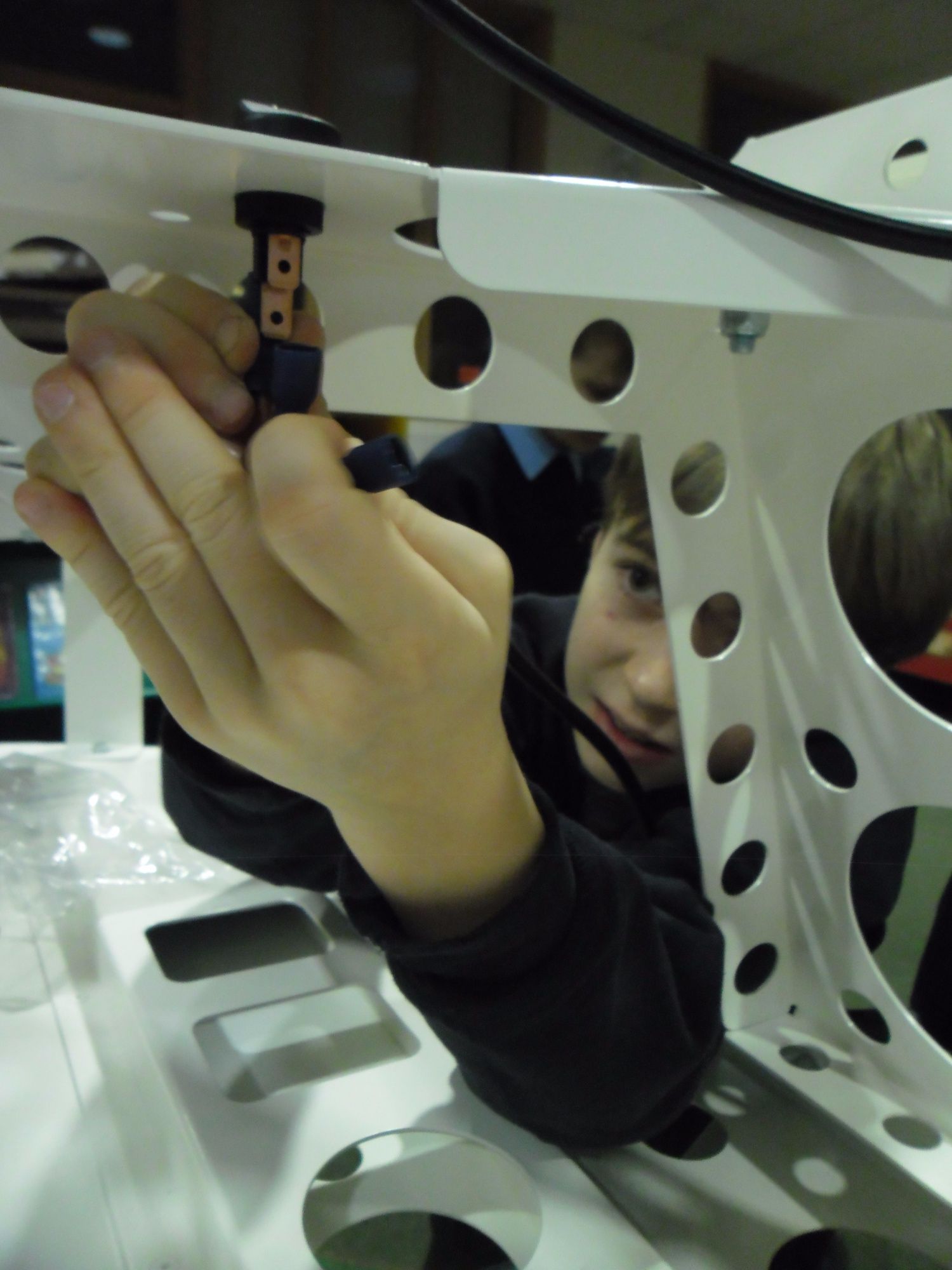 The drive shaft was eventually finished today aswell as we attached the ball joints to the steering column.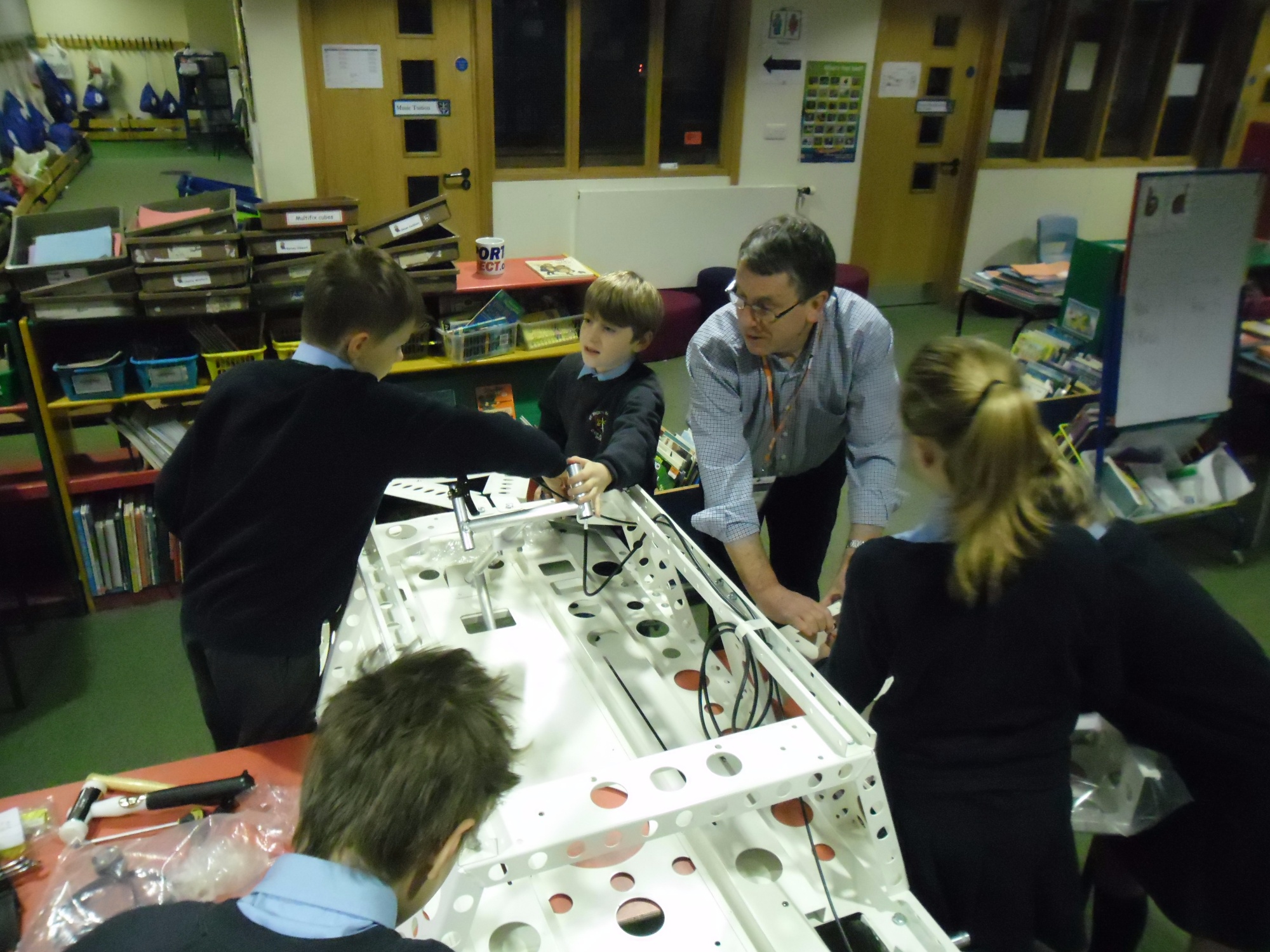 Problem solving was key during this session as, when we were trying to hammer the spring-steel roll pin into the axle (to secure the brake disc), we found that the hammer was not effective. We worked out that this was because we were using a rubber mallet instead of a metal hammer.
After securing the brake disc, we were able to align the brake pad. We needed to be very careful at this point so we did not damage the component.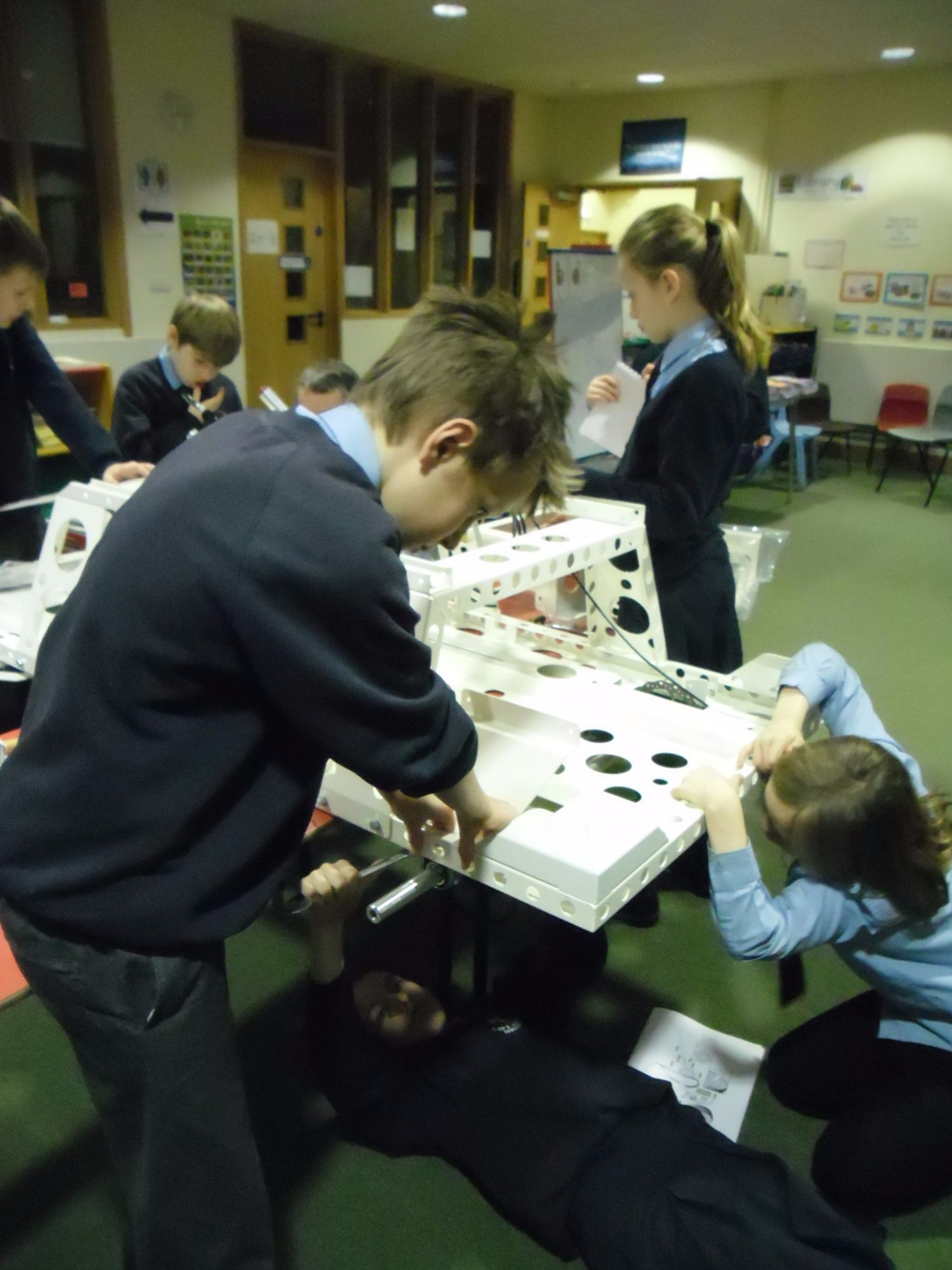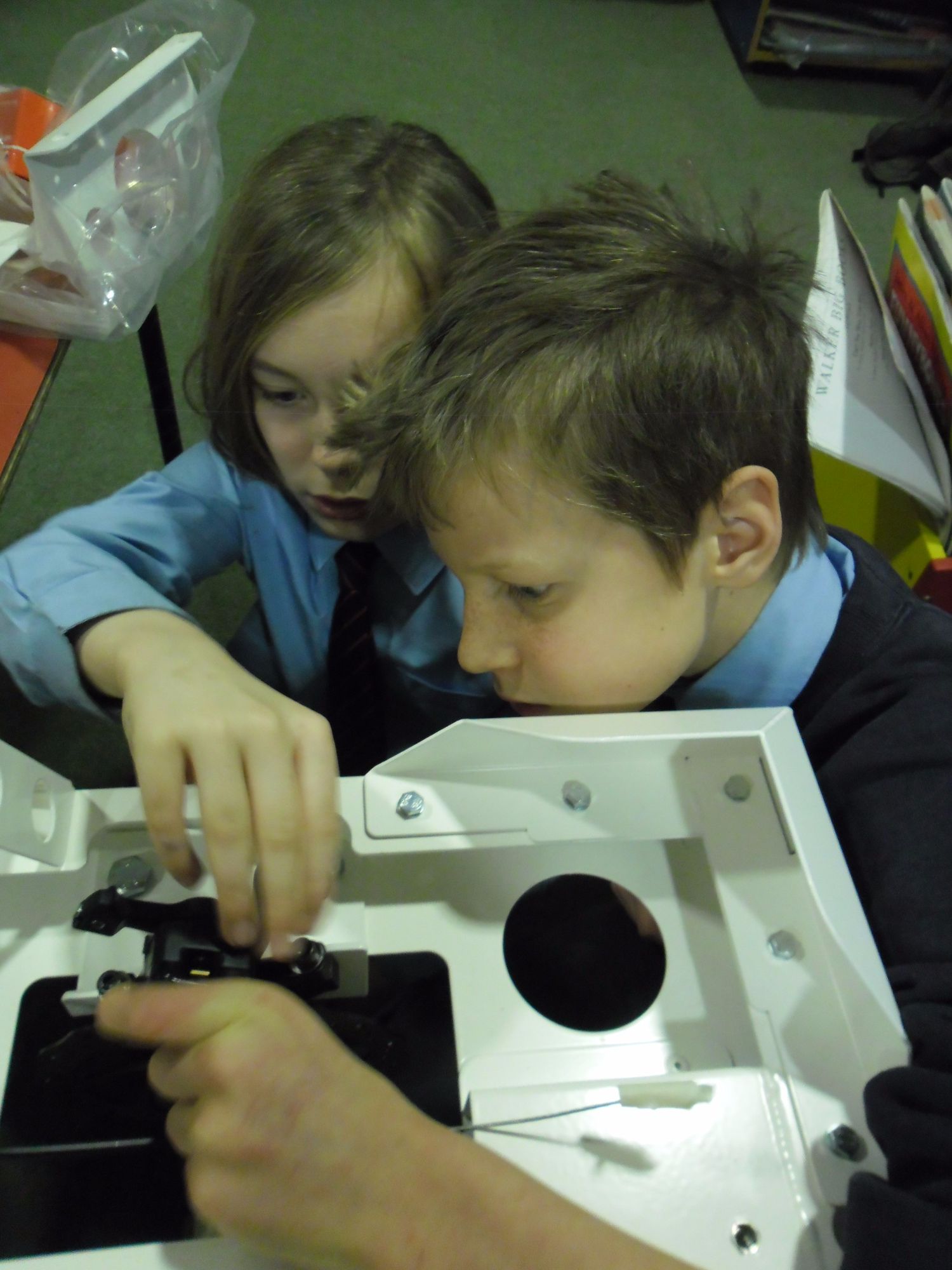 What a week! We achieved so much!
Session 7: 24th February 2017
Feeling fresh after a restful half term, we were ready for a tricky session.
Firstly, we attached the motor to the cage, which was more fiddly than we expected, but, thanks to nimble fingers and team work, we managed to do it efficiently.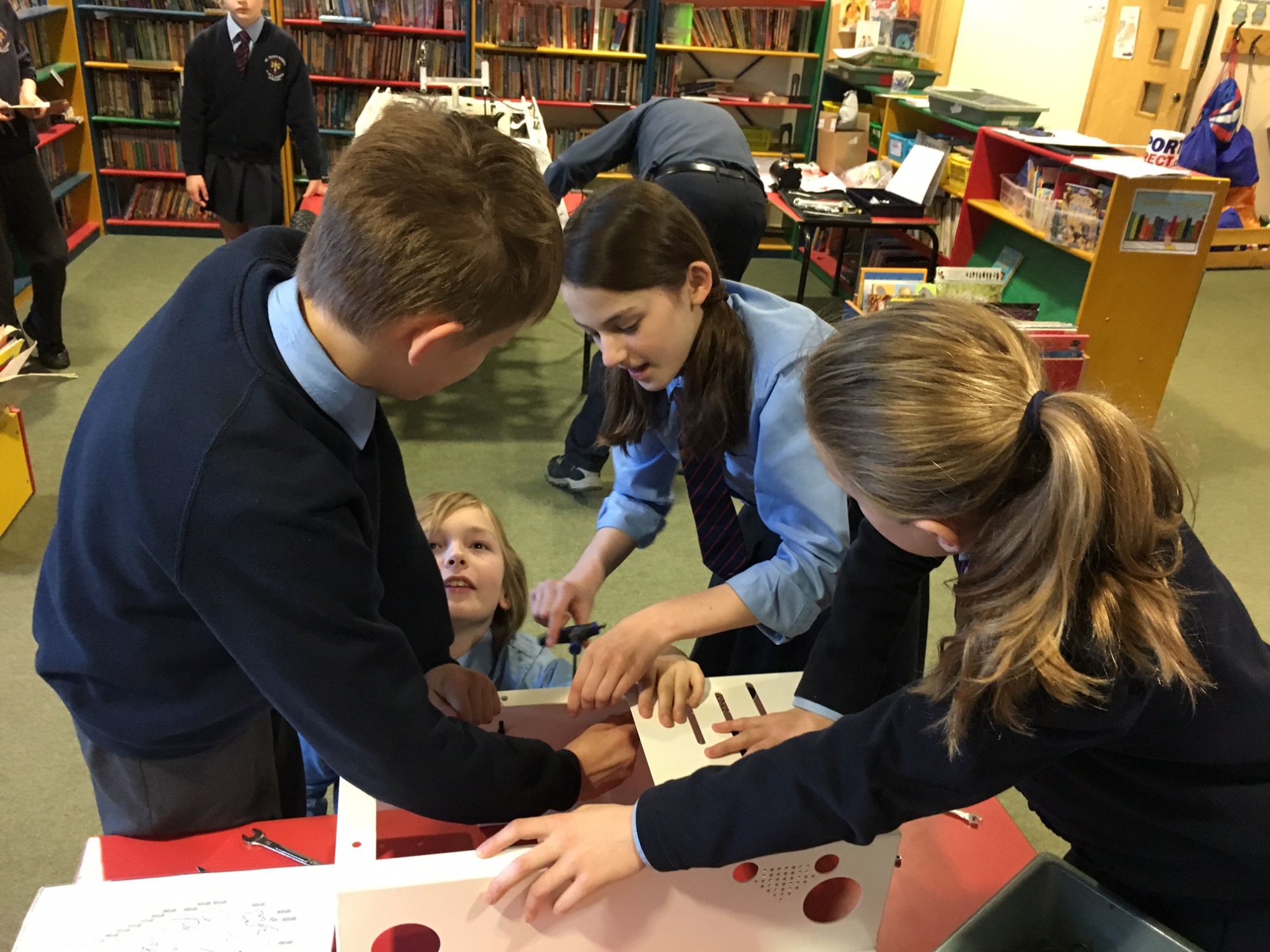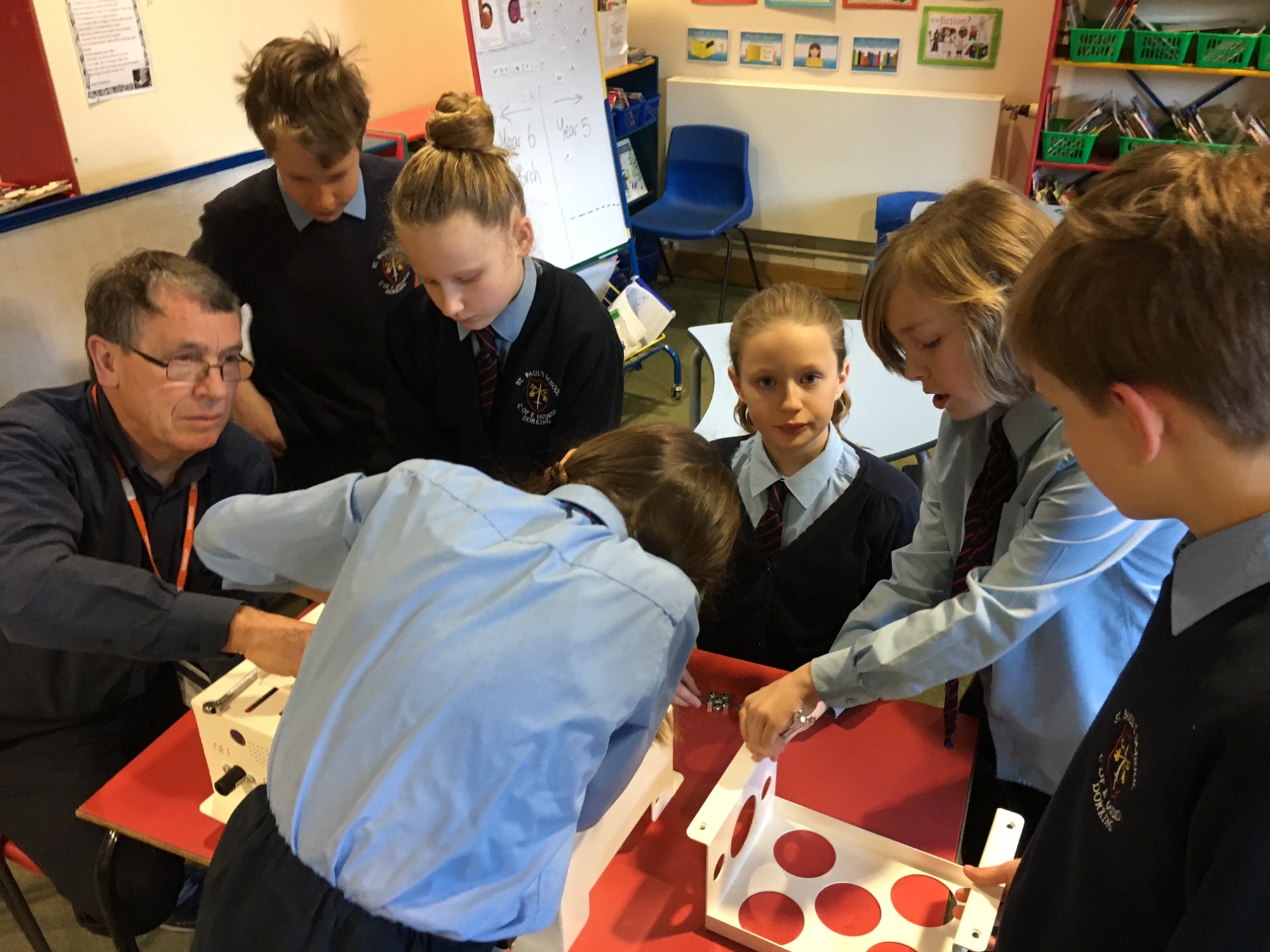 Whilst half the group worked on the main chassis, checking the bolts were secure, the other half continued with assembling the battery shelf.
It was eventually time to attach the motor cage to the chassis, tightening the bolts with a ratchet spanner.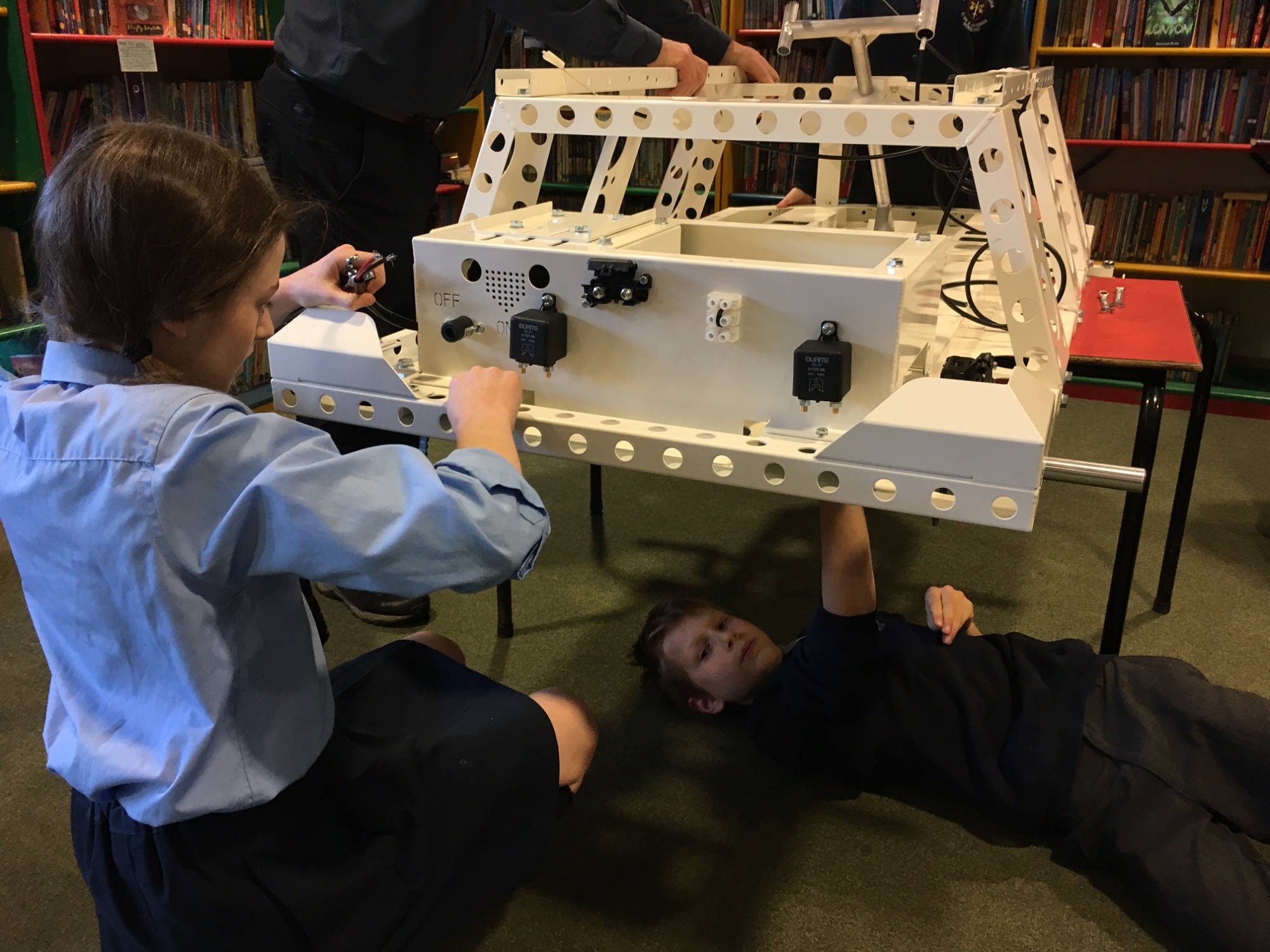 As a group, we decided it would be a good idea to attach the wheels to prevent the delicate components (under the chassis) from being damaged. We didn't attach them properly at that moment because we were aware that more work needed to be done first.
It felt like we had really achieved a lot and made huge progress by working together. Smiles beamed at the sight of our efforts!
Session 8: 3rd March 2017
During our session today, we worked out that we had to fine-tune the steering so that the wheels were both at the same angle. This was done by tightening the nuts under the steering column.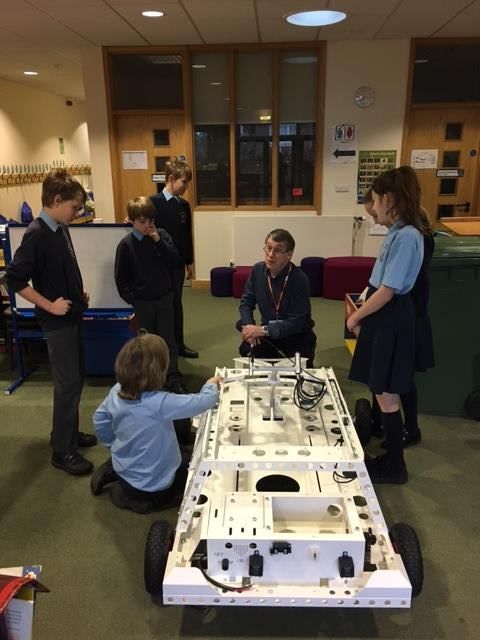 The next job was to attach the roll bar, but we found a few difficulties as it was hard to match the holes up, so the bolts were almost impossible to fit. Therefore, we had to loosen the other bolts around the roll bar in order to create movement in the frame, allowing us to fit the bolts in.
At the end of the session, we all got together to look at some fabulous work, made by a group member, about Lead (Pb, 82).
Although having a slight problem with the fitting of the roll bar, we felt that we problem solved well by working as a team!
Session 9: 10th March 2017
Because we had a fault in the chassis in the previous session, today we spent some time working as a group to rectify this. This meant that we could finish the construction of the car body, including the roll bar. We had to work together to ensure all the bolts were tightened and secure.
Once we had done that, a small group of us focussed on the brake, which now only needs to be fine-tuned.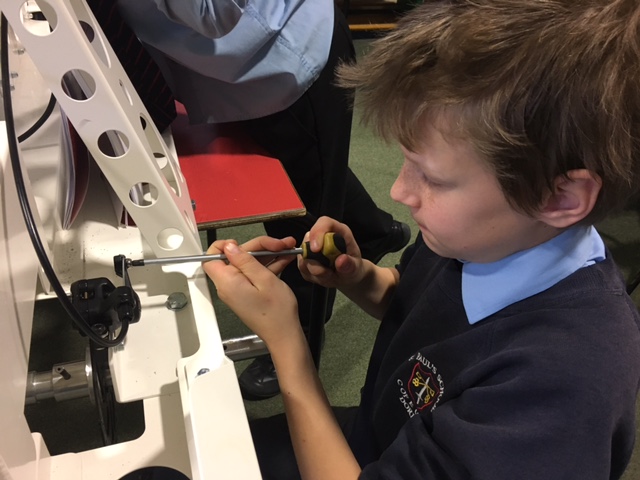 Next, we secured the seat onto the chassis and bolted the harness on. Despite making a few mistakes, we managed to spot them and rectify them within the same session.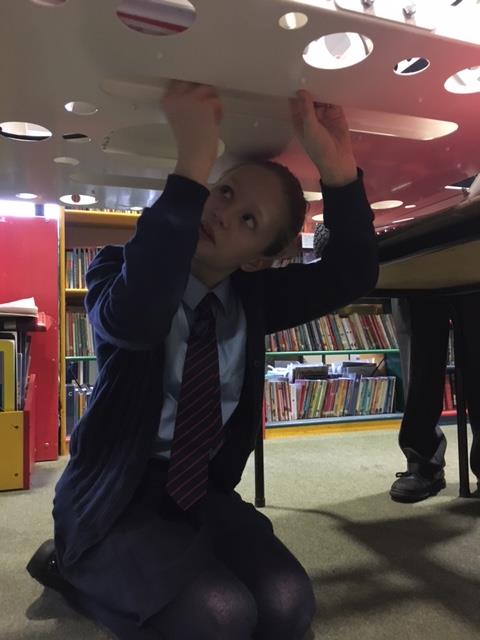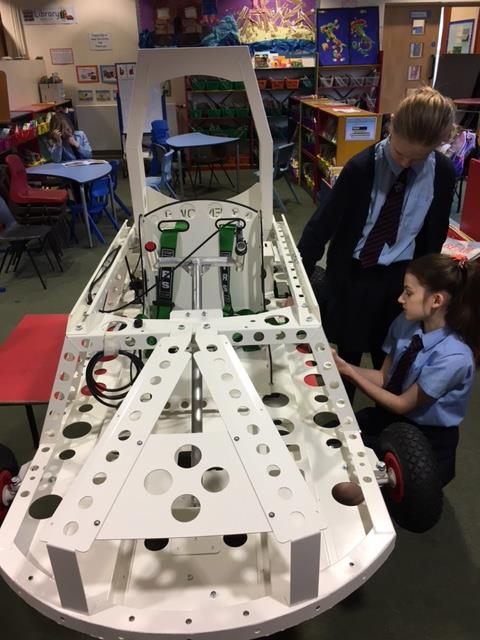 If you want to know a bit more about this club, find a GreenPower member in year 6. We would love to show you our progress and explain what we have managed to achieve!
Session 10: 17th March 2017
Today was the day we started to design the car's bodywork.
As a team, we thought about the message we wanted to get across to the public watching. We thought about the fact that the car is electric, and therefore eco-friendly, yet also wanted to convey the message that our car could win!
There were so many ideas - you'll just have to wait and see which designs we decide on in the next few weeks!
Session 11: 24th March 2017
Today was the day that we started to do the very fiddly job of wiring. In order for our electric car to work, we needed to create a circuit.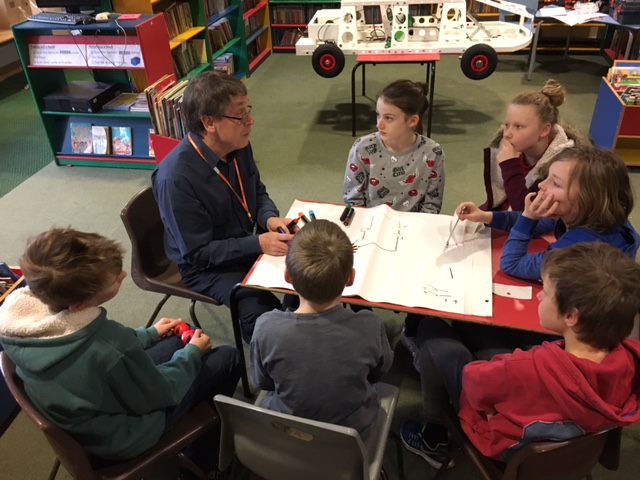 Our car circuit has two large batteries, a rotary switch, two relays, a motor, a fuse and of course the wire.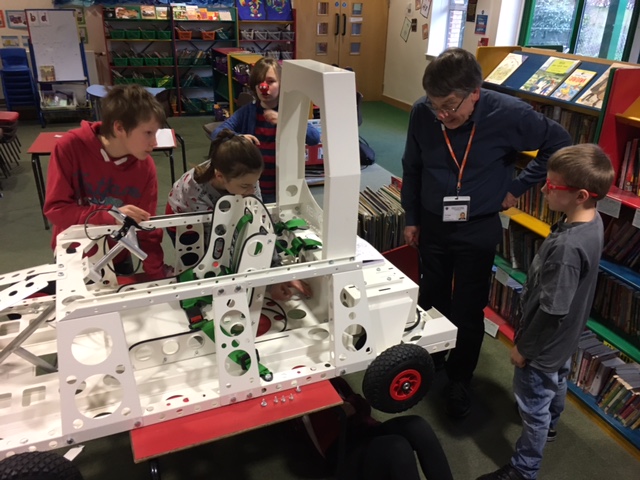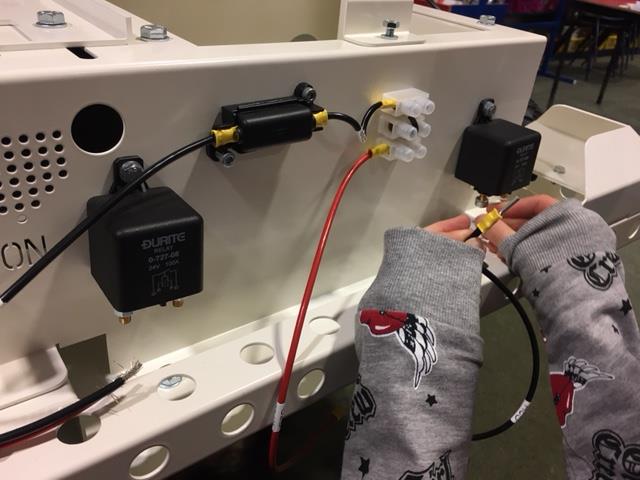 The wire is insulated with plastic so it is safe for us to use and is made out of copper. Copper is used for electrical wire because it is a good conductor (allows a current to flow through it) and it is also malleable and ductile.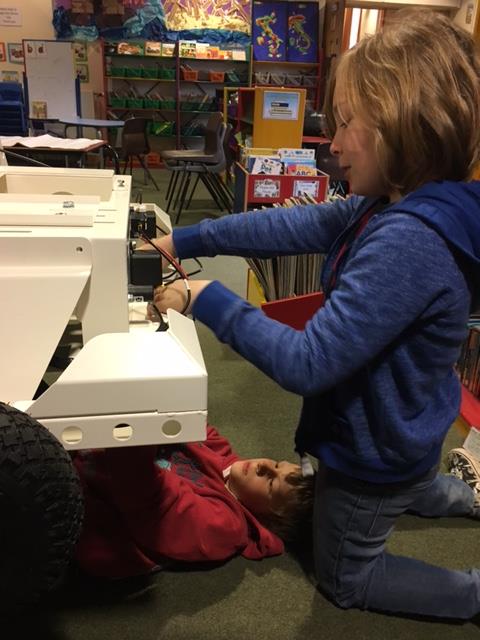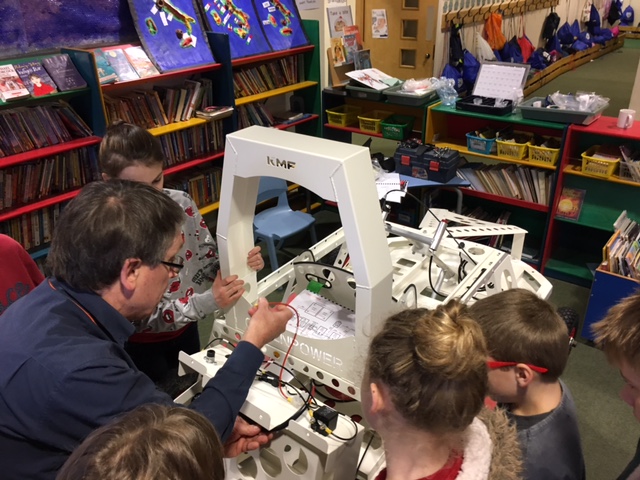 A fuse is needed to prevent the motor burning out if too much current goes through it. The job of a fuse is to burn out, breaking the circuit, so that the motor stays safe.
We also need a switch, in order for us to turn on and turn off the engine!
We have made so much progress. Not long before we start test driving!
Session 12: 21st April 2017
It's all coming together! The wiring is completed and the first battery is connected! It is officially a working go-cart!
Before test driving, we have asked a local mechanic to come in to 'MOT' it so we are certain that it is safe to drive.
The next job was to look at the body work. The front and both side panels need to be created so we used our measuring skills to create templates, ready to design and create.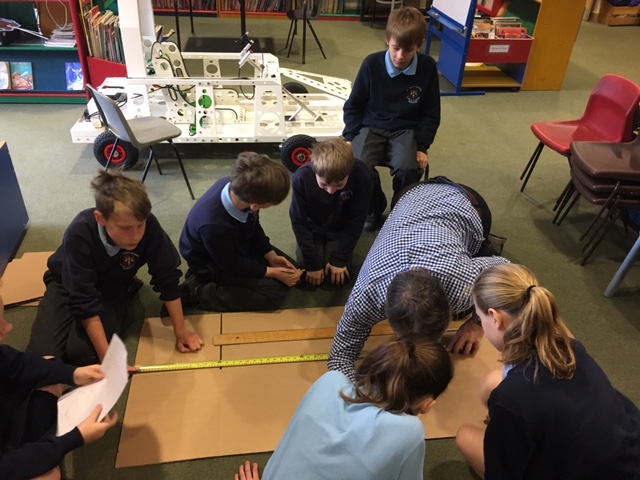 Session 13: 28th April 2017
Today was a VERY exciting day!
Today was the day that we had all been waiting for! It was TEST DRIVE DAY!
To start with we had to have a safety talk so that we all knew what we needed to do and the procedures that we needed to follow. It is important that we wear full safety gear: a full head helmet, protective gloves and a seat belt.
At first, we were only using one battery so we are able to get used to the drive of the car and its turning circle.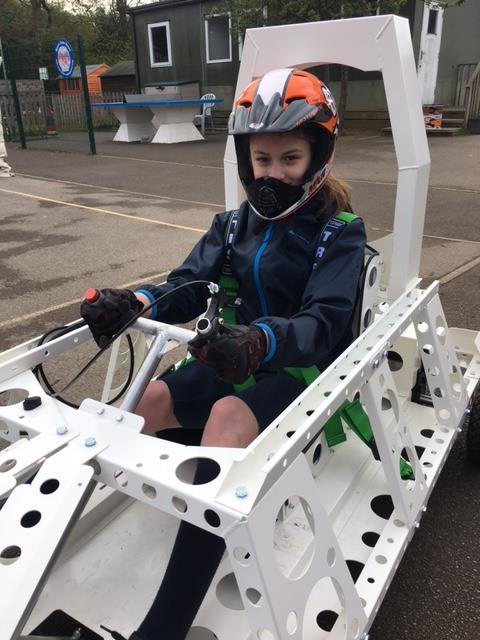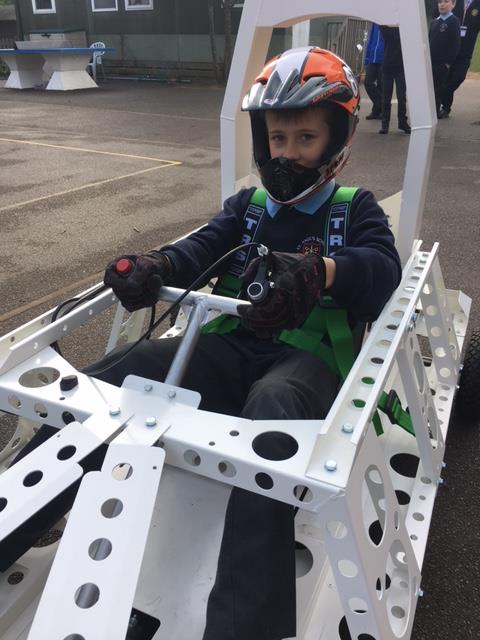 During our test driving, we noticed that the brake was too tight so we had to make some tweeks.
Unfortunately, the batteries needed more charge so we were not all able to drive it but the car will be ready and powered up for next week.
Session 14: 5th May 2017
Today, we have had the very exciting news that our entry into our first race has been confirmed, which is taking place on the 3rd of June at Seaford College.

We are delighted to say that Kendall Cars of Leatherhead (www.kendallcars.com) are our major sponsor for this event, kindly supplying the transport for our 'very precious load' - our GreenPower Car. We are incredibly thankful to Kendall Cars, who have been so generous.

Whilst some of the group were test driving, others were busy continuing with the bodywork.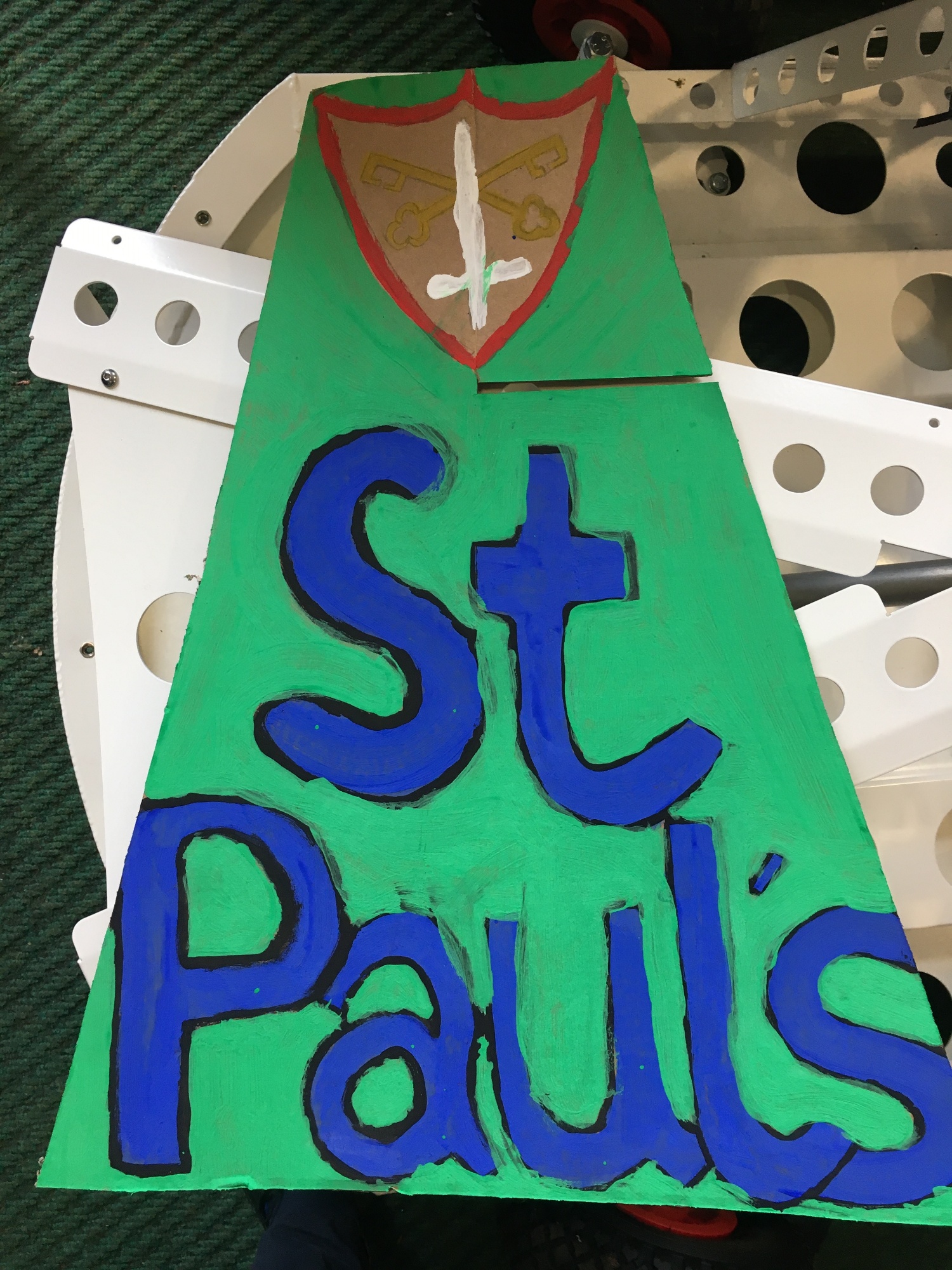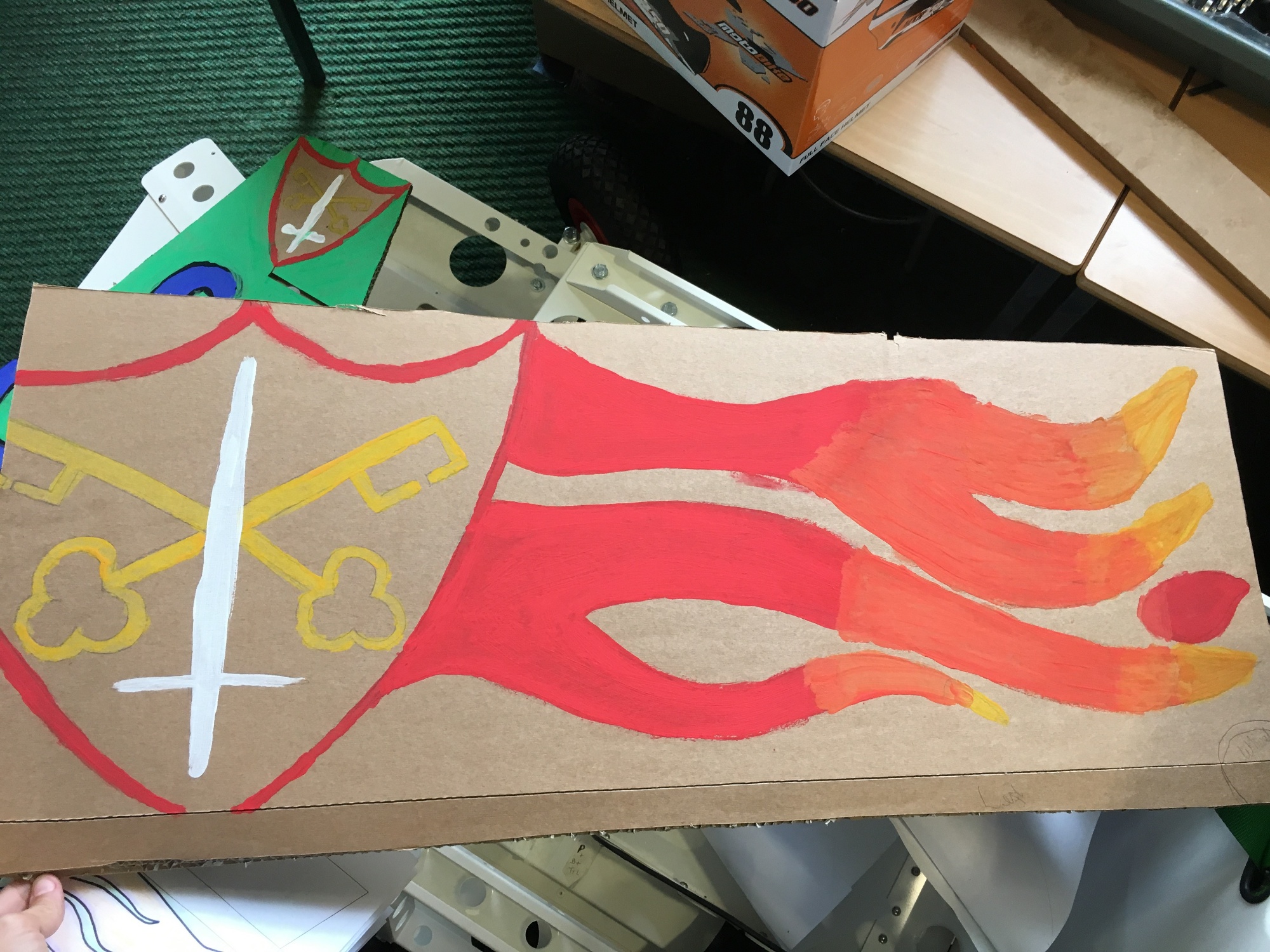 Session 15: 27th May 2017
It was a busy day finishing off the body work for our car. We've finsihed at last!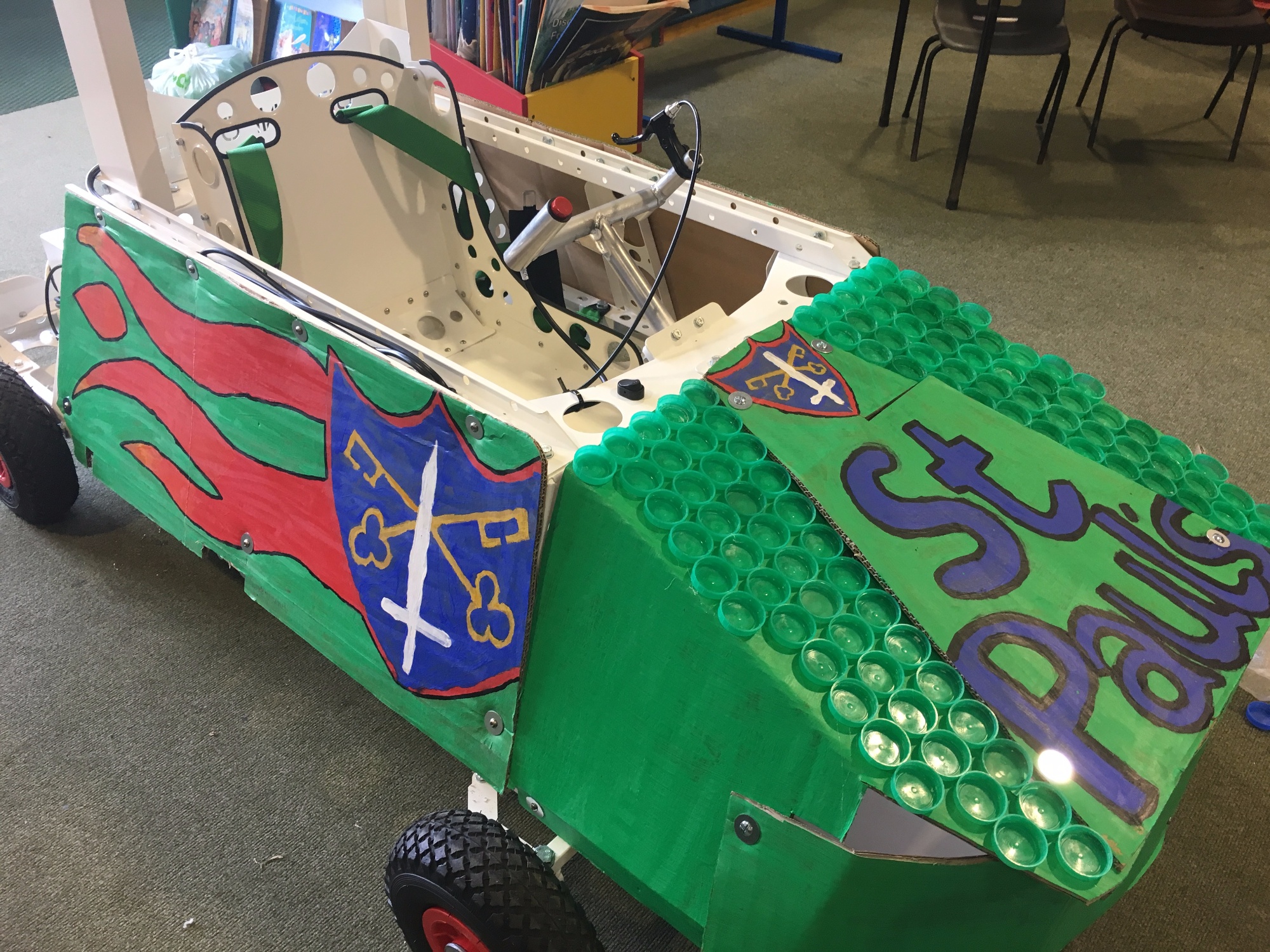 Race Day: 3rd June 2017 - Seaford College
The sun was shining - the day had finally come. The 3rd of June 2017 marked our first ever GreenPower Race Day. Our Kendall Cars Van was packed and the GreenPower Team left Dorking at 7am to get to Seaford College.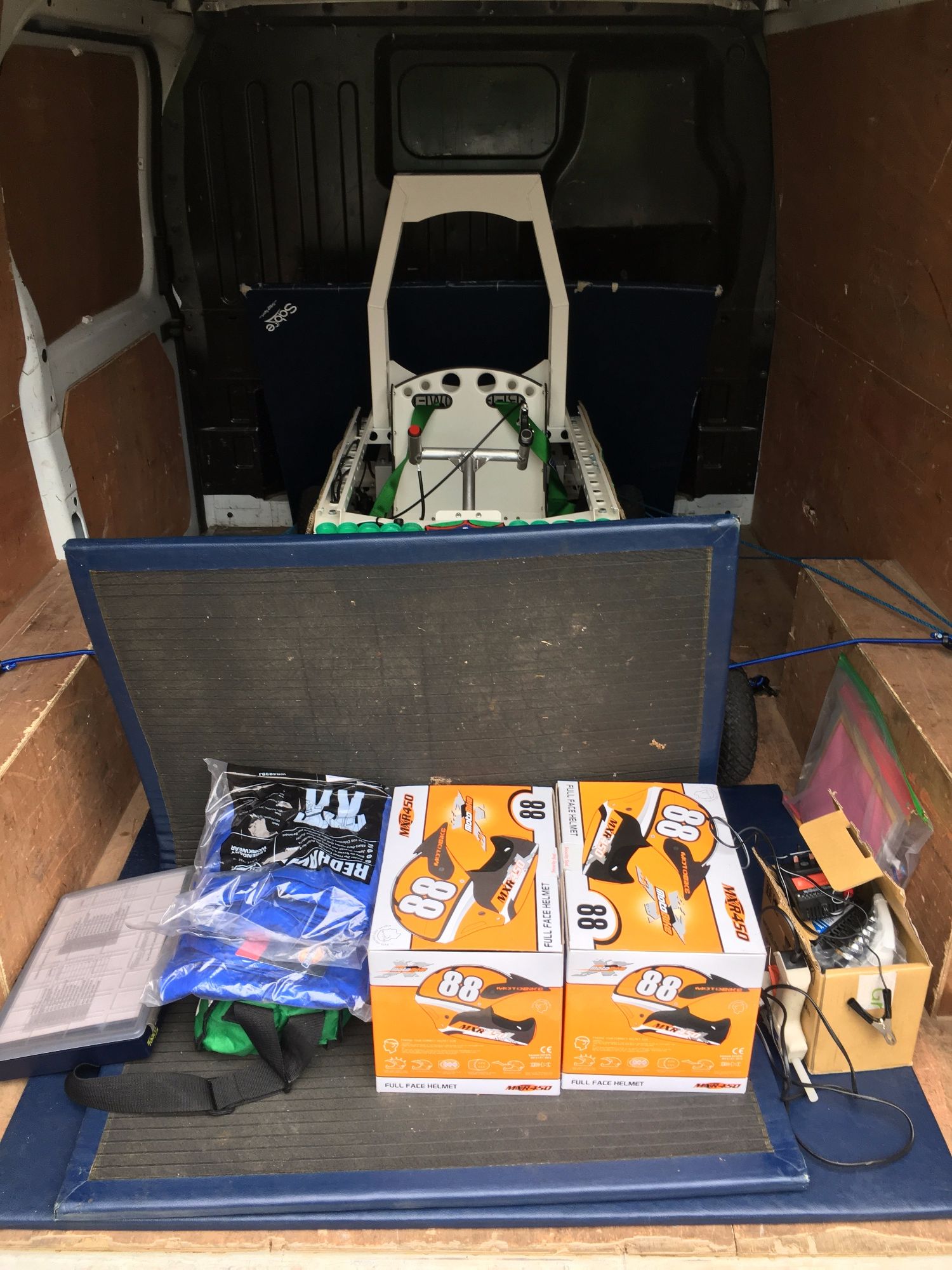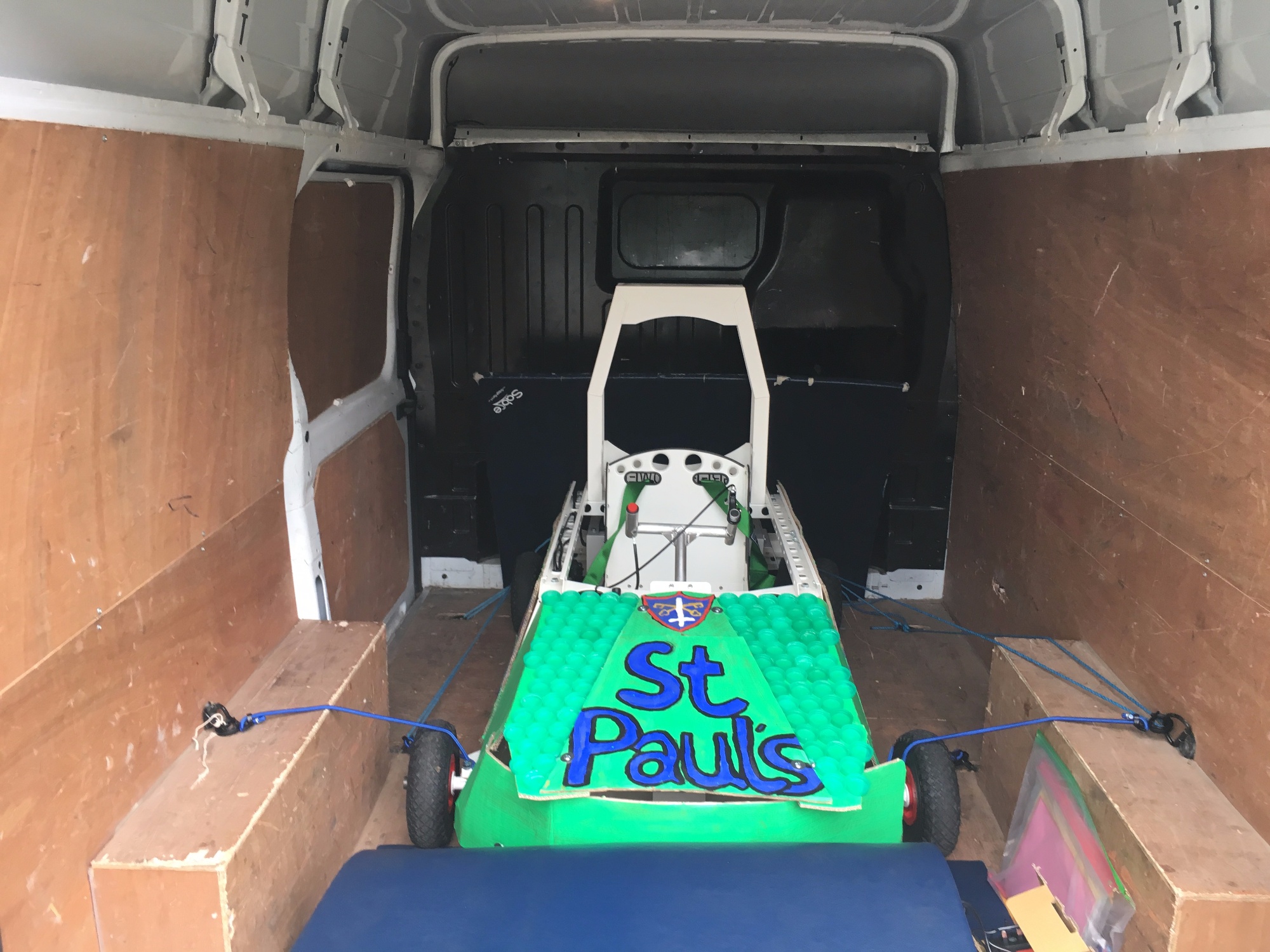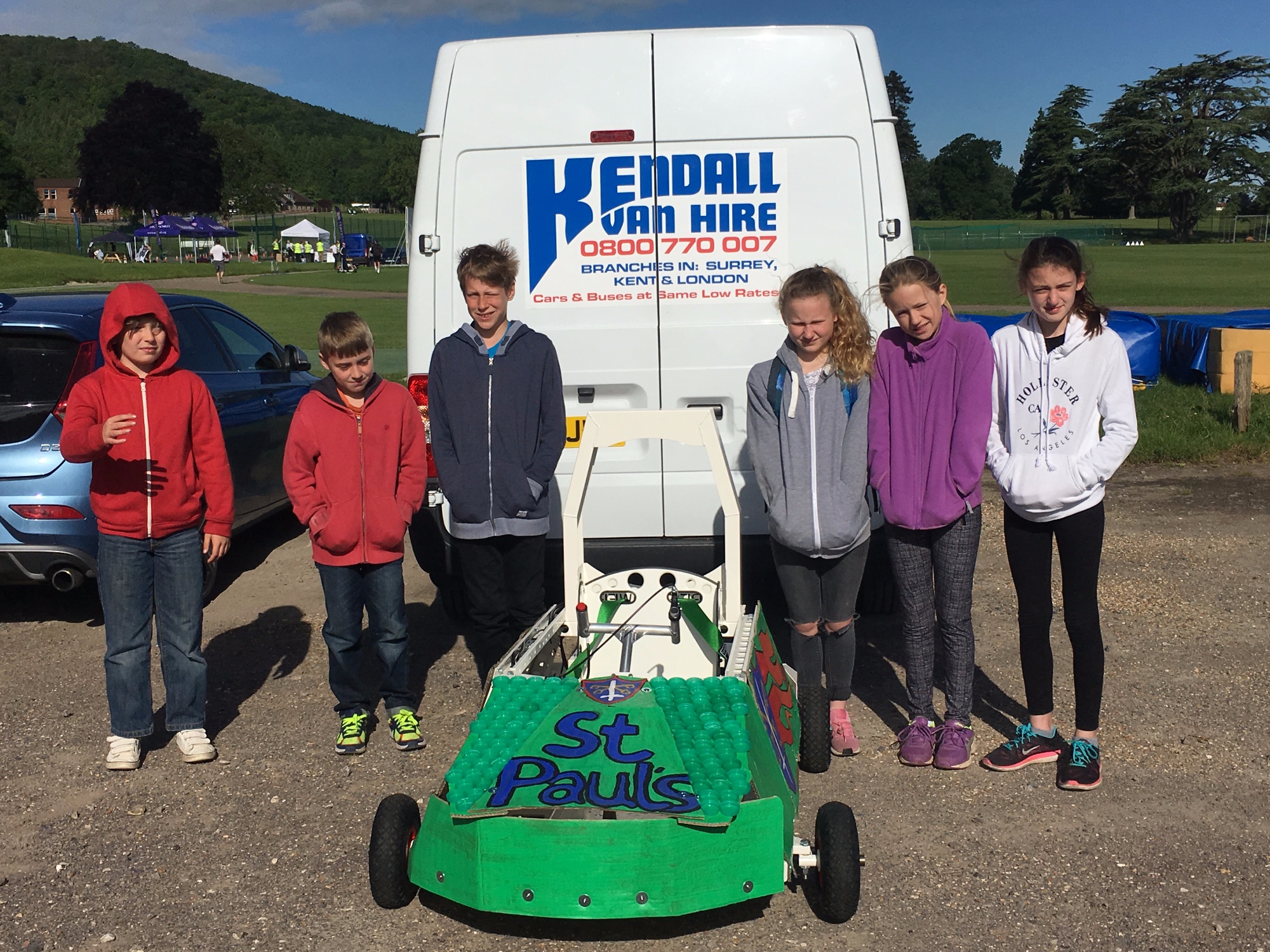 The day started with registration, giving in our portfolio and car scrutinising. Although nail biting, it all went well and we were given the go ahead to race.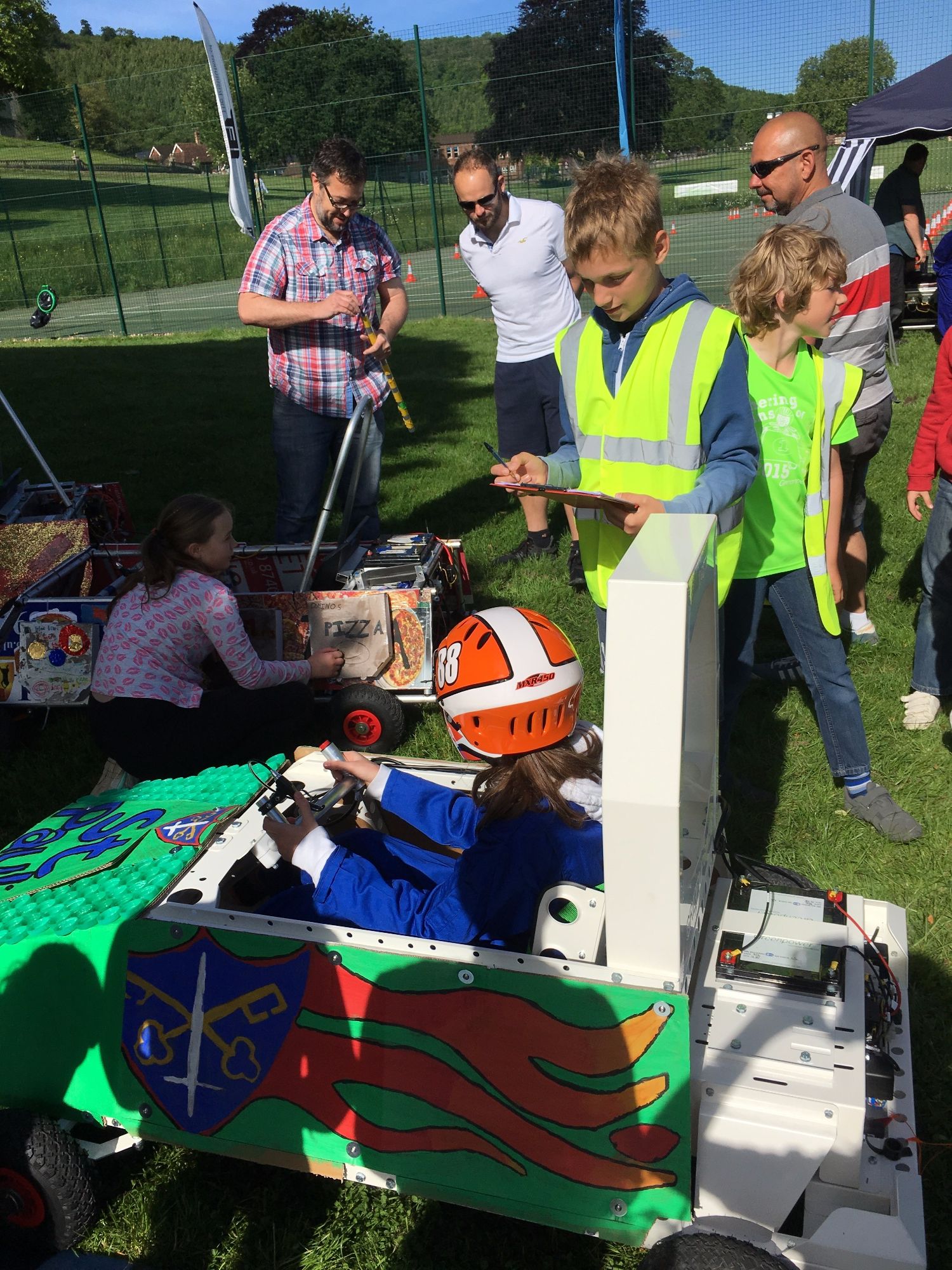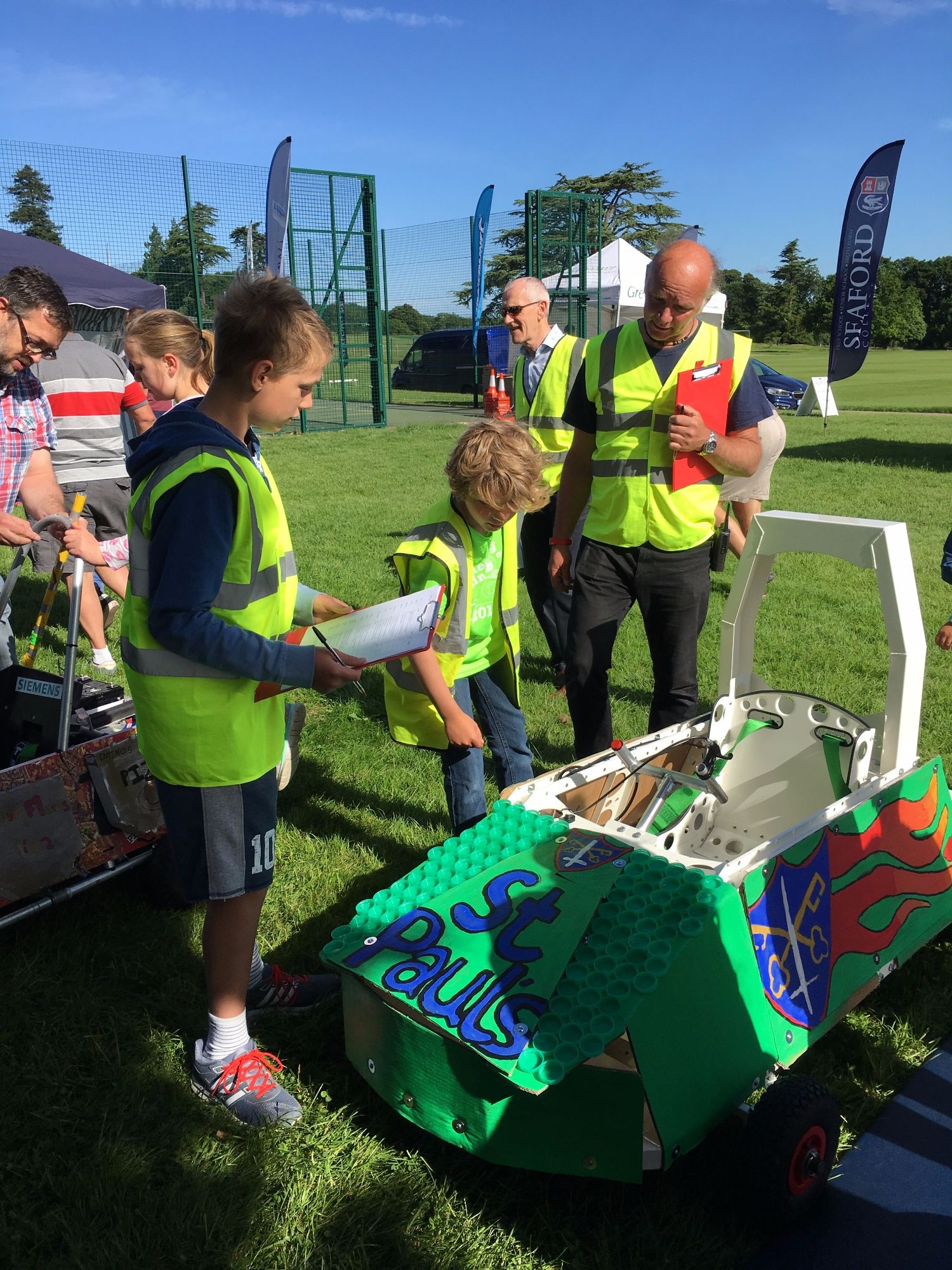 St Paul's were given race number 24, which meant our first race was the slalom.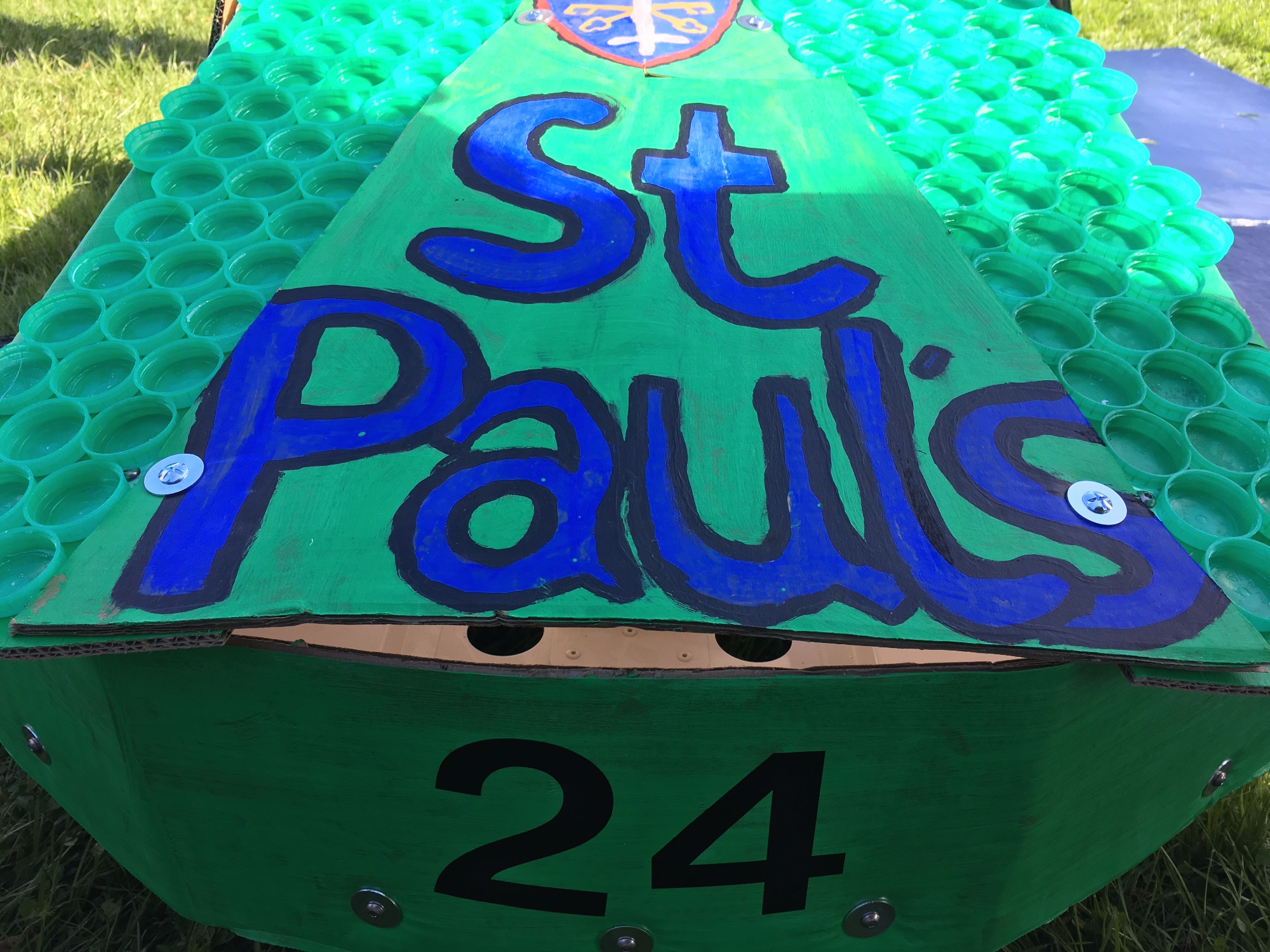 All 6 of our skilled drivers had the opportunity to race, flying through the gates and parking superbly into the finishing lot.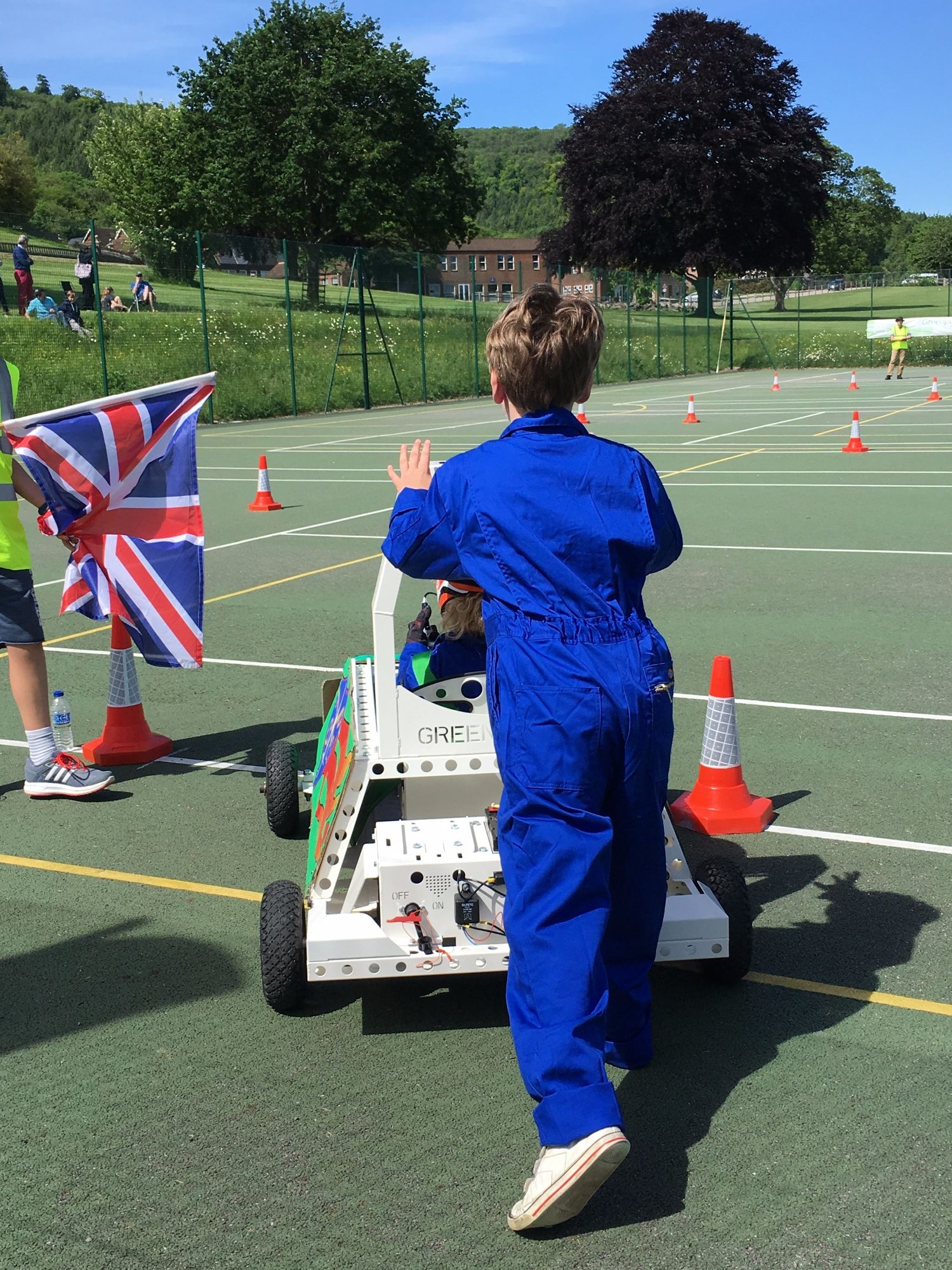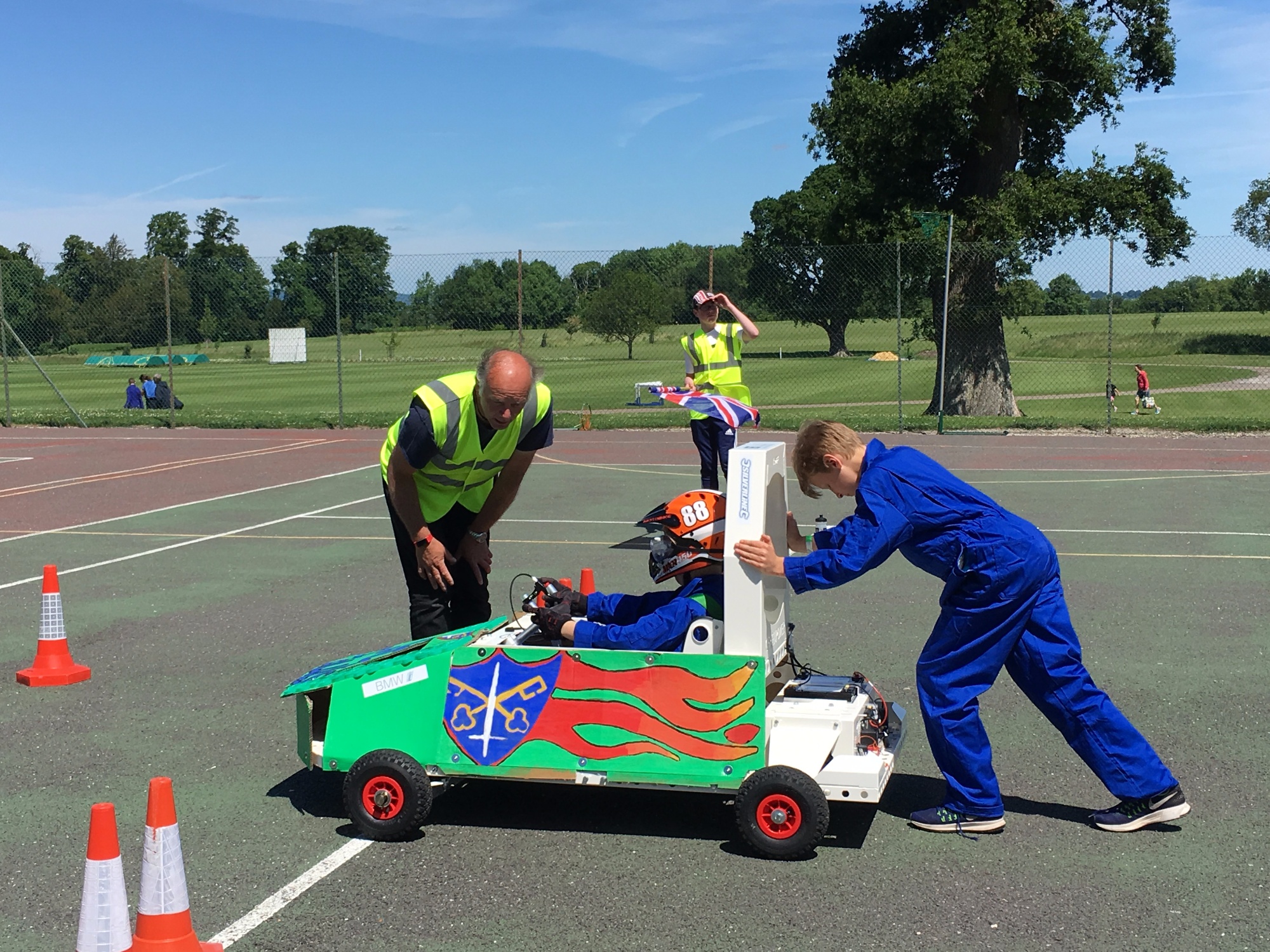 Next was the drag race - fast and furious!
After a quick break for lunch, we had the final race - 3 laps against other race drivers. With amazing skill, we managed to storm into the semi final, narrowly missing out on the final.
Presentations were upon us - our first race day and we came away with the award for Best Portfolio - FANTASTIC.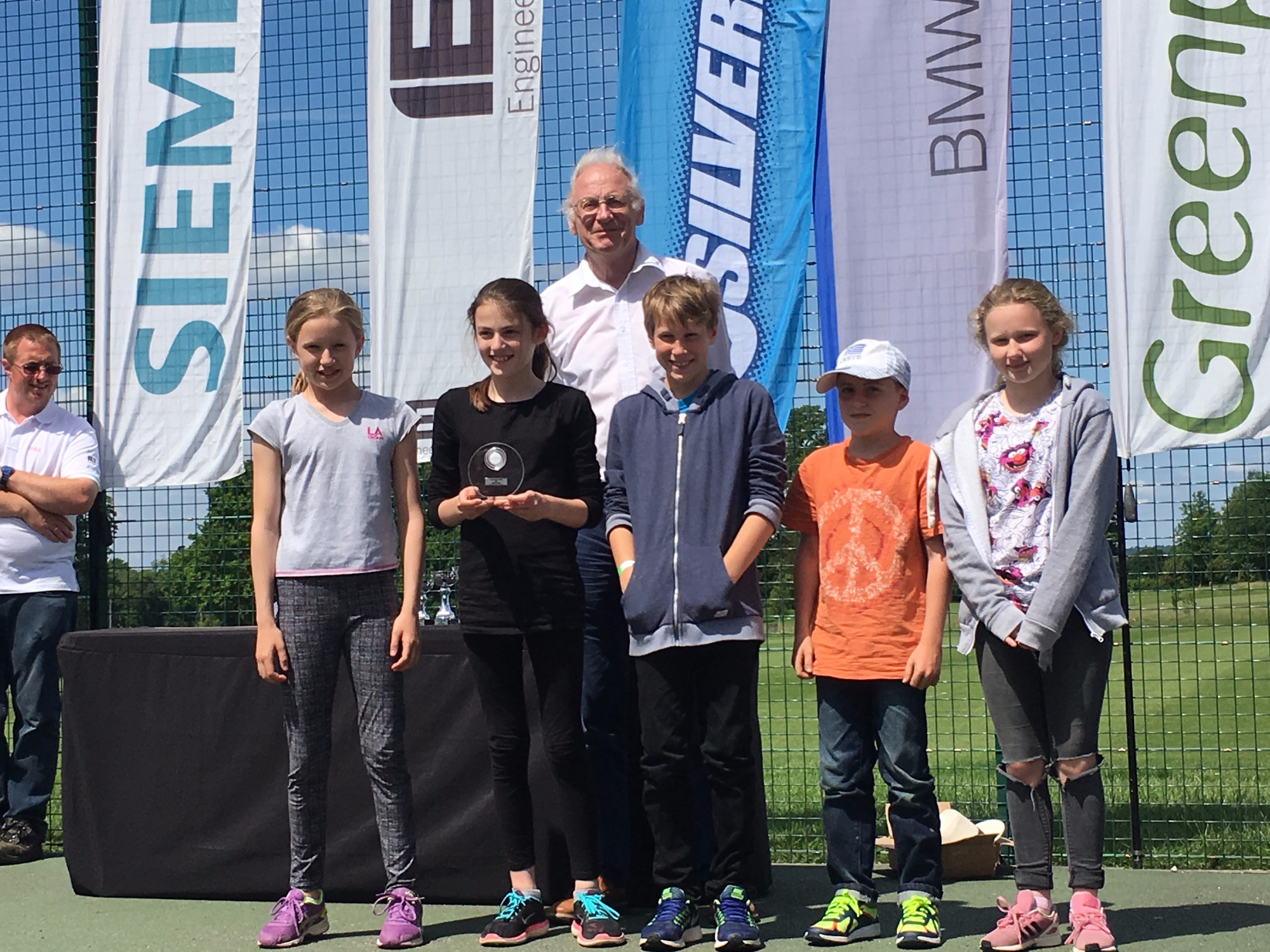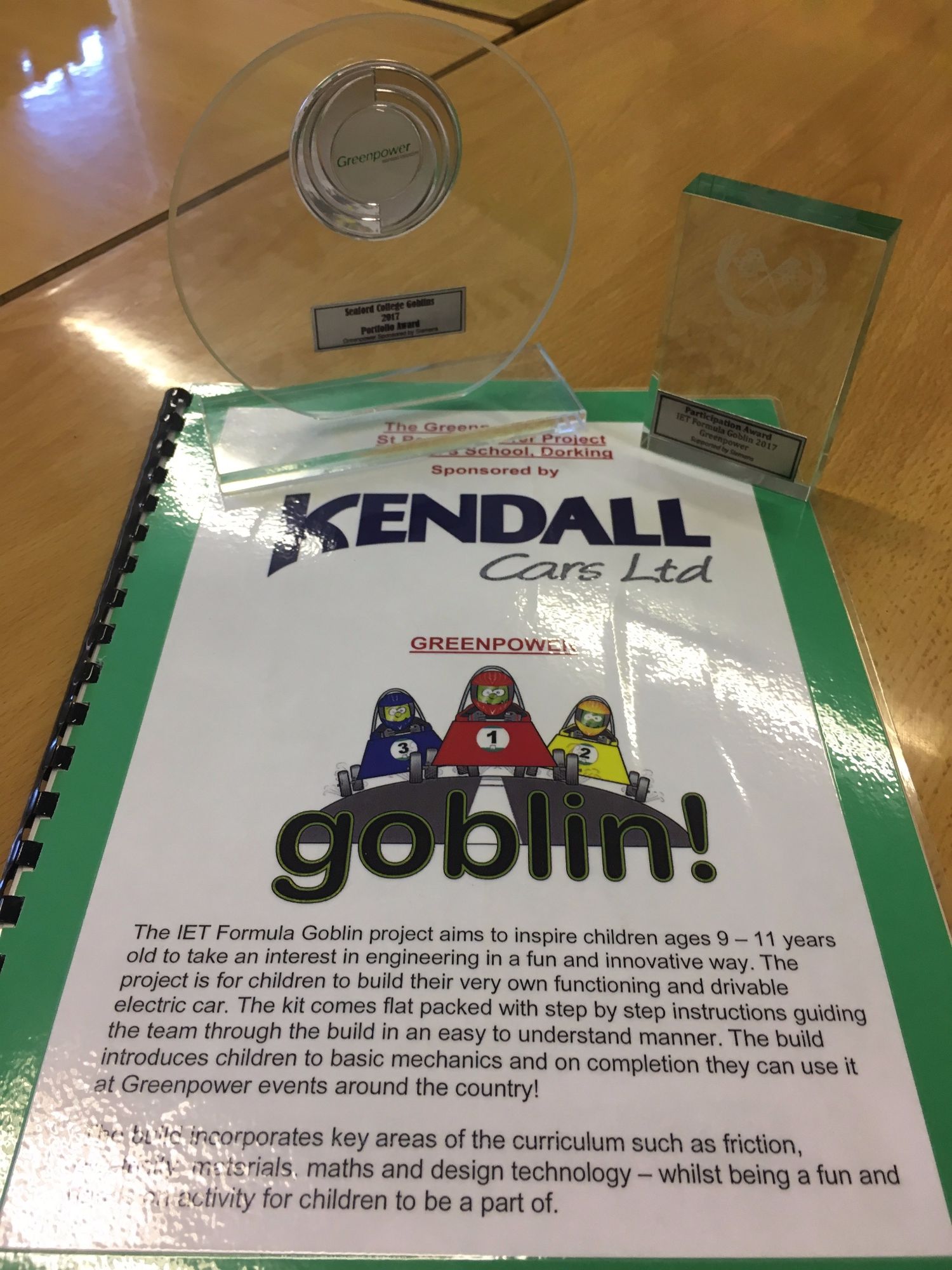 Mr Tanton and I could not be more proud. The behaviour throughout the day was amazing and the GreenPower managers gave a special mention to how well the children worked together and their superb understanding knowledge of the workings of the car.
A day never to forget 😀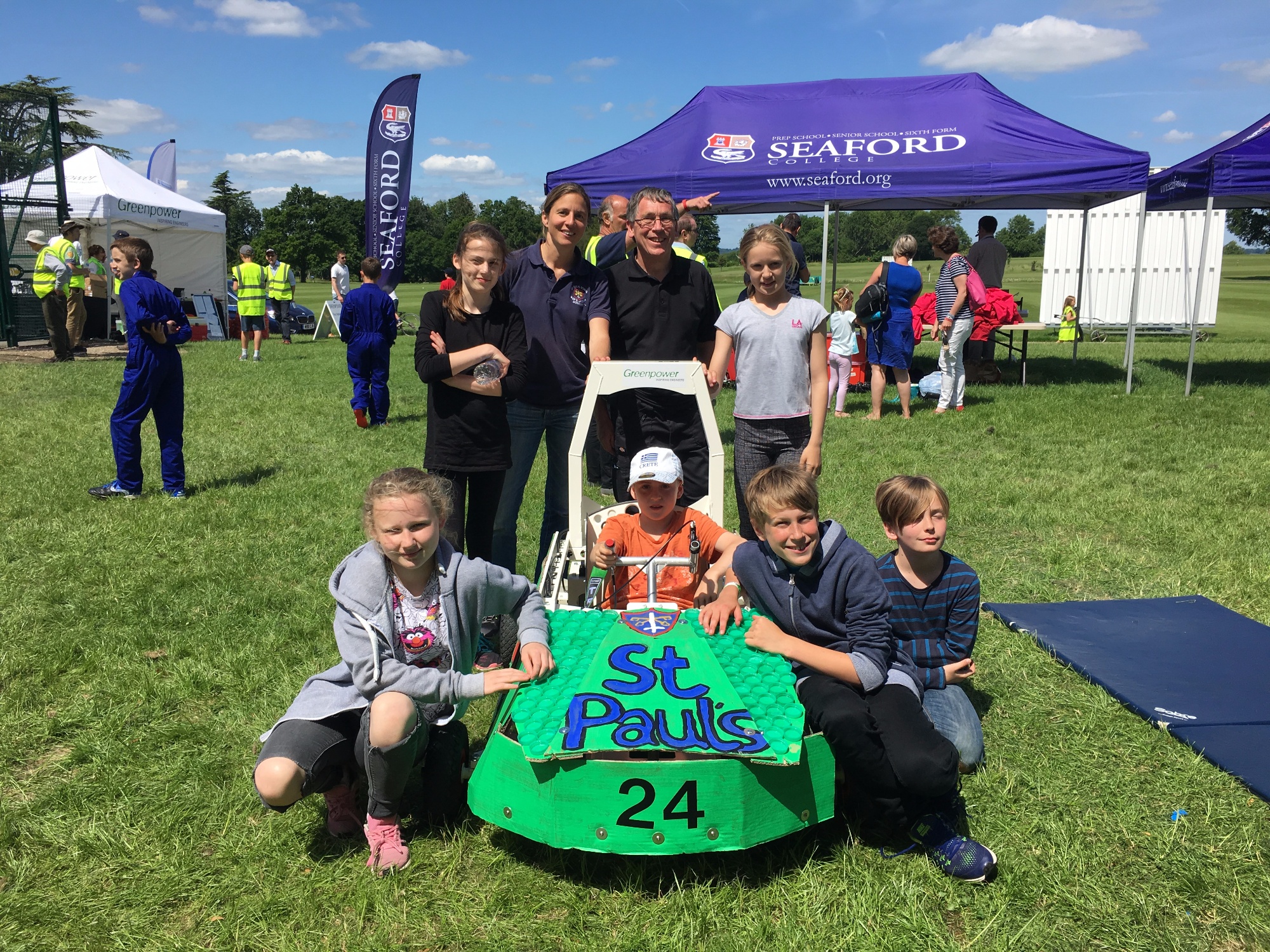 Have a look at our video of the day below.
Session 15: 6th June 2017
This week was really exciting because we got to show the whole school our car in an assembly. We explained what we had done over the past 15 weeks and talked about our experience at Seaford College. We were a bit nervous because we were talking to over 400 children and all the staff!
Session 16: 9th June 2017
Because we had a few problems during the race day, we started the session looking at the car and making tweaks.
We then set out a slalom course and practised our driving skill, making sure that we didn't crash into any cones.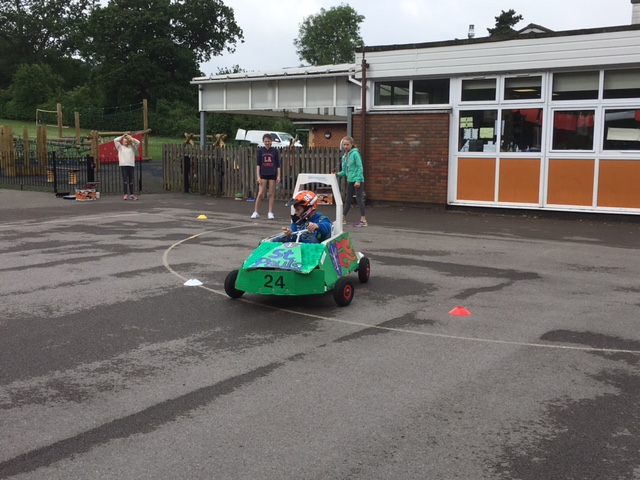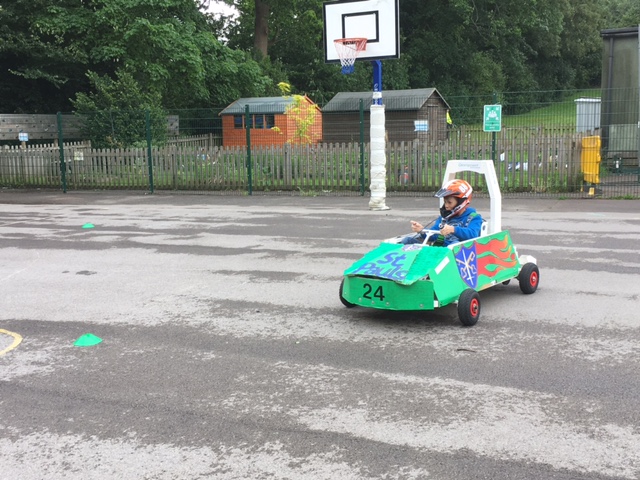 During lunch time, we also asked the other children about their thoughts on GreenPower. Here are some of the quotes:
Ruben, 11, said: 'It's very inspiring and good for young children to get an early start in to engineering.'
Amber, 11, said: 'I think GreenPower have done a great job at working together to make an awesome race car. I can't beleive they made it into the semi-finals and used their own time to make the car!'
Laura, 9, said: ' It's very helpful to the environment and very impressive. We should do races every year.'
Emma, 11, said: ' I think it is great; it looks very fun to drive and make!'
Catalina, 10, said: ' It's really cool: I can't wait to be in year 6 to make and race the car.'
Session 17: 23rd June 2017
Today we checked the car over and realised that our back axle needed to be tweeked as it was a little loose, meaning that it was moving slightly sideways causing the brake system to grind. We thought about how we could fit this and what equipment we may need.
Because we had just entered our next race at Goodwood on the 9TH of July, we needed to get practising, especially on the slalom race.
We walked the cause, thinking about the best racing lines and used this to help us when we drove the course. It was amazing how much more accurate we became after a few turns each.
Session 18: 30th June 2017
Goodwood is only a week away: we are getting very excited. We have been getting as much practice in as we can so we are able to improve our driving skills. Each time we complete a slalom, we are getting far faster and it is definitely building our confidence.
Today we weaved in and out of gates (cones) and saw how fast we could go. We also made sure that our 'pusher' had a good technique to help us at the start of each race.
Kendall Cars, Leatherhead are sponsoring us for the Goodwood event and so we checked that they are ready for us to collect the van on Saturday 8th. We have asked them for some stickers so we can brand our car too!
Session 19: 7th July 2017
Today was our last session before our big race at Goodwood. We started off practising how to change a wheel as quickly as possible, as this is one of the events on Sunday.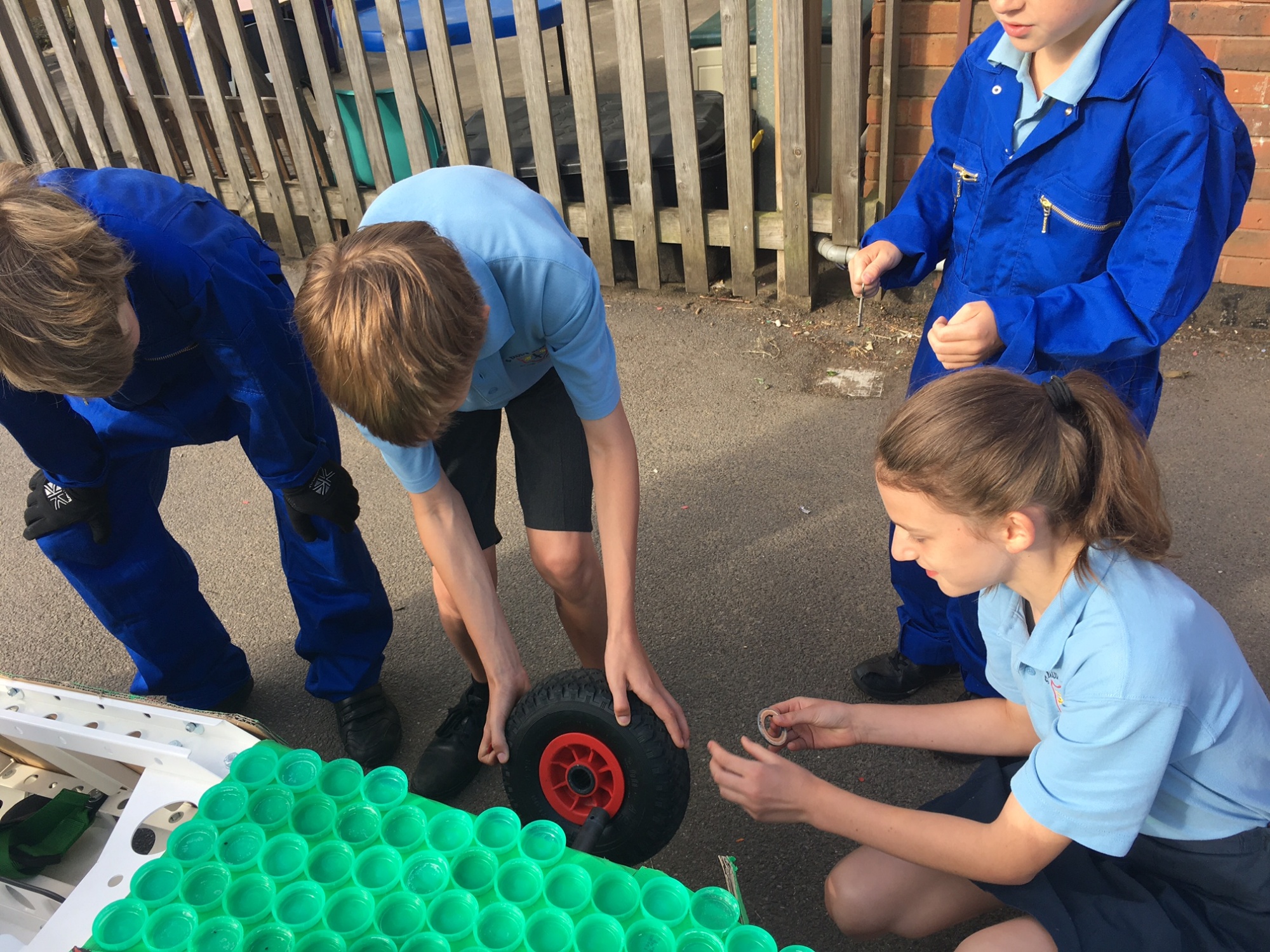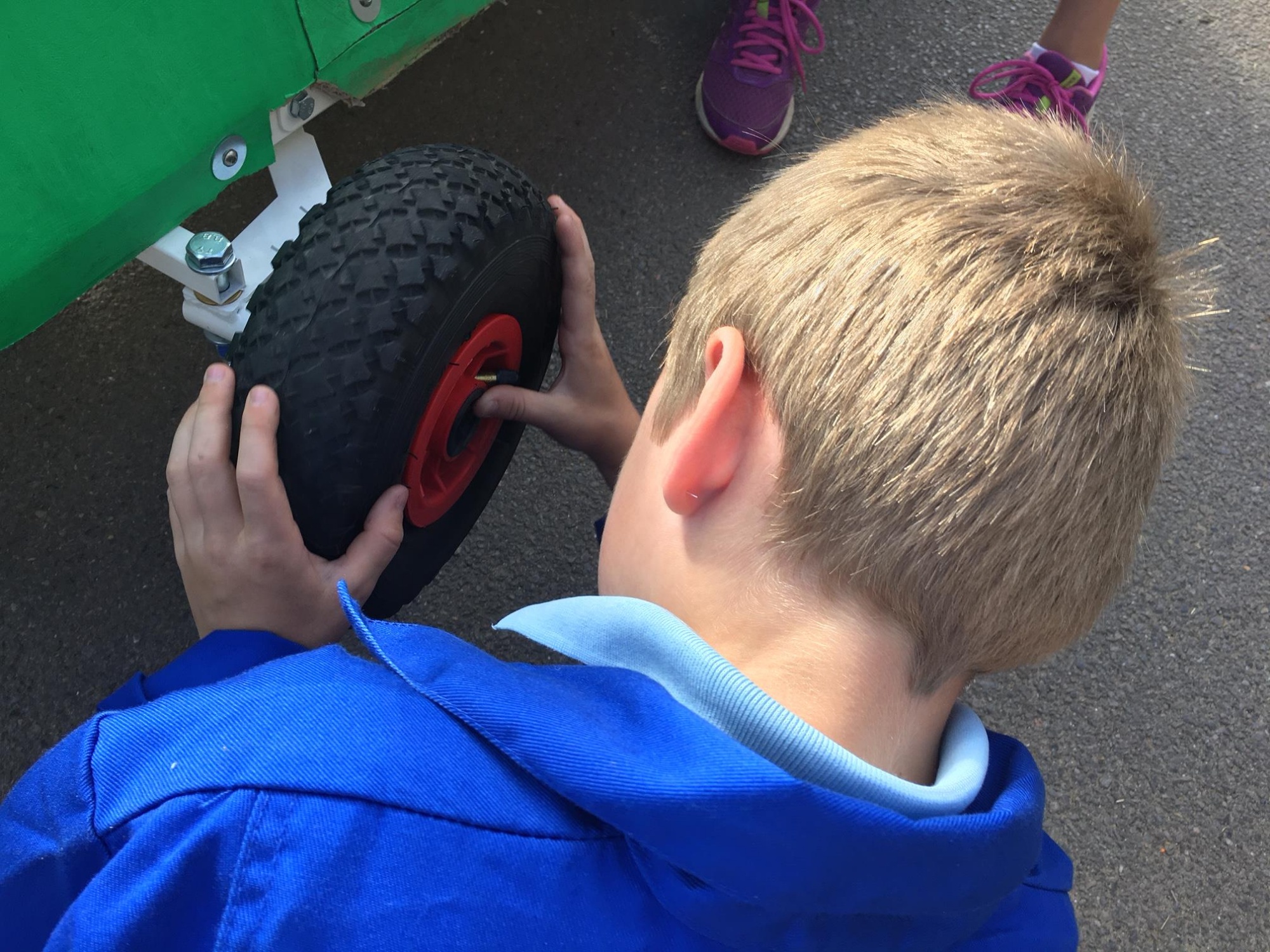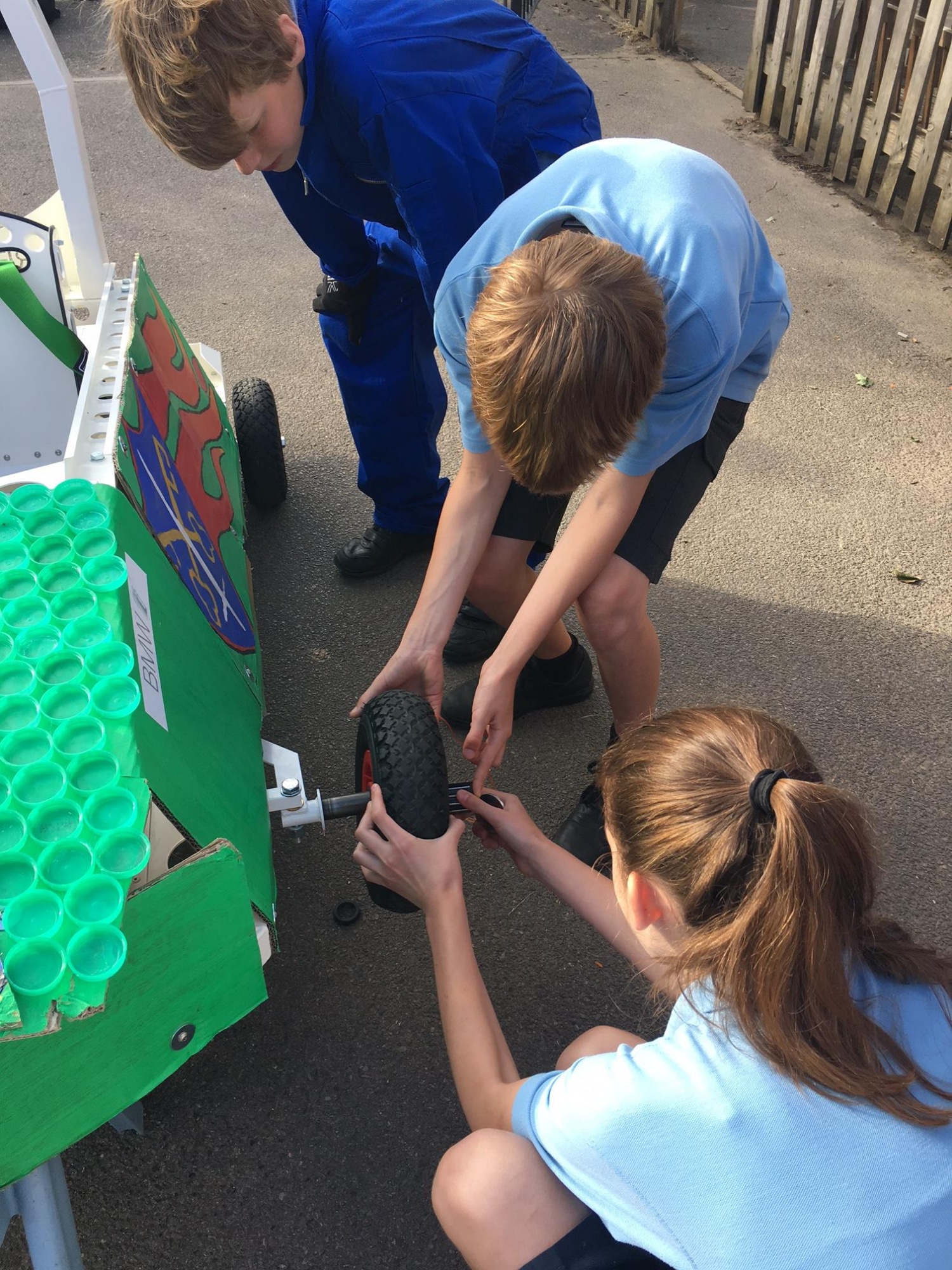 The pit stops were a little tricky because of the spring loaded pins, so we had to be careful not to get our fingers trapped.
We also tried changing the back wheels and ensured that we turned the bolt the right way first time, in order to loosen it so we could be as quick as possible.
Unfortunately, the rest of the session was a little frustrating, as the drive shaft needed tweaking in order for the car to work. We tried to problem solve this and worked out that the drive belt was not in alignment. This meant that we had less practise than we hoped today.
We can't wait for Sunday.
Race Day: 9th July - The Gathering of Gobins - Goodwood
Today we competed at The Gathering of Goblins at Goodwood.
After a long day sorting out a few mechanical issues on the car on Saturday (professional advice given by Dave from Pierce & Street), the Kendal Cars Van was loaded with our green machine and made its way towards the coast at 6am on Sunday.
Goodwood here we come!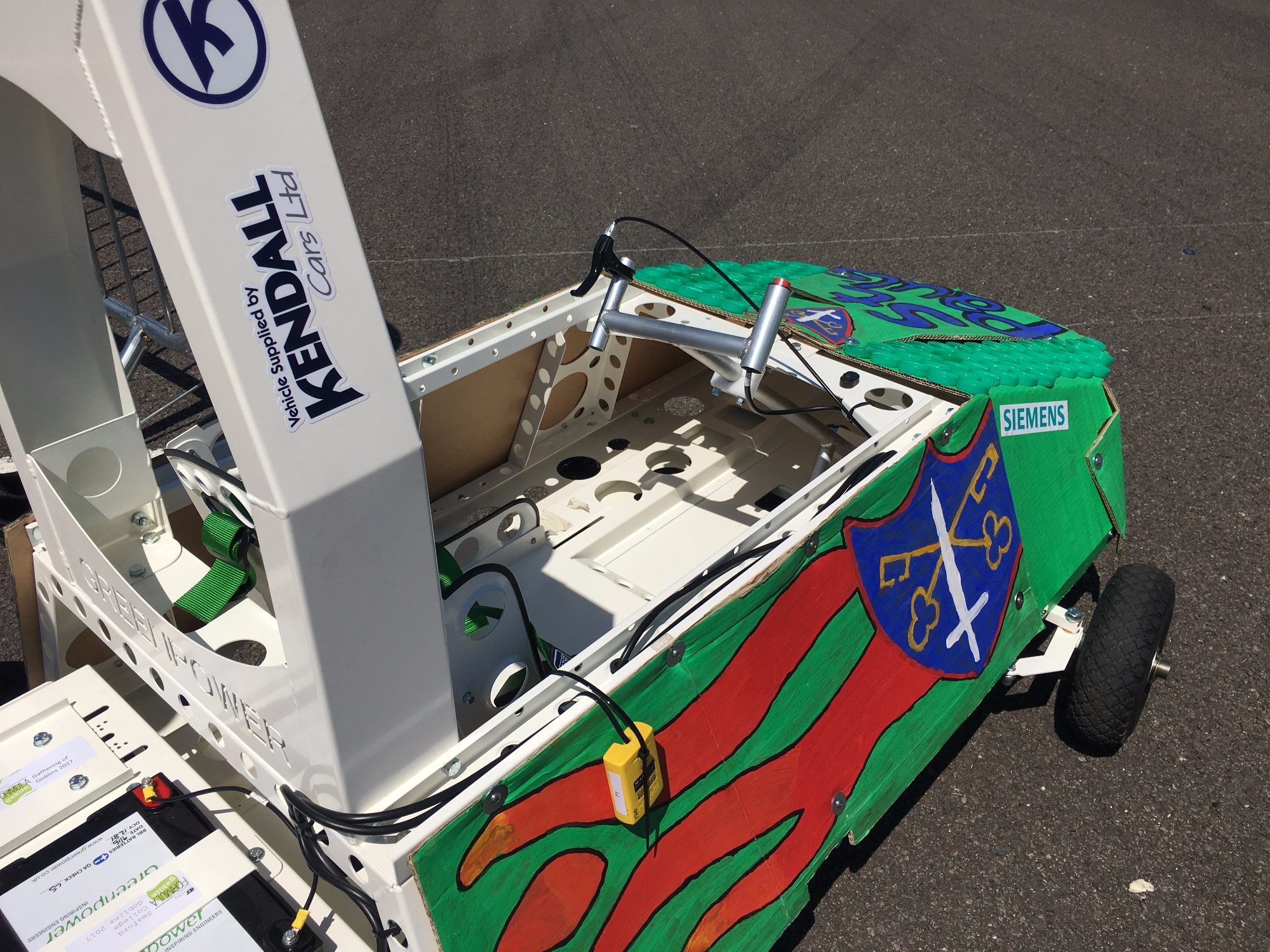 We met in our garage (number 100) at 8am ready for scrutineering - always a nail biting time!!!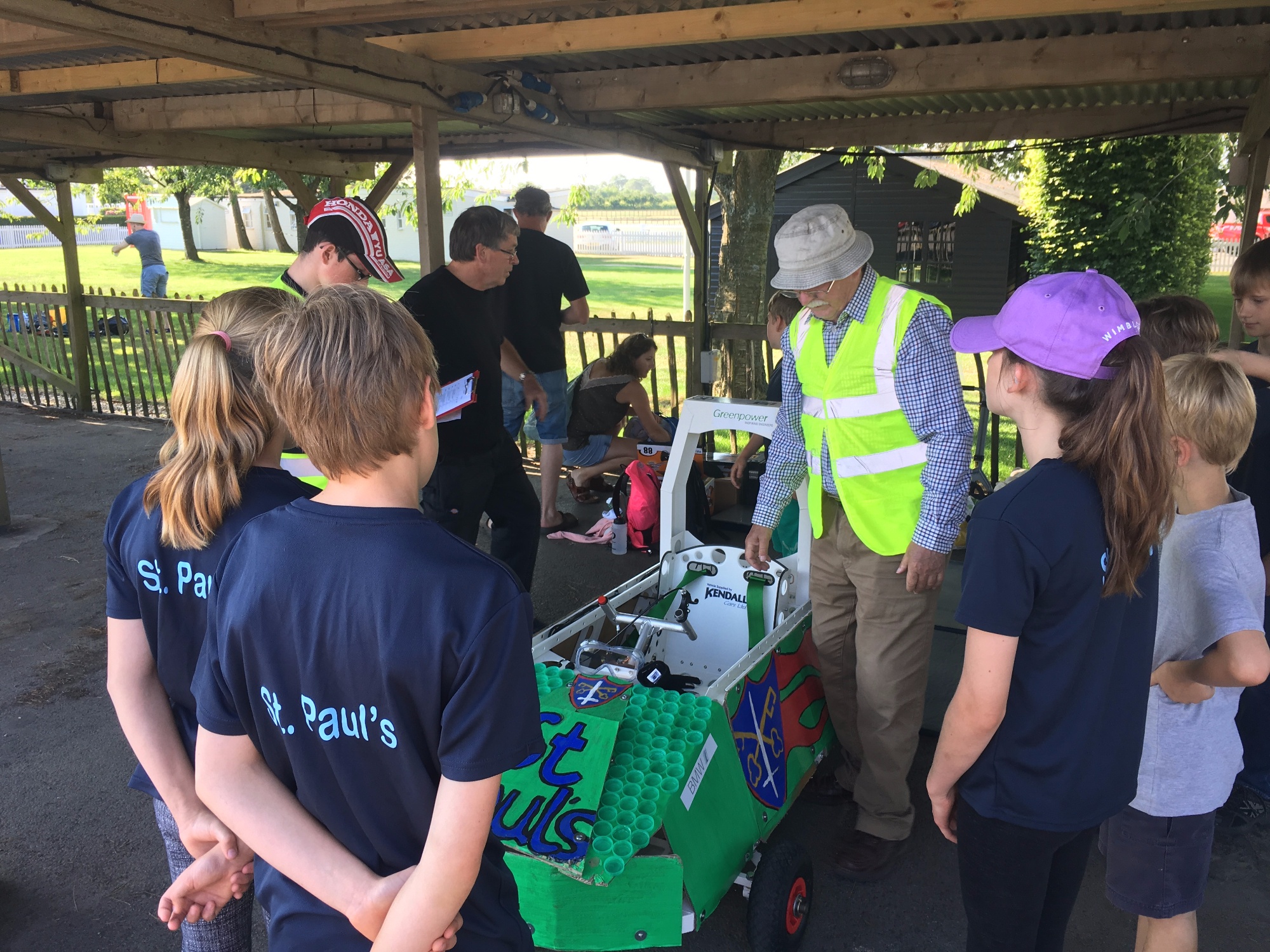 Registration was next, enabling us to pick up our new race number - number 71.
Once again, there were many awards on offer including Best Portfolio, Greenest Car, Best International Team (yes - you read that right - it's an international competition with teams flying over from China and teams sailing over from Spain!)
Over the past few weeks we made sure that our Portfolio was up to date ready to give in.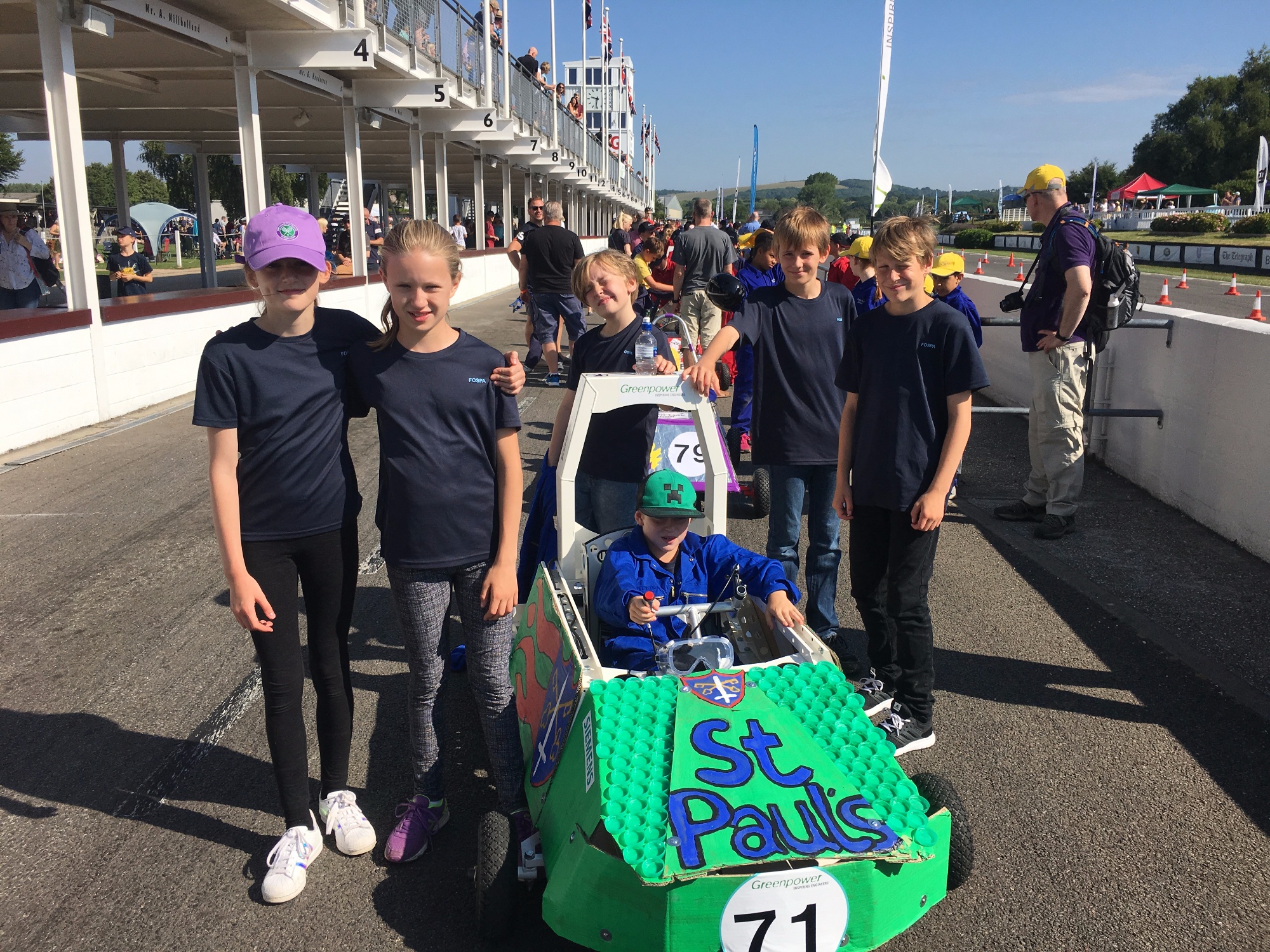 Our first race was the chicane sprint, involving a 180 sharp turn, which needed precision driving. Next we headed to the slalom, twisting through narrow gates. Then me made our way to a new event, The Pit Stop, which involved changing all 4 wheels as quickly as possible, followed by the drag race, racing a fast as possible in a straight line.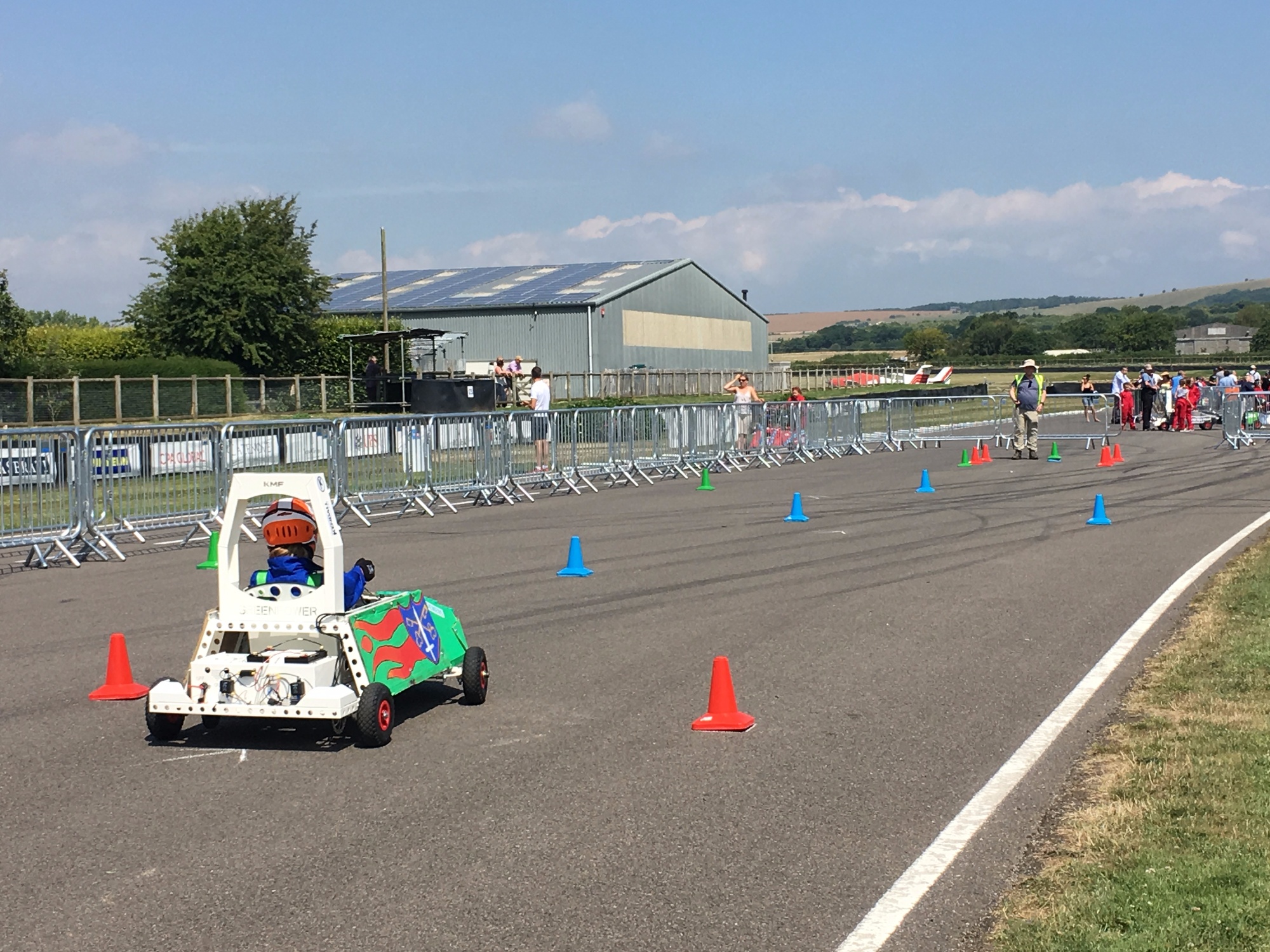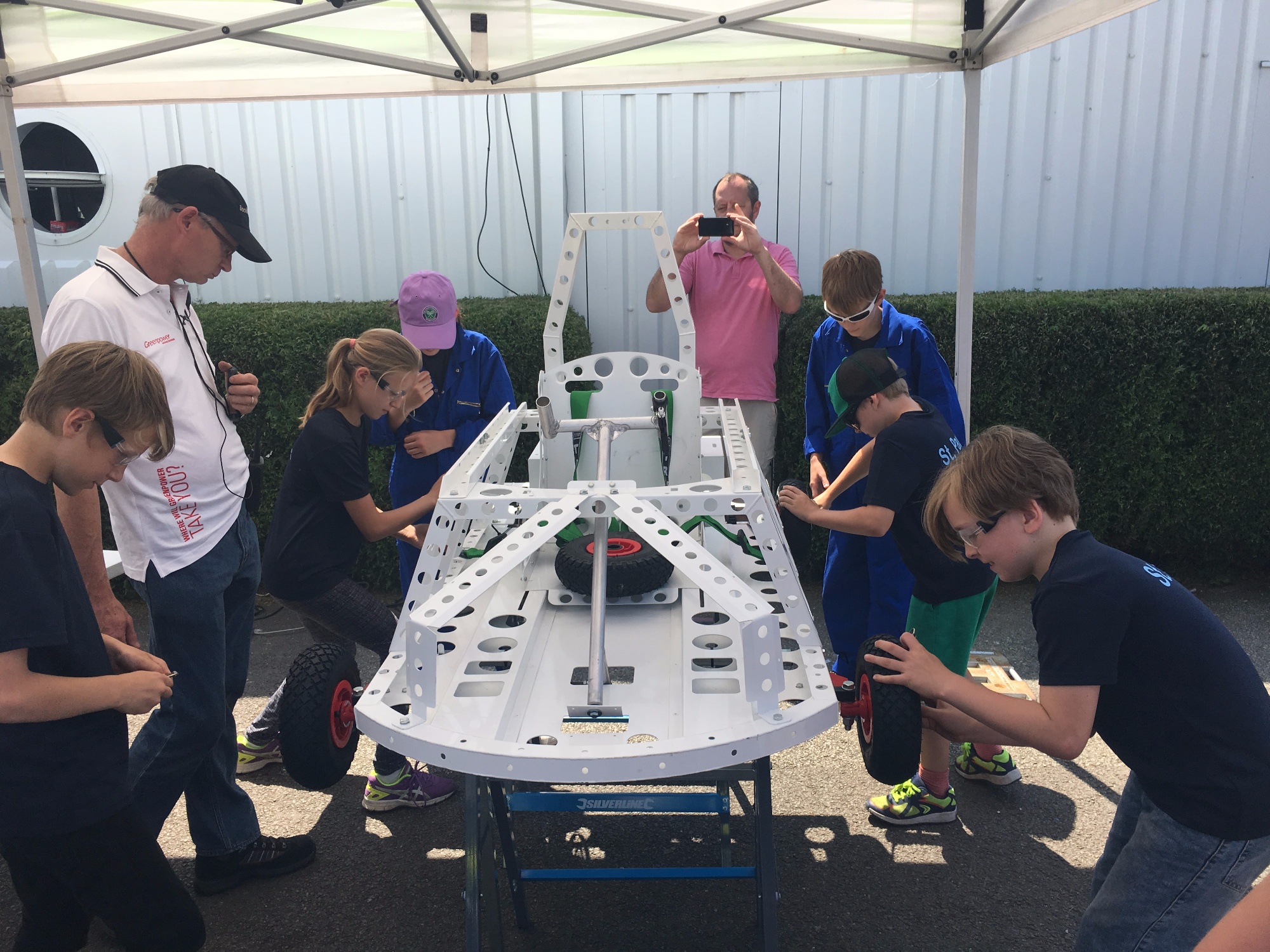 At the end of the day there was The Race of Champions - 83 cars racing around the whole track at Goodwood - over 2 miles!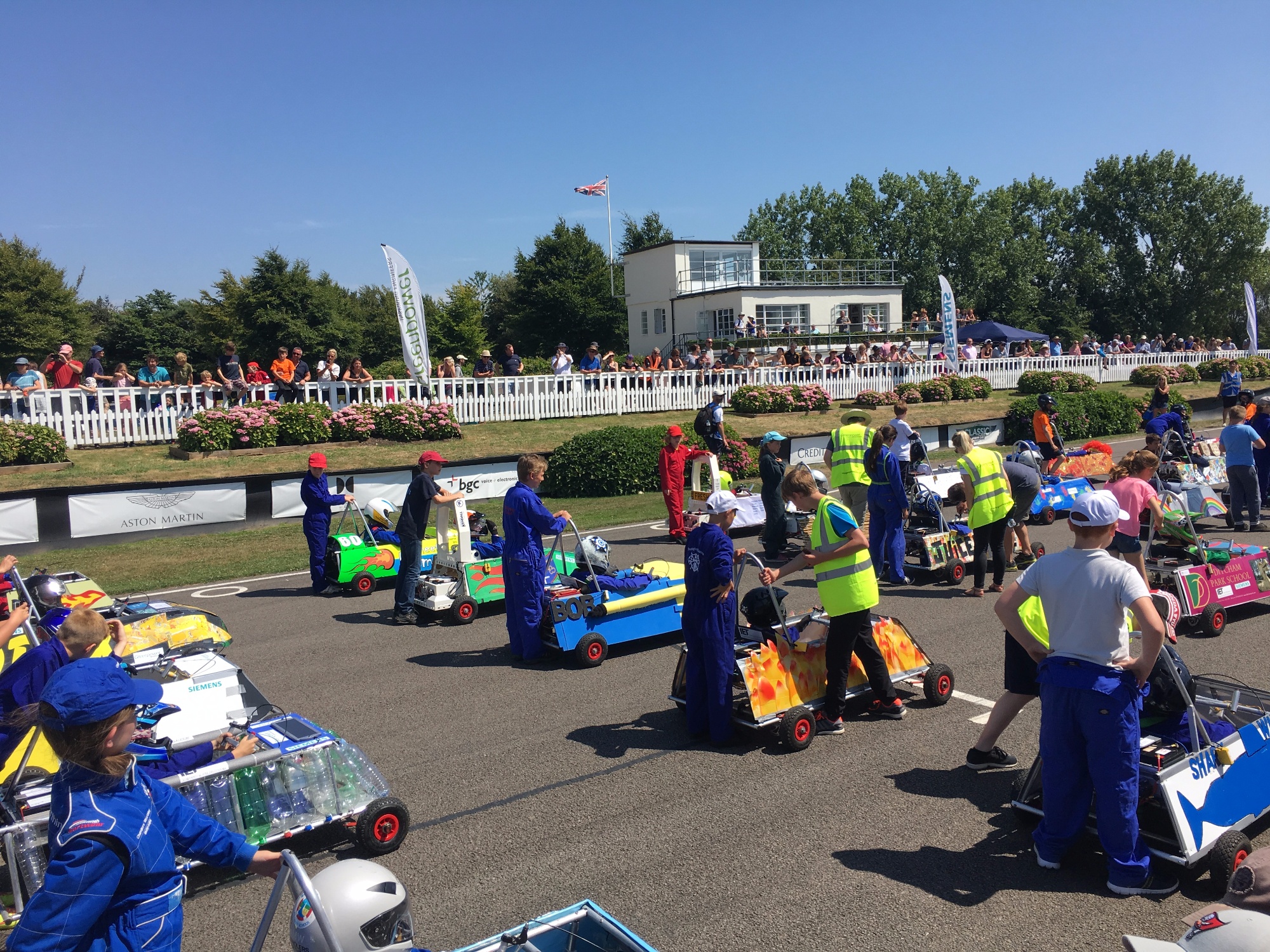 It has been a day never to forget, especially because, not only did the children show such passion and determination throughout the day, but we also WON the Greenest Bodywork Award - our bodywork was made from the box in which the Greenpower car kit came in!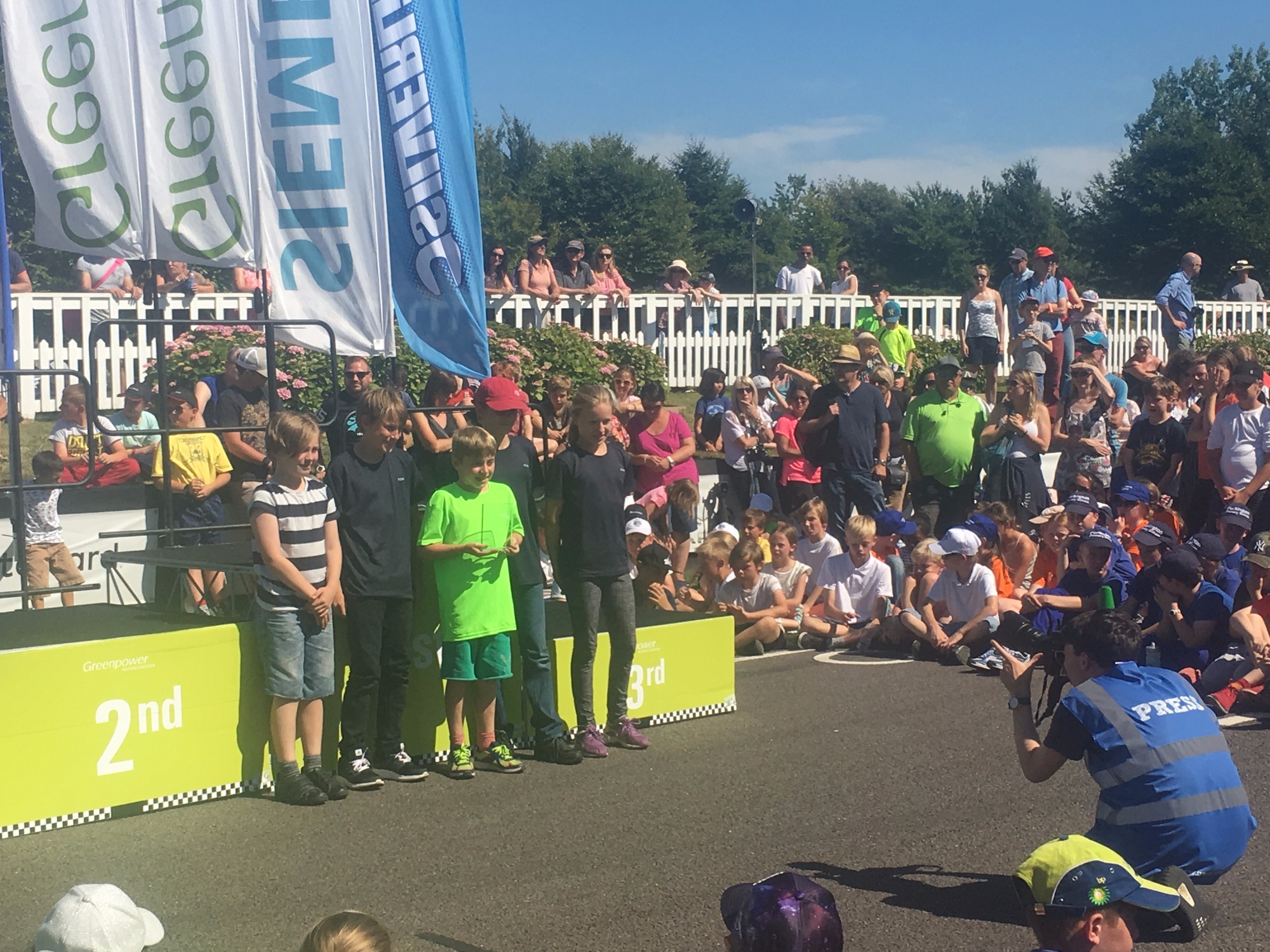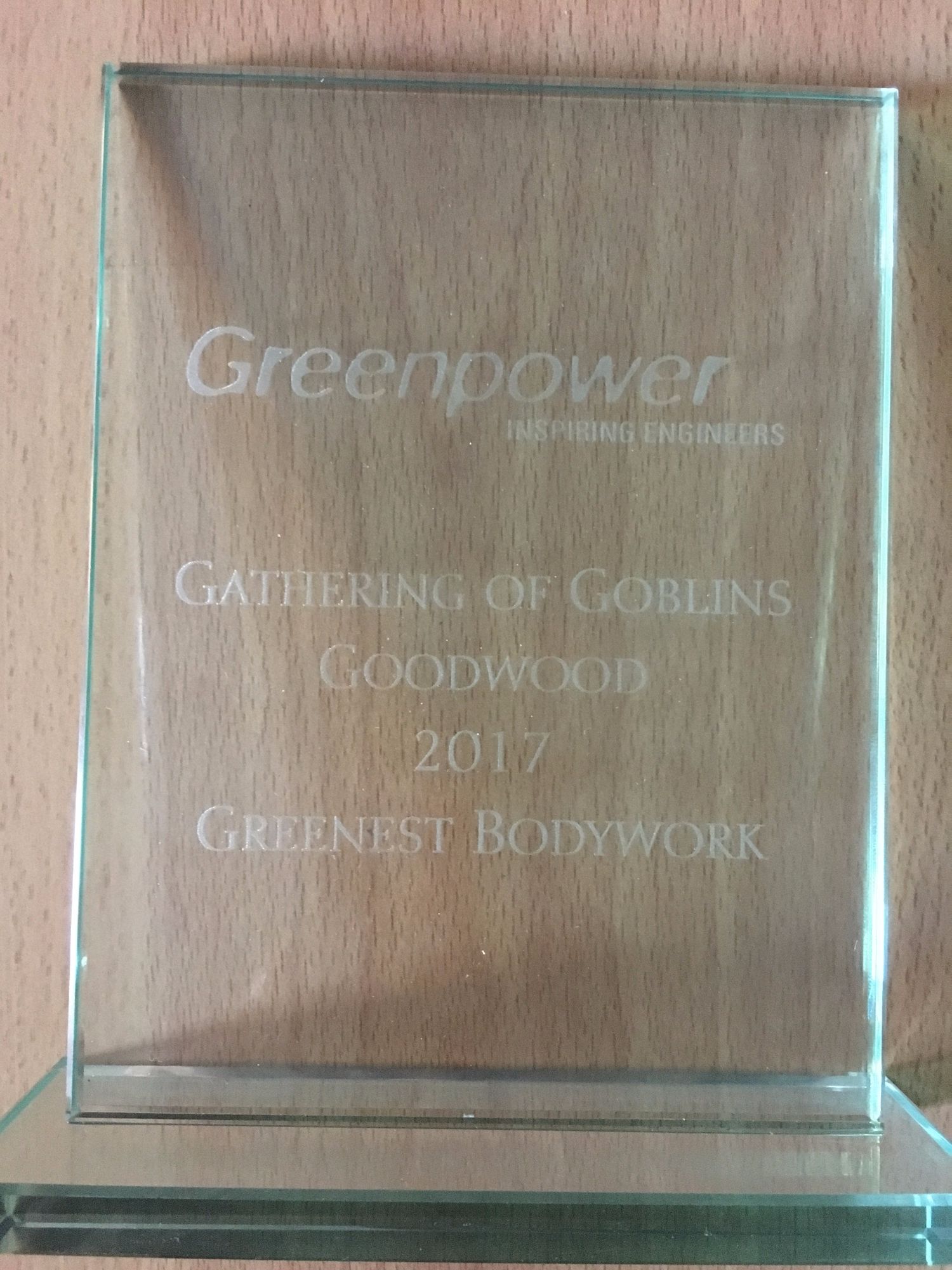 An amazing day. Once again I am a very proud teacher.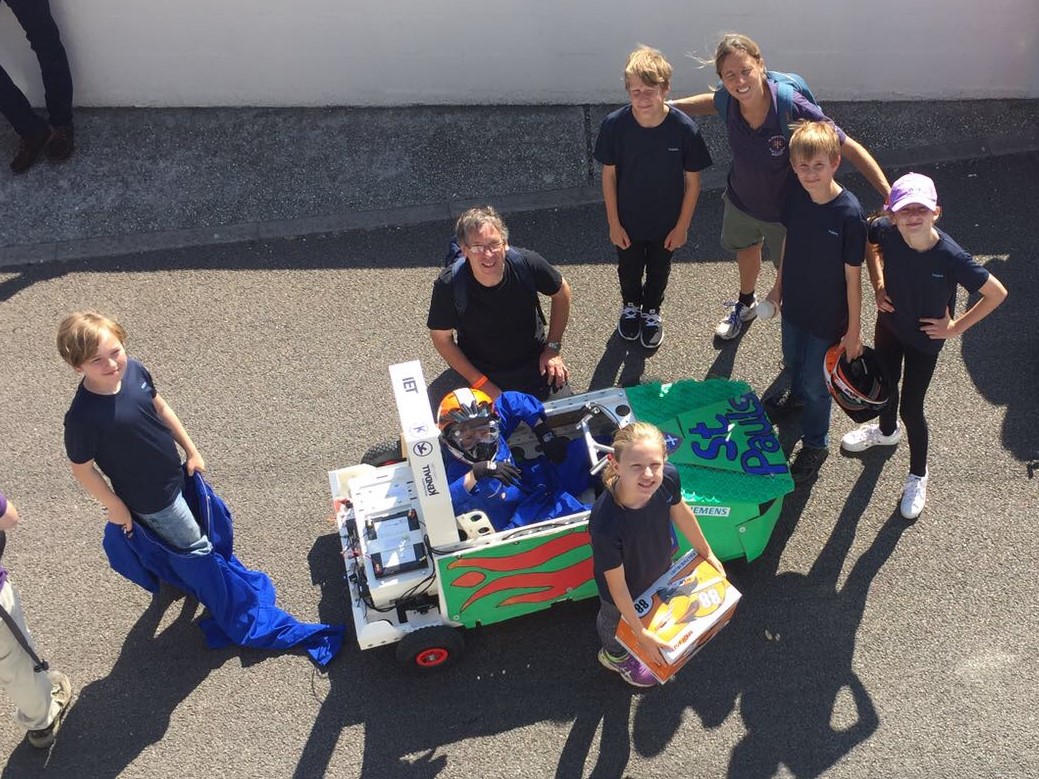 Thank you so much to Mr Tanton for all his hard work helping with this club.