SUMMER REPORTS 2018
Pixham Athletics
Thursday 5th 2018
Last week, on the 5th of July, St Paul's competed in the annual Pixham athletics competition. Lots of year five and six children did a variety of different things such as 600m,150m and 60m running, jumps-vertical and long jump. We also competed in throwing and relays.
There was a lot of team spirit shown and if someone didn't do as well as they hoped in their races, the team all cheered them on.
As a result of all our hard work during lunches and at the competition, we came fourth overall out of seven schools and we were all very happy.
Sports Crew Activity Lunchtime!
Wednesday 4th July
Sports Crew organised events for the younger ones so they can get into sport and most importantly, enjoy it. The event that we organised on Wednesday was a pure example of the type of fun and games they can have. Many different activities took place and the idea was a success. Many young ones took part in this range of fun activities and they did extremely well in taking part in the event. Not all of the events were competitive. This really didn't matter since everyone tried their hardest. We do these events every once in a while to increase the things that you can do at lunch. When it is hot you often looking for things to do but you don't want to use that much energy. These events are not very time consuming and you can do it however many times you want. Basically the sum of the event was that it is a lot of fun.
During lunch time, we did loads of sports activities, one of which was cheerleading, led by (me) Mia and Parla. A routine was made and taught, step by step, to the children who wanted to take part. Once they knew the routine, we performed it in front of other children in the playground. It was very fun to share our skills and see all the younger children enjoying being active.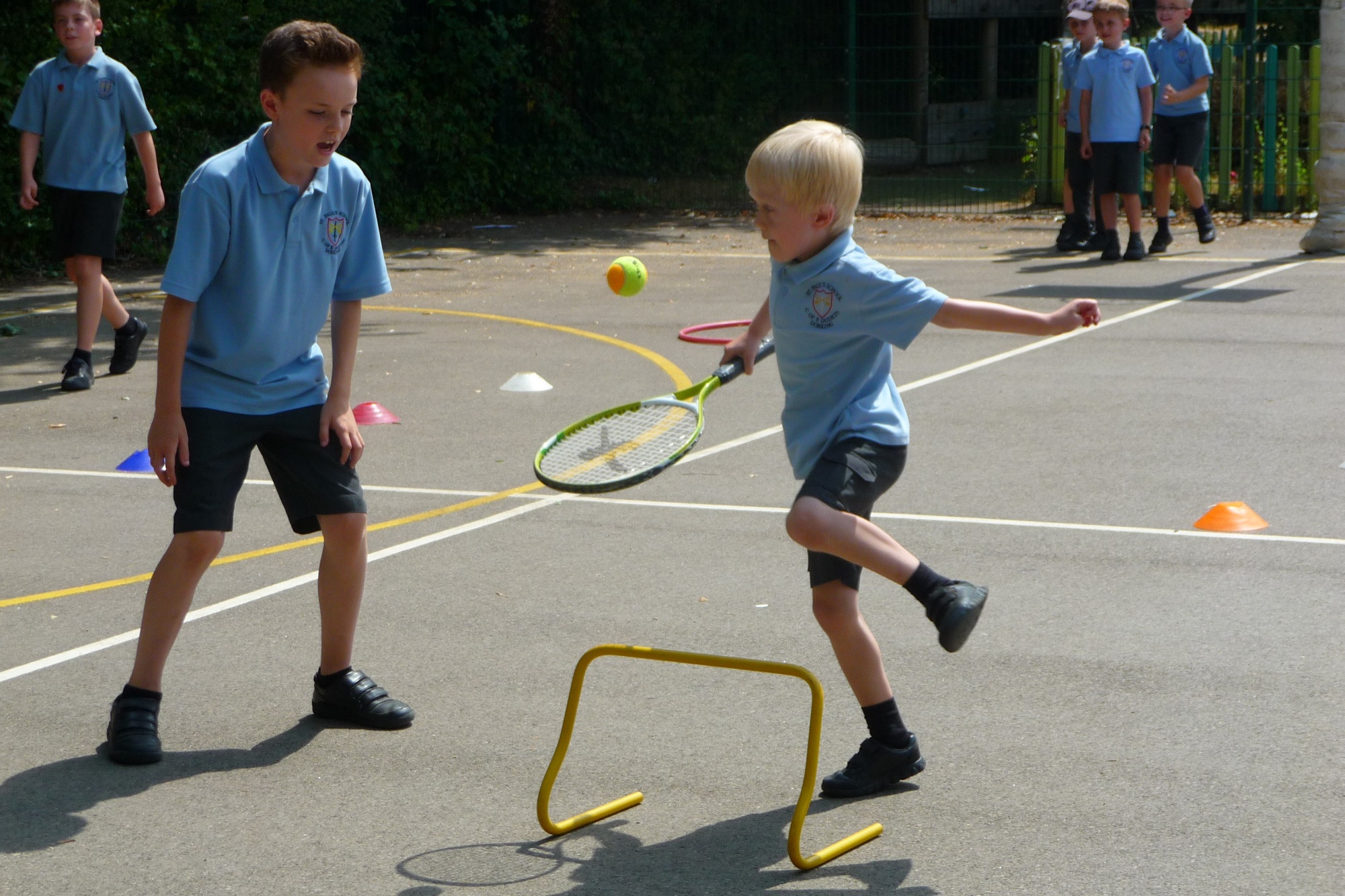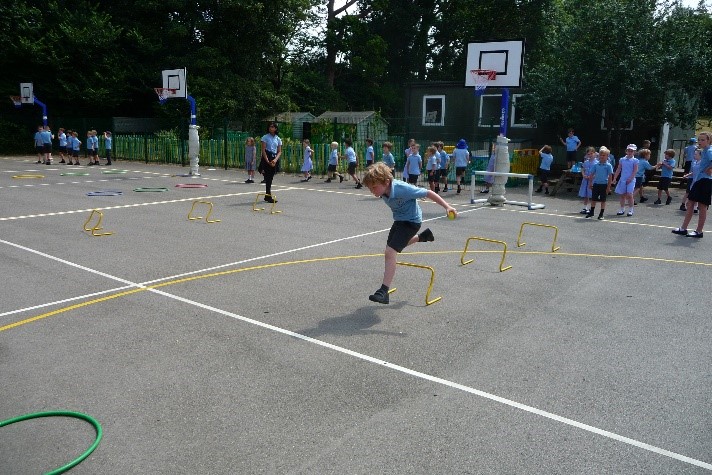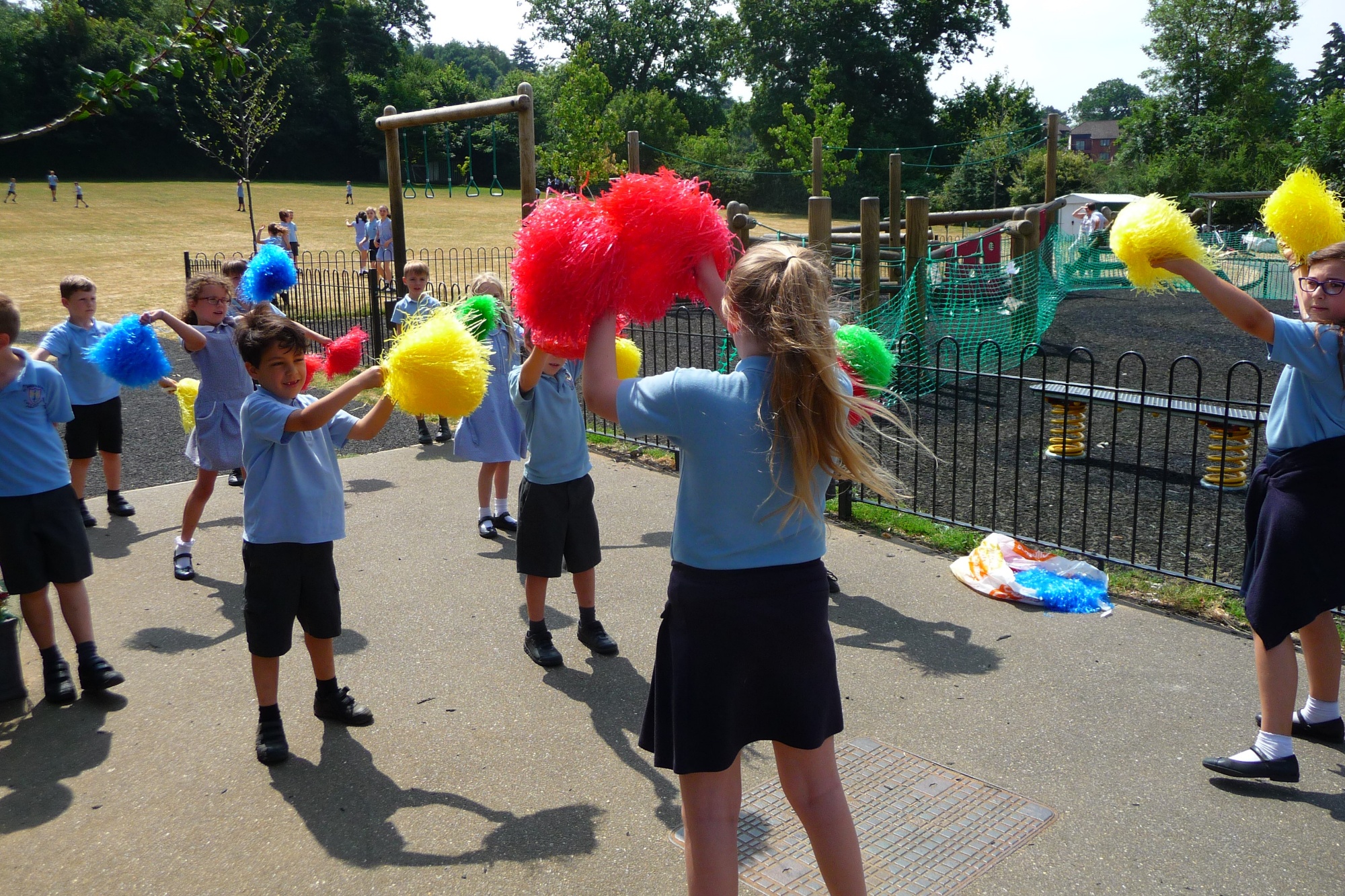 Rounders Tournament Yr5\6
July 2018
Our fielding on the first match started on a high when we eliminated the other team, with three more bats to go. Also throughout the competition, we were successful in our batting as we have big hitters in our team, scoring us a lot of rounders. In the final, we won against Powell Corderoy 8 ½ to 1. However, a few of our team members got out due to their amazing catches and good teamwork. Overall, It was an amazing experience, that we all enjoyed, and thanks to the equipment at school and Miss George's training we did very well.
South East Regionals Hockey Tournament
27th June 2018
It was another early morning for St Paul's, leaving Dorking at 6:30 to catch a coach down to Canterbury for our SE Regional Hockey Tournament.
Our first game started off brilliantly but unfortunately in the 3rd third we conceded a late goal meaning we lost 3:2.
Our second game was also very tough but we kept our nerve, narrowly loosing 2:1.
Our next game we dug deep and worked hard as a team and showed great skill, eventually drawing 1:1. Our confidence was growing and our team work was getting better, with accurate passes and good positive team discussions. Again we drew, 2:2. After a little break, we played our last match, and our team definitely kept their best until last, winning 3:1.
It was a great experience to play against other teams from different county's and once again St Paul's showed incredible sportsmanship. Well done.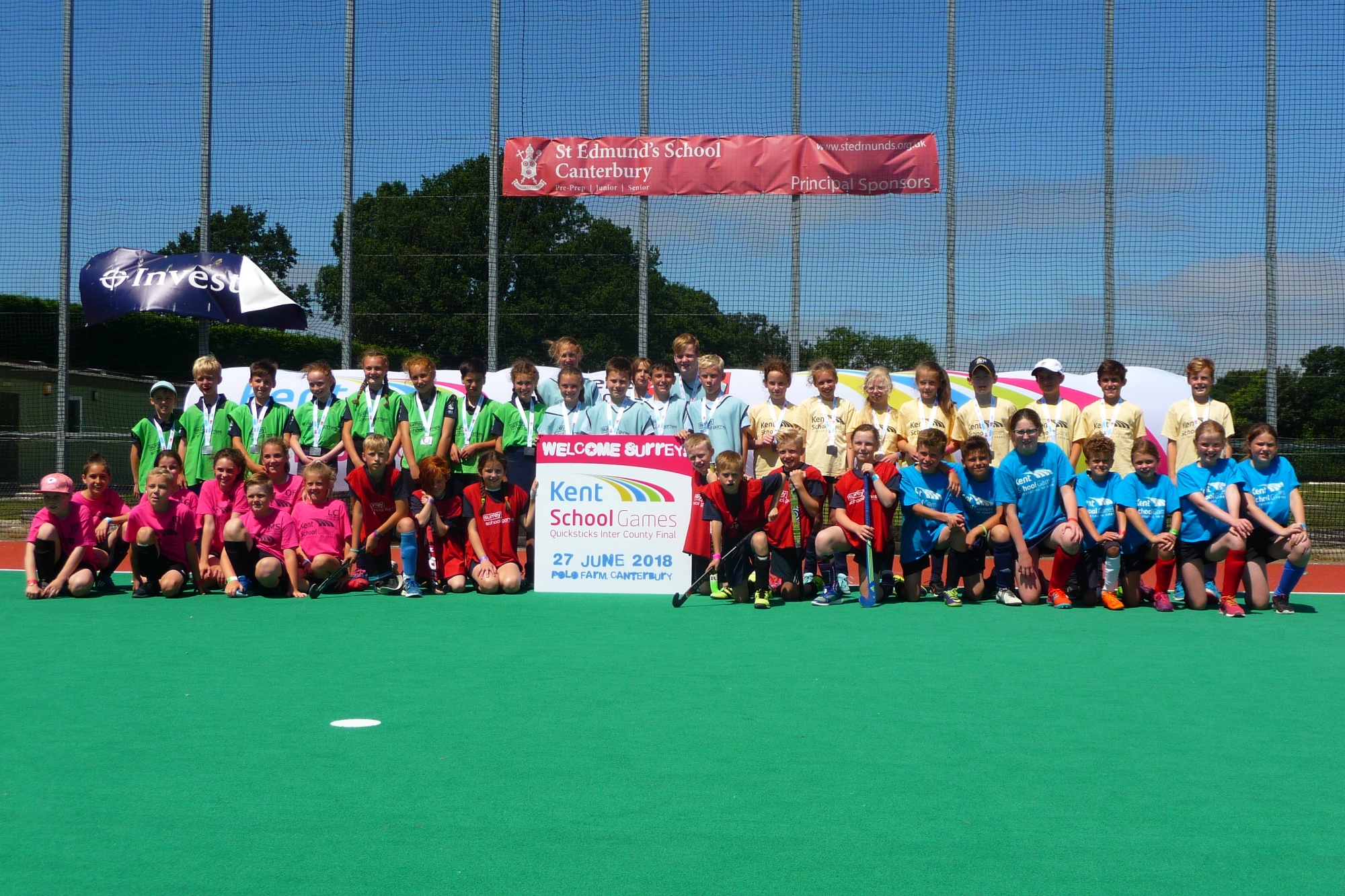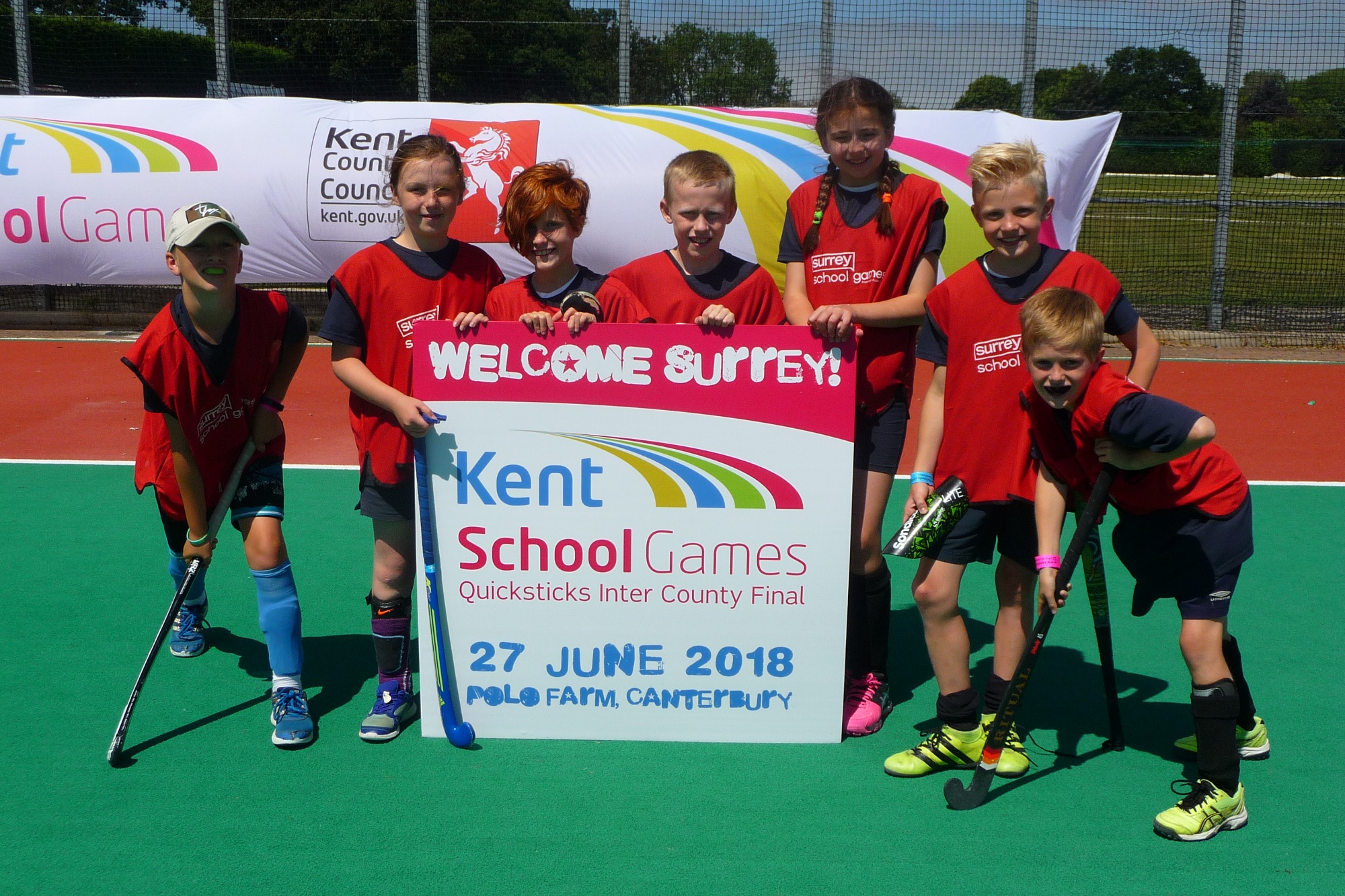 ---
Dorking Schools Rounders Tournament
Year 3/4
26th June 2018
It was one of the hottest days of the year but that didn't stop the year 3 and 4 rounders team being full of energy.
We had both an A and a B team in the tournament against other schools in Dorking and we were placed in different pools.
St Paul's A team were against North Downs and Powell and St Paul's B team we against St Joseph's and Surrey Hills.
It was nail biting as both teams were playing very well. After the fiat matches both teams had won their matches. St Paul's A team went on to win their second game, meaning they had topped their group and were into the finals. It was now a waiting game to see who they were playing.
After a few minutes the wait was over and the results were announced.
In the finals are St Paul's A team against...St Paul's B team! They had won both their matches too, winning the group.

So the match which we had been waiting for came and st Paul's A team chose to bat first. They gained five rounders. Next up was St Paul's B team to bat and ... unbelievably... they got 5 rounders too!
It was a draw!
After much discussion it was decided that we had to do a play off to find the eventual winners ... 5 bats for each team.
First up was the A team gaining 2 rounders and then the B who got 1 rounder.
It was so close but it meant that St Paul's A team won and St Paul's B team came 2nd overall.
As Sam R aim Year 4 was heard saying - 'we are all winners, we had fun and we all go home with me Adams and her to stand up in assembly!'
Both teams played amazingly and showed amazing values throughout.
Mrs Speight and Miss George could not have been prouder of them!
Well done!!!
---
Lacrosse Nationals Finals
Sheffield
24th June 2018
We had been waiting since April for this day to come and it final did. After training sessions every day, we were finally on our was up to the Pop Lacrosse National Finals in Sheffield.
We needed to register at the England Lacrosse team desk at 9:30 so we met slightly earlier, nervously excited.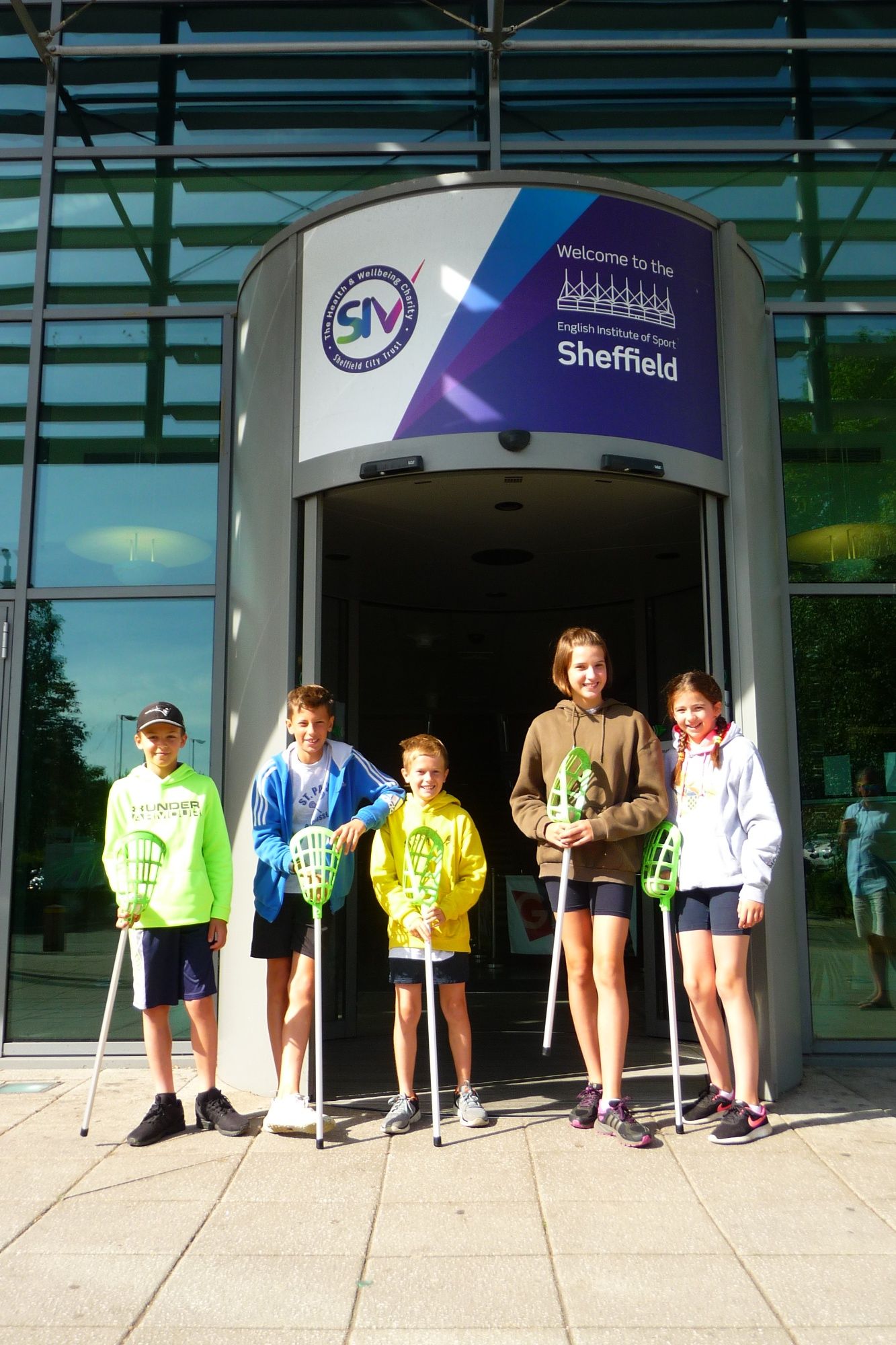 We were based in a warm up hall next door to the main arena, consisting of 3 pitches. We were in pool 2 with 5 other teams.
Our first match was incredibly close, drawing 7 all against East Bridgford
Our next was again very close with another draw against Liverpool College
We really needed to go for it so we discussed tactics and focussed hard and also made sure we got some food for our energy... after all we had no subs so we were playing every 9 minute match.
Our third game was against Evenlode. We got an early goal and our confidence grew. Our defence was second to none and we managed to win back the ball to gain more goals, eventually wining 8:3.
It was a nervous wait for our last match and we knew we had to draw to have any chance of getting into the trophy quarter finals. It was tough but we went for it, drawing 6 - 6 against St James.
After a nail biting few minutes, waiting for the overall scores, we found out the we were equal top of the pool but due to goals scored we ended up being second.
We were into the trophy quarter finals playing for 1st - 8th place.
Our match was tough and we conceded an early goal which shook us and we didn't manage to come back from it eventually loosing 3:8.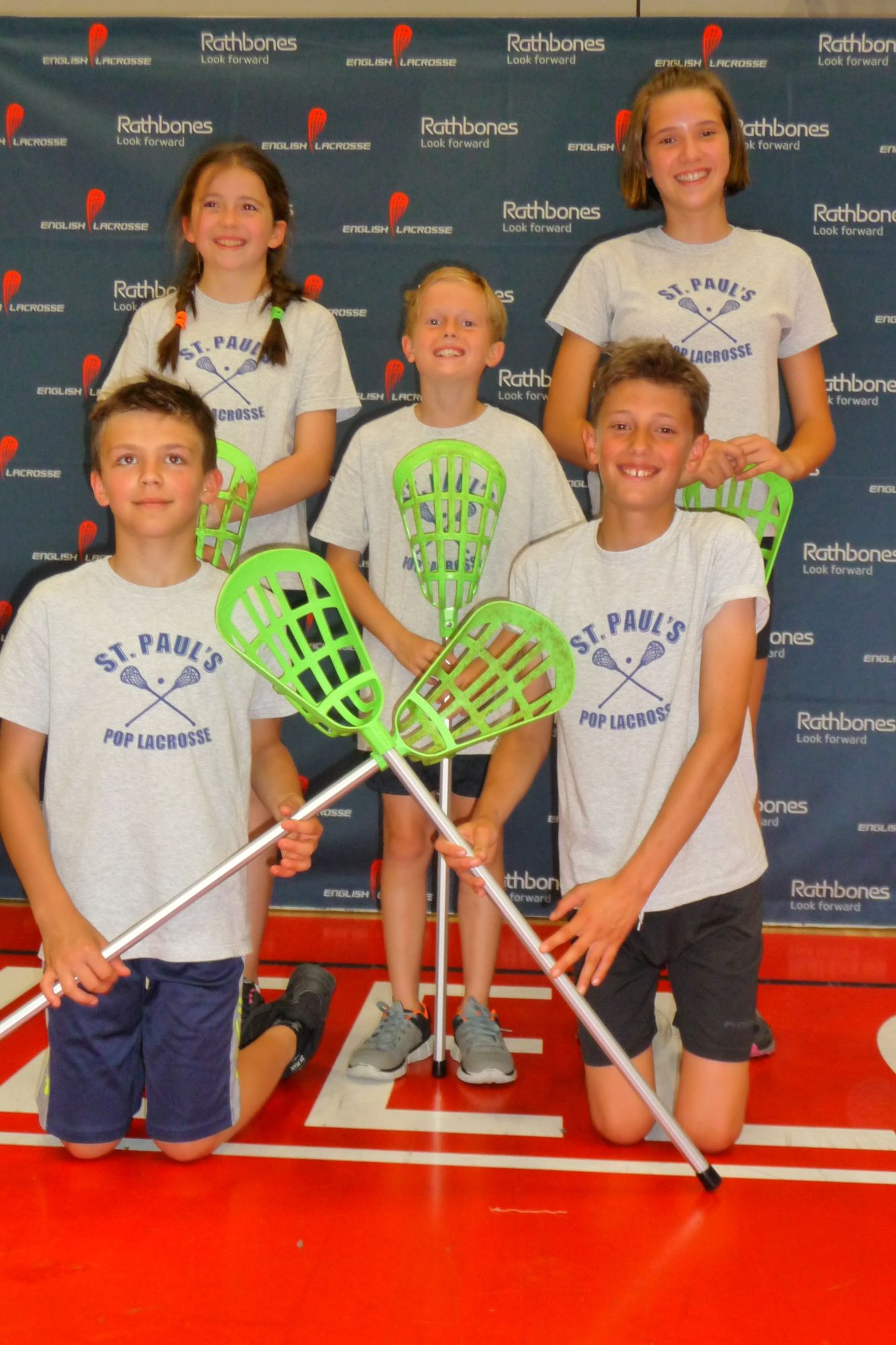 It was the most amazing memorable day of sport and the team not only played brilliantly and managed to become the 5th best team in all of Great Britain but also they shone for their amazing sporting values and support for other teams. They were a true assets to not only St Paul's but the whole of Surrey.

Well done!
---
Year 1 and 2 Fun Sports Festival
21st June 2018
St John's School
On Thursday 21st June, 26 children from Y1 and Y2 attended a fun Sports Festival on the pitches at St John's School.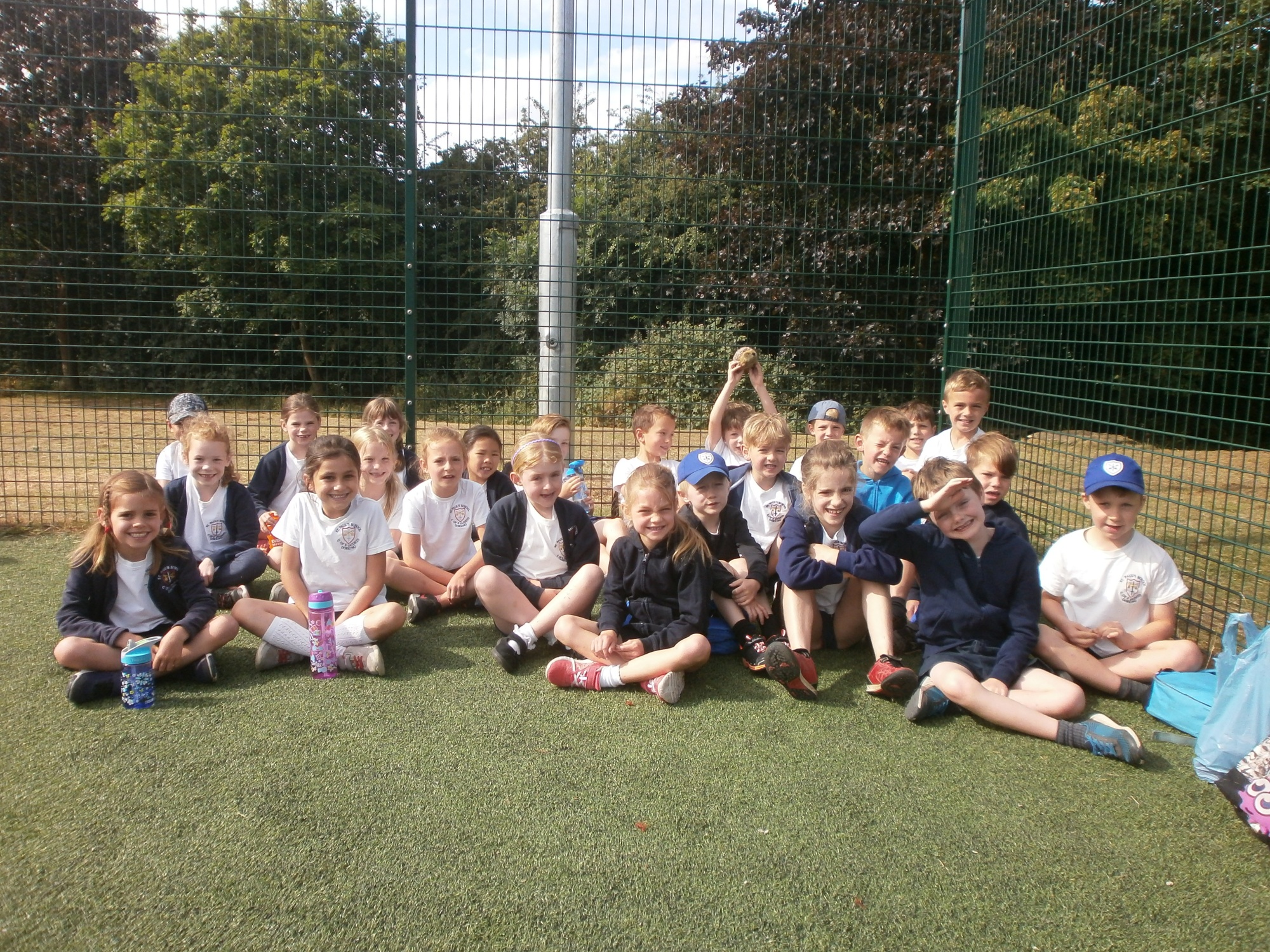 We split into teams and after a warm up, we completed a circuit of fun activities including; Rob the Nest, Head, Shoulders, Knees and Cones and Danish Long ball. (This was a bit like cricket but you could use any limb as your bat!)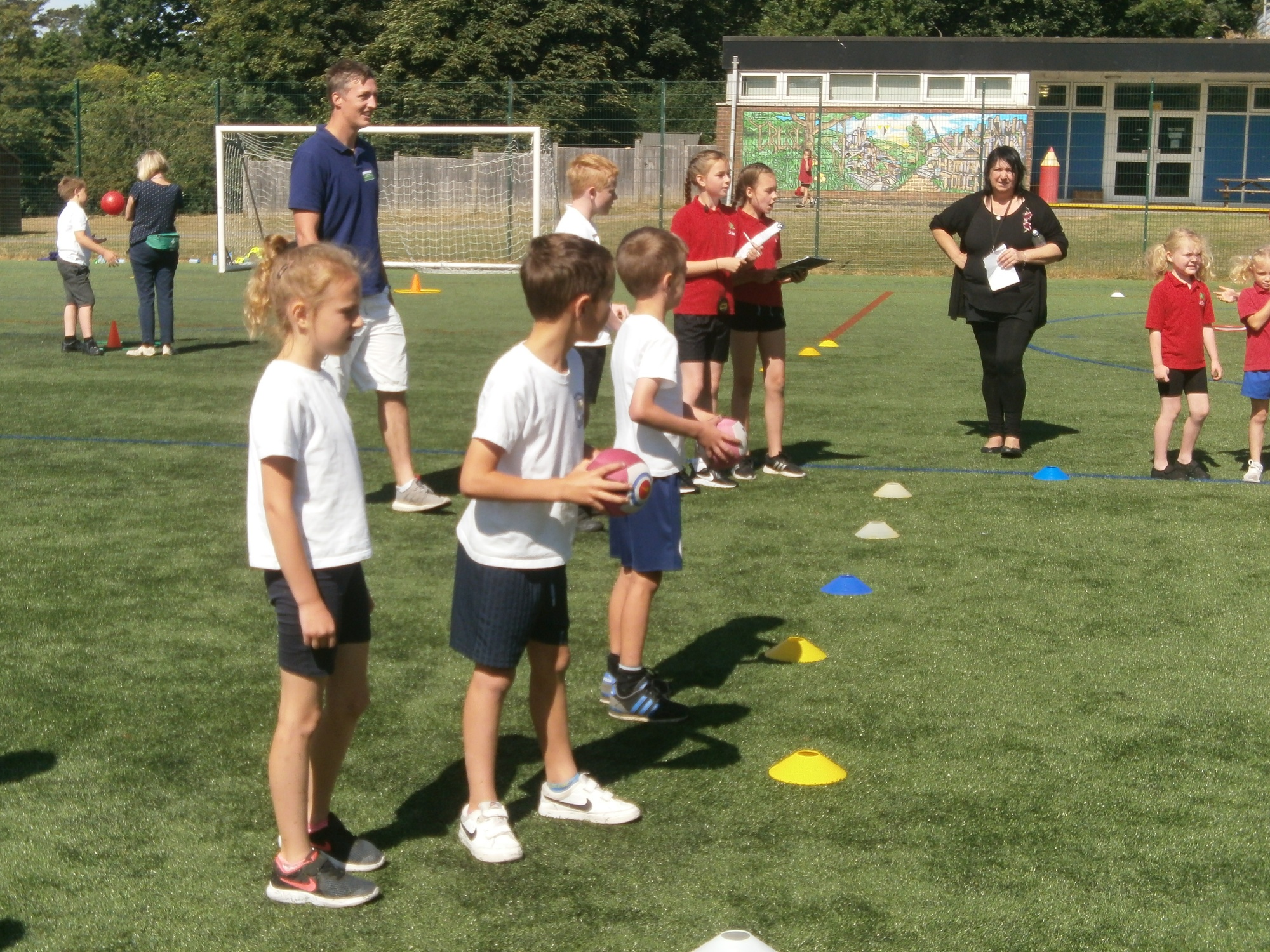 The teams were awarded points for showing the sporting values of Respect, Determination, Teamwork, Honesty, Passion and Self Belief.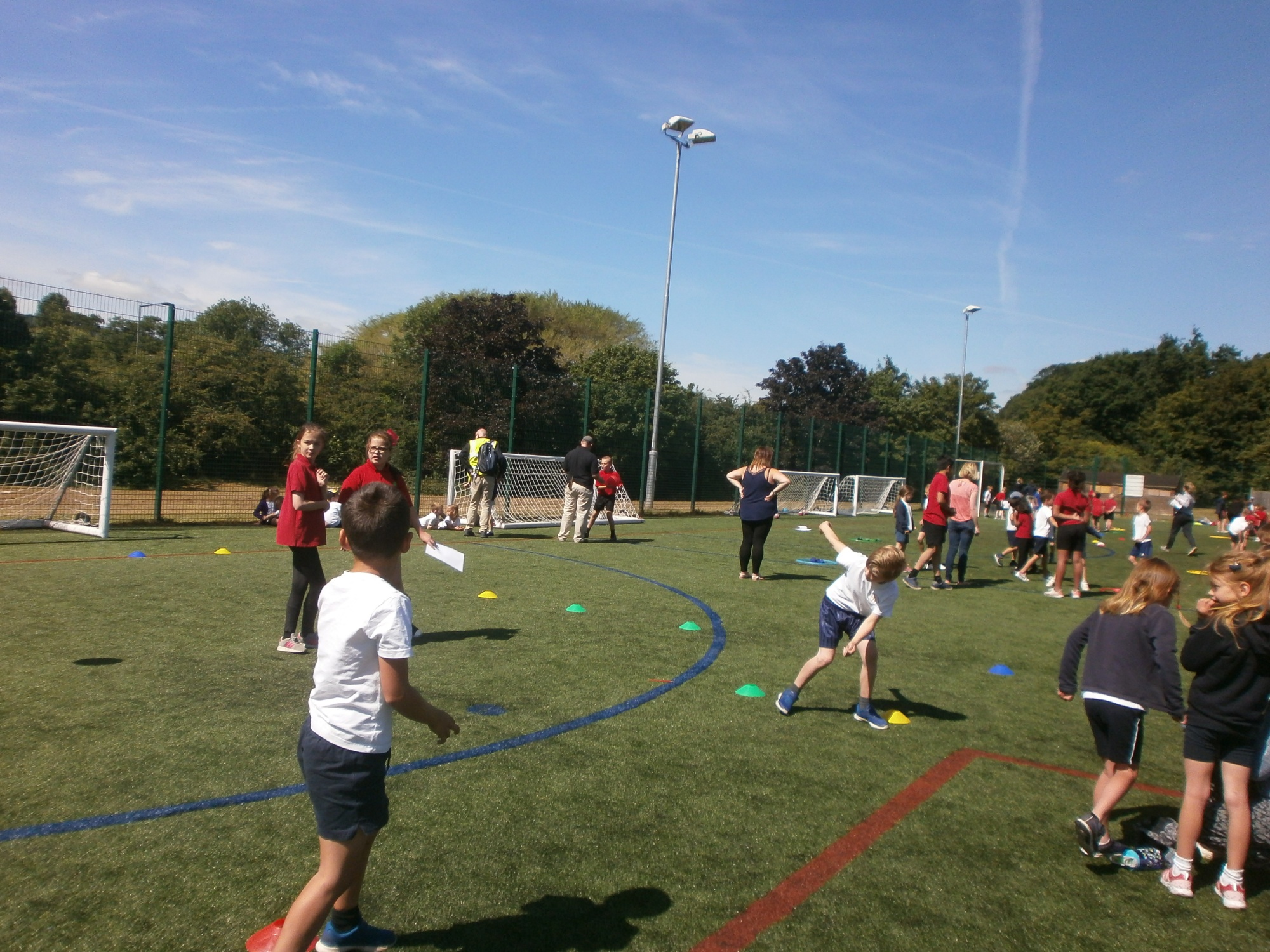 All the children showed lots of enthusiasm, great teamwork, and running, catching, tagging and throwing skills. They listened well to the Young Leaders of St John's and had a brilliant morning of sport.
All children who took part received certificates. Well done to everyone.
---
Year 3 and 4 Tennis Tournament
Dorking Tennis Club
11th June 2018
Reported by Jessica and Charlie, Year 4
On Monday 11th June 2018, four St Paul's children, Kian, Charlie, Caitlin and Jessica, wen tto Dorking Tennis Club to play in a tennis tournament.
There were eight different teams from six schools - because two schools had both an A team and a B team. The schools were: St Martin's, St Joseph's, Surrey Hills, North Downs and us!
In the first match of the tournament, all the St Paul's players won their games so they all felt very proud. Then the next round, they unluckily lost one match but it was very close. In the rest of the matches they all did very well with only a couple of unfortunate losses. In the end, they came second and were excitedly presented with their silver medals.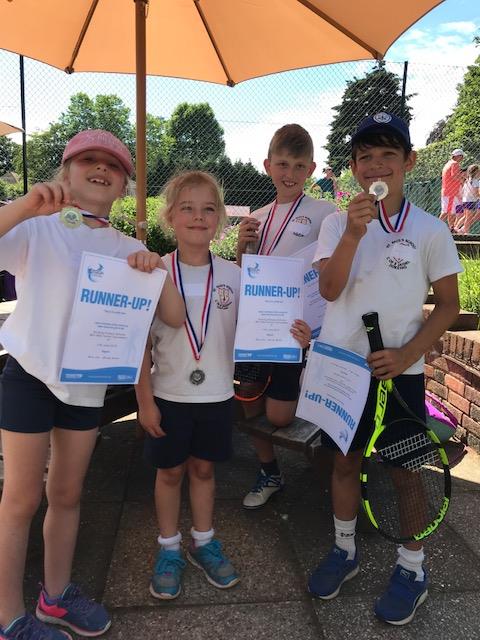 What an amazing day!
---
Year 4 Gold Tournament
Betchworth Golf Club
Thursday 7th June 2018
On Thursday, 7th June, 20 year 4 children went to Betchworth Golf Club to take part in a golf competition. There were 5 schools who took part with 9 teams altogether. Each team had 1 minute to score as many points as possible at each of the 9 stations. Both of our 2 teams worked well within their teams and participated to the best of their ability. Each team member showed great skill and concentration as well as good sportsmanship by cheering each other on and celebrating others' successes.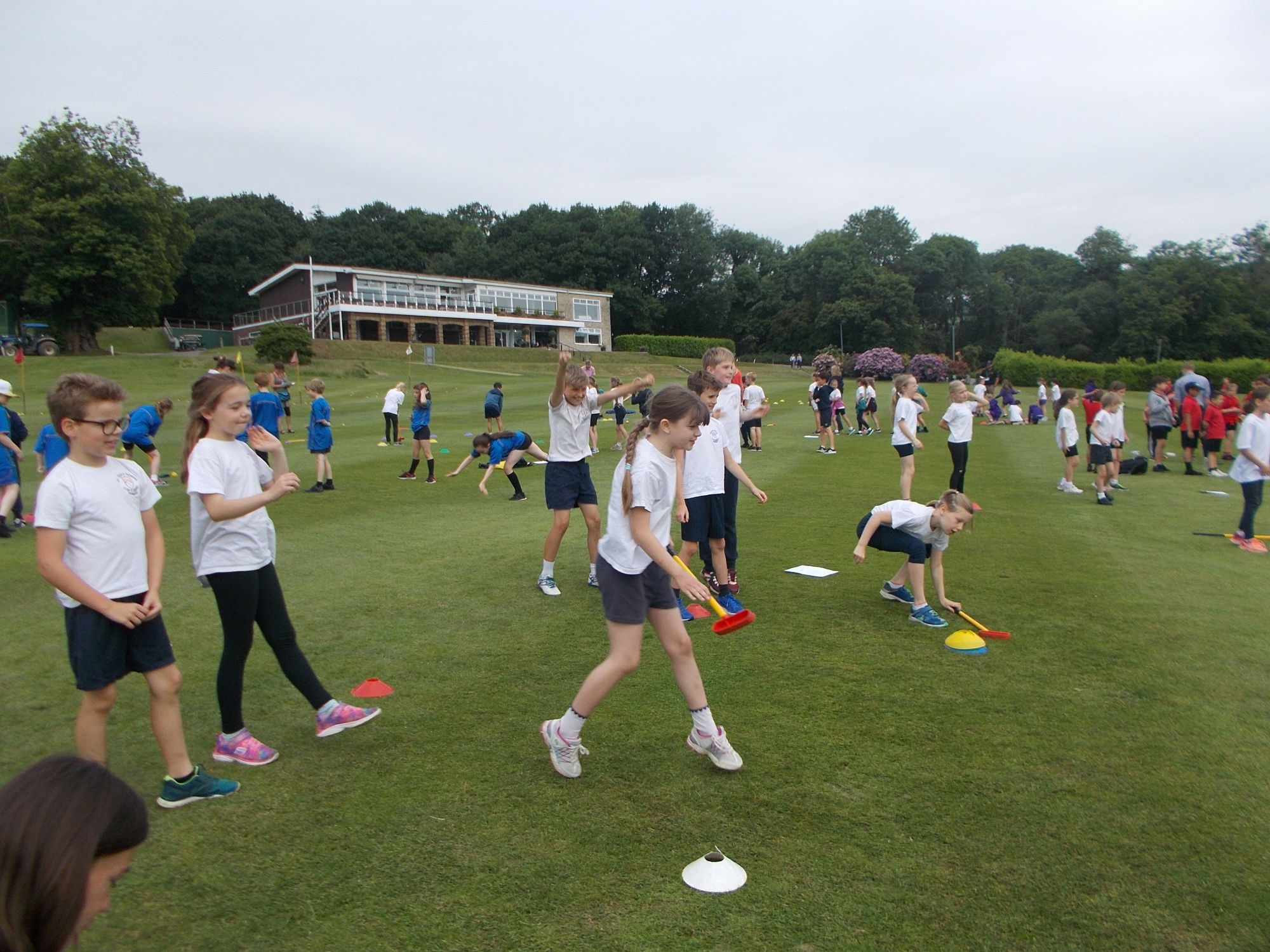 Overall, our first team scored over 800 points and came third. A super well done to all who took part.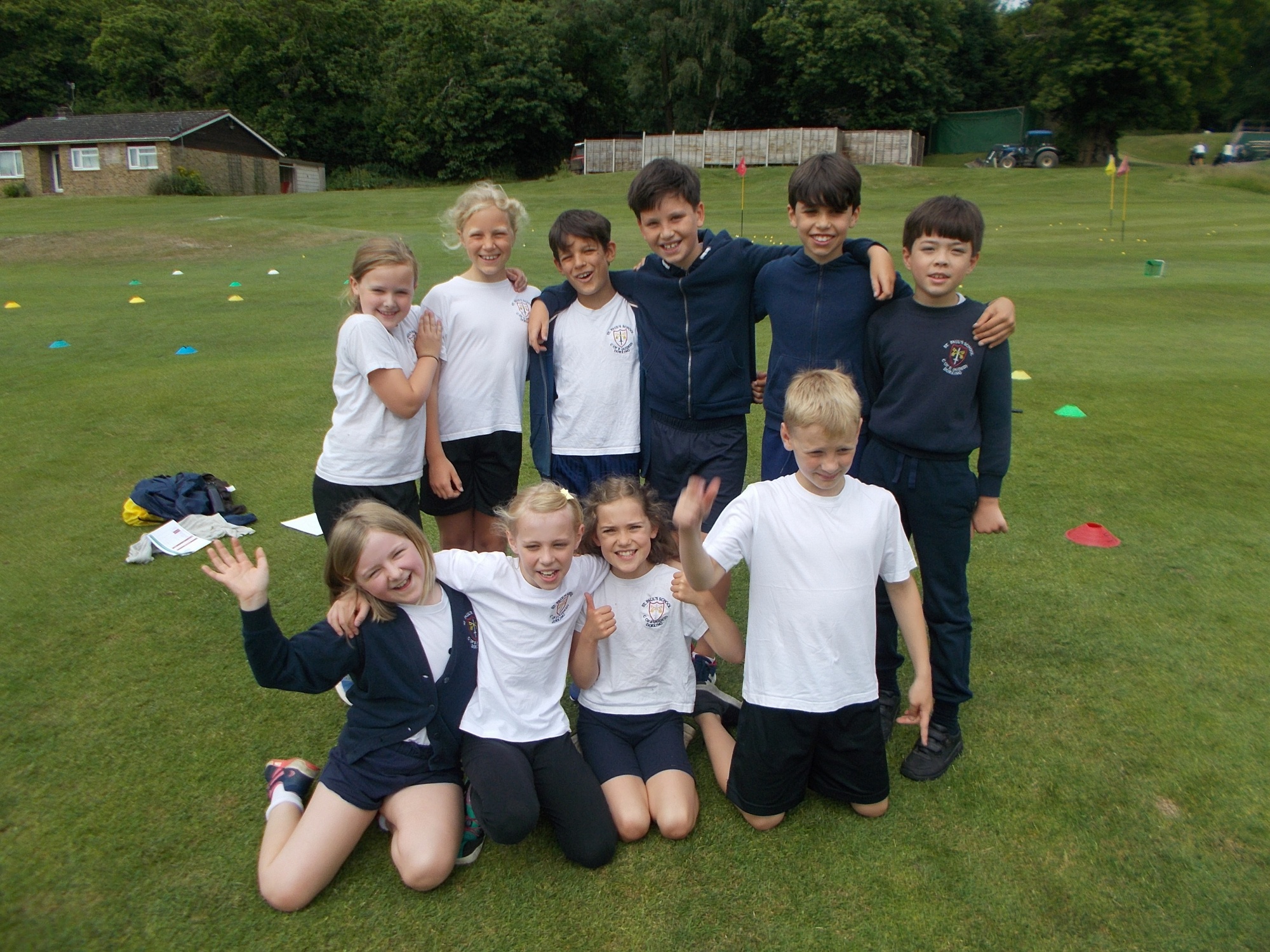 First team: Holly, Imogen, Anna, Jessica, Alice, Thomas, Jokubas, Kian, Oliver, Alex.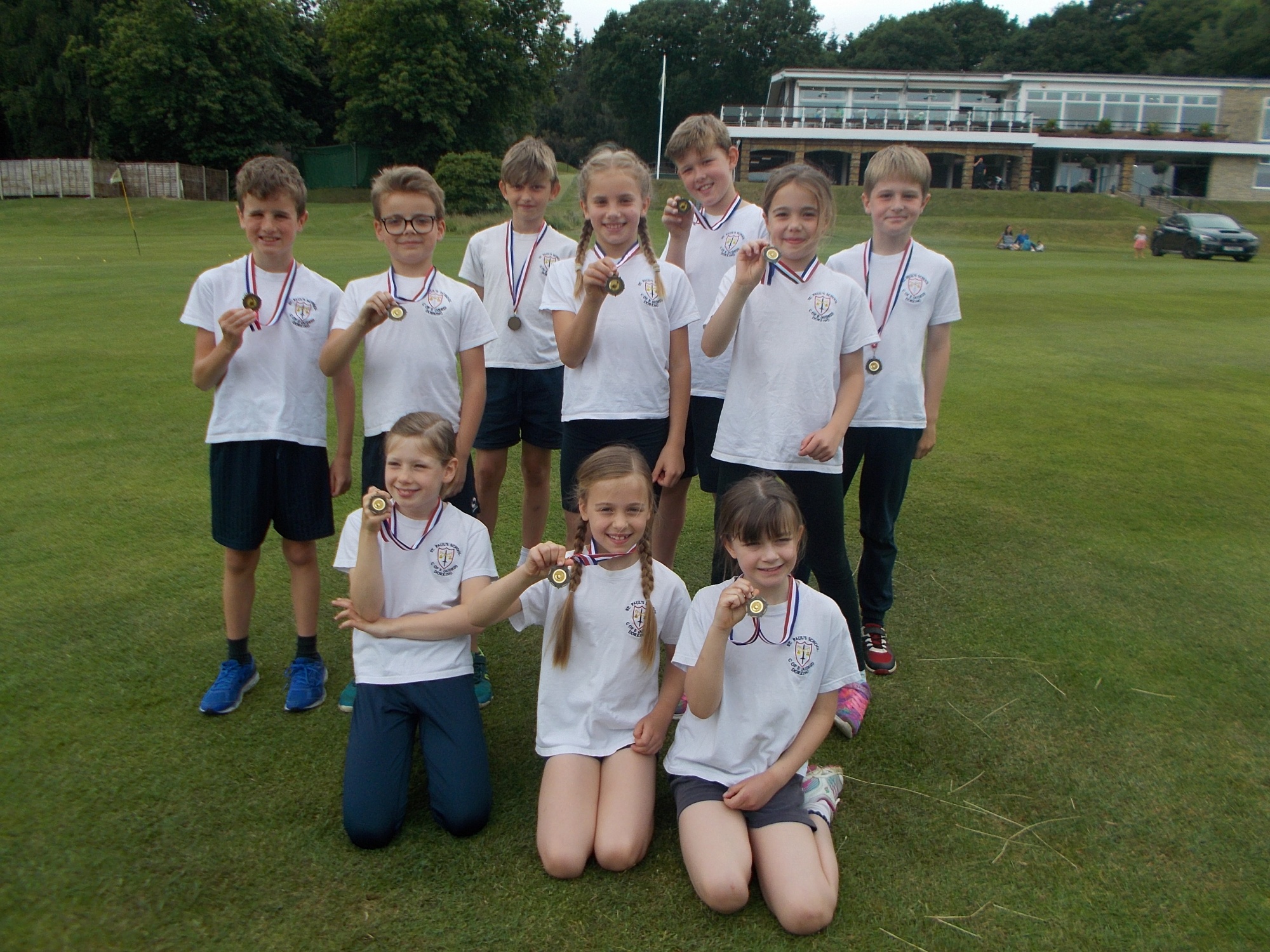 Second team: Mai, Rachel, Cecily, Hettie, Sophia, Logan, Edward, Jack, Charlie, Alexander.
---
Fencing - YEAR 2 AND 3
6th June 2018
This week year 2 and 3 experienced a new sport - fencing.
Each class learned how to stand, known as the fencing stance, which involves pointing the front foot straight forward, with the back foot at a 90 degree angle to it.
When they had mastered that, they tried a few of the moves, by completing different activities.
Firstly, the lunge, which is the basic attacking move. And then the defensive move, called the parry.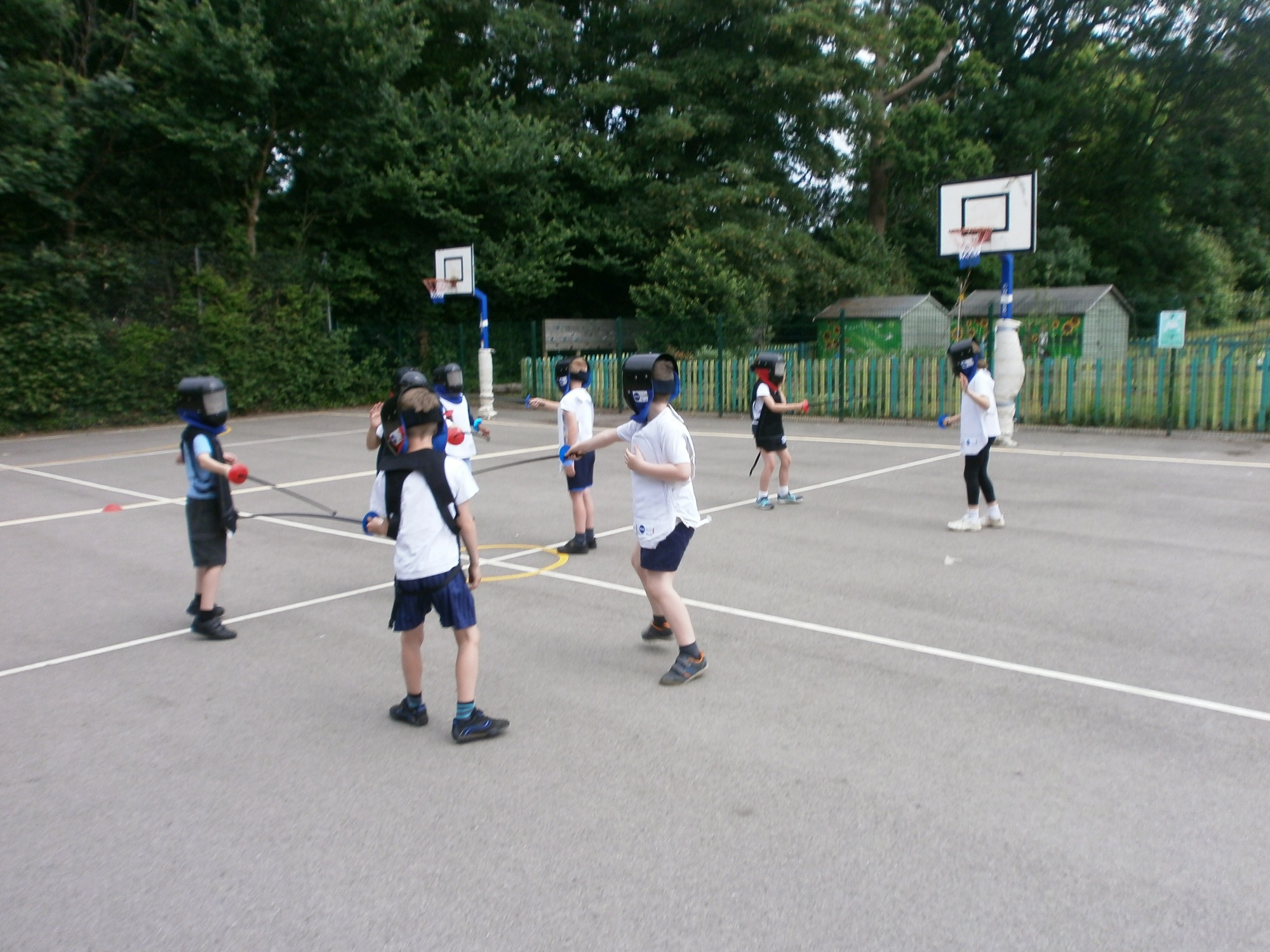 They even had to wear the fencing gear, which was very hot!!!!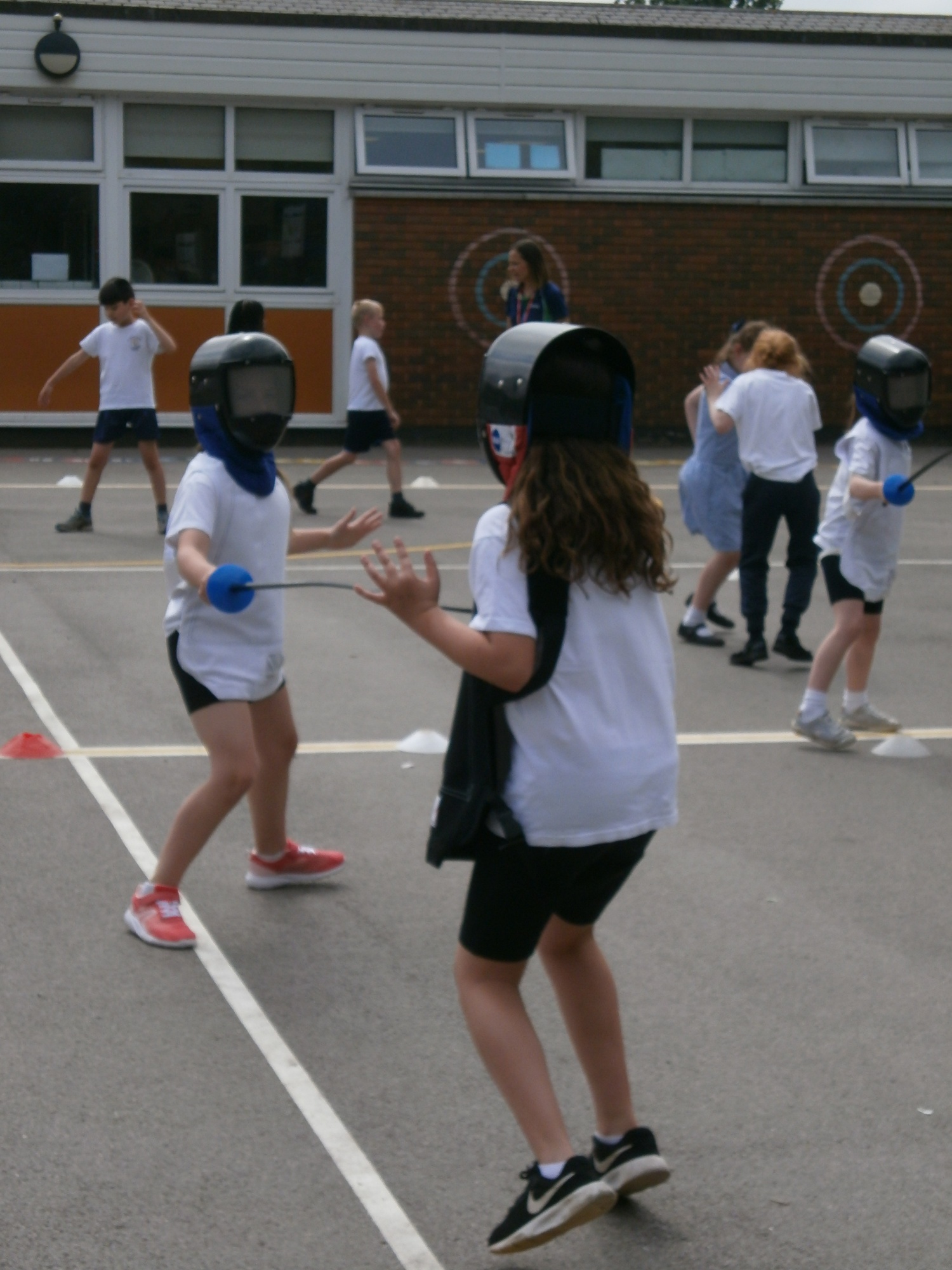 Both year groups had a fantastic session and we're brilliantly behaved.
---
American Football
22nd May 2018
Reported by Rachel - Year 4
On Tuesday the 22nd of May twenty children from Y3 and Y4 went to the Priory school to take part in an American football skills tournament with several other local schools.

We played games such as Round the Clock, Sharks and Jag Tag where we were able to practise with an American football using our throwing, catching, kicking and defensive skills.

It was a lot of fun and everyone really enjoyed getting involved and learning more about a different, new sport.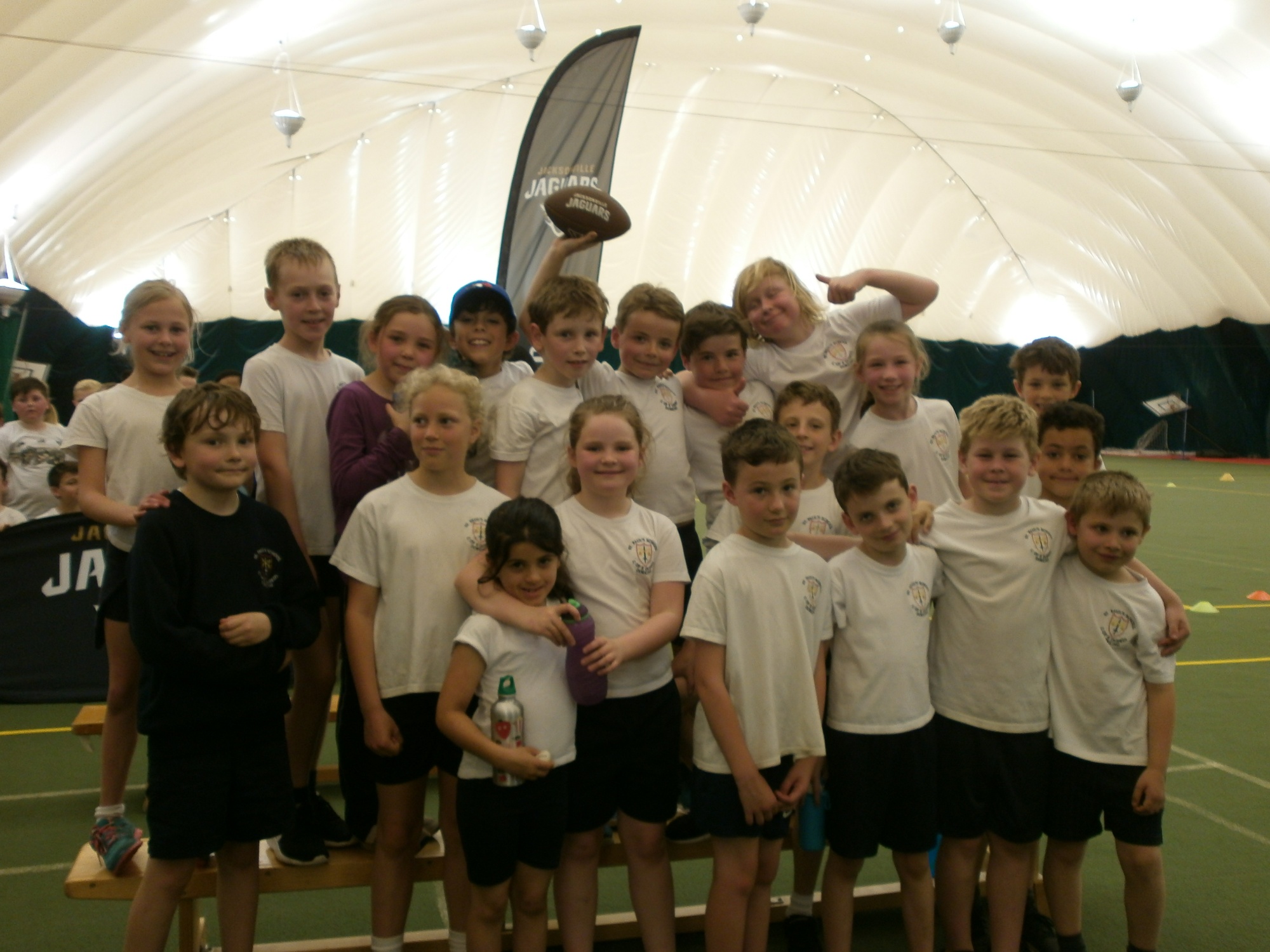 ---
Girls' Kwik Cricket Competition
21st May 2018
Reported by Flo and Abbie
On Tuesday 22nd May, ten Year 5 & 6 girls from St. Paul's went to Newdigate Cricket Club to compete in a girls' cricket competition. There were five schools taking part and we were up first against The Weald. It was very tense but we were good fielders and batters, and won with 248 runs against 230 runs.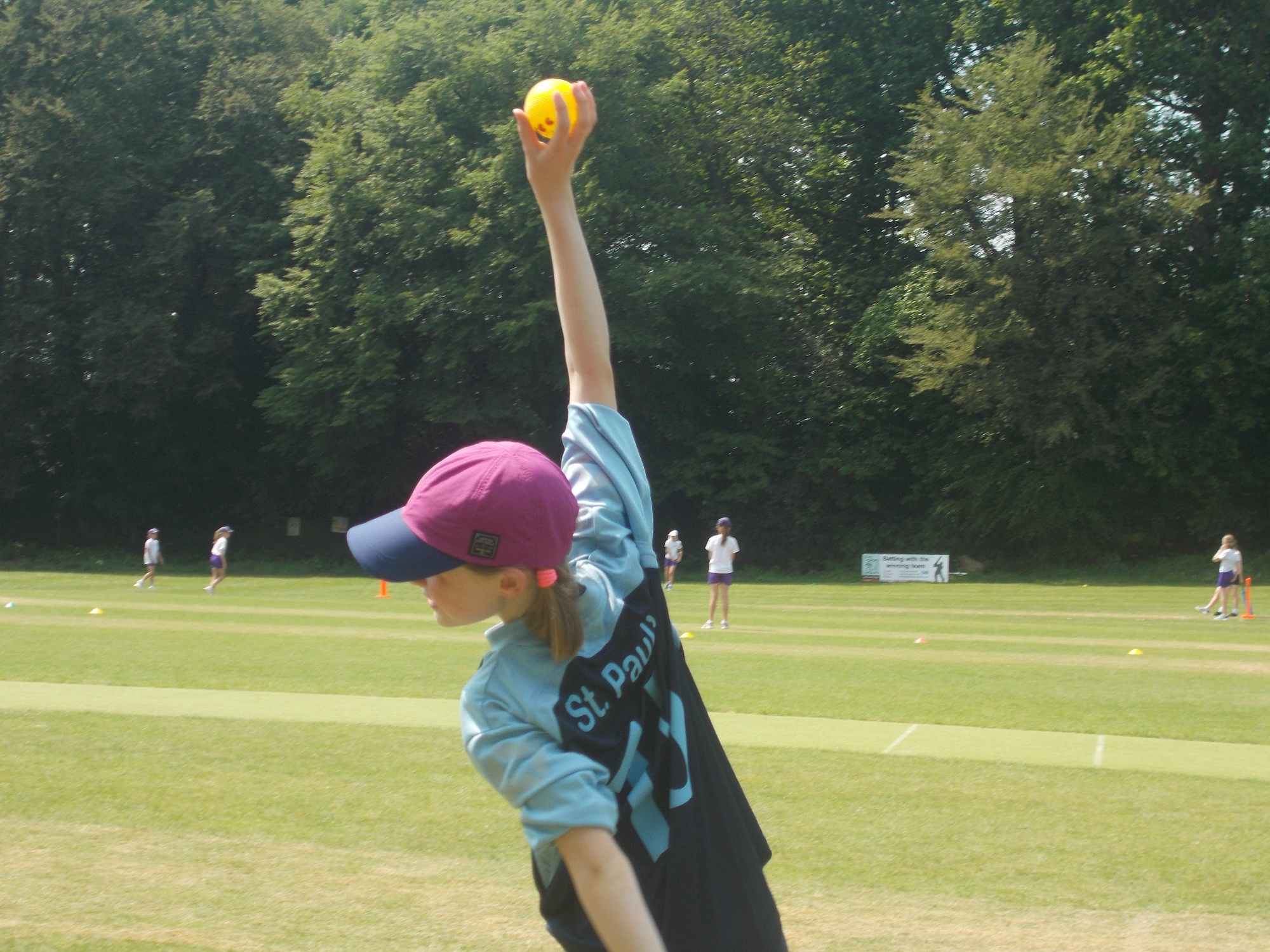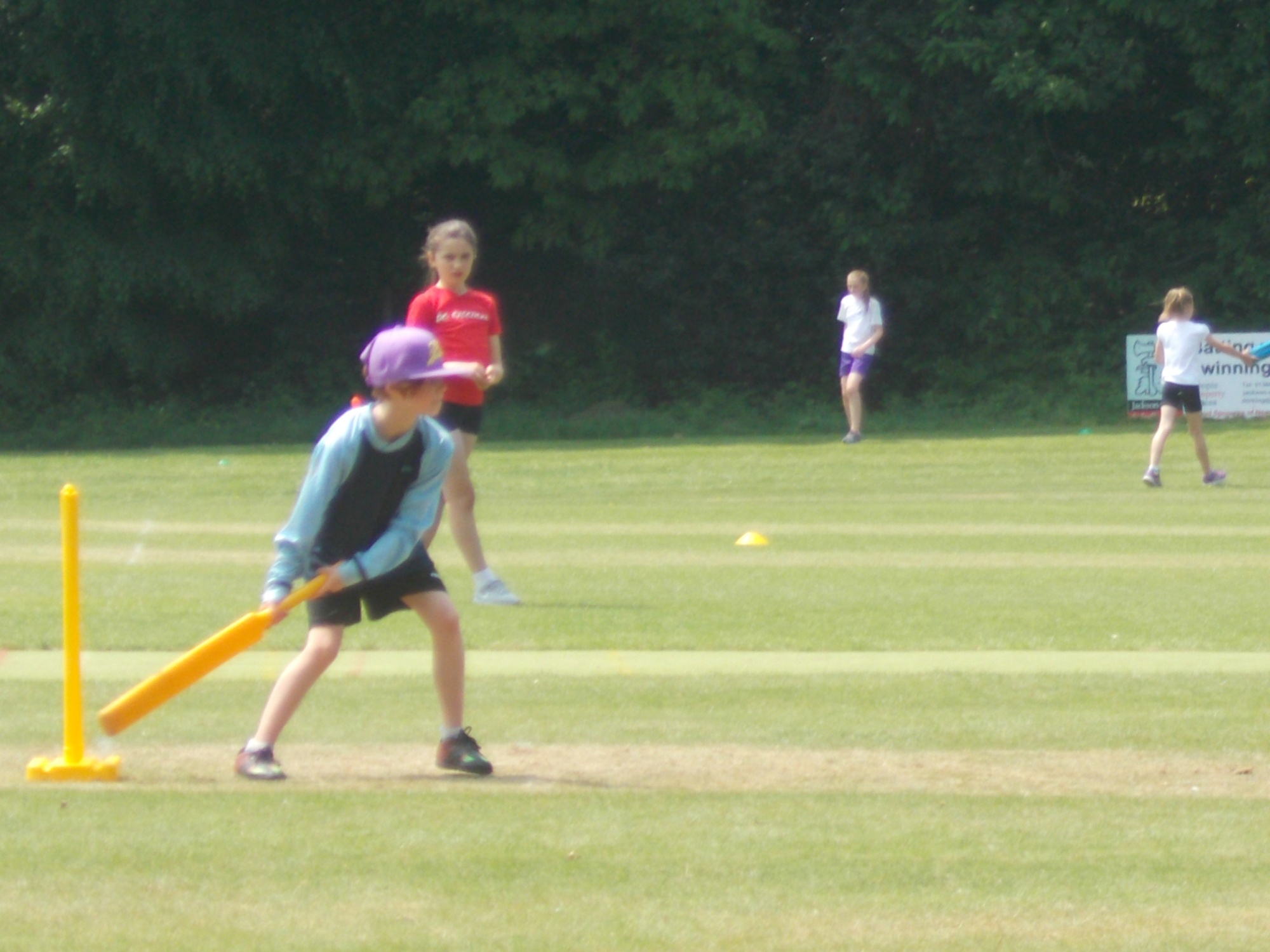 Next we played Surrey Hills (the school!) and it was quite close but unfortunately they beat us with 238 runs whilst we had 231 runs. However, we still showed great teamwork in this game!
After we had finished this game we had to sit out for a match but made sure we practised in the meantime. Then we had lunch.
Up next we played St. John's. They clearly tried hard and it was supposedly a 'draw' but it turned out that there was a miscalculation and in the end we won with 230 runs against 226 runs but it was a really tight game!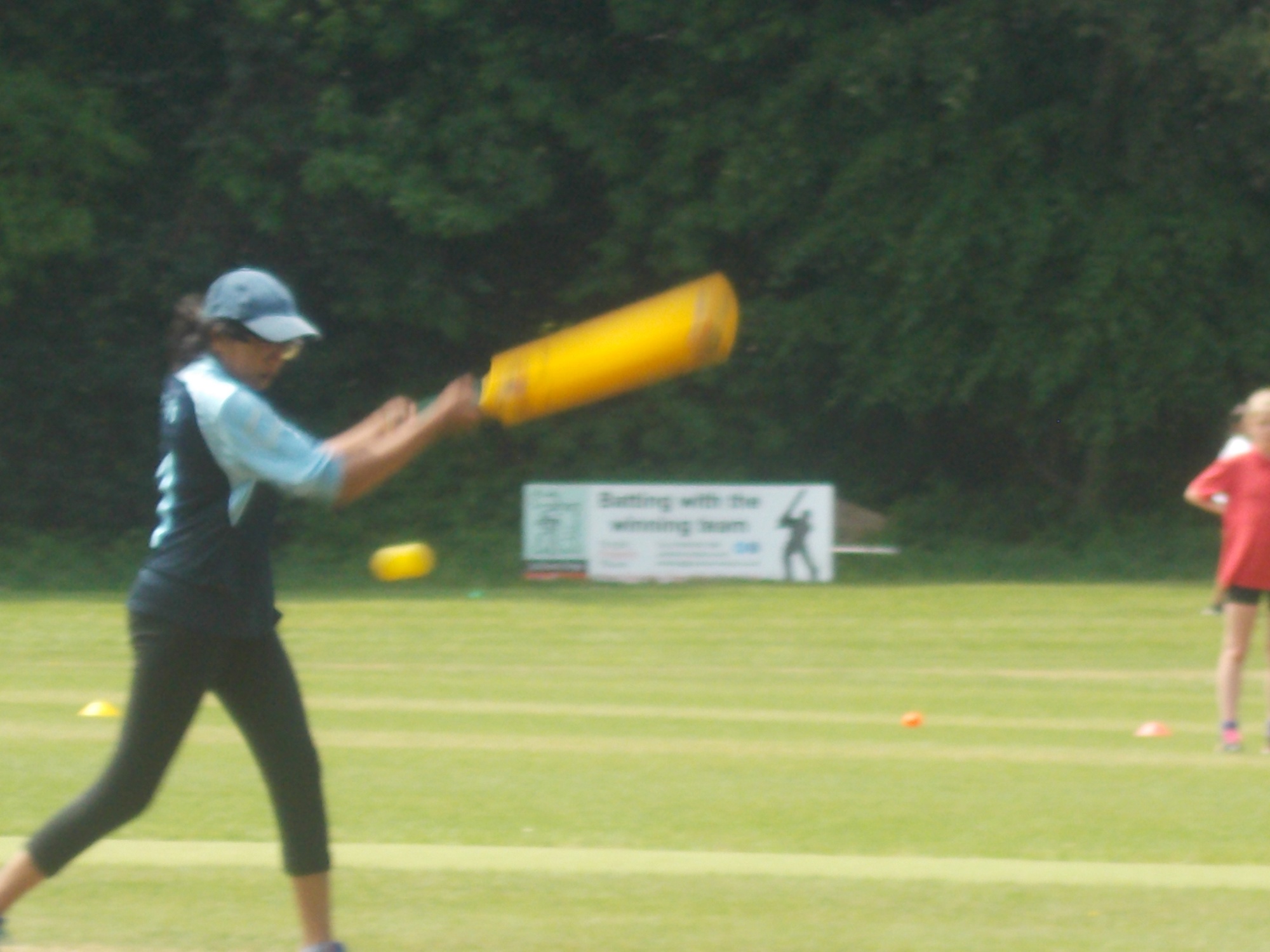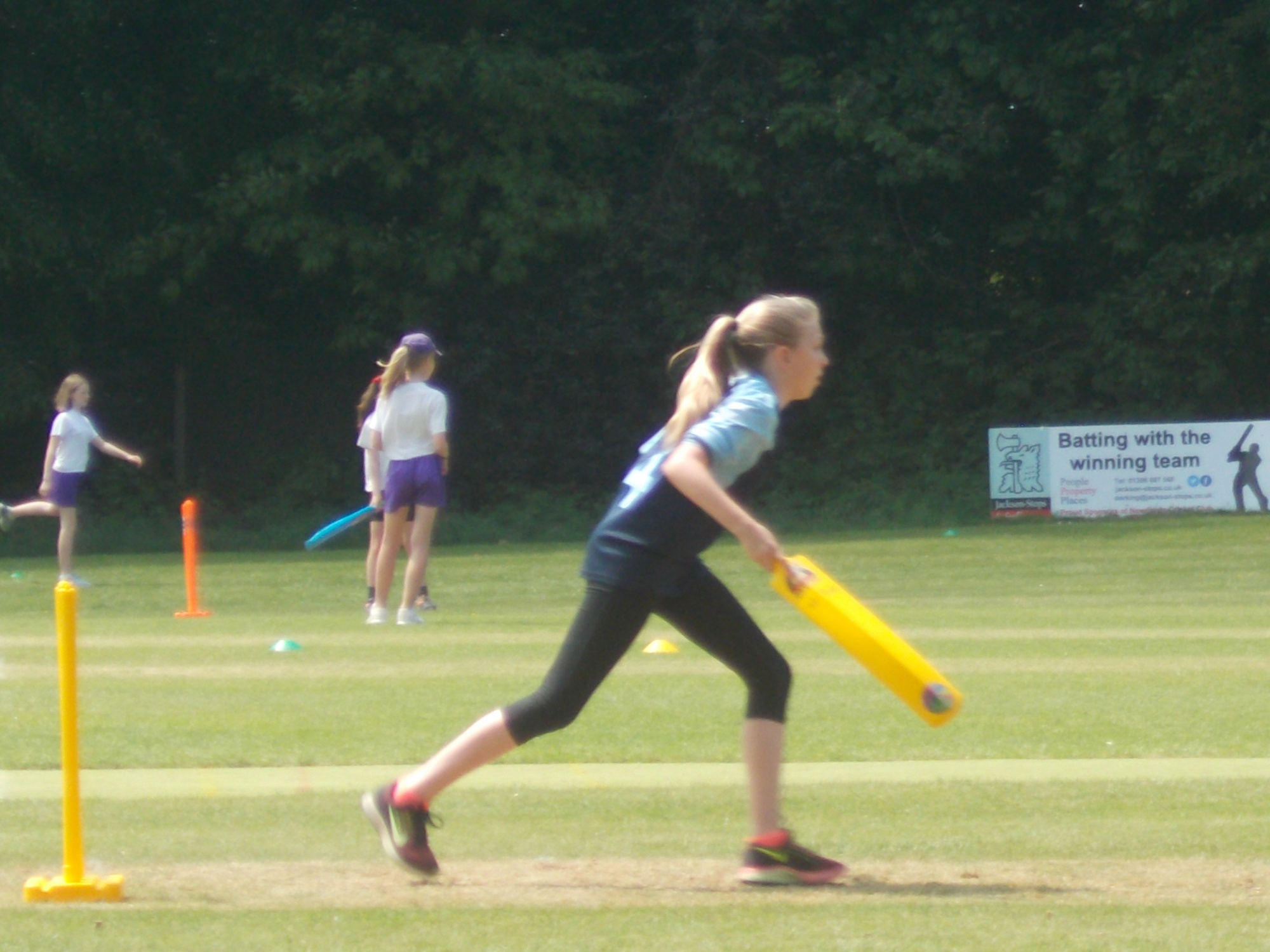 Finally, we played North Downs and they were a brilliant team. We tried as hard as we could and when it was their turn to bat, they whacked the ball so hard that they got lots of extra runs as they kept hitting the balls out of the boundaries. We did as best as we could but sadly they beat us with 256 runs against 251 runs.
At last it was the medal ceremony. 1st place: North Downs, 2nd place: Surrey Hills (the school, again!), 3rd place… :ST. PAUL'S!!!!!!!!! We couldn't believe it; it was a great day!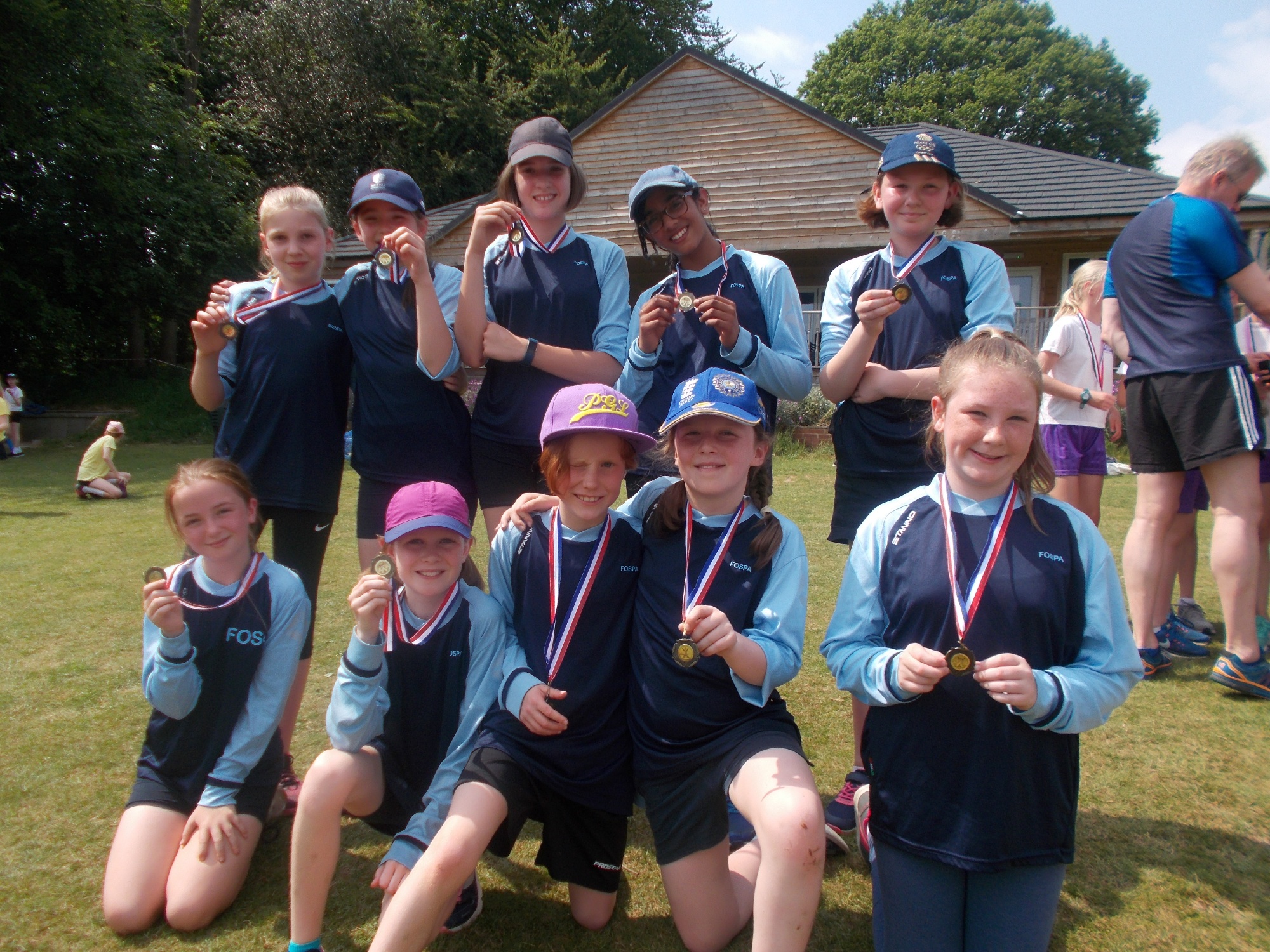 With thanks to these great people who took part, Emmy, Avani, Isobel, Isabella, Millie, Jasmine, Lily and Philly and ourselves - Flo and Abbie!
And a huge thank you to Miss George and everyone else who organised it.
---
KS2 Dorking Schools Swimming Gala
21st May 2018
Reported by Emmy and Rachel - Year 6
Today, St Paul's swimming team (Yrs 3-6) went to the Priory pool to take part in the 2018 swimming gala.
The events were:
Freestyle, backstroke, breaststroke and butterfly.
As well as freestyle relays; one for Years 3,4/5,6 and a jumbo relay, which involved two people from each year group swimming in the swimming team together.
We did really well-even though some of the races were quite close.
In freestyle, Isabella came 1st in Yr 6 and Anna, Louis and Violet came 2nd in Yr 3,4 and 5.
In backstroke, Rachel came 1st in Yr 6 and Lottie came 2nd in Yr 4.
In breaststroke, Emmy, Sam and Anna all came 1st for Years 6, 5 and 4.
In the butterfly, Isabella was chosen as the fastest in the swim team for this event and came 2nd.
In the relays, we came 2nd and 3rd in the Yr 3/4 and Yr 5/6 teams and in the jumbo relay we came 1st.
Overall, St Paul's swimming team came 1st in the gala but not by much. It was fantastic seeing everyone supporting each other. There was a really good atmosphere.
The event was organised by Miss George with the help of Dorking Swimming Club. Thank you very much to everyone who helped.
---
Year 6 Boys Dorking Schools Cricket Tournament
Friday 4th May 2018
9 Year 6 boys attended the tournament and put on a fabulous display of cricketing skills and team work.
They played 6 matches against other local schools and won them all! All the boys showed great sportsmanship, amazing determination and a real desire to improve their performance with each game. They did this with style, taking the most amount of wickets and scoring the most runs overall.
The boys should be really proud of how they played as a team, encouraging each other and valuing every member of the team.
They now go on to play a Leatherhead school for the chance to go on to the county finals at Epsom College.
---
Panathlon Event - Year 1
Tuesday 8th May
On Tuesday 8th May, a team of eight Year 1 children travelled to Surrey Sports Park in Guildford to take part in a Panathlon event. The children were introduced to nine different, inclusive sporting activities, such as New Age Kurling, Polybat, Flight Path, Messi Football skills and Table Cricket. The events were designed to test their hand-eye coordination with throwing, catching, kicking, aiming and racquet skills.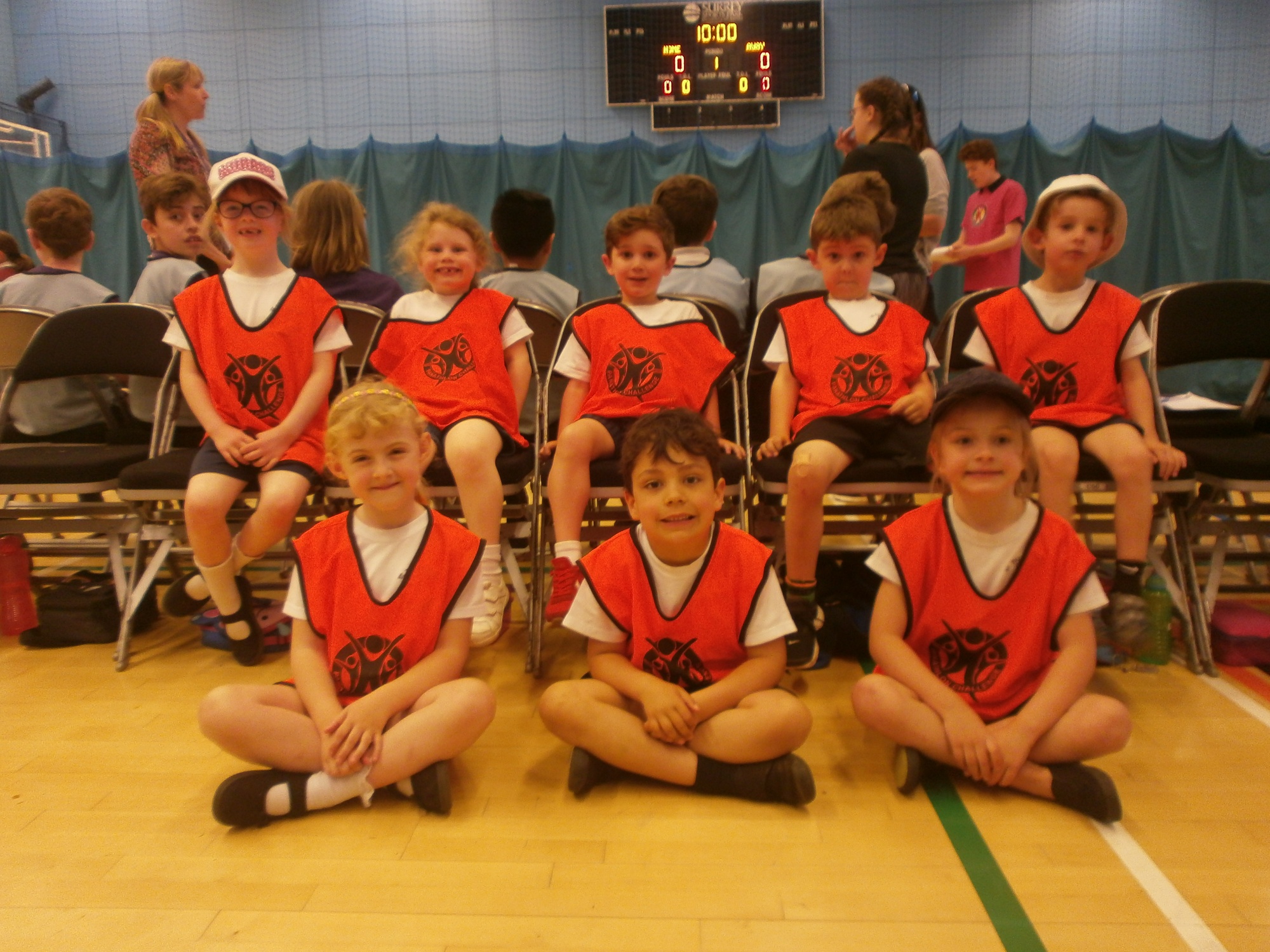 Our first event was Table Cricket which featured the smallest cricket bat you have ever seen! One child bowled a small cricket ball down a ramp to the batter at the other end of the table, who had four turns to bat it back and try to hit one of the numbers around the sides of the table pitch to score. No points were awarded if they managed to hit one of the cartoon fielders positioned around the edge!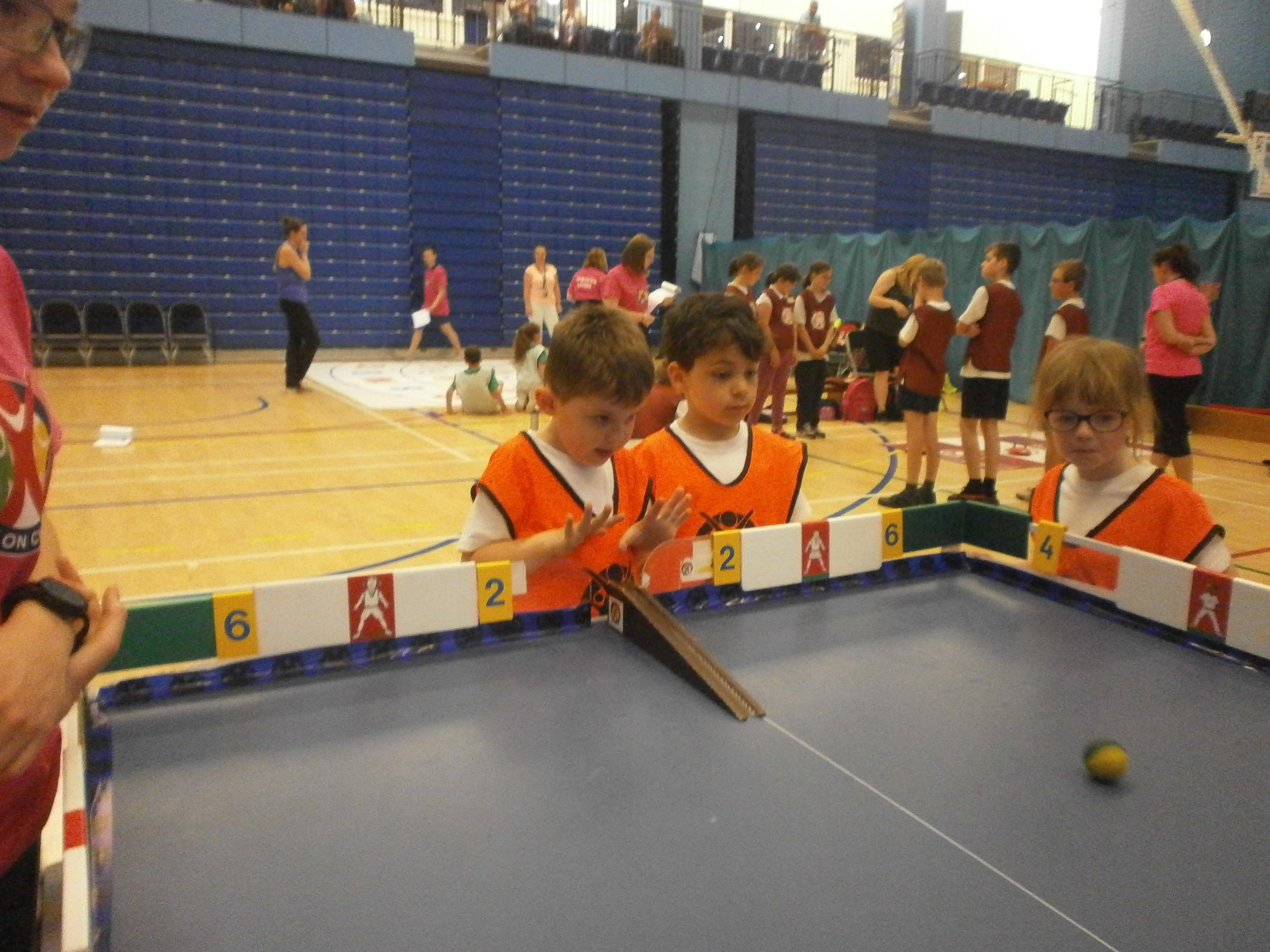 Event two was the multi skills football which was where our children did particularly well, first by dribbling the ball and then scoring goal after goal, either by kicking or throwing the ball into the net. We were the best team at this overall. Good job guys!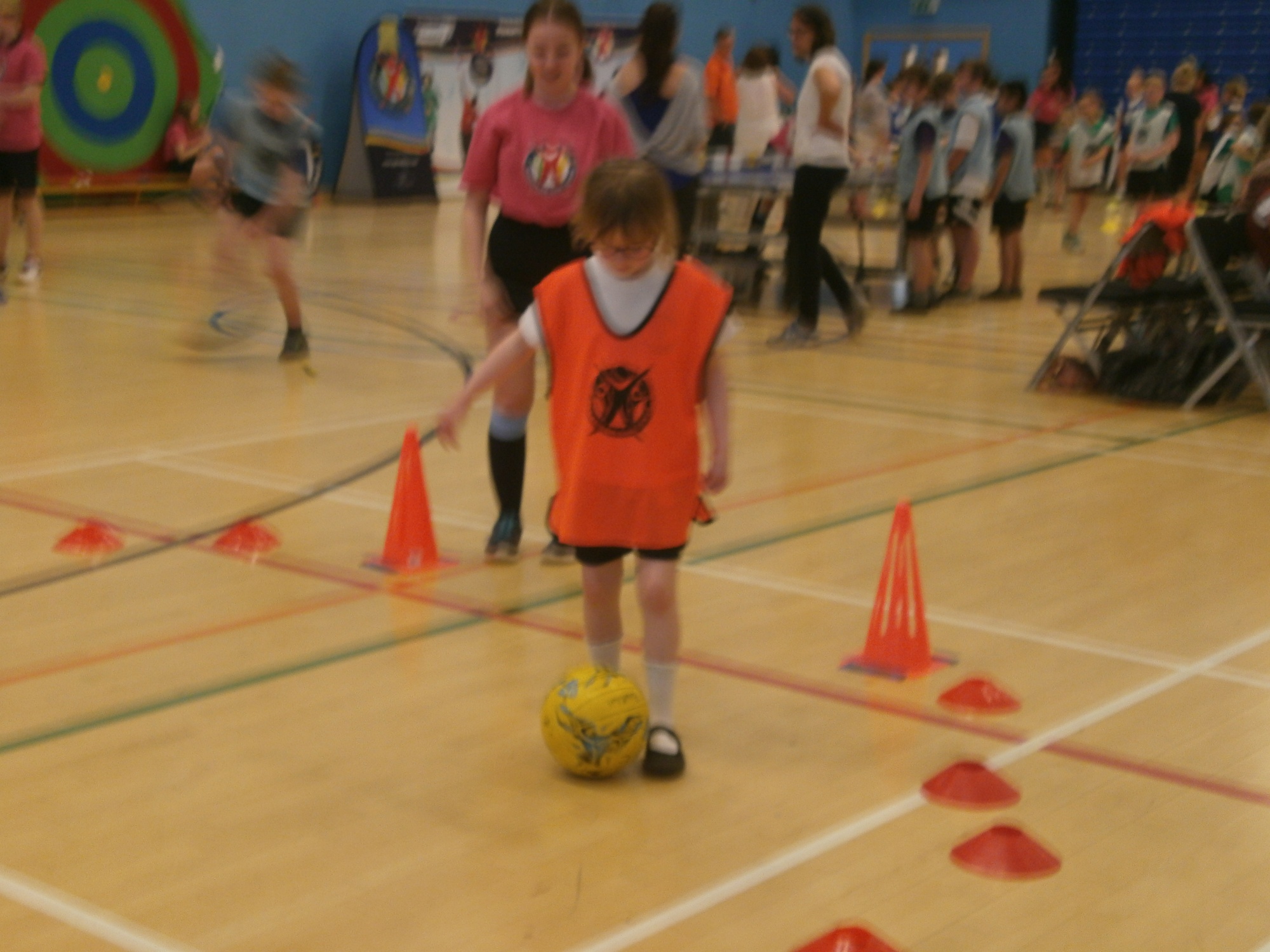 Next were some fun parachute games including Parachute Popcorn where the children demonstrated their skills controlling the balls on the parachute, flipping them off and then speedily retrieving them all from far flung corners afterwards.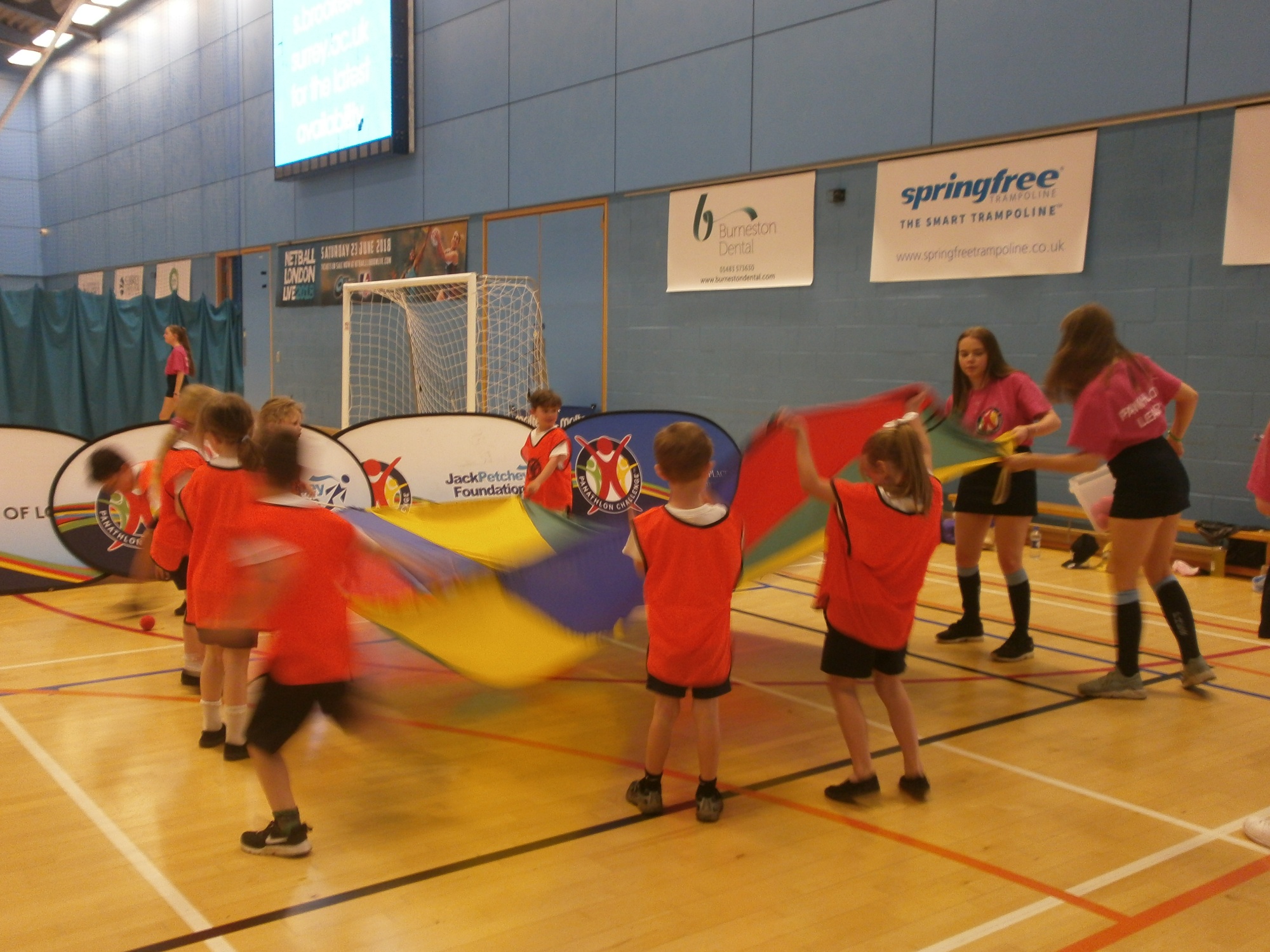 After that, the children tried their hand at Polybat or Rally Bat which took place on a sided table, with a cone to avoid in the centre. Grace and Jessica in particular had several long lasting rallies.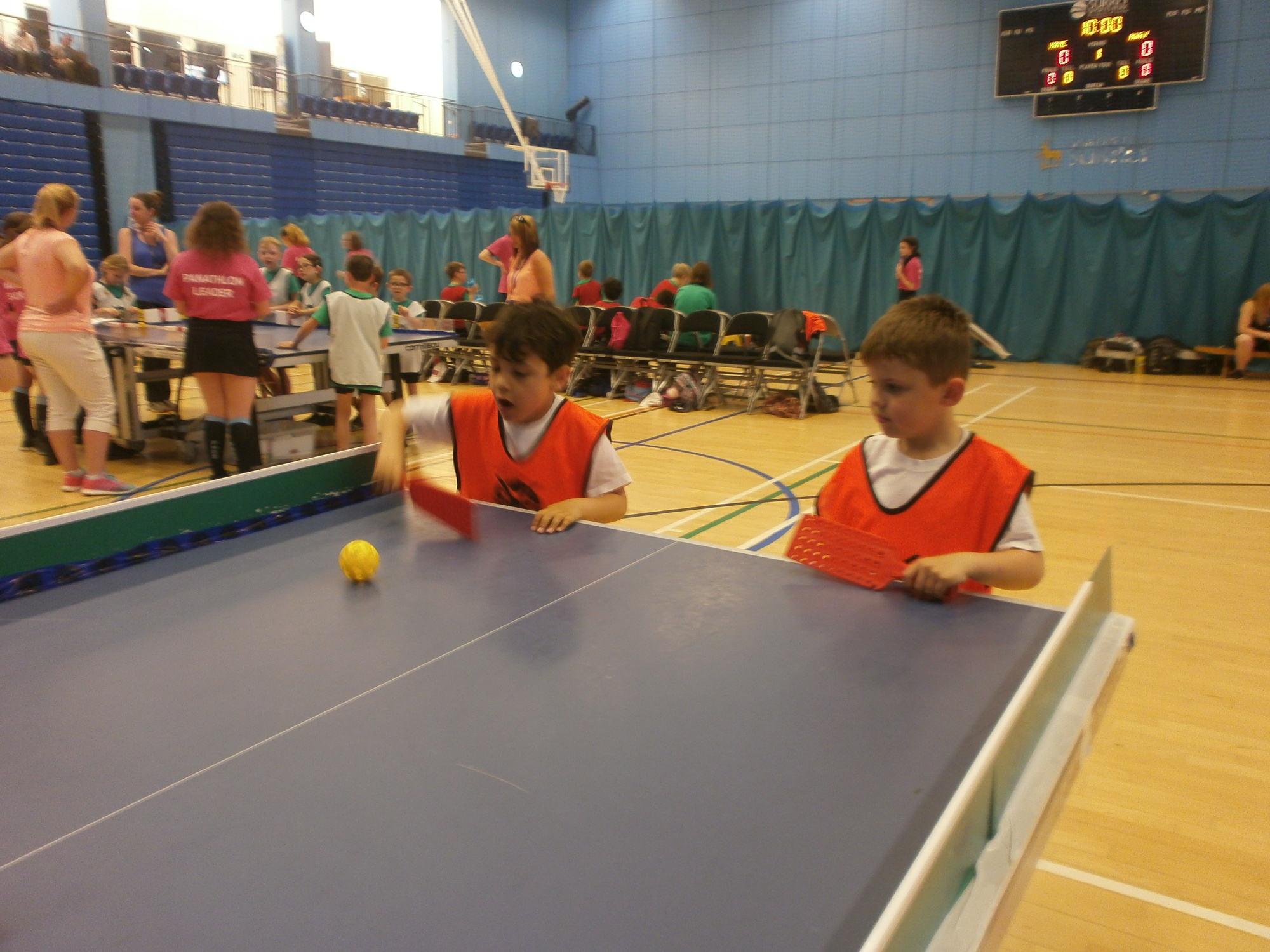 The next game, Flight Path, was a bit like darts, where the children had to throw a red, yellow, green or blue Velcro covered ball onto the matching coloured section of a huge target. Toby and Derin did especially well at accurately hitting the correct colour.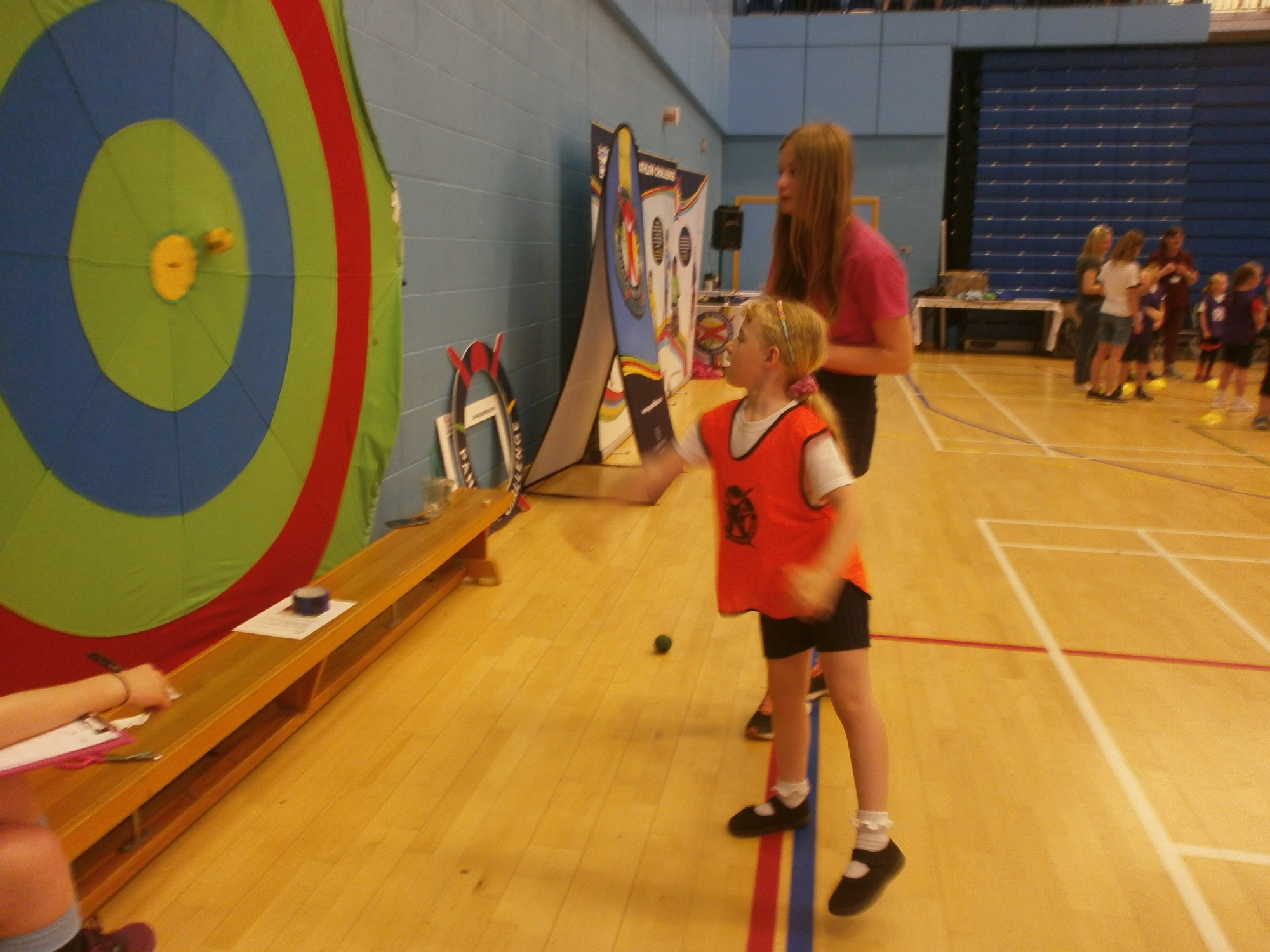 After a break, they all had a go at basketball. The children stood in a circle with a giant, low basketball net in the middle and each child had a turn to score, seeing how many baskets the team could get in one minute. The girls showed good skills with this and although the boys shots were mostly on target they often bounced off the ring with the force of their throws!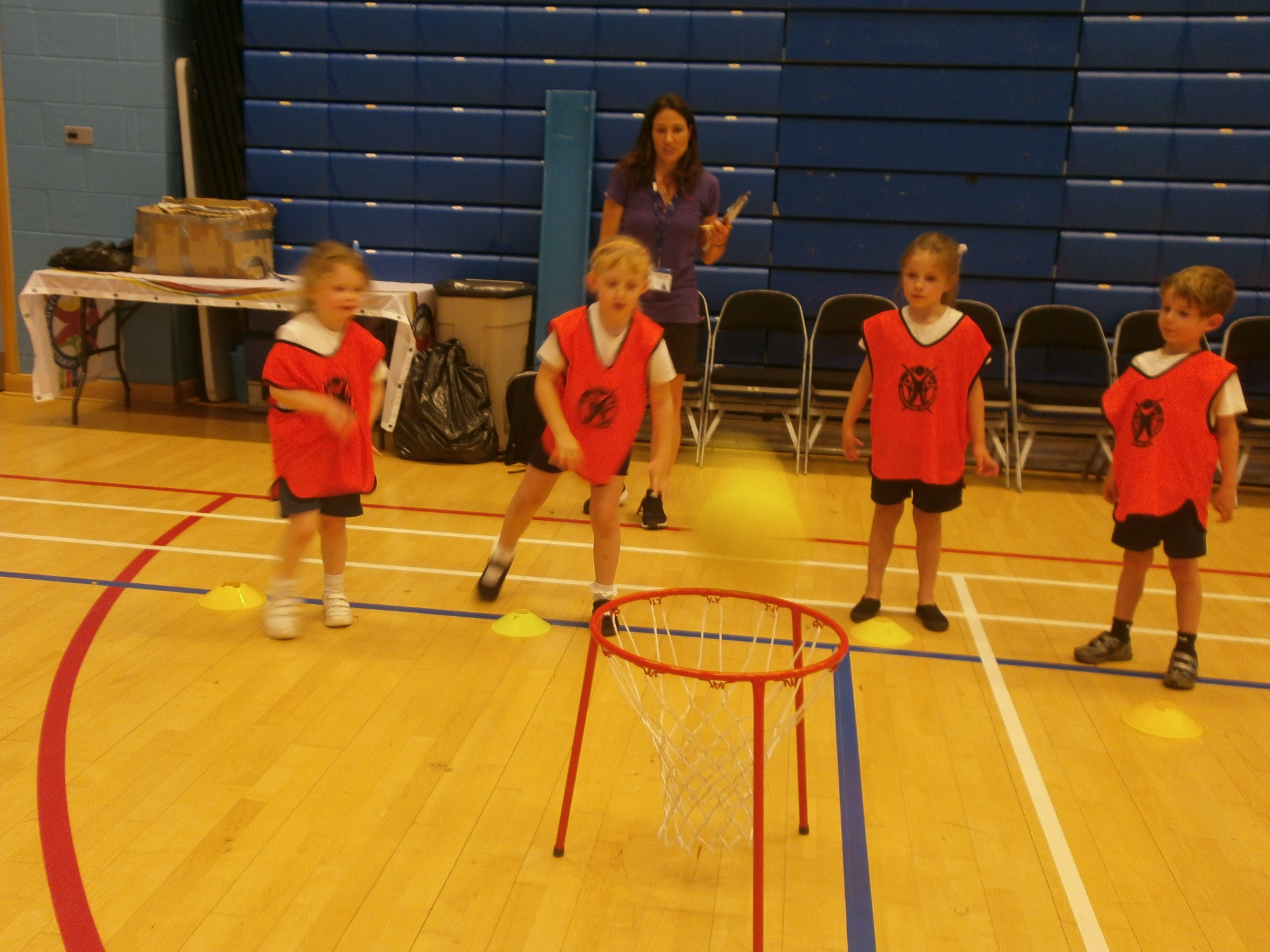 Their next challenge was Precision Beanbag, which entailed throwing the beanbag to land on the highest number on a scoreboard. They did this from seated, then from standing but with their eyes closed and finally throwing backwards over their shoulders.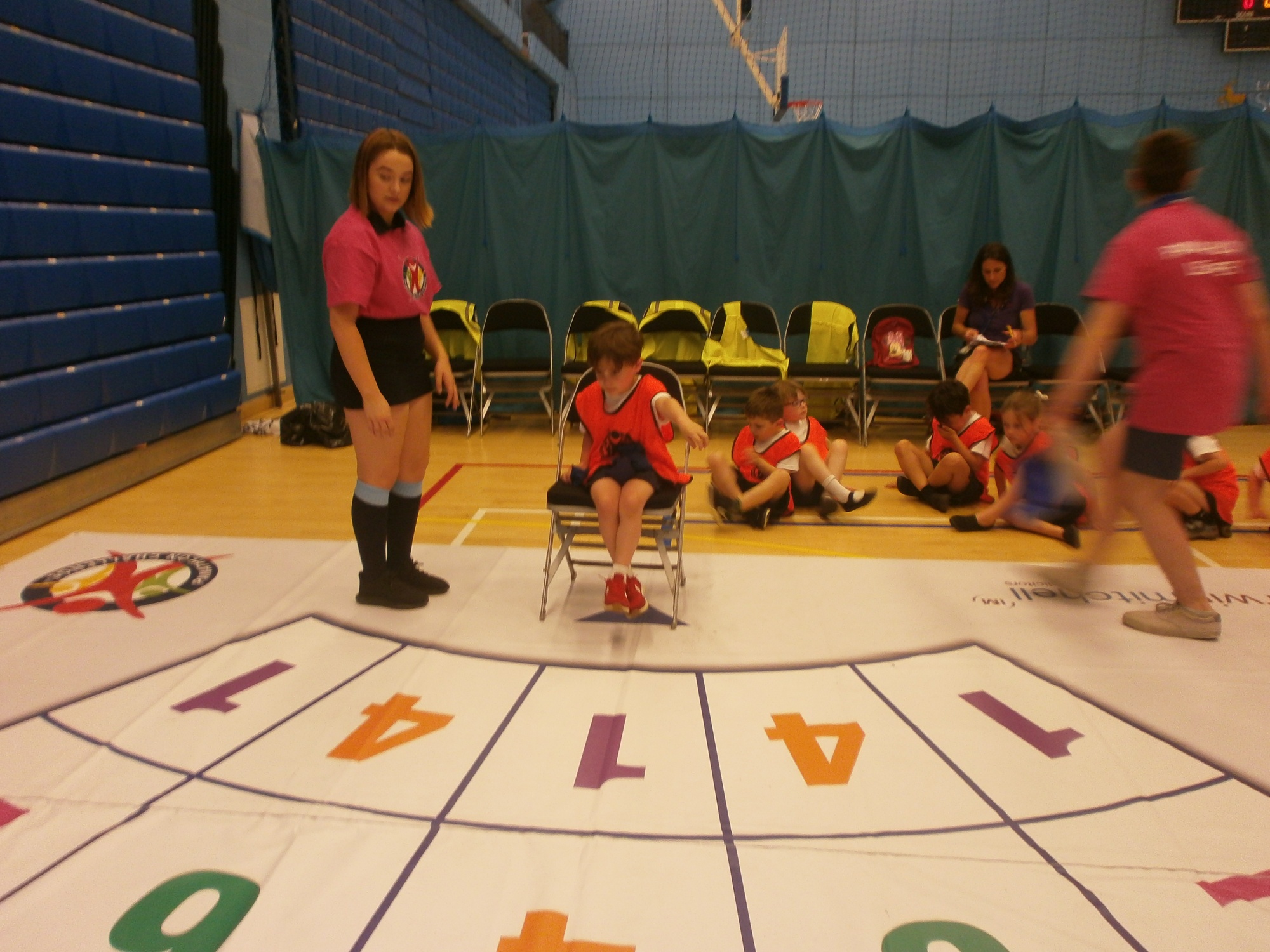 They then moved onto New Age Kurling where they hurled Kurling stones along the floor towards a target, gaining more points for the further it travelled. Although no points were awarded if they sent it too far. Grace got the highest single score of the day with 12 points.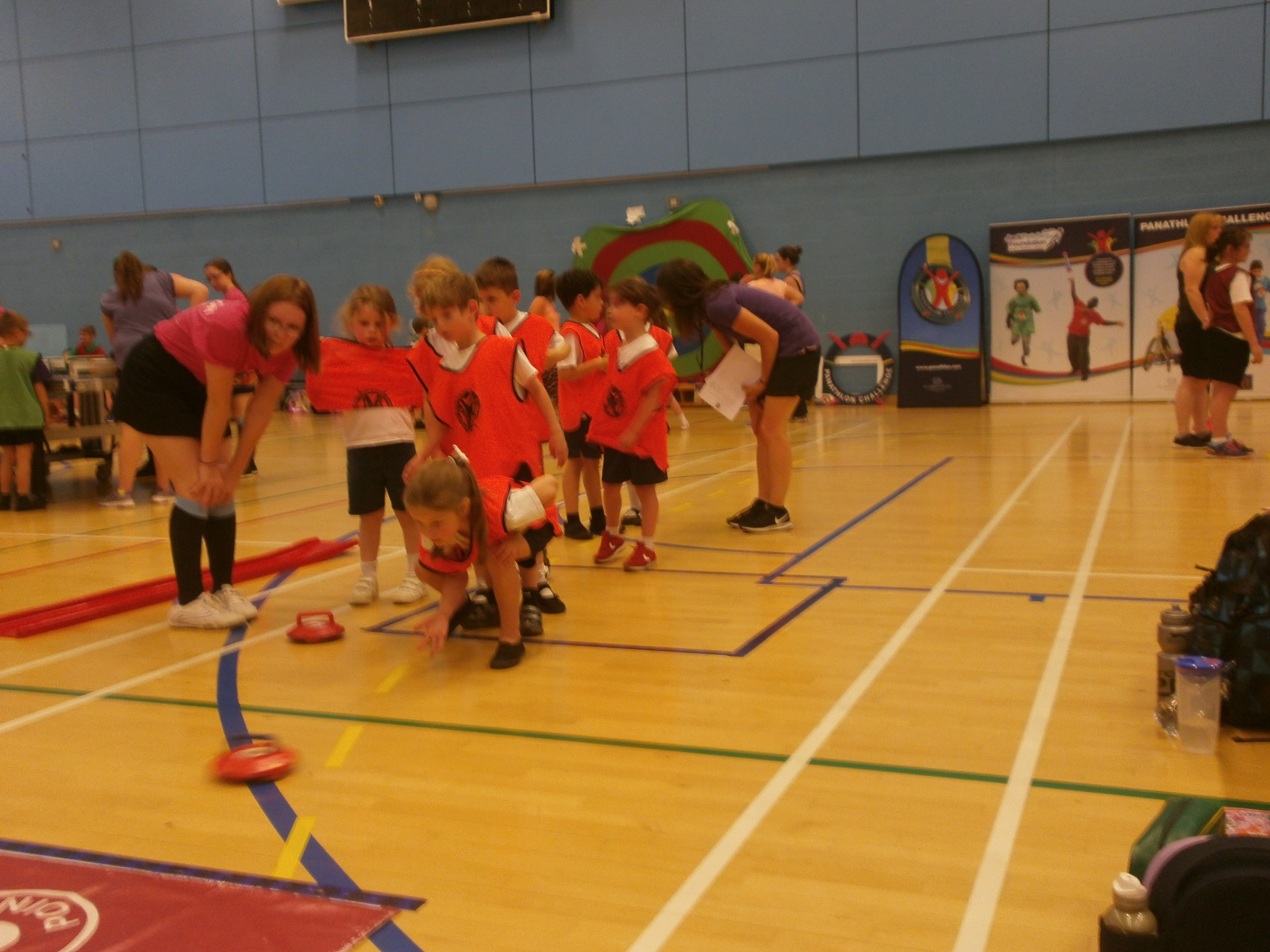 Our penultimate activity was Boccia Blast which involved accurately rolling balls into a hoop on the floor.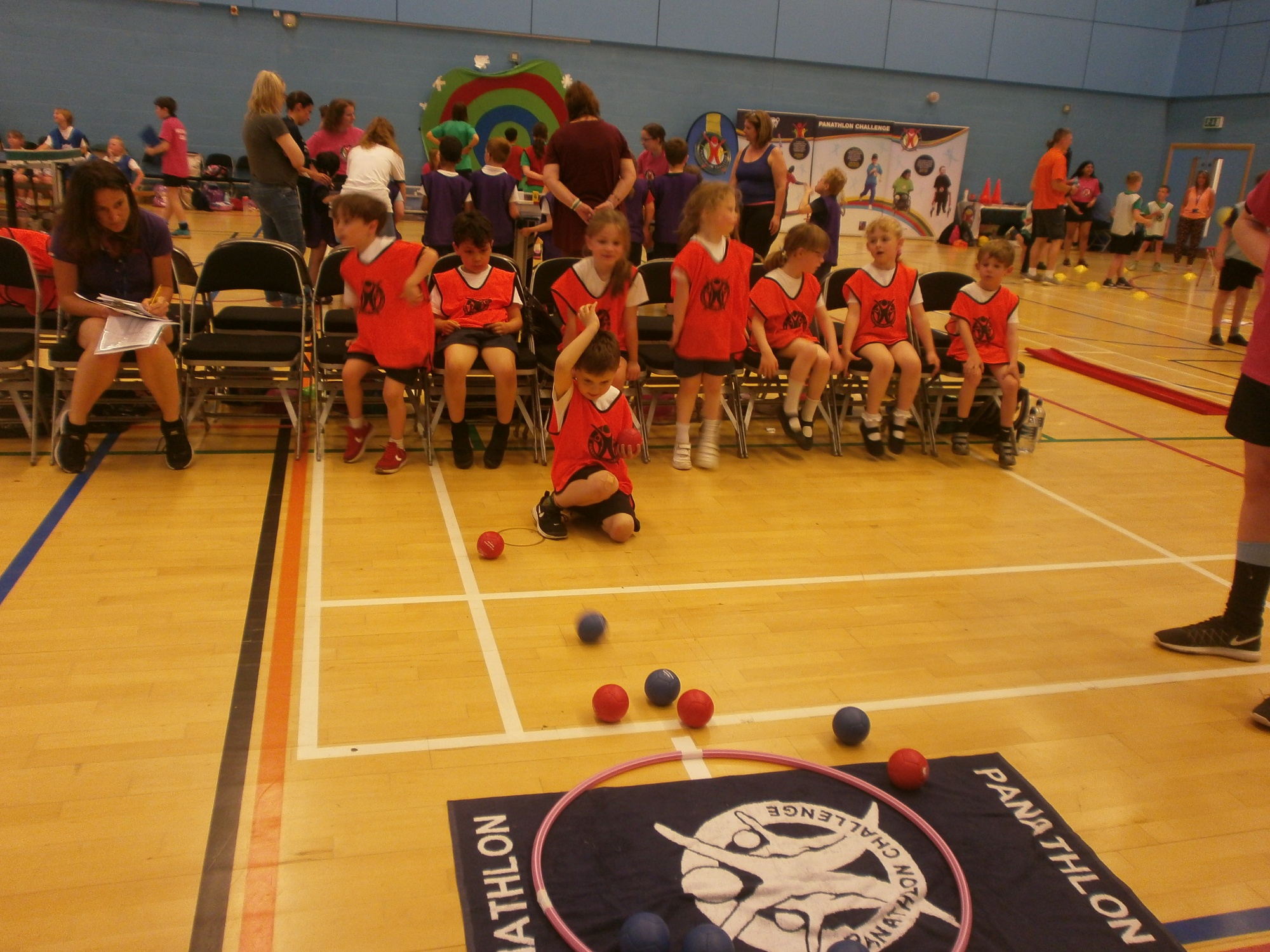 Finally, each school competed in relay races involving running, sidestepping and throwing a beanbag to their team mates.

Our team took first place in the Messi Football Skills event and came fifth in the competition overall.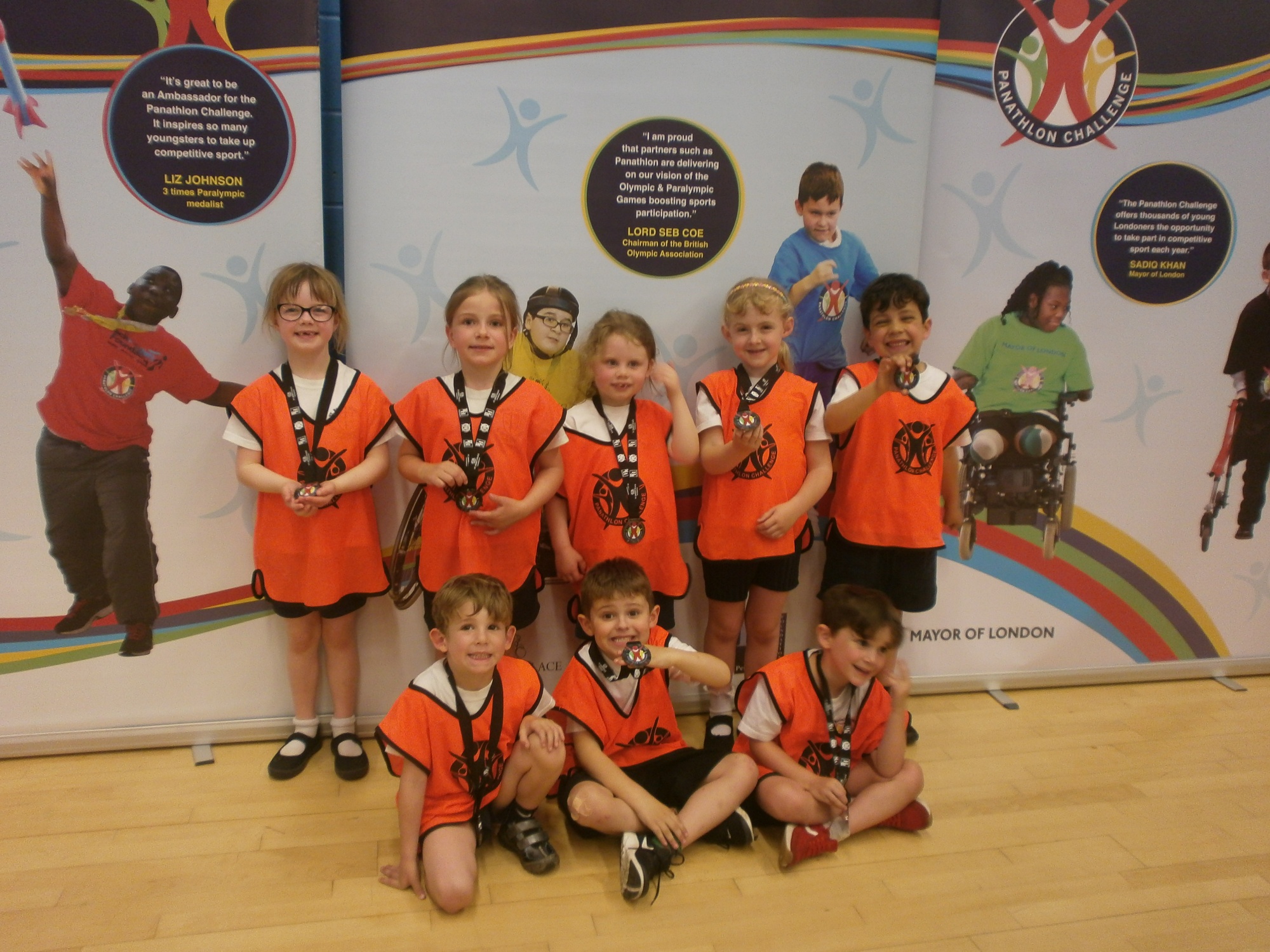 All the children showed great enthusiasm, fantastic teamwork and camaraderie. They gave their best effort, behaved beautifully and enjoyed a fabulous afternoon of sport and each child received a well deserved medal and certificate at the end of the day. Well done!
---
Hockey County Final
Haslemere 26th April 2018
Reported by Sam C
At the hockey tournament on Thursday, 4 year 5s and 3 year 6s from St Paul's played 7 games of hockey. Each game was 6 minutes long. Our first game was against Crawley Ridge and we won! Then, we were on to the next match straight away. This meant we got very tired but luckily we won the next game too (1:0). Eventually, we had a break but sadly, after that break we lost our match against Thames Ditton 0:2.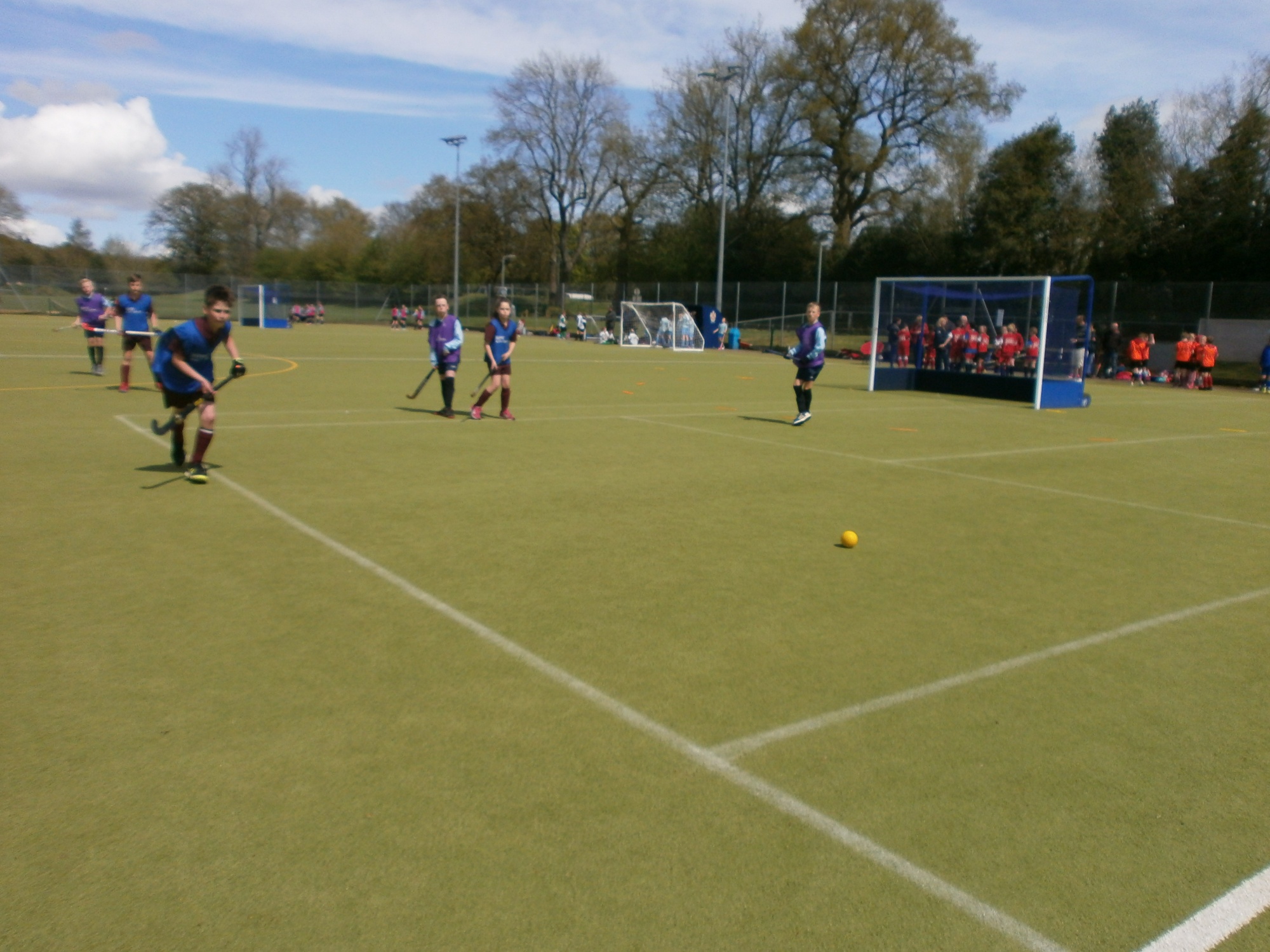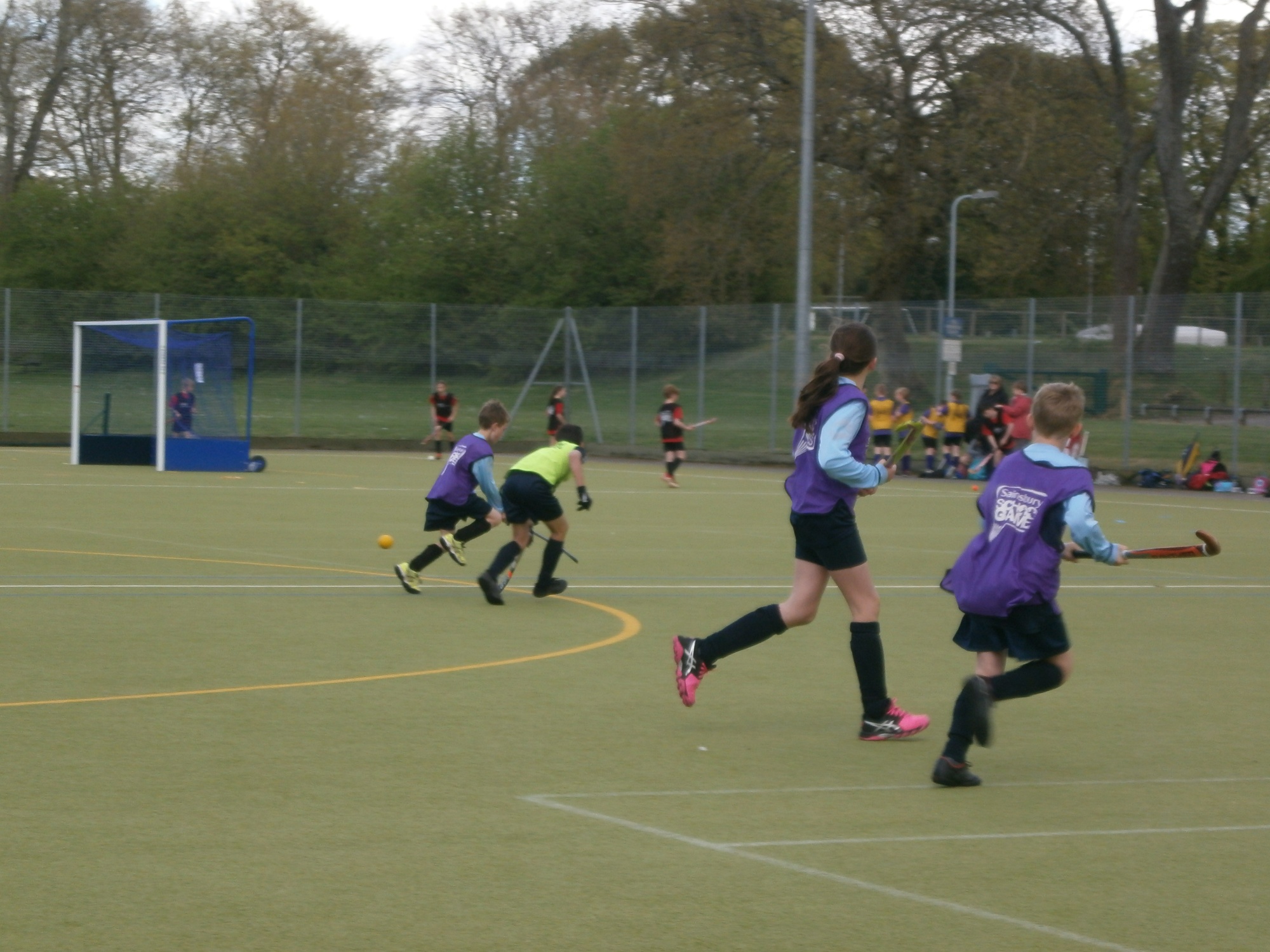 With a little time to talk tactics, we moved onto our next games, where we drew the first and won the next.
There was a tense wait at the end of the group round to see which schools went through to the semi-finals. There were two schools (one being us) who had got exactly the same amount of points so it was all dependant on the goals scored. We had scored one more goal than the other team so we were through!
In the semis, we played against Laleham, who won 1:0 and went to the finals. It was a very close match.
In the play offs for 3rd position, we played against Chandler. We won 4:0!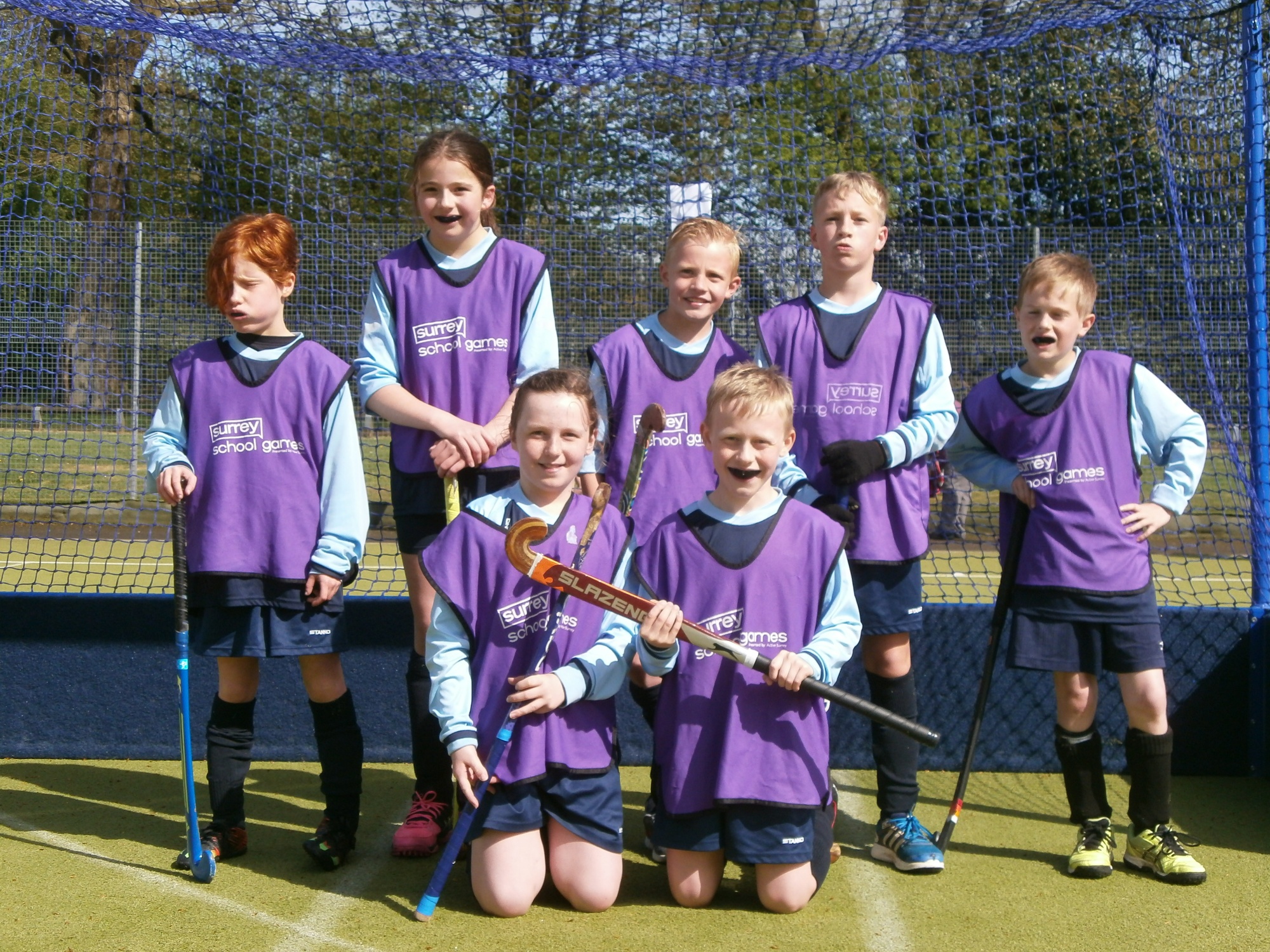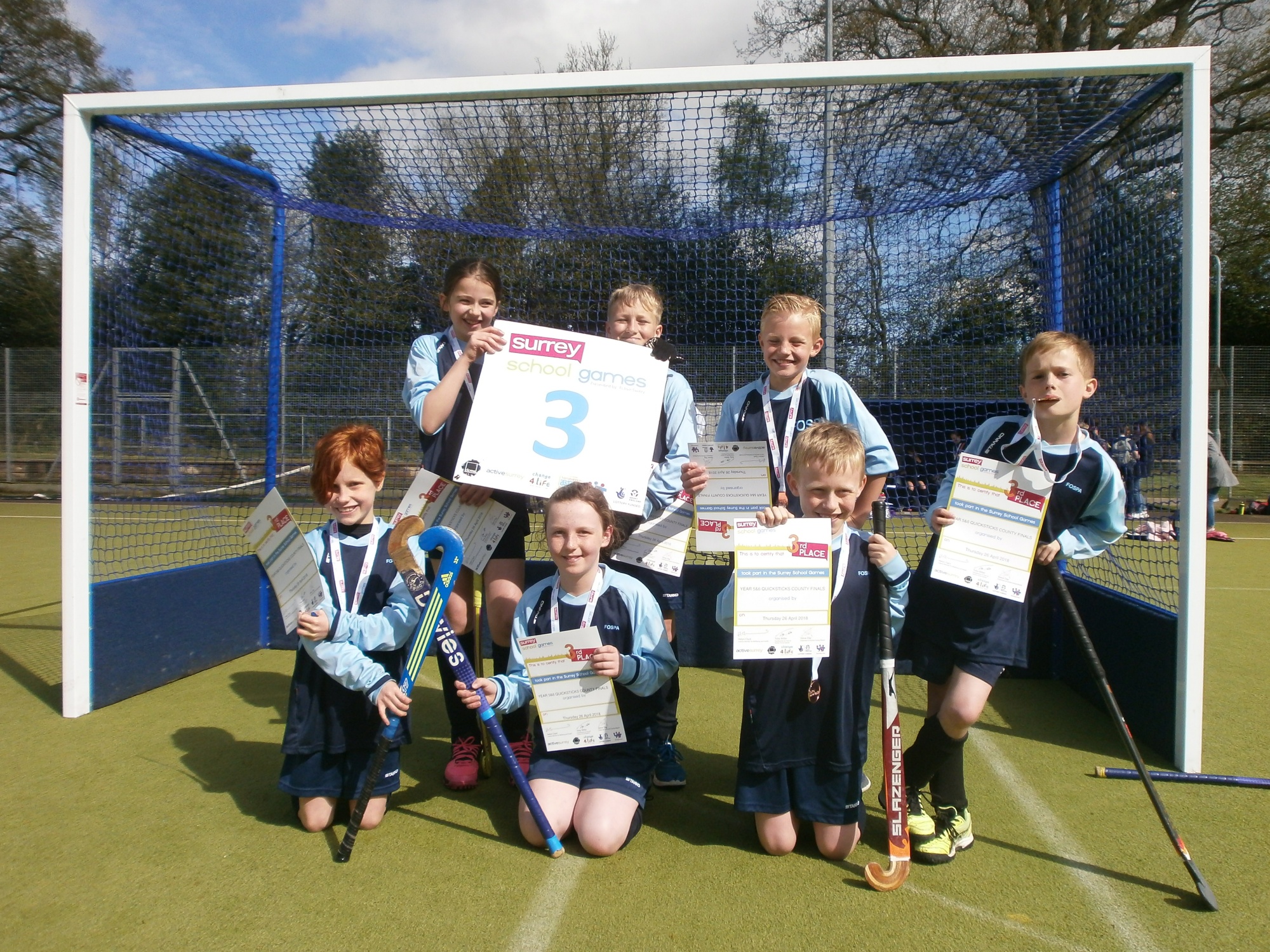 Overall, we came third and so we are now through to the South East Regionals at the University of Kent in June.
---
Thursday April 26th 2018
Today, we were very lucky to welcome Rose Thomas, a Commonwealth Hockey Player, into the St Paul's assembly. Rose was hugely inspirational, talking about the importance of nutrition, resilience and determination.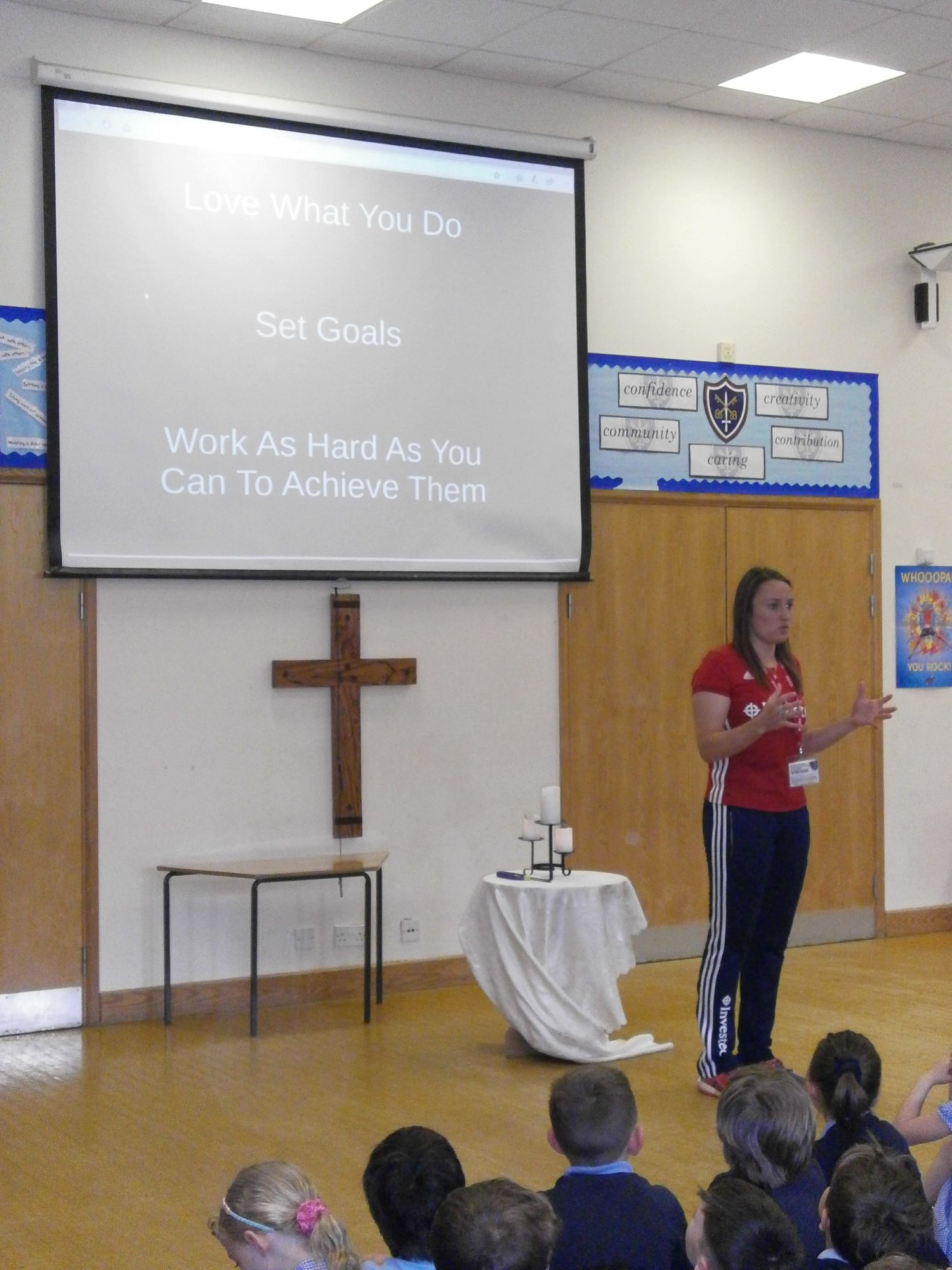 Rose started to play hockey when she was 11 years old and progressed in the sport by using skills she had learnt from other sports, including taekwondo and football. During the years, Rose showed great determination - even when she had set backs, she never gave up. In 2018, she achieved three of her hockey goals: to play in a premiership club, to represent Great Britain and to play at the Commonwealth Games in Australia.
Thank you so much Rose for inspiring all our children and we wish you luck for the future – we hope to see you in the 2020 Olympics!
---
Year 6 Lacrosse County Final Tournament
Tuesday the 17th of March
Reported by Lydia S
Tuesday the 17th of March was a very exciting day as the year 6 A-team and B-team for lacrosse went to the Surrey lacrosse competition.
The day was kicked off by a Sports Relief dance routine, which Lydia, Maddie and Daisy took part in. This was followed by a flag parade and a mass warm up.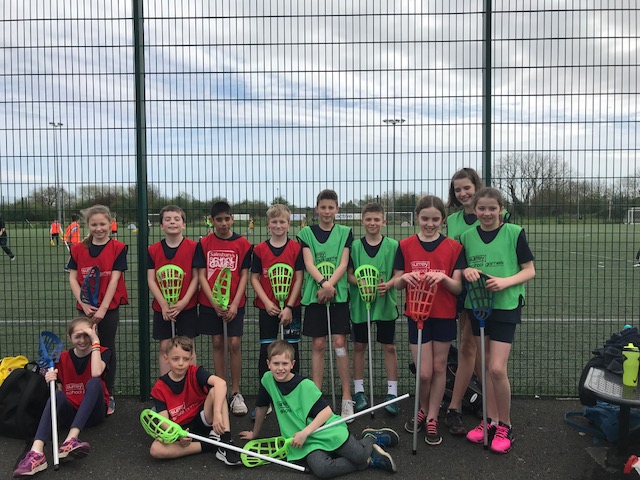 Both teams had a great first match, the A-team winning 3:0 and the B-team winning 3:2, followed by the A-team winning 2:0 and the B-team winning 4:0. In the third match, the A-team continued their streak by winning 3:1 although the B-team unfortunately lost 4:0. As the day moved on, the A-team gained two 4:0 and 5:0 wins and the B-team gained two 2:1 and 2:0 wins. Therefore, both teams moved onto the quarter-finals.
Sadly, the B-team were knocked out after they lost 2:1 to the opposition. However, the A-team won their match and moved on to the semi-finals, which they won too.
Now, they were in the finals against St Charles! They showed great determination throughout the match and, amazingly, they won!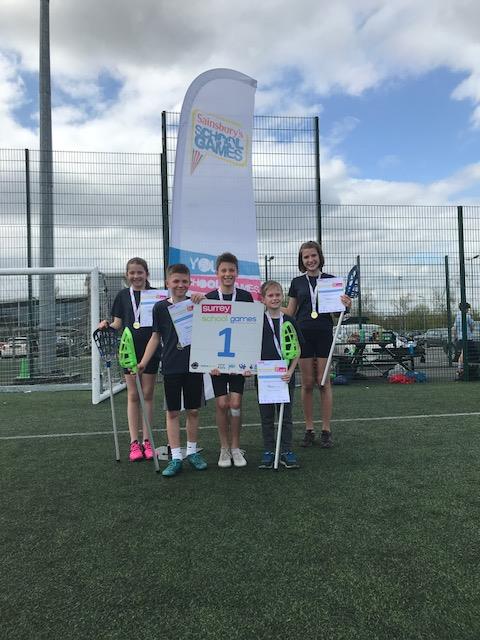 They now have a place at THE NATIONALS in SHEFFIELD!