Google Expeditions comes to St. Paul's
Wow- what a treat we've had today!
The whole school enjoyed an amazing immersive experience today, courtesy of Google's 'Expeditions' team. Each class spent half an hour on an interactive field trip using the Google Expeditions app on a smartphone, with special Google Cardboard goggles for our older children to bring the experience even more to life.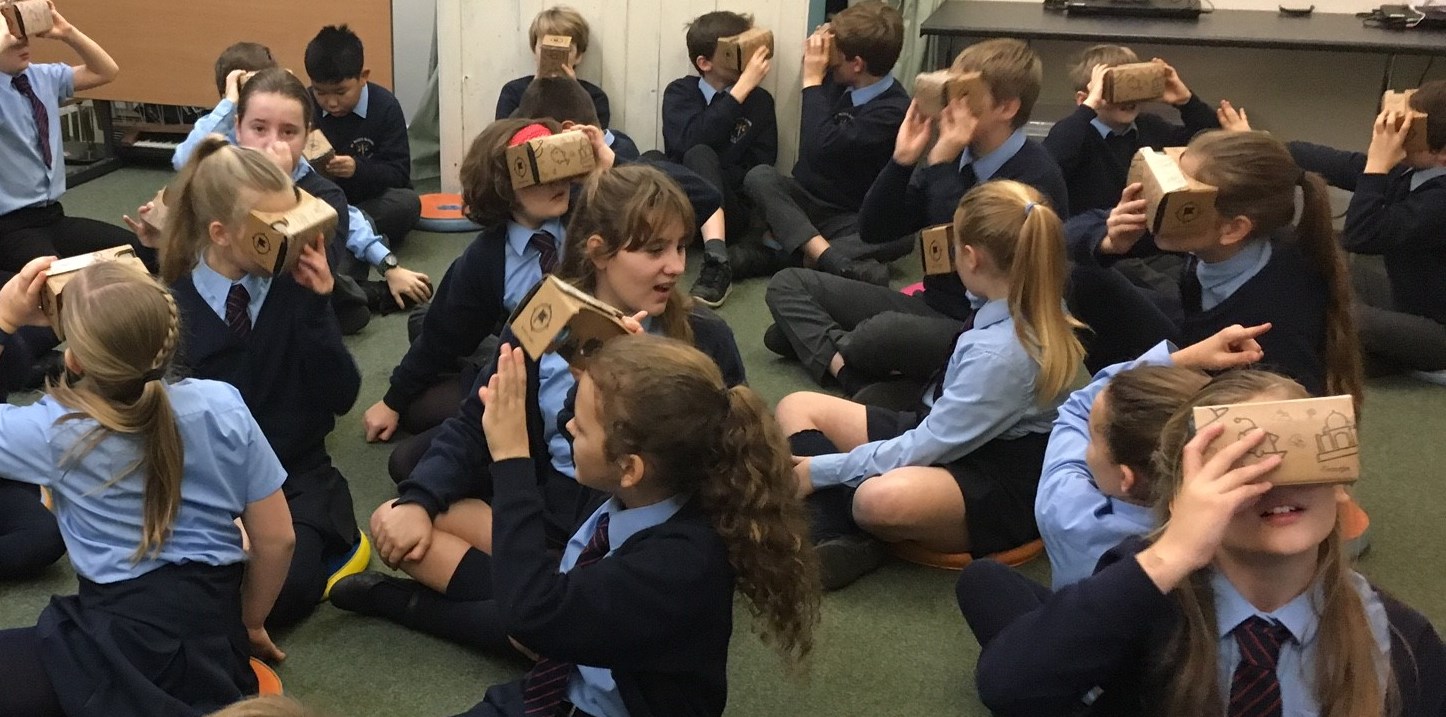 Led by the teachers, acting as guides from their control tablet, we visted lots of sites relevant to our topics, from Antarctica, space, Rio and the trenches of Normandy. Our teachers also helped us to explore some more generally 'wow' places, like the Great Barrier Reef and even Santa's workshop- perhaps the most popular with all the children from Year R right up to Year 6! The whoops and gasps as we explored the worlds together, along with with the children's faces afterwards, were an absolute joy to see.
The children had plenty to say afterwards. Our favourite overheard comment was a very excited 'I can see Santa!' from a Year R child.
Year 6 said: "Amazing; I've never done anything like it before!" "It was great- you could literally go anywhere!" "It included so much detail. It felt real."
Year 4 wrote some quick headline news reports about their experience. Here's what a few of our budding reporters had to say:
GOOGLE V.R. AT ST. PAUL'S!
This morning, it has been reported that GOOGLE took a trip to St. Paul's School to let the children test their virtual reality headsets. The children experienced many stunning sights including past, present and the impossible! They were amazed by the 3D sights. One child, aged 9, said: "It was amazing- I've never seen anything like it."
V.R. EXPEDITIONS!
Virtual reality has come to St. Paul's School. Google have brought all this equipment to let the children see all around the world. They travelled to places like the Barrier Reef, Rio and the Moon. One child said, "It was amazing! We could see amazing graphics and VR." Thank you Google!
BEST DAY EVER FOR ST. PAUL'S CHILDREN
This morning, it was reported that thirty children aged 8 and 9 had an amazing Google Expedition come to their school. They didn't know until this morning, but when they entered the classroom they had a journey to Santa's Grotto, space, under the sea and many extraordinary countries like Eygpt, Brazil and Australia. One child said, "This is SO cool. I've NEVER seen anything like it!"
We can safely say that Google's visit has captured the attention and imagination of every single child; it's definitely one of those school memories that will stay in the mind for a very long time! Huge thank yous must go to to Google, who provided the equipment and expertise for free and, in particular, to Miss George for organising and being the driving force behind Google's visit.