Wonderful World Book Day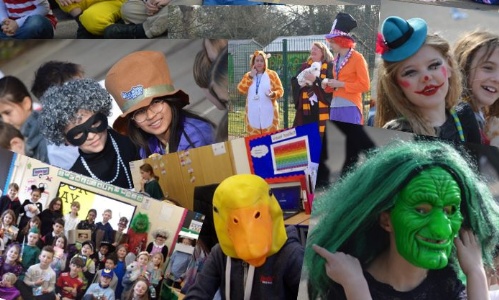 2nd March 2023 – Story Characters Come to St Paul's
The sun came out to shine on a host of amazing book characters as they arrived at school today. At the beginning of the day, we all joined together in the playground for a wonderfully colourful parade to share with everyone our imaginative and creative costumes. From Reception Class to Year 6 everyone was laughing and smiling at the fantastic creations. Some children also shared with all of us their favourite books and why they enjoyed them so much.
We then joined thousands of other schools across the country for a really interesting live event featuring the children's author, Sir Michael Morpurgo who has written over 150 books and has also been the Children's Laureate. He talked about how the ideas to write his famous book, 'War Horse' came to him and the process he took to be able to write the book.
All classes then spent the majority of the day talking about, exploring and completing activities around books and writing. Reporters from the School Media Club popped into each class to explore the activities and investigate all the awesome book related activities that were happening in each year group.
They discovered Year R hard at work making our own Dear Zoo lift-the-flap pages. They also had two mystery readers come to read them a story and they really enjoyed listening to Michael Rosen tell his 'Chocolate Cake' story too! Year 1 were enjoying a video about an author and discussing their wonderful costumes. They were also doing some writing about their favourite books and characters.
As they explored Year 2 they saw they were writing a leaflet about an Oliver Jeffers book and enjoying lots of exciting book related activities such as making bookmarks, creating bunting of their favourite books and their own stories and solving super tricky word searches.
Year 3 were happily discussing their favourite books and sharing the ideas behind their costumes and Year 4 were working on a World Book Day themed word search and guessing what character each of them had dressed as while sharing the books they had brought with them.
At the Victorian end of the School Year 5 were learning about non-fiction and fiction books and finding out which one they like the best. They also talked about different genres and completing some other exciting World Book Day activities. And finally, Year 6 were discussing the weird and wonderful books they had brought in from home and designing dust jackets for their versions of a remake of some well-known tales inspired by the Michael Rosen online lesson. As one member of year 6 commented, 'It's really great how we can all get together and share some exciting stories that we may not have known about before.'
It was a truly magical day and a brilliant way for everyone to explore books they may not have known before and to share their favourite books. It was lovely to see the genuine enthusiasm from all the children for reading and the exciting worlds that can be visited by just picking up a book!
Well done everyone for creating such an amazing day.
By St Paul's Media Club