Year 5 Young Voices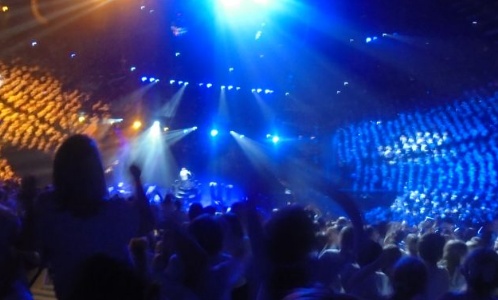 Outstanding O2's Excellent Event
During the long day of Friday 20th January, both Year 5 classes made the long trip to North Greenwich, London to the O2 arena for an amazing singing event, Young Voices.
Following what felt like the never-ending walk to Dorking Station, they caught the 11:30 am train to London Waterloo and then the tube to North Greenwich arriving at the O2 at about 1:15 pm. They joined thousands of other Primary School children at the enormous event.
Beginning to realise what was actually about to happen, Orla T, a Y5 singer commented, "I am nervous, excited but nervous!" Once inside the actual building, year 5 did not know that there was still a trek to reach their seats. However, it was not long before they had clambered up the stacks of mountainous stairs and, as they moved past the doors to the arena itself, the faces of tiredness switched to astonished awe.
Maisie G declared, "I feel really, really excited, it is so amazing to be up this high." Most people liked the practice, but it was the concert that was really breathtaking. Like most year 5 parents will say, it was an amazing experience for that group of 9-10 year olds. The concert was so beautiful many parents, who were also there and able to enjoy the spectacle, were brimming with pride and at a loss for words.
For a few participants from Cedar, the journey back was also memorable. Mr Hurrell was a real sport and kept the children occupied by playing a whispering game with the oddest results! Once back at Dorking Station, the brilliant kids got a well-deserved round of applause. Well done, Year 5 and thank you, Mr Tinsley, Mr Hurrell and all the parents who made this such a memorable event.
by Hannah W