Autumn Reports 2018
Girls Football (A Team)
12th November 2018
Reported by Lily and Philly - Year 6
We were all very excited, as we pulled up to St. Martin's School. We all met back up together before splitting into our A and B teams. After we all finished our lunch, we headed out to pitch 2 for our first match against Saint Martin's, where we drew 0 – 0, then we moved onto the match against St. John's, where we won 5 – 0 . Next, we played the strongest team - North Downs where we lost 1 – 0 but played superbly, defending tightly and showing lots of skill. Surrey Hills A team were our next match, where we won 3 – 0 and then we played St Joseph's. We drew 1-1. At the end, we counted up all the games, we either won, drew or lost, we won 4, drew 2 and lost one. Our overall place was third, bagging us each a bronze medal.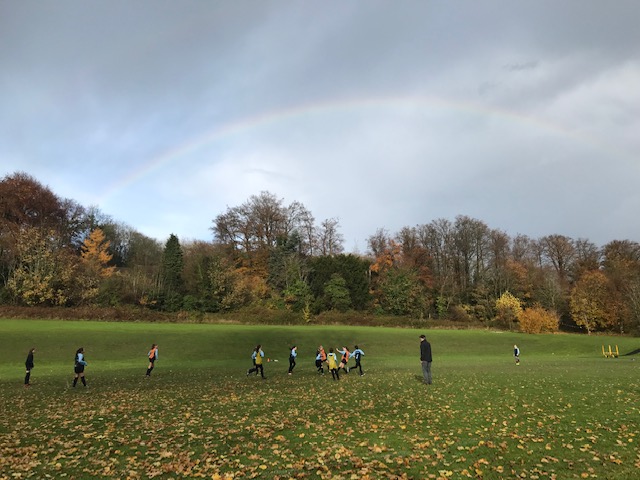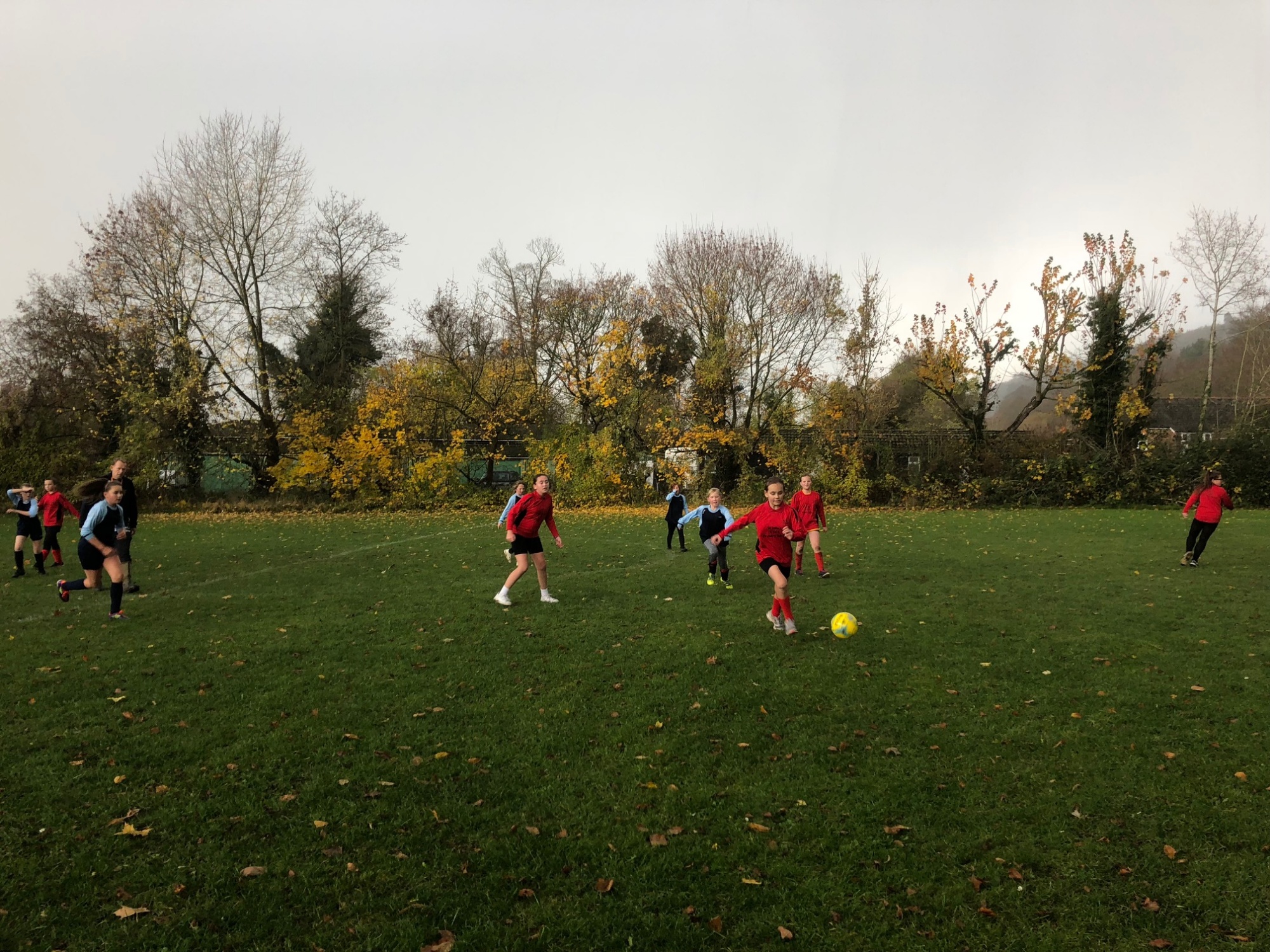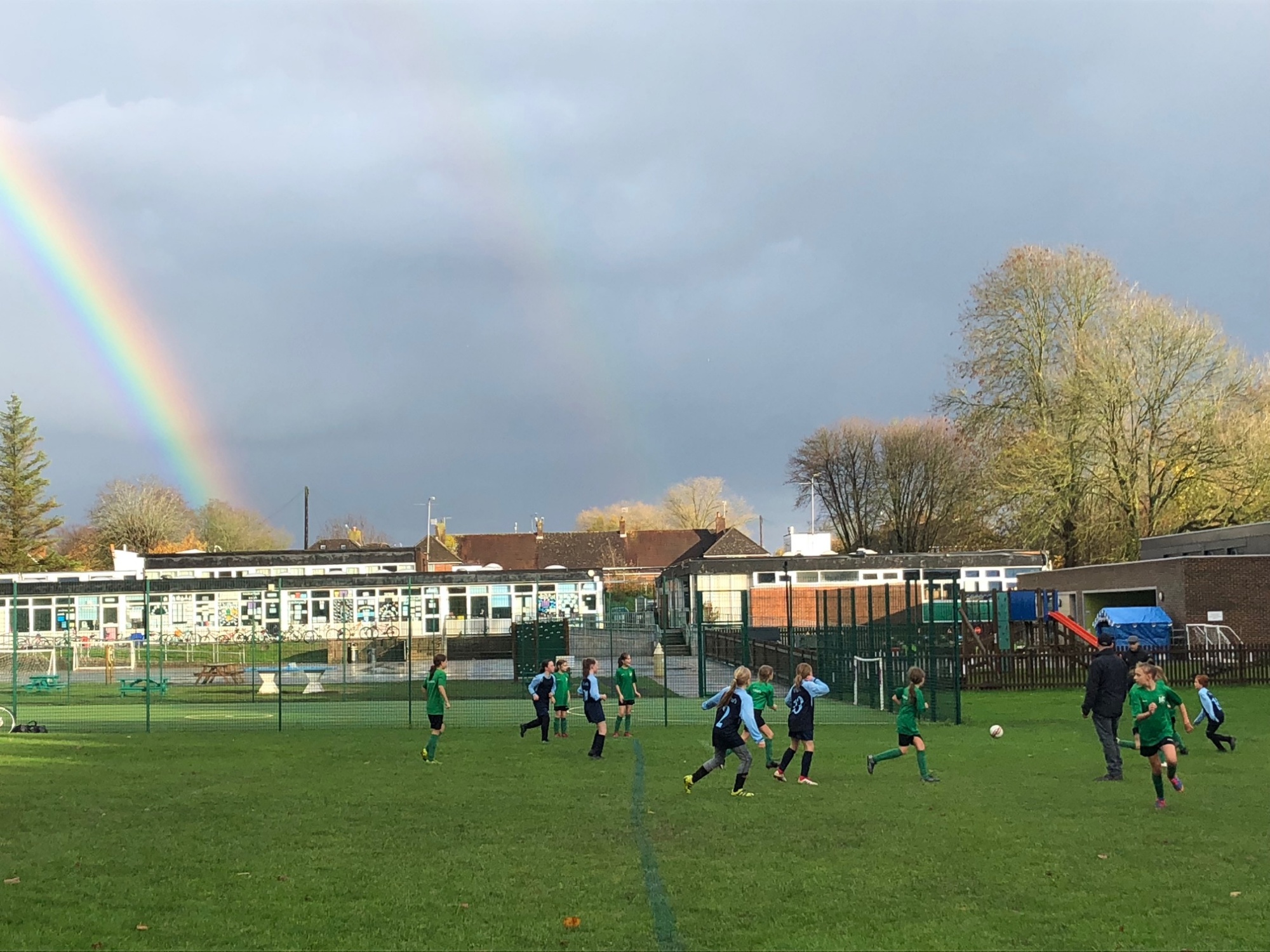 We all had an amazing time, despite the torrential rain!
By Philly and Lily
Year 5 Cycling Tournament
Leatherhead Trinity School - 18th October 2018
Reported By Rachel and Hettie
Eight Year 5s were chosen to take part in a cycling event at Leatherhead Trinity school on Thursday 18th November.
Team 1

Rachel G

Hettie K

Charlie E

Louis L

Team 2

Anna H

Jemima R

Xander S

Oliver C
We were all put into partners and there were 4 activities.
A quiz

A skills test

A cross country race

Observing the cross country racing route
The quiz was set in a gazebo with questions on the walls testing our cycling knowledge.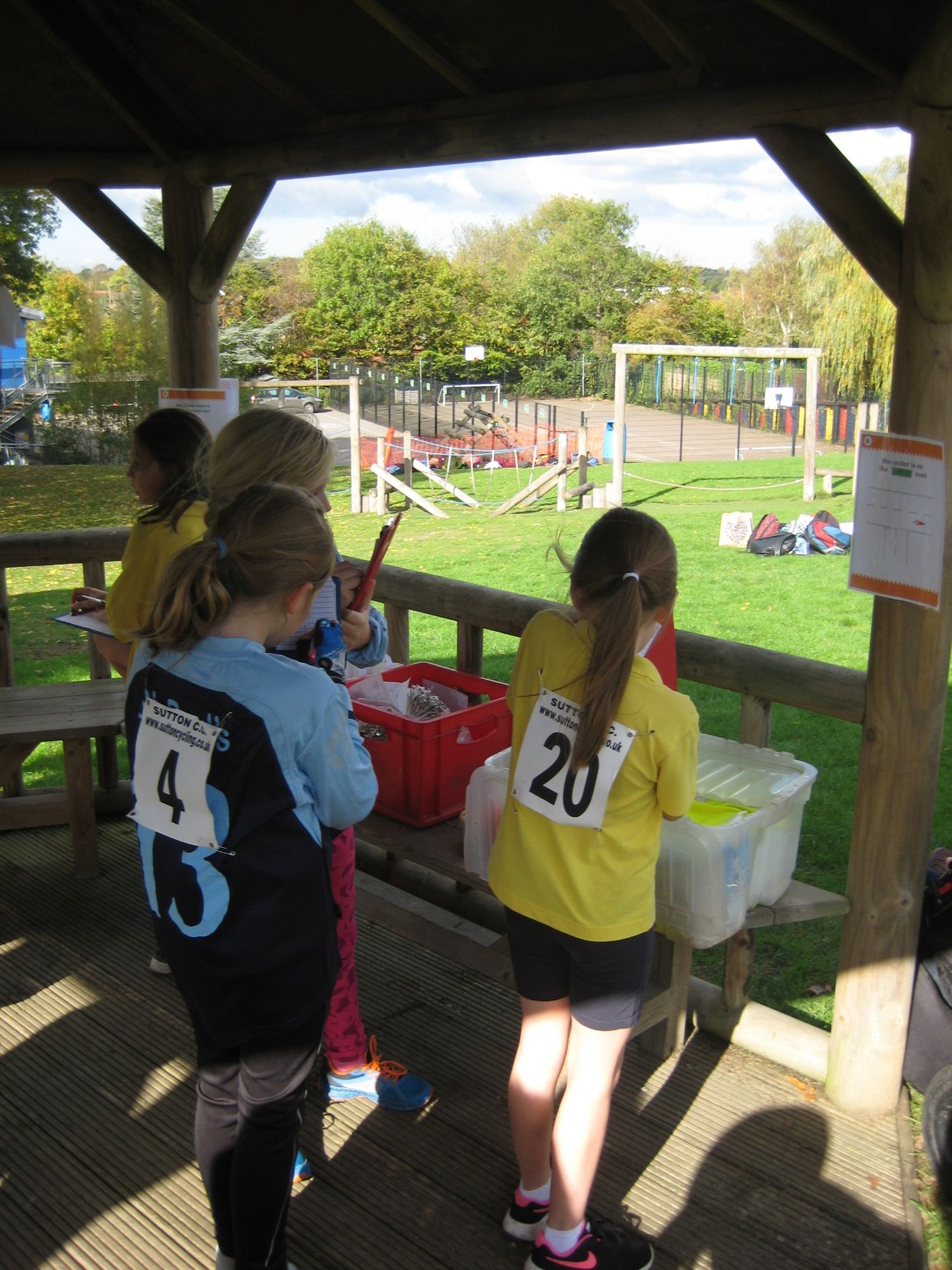 The skills challenge involved cycling in and out of cones, then picking up a water bottle and placing it on a box, going through a gate, under a limbo pole and riding across a ladder.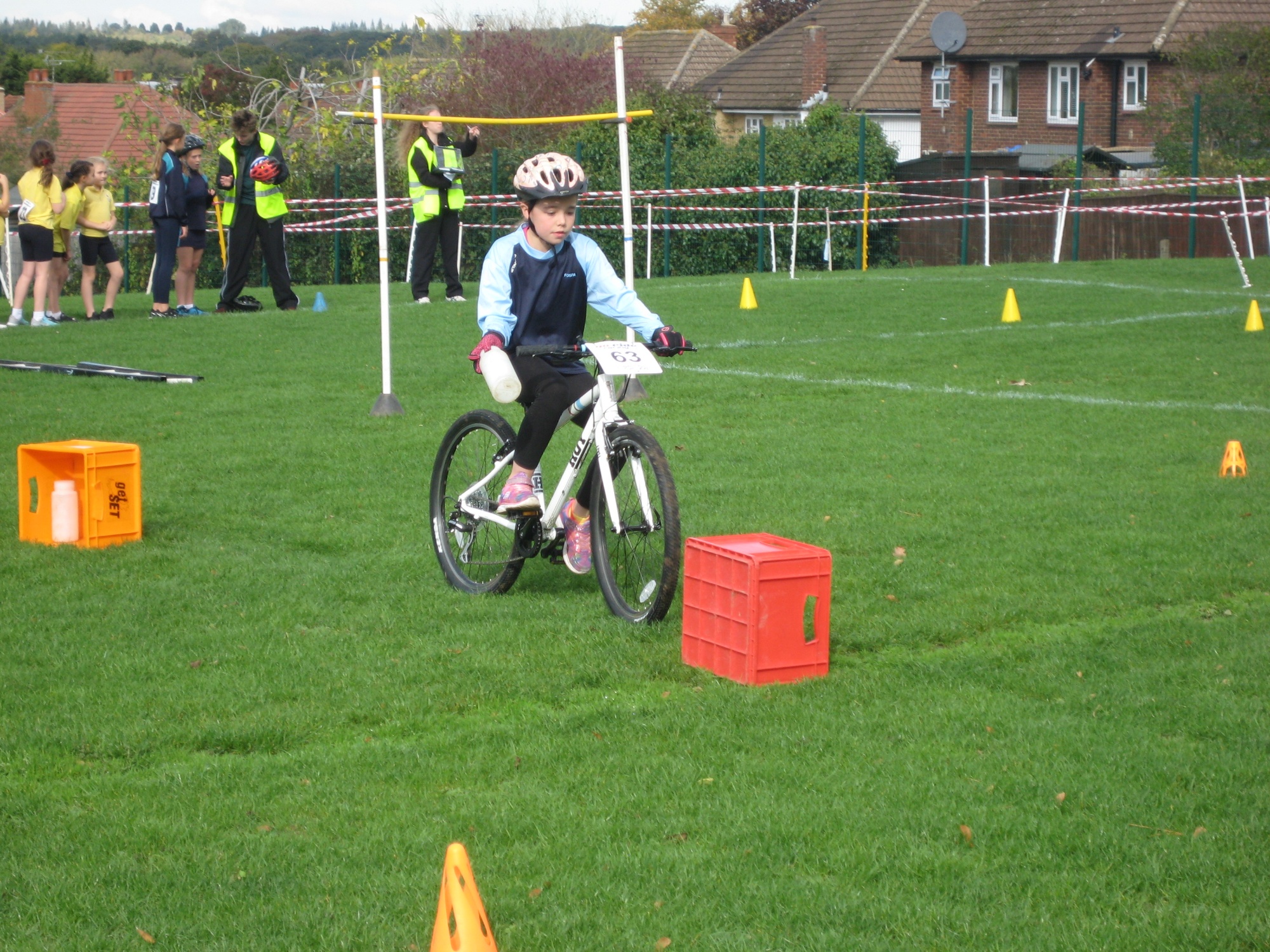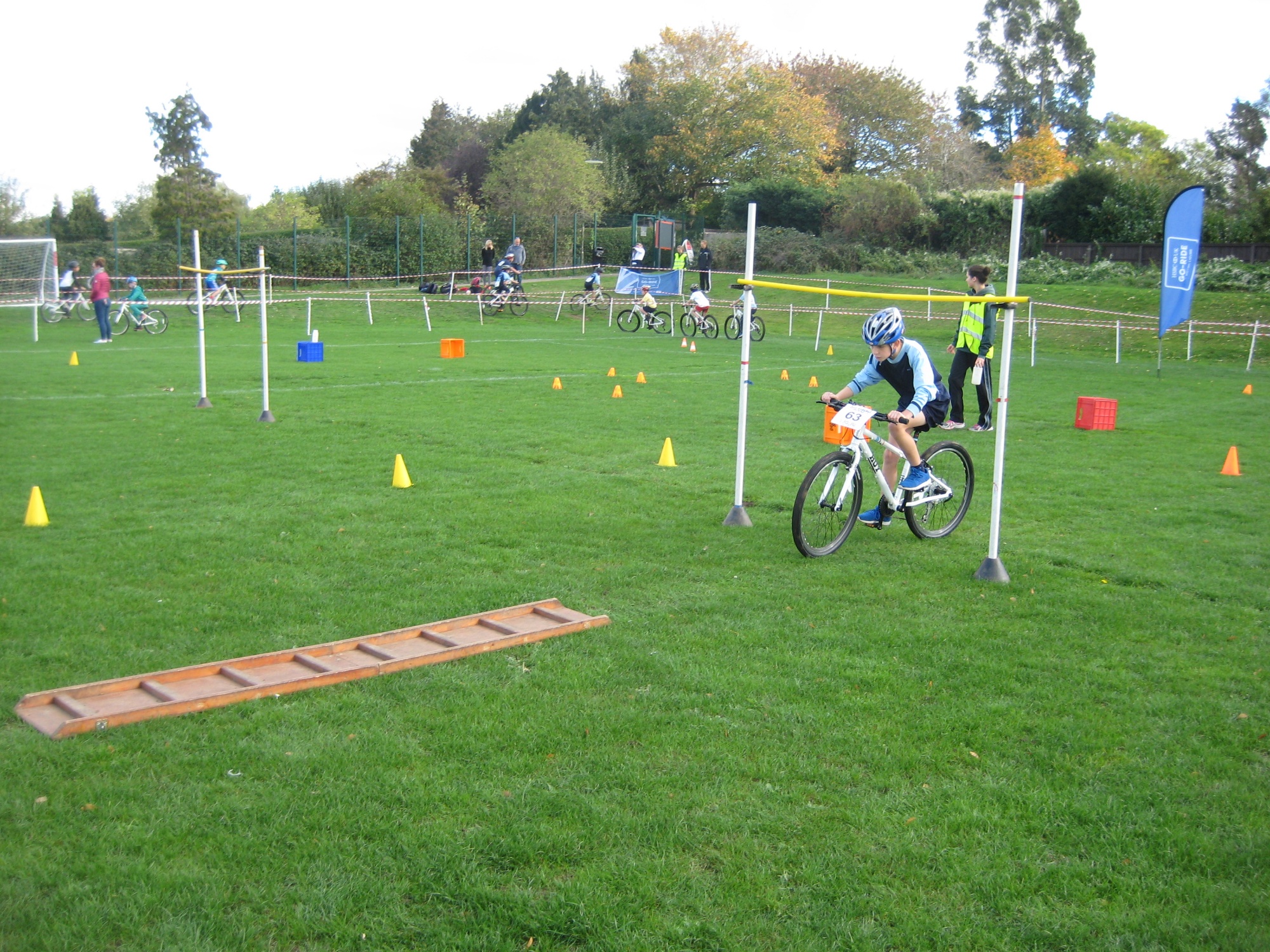 The cross country was a 2 lap race and the people who got into the top 5 were put into the final to race against each other.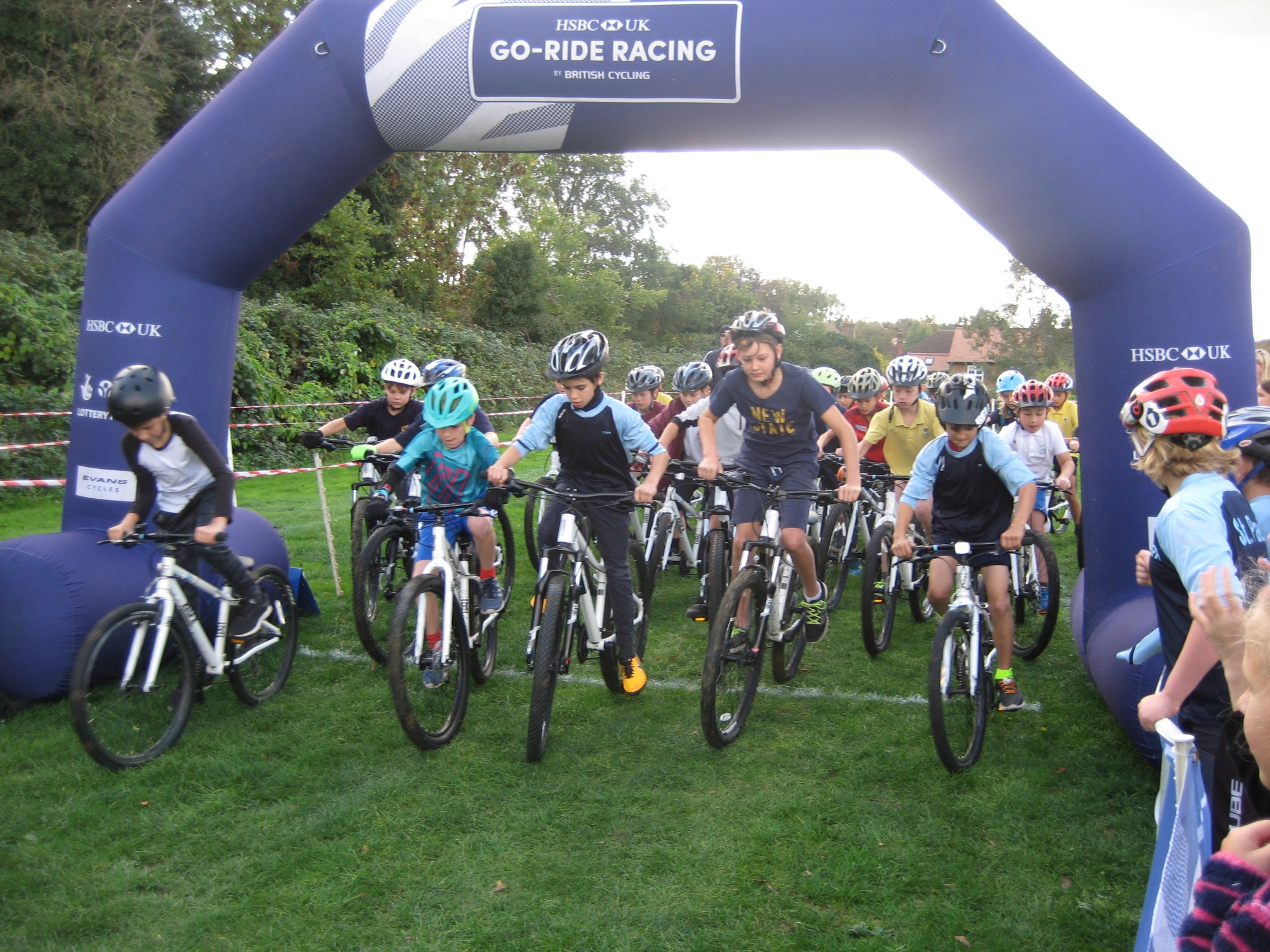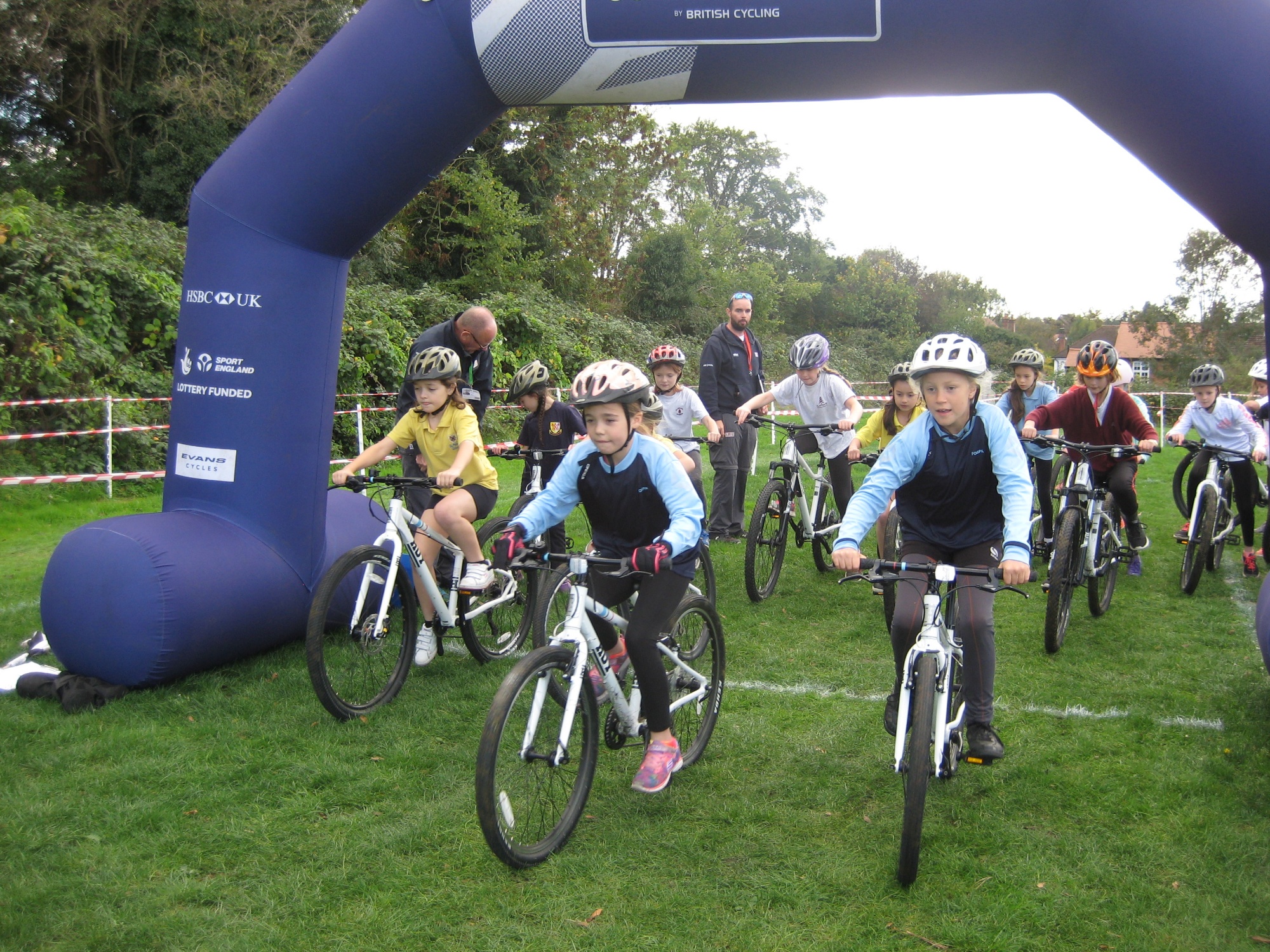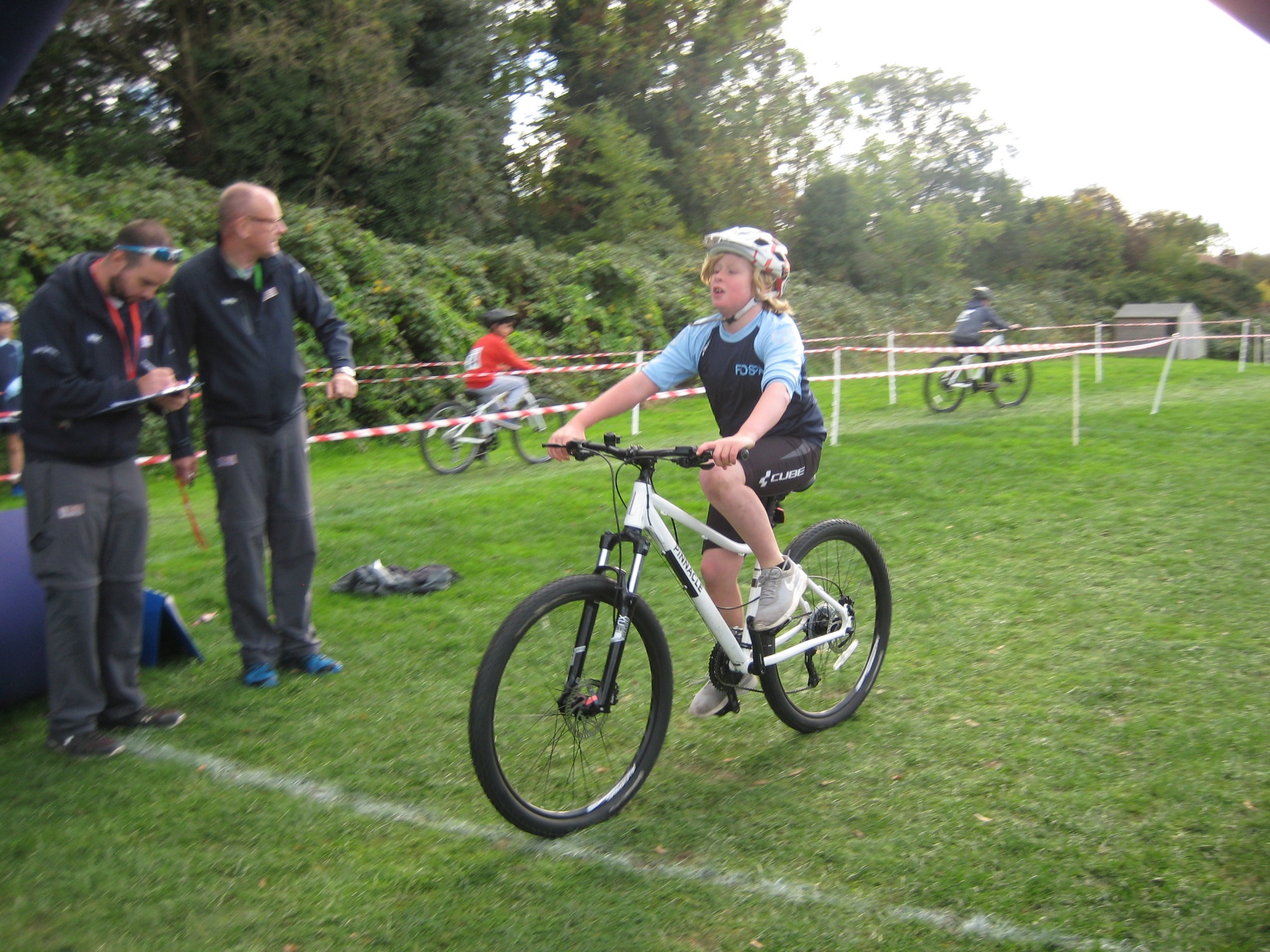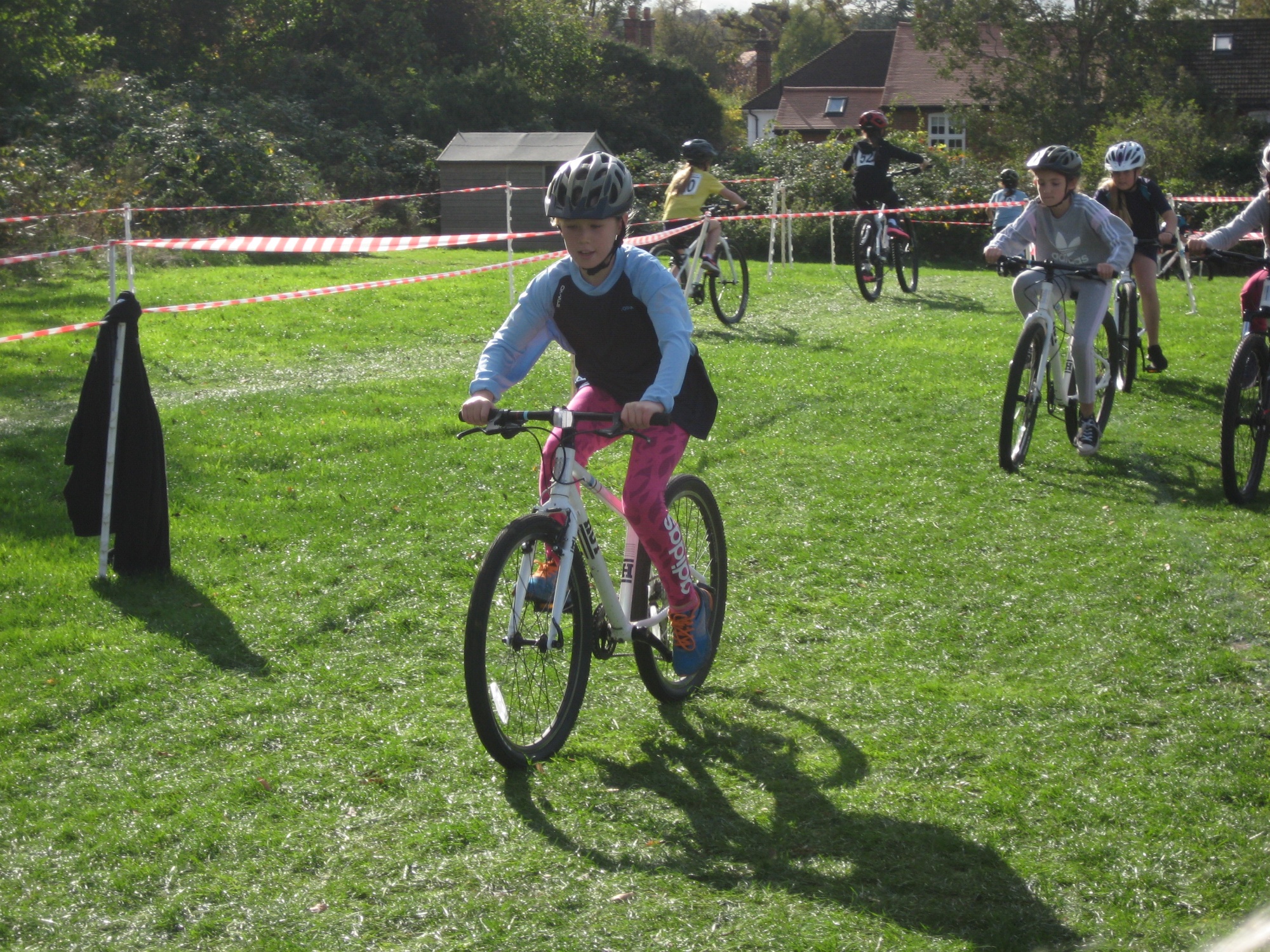 The observers would observe the cross country race so when it came to their go they knew what to do.
It was a wonderful day to compete and all enjoyed it. Our teams ended up in first and second place - such a success! We were presented with our own glass trophy and a silver cup to take for the school.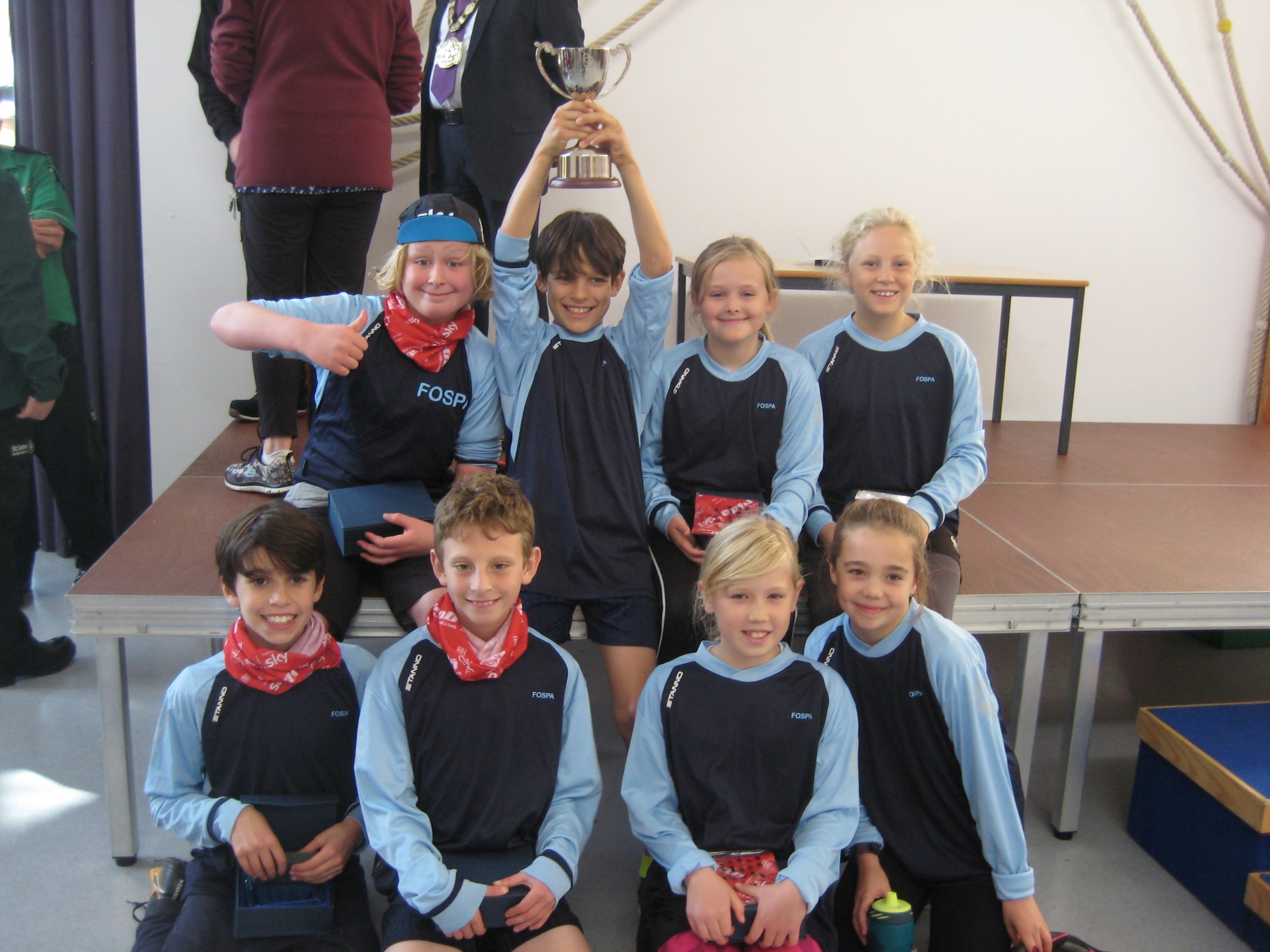 Boy's Year 5 Football Tournament
16th October 2018
Reported By Peter - Year 5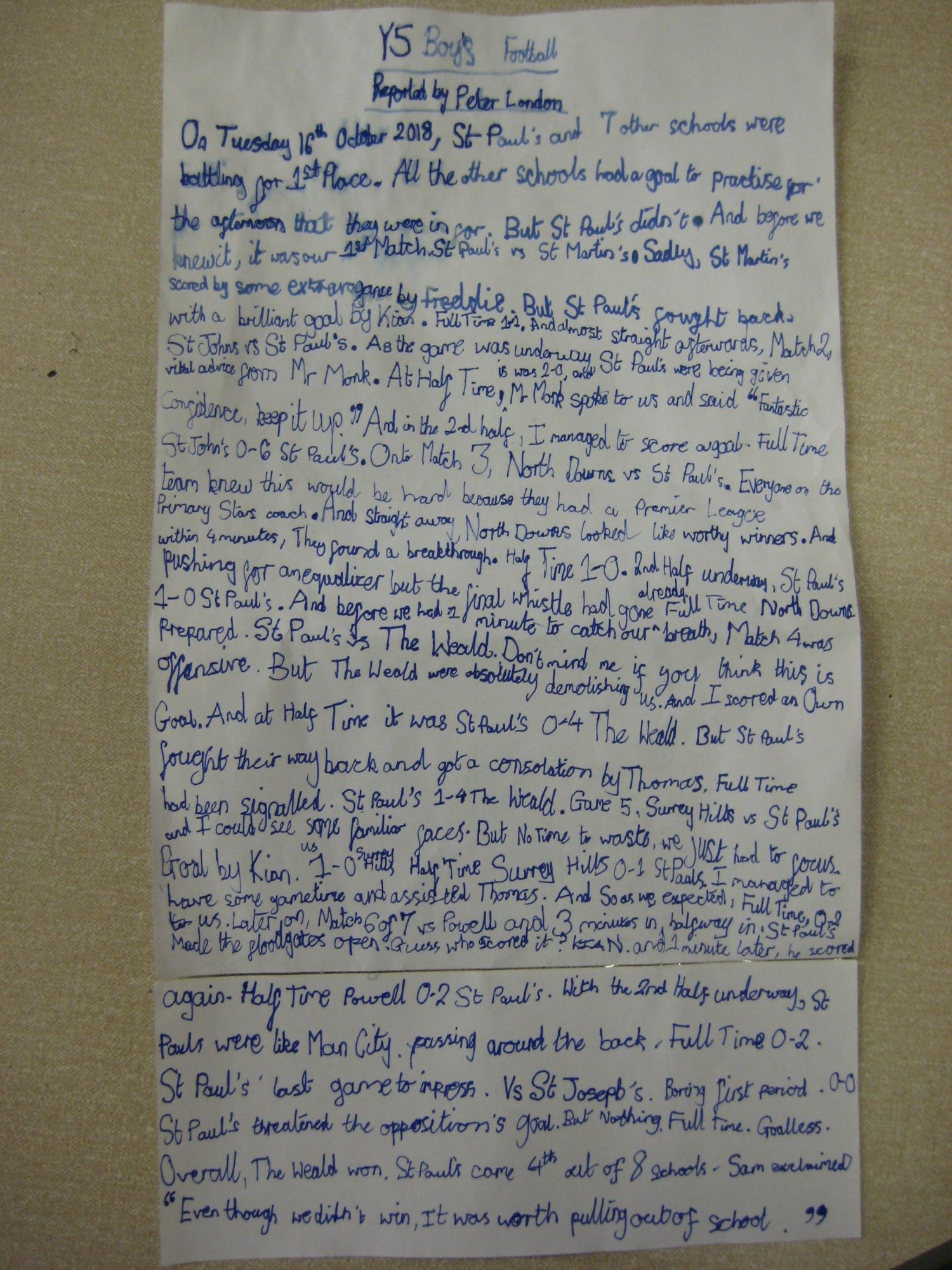 Cross Country
15th October 2018
Reported by Phoebe and Abbie - Year 6
On Monday 15th year groups 3,4,5,6 took part in a cross country advent in Brockham.
At the start we warmed up by doing a bit of jogging and stretching. Many people were nervous and worried. The first race was the year 3&4 girl's race. As it had been raining the day before, it was rather slippy, but we did fantastically. Overall, they came 2nd! Next was year 3&4 boy's race. In their race we came 3rd overall! After was the 5&6 girl's race. We came 1st overall! Then there was the year 5&6 boys race. We came 1st over all. It was a great competition and everyone really enjoyed themselves.
Year 6 boys Football
8th October 2018
Reported by Jack - Year 6
The feeling was tense. Everyone was excited and ready to go. Everybody was silent waiting, with butterflies in their stomach, ready for the bell to indicate the start of the first game.
We drew the first game 1-1 against St Martin's. They scored first but we fought back to make it 1-1.The goal was scored by Samuel with Lucas getting the assist.
Our best game was against St John's. We won the game 4-0 because we played as a team and worked well together. We scored 2 goals each half but we could have scored more.
Everyone that participated in St Paul's played their part and showed amazing sportsmanship.
At the end we came a well-deserved second place after winning 4 games and drawing 3.
WELL DONE ST PAULS!!
Cross Country
1st October 2018
Reported by Violet – Year 6
On the 1st of October 2018, years 3,4,5 and 6 competed at the Cross Country event at the Weald School. The atmosphere before the event started was exciting, as children were eager to run, but they were also anxious at the same time. Some runners had butterflies in their stomach as they wanted to do very well.
During the event, there was a lot of important values shown such as supporting each other, cheering on all the runners and clapping for others schools during their runs and during the results. At the end of the races we all sat down patiently waiting to find out the outcome of the training that we put in.
The scoring of the event worked by the lowest score coming first.
In result of all the hard work, we came 3rd in the year 3/4 girl's race and came an amazing 1st in the year 5/6 boy's race, with an incredible low score of 13 points.
A few children gave me some quotes on what they thought about the cross country event:
Noah in year 6 said, "It is very fun representing the school and there was a lot of team work shown."
Grace in year 3 said, "For my first time doing cross country, I think that it was a brilliant experience and I had a great time."
Rose and Lilya said, "We love doing cross country because it is so fun and we love representing St Paul's."
Lara from year 5 said, "I love competing with other schools and the pressure makes me want to do better."
After the results, we were all feeling relieved about where we had come and happy that we finished the run. It was a great event and we hope we have more events like it!
Sports Crew
27th September 2018
Reported by James – Year 6
On the 27th September 2018, a group of year 5 and 6 children participated in a number of activities to become SPORTS CREW. There was a mixture of emotions when we arrived, mainly excitement but there were some nerves too. Everyone was extremely happy that they had been chosen for this training.
Some of the games were:
A human hand lock, played with 4 people opposite each other holding hands.
Getting the hoop around the circle of people, holding hands.
Keeping up a ball on top of a plastic sheet with holes, using team work.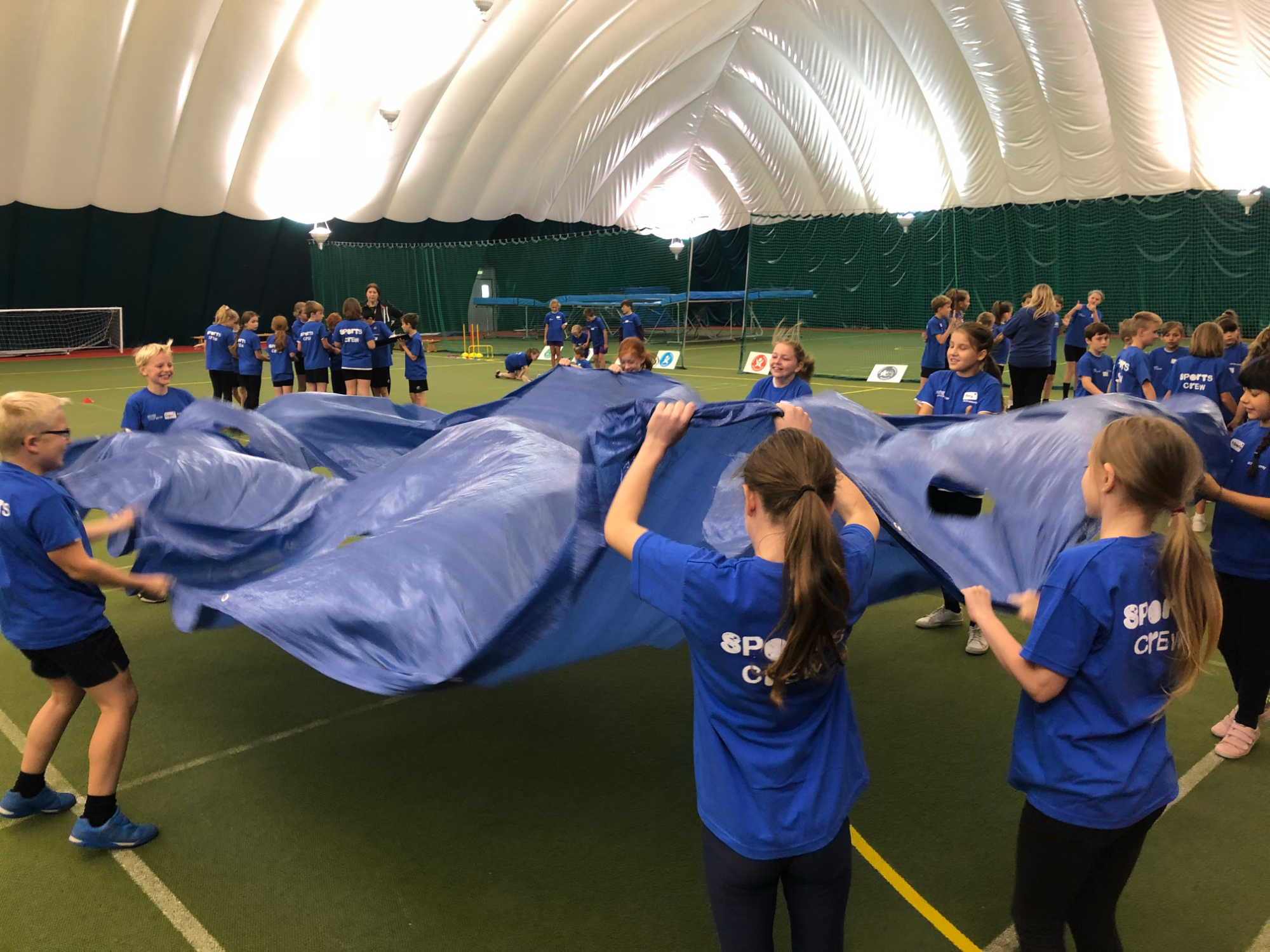 After a quick break, we learnt how to improve our leadership skills and adapt basic games to make them more challenging for older children or more simple for the younger children.
Finally, when it was nearly over, we were shown a chart that showed how we could achieve badges for leading certain several sporting activities throughout the year. It was a great experience and I hope that others will be able to have the opportunity to try this, but in the meantime, the Sports Crew will be out on the playground helping children stay active at lunchtimes with the games we have learnt!