THE BUILD 2022
We are very excited to start GreenPower again after a little break due to COVID.
Our new Green Power Team are:
Rory, Caitlin, Alice, Seth, Chloe and Thomas.
---
10th July 2022
Green Power—Goodwood 2022
On Sunday 10th July 2022, a group of 5 year 6 children went to Goodwood to take part in the Gathering of Goblins GreenPower competition. There were 64 other cars taking part and the children had to compete in pit stop, drag race, slalom, At the end of the day, there was also a lap of champions.
It was an amazing (but hot) day and all the team did amazingly. At the end of the day, there was an awards ceremony, where we found out that we had won 'The Spirit of GreenPower' award for litter picking between our events and using recycled materials for our bodywork on the car.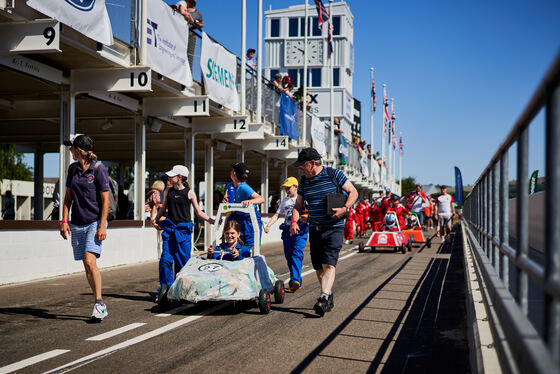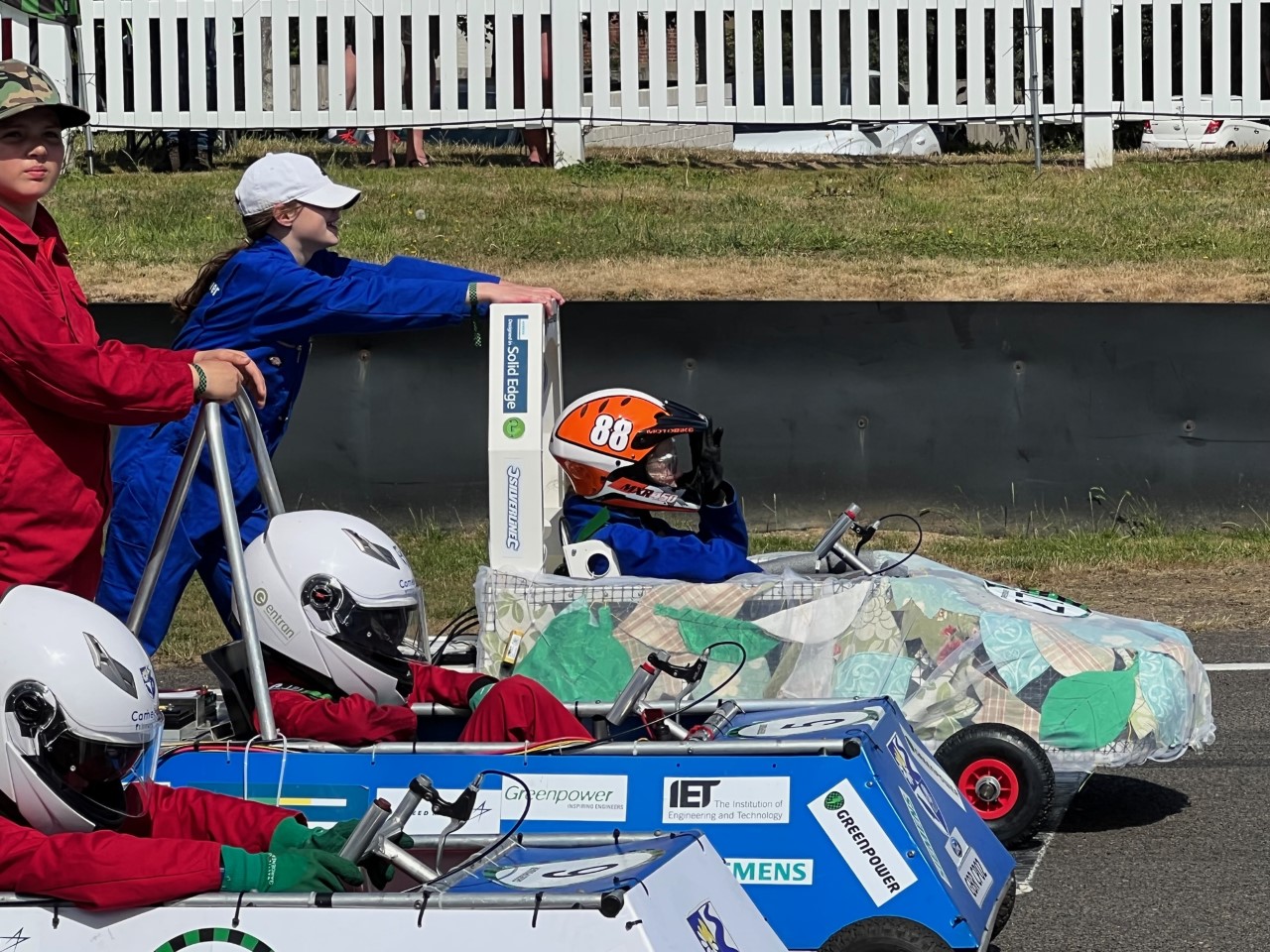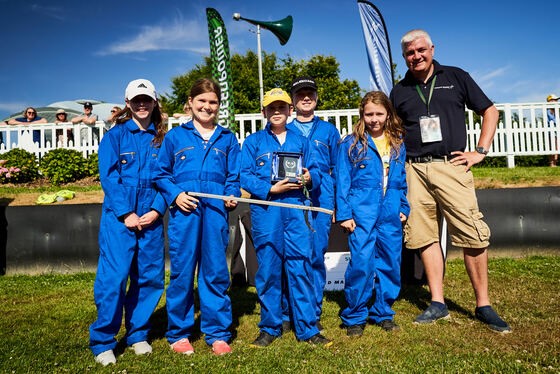 24th June 2022
It was wheel changing week this week. We learnt that the wheels at the back of the car were different to the front of the car. The wheels at the back of the car are called drive wheels and are driven by the motor on the back axel. The wheels on the front of the car have bearings in and are mo9re trick to change. You have to be really carful not to hurt your fingers in the spring!!
Every time we practised the wheel changes, we got better times so we were really pleased.
17th June 2022
It was chicane week this week, working out how to maintain good speed around a sharp corner. We did really well to judge the corners and we managed to stop within the parking space without going past the cones!
10th June 2022
This week, we worded really hard to make sure that we finished the mesh of our body work. After that we had some more practise in the car. We have been thinking about how important it is to be a pusher as they are responsible for keeping the driver safe at the start and the finish of the race. We were getting a lot better at judging the speed around the corners of the track and we are even able to stop within the parking spaces now!
20th May 2022
This week, we worked on our design again, attaching the recycled plastic mesh to the car. This is going to help us be able to attach our fabric leaves that we have been busy cutting out.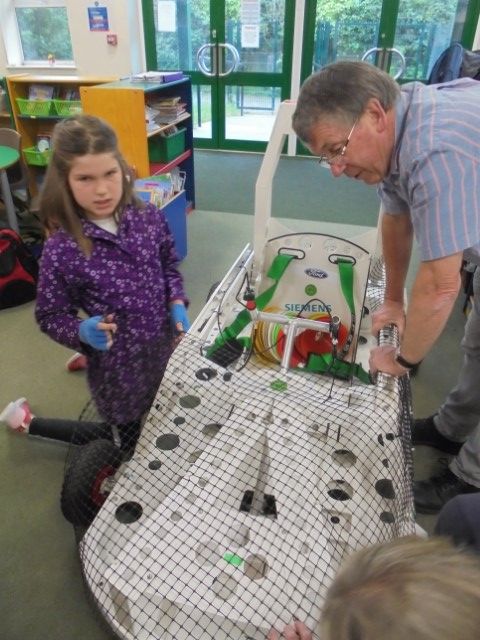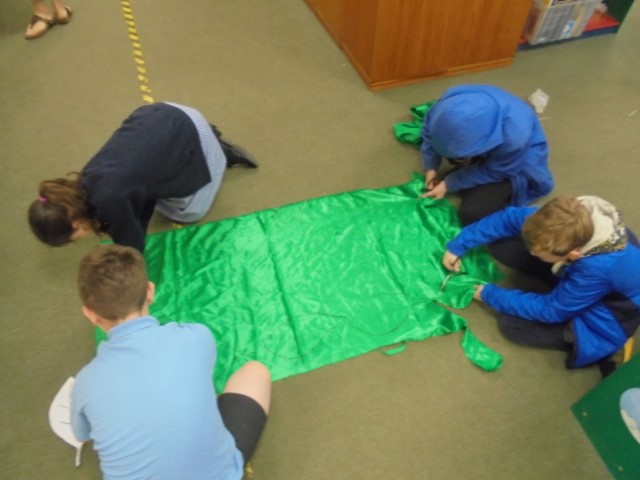 13th May 2022
This week, we had some more time to work on our driving. We practised at full speed again this week but tried on a slalom course as well as braking within a car parking space. We have grown in confidence with this, and we are beginning to feel like real racing drivers!!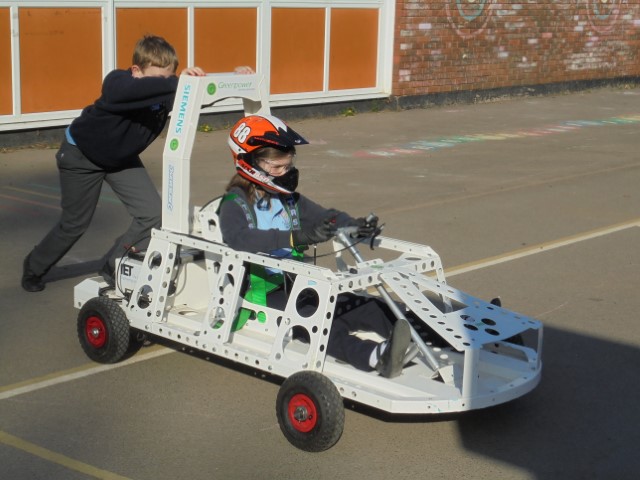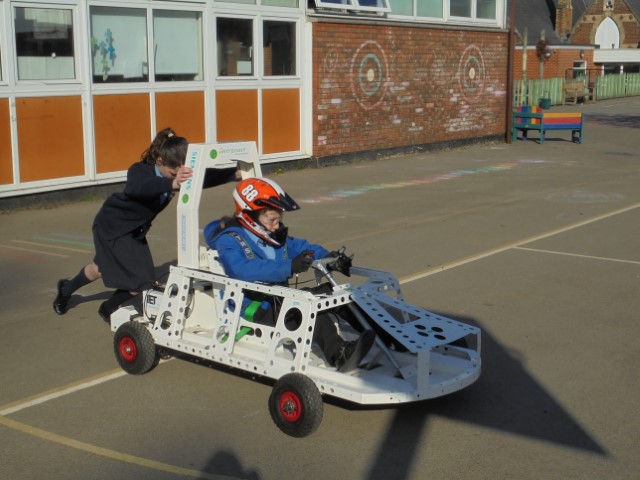 6th May 2022
This week, we thought about our bodywork design and started to use templates to draw round and then cut out material leaves. Our design is all about planting trees, which we thought was particularly apt due to it being the Queen's Jubilee this year. For the jubilee, the slogan is
"PLANT A TREE FOR THE JUBILEE"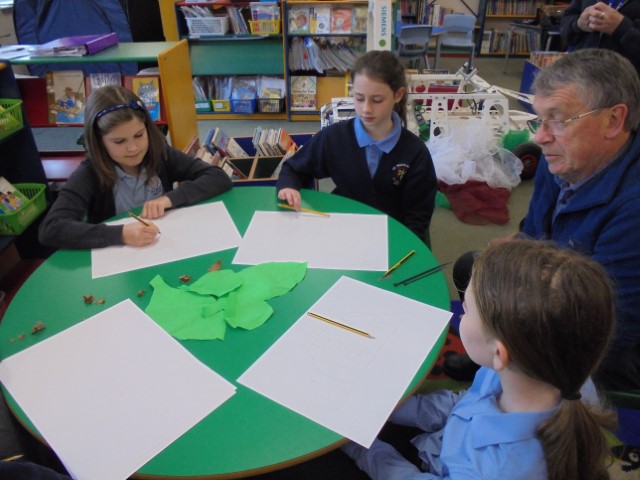 29th April 2022
This week, we used both batteries in the car to practice driving at full speed. We were all really excited but quite apprehensive about going so fast!!!
It was a great session, and we built our confidence throughout and we can't wait to try the slalom race.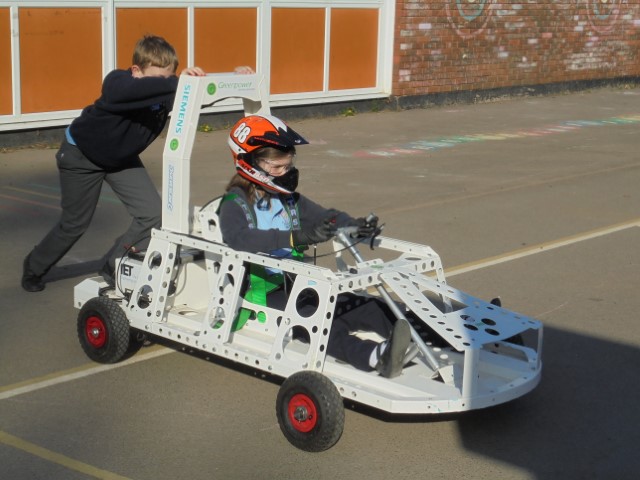 22nd April 2022
Today in Greenpower we thought about our design for the bodywork of the car.
We thought that the material that we are going to use has to be light and water resistant.
It took us a while to get our thoughts but eventually we got some great ideas.
Firstly, we are going to use a plastic mesh with fabric leaves on a background of 4 different colours representing the 4 seasons. We will attach this with recycled plastic cable ties. We are going to sew the fabric leaves on the mesh so we will also be learning new skills.
We wanted to create this design as it is the Queen's Jubilee year and we are going to plant a tree at our school to commemorate that. Also, during the Climate Change Conference earlier this year, it was stated that more trees should be planted to help climate change so we wanted to do our part.
1st April 2022
We had a great session today.
Firstly, we pumped up the tyres to make sure that the car was drive ready.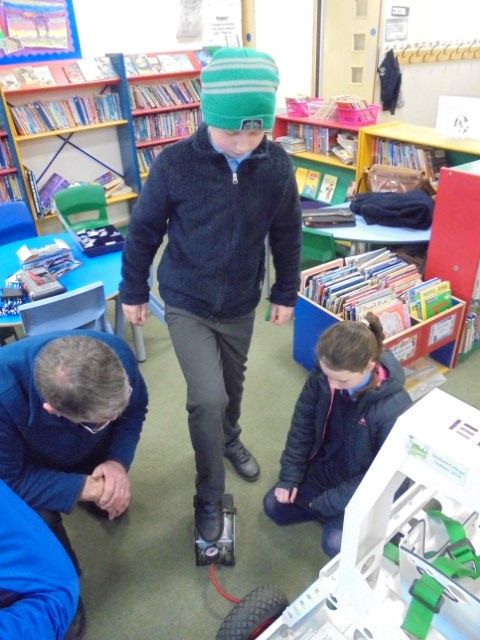 After that, we learnt how to attached the battery.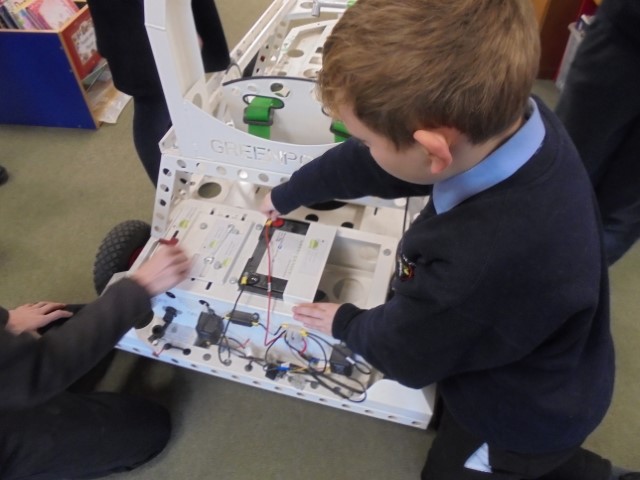 We were now ready!
It was so exciting to start actually driving the car.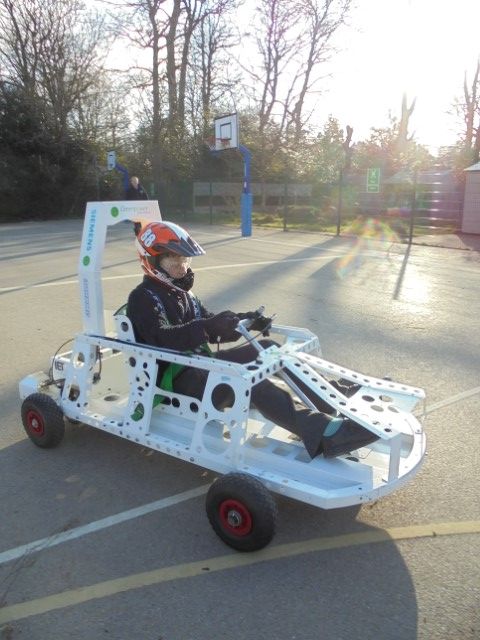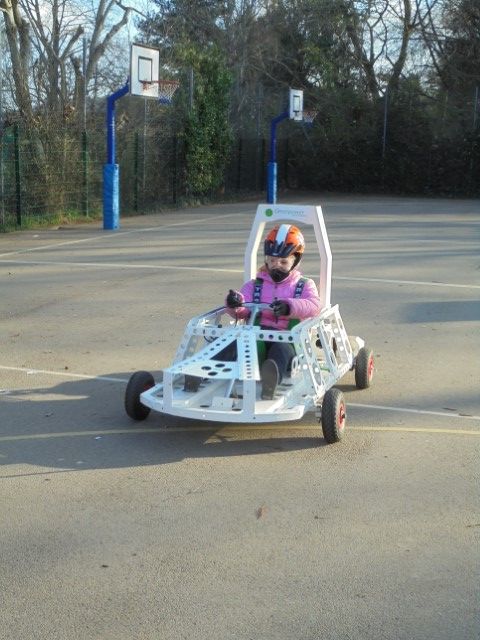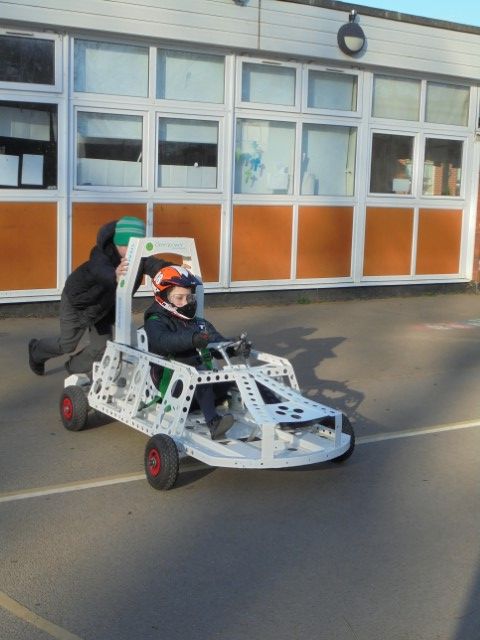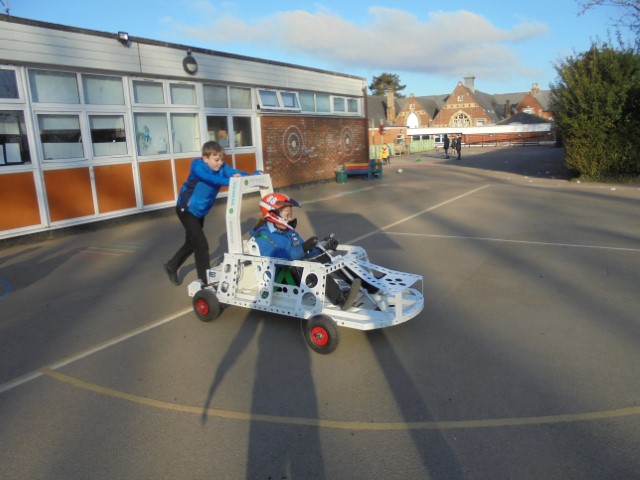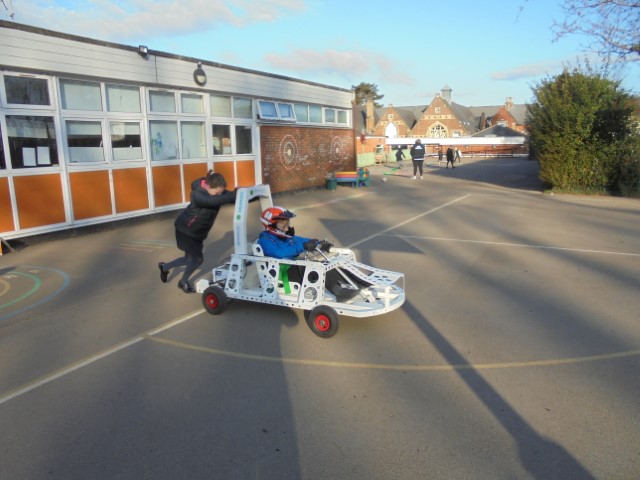 The usher was in charge of the safety of the driver and the driver had the challenge to brake on the line as well as turning! We made sure that we understood why we have to wear safety gear, including a helmet, gloves and goggles.
25th March 2022
We started our session today looking at Caitlin's amazing trailer that she made on iMovies to explain what GreenPower is all about.
After this amazing viewing, we go back to work, looking at how we can make sure the car is safe. We checked all the nuts and bolts and worked out which type and size of spanner we needed to use. The main ones we used were the size 13 open spanner and ring spanner, but for the seat we needed to se a size 8 ring spanner and an Allen key.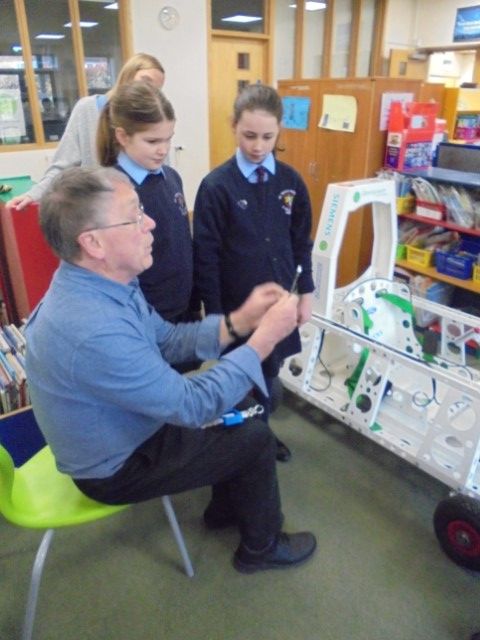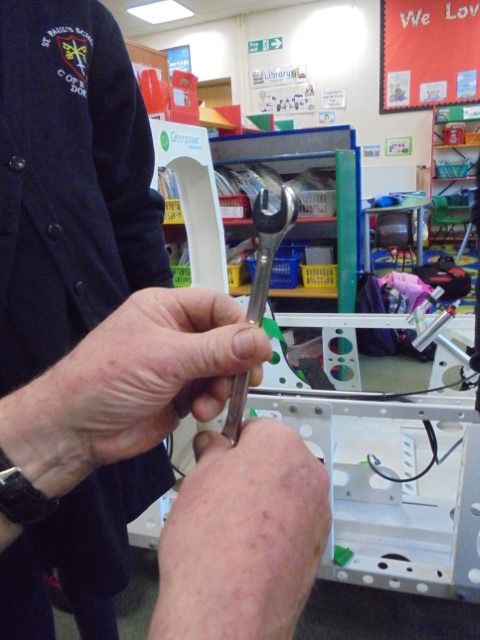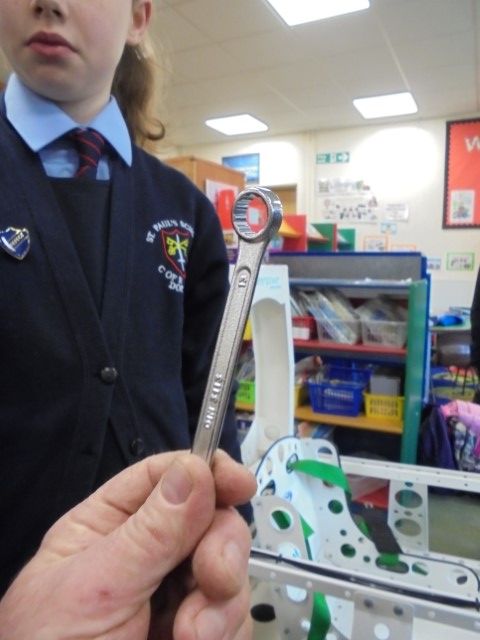 We had to problem-solve and work out how to use the spanners in order to tighten the nuts and bolts.
Soon we were very proficient and, in no time, had the car safe.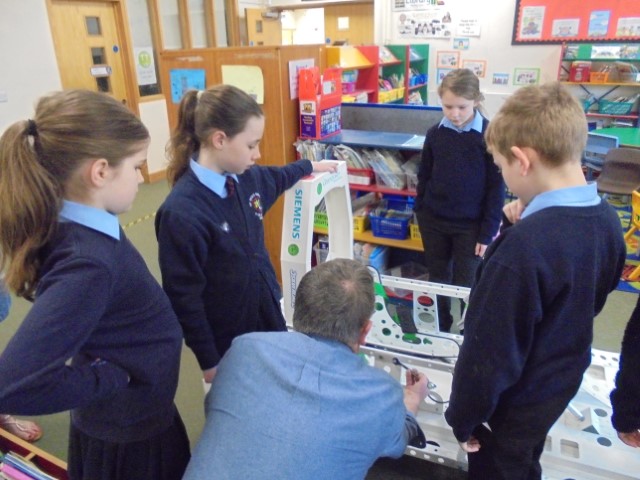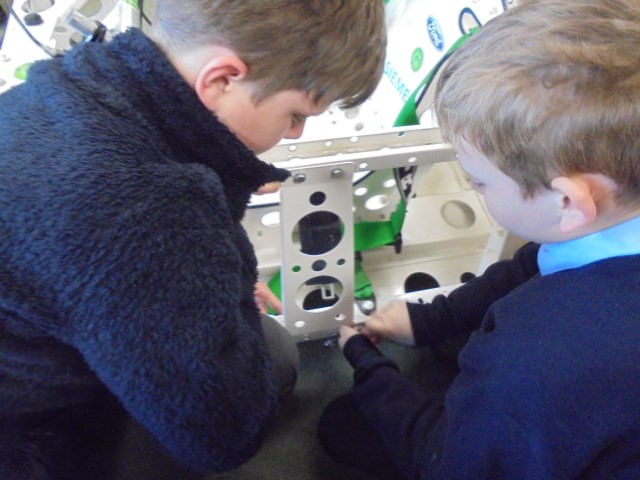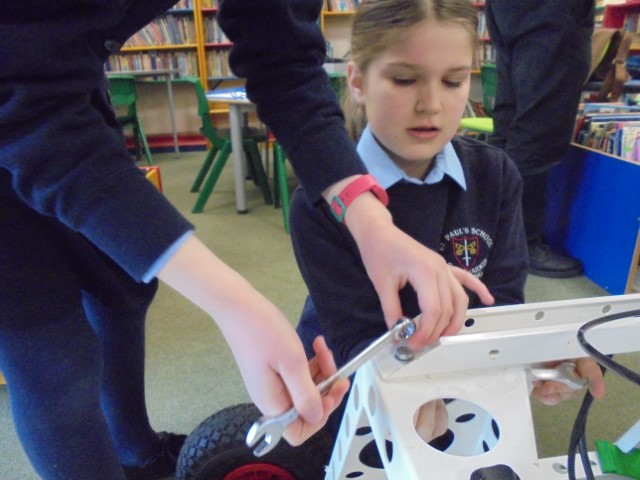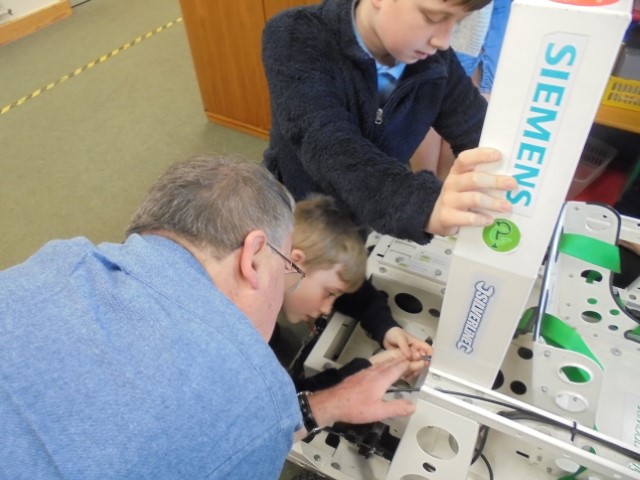 After that, we looked at how the motor worked and connected 1 battery before packing away.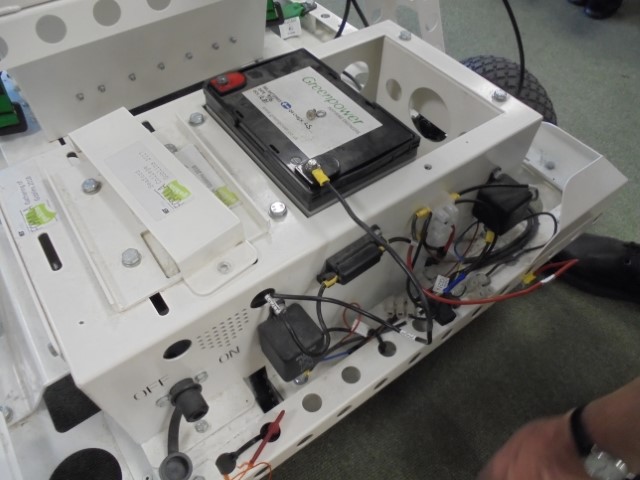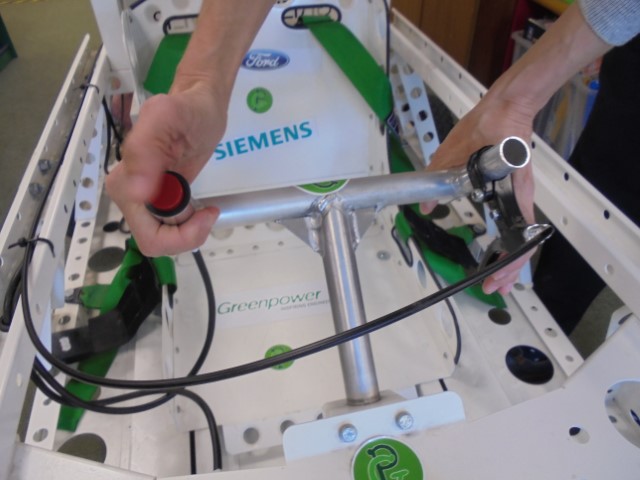 18th March 2022
It was our second meet up today and we looked at all our ideas from last week.
We now have a logo, drawing inspiration from our own school coat of arms and used this to create our Green Power logo, changing the keys for spanners and the sword we changed to a tree.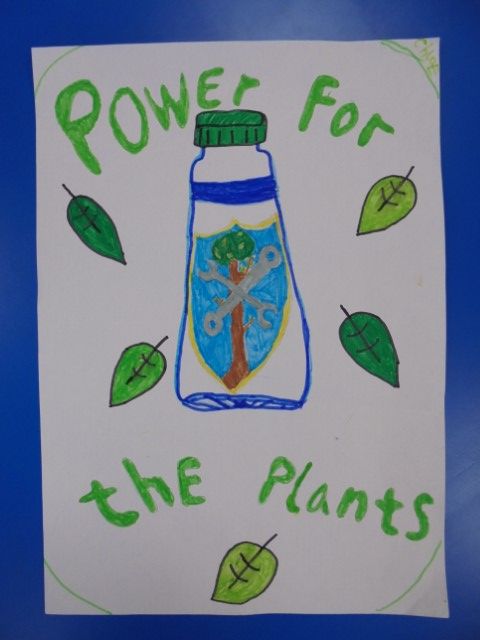 Our slogan is Let's be Green and we have created a colourful poster to show this.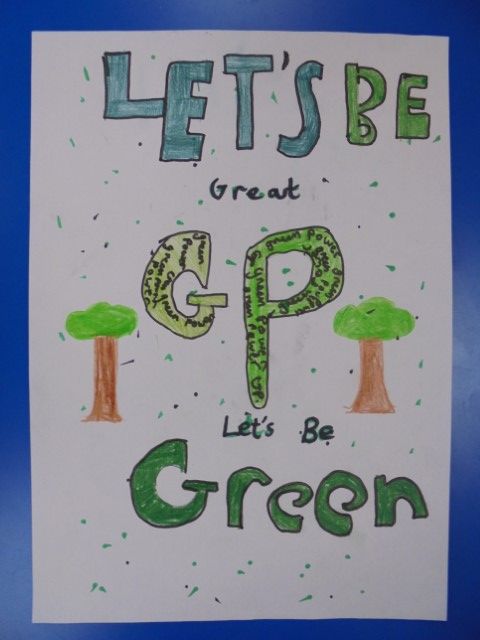 This week, during GreenPower, we looked at how the car works. Firstly we discussed how the batteries worked and why it is important to have fuses within the circuit.
We looked at how the motor drives the belt, which drives the back wheels.
The safety switch is also very important and we looked at how this is a job for the pusher of the car.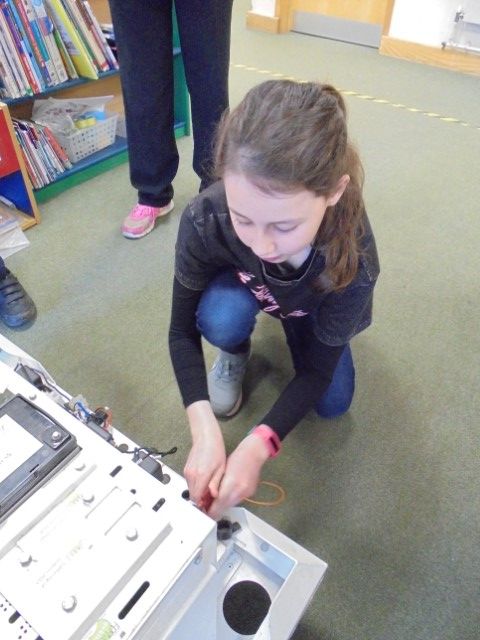 We learnt how to switch the safety switch and also how we communicate with the driver.
Driver, are you ready?
Safety switch on.
Power on
3,2,1 push!!!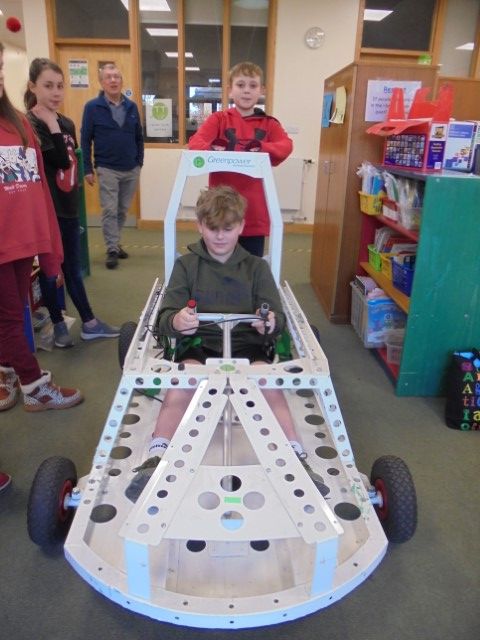 Next week, we will look at the design of our body work and what material we will use as well as looking at the technical drawings of the car so that we can check the bolts, ready to start driving the following week.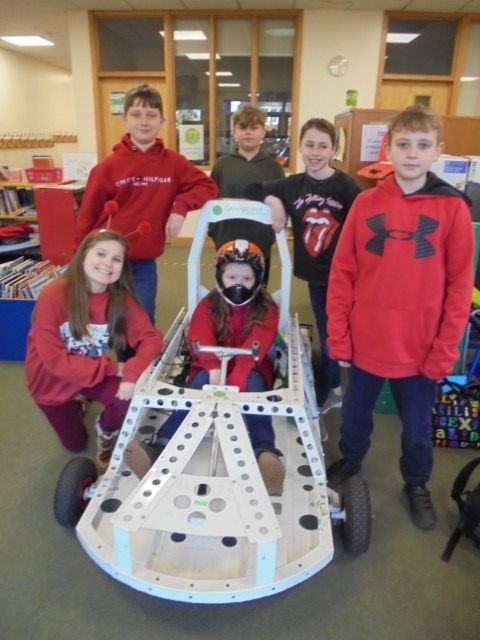 11th March 2022
It was our first meeting for GreenPower today and we were all very excited.
To start with, we all sat down and talked about our ideas.
Thomas:
Thomas talked about his slogan ' Let's Be Great, Let's Be Green'
He let the group know that this slogan is to explain that we all want to try our best and be saviours to our planet.
This slogan was inspired when he was walking down Horsham High Street and saw lots of litter and thought that we should try out best to make the planet better by litter picking.
Thomas also thought that litter picking might be something that the Green Power Team could do.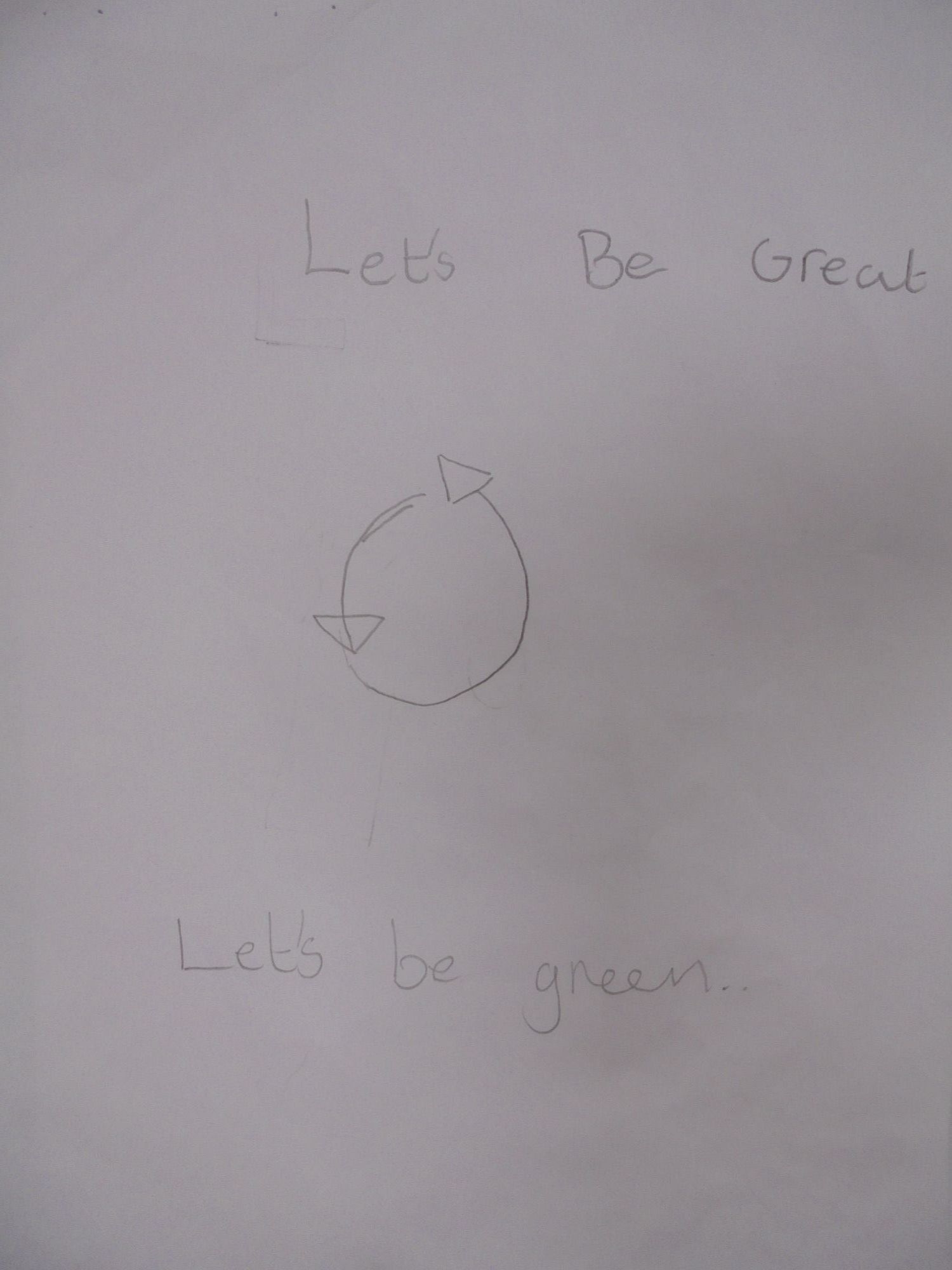 Chloe:
Chloe talked about the logos she was thinking about. She thought it would be good to make them eye catching and recognisable for people.
One of the ideas was the GreenPower car inside of a plastic bottle to represent 'Getting rid of plastic and Power to the plants'
Chloe thought that as a Green Power Team we could plant more trees.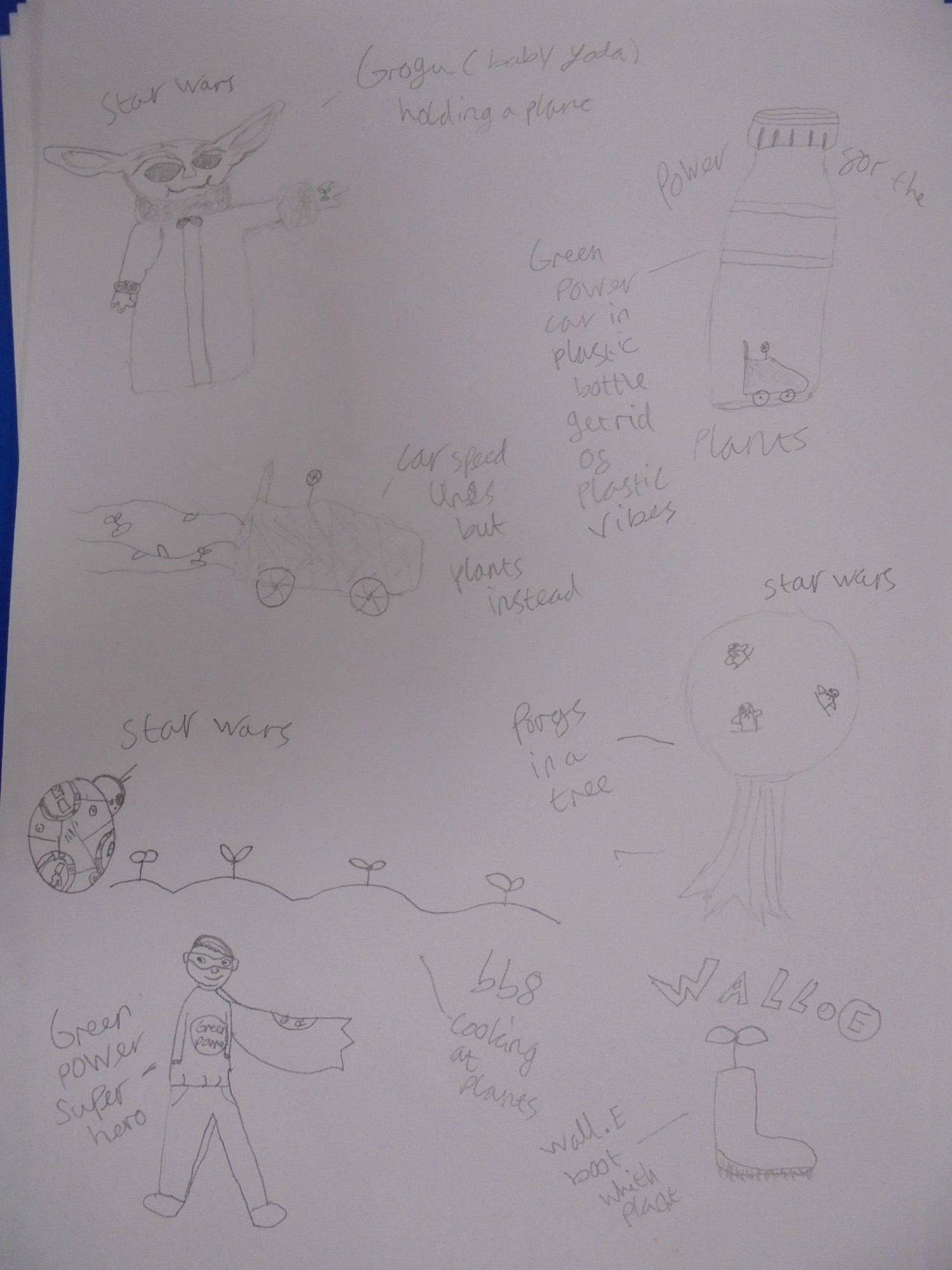 Caitlin:
Caitlin showed her design of the car and how we could get back up power using a wind turbine.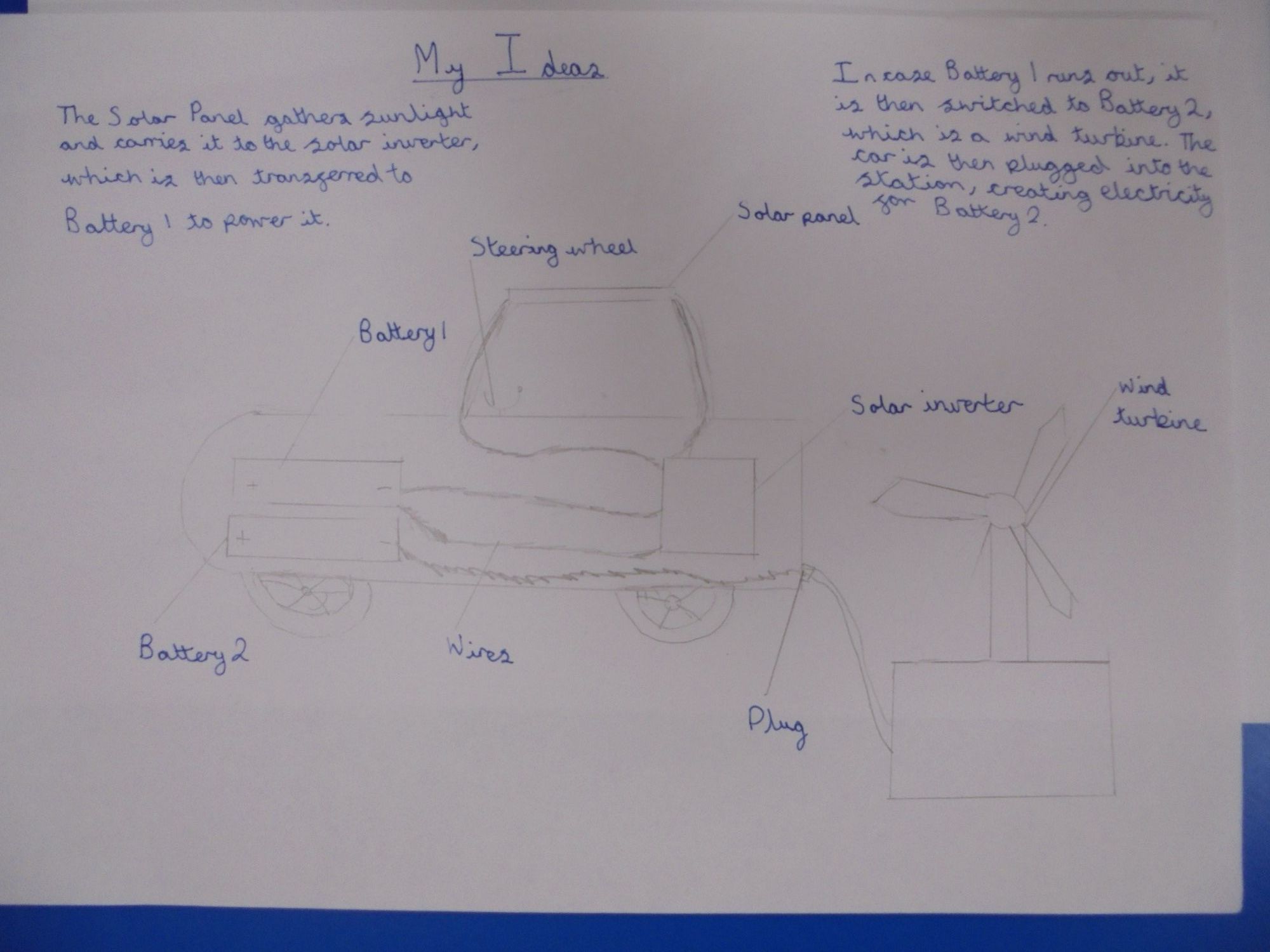 For the rest of the session, we worked as a group to create our final logo designs.
Come back next week to see our ideas!!!