Safe Routes to School
The Safe Routes committee was formed with the primary purpose of looking at the journeys we all take to get our children to St. Paul's School.
Whether you choose to walk, cycle, scooter, or travel by car or bus, we know that drop-off and pick-up can sometimes be stressful, so these guidelines and maps are intended to try and make that journey more informed and hopefully easier as a result.
How we help the school
Since our beginnings in 2005, we have successfully:
secured funding for cycles sheds and scooter racks
negotiated parking permits in Sainsbury's south-side car park for drop-off and pick-up times, expiring on the date your child leaves school
supported Surrey's 'Golden Boot' sustainable travel challenge
liaised with the residents' association to promote safe parking in St. Paul's Road West
purchased a mirror to improve the crossing at the junction of South Terrace and St. Paul's Road West
developed communications with MVDC, Surrey Highways, Mole Valley traffic officers and Surrey Police when monitoring parking in Chart Lane and Beresford Road
promoted good pedestrian skills by taking Years 3&4 on pedestrian training afternoons
re-developed the entrance to the school for increased pedestrian safety
improved safety on the A24 crossing- and continuing to campaign for future safety measures
reinstated parking along Chart Lane for parents/carers at drop-off and pick-up times.
Guidelines and tips from the Safe Routes Team
A reminder of the parking restrictions around the school and some ideas to help everyone at pick up/drop off times!
Safe Zone
There is a Safe Zone in place from the point where the pavement runs out at the top of St Paul's Road West – there should be no parking beyond this point for the safety of those walking to school. If the road appears full by the church as you arrive, please park elsewhere.
Map
See the map below, which aims to help clarify the places parents/carers are able to park safely and also alternative access routes to school. Please take a look and remember the following;
No parking areas – include immediately outside school (the top of St Paul's Road West,) St Paul's Mews, St Paul's Road East, High Meadow Close and in and around Dorking Hospital and car park. Please ensure the hospital access is not blocked by parking considerately in South Terrace.
Tricky roads - the roads surrounding the school are all sensitive areas with many residents and pedestrians, especially at pick up and drop off times. Drivers please be wary of small children in particular.
No stopping in Safe Zone - for everyone's safety no vehicles* should be entering the Safe Zone area or directly outside school during drop off or pick up times. We all share the same issues of lack of car parking spaces and juggling multiple children, buggies and so on but our children are too precious to risk any kind of incident involving a car and child near the school. Driving up and turning here, particularly in 'rush hour' can be really dangerous.
*We do appreciate at times staff or visitors may need to drive right up to school during busy periods, and would like to emphasise that the Safe Zone cannot be regarded as a pedestrian area.
Turning – please avoid turning your car around in the Safe Zone at peak times. If you are arriving after 8.30am or after 3pm we strongly suggest you do not attempt to drive up here to turn as it endangers the children walking to and from school.
Ensure other carers know what to do - if someone else is collecting your child, please ensure they are also clear on the parking restrictions.
Return to school if nobody at collection point - please remind your children that they should return to school immediately if their parent/carer is not at their agreed collection point.
Safe scootering - children love to scoot to /from school but we have had some 'near misses' with small children. Please can you help your children to scoot safely for everybody's safety!
Parking Permits – permits are available to allow free parking at school drop off and pick up times in the Southside car park behind Sainsbury's. There will be an administration charge of £10 per vehicle for these but permits will be valid until the date your child leaves St Paul's school. If you would like a permit please fill in the attached form or email your details and make payment online or at the office.
Chart Lane parking (at the bottom of St Paul's Road East) – is now possible thanks to Safe Routes and is allowed during school drop off and pick up times only. 8.30 - 9.15am and 2.45 - 3.45pm.
Staff Parking Area – is primarily for teaching/office staff but there are temporary staff permits available from the school office for parents helping in school to display in their car windscreens, although if you are arriving or leaving in peak school run times we suggest you park elsewhere for the duration.
A24 crossing – some improvements, including lights, have already been made here. We continue to campaign for easier push chair and disabled access too.
Public Footpath – for a traffic free school run you can also access the school from the footpath off South Terrace near Harrowlands. This pleasant walk takes you through the field by Glory Wood and to the back of the school.
Safe Routes Map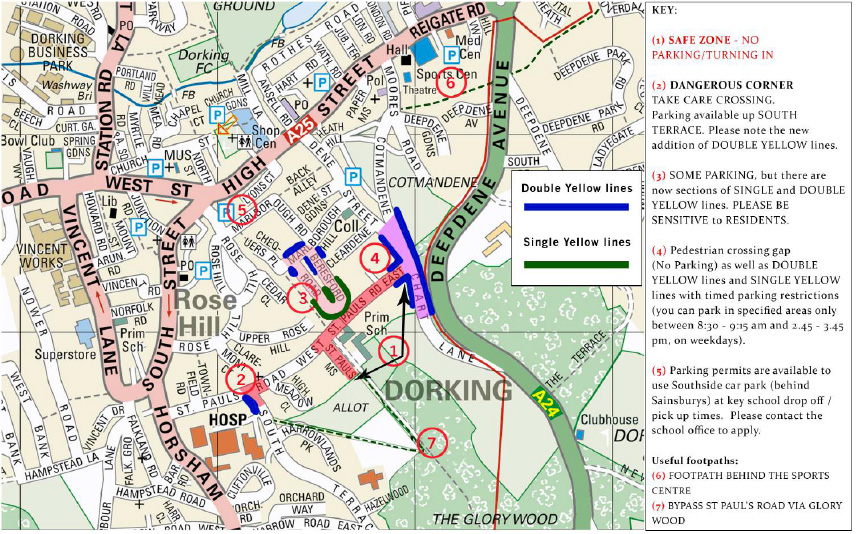 You can also download this map as a pdf below.
If you would like more information on any of the above, if you have new ideas or would even like to join us, please get in touch with a member of the committee!
Sue Atkinson, Ann Alden, Vic Bisping, Helen Henley, Nicky Green and Vicki Ellwood.
Safe Routes contact: saferoutes@stpauls-dorking.surrey.sch.uk
If you'd like to apply for a parking permit, please use the form below, paying your fee to the school office or online using Scopay.