SPORTS REPORTS 2021/22
Ashcombe Leaders visit St Paul's to lead an afternoon of sport for Year R,1 and 2
29th June
This afternoon, St Paul's were lucky enough to have a visit from 16 Ashcombe Young Sports Leaders to give KS1 and afternoon of fun activities.
Each year group was split into 5 teams, where they each played different games, including parachute games, head shoulders knees and cones, hop and freeze, On the spot and Fish, Chips and mushy peas!!!
All the children listened really well to the instructions from the young leaders and had great fun being active.
Some of the quotes from the day:
'I likes the mouse game. We had to lift the parachute up and down and it was fun.'
'Like musical chairs with spots was my favourite because I did really well.'
'Chips, fish and peas was great fun. You had to race to pick up the colours.'
'The Ashcombe boys and girls were so lovely.'
'We loved running around and playing lots of fun games.'
'Popcorn was my favourite.'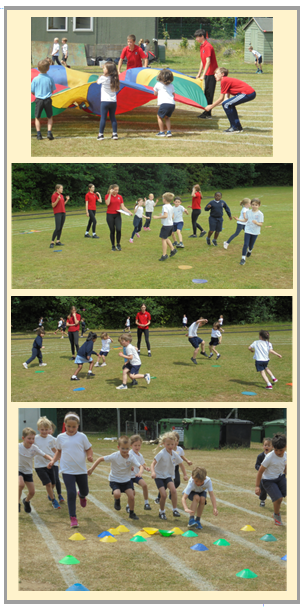 Year 5/6 Rounders
On the 27th of June 10 Year 6s went to Powell to take part in the Dorking Schools Rounders Tournament. We were in a pool with The Weald, St Joseph's and St Martins. We were all pretty nervous to start with but our confidence grew with each match and we ended up winning our pool, meaning that we were in the final against North Downs.
The match was really tight with great fielding and batting from both teams. The final score was 5 1/2 rounders to North Downs and 4 1/2 rounders to us, meaning we came 2nd overall. We were disappointed but also very proud of how we played as a team.

Year 3/4 Rounders
On Tuesday 28th June year 3 and 4 rounders team went to Powell to take part in the Dorking School's Rounders Tournament.
We played really well as a team and as a result, we ended up winning our pool against St Martin's and Powell. We got to the final to play against North Downs, where again, we played really well as a team. We came 2nd overall and we were really proud of our efforts.
28th June 2022
KS1 Sports Day
Today, was KS1 sports day and the sun was shining. The day started with the children from Year R to Year 2 walking out onto the field to cheers from the crowd of parents. There were 7 activities which all the children took part in; dressing up, relay, long jump, pass along the line, ladders, dribble slalom and bullseye target throwing.
The children all had a great time and the atmosphere was amazing.
At the end of the morning, the results were read out my Mrs Alden and they could not have been much closer, with only 9 points separating 1st and Second place.
Well done Sapphires for winning the 2022 KS1 Sports Day!!
Year 3 / 4 Tennis Competition
Reported by Elliot Year 3
On Monday 20th June a group of excited competitors from Year 3 and Year 4 hurried down to Dorking Tennis Club for an inter-school tennis tournament. It was scorching hot on court but we played hard through every match.
Our teams tried their best and came 4th and 7th overall.
We had a wonderful afternoon and are grateful to the Year 5 umpires!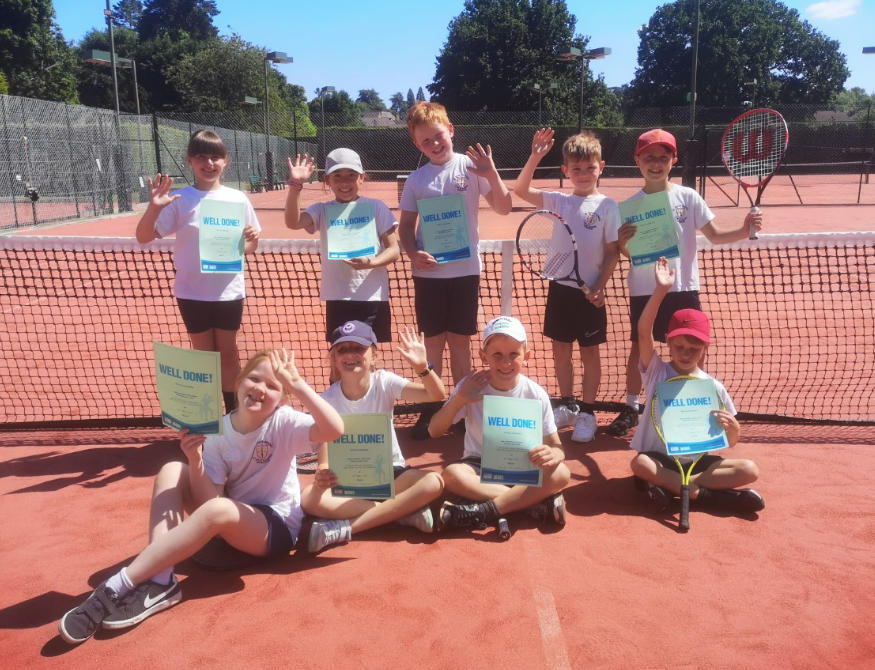 Year 5/6 Girls Cricket
Last Friday was the Surrey schools cricket tournament for years 5 and 6 girls.
They were amazing, worked well together as a team and got better as the tournament went on, showing me how well they learnt from each game.
A few words from my co-captains, elected by their peers:
"We came 2nd in the cricket tournament! We lost the first match but won all the others. It was really fun and a great experience". —Molly
"We had so much fun. After lots of hard work we eventually came second".—Poppy
They made the school and each other proud.
June 8th 2022
Year 4 Tri Golf Tournament
Putting the T in Team
9 students from Year 4 have wowed other schools in Dorking at the Dorking Schools Tri-Golf tournament.
Ava, Ethan, Jude, Lacy, Lottie, Miles, Oscar, Reuben and Rosie took part in eight different games, challenging themselves to score the most points against teams from other schools.
Before the tournament, all Year 4 children enjoyed three weeks of tri-golf lessons with Joe from Betchworth Park Golf Club to learn the key skills. He taught the children many things, including how to hold a club, how to putt and use a chipper.
St Paul's children were particularly praised for their teamwork, encouragement and all round brilliant behaviour. Well done to our great golf team!
June 7th and 8th 2022
Children from Year 1-6 had a fantastic day learning all about the skills of skateboarding. The completed tricks and became more confident on their boards.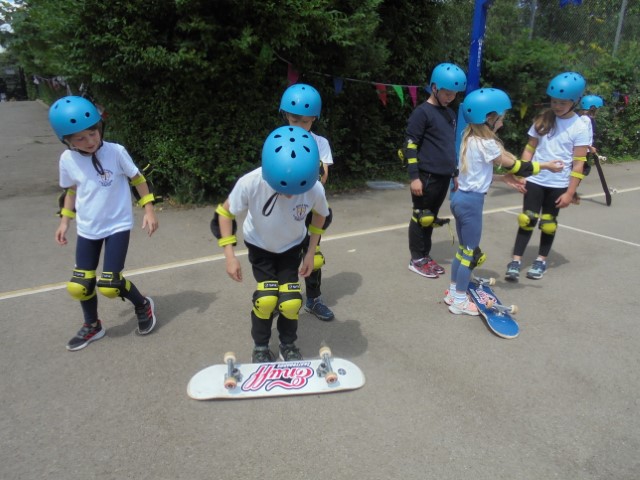 May 29th
THE QUEEN'S JUBILEE 1950s SPORTS DAY
During the day, all the children had the chance to take part in a 1950s sports day to celebrate The Queen's Platinum Jubilee.
The children loved the different games, including the sack race, egg a spoon race and the three-legged race!!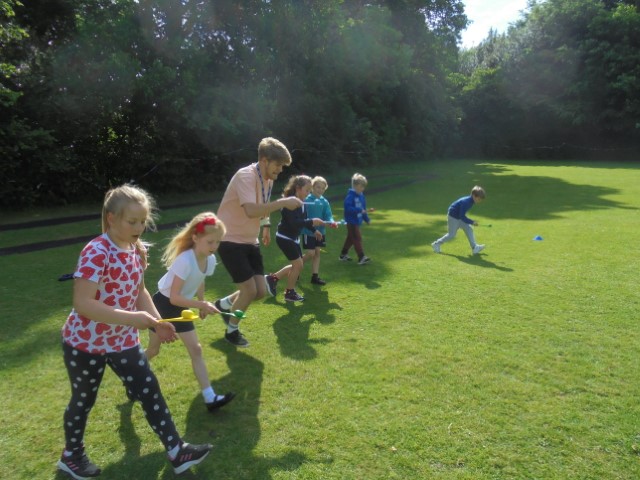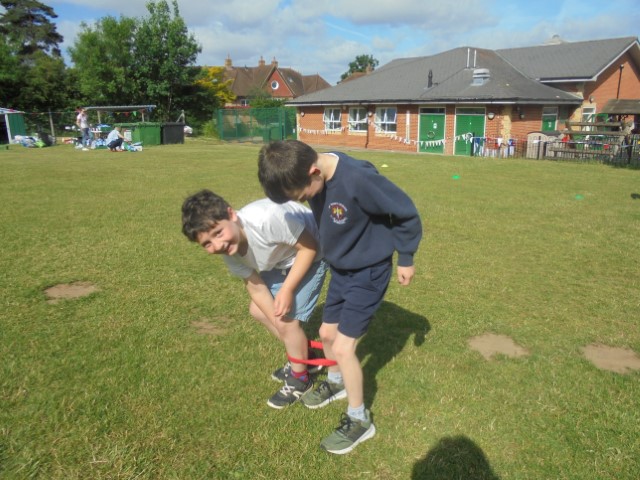 May 28th 2022
Dorking Schools Swimming Gala
Children from Year 3-6 swan in a swimming gala against all the other schools in Dorking. The gala consisted of front crawl, backstroke, breaststroke and butterfly as well as mixed relays and a jumbo relay. The children showed amazing sportsmanship and cheers others in their team as well as cheering other schools.
The team did amazingly well and managed to win the gala...CONGRATULATIONS!!!!
May24th - 25th 2022
St Paul's School Children waltz their way to fund raising success
Children at a Primary School in Dorking have been dancing their way to fund raising success with help from a Strictly Come Dancing professional.
Youngsters at St Paul's Church of England (Aided) Primary enjoyed a dance session with Robin Windsor, who appeared in four seasons of the BBC prime time television show.
The special classes formed part of a fund-raising drive by the school to raise money for their ELSA room (Emotional Literacy Support Assistant). Raffle tickets were sold for an exclusive dance lesson with Robin.
Robin then worked with the children to learn dances he had performed with celebrities on Strictly. To finish, he hosted a dance competition of the routines they had learned. The children supported each other by helping with the judging and scoring.
The children loved the experience. "It made me feel happy even though I didn't win the competition" Ben, Year 3.
"I loved the dancing because it made me feel happy and free," Eleanor, Year 3.
Robin said, "For me, seeing the kid's confidence grow while learning to dance, even in such a short space of time, proves how important it is to allow children opportunity to explore their creative side. Dance provides everybody the tools to blossom and shine resulting in a real boost in self-esteem and self-belief. It's also a fantastic way of keeping both physically and mentally healthy whilst having fun."
Head teacher, Ann Alden, commented; "We are committed to giving our children the best experiences at St Paul's. Robin teaching dance lessons has brought a real buzz to the playground as they practise and share what they have learnt".

16th May 2022 -Boys Year 6 Cricket
On Tuesday 16th May 2022 at Newdigate Cricket Ground. a team of 10 Year 6 boys took on the challenge of the Dorking Schools Cricket Tournament.
They played 5 matches, winning 3, and came second overall, having scored more runs than two other teams with the same number of wins. The tournament was very competitive, with St Paul's only losing by 2 runs to the eventual overall champions.
All the boys had fantastic attitudes, behaving amazingly, playing fairly and keeping a smile on their faces in both victory and defeat! Well done!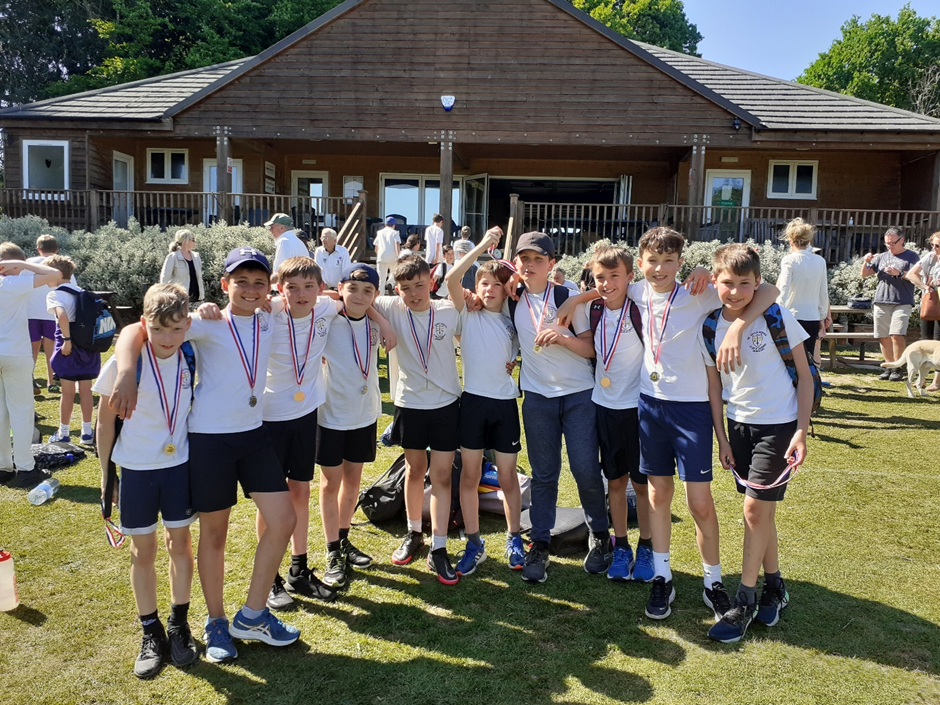 5th May 2022
THE SPORTS HALL ATHLETICS TOURNAMENT
REPORTED BY PABLO - YEAR 5
Preparing for it:
We took a team photo and said that we would be remembered for sportsmanship and kindness.
"We are going to win this tournament!" Ethan quotes confidently.
We walked down to an old looking door, but what was inside was NOT boring or old. The hall was huge! I guessed that this was where we were going to do the competition. Sounds echo all around the hall.
The event-
The event has started. The true athletics have begun! I can see lots of people running, as fast as lighting, and tagging their teammates.
The noise is deafening. Lots of people are cheering for their teams, trying to be heard.
"I don't mind who wins, I just want everyone to try their best," Michaela quotes.
The place was bustling with people!
We are playing against the year 6's. Good luck, St Paul's!
"How did you feel when you were lining up to go for the running?" I ask Ted.
"I was nervous. I was excited as well, bust mostly very nervous," he replies.
St Paul's are doing really well with the running so far. They are so fast that I can't get a clear shot of them!
"We might get bronze," Emilija and Isis say.
It Is such a big tournament!!
"How do you feel about the relays you have just done?" I ask Freddy.
"I feel good about them because if we keep going, and don't give up, we can do really well." Freddie replies.
"Do you think we are doing well?" I ask Oliver.
"I think we are doing okay … because we got third in a lot of games. The only thing we can do now is try our best!" Oliver replies.
We are having fun… and that is all that matters!
We have come third in almost all of the events. I would say we are doing the two important things… having fun and trying our best!
"Alone, we are weak, but together, we are strong" Derin quotes. The javelin throwers are putting VERY high and long throws in the hall. I would say that we are doing pretty well in the tournament so far.
GO ST PAUL'S!
There are so many voices (mostly cheering) around me! Firstly a whistle, then an uproar of cheering! The people who are here are very talented (including us)!
"Tension is high" Derin quotes, as the last people take their javelin throws, cheering is all around. I think it is over.
WE DID WELL But more importantly…
WE HAD FUN!!
21st April 2022
On Thursday, a group of 6 children from year 3 and 4 were invited to take part in a PhysiFUN festival at St Martin's School with four other schools from Dorking. Lots of fun was had playing games from different Commonwealth Countries. All the children enjoyed running around on the field in the sun, learning new skills and working as a team.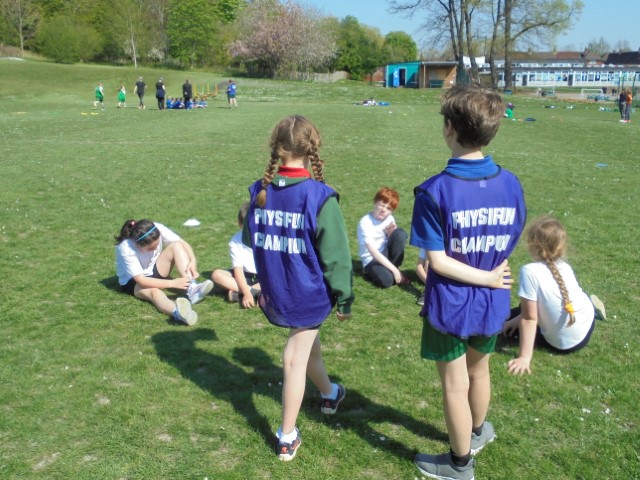 12th March 2022
The day started of rainy, but it soon brightened up ready for the Surrey Schools Primary School Cross Country Competition at Reigate Park.
We had 3 children take part in the Year 5 boys race, Huxley, Ethan and Ted. It was pretty nerve-wracking at the start, waiting for the gun to go off with so many children at the start line. Suddenly, it went bang and they were off!! It was a 1.8km course with 2 big hills, but the boys did amazingly well all coming in in the first half of the field, and most importantly, with big smiles on their face.
The Year 6 girls race was next, with Poppy C taking part, followed by the Year 6 boys race, with Rufus taking part.
They both did amazingly well both on a slightly longer, 2.2km course.
Well done to Huxley, Ethan and Poppy C who have all been selected to attend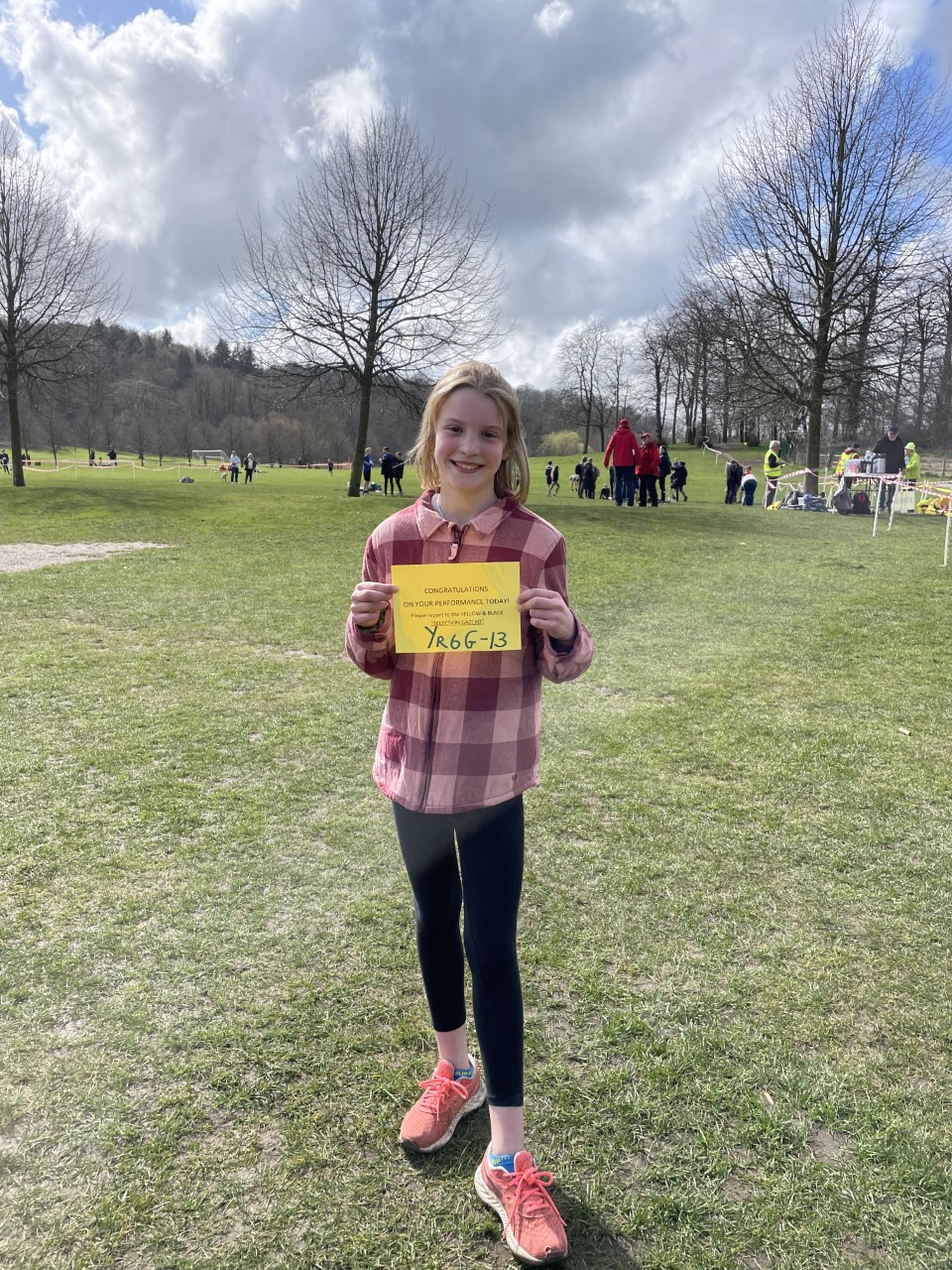 10th March 2022
What an amazing afternoon! The sun was shining and the St Paul's Year 6 Rugby team were smiling.
We got to the Rugby Tournament, which was taking place at Dorking Rigby Club and immediately got ourselves warmed up and ready to go. We were all a bit nervous but soon our excitement overtook.
We played our first match, winning 7 - 1 which really helped us with our confidence. We continued to win each of our matches with North Downs being our toughest one.
It was amazing to be on the pitch again, enjoying sport.
We really persevered through all our matches and showed respect to the other teams.
We won the whole tournament and could not have been happier.
5th March 2022
It was a Saturday night and we don't usually go to school, but 4 year 6 children took part in a Lifesaving competition at Dorking leisure Centre against 18 other teams from across the whole county.
The team worked really hard to learn about lifesaving and what to do around different bodies of water as managed to answer more questions correctly than any other team.
There were 8 other practical events in the swimming pool, including throwing a rope to help rescue someone in distress, treading water, surface dives and straddle jumps.
The team w
ere a real credit to St Paul's and did amazingly well. Congratulations!
3rd March 2022
On Thursday 3rd of March, a group of Year 6 children took part in the Dorking School's Hockey Tournament.
They worked as a team and used their knowledge of game play and rules of hockey to win the Tournament.
Well done team, you did St Paul's proud.

28th February 2022
St. Paul's took a team of over 30 children to take part in the Dorking School's Cross Country Competition.
All the children showed determination and perseverance as well as great team spirit, cheering each member of the team on.
Well done St Paul's - you were amazing!
29th November 2021
On Monday, 7 children from year ¾ and 7 children from year 5/6 took part in the Dorking Schools gymnastics competition. After weeks of practising with Mrs Winterage, the children were ready! They looked so smart in their new leotards as they confidently completed their three routines: body management, floor and vault. The children helped each other practise between the events and showed great respect to the other 3 schools competing. Overall, both year groups came third. Well done girls.
KS1 Virtual Multi-skills competition
This week, KS1 has had lots of fun completing a virtual multi-skills competition with other schools in Dorking. All the children in KS1 took part and enjoyed challenging themselves. Well done everyone!
An amazing effort St Paul's - we came 3rd!!!
19th November 2021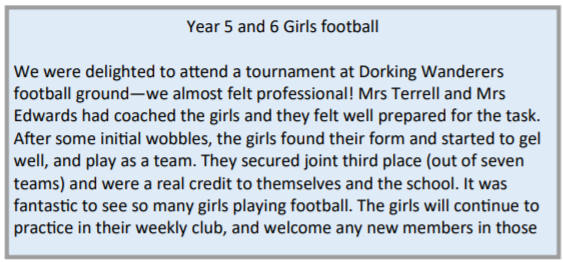 18th November 2021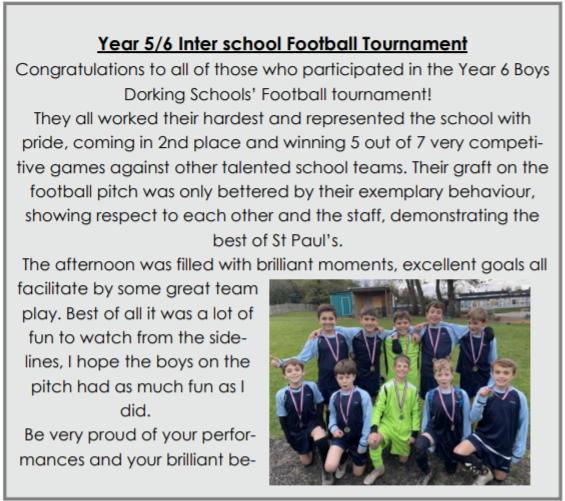 8th November 2021