On-Line Safety
TikTok: what parents need to know - Click on the picture to take you to a useful article from CEOP/Parent Info.
---
Important for Parents - Nintendo Switch Hack


Nintendo have confirmed a data breach (see HERE) which means that over 160,000 accounts have had their details stolen, some of these accounts have already been used to make illegal purchases. Nintendo have stated they will contact affected users, but I would recommend you send this information out to parents as they will likely trust you more:
Log in to your Switch account and change the password, remember to use a good, strong password.
Enable 2-factor authentication. This means if somebody tries to user your login details, you will get a code sent to your phone, so you know that somebody is trying to log in.
Go to the HaveIBeenPawned website (HERE) and put in your username/email address to see if any accounts have been hacked.
---
During this period of Home Learning, it is likely your child will be spending more time on-line than previously. It is essential that on-line safety remains a priority. Below are links to essential websites for parents and children.
UK Safer Internet Centre:
https://www.saferinternet.org.uk/blog/keeping-children-happy-and-safe-online-during-covid-19
---
Click on the picture below to take you to Espresso. See below for website and password details.
The espresso site has loads of interesting resources including a daily news roundup and lots of coding activities which the children have previously used in school. The website link is https://www.discoveryeducation.co.uk/ Login details are provided below.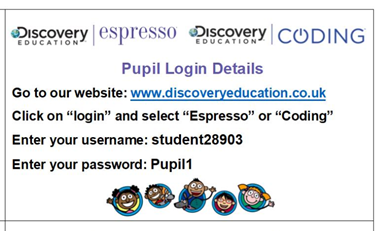 ---
Further information can be found in the On-Line safety section of the school website. Click below for the link:
---
CEOP have designed a range of learning units to access with your child aimed at using the Internet. Click below to go to the Parent Info site.
---
Click on the pictures below for useful Parent Information for using the Internet during Home Learning.
---
Click below for Information for Parents from AACOSS - cutting through the online safety noise. Simple advice and guidance to keep your child safe online during the pandemic