EYFS
Introduction
At St Paul's our vision is to ensure that we provide an environment, which inspires learning and nurtures wholeness; this is reflected in every aspect of our Early Years practice. We ensure that our school values of Respect, Compassion, Hope, Wisdom, Perseverance and Trust are woven through all we do to provide the children with a foundation that develops them academically, emotional, physically and spiritually. This is reflected in the way we teach and relate to one another – adults and children.
"Every child deserves the best possible start in life and the support that enables them to fulfil their potential. Children develop quickly in the early years and a child's experiences between birth and age five have a major impact on their future life chances. A secure, safe and happy childhood is important in its own right. Good parenting and high quality early learning together provide the foundation children need to make the most of their abilities and talents as they grow up."
'Statutory Framework for the Early Years Foundation Stage' 2014.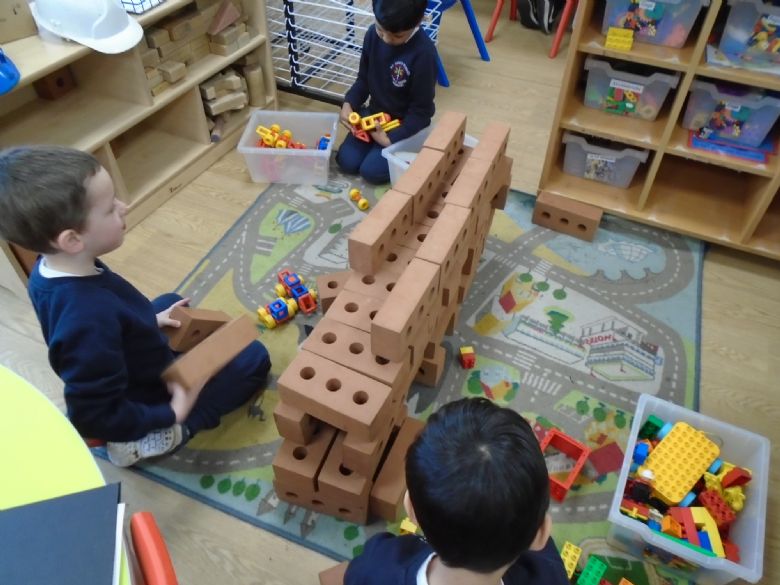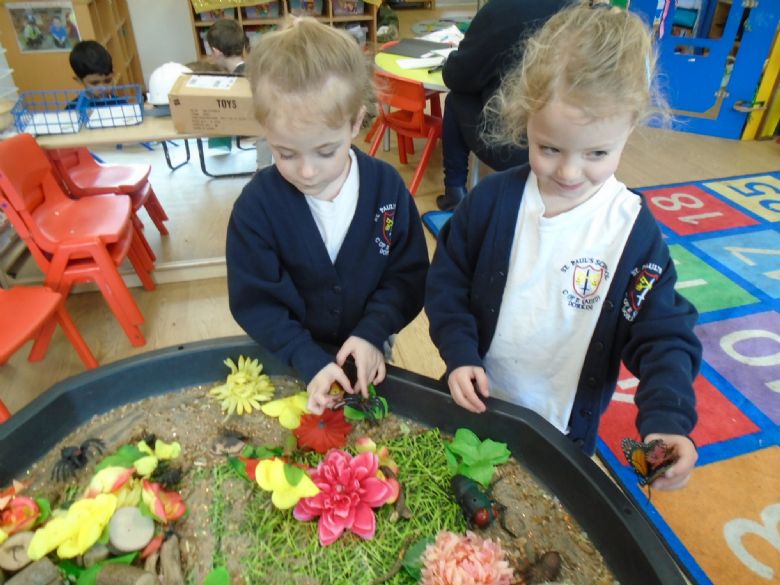 Early childhood is the foundation on which children build the rest of their lives. At St Paul's we greatly value the important role that the Early Years Foundation Stage (EYFS) plays in laying secure foundations for future learning and development, however we also believe early childhood is valid in itself, as part of life. It is important to view the EYFS as preparation for life and not simply preparation for the next stage of education. It is with this ethos, we will help to develop our school's Christian values.
Aims
It is every child's right to grow up safe, healthy, enjoying and achieving, making a positive contribution and with economic well-being. In the EYFS at St Paul's we believe that all children are entitled to the best possible start in their school life, We aim to provide a safe, caring and supportive environment for all our pupils to allow them to learn effectively, both
intellectually and emotionally, to improve their life chances and help them maximise their potential.
Each child is valued as an individual, with learning and teaching based on the understanding that children develop at different rates.
We aim to support each child's welfare, learning and developmental needs by:
• Recognising that all children are unique and special.
• Understanding that children develop in individual ways and at varying rates - physically, cognitively, linguistically, socially and emotionally.
• Ensuring that every member of our school community is respected and feels protected, safe and valued.
• Fostering and nurturing children's self-confidence and self-esteem through their developing awareness of their own identity and role within the community.
• Teaching them to express and communicate their needs and feelings in appropriate ways.
• Encouraging children's independence and decision-making, supporting them to learn through their mistakes.
• Believing that at St Paul's, everyone is a valued member of our school community, where trust, respect and compassion are integral parts to the way we relate to each other.
• Supporting children to develop care, respect and appreciation for others, including those with beliefs, cultures and opinions different to their own.
• Providing learning experiences in play which reflect children's personal interests and areas of curiosity in order to encourage and develop their natural desire, interest, excitement and motivation to learn.
• Providing experiences which build on children's existing knowledge and understanding in order to challenge, stimulate and extend their learning and development.
• Providing effective learning opportunities in a range of environments, inside and outside.
• work in partnership with parents/guardians and value their contributions.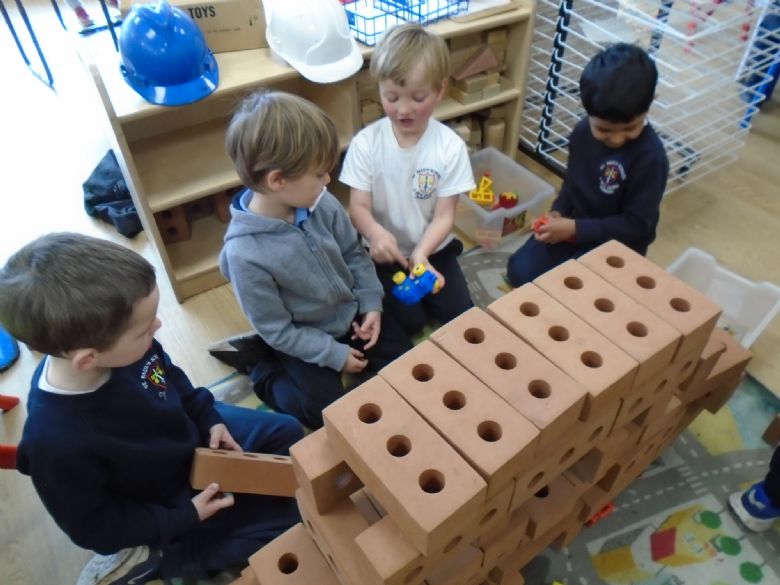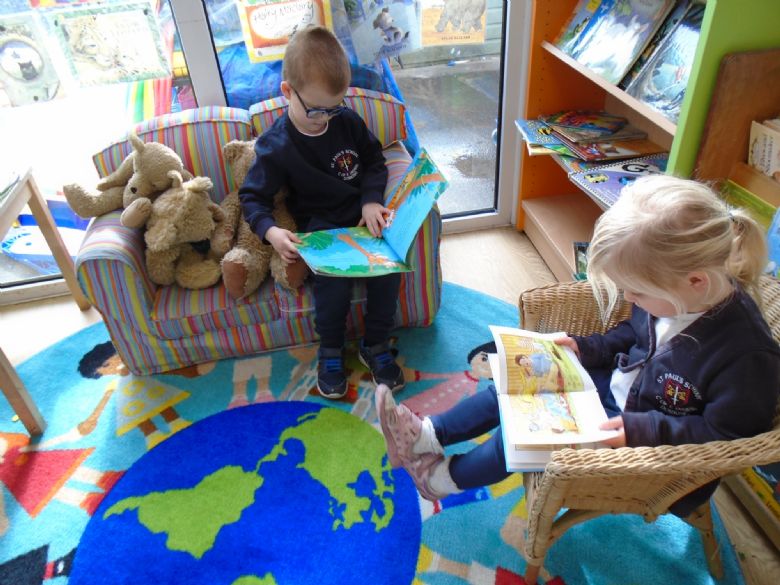 Teaching and Learning in the EYFS
The EYFS is based upon four principles:
A Unique Child
(ii) Positive Relationships
Enabling Environments
Learning and Development
(i) A Unique child
Inclusion
All children and their families are valued within our school. We believe that children should be treated as individuals and should have equal access to the EYFS curriculum. We give our children every opportunity to achieve their best. We help them do this by planning to meet the needs of both boys and girls, children with special educational needs, children who are more able, children with disabilities, children from all social and cultural backgrounds, children from different ethnic groups, and those from diverse linguistic backgrounds.
We strongly believe that early identification of special needs is crucial in enabling staff to support the development of each child and fully meet their needs. Concerns are always discussed with parents at an early stage in an open, honest and sensitive manner and we will always seek their support and involvement.
The school's SENCO is responsible for providing additional information and advice to practitioners and parents, and for arranging external intervention and support where necessary.
(ii) Positive Relationships
At St Paul's we recognise that children learn to be strong and independent from secure relationships. We aim to develop caring, respectful and professional relationships with the children and their families.
Parents as partners
We recognise that parents are the child's first and most enduring educators. When parents and practitioners work together in early years settings, the results have a positive impact on the child's development. We feel a successful partnership needs to be a two-way flow of information, knowledge and expertise and so we aim to provide a variety of opportunities to support this.
(iii) Enabling Environments
At St Paul's we recognise that the environment plays a key role in supporting and extending the children's development. We aim to create an attractive, welcoming and stimulating learning environment which will encourage children to explore, investigate and learn through first hand experience. We also aim to make it a place where children feel secure and confident, and are challenged to develop their independence. Activities are planned for both the inside and outside environment. Children have the freedom to move between the indoor and outdoor classroom throughout the school day.
Effective learning builds on and extends what children know and can already do. Our planning is informed by observations we have made of the children in order to understand and consider their current interests, experiences, development and learning needs.
(iv) Learning and Development
The EYFS is made up of seven areas of learning:
Three prime areas:
Personal, Social and Emotional Development
Communication, Language and Literacy
Physical Development
And four specific areas:
Maths
Literacy
Understanding of the World
Expressive Arts and Design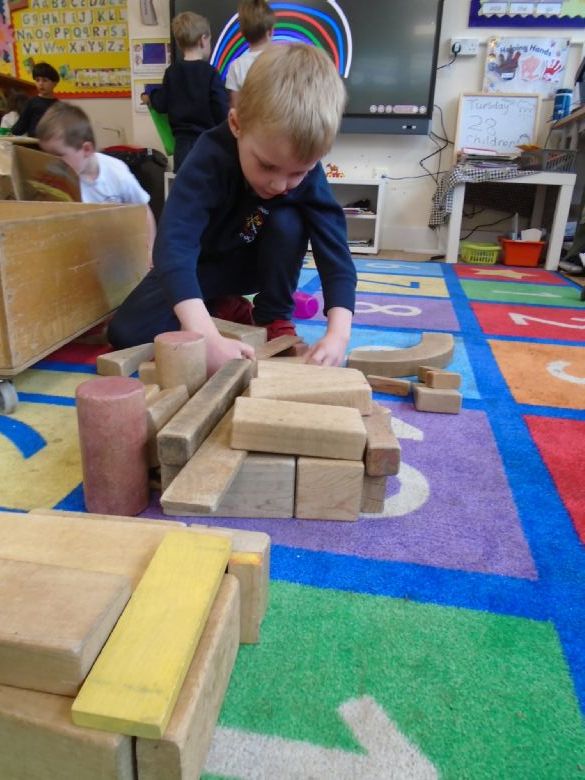 These Areas of Learning and Development address children's physical, cogitative, linguistic, social and emotional development. No one aspect of development stands in isolation from the others as all areas of Learning and Development are closely interlinked. This ensures the delivery of a holistic, child-centred curriculum which allows children to make lots of links between what they are learning. All Areas of Learning and Development are given equal weighting and value.
We aim to make you and your children feel part of our school family.

We have two classes in Reception (Year R) and our teachers are supported all-day by a teaching assistant in each class.
Although Reception is the first year your child will encounter at St. Paul's, as a part of the EYFS, (Early Years & Foundation Stage) your child's first year in school is an extension of their pre-school experience. This means a strong emphasis on learning through fun and play, with a careful, gradual progression towards more formal 'lessons.'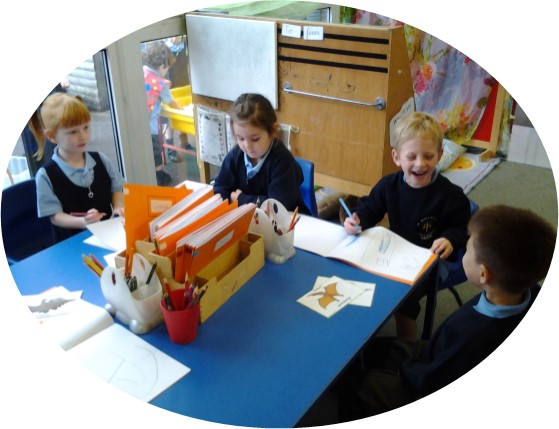 Before your child starts school they will have the opportunity to meet their teacher and visit their classroom. For parents, there will be welcome evenings in the summer term and again when your child has settled in, in addition to a personalised information pack and a home visit from the Year R staff.
We try to keep you well informed through information evenings and regular email communication. Our teachers are always available to discuss any concerns you may have.
Our classrooms have been designed especially for our younger children. They are larger than the older classrooms, allowing more space for a variety of different activities. The children have their own toilets and a partially covered, well-equipped outside learning area to continue their learning. We have also installed fencing around the 'trim trail' play area so that our youngest children can play and discover their independence safely in a secure environment.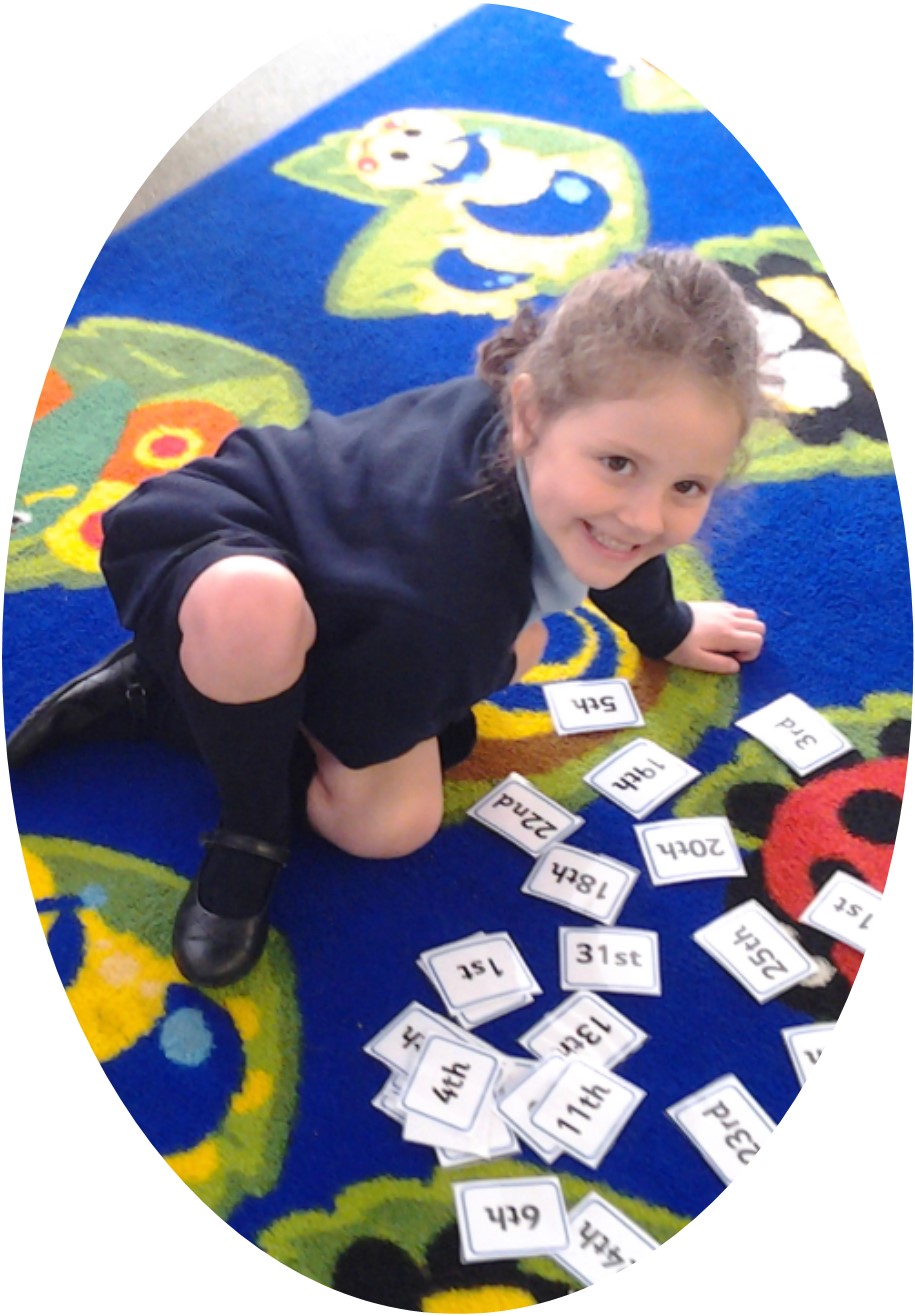 "There is a careful balance of experiences. Children's independent learning is encouraged and reading, writing and calculating skills are developed through well planned activities." "As a result of outstanding teaching they make rapid progress." (Ofsted 2013)
Below are photos showing the learning we have been undertaking recently.