Cross Country Climax!
The sun came out to join us in celebrating our last cross-country race of the season!
With over fifty children competing from St. Paul's alone, the atmosphere was electric at The Weald this afternoon!
There was all to run for with only 13 points separating 1st and 2nd place in the season-long competition. We got off to an amazing start with our year 3/4 girls running a brilliant race and the talent just kept on coming after that.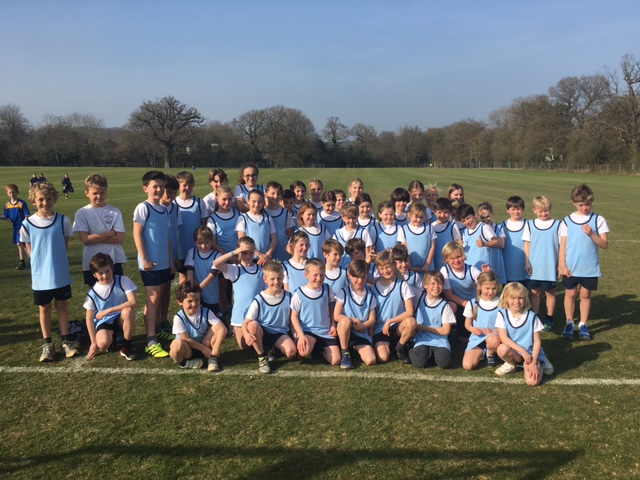 The Year 3/4 boys race was outstanding with St Paul's clinching 1st, 2nd and 4th place. The year 5/6 girls had a strong performance, with the most girls running all season. The last race was the 5/6 boys where we gained 2nd. These fantastic runs meant that it was a nail-biting wait for the results... (insert drumroll here!)

St Paul's came FIRST in the 3/4 boys and girls age group and SECOND in the year 5/6 boys and girls age group.
All the dedication and hard work from the children paid off, gaining FIRST PLACE overall. WOW! What a wonderful season we have had. The results are just amazing, but we are also so proud of so many children for turning up, giving it a go and having a lot of fun along the way.

Cross Country practice will start again in September. We'll be looking to our current team to set the pace, but there's tons of room for more. Why not come along, and let's see if we can win two in a row!!!

A few group and individual results to share:
3/4 boys race
Joe: 4th
Sam: 2nd
Lucas: 1st

5/6 boys race
Toby: 2nd

Individual overall results for the season
3/4 boys
Lucas: 2nd place
Sam: 1st place
5/6 boys
Toby: 3rd place

Team overall results for the season
Year 3 & 4: 1st place
Year 5 & 6: 2nd place
St. Paul's: overall first place!