Lights out; here we go!
The St. Paul's Greenpower Formula-Goblin Racing Team is ready to race!
The Green Power Formula Goblin kit cars project is a club for Year 6 pupils. The idea is that pupils design and build electrically powered kit cars then compete against other schools, testing their driving skills.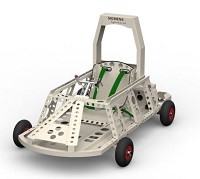 Throughout the Spring term, 7 children from Year Six have been getting up at the crack of dawn to be in school at 7.30, ready for the club to start. During the past 10 weeks, we have been building the car, completing the electronics, designing and making the body work and finally test driving ready for race days.

Today, we have had the very exciting news that our entry into our first race has been confirmed, which is taking place on the 3rd of June at Seaford College.

We are delighted to say that Kendall Cars of Leatherhead (www.kendallcars.com) are our major sponsor for this event, kindly supplying the transport for our 'very precious load' - our GreenPower Car. We are incredibly thankful to Kendall Cars, who have been so generous.

Visit our page on the website website www.stpaulsschool-dorking.co.uk/Greenpower to follow our build and, in a few weeks time, to see how we have got on at our first race!