SPORTS REPORTS 2019/20
Rad running
November 2019
By Kian (y6)
Around 20 lucky children from the local schools in Dorking, got to go and meet a professional runner. At around 12:45, we set off for St Martin's.
When we got there, we waited around for the other schools to arrive.
Once everyone got there, we made our way towards the room where we put our bags away and we met Christopher Thompson, a professional runner.
After that, we made our way outside, where we did a little run around and got some expert advice. After about 45 minutes, we all went back into the room where Christopher told us all about his career. From his youth to now. He even gave us signed cards of himself. It had been a great and really fun day.
AMAZING ACTIVE SURREY GIFTED AND TALENTED LEADERSHIP ACADEMY
November 2019
Reported by Ella
Danny ,Izzy ,Rachel and Ella from year 6 are all members of the sports crew and wrote a long application to Active Surrey. Their applications enabled them all a place in Active Surrey's Gifted and Talented leadership academy on Friday 22nd November. They all went to Leatherhead sport hall to do some training.
It was very fun and they got to play lots of games, which helped them with their leadership skills and at the end they had made lots of new friends from other schools and were able to lead a game using all of the skills they had gained.
They had lots of fun and will use all of the skills they learnt in many ways.
Children in Need Sports Crew Lunchtime Festival
15th November 2019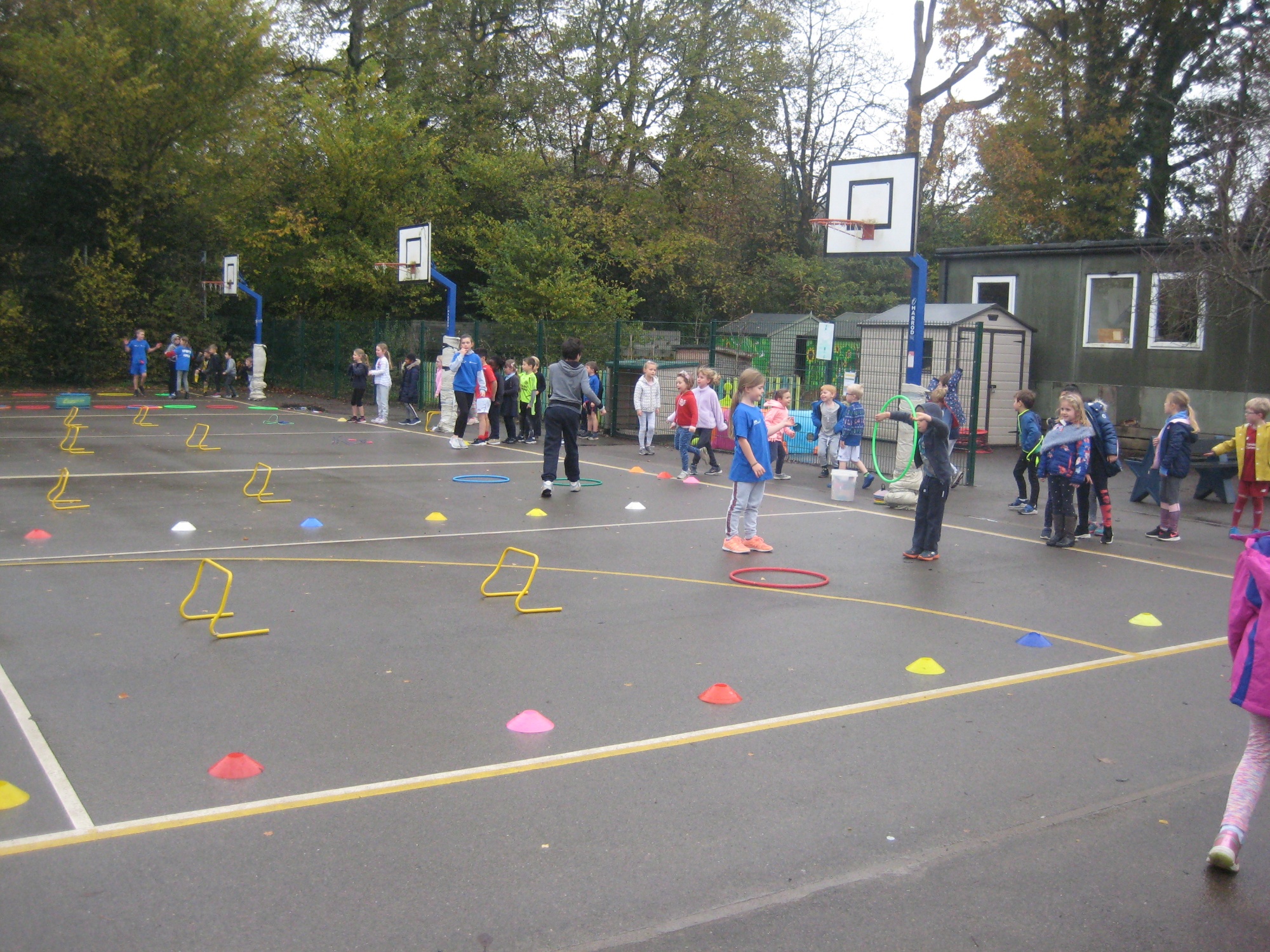 Year 3,4 and 6 Gymnastics competition
11th November 2019
Reported by Jemima, Immi and Maisy
On Monday 11th November 2019, twenty Year 6 children travelled to the Ashcombe School for an exciting gymnastics competition!
After Mrs Stowell gave us a positive welcome, four Ashcombe students helped us warm up for the events ahead. We were up against different schools, such as: Surrey Hills, Weald and Powell. After the upbeat warm up, we started to head to our stations and practised before we begun. Our first event was vault, which all of us were quite daring with, also we had to present at the beginning and end. Once we had jumped onto the vault we did a neat pencil jump and landed with two feet to help with balance. Claudia - one of the students who took part - commented, 'I was very scared at first, but while I was performing I felt more confident because everyone was so supportive.'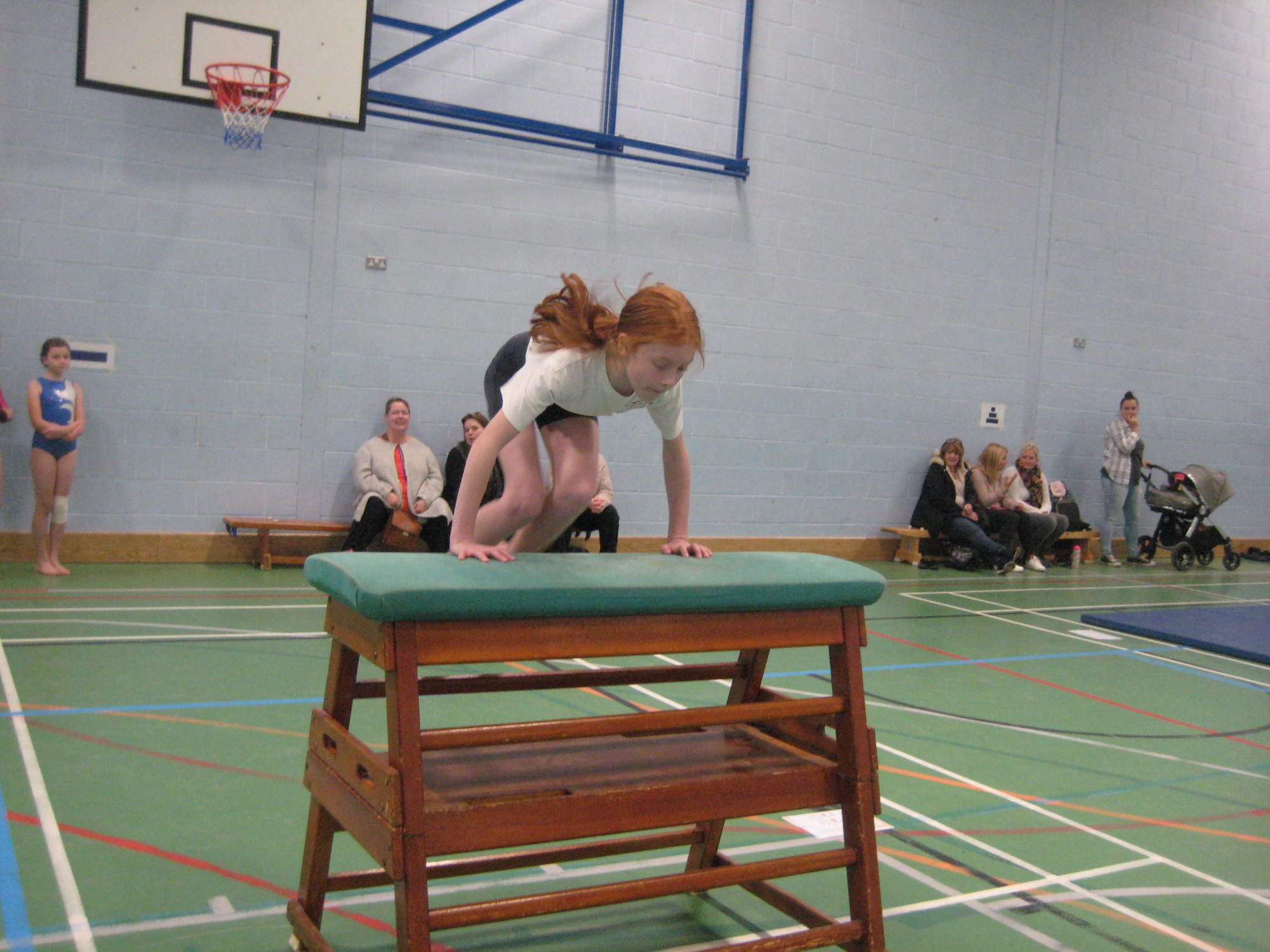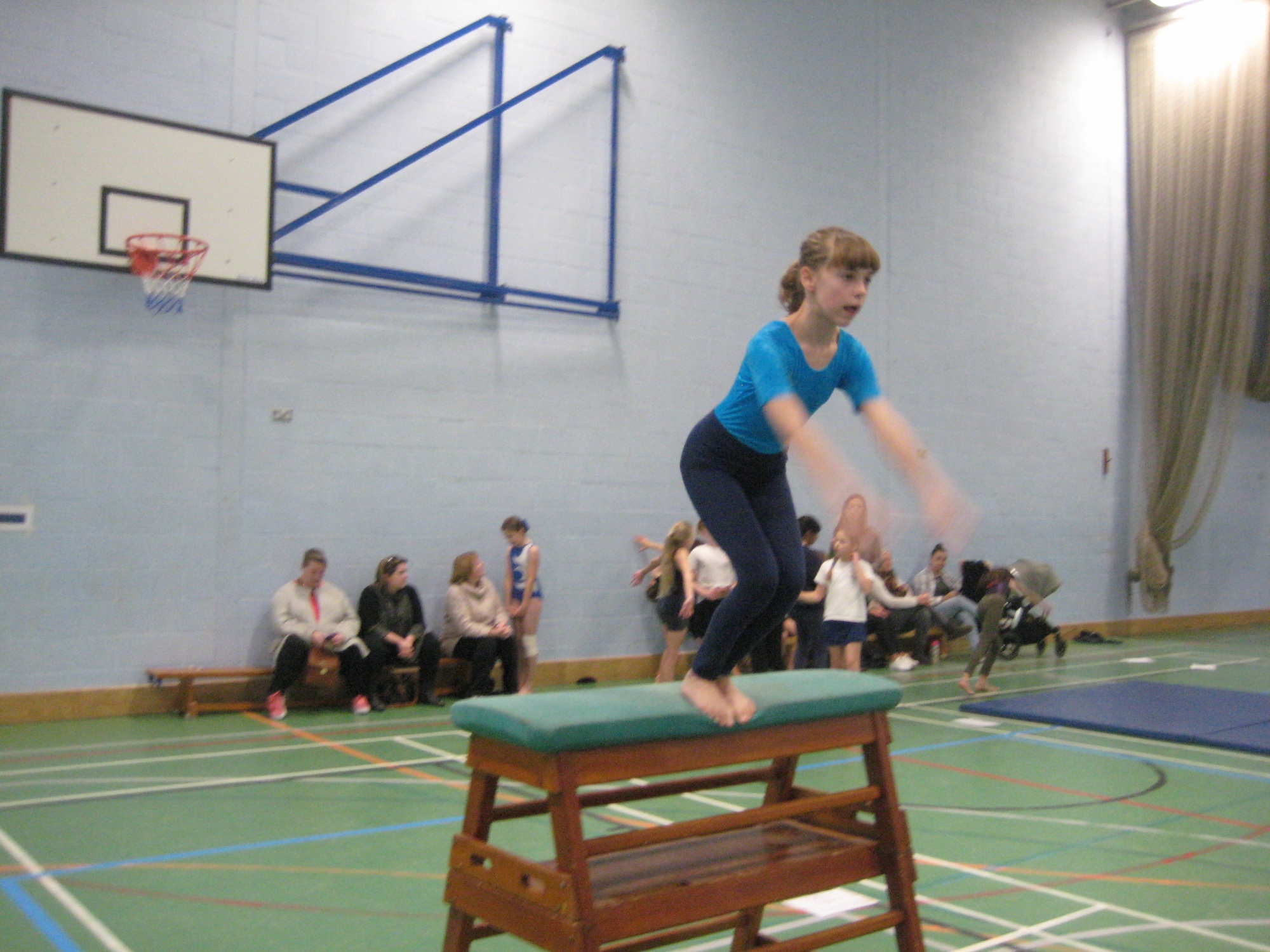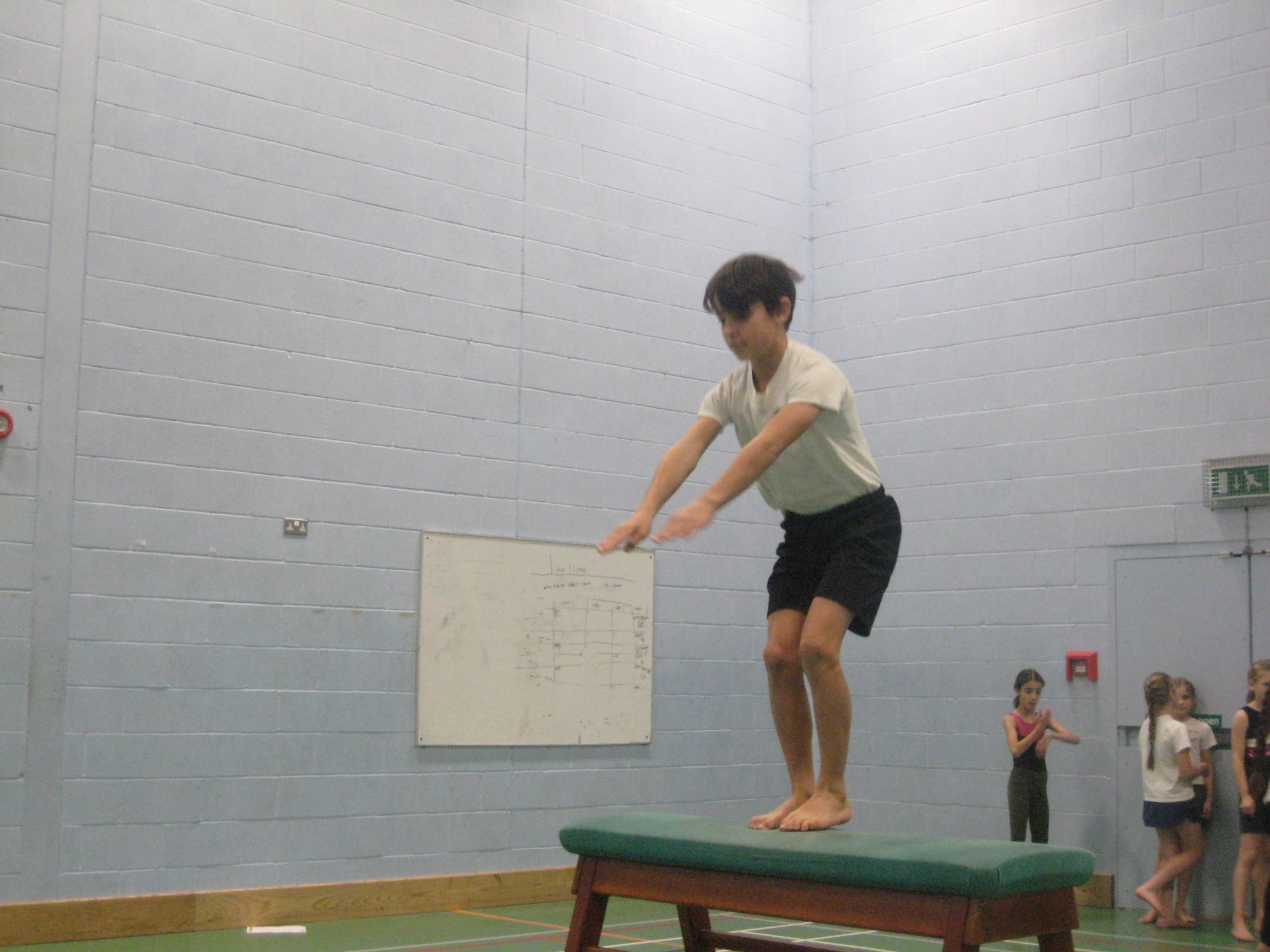 Next up was body management, it contained skipping and core strength. All the students enjoyed this very much and they definitely tried their best! Body management was quite easy because if you forgot the sequence, no points would be taken off, as the teacher could help.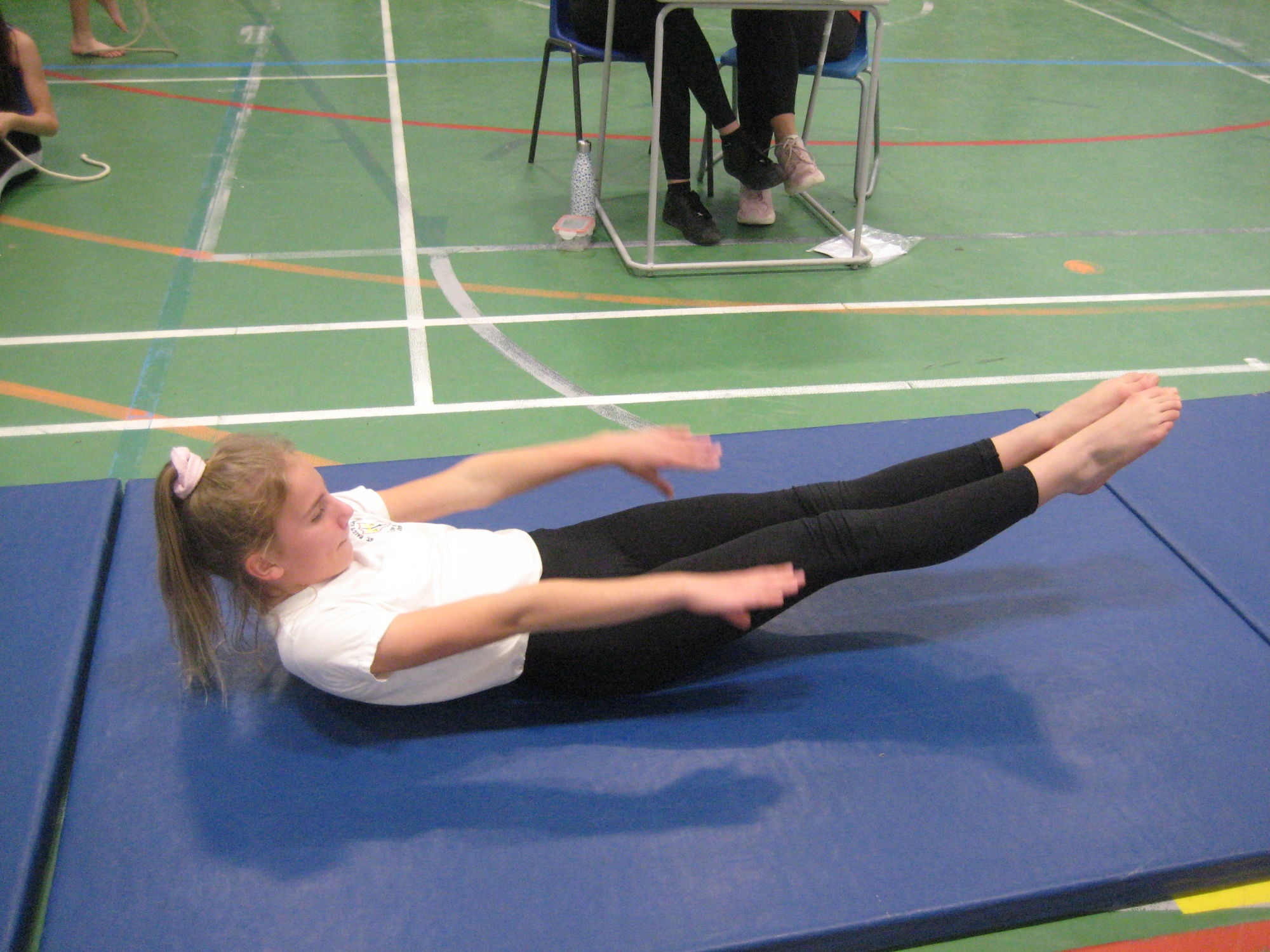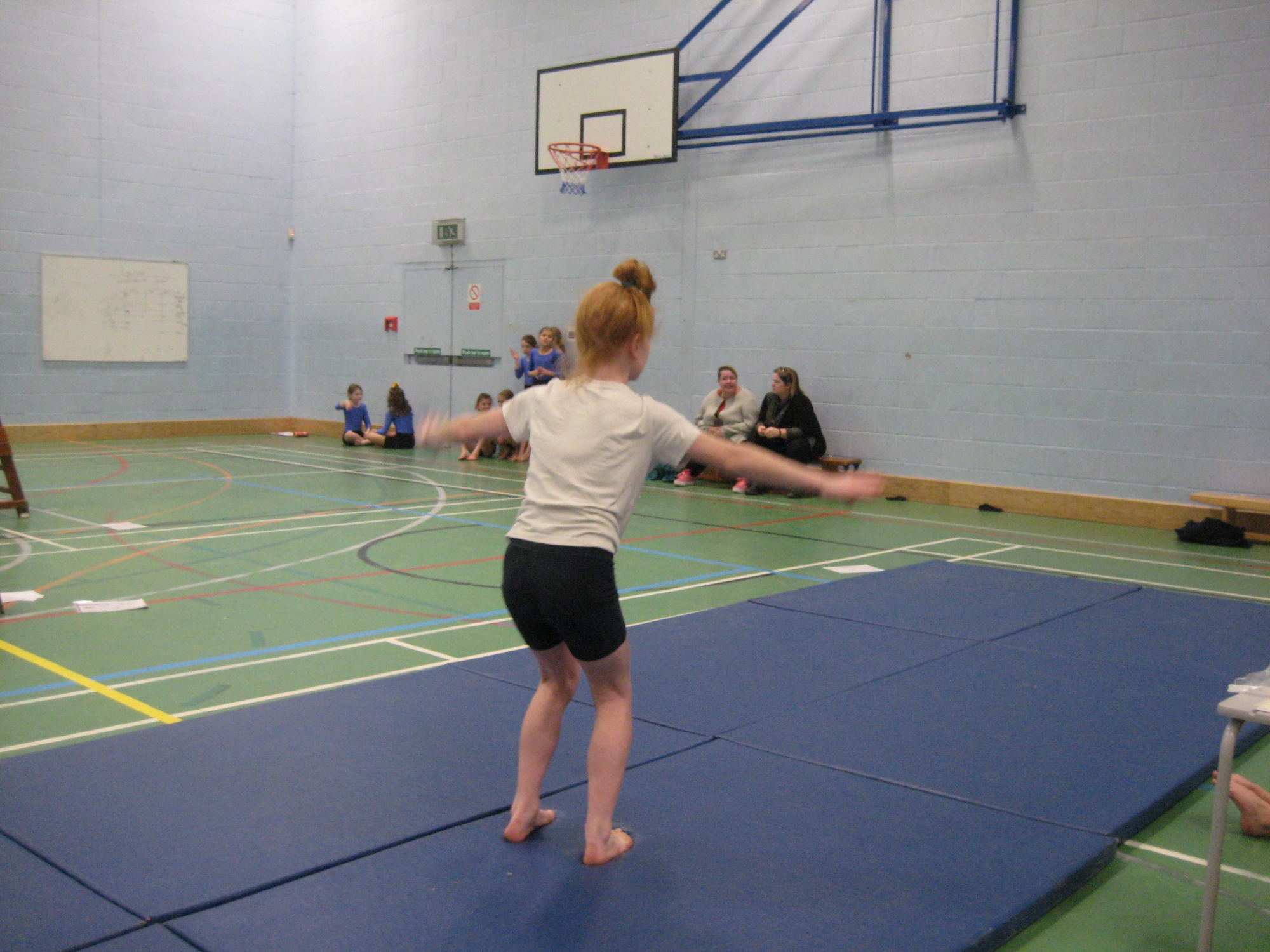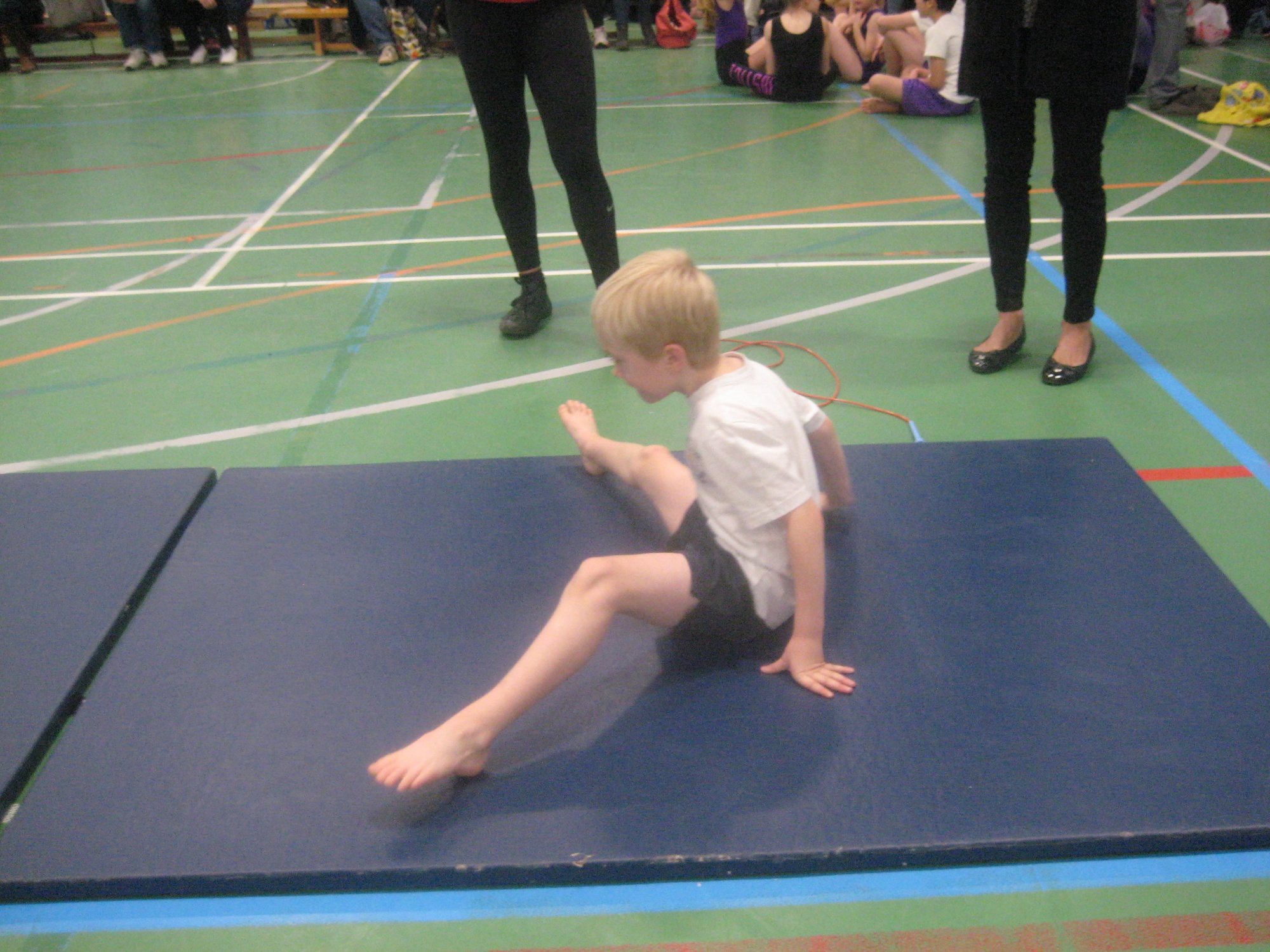 Our final activity of the day was the floor routine, some of the moves included hand strength because we were performing cartwheels and handstands etc. Freddy quoted, 'It was very detailed but fun in its own ways!'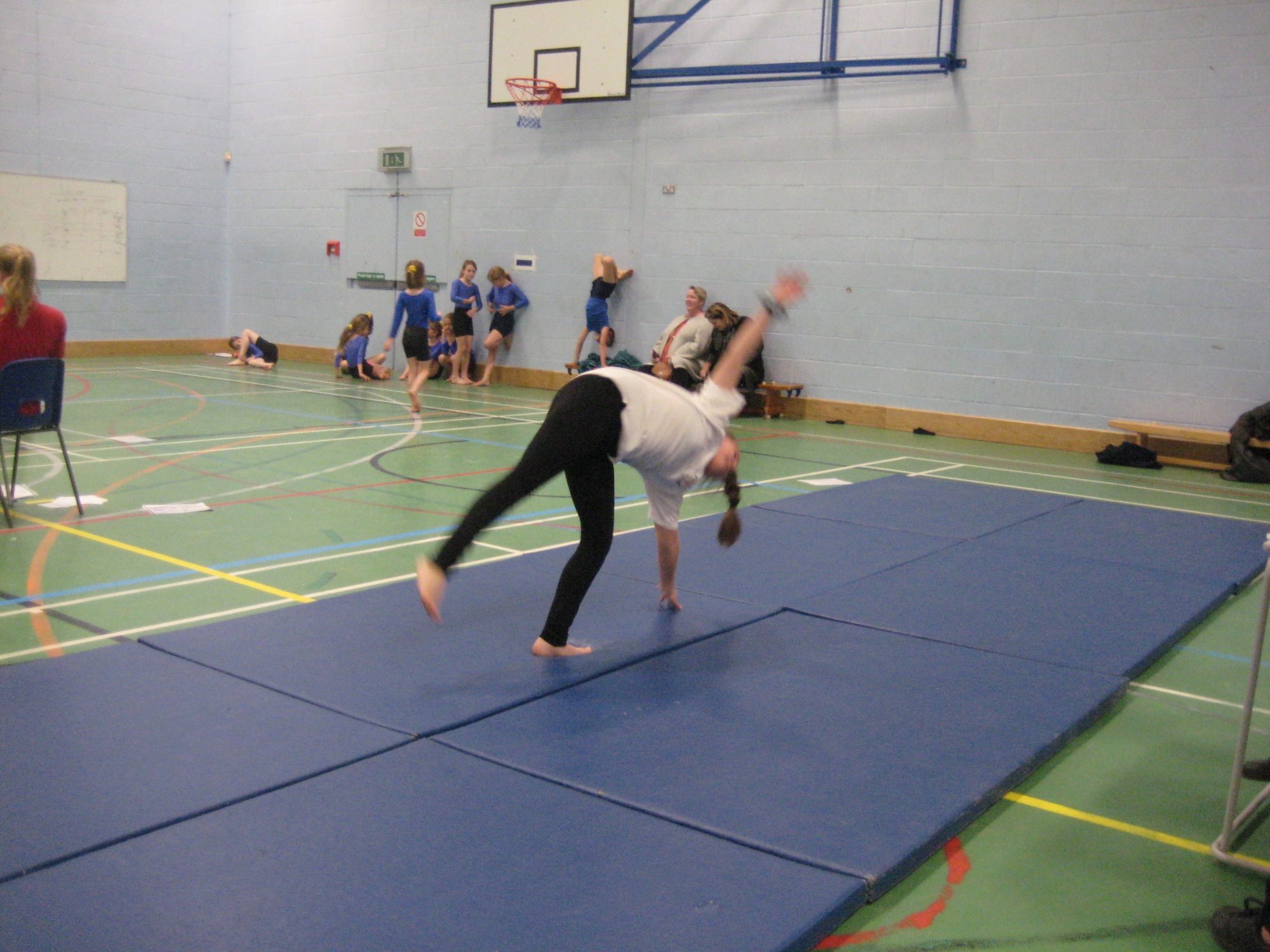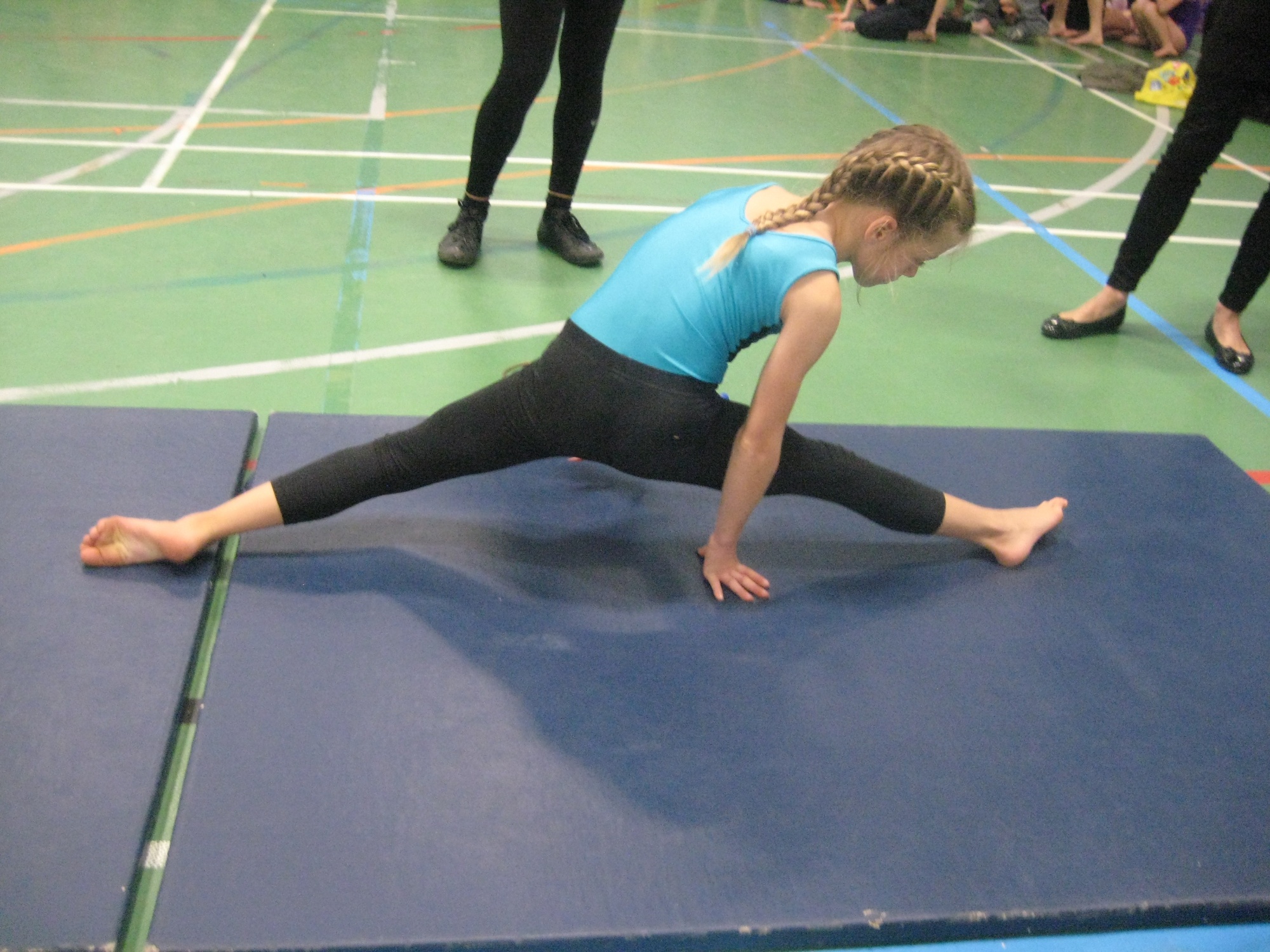 To conclude the day, we found out the results; Livia in year 6 came 2nd in the floor routine, and Charlotte came 1st in vault. Well done to each of them! Year 3/4 came 2nd overall and Elm Year 6 came 3rd! It was a lovely day so everyone enjoyed it!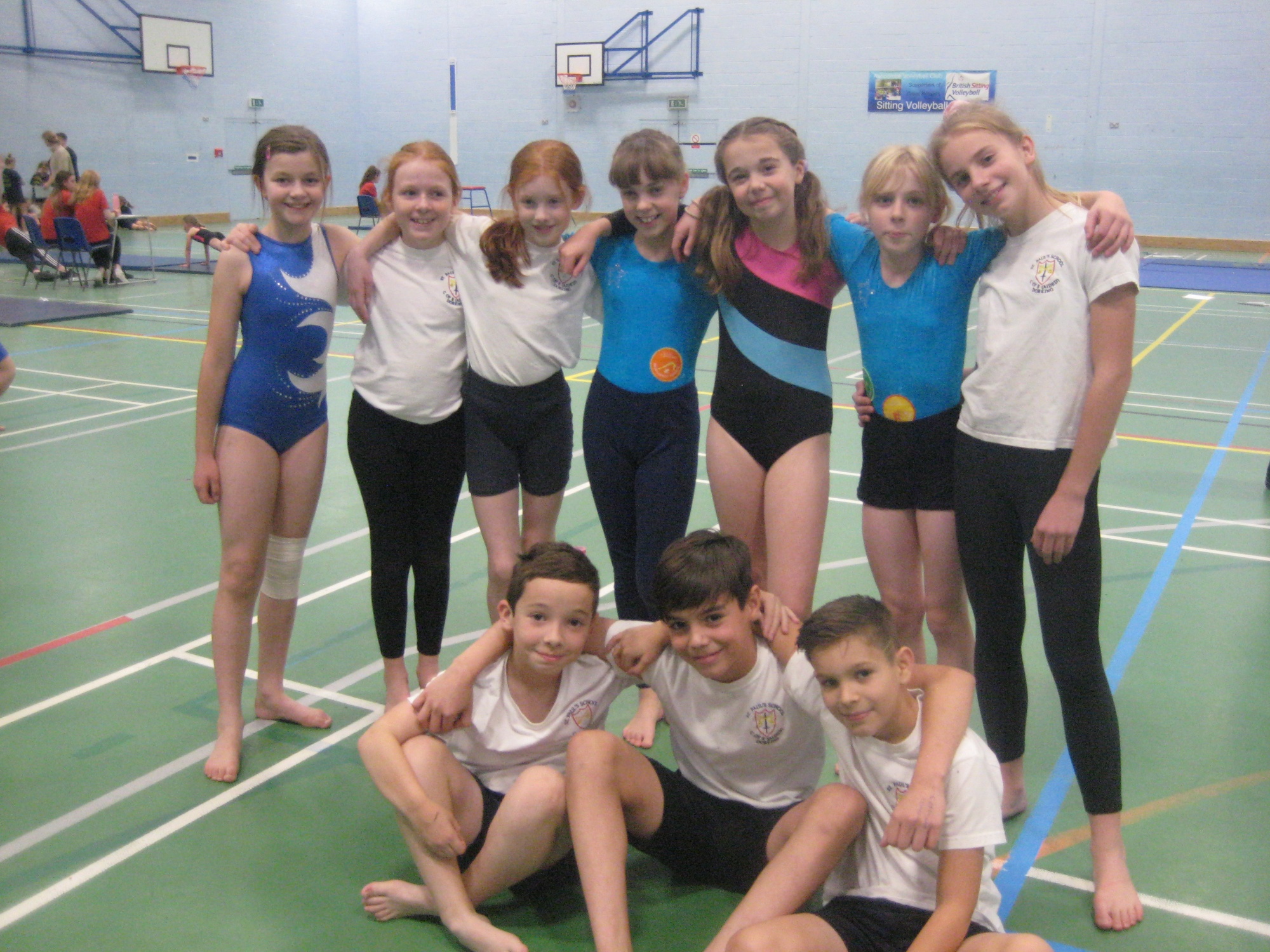 Year 6 Girl's Football
Reported by Ella, Alice and Rachel
On Monday, a group of year five and six girls went to St Martin's school to play football against all the schools in the area. We did very well and in the end, we won two, drew two and lost two, earning us fifth place.
Our first match against st Joseph's we won with a goal from Alice, year six Juniper, in the first half. Unfortunately, our second game against st John 's wasn't so lucky as they scored in the last few minutes of the game. In the next few games we won another one lost another one and drew two. Everyone did very well and only Catlin emerged with a war wound after she was hit in the face by a ball but was very brave.
KS2 Cross Country Competition
21 October 2019
Reported by Peter, Year 6
On Monday 21st October, St Paul's went to a cross country tournament at the big field in Brockham. St Paul's, among 7 other schools, competed in the race.
Year 3/4 Girls
Year 3/4 Girls had to do a warm up which was a slow jog to a tree nearby, to prepare themselves for the big race. Everyone had to do the same warm up to prepare themselves as well. The girls were unlucky as Poppy came 4th narrowly missing out on 3rd. Everyone did very well and enjoyed themselves because it is about the taking part that counts, and they did it very well.
Year 3/4 Boys
Year 3/4 Boys had to do exactly the same warm-up as the Girls did, which was a slow jog to the tree nearby. As the race reached its' end, Rufus was in 3rd, and Rory was in 4th. Everyone was proud of Rufus and Rory, like everyone was of Poppy for doing so well. Both the Boys and Girls placed so highly that everyone gave them a nice welcome back to the squad.
Year 5/6 Girls
A popular race in the industry of the squad of St Paul's squad, because we have quick runners in year 5/6. The Girls had to do the same warm up as everyone else, but it was a bit further jog to a further tree. As the race reached its' end, Immi had a comfortable lead in 1st place. Everyone had a great race and everyone did very well!
Year 5/6 Boys
I competed in the last race of the tournament, the year 5/6 Boys race. This was the race that everyone was excited for. The Boys had to stretch before doing the slow jog to the same tree as the year 5/6 Girls. As the final race of the day reached its end, I was 2nd to last (sad face) but I was still enjoying it. It was very nice of the rest of the team to cheer me on to finish, as I was struggling a little bit. I felt good enough to finish however. I came 51st out of 52. It doesn't matter that I came 2nd to last, because I enjoyed it and I took part.
Miss George quoted '' It was so great to see so many children, more than last time!"
All in all, we had a great time!!!
Year 5 Football
15th October 2019
Reported by Wilfy
Football Fun at St Martin's
On Tuesday the 15th of October, every primary school in Dorking sent a 7-a-side Year 5 team to a football tournament at St Martin's School. St Paul's team, just like all the others, played against every team there.
Each game was 10 minutes long - 5 minutes for each half. Everyone played well and we all had an amazing time playing football all afternoon, representing St Paul's. Although we didn't come first, we still played with confidence and enjoyed ourselves. It was fun and, after all, it doesn't matter who wins because it's about taking part. All our thanks go to Miss George who organised the team and made sure we all had a good time.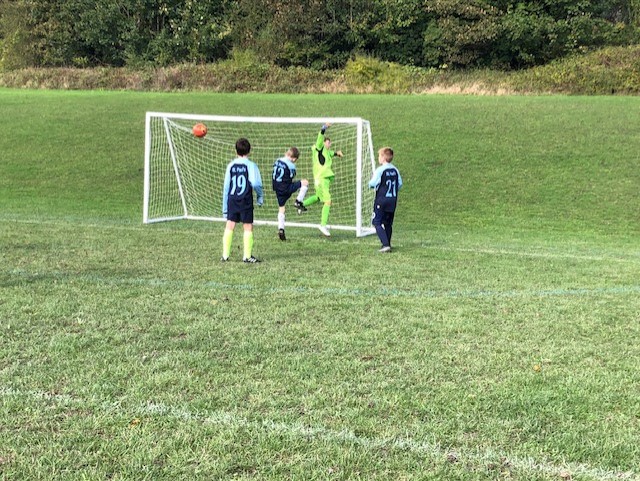 Year 6 Football
8th October 2019
Reported by Oliver M, Finley and Thomas
On Tuesday October the 8th 2019, year 6 boy's football was held at St Martins.
We had some really tough opponents such as North Downs and the Weald school. Here are all the scores: St Paul's vs St Martins 2-0 to us, St Johns vs St Paul's and the scores were 7-0 to us. St Paul's vs North Downs they won 4-3 but it was very close.
It was 2:15 and every one was playing really well. Just then we started to play against Powell the scores were 5-1 to us. We were very happy with the scores so far. Just then Finn scored an amazing goal in the last minute and we were all extremely proud of our performance.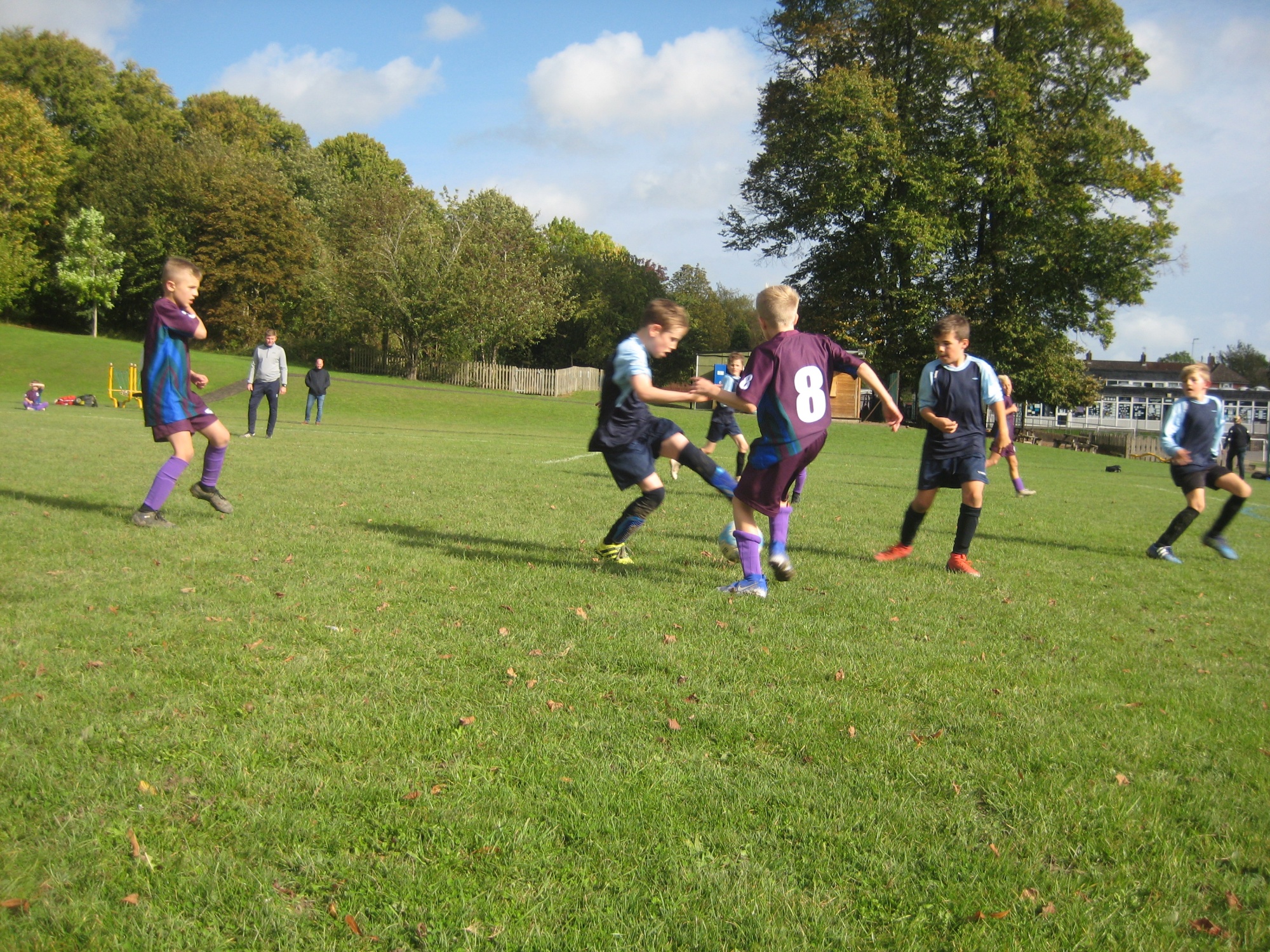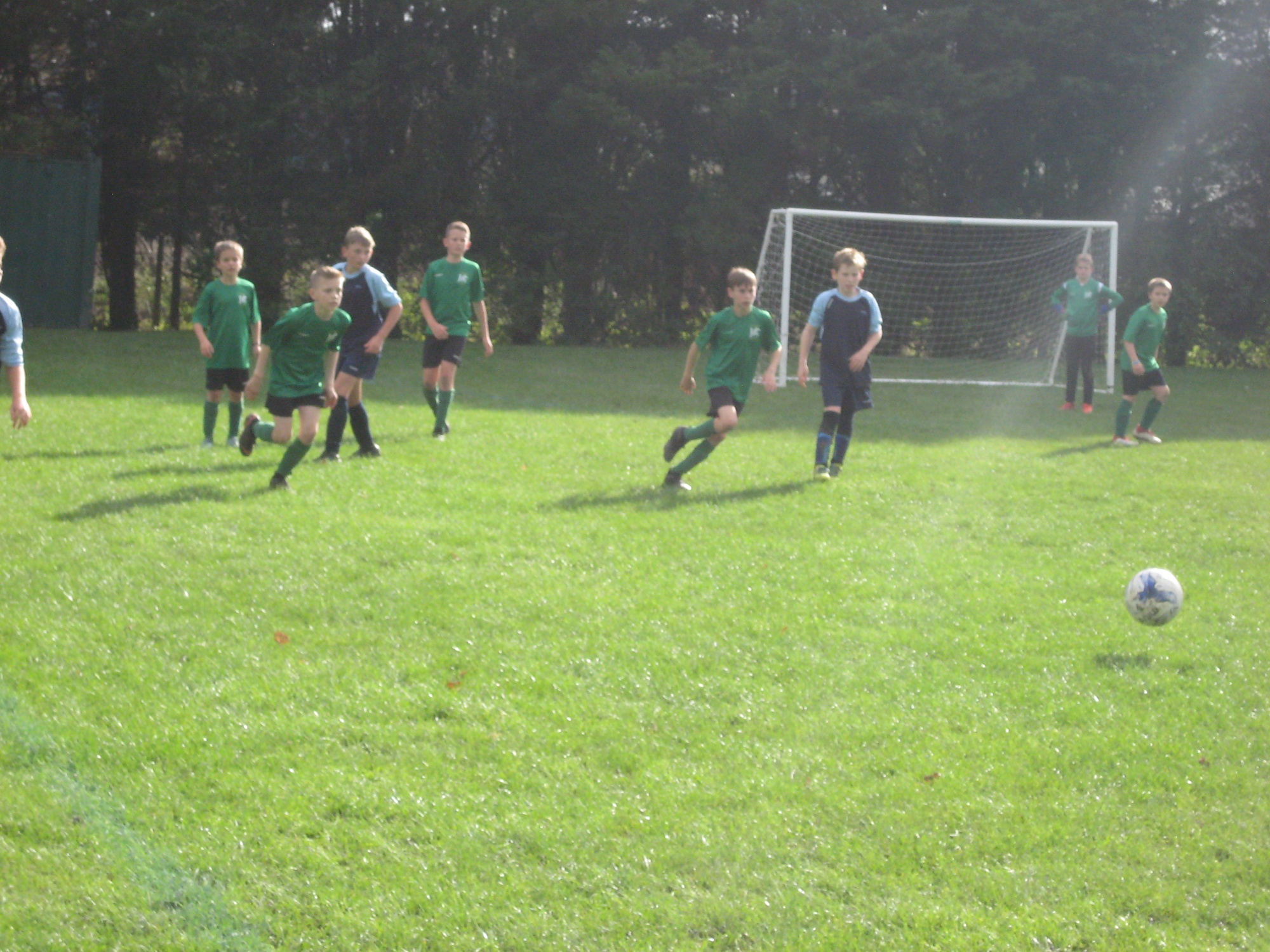 After a few minutes, we started our next game against the Weald and the scores were 2-1 to us and we were pleased with our team work they couldn't handle our defence [Thomas, Oliver and Josh]. After a bit we played against St Joseph's and the scores were 3-2 to us and the performance from the attackers like Finn, Fred and Kian were brilliant because the goals they scored helped us a lot in our games where we struggled and we need the goals. Then, we played against surrey hills and it was very tight but we managed to win 3-2 but we all think that they could have got more goals but with a helping hand from our amazing keeper Jack we managed to get the win.
We all had an amazing time and we managed to come second out of 7 teams which we were very proud of our selves. We were very shocked when we found out that we came second by 2 points. We will now list the players for the amazing team. Jack the amazing goalie, Josh, Ollie m, Thomas these are the great defenders that helped the team to stay alive. These are the marvellous midfielders, Sam, Finn Alex and Oli c. The splendid strikes Fred and Kian who scored lots of goals for us.
This wouldn't have happened without Mr Monk or Miss George.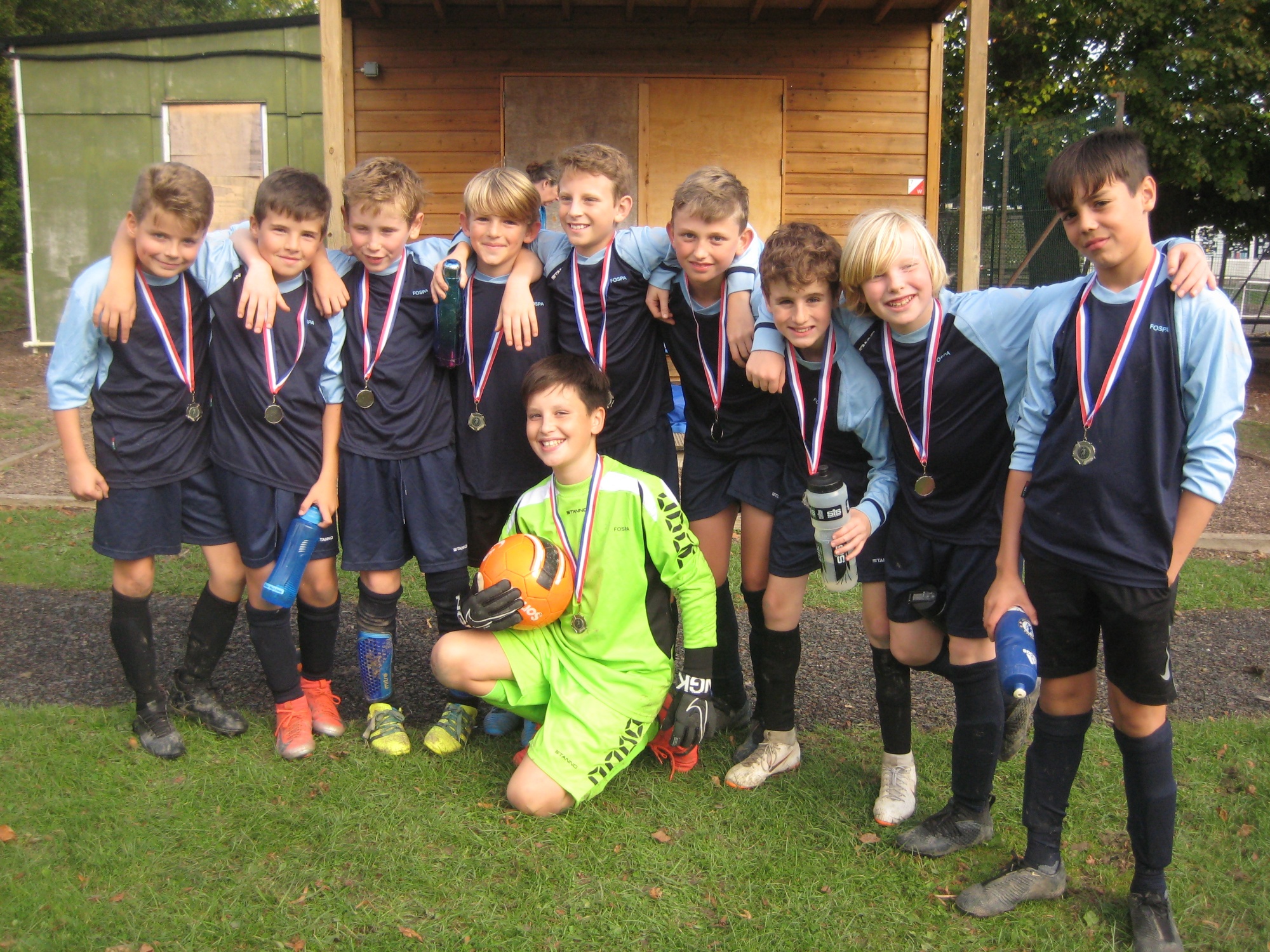 KS2 Cross Country
The Weald
8th October 2019
Reported by Danny, Year 6
RUNNING RAMPAGE
Warm up
First, while we waited for everyone to arrive, we did a warm up, where
we ran to the other side of the field and back, also we did a few stretches.
Year ¾ girls race
In this race, one of the St. Paul's girls, called Poppy, came 1st! We did very well in this race. After the girls finished the race, they all had a well-earned rest. Well done!
Year ¾ boys race
Once again, we did very well in this race, coming 3rd overall! Everyone did brilliantly and were exhausted at the end. Everyone tried their hardest.
Year 5/6 girl's race
In this race we did very well coming 3rd again overall but most importantly they all tried their best and did very well to come the place they are in now.
Year 5/6 boy's race
In this race there were only 6 of us in this race so please may more people run because it is great fun! We did very well in this race but we were very tired.
Overall we did very well so well done everybody who participated.
WELL DONE!
ST PAUL'S SPORTS CREW STEAL THE PITCH
23rd September 2019
Written by Cecily and Rachel & Edited by Jemima
On Monday, the 23rd of September 2019, Cecily, Rachel, Ella, Peter, Danny, Gabriella, Aran, Rebecca and Maddison and Callum went to a very fun sporting activity at the Priory school, Dorking.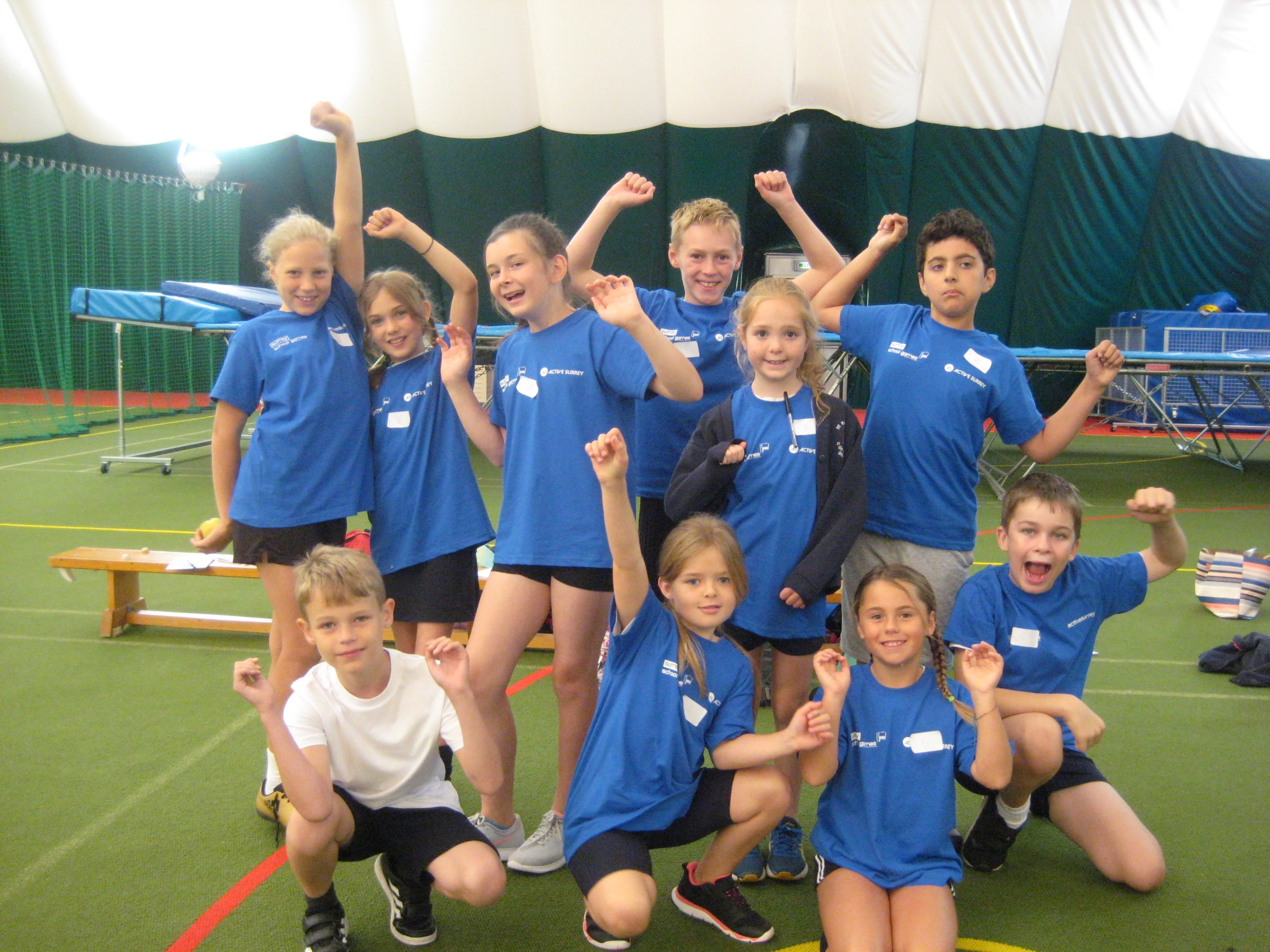 During this event we did a vast variety of amazing sporting games, which helped build on teamwork and leading.
First of all, we did a great activity about what qualities make a good sports crew leader, which included making a pyramid of helpful values.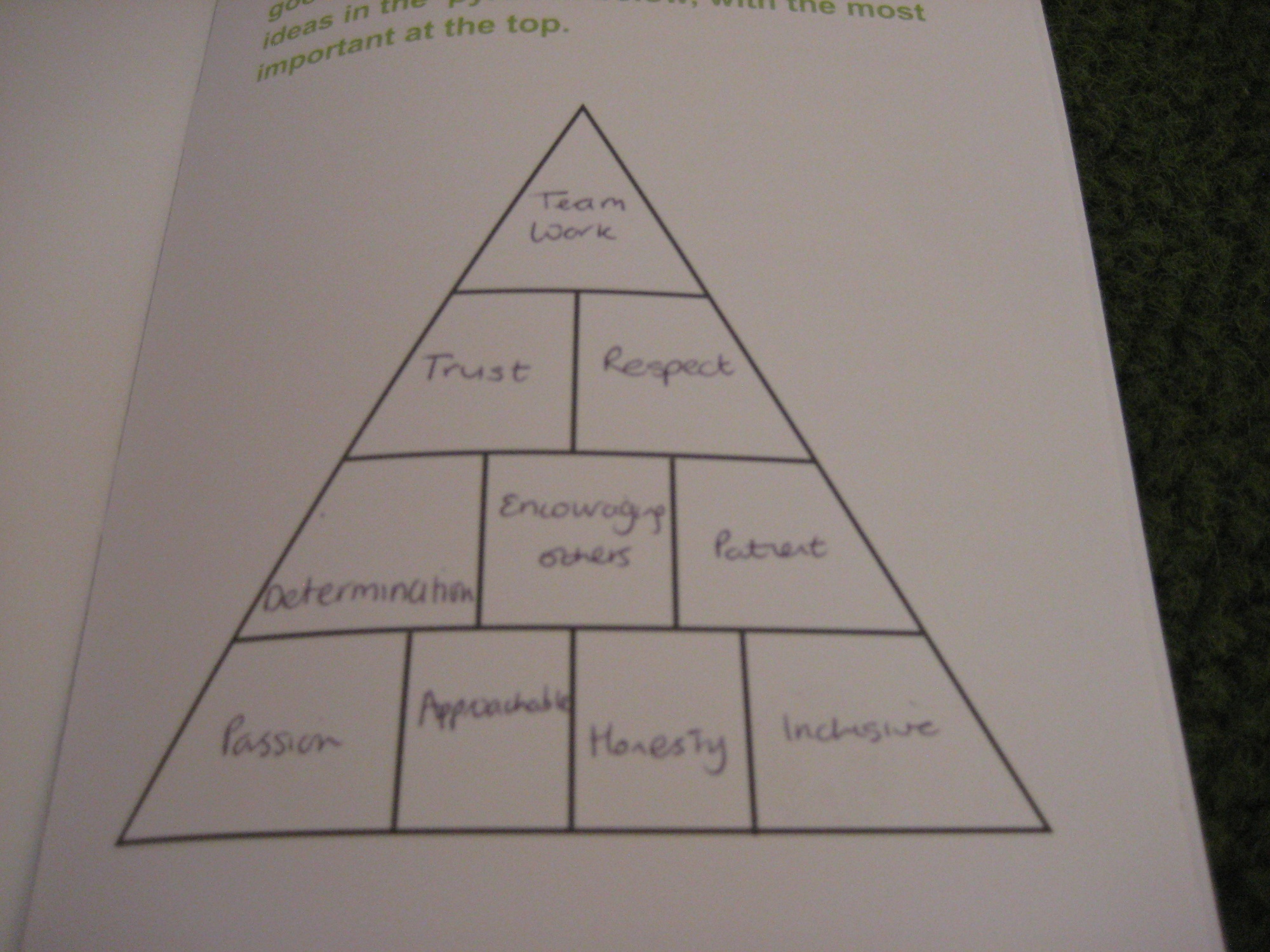 Next, we did a lot of mini, fun, team building games to develop confidence with our new team mates, which included holding a balloon between each other's back, clutching pipes to let a ball run down them without letting it fall and putting a rubber ball on a mat with many holes in, trying not to let the ball fall through them.
Then, we gathered in the main area and talked about games and adding things to them using a step principle.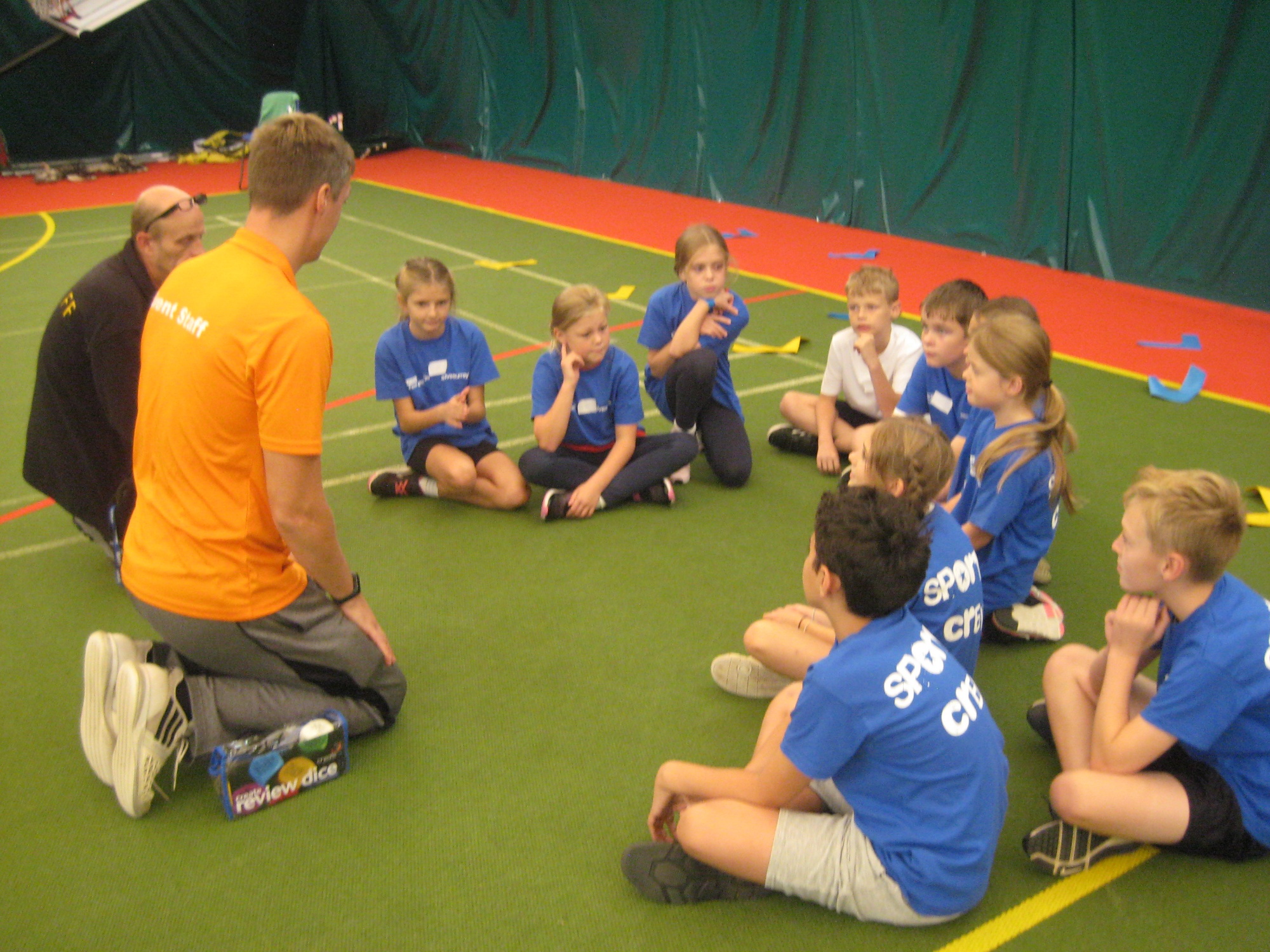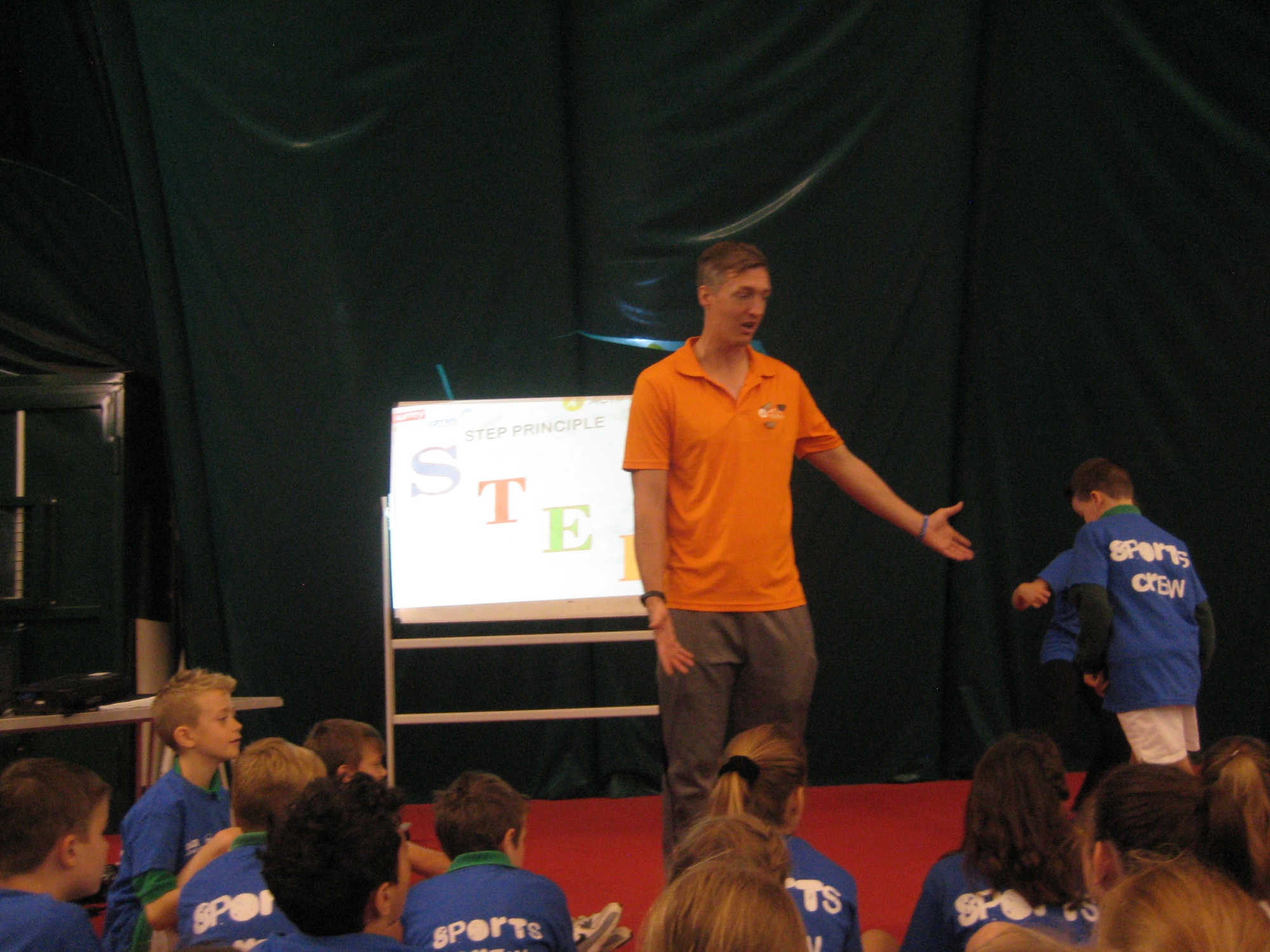 After that, we got a 5 minute break which included a toilet stop and eating our fruit that we brought with us.
Then, we all sat down in the centre of the pitch where we then discussed what the step principle really was. We found out that it was a way of adapting the game using small changes.
Soon, we found out what our next activity would be. After that we got assigned a game called beat the ball where you had to make a circle then pass the ball to each other until you complete it, although there is a twist, the first person to pass the ball has to run around the outside of the people and beat the ball to the end of the circle. We used the step principal to adapt this game by creating little differences like; the runner has to hop or run backwards and some like that. However, what we didn't realise was that at the beginning we were given stickers that had A, B, C written separately on them so the ones we were given determined if we would be staying behind to teach a game to the other school kids or go forward and be taught by others. After each game we did a reflection period about what we could have done better and the things we were good at.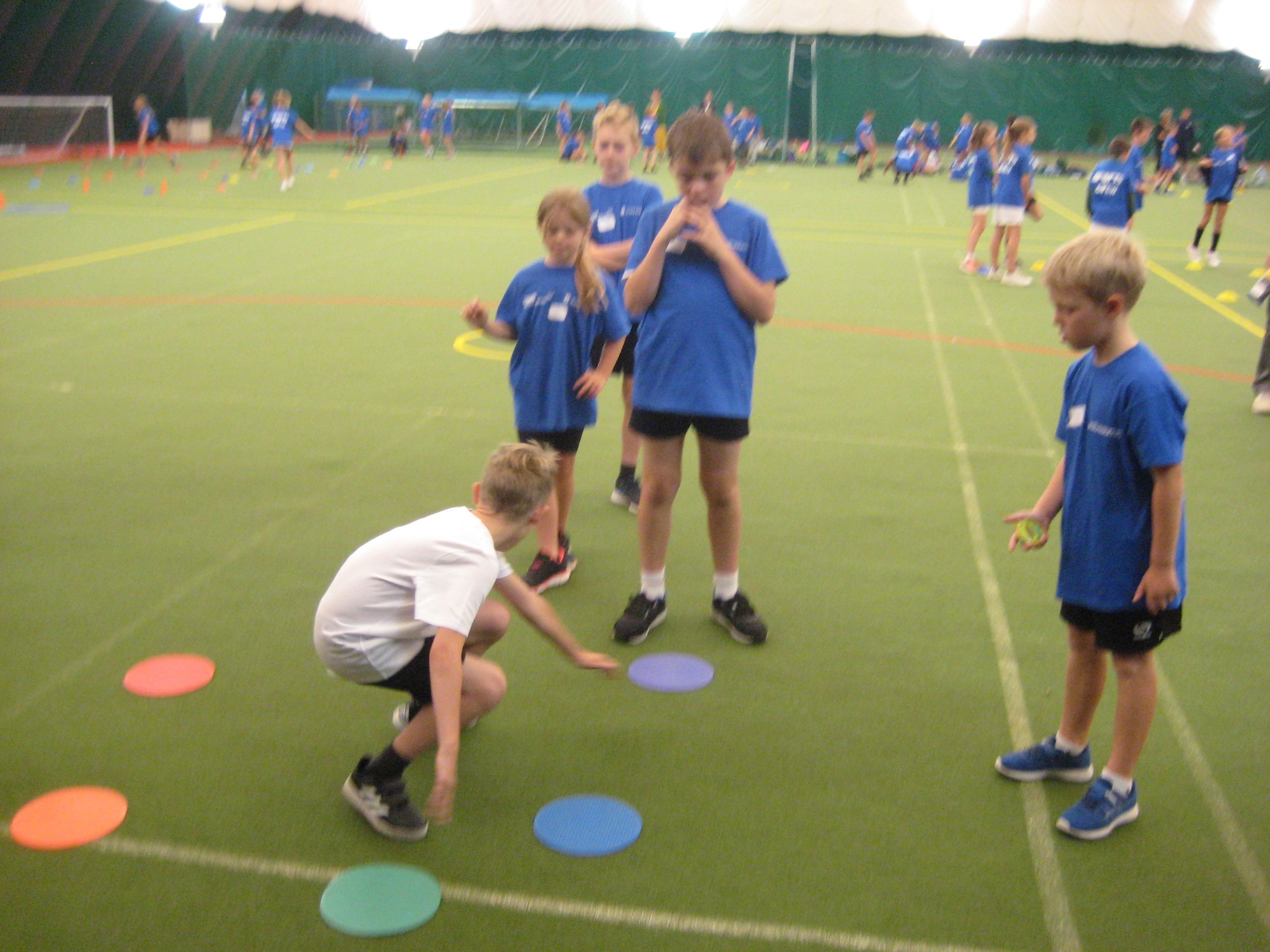 After the games we sat back down and listened to our instructor, who was called Ally, and he told us that every year they did a thing called a mini mile. Whilst he was explaining, he got someone to do a quick demonstration, who just happened to be none other than the wonderful Miss George, who showed us how to run a mini mile and did a very good job at it. Then we got in to partners and numbered ourselves 1 and 2. Next partner number 2 ran around the pitch while partner number one kept track of the number of laps they did. Everyone switched round until we all got to have a go.
After that, us kids were very exhausted and went to get a drink. After everyone got a lovely refreshing sip of water, we finished our session sports crew session with a big smile on everyone's faces.
We had a chat with the people that came. Rachel grant exclaimed "It was really fun, but I thought that it would be hard because most of the people that went to the sports crew session were in different year groups however, I was wrong."
Miss George, another person that went quoted, "It was fantastic to see all of our new St Paul's sports crew lead with such confidence!"
In conclusion everyone had a wonderful day.